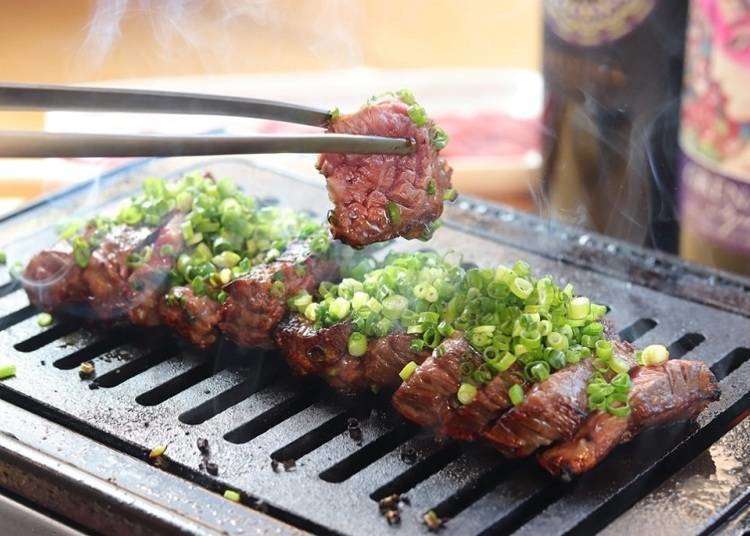 Akihabara is as popular a destination for anime hunter as it is for gourmands! Here we'll introduce you to a slightly unusual Akihabara yakiniku restaurant that's located off the beaten trail.

At Yakiniku Sho, you'll find a lively atmosphere and a menu filled with delicious meats that center around Sendai beef and A5-rank wagyu. Let's take a look inside, and especially at its recommended dishes!
Yakiniku Sho: Akihabara yakiniku restaurant full of smiles and outstanding beef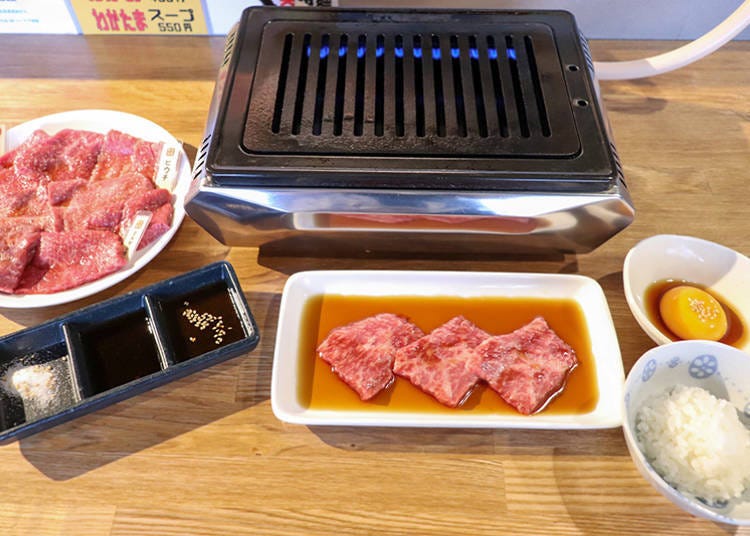 Yakiniku Sho Akihabara opened in the summer of 2019. As the name of the shop suggests, it's a shop for you to enjoy delicious dishes and smile.

They have an extensive range of carefully selected yakiniku, centering around A5-rank Sendai beef, including harami (skirt steak), beef tongue, offal, and more. The restaurant also offers kimchi, salads, curry over rice, and egg over rice with sauce.

At lunchtime, there is a host of lunchtime-only items, like kalbi (rib) beef bowls, harami beef bowls, and curry rice.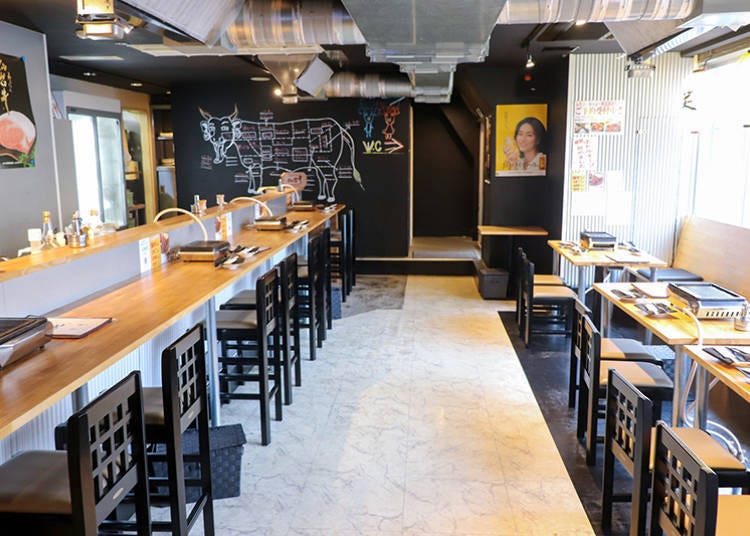 The most distinctive feature of the store is that it's a counter-type restaurant. The idea came from the owner who thought, "it would be interesting if there were a yakiniku restaurant like a sushi shop, creating a livelier atmosphere, thanks to a more direct approach with the customers."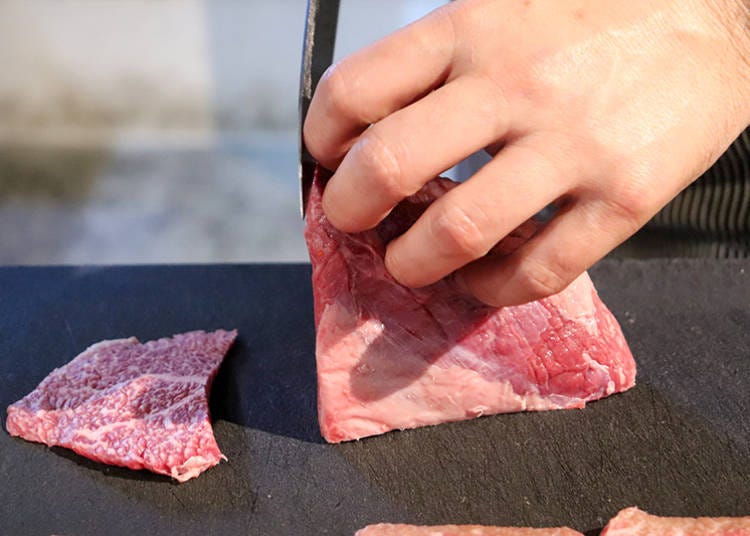 The meat is cut just before serving, for outstanding freshness. From the counter seats, you can also see the chef at work. The owner's passion is to "communicate with the customers, help them select the meat they want, and explain how best to grill it, so they can always experience the most delicious meal—I want to see them smile."

In this Akihabara yakiniku restaurant, you can enjoy the finest cuts of meat, with the help of the staff, who will help you find your favorites and share how to prepare it.
The finest meats, including A5-grade Sendai beef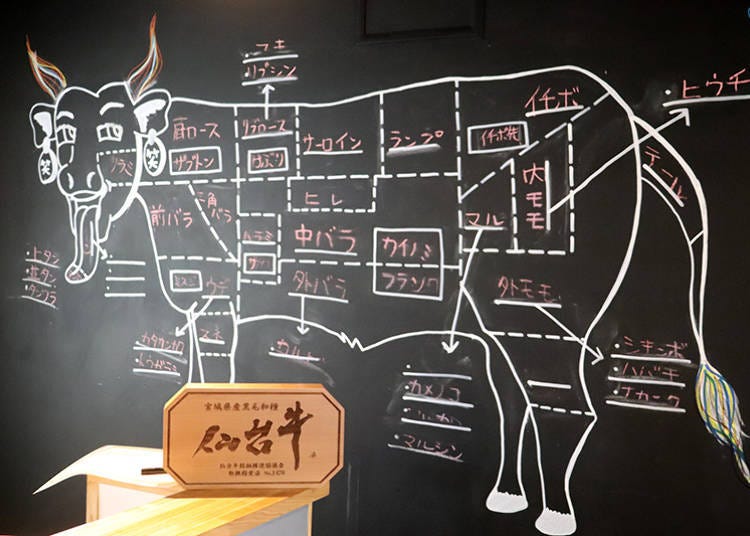 Yakiniku Sho has a rich menu, and a selection so appealing that it will be hard to choose.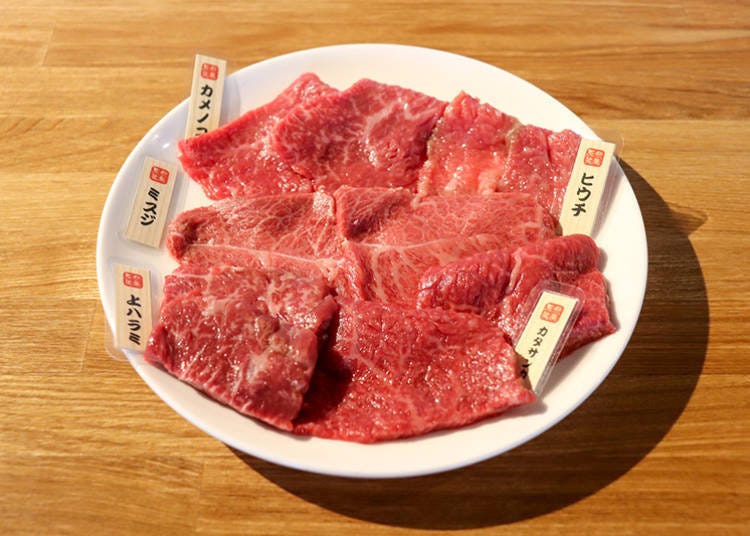 Carefully selected assorted beef
A dish that we recommend is the "Assorted beef platter," of meats carefully selected in the restaurant (1,680 yen – tax not included). Every day, the restaurant selects 5 meats, like ichibo (aged beef, rump, marushin (knuckle main muscle), kamenoko (lower thigh), marukawa (knuckle inside muscle), kata-sankaku (shoulder cut) and more, and serves them.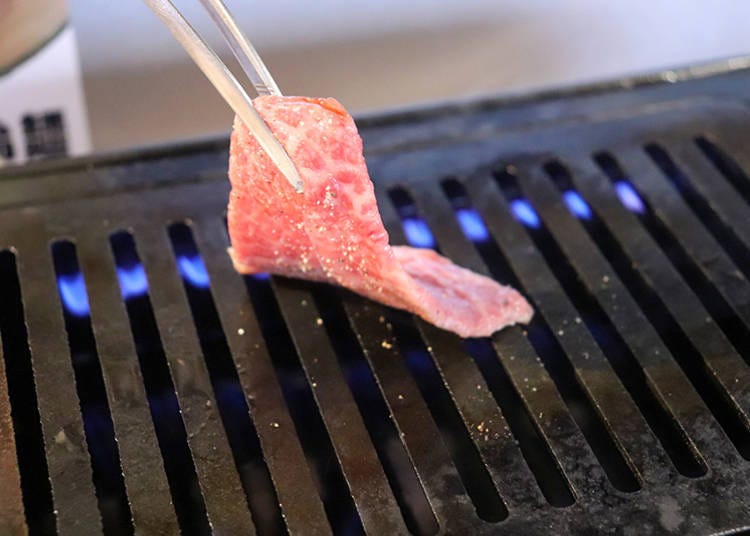 From a menu full of great choices, you can enjoy 5 kinds of carefully selected meats and cuts. By telling the shopkeeper your preferences, you can also receive valuable advice on what your next choice should be.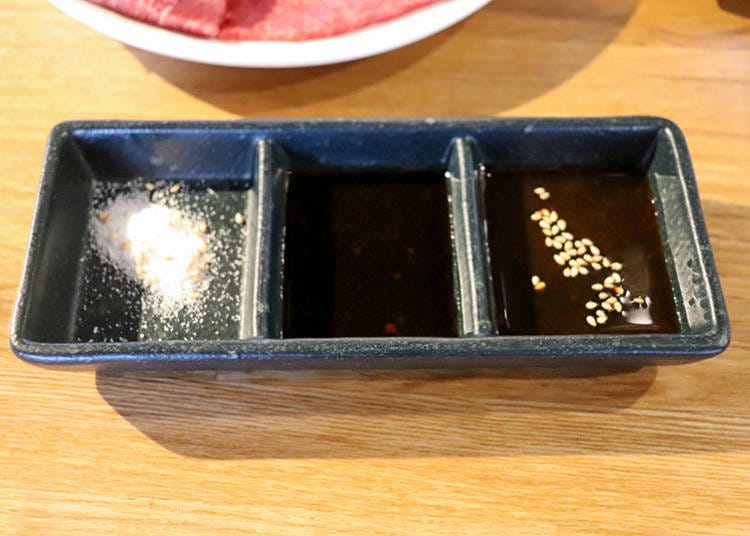 There are three types of yakinuku sauces: salt, for those who like to enjoy the flavor of the meat to its fullest; spicy tare sauce; and sweet tare sauce. The dressing changes the experience you have eating the meat, so we recommend you try them all to find your favorite.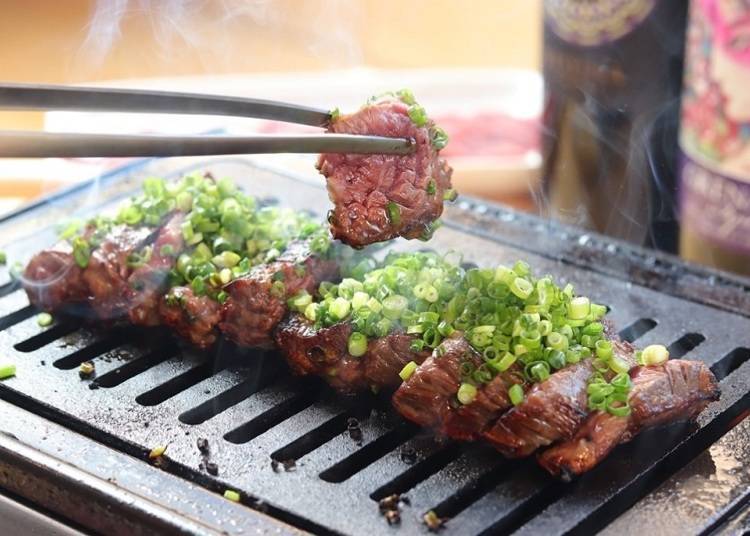 Special harami steak
Also, the "Special harami steak," one of the shop's signature products, is a gem grilled with salt that you should definitely try. You can cut your desired size, starting at 200g for 4,400yen (tax not included).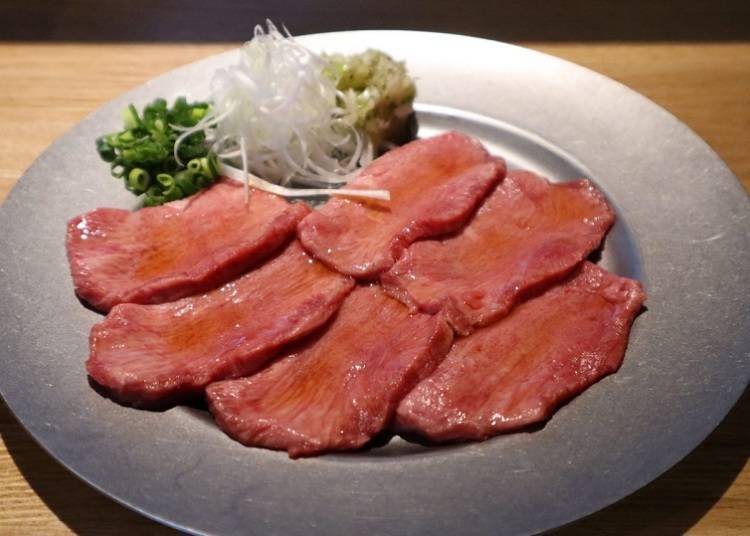 Beef tongue
When it comes to yakiniku, tongue is king! The tongue is one of the most popular items at Akihabara's Yakiniku Sho, and even the shop owner recommends it as one of the first things you should try. You can choose between "Premium beef tongue (salt-seasoned)" 1,800 yen (or half for 900 yen), and "Tongue (salt-seasoned)," 1,100 yen (tax not included).
Carefully selected Japanese beef sukiyaki
Sukiyaki is very popular among foreign visitors, so we also recommend the "Carefully selected Wagyu beef sukiyaki" (1,000 yen, tax not included) for you to try great meat in an original way- it's such a treat!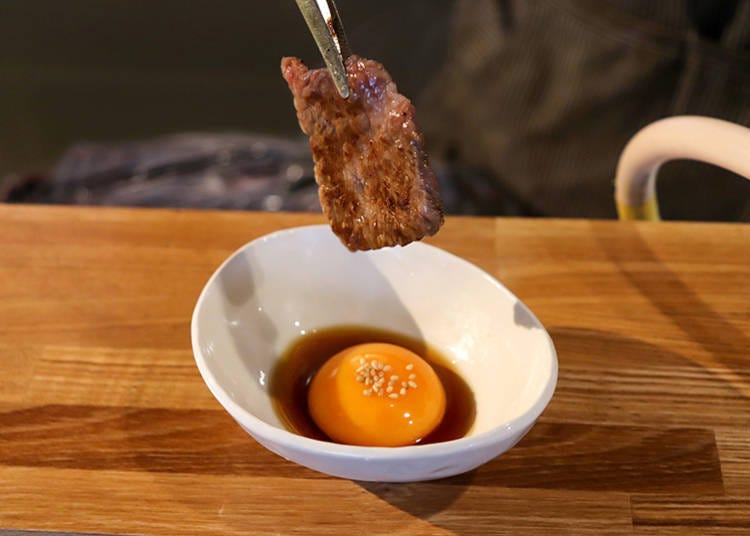 The meat comes with a special egg sauce and rice.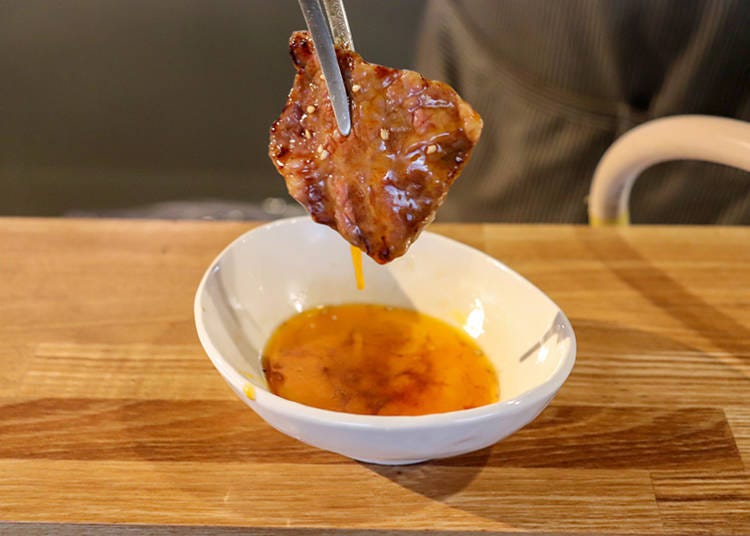 You'll love the egg sauce. It adds a nice sweetness and round flavor to the meat and is positively addictive.

The shop serves high-quality meat, mostly A5-rank Sendai beef, carefully selected and stocked. Compared to the internationally famous Kobe Beef and Matsusaka wagyu, Sendai beef is relatively unknown abroad, but enjoyed in Japan. Its deliciousness will surely capture you.
Cheap Akihabara yakiniku lunch! Don't miss the all-you-can-drink deal and meals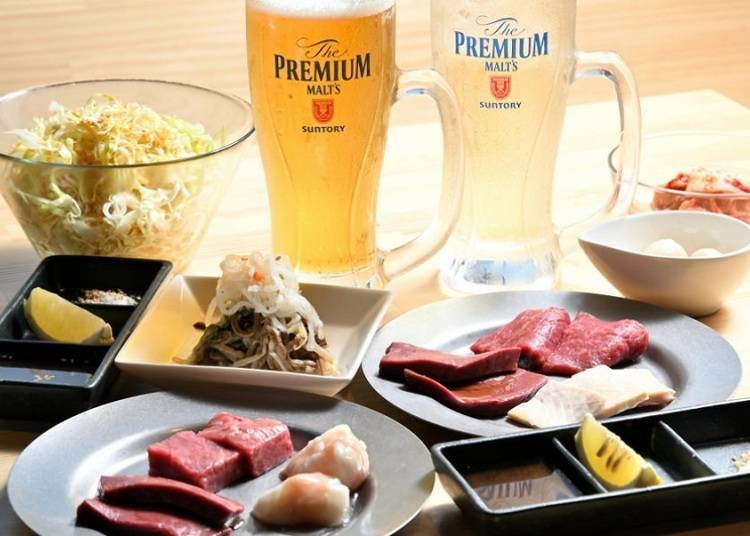 While you can try a lot of exceptional hand-picked items from the menu, there are also many meal courses available. You can enjoy these meals with an all-you-can-drink option: if you're a fan of beer, highballs, or makgeolli, you will love them all the more with your yakiniku.

For example, there's the "Manzoku" course, starting off with kimchi and namul, and followed by several kinds of carefully selected domestic red meat beef, curry rice, and ice cream for dessert for 5,000 yen (tax included). The "Sho" course, at 6,500 yen (tax included), is a 2-hour all-you-can-drink option with Sendai beef dishes. (*The menu is subject to change.)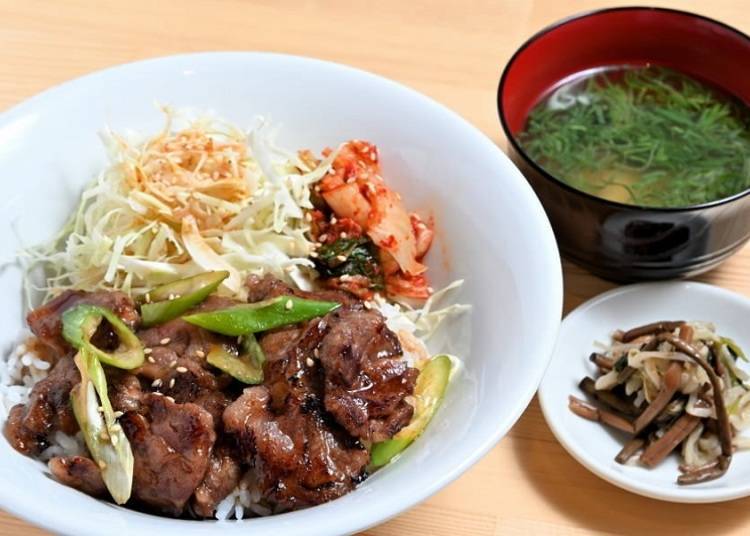 Weekday-only bowl lunch
Also, don't miss the weekday-only lunch menu. This consists of dishes like the "Domestic karubi (beef rib) bowl" for 900 yen, "Harami bowl" for 850 yen, "Karubi curry rice" for 800 yen, and "Harami curry rice" for 800 yen (tax not included).

Measures to prevent COVID-19 are in place as well. In addition to temperature check at the entrance, the restaurant provides sanitizer, ventilation, spaced seating at the counter, and will be conducting further renovations from September 1, 2020.

Yakiniku Sho is a delicious Akihabara yakiniku restaurant where you can enjoy great meat while socializing with the chef, like you would in a sushi restaurant. Please visit and enjoy the authentic flavor of Japanese beef!
Address

3F,2-11-1, Kandasakumacho, Chiyoda-ku, Tokyo, 101-0025
View Map

Nearest Station

Akihabara Station (JR Keihin-Tohoku Line / JR Yamanote Line / Tokyo Metro Hibiya Line / Tsukuba Express / JR Sobu Line)


Phone Number

03-5809-1506
Written by: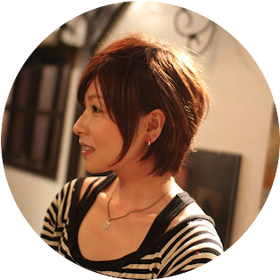 *This information is from the time of this article's publication.
*Prices and options mentioned are subject to change.
*Unless stated otherwise, all prices include tax.