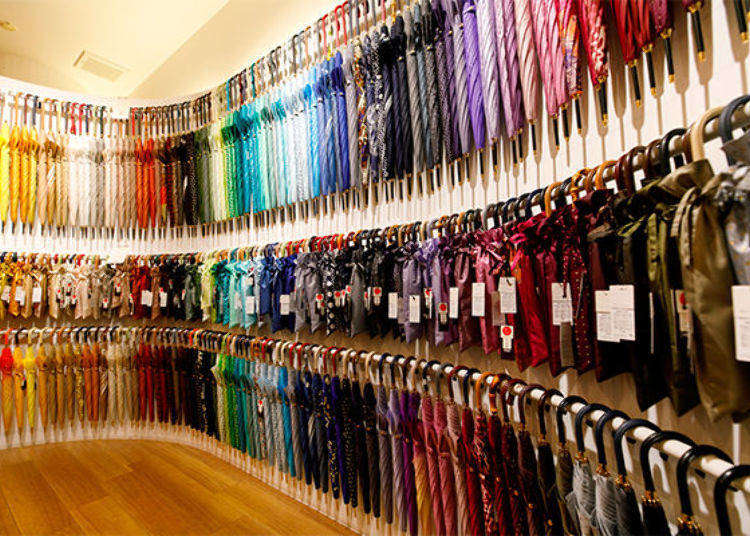 Akihabara is strongly tied to pop culture and anime, with plenty of people thinking of otaku, maid cafés, and electronics first. However, the area is also dotted with plenty of designer spots for creative, sophisticated shopping! At the forefront of that is 2k540 AKI-OKA ARTISAN, a shopping mall-like gathering of artisanal brand shops selling amazing handmade goods. Let's take a closer look at the must-visit shops to find your perfect, one-of-a-kind souvenir from Tokyo!
Shops, Workshops, Cafés: Akihabara's Stylish "City of Crafts"
2k540 AKI-OKA ARTISAN, which we will simply call 2k540 from hereon, first opened in 2010 as a commercial facility under the elevated train tracks between JR Akihabara Station and JR Okachimachi Station.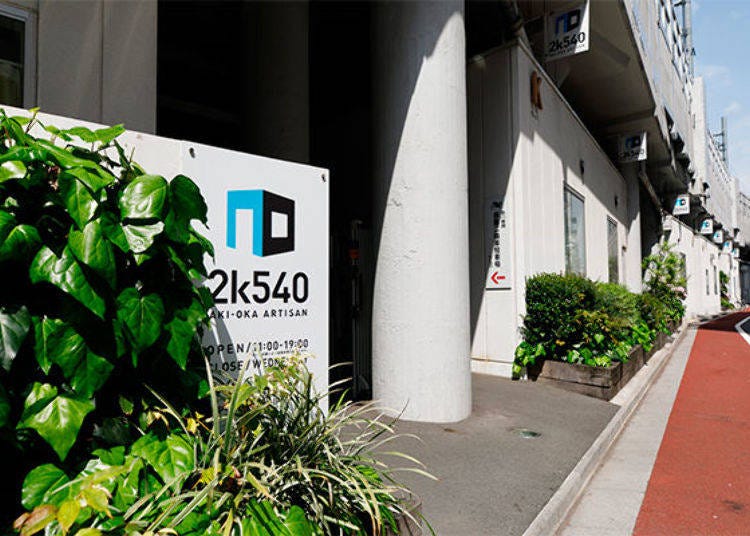 Leave JR Akihabara Station via the Electric Town Exit and continue along the train tracks for about 6 minutes.
Shops, workshops, and cafés unite under the theme of arts and crafts inside 2k540, offering a kaleidoscope of handmade designer goods.
A lot of Tokyo's shops have set up workshops here, giving people the opportunity to experience part of the manufacturing process firsthand. Knowing how something is made gives an item on sale an entirely different meaning!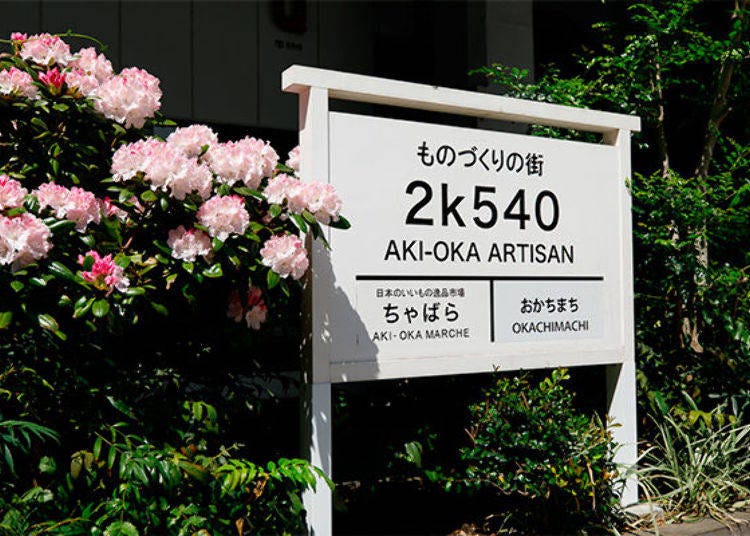 The strange name "2k540" comes from railway terminology. The facility is 2.540km away from Tokyo Station, hence the name.
If you enter coming from Kuramaebashi-dori Street, you're greeted by the white columns inside the facility. They immediately evoke a strange, fascinating atmosphere that makes you all the more curious as to what awaits inside.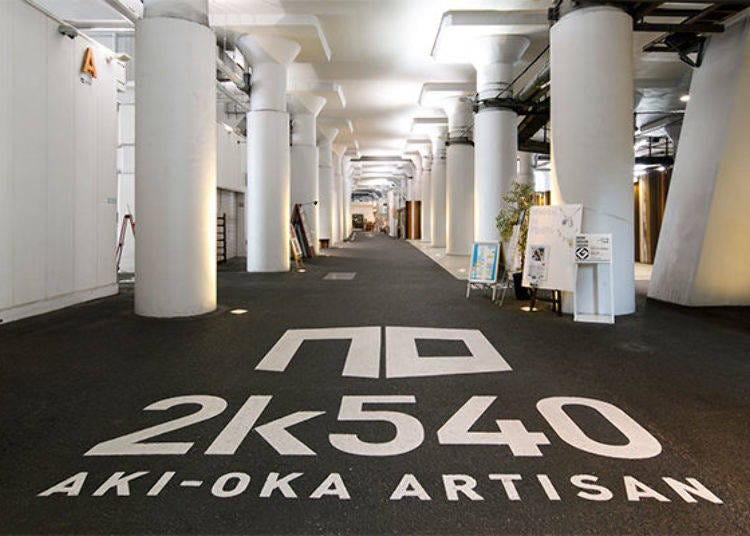 The "Creator's Market" is one of the many events and projects held on Fridays, Saturdays, and Sundays, featuring the artisans themselves selling their handmade goods.
About 50 shops gather on 5,000 square meters, each of them stylish and unique. Just glancing at them from the outside is an exciting experience. If you spot something that piques your interest, head right inside!
Nippon Department Store Okachimachi: Traditional Crafts and More; Each Item Tells a Story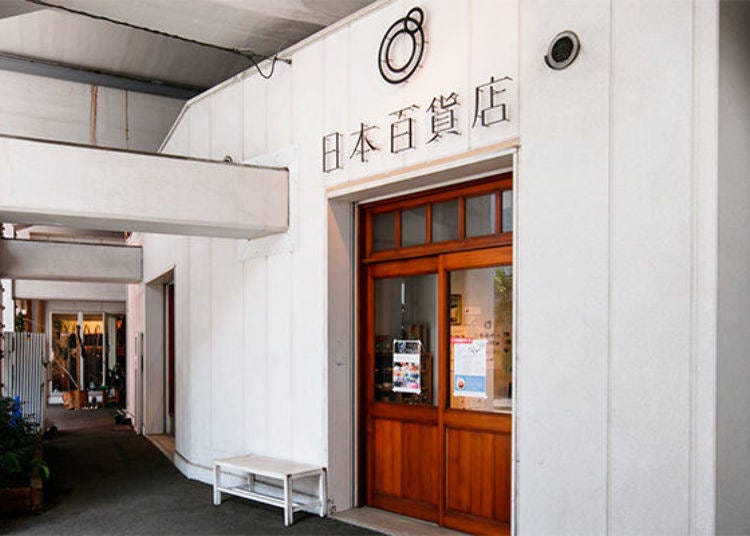 Nippon Department Store sits near the entrance along Kuramae-dori Street and handles a wide variety of traditional arts and crafts, showing off the skill of craftsmen throughout Japan.

Stationery, accessories, bags are plentifully represented, but you'll also find a beautiful selection of traditional works such as Edo Kiriko glass work, Yosegi wooden mosaic art, and Nambu ironware. Each of the products on sale has its own background story, carefully created with skills and techniques handed down from one generation to the next.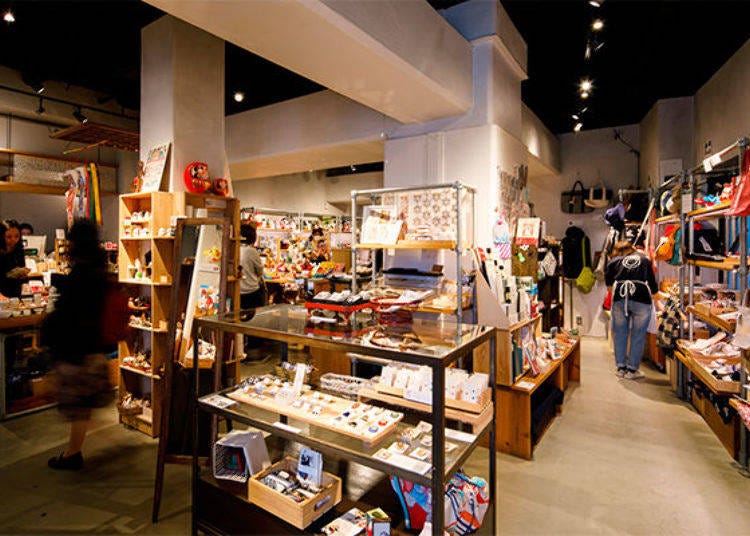 Contrary to what you might expect, everything on sale is designed to bring just a bit more convenience to your daily life. These crafts aren't just for looks.
One of our favorite finds is the book cover made out of soft rush, the same material that is used for the famous tatami mats from Kiryu City in Gunma Prefecture. It's a Nippon Department Store original. You have to put it in your hands to experience how smooth and pleasant it feels, enhanced by the faint aroma of dried rush. The cover is adorned with Japanese-style motifs such as Mount Fuji, Tokyo Tower, pandas, and so on. They give this traditional craft a bit of a playful touch and making it a beautiful, handy souvenir from Tokyo.

Popular among female shoppers are these knob-style earrings. This is a traditional technique called tsumami zaiku, making tiny, delicate flowers out of cloth. Casual yet delicate, they bring a hint of traditional Japan to your everyday outfit.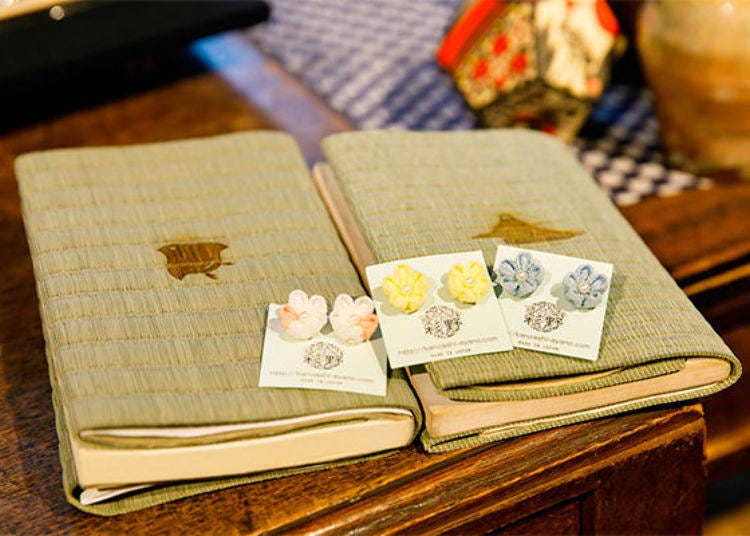 Tatami Book Cover (left: 1,620 yen; right: 1,296 yen) and Tsumami Zaiku Earrings "Flower" (3,240 yen each)
A lot of the products on sale are perfect for modern daily life while incorporating old, traditional techniques into their design. They boast a somewhat warm, nostalgic charm, each of them tells its own story.

Nippon Department Store also holds workshops and events, allowing you to try your own hand at these traditional techniques. Make accessories out of Nishijin textile or your own bookbinding with the help of a specialty store.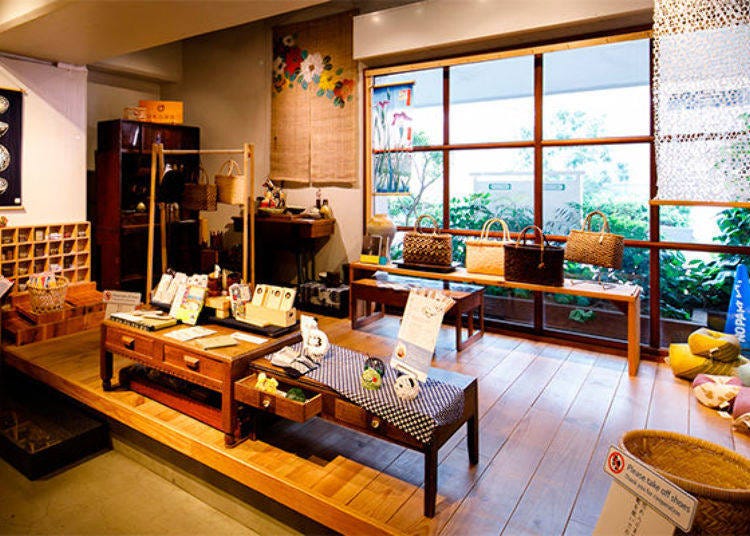 The workshop space inside the store. You work right next to the actual craftsmen.
Nippon Department store is a treasure trove full of traditional yet handy goodies. If you're looking for a souvenir imbued with the warm nostalgy of an older Japan, make sure to stop by.
Nippon Department Store Okachimachi

日本百貨店おかちまち

Address

2k540 A-1, 5-9-3 Ueno, Taitō-ku, Tōkyō-to 110-0005

Phone Number

03-6803-0373

Hours: 11:00 a.m. – 8:00 p.m.
Closed: Wednesdays, open on national holidays
Tokyo Noble: An Endless Selection of Colorful Umbrellas
Tokyo Noble is both a brand and a specialty store that let you customize your own umbrella. The individual parts are put together right at the shop, finishing each custom order in about 30 minutes. As soon as you enter the shop, you're engulfed by a fascinating, colorful world that makes rain seem not so bad at all.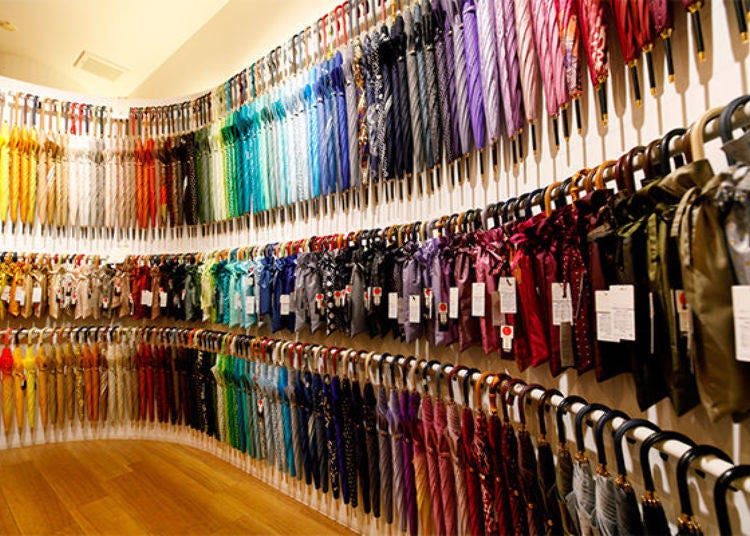 So many colors! About 400 umbrellas adorn the wall. The top row shows long umbrellas, the middle row is folding umbrellas, and the bottom row is short umbrellas.
The long umbrellas have a skeleton of about 60cm in length while the shorter ones measure about 50cm. Folding umbrellas are the third type that is available. First, you choose the shape. Then comes the difficult part, as you are faced with a selection with fabrics of 77 different colors, more than 50 different handles, and 25 colors for tassels. From basic plain to stripes and dots, roughly 60 kinds of designs make the choice even harder.

However, these diverse customization options make sure that you'll end up with a one-of-a-kind umbrella that perfectly fits your style, no matter who you are and what you like.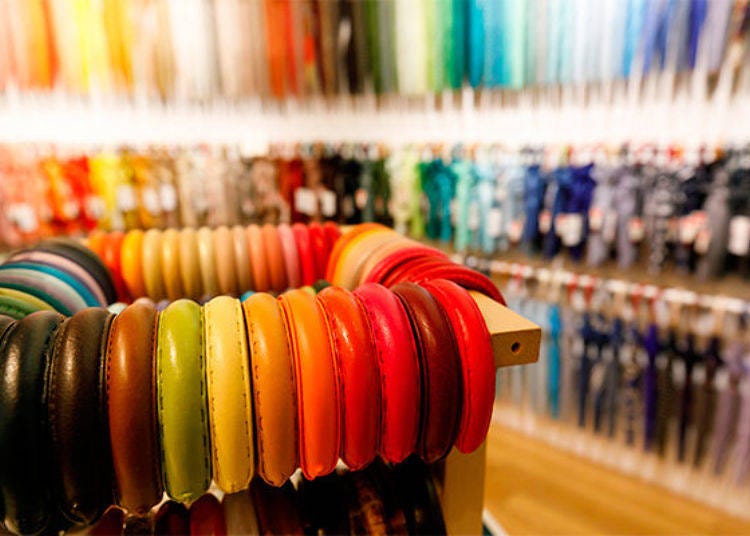 Even the handle selection is rich with options including leather, acryl, bamboo, and more. Choose what looks and feels best!
If your umbrella skeleton ever gets damaged, such as by strong winds, just take the umbrella back to the shop and the staff will repair it for you. You even can request the fabric and handle to be exchanged!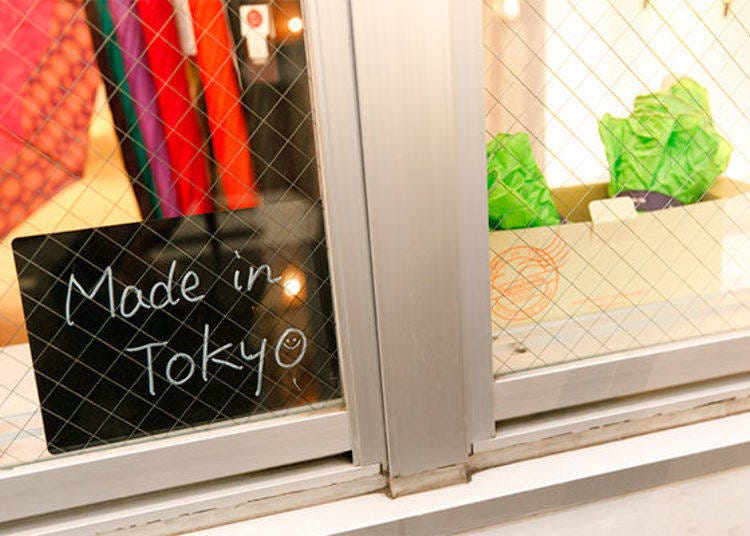 As all umbrellas are handmade, customizations are not a problem and can be performed right at the shop.
Tokyo Noble also has other locations outside of 2k540, so why not check the other shops as well? It's especially fun to do the customization experience with a friend.
Tokyo Noble

Address

2k540 N-3, 5-9-19 Ueno, Taitō-ku, Tōkyō-to 110-0005

Phone Number

03-6803-2414

Hours: 11:00 a.m. – 7:00 p.m.
Closed: Wednesdays, open on national holidays
Glen Clyde Sock Club Tokyo: The Best Experience for Your Feet!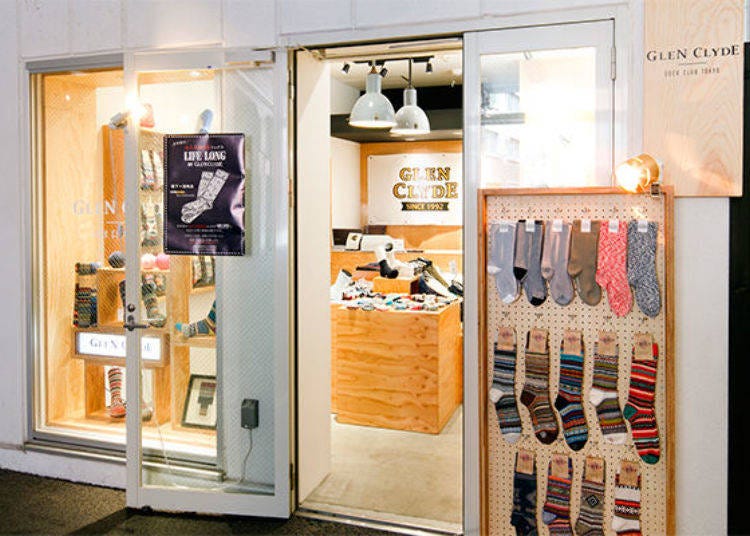 As the name suggests, Glen Clyde Sock Club Tokyo is a sock specialty store. Most people might know it as a brand that makes the most out of the materials it uses, and the shop in 2k540 is the only one that's directly managed.

One of the biggest features of Glen Clyde Sock Club Tokyo is that every pair of socks comes with a "lifelong" certificate, guaranteeing you a new pair of socks every time your old ones have holes. The shop handles men size only, so this is a perfect place to get a gift for male friends, relatives, and partners. AS the brand is very particular about the materials, these tocks are guaranteed to feel amazing on your feet.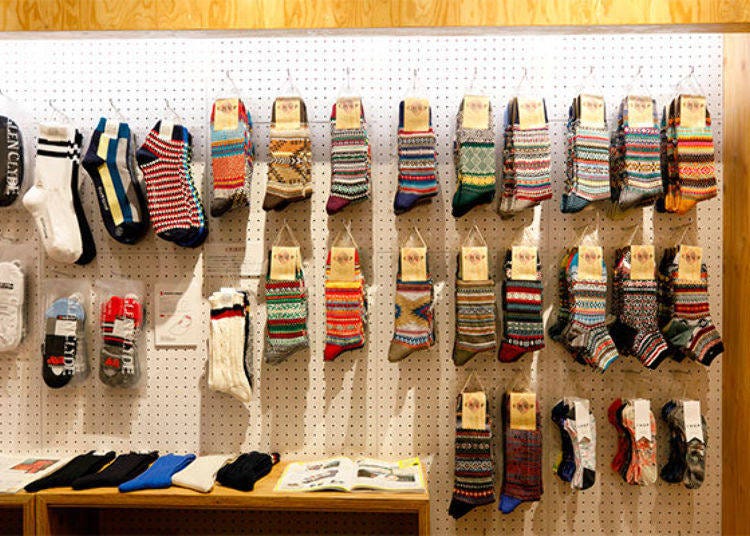 Sizes are plentifully available, even catering to smaller sizes (from 22.5 cm).
We especially recommend "CHUP," the collection with particularly intriguing designs. You'll even find these at select shops outside of Japan. The colorful patterns are inspired by indigenous cultures from around the world.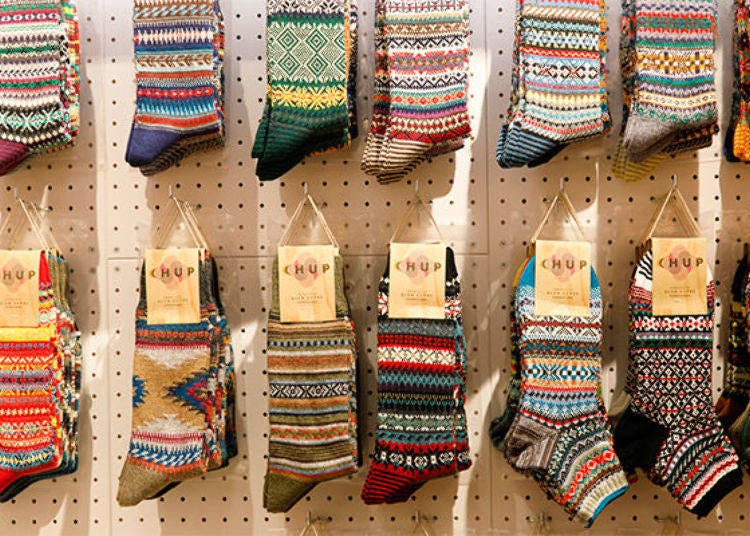 CHUP boasts a variety of designs. The socks come in 4 types, including crew socks, short socks, sneaker socks, and cover socks (from 1,944 yen). This sock store is especially popular among international tourists.
Another line is called SLUCKS, boasting a gentle fit and a cuff that is less tight than regular socks. They're rather stretchy, perfect for wearing over another pair on cold days. They'll keep your feet warm whether you're exploring outdoors or enjoying a relaxed day at home.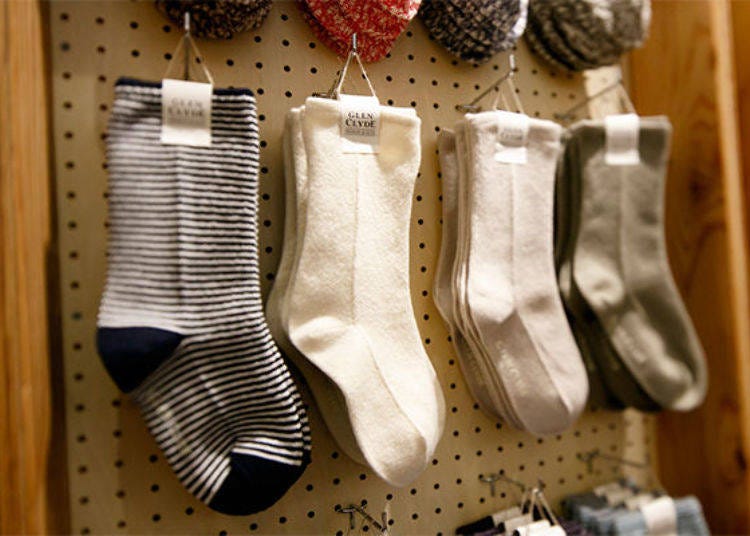 A lot of people love SLUCKS for their softness and comfort (from 1,512 yen).
These "Made in Japan" socks, committed to material and comfort, bring a whole new definition to this classic gift choice!
Glen Clyde Sock Club Tokyo

Glen Clyde Sock Club Tokyo

Address

2k540 N-3, 5-9-23 Ueno, Taitō-ku, Tōkyō-to 110-0005

Phone Number

03-5846-8907

Hours: 11:00 a.m. – 7:00 p.m.
Closed: Wednesdays, open on national holidays
IRONCAFe: Experience Genuine Iron Casting in a Stylish Shop!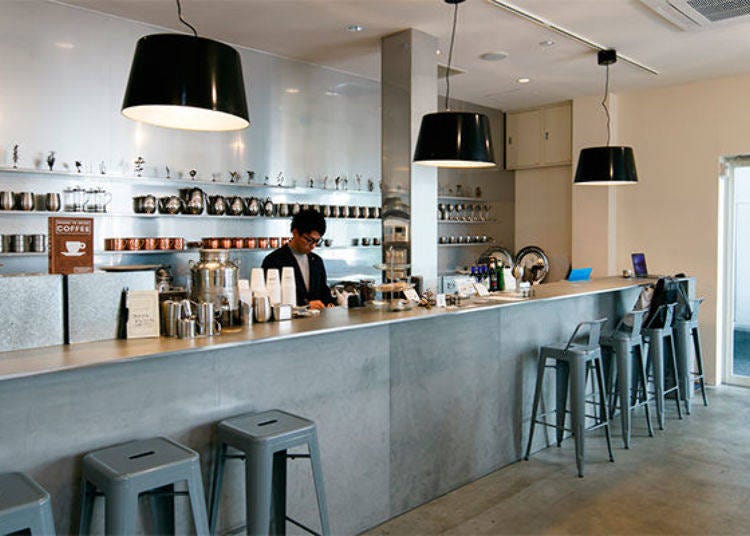 Next up: 2k540's most intriguing café.
IRONCAFe is a unique place that lets you try your hand at iron casting. That means pouring molten metal into a mold, making a finished casting.

Various works such as accessories and art objects are exhibited throughout the shop and the café also serves genuine café delights in iron dishes.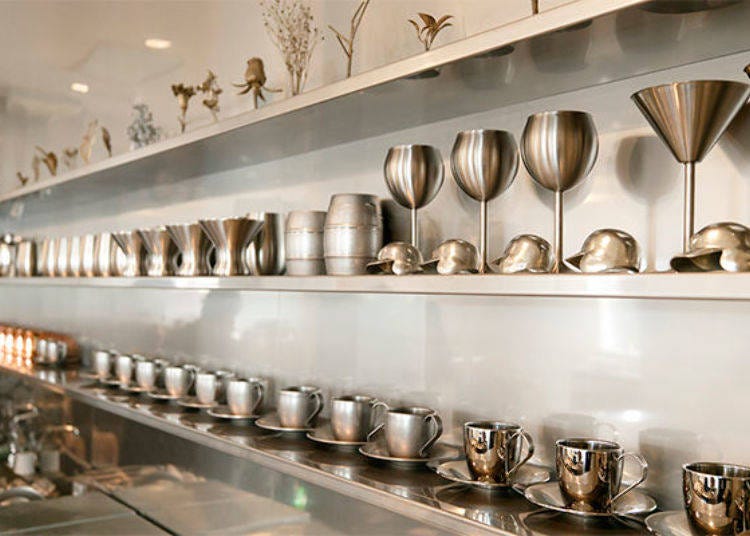 Everything you see is made out of metal. Have your coffee from a stainless-steel cup!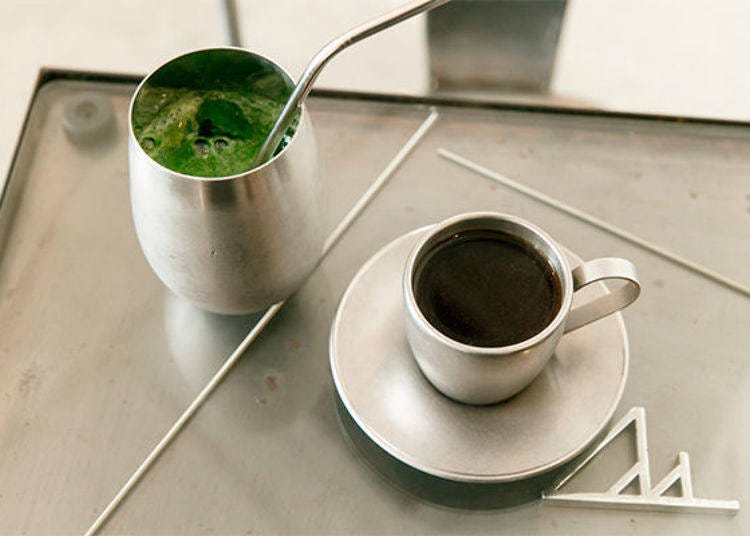 The stainless-steel straw is a surprise as well! This is the "Iron Smoothie Green (Spinach)" (left, 650 yen). The coffee called "Iron (Brazil)" (right, 500 yen) is blended with images of metal.
The staff's recommendation in regard to the menu is the waffle. Apparently, it was put on the menu as a nod to the whole process of casting—you know, pouring liquid in a mold.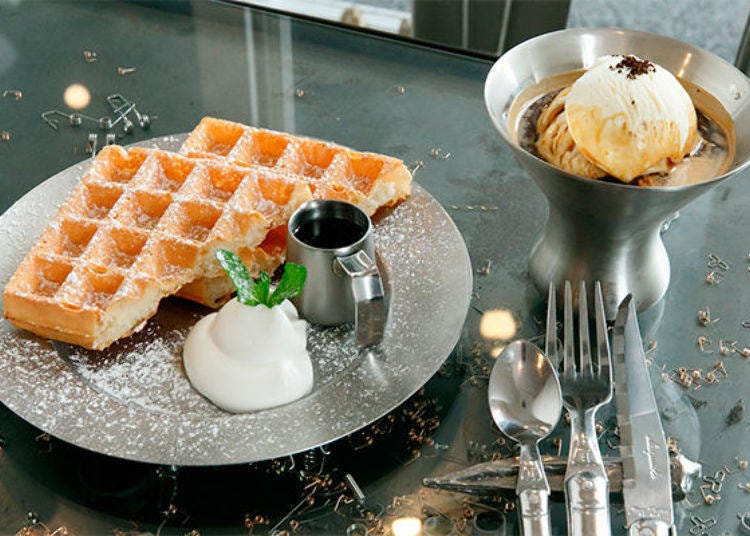 The outside is crispy, the inside is wonderfully fluffy! We had the "Maple Waffle" (left, 600 yen) and the "Affogato" (right, 600 yen), the latter one being made with espresso, the pride of the café! Even the cutlery is made out of stainless steel.
While the food looks really enticing, look at the table for a moment. There are countless springs scattered all around! This fund decoration seems to be a collaboration with a spring manufacturing company, enhancing the general iron theme with a playful twist.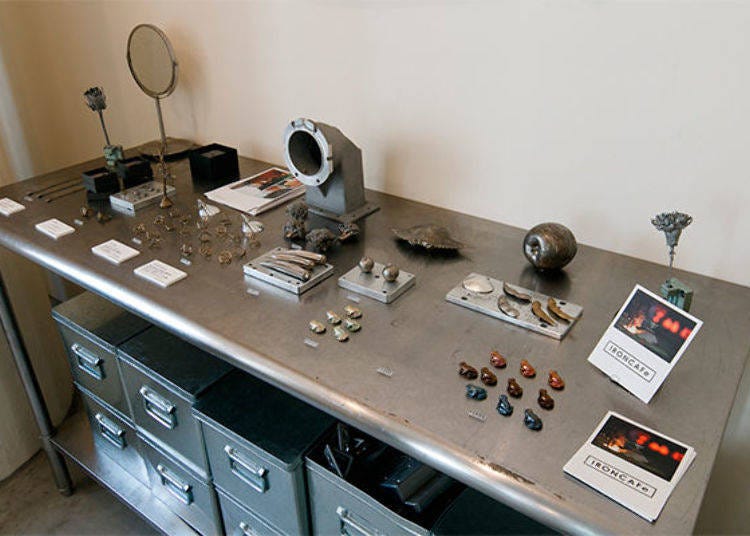 One corner of the shop is a gallery space that exhibits and sells intricate casting works. It's also possible to ask for a custom-made piece.
The cast for these was made with actual coffee beans! (1 for 500 yen)
IRONCAFe hosts a number of workshops, such as the vegetable casting course, the candy casting course, and free mold course with clay. Get your own unique veggie or dessert made out of iron! The casting workshop, on the other hand, lets you make your very own custom mold.

The monochrome-style café offers a calm, fascinating space to stop by, enjoy a coffee, and get inspired by the unique art and materials all around you. And why not tackle the challenge yourself and cast a one-of-a-kind artwork?
IRONCAFe

Address

2k540 M-4, 5-9-23 Ueno, Taitō-ku, Tōkyō-to 110-0005

Phone Number

03-6806-0304

Hours: 11:00 a.m. – 7:00 p.m.
Closed: Wednesdays, open on national holidays
Borsa: Handmade Leather Goods Full of Personality, From Bags to Wallets!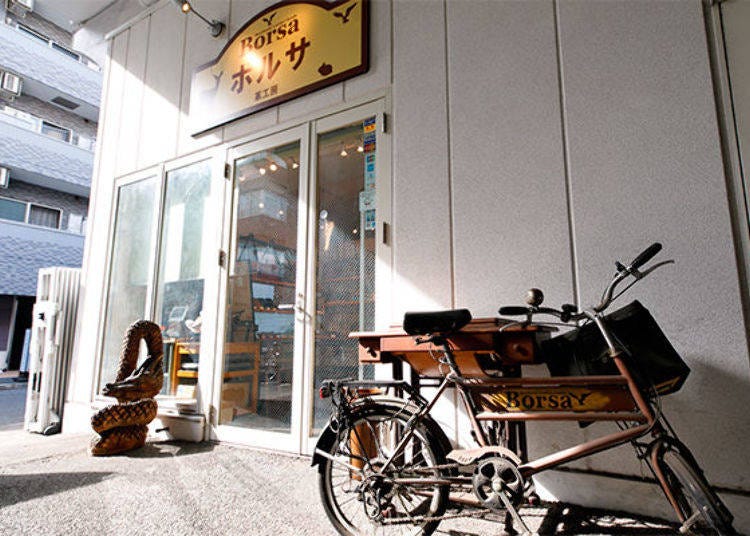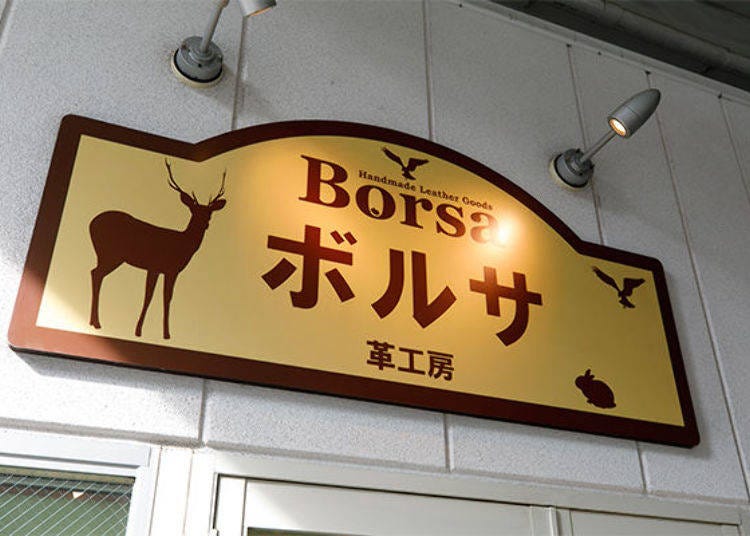 The playful sign alone will have you wander into the shop.
The area around Okachimachi has historically been a leatherworking town. Maybe that is why several leather craftsmen have set up shop inside 2k540.

One of them is Borsa, a leather specialty store that doesn't only sell stylishly designed goods but also hosts plenty of workshops. The shop even has its own brand called "Jp veil's." The pleasant aroma of leather engulfs you as soon as you enter the shop. A studio sits on the right-hand side in the back where you can watch the leather goods being made right in front of your eyes, All of Borsa's products are designed with an emphasis on functionality and simplicity.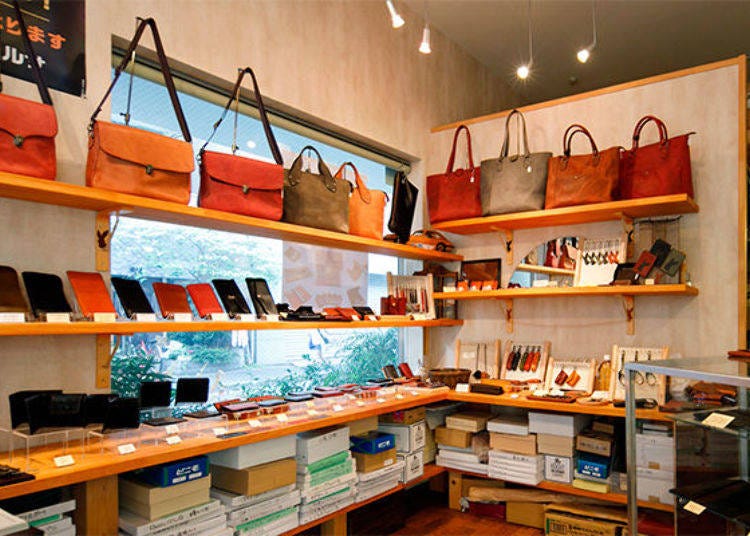 The carefully crafted bags and wallets really make the most out of the material. A free name engraving service is available as well.
Of course, you can also order a custom leather product. Should something that really piqued your interest be unavailable, the shop will do its best to recreate it for you.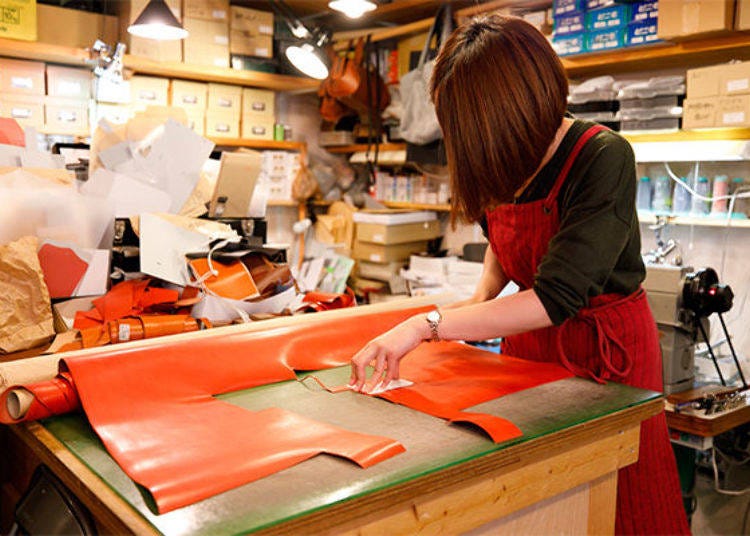 A lot of passion goes into each creation. Don't hesitate to talk to the staff, it's a great chance to get an insider's advice and opinion when shopping for a new bag or wallet.
Borsa also offers a variety of accessories, including rare finds such as a glove holder, a bottle holder, an eye drop case, and so on. Because the staff is in constant, active exchange with the customers, Borsa's products boast astounding functionality. Be sure to examine everything closely to find hidden features!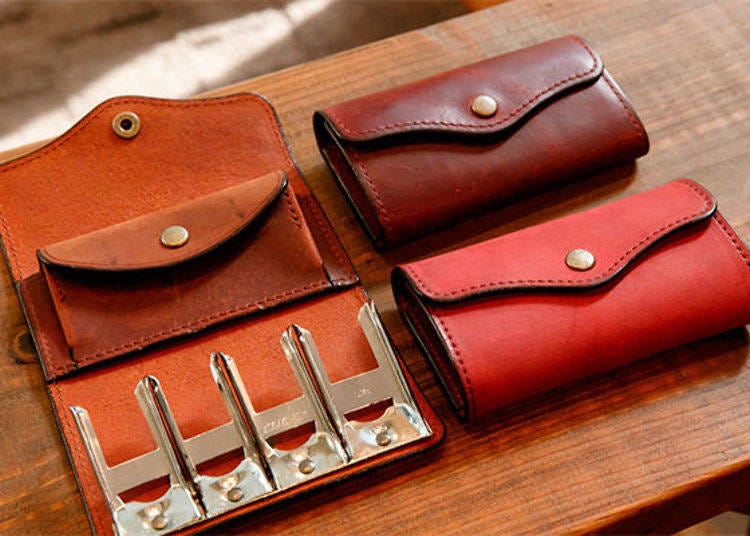 The "Classic Coin Case" (9,500 yen, available in brown, wine, and grey) keeps all your coins organized. The image the case them open and closed. It's a great, stylish way to bring extra order to your wallet.
ボルサ

Address

2k540 H-1, 5-9-11 Ueno, Taitō-ku, Tōkyō-to 110-0005

Phone Number

03-6803-0800

Hours: 11:00 a.m. – 7:00 p.m.
Closed: Wednesdays, open on national holidays
@griffe Tokyo: The Prettiest Bags and Wallets in Town?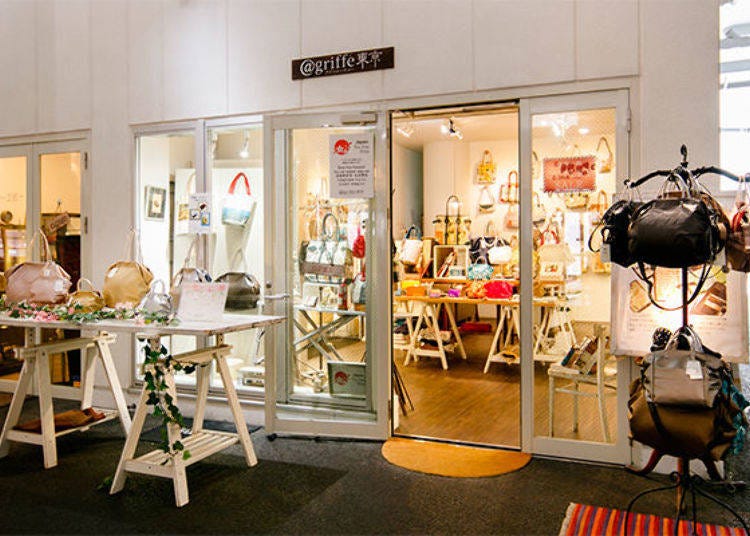 "Giving shape to memories" is the concept of different bag and wallet series.
For a unique one-piece bag or wallet, head to @griffe Tokyo. This intriguing shop specializes in individualistic bags and accessories with extravagant design.

Especially impressive is the "only one in the world series," featuring one-point bags made out of vintage paper. That could be French newspapers, magazines from the 50s and 60s, real maps, and so on! Each product of the series is truly unique, so if you see something you like, don't hesitate!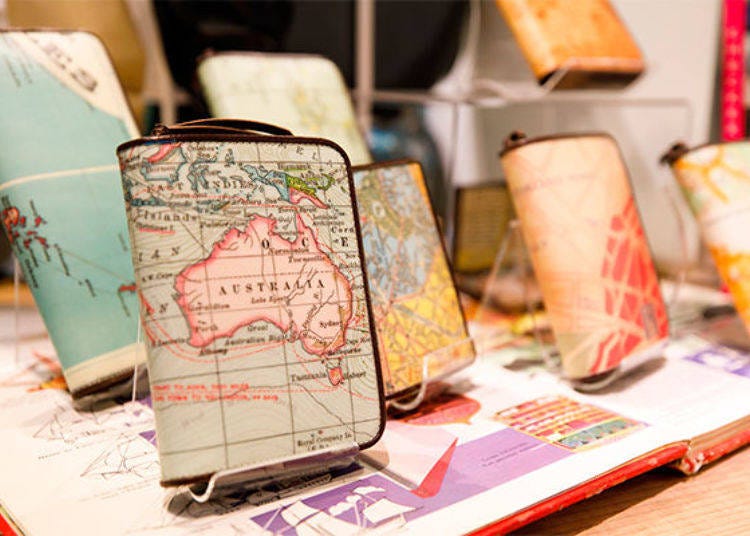 "The only one in the world series" is the theme for the materials, including newspapers, magazines, and comics. What you see on the picture is the "Leather Zip 2-fold Wallet." (18,360 yen)
One amazing characteristic of these goods is that the more you use them, the more vivid the colors seem to shine. Coated with a special plastic, the material is water-resistant and feels just like leather.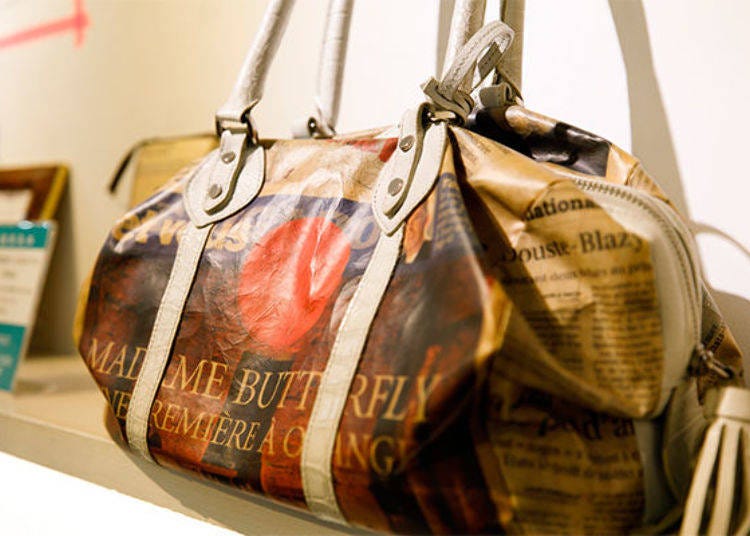 An "aged look" Boston bag. The colors become stronger and the bag becomes even more individualistic the longer you use it.
With this method, @griffe Tokyo also handles custom orders, such as pictures of your pets, music scores of your favorite song, a drawing by your little ones, and so on. Get creative and ask for your very personal, one-of-a-kind goodie!

Of course, the shop also has several original series that make great gifts.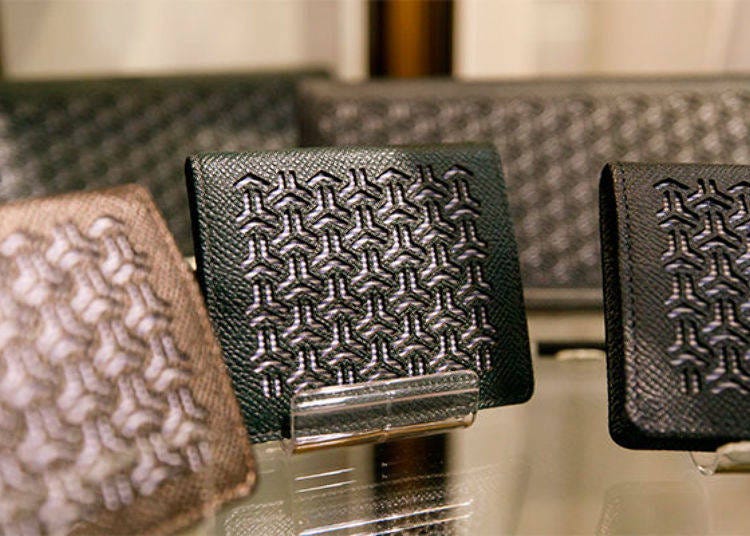 This is the "Leather Carving Series" that features the auspicious pattern called "kumi kikko" and London stripes, combining Eastern and Western aesthetics. The picture shows the purse of this series (8,964 yen).
@griffe東京

Address

2k540 K-1, 5-9-22 Ueno, Taitō-ku, Tōkyō-to 110-0005

Phone Number

050-7573-7513

Hours: 11:00 a.m. – 7:00 p.m.
Closed: Wednesdays, open on national holidays
Toumei: Glass-like Resin Takes You to Another World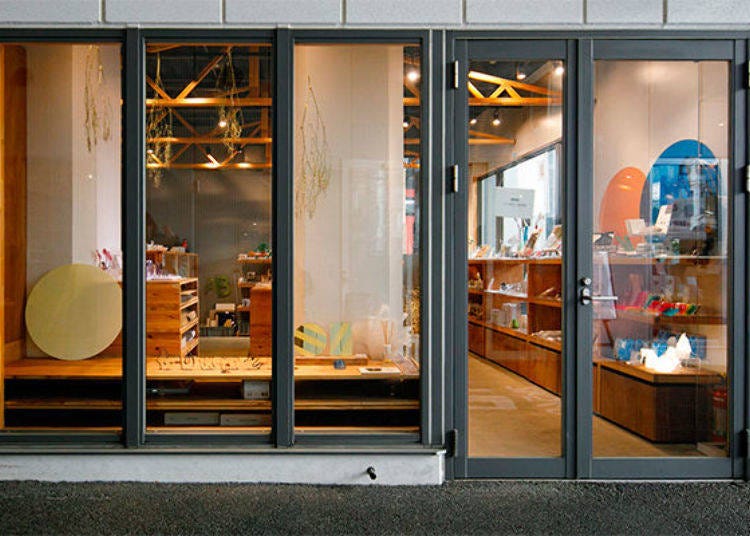 If you're looking for cute and colorful accessories, follow us to Toumei. It's a unique shop specializing in transparent, vivid resin products that almost look like things from another dimension.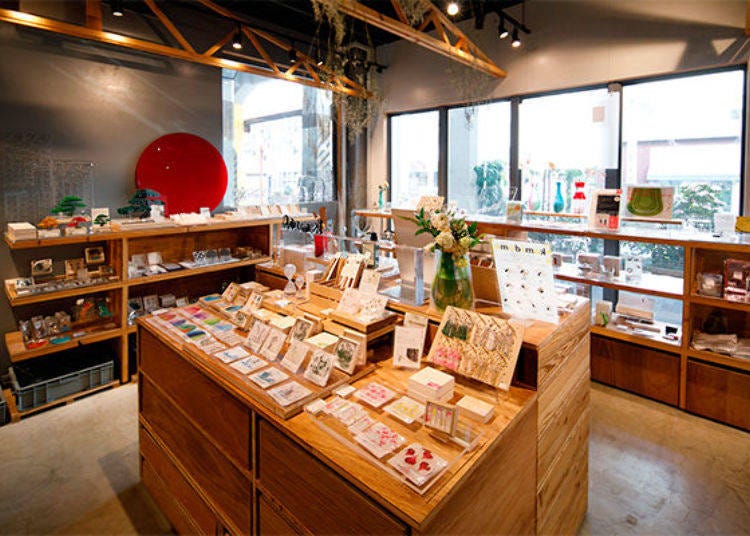 A chopstick rest, coasters, art objects, and stationery made out of resin.
Not everything is made exclusively out of resin, however. Among the selection are fascinating products that integrate various materials, from wood to synthetic.

The staff told us that the parent company of the shop is in the resin treatment business, and these products are made with the techniques of the headquarters combined with the ideas of young designers and craftsmen.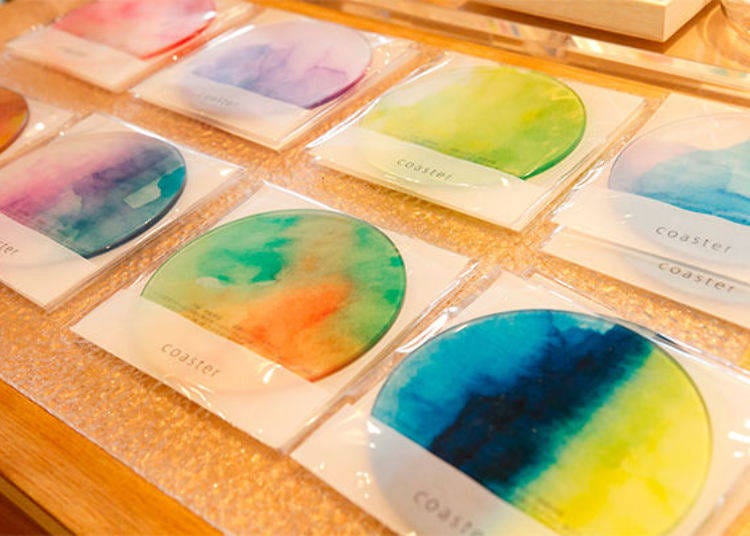 The "Awairo series." No two items are alike as the resin is infused with watercolor, flowing and mixing freely into these fascinating patterns. These are the coasters of the series (1 for 864 yen).
Especially intriguing are the watercolor items, so vivid and fun to look at, they're sure to fancy up your everyday life and a wonderful gift for both friends and family!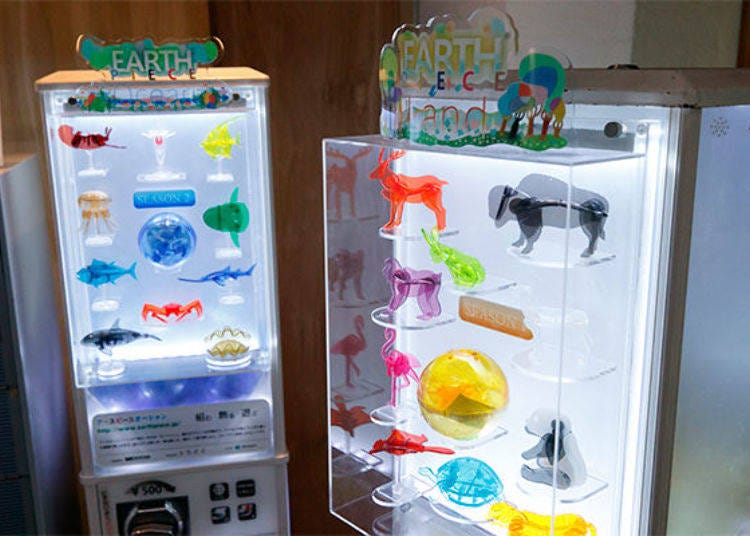 These are the shop's original capsule toys, featuring sea creatures and animals made from resin. Called "Earth Piece series," get one to adorn your desk with cuteness and style! (1 for 500 yen)
トウメイ

Address

2k540 Q-3, 5-9-16 Ueno, Taitō-ku, Tōkyō-to 110-0005

Phone Number

03-6240-1117

Hours: 11:00 a.m. – 7:00 p.m.
Closed: Wednesdays, open on national holidays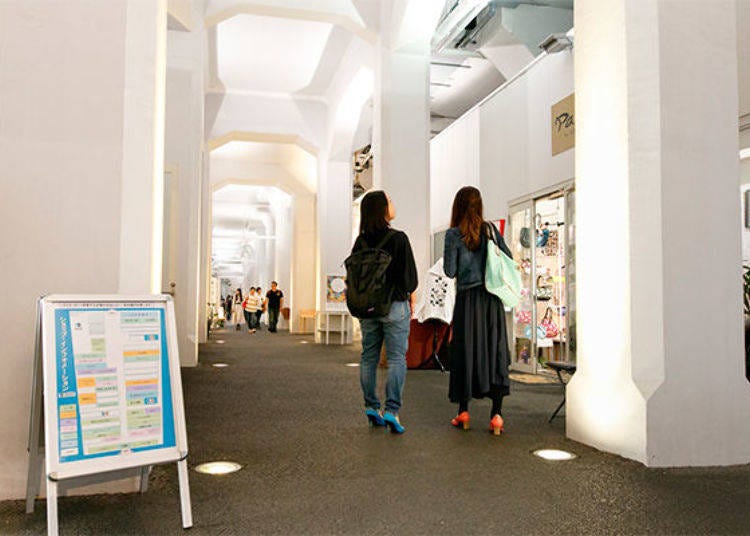 Visiting 2k540 really opens your eyes to the vast world of arts, crafts, and design! Not only is it an amazing kaleidoscope of different, unique products, but it also shows just how much love, passion, and creativity goes into every single part of the process. If you buy a souvenir here, you can be sure that it's one of a kind!
Address

5-9, Ueno, Taitou-ku, Tokyo, 110-0005
View Map

Nearest Station

Akihabara Station (JR Keihin-Tohoku Line / JR Yamanote Line / Tokyo Metro Hibiya Line / Tsukuba Express / JR Sobu Line)
6 minutes on foot


Phone Number

03-6806-0254
Let's Explore CHABARA: Food, Snacks, and Cooking Ingredients!
Let's not forget CHABARA AKI-OKA MARCHE! It's a facility entirely focused on Japanese food that opened in 2013 under the same elevated train tracks, about one minute away from JR Akihabara Station's Electric Town Exit.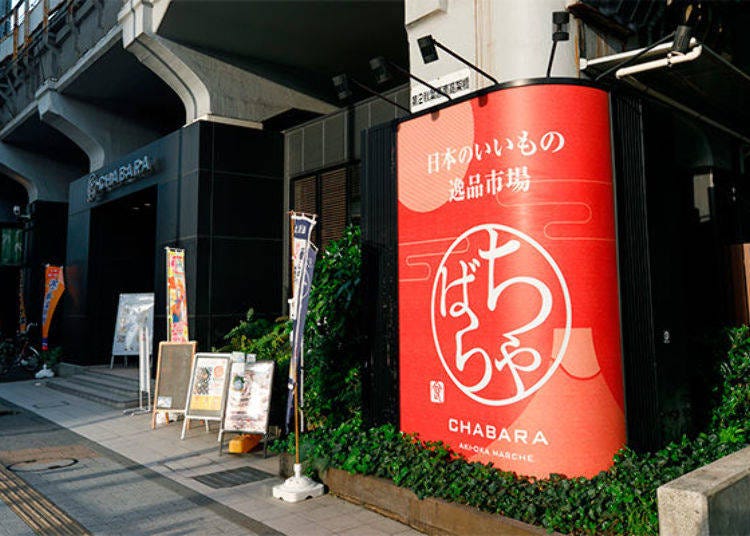 "CHABARA" is a play on words that combines the Tokyo dialect for vegetable market <@(yacchaba)|i@> and Akihabara.
Inside, you'll find Japan Department Stores Shokuhinkan dealing in high-quality foodstuff, Yanaka Kissaten which is a coffee bean specialty store that roasts from raw beans, and Komaki Shokudo Kamakura Fushikian and its delicious dishes.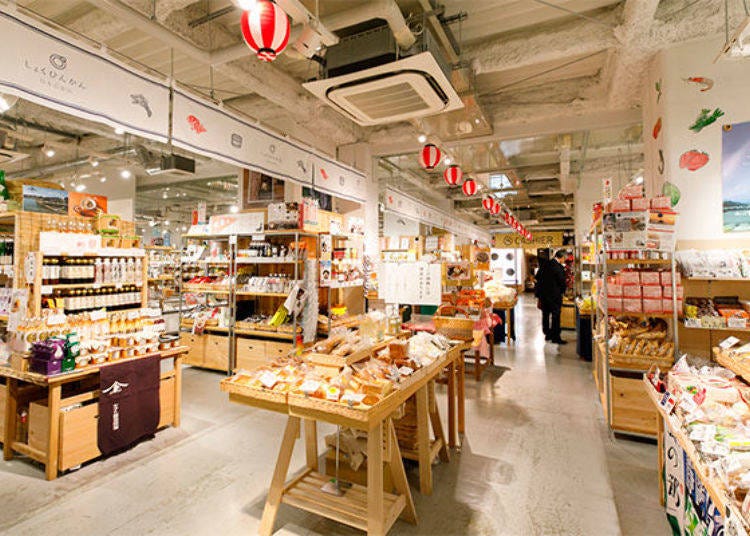 Japan Department Stores Shokuhinkan offers specialties from all over Japan,s uch as sweets, snacks, dried goods, seasonings, drinks, and more. The entire lineup is about 4,000 different products!
CHABARA AKI-OKA MARCHE isn't only a great spot to shop for all things food and cooking, there are also various opportunities to savor and try the things that are on sale. With events such as tastings and product fairs, it's a place that "directly connects producers and consumers."

The amazingly large assortment makes this place a real food market! The direct access to producers allows you to ask questions, learn more about the products you're buying, and discover an entirely new aspect of Japanese food. Just strolling through the selection and admiring the different specialties is an exciting culinary experience!
CHABARA AKI-OKA MARCHE

Address

8-2 Kanda Neribeichō, Chiyoda-ku, Tōkyō-to 101-0022

Hours: 11:00 a.m. – 8:00 p.m.
Closed: January 1, January 6, and the first Wednesday of November
"Under the train tracks" doesn't exactly scream high design and fashion—and that's exactly what makes 2k540 AKI-OKA ARTISAN so special. It's like a secret treasure trove full of fun, creative discoveries, boasting an atmosphere that is entirely different from the anime-centric Akihabara you might know. Get to know craftsmen, designers, and their products, and take a real one-of-a-kind souvenir back home with you!

Of course, we only showcased some of the stores inside the facility, so you're in for a whole lot more pleasant surprises! Happy souvenir hunting!

*All prices in this article include tax.
*This information is from the time of this article's publication.
*Prices and options mentioned are subject to change.
*Unless stated otherwise, all prices include tax.