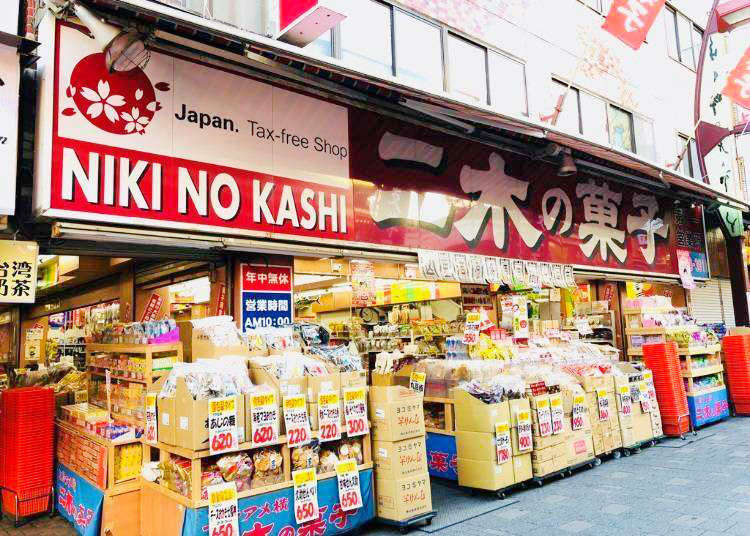 For everyone with a sweet tooth, exploring sweets and desserts is an absolute must while sightseeing in a colorful country such as Japan! Head over to Niki no Kashi, arguably Japan's most famous sweets discount store that opened in Ueno's Ameyokocho Shopping Street about 70 years ago. Since then, Niki no Kashi has opened 12 shops all around Japan, delighting both locals and tourists with a rich selection of sweets for unreasonably low prices!
Among this massive selection, however, we're inevitably drawn to sweets that we recognize either from media or that resemble what we know from our own countries. Venturing deeper into the bowels of the sweets shop and trying more obscure goodies isn't something that a lot of tourists dare to do.

"Naturally, no one really reaches for the things they don't know, but there are so many non-famous sweets that are tasty," is a statement that certainly rings true. Niki no Kashi is a treasure trove of unique and positively weird sweets that you'll have a hard time finding anywhere else, products from small, local companies that might just become your new favorites!

To help stoke your adventurous spirit, we've talked to Niki no Kashi's store manager Yasunori Nakagawa to give you an idea of must-try sweets that you probably wouldn't pick by yourself!
1. Ramune Candy – a Japanese Classic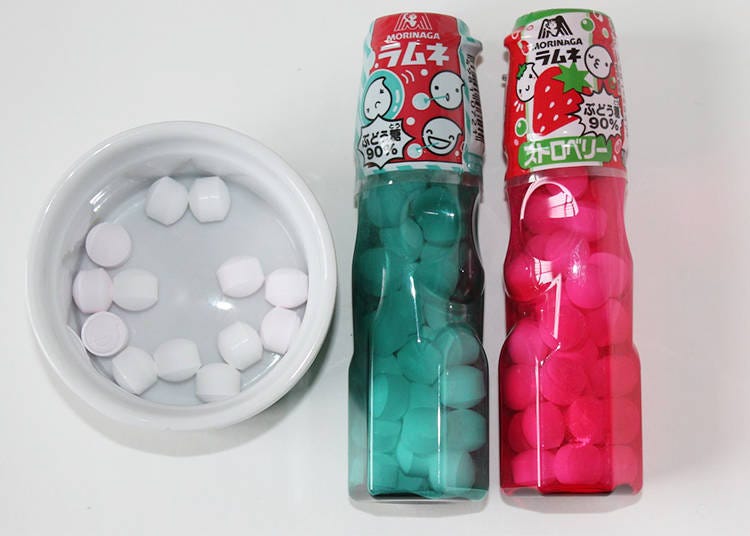 The package is shaped like the iconic Ramune bottle, a classic since 40 years and counting! 60 yen per bottle, for all flavors.
Japan's iconic drink, Ramune, boasts its own candy version. Generally, you can find the lemonade and its quirky bottle at summer festivals throughout Japan, but its candy version serves you the original flavor year-round! That's why it comes in a package that looks just like the original bottle.

"I think this candy really is an only-in-Japan one that cannot be found abroad, so tourists don't know what it is. Non-Japanese people barely buy this," explains Mr. Nakagawa.

Indeed, at first glance, the Ramune candy does look more like pills – but as soon as you put one on your tongue, you realize that it's far from medicine. The powdery candy offers a mild sweetness that is rather unique, it's hard to compare it to another sweet. Over the years, ramune candy has appeared in various shapes and flavors. "I really want you to try this, to understand how good it really is. Japanese people have loved this taste for decades!"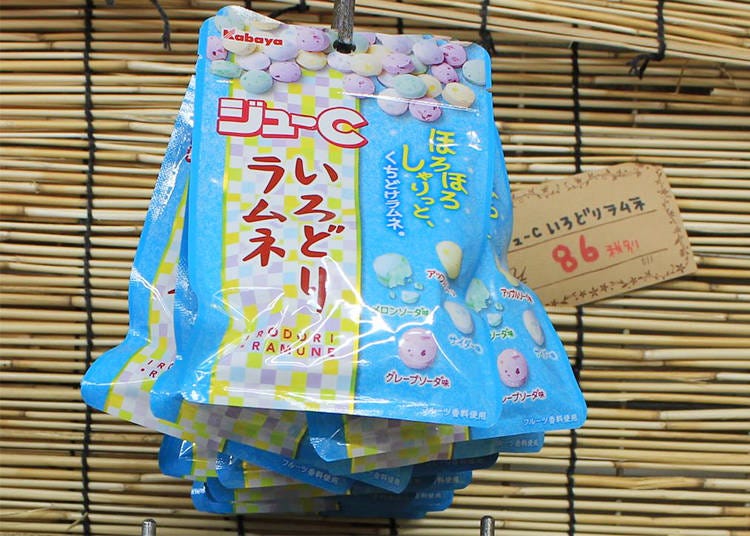 A modern version of the ramune candy, featuring pastel colors. Jui-C Irodori Ramune, 86 yen.
2. Tamago Bolo – Loved by Kids and Adults Alike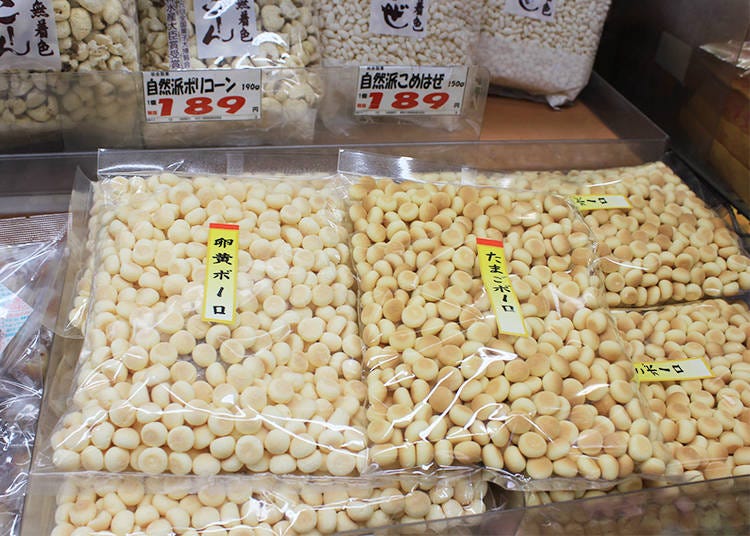 Tamago Bolo is a classic representative of the "goold old sweets." Weirdly enough,the ones made from yolk have a lighter color than the regular ones. One bag for 500 yen.
"This is one of the 'good old sweets' that I want to make popular. It has been loved in Japan since long ago." Called Tamago Bolo, this curious snack gets its name from the Japanese word for "egg" and the Portuguese word for "cake." Instead of using wheat flour, it is made with potato starch and thus has a wonderful texture that makes the little treat melt right on your tongue. Just like the ramune candy, which also uses potato starch! Japanese people have a special love for this melty texture.

Because Tamago Bolo is so soft, it's known as a treat for babies throughout Japan. "Most people associate it with babies, but no matter how old you are, you'll have a craving for Tamago Bolo every once in a while."

"Among those kinds of 'good old sweets,' the particularly delicious ones are still around today. Still, people buy them less and less and there are fewer companies that still make them. In order to change that situation around, we ourselves need to eat those sweets more, and we need to sell more of them. There's both Ran'ō Bolo [yolk bolo] and Tamago Bolo, with the yolk version being soft and the egg version being more on the crunchy side. each variety has its fans."
3. Sendai Makoron – Exquisite Taste Through Careful Work and Craftsmanship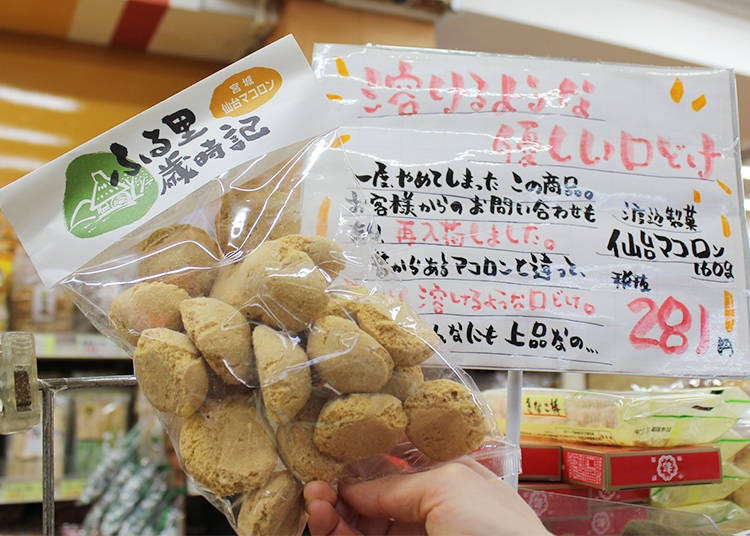 The rustic design of the package further enhances the taste. 218 yen per package.
"This is another one of the 'good old sweets," and personally, I think that this is one of the most delicious ones. This really boasts an amazing melt-in-the-mouth feeling." The main ingredient for this local, classic delight isn't potato starch but peanuts. Rather than immediately dissipating on your tongue like the Tamago Bolo, the Senai Makoron gently melts as it tickles your taste buds with a rich sweetness and peanut aroma.

Originally, the makoron is a traditional, pre-war sweet from the Tohoku area, specifically Iwate Prefecture's Sendai City. Its roots are an Italian biscuit called amaretti, which is made with almond, egg white, and sugar, while the Japanese version uses peanuts instead of almonds. Said peanuts do make up over half of all ingredients, giving this treat a natural and luxurious taste. As you can see, the Japanese makoron looks different from the internationally popular macaron, strong proof that it developed as its own, unique cookie. Thanks to the internet, this Sendai-based specialty has become popular all over Japan.

"We have plenty of people who buy the Senai Makoron because someone recommended it. We actually stopped selling them at some point but this treat has so many fans, people asked for it to come back. That's why I also strongly urge tourists to try it at least once."
4. Yuzu no Manma – the Deliciousness of Japan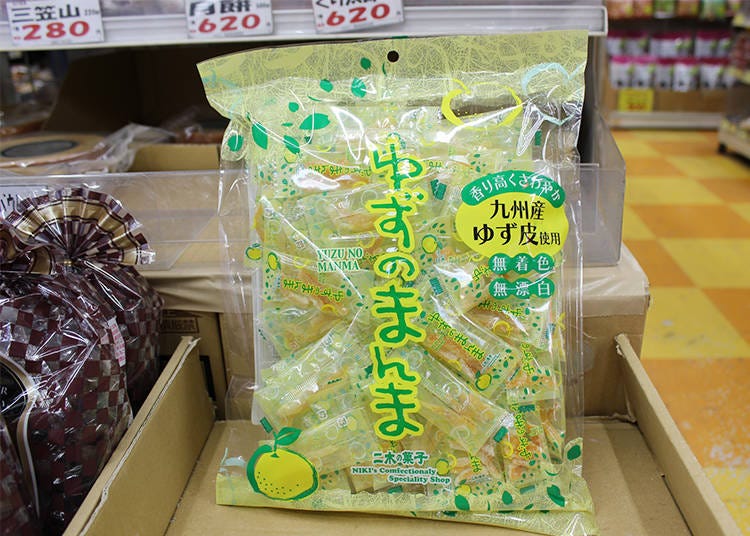 Individually packaged, this candy is easy to share and enjoy. Plenty of people always have a bag or two at the ready for sudden cravings. One bag for 1,200 yen.
This unique candy is entirely made from the peel of a Japanese citrus fruit called yuzu and a real Niki no Kashi original. "Among citrus fruits, yuzu is the most Japanese and the individual wrapping makes this an ideal souvenir. As such, it enjoys popularity among tourists as well. It's a simple treat that uses nothing but yuzu peel and sugar. This simplicity is what makes it so good."

For people who both have a sweet tooth and a consciousness about healthy eating, this candied yuzu peel is an excellent choice. It falls in the same category of dried fruits and nuts while offering a wonderfully rich and natural taste.

"The aroma is as fantastic as the taste," explains Mr. Nakagawa. "It perfectly conveys the authentic flavor of yuzu."
5. Savory Squid Snacks – Black is Beautiful and Tasty!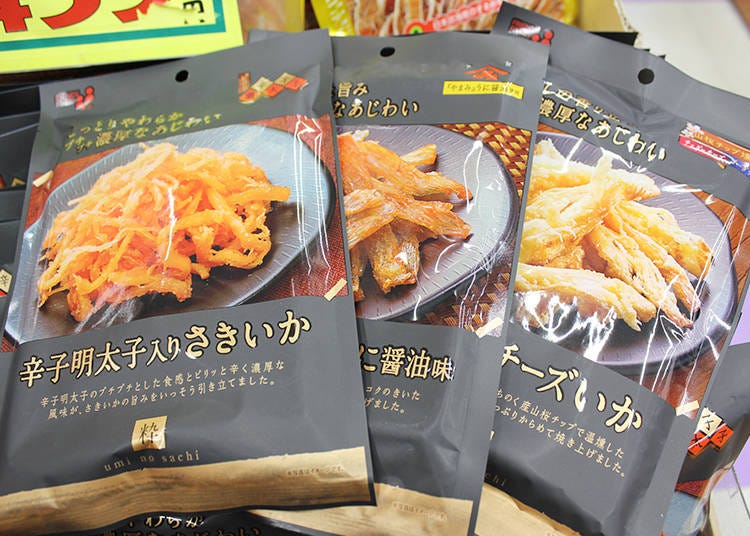 These squid snacks are so good, you won't stop eating until the bag is empty. Dried squid with mustard cod roe, one bag for 250 yen.
"We sell a lot of seafood products, both snacks and sweets. Everyone seems to like the savory flavor of shrimp, squid, and octopus. Japan is an island country and known for sushi, so I think a lot of people are aware that a seafood snack is an excellent souvenir."

Among those products is one that stands out as particularly popular: dried squid with mustard cod roe, or karashi mentaiko-iri saki-ika in Japanese. It unites the rich flavor of squid with the wonderfully unique cod roe, spiced up with Japanese mustard. The lumpy sensation of the cod roe also adds to the uniqueness of this must-try snack! This series also offers various other flavors, such as grilled eel, smoked cheese squid, and so on.

"The beautiful, somewhat luxurious black packaging helps this product to stand out from the rest as well."
6. Shrimp-flavored Rice Crackers – Crunchy and Delicious!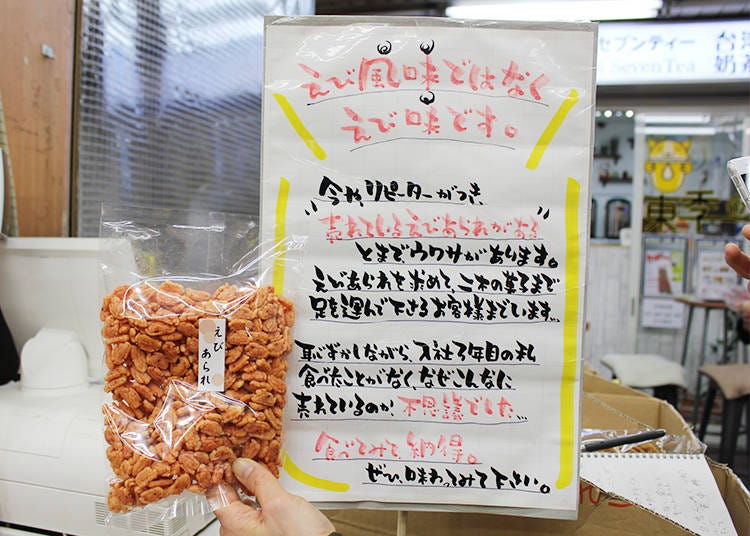 For seafood lovers, these flavored rice crackers are a must! 210 yen per bag.
When it comes to Japanese snacks and sweets, rice crackers are a famous classic and there's barely anyone who doesn't like one variety or another. Seafood- and especially shrimp-flavored rice crackers are especially loved, being snacked all over the country and even abroad. The varieties are sheer endless, ranging from thin to thick, from fried to grilled. A special recommendation among them is the ebi arare.

"It's not just a subtle shrimp aroma, these rice crackers offer a surprisingly rich and authentic taste," explains Mr. Nakagawa. And indeed, these crackers really seem like a luxurious snack that is rich in actual shrimp. It's amazing that they're available for such a little price.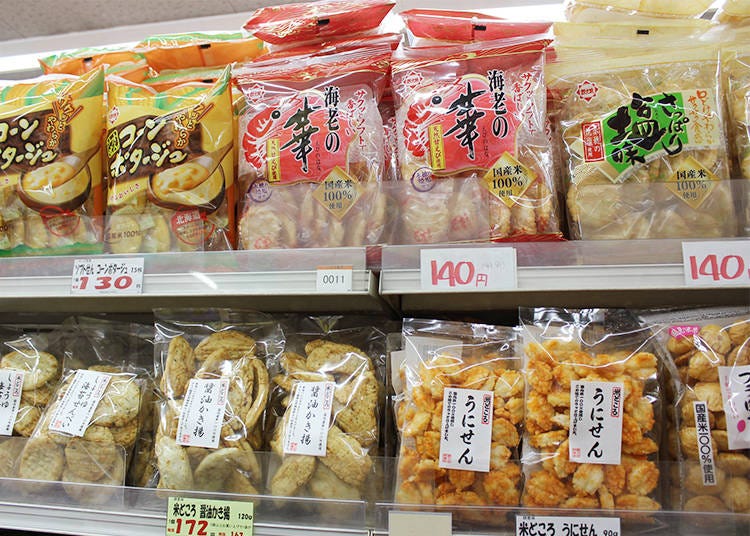 Besides shrimp, there are plenty of seafood-centric flavors, such as sea urchin or seaweed.
7. Cheese Snacks – Loved by Everyone!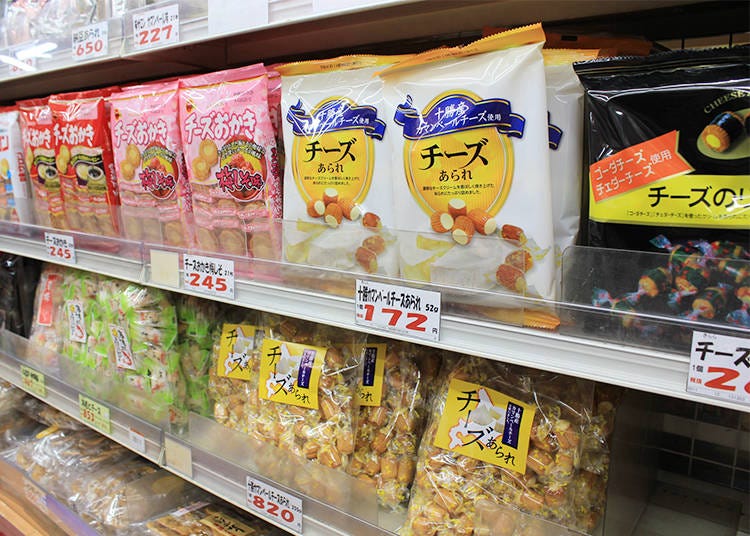 Cheese makes everything better, even rice crackers. Try various sorts of cheese-flavored goodes, such as the "camembert cheese arare" for 172 yen.
"Everyone loves cheese snacks. It's a guaranteed success." If something has the word "cheese" on it, it seems to be an automatic top seller. Cheese crackers, cheesecake, even sweets such as chocolate and cheese are plentifully available. Especially delicious is the combination of Japan's traditional rice crackers and cheese.

"Recently, there has been a trend of combining traditional Japanese flavors such as soy sauce or ume with cheese. It really goes with anything, which is probably why cheese products are so popular. Companies are in fierce competition with one another and release new products almost on a daily base, so the level of cheese snacks will steadily increase, I think."
8. Wasabi-roasted Beans – Pleasantly Pungent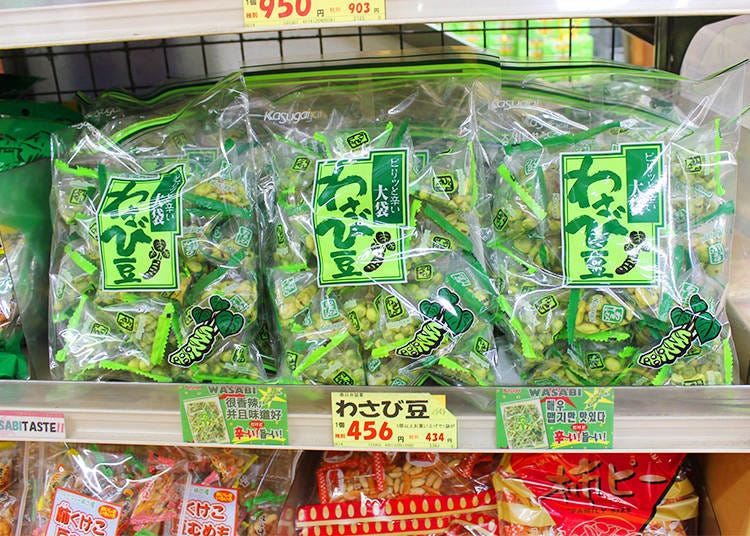 The wonderful pungency so unique to wasabi is positively addictive! The individual packages look like cute, little pyramids. One big package for 456 yen.
Wasabi is one of Japan's most famous condiments and indispensable for iconic dishes such as sushi. As a sweet or snack, however, it is still relatively unknown. Once you've tried this roasted bean snack enhanced with wasabi, you'll completely change your perspective!

"It might take a while to get used to and appreciate the unique pungency of wasabi. However, in the case of this roasted bean snack, it is balanced by the subtle sweetness of the beans and the flavors complement each other really well." Green peas and fava beans are spiced up with wasabi powder, making for a snack that has a proper kick. There are plenty of products like this on the market, but this seems to be one with the best flavor.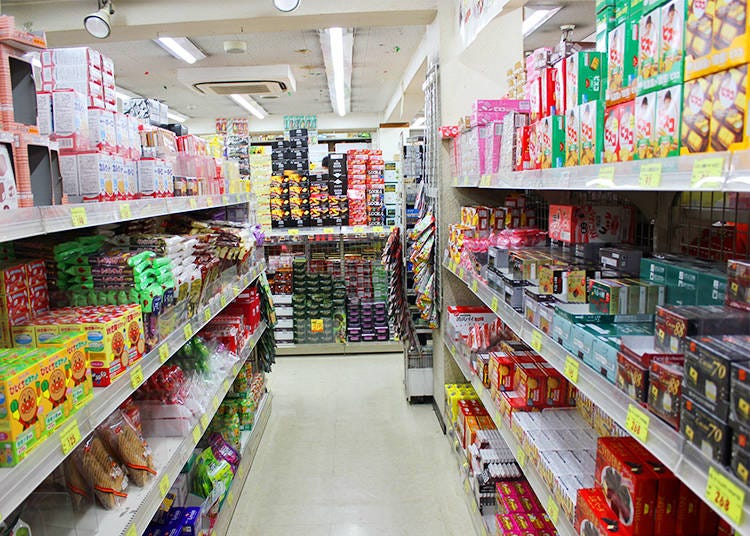 Niki no Kashi's 2nd floor offers packages for bulk purchases and hosts a tax exemption counter that handles purchases over 6,000 yen.
Your Own Sweet & Snack Adventure!
Good old sweets, traditional sweets, confectionery fit to be a souvenir, sweet potato products... Niki no Kashi offers a one-of-a-kind wonderland of Japanese candy and snacks! Are you ready to sink your sweet tooth in? Be daring and try the unknown, because only this way you'll be able to discover the many unique charms of originally Japanese products, from savoring unknown flavors to masterful manufacturing techniques. Try both the famous goodies and the completely unknown to find your brand-new favorites!

Because sweets are generally much cheaper than clothes or proper dishes, for example, it's a fun adventure that anyone can be a part of – especially since Niki no Kashi offers its products at discount prices!

Don't worry too much if you can't read the packages. Just approach the staff and ask for a recommendation, called osusume in Japanese! Happy sweets hunting!

※All prices are Niki no Kashi's and are excluding tax.
*This information is from the time of this article's publication.
*Prices and options mentioned are subject to change.
*Unless stated otherwise, all prices include tax.