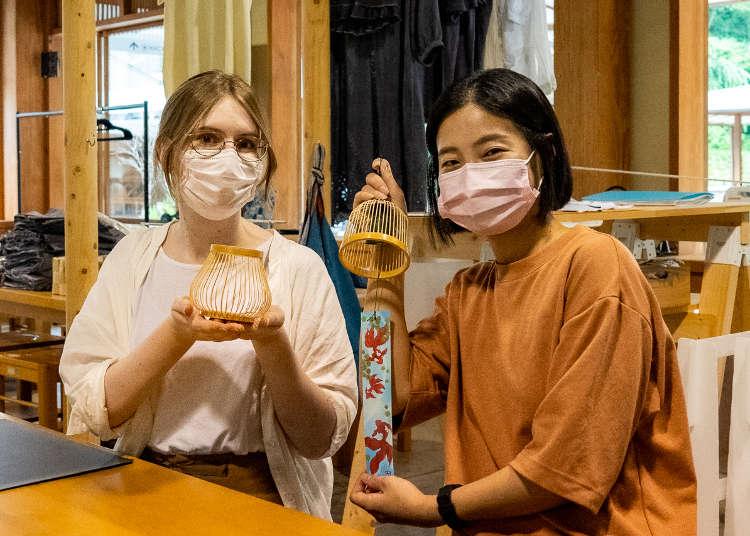 There are dozens of traditional Japanese crafts adored around the world, from porcelain to lacquerware, wood and bamboo work, washi paper, dolls, and more. In this article, we'll introduce you to the lesser-known art of "Suruga Bamboo Ware" (Suruga Takesensuji Zaiku), which was originally developed to hold precious insects. This form of craftsmanship utilizes the simplicity and flexibility of bamboo to create refined, elegant pieces able to be used in everyday life.

To learn more about the craft, we visited the traditional handcrafts art center, "Sumpu Takumishuku," in Shizuoka City, which is one of Japan's largest traditional craft centers. Here, we tried our hand at making Suruga Bamboo Ware, discovering its beauty and usefulness along the way. We could even take our pieces home straight away, making for fantastic, one-of-a-kind Shizuoka souvenirs! Lovers of traditional Japanese crafts, read on!
Suruga Bamboo Ware: A stunning intersection of straight and curved lines
Shigeyasu Sugiyama, a craftsman at Sumpu Takumishuku, working on his pieces.
In Japan, bamboo crafting is often associated with the flat strip woven works made in Kyoto and Beppu. However, according to Shigeyasu Sugiyama, a craftsman at Sumpu Takumishuku, Suruga Bamboo Ware, which is made solely in Shizuoka, is totally different from any other style and instead uses round strips of bamboo.

Sugiyama is the third son of Shizuoka's famous "Miyabi Andon" workshop, where he works with his brothers to continue the family business. He's a friendly, funny man worlds apart from the stereotypical craftsman image, and was a pleasure to work with!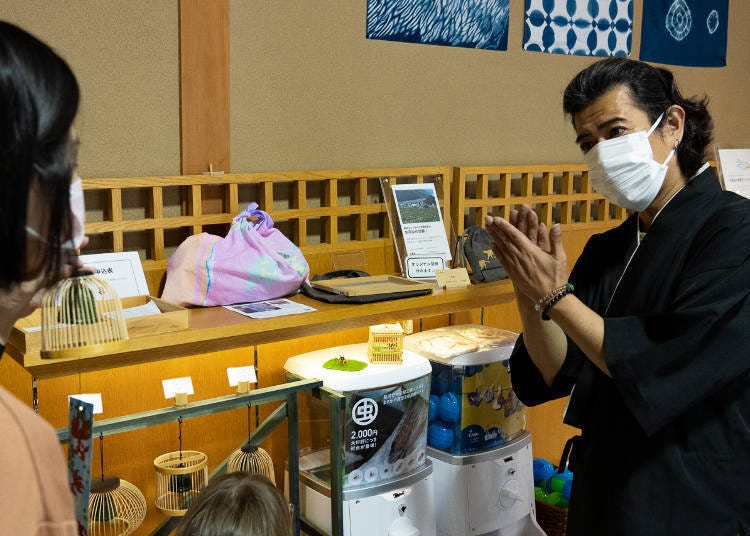 The jovial Sugiyama explains the origins of Suruga Bamboo Ware as we listen carefully.
While most bamboo ware started as everyday essential items like baskets, Suruga Bamboo Ware was instead made to cage "suzumushi" bell crickets starting in the early Edo Period.

The history of bamboo craftsmanship in Shizuoka Prefecture is also tied to the retirement of Tokugawa Ieyasu from the shogunate and his return to Sumpu (modern-day Shizuoka Prefecture).

As Ieyasu enjoyed falconry, the area near Sumpu Castle attracted many animal trainers and basket-makers for cages, and the neighborhood was eventually named "Takajo," meaning "falconer," to which it is still called today.

Plus, the warm climate of central Shizuoka Prefecture is ideal for producing vast quantities of high-quality bamboo, and craftspeople were able to acquire raw materials locally with ease.

Passed down since the Edo Period, Suruga Bamboo Ware uses "maruhigo" rounded shaved off bamboo strips to protect the antennas of suzumushi and bird wings from injury.

To achieve this, special bending and coupling techniques are used, making the long, slender maruhigo form an elegant curved design. When connecting each part, no paste, fasteners, or other outside forces are used.

Instead, the straight and curved strips are painstakingly interwoven, yielding a refined, one-of-a-kind beauty.

Sugiyama says that "we need to ensure that the precious insects inside remain safe and unhurt, which requires delicate and elaborate techniques."

Seeing Sugiyama's passion for his art made us even more excited for our lesson!
The Suruga Bamboo Ware making experience at Sumpu Takumishuku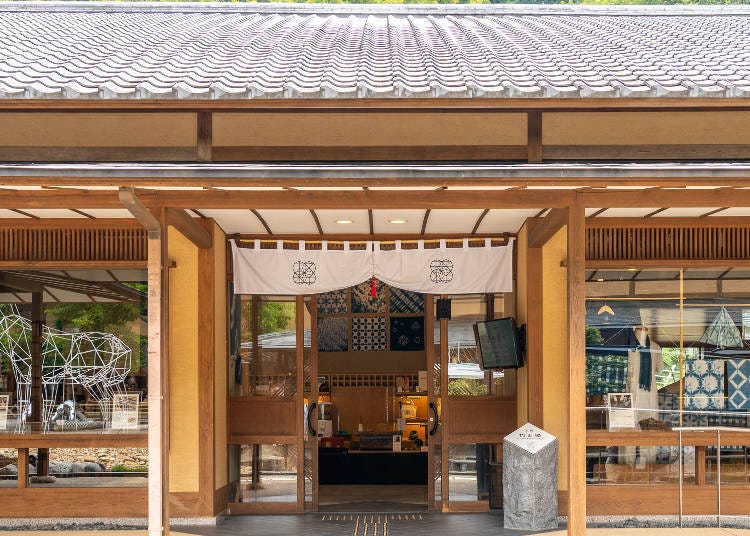 Sumpu Takumishuku is around a 20-minute drive or 30 minute bus ride (+ 5 minute walk) from Shizuoka Station (see more information about the facility at the bottom of this article).

Located in the Mariko area of Suruga Ward, Shizuoka City, Sumpu Takumishuku is surrounded by lush mountains and offers a plethora of courses like fabric dyeing, pottery, woodworking, lacquering, and, of course, bamboo crafts.

We went to the Take to Some (Bamboo and Dyeing) workshop, and tried making our very own Suruga Bamboo Ware.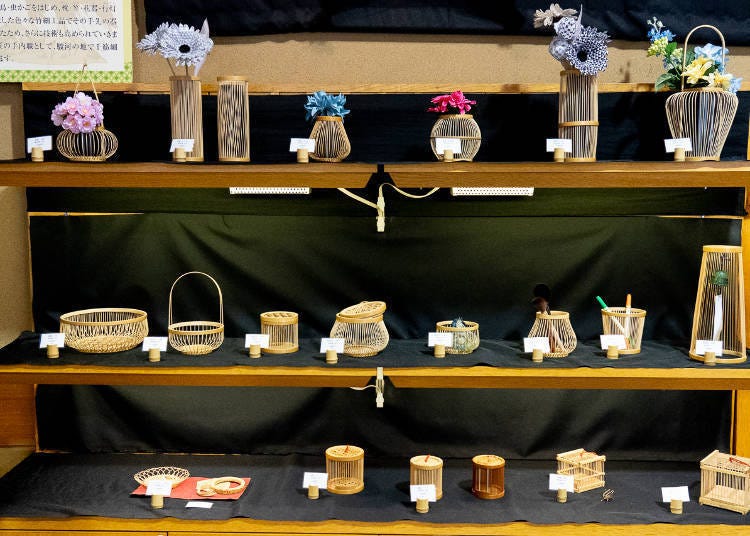 The workshop displays different pieces to choose from, including wind chimes, pen holders, accessory cases, baskets, flower vases, and more. While made using the same techniques, each has a surprisingly different size, shape, and character.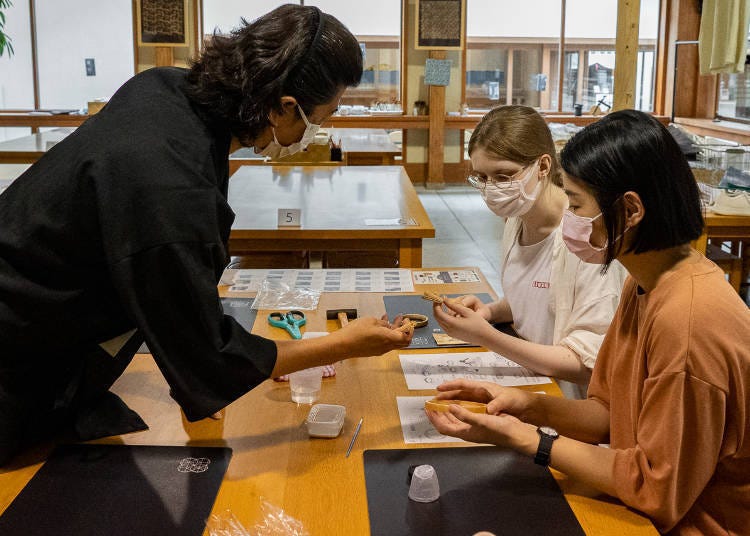 The experience will take between 30 minutes to an hour, and you'll be able to bring your piece home as soon as it's done. We settled on making a windchime and pen holder!

As the workshop was under construction, it may look a little different if you visit later on.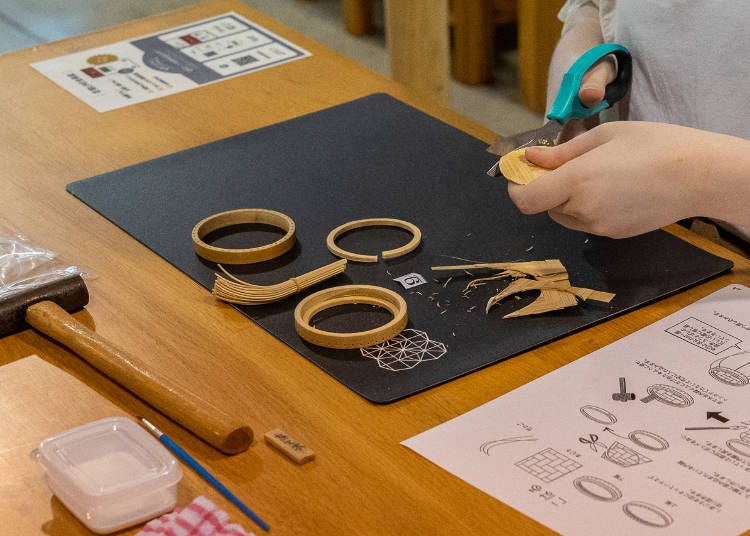 LIVE JAPAN editor Bella, hailing from New Zealand, chose the highly-practical pen holder, which can also be used as an accessory holder and more. Following the illustrated guidebook while listening to the craftsperson's instructions, Bella started by cutting the plain woven wickerwork board to serve as the round bottom.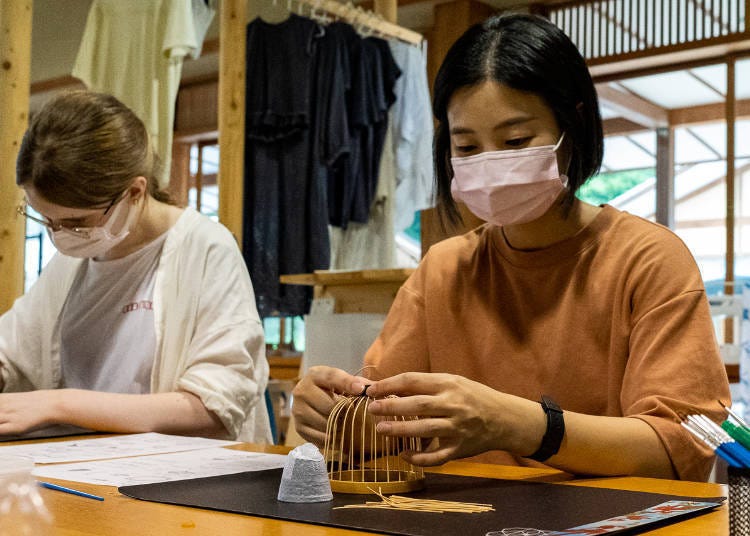 Taiwanese editor Chia-chi opted for the windchime, of which the decorative upper part would be made from Suruga Bamboo Ware. When combined with the sound of the bell, the delicate bamboo wind chime will doubtlessly be pleasing to both the eyes and ears!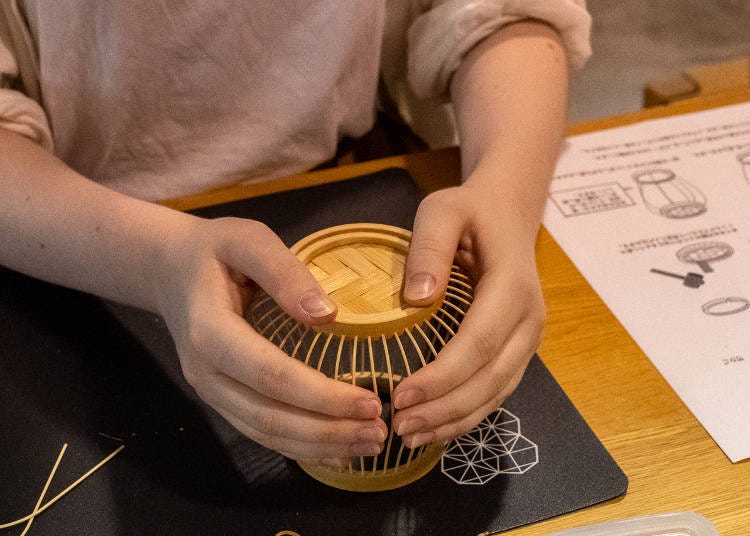 "The instruction booklet is simple and easy to understand, with plenty of illustrations so you can follow along without having to read Japanese. While working, the craftsman told us all kinds of interesting stories about Japanese and Shizuoka traditional arts in an engaging, fun way, making me feel even more into it!" said Bella.

After forming the large frame, the craftsman told us to "insert the maruhigo bamboo strips to connect the upper wood and lower bamboo. Then, turn it upside down and give it a gentle push to check if each piece is stable, and see the overall balance."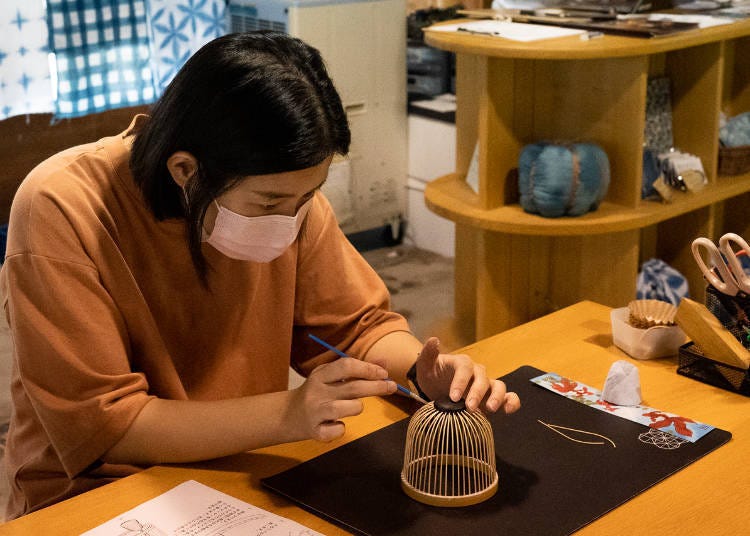 When making the wind chime, after the frame has been completed, glue is used to fix the joints.

"The process looked really difficult, and I was worried I wouldn't be able to do it properly. But the parts were already prepared for easy use by the craftspeople, making it possible for amateurs like me to give it a go!" said a now-relaxed Chia-chi.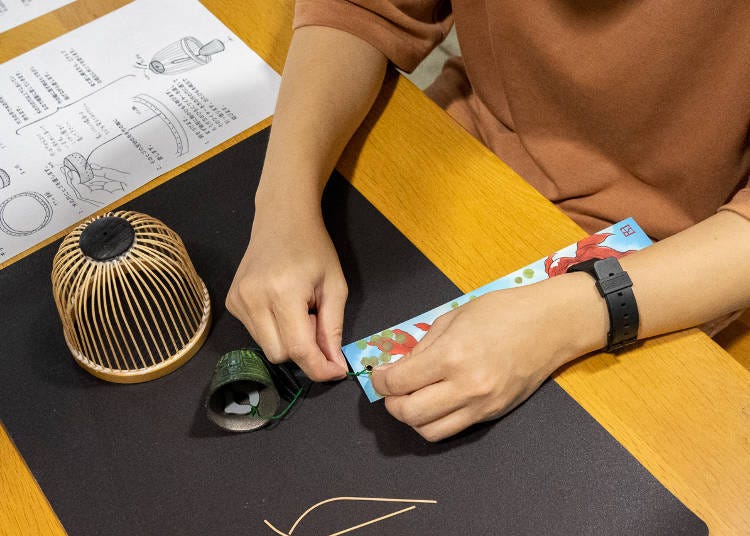 Finally, Chia-chi tied the "tanzaku" paper strip to hang from the bamboo wind chime, and she was done!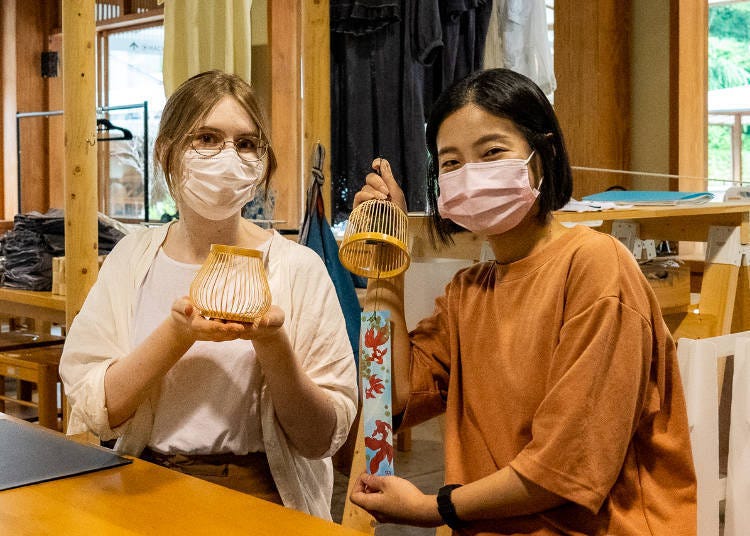 Seeing the finished work was immensely satisfying!
Finally, Bella commented, "I was seriously worried I wouldn't be able to do it, but in the end, it was easier than I imagined and really fun!" While Bella made a pen holder, it can be easily repurposed as a stylish flower vase or makeup brush holder, giving it a wide range of possible uses. If you put a small lightbulb inside, it would serve very well as a lantern too!

Bella told us later: "I ended up using it as a flower vase for my apartment. It's super cute and really brightens up the place!" It seems she was very satisfied with her work.

Chia-chi added that "making the wind chime requires lots of assembly, but you'll feel yourself getting better as you go along. I was able to set my entire mind on it, making me feel relaxed yet engaged. Plus, working with natural materials like bamboo is very good for the soul."

"The windchime is refreshing to look at, and the sound is clear and pleasant, like it's healing me with each ring. It's going to be the perfect match for the hot Japanese summers!"
More than just art! The practical uses of Suruga Bamboo Ware craftsmanship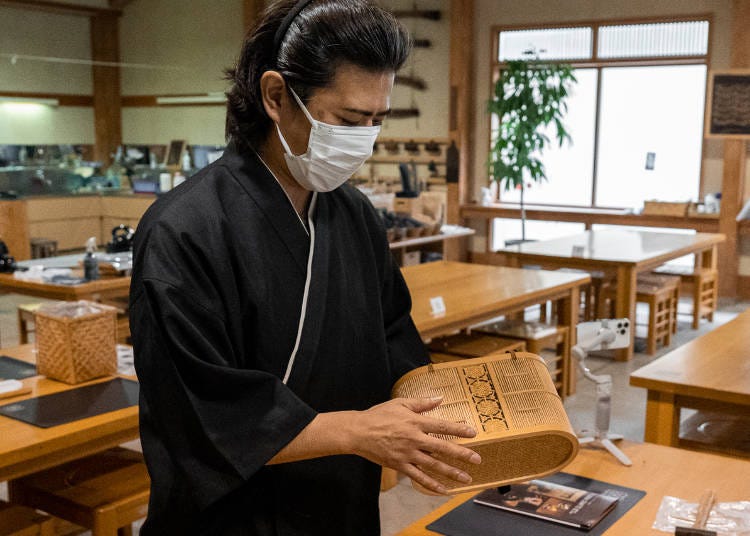 Suruga Bamboo Ware has a history of more than 400 years and was certified as a Traditional Craft of Japan in 1976 by the Ministry of International Trade and Industry, which is today the Ministry of Economy, Trade and Industry.

Nowadays, these unique, ancient bamboo weaving techniques have been redirected toward modern design, such as interior decorations, indoor lighting, and lampshades.

The spirit of traditional craftsmanship has been passed down to individuals like Sugiyama, who combine it with their own distinctive ideas to bring the art to its utmost potential. This includes a recent endeavor to make handbags, which received great acclaim.

Originally designed to be delicate and polished to protect insects from injury, this artistry is perfectly suited towards creating elegant handbags, with the added bonus of reduced friction on clothing fibers to curb damage. Being a great match for summertime fashion, bamboo handbags have become increasingly popular with trendy young women in the know!
Tote bags are displayed and are available for purchase at the facility's "Gallery Teto Teto."
Suruga Bamboo Ware has likewise gained lots of attention as versatile accessory cases. In fact, I used to have a friend from Shizuoka, and recall spotting all sorts of key cases and such made from Suruga Bamboo Ware throughout their home. Local elementary schools also often hold these kinds of workshops during hands-on learning and social time.

Indeed, it's clear to us that the craftsmanship of Suruga Bamboo Ware is deeply intertwined with the lives of Shizuoka residents.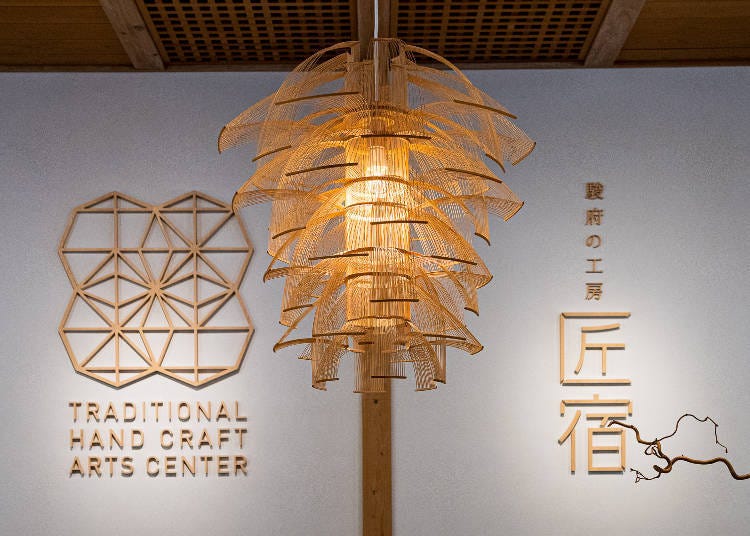 Lighting made from Suruga Bamboo Ware in the hall counter.
Sumpu Takumishuku overflows with Suruga Bamboo Ware masterpieces, from lighting fixtures to accessories adorning the workshop, cafe, and more. Studying each, you can see their practicality and usefulness in everyday life, making them far from simple artworks.

"I want to fill my house in Taiwan with them," said Chia-chi suddenly. I think we can all understand her feelings!
Discover the spirit of Shizuoka through Suruga Bamboo Ware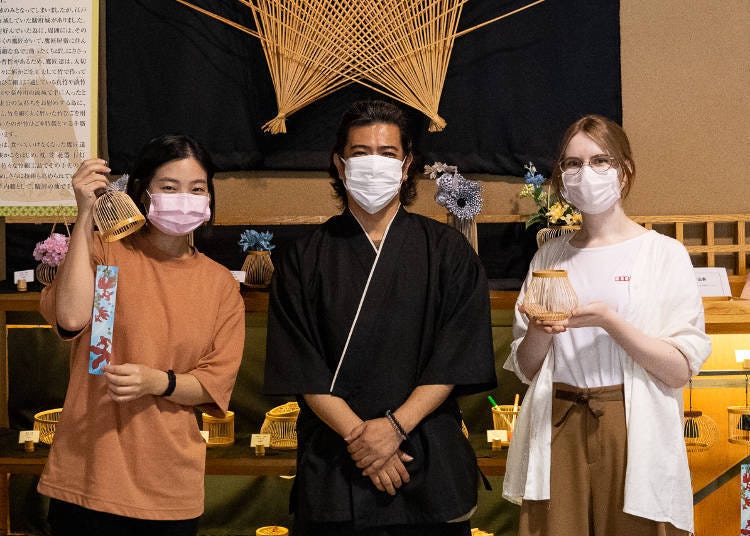 Suruga Bamboo Ware are highly practical masterpieces born from the history of Shizuoka and formed through the delicate hands and unique sensibilities of local craftspeople.

As they age, their color, texture, and character grows in depth, making them lifelong companions. Embodying the essence of Japanese craftsmanship, Suruga Bamboo Ware comes in a staggering variety of works, all slotting seamlessly into the home and everyday life.

Through the Suruga Bamboo Ware Making Experience introduced in this article, we were able to get hands-on with bamboo crafting while also deepening our appreciation for the Japanese way of life.
Sumpu Takumishuku Information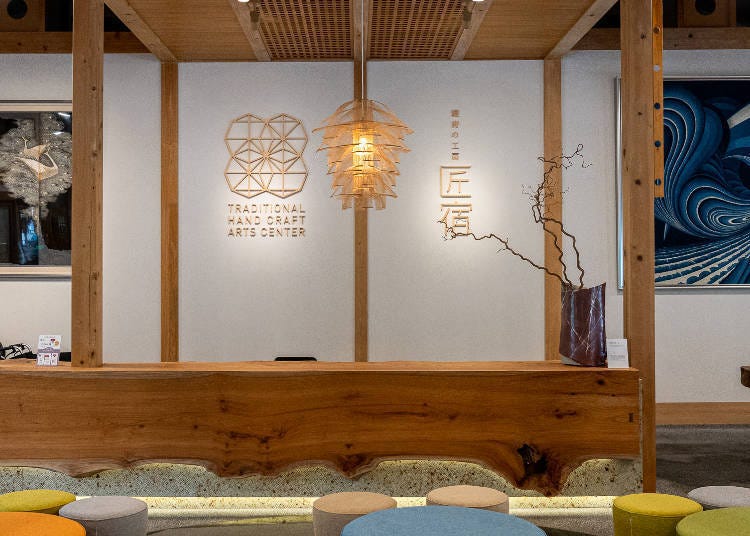 Multilingual Support

Only Japanese supported
Health & Safety Measures

・Indoor disinfection measures taken
・Sanitizer available
・Disinfected after each guest
・Ventilation measures taken
・Coin trays used
・Staff wear masks, gargle, wash hands regularly, and monitor body temperature
・Entry declined to anyone feeling unwell
・Masks requested/temperature check enforced
・Capacity limited/increased space between seats
・Admission restricted; reservations advised
駿府の工房 匠宿

Address

3240-1, Mariko, Suruga Ward, Shizuoka City, Shizuoka Prefecture

Nearest Station

Take the bus heading for "Chubu Kokudo-sen Fujieda Ekimae" on the "Shizutetsu Justline" from Bus Platform #7 at the North Exit of JR Shizuoka Station. Get off at "Togeppo Sumpu Takumishuku Iriguchi" and walk around 5 minutes.


Phone Number

054-256-1521

・Hours: 10:00 a.m. – 7:00 p.m.
・Closed: Mondays
・Workshop: Take to Some (Bamboo and Dyeing)
・Workshop Fee:
- Wind Chime: 2,500 yen (including tax)
- Pen Holder: 2,000 yen (including tax)
*May change with staff availability
・Website (Japanese): https://takumishuku.jp/
Article coverage made possible with assistance from Visit SURUGA
Visit SURUGA

*This article is based on information from our coverage in June, 2022. Check official websites and such for the latest information before visiting.

Written by: Kayo
*This information is from the time of this article's publication.
*Prices and options mentioned are subject to change.
*Unless stated otherwise, all prices include tax.