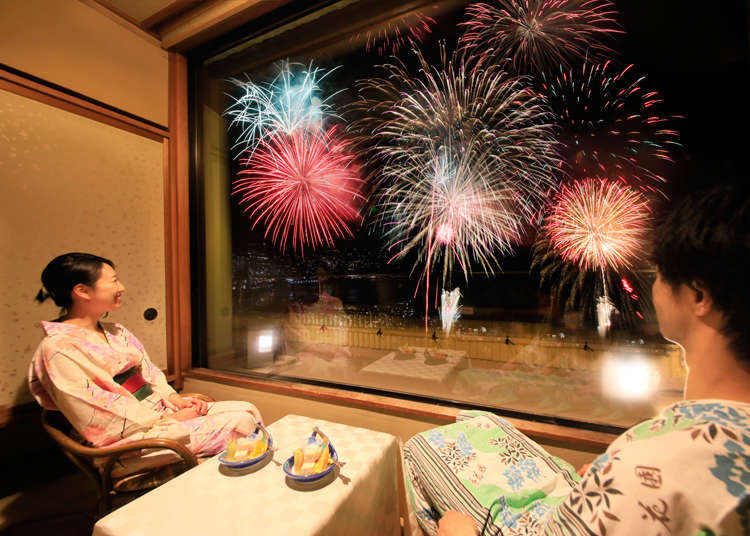 Atami is a popular hot spring resort in Shizuoka Prefecture that is close to Tokyo. For centuries Atami has been a favorite of Japanese tourists and is also famous as a honeymoon destination for newlyweds.

Hotels and inns line the mountainside facing the sea and its temperate climate throughout the year is another feature that adds to its popularity. The beautiful streets have a nostalgic retro appeal that makes Atami popular with foreigners, too.

For this article we have selected five spots you can enjoy on day-trips from Tokyo.

Main image courtesy of Shukaen Yu-no-Hanazen
Atami has been a popular hot spring resort since olden times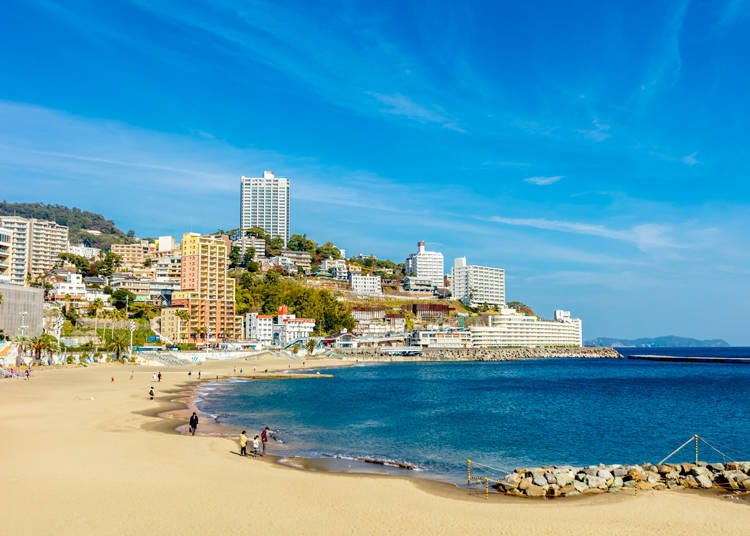 ksy9 / Shutterstock.com
For Japanese, hot springs are not only places where one can relax in hot spring baths while enjoying the bounties of nature, but an inherent and deeply ingrained part of the culture.

A trip to a hot spring is a delightful way to soothe one's body and soul. In recent years hot springs have become especially popular with foreign visitors and chances are you will see some at famous hot springs throughout the country.

Atami is particularly popular because of its close proximity to Tokyo. It is only about a one-hour ride from Tokyo on a Shinkansen bullet train. You can also drive to Atami in about an hour and a half.

About 1,500 years ago natural hot springs in the sea were discovered here thus giving rise to the area's name, Atami, which means "hot sea". Here the hot springs are located near the coast which is another added feature.

Once discovered, it did not take long for this area to develop into a hot spring resort. Adding to its appeal is its broad beach. After enjoying a luxurious time in a wide variety of baths, such as an open-air bath where you can enjoy the superb view of the ocean, you can spend time walking around the old shopping streets while eating a hot spring bun, or taking a walk on the white sandy beach.

After the sun goes down, the view of the hotels and inns on the mountainside from the beach is truly romantic and something one should not miss.
1. Oedo Onsen Monogatari Atami: Popular hot spring leisure spot just a 7-minute walk from the station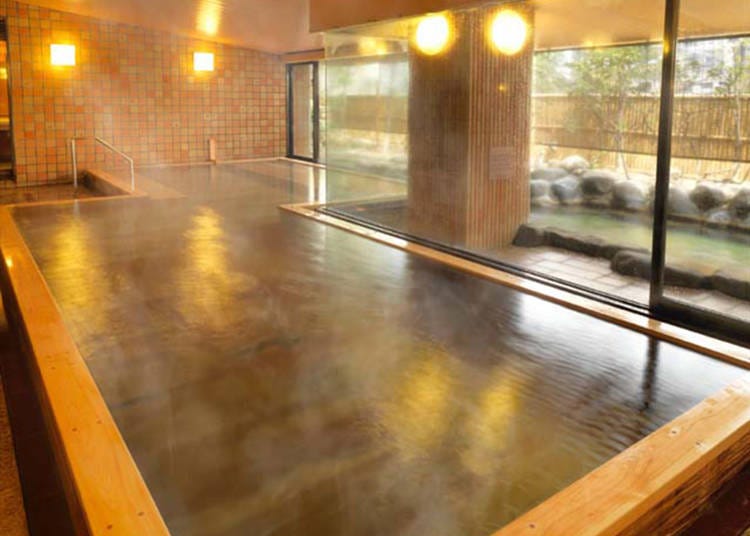 Among the Oedo Onsen Monogatari chain, which has hot spring facilities in various parts of Japan, mainly in the Kanto region, Oedo Onsen Monogatari Atami boasts outstanding access. Only a 7-minute walk from Atami Station, it is especially popular for its spectacular view of Sagami Pass that comes clearly into view the moment you enter the lobby. Extended stays are of course possible, but here it is also possible to enjoy leisurely meals and soaks in the hot springs on a day-trip.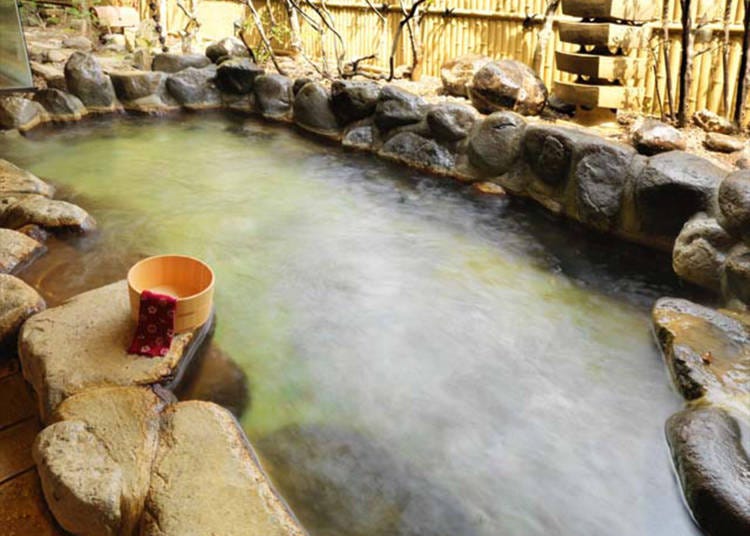 Water directly from the hot spring source, noted for making the skin feel soft and smooth, constantly flows into Kosai no Yu, the spacious men's bath. Women can leisurely relax in the rock-enclosed Hinoki no Yu, a large open-air bath having the fragrant aroma of Japanese cypress.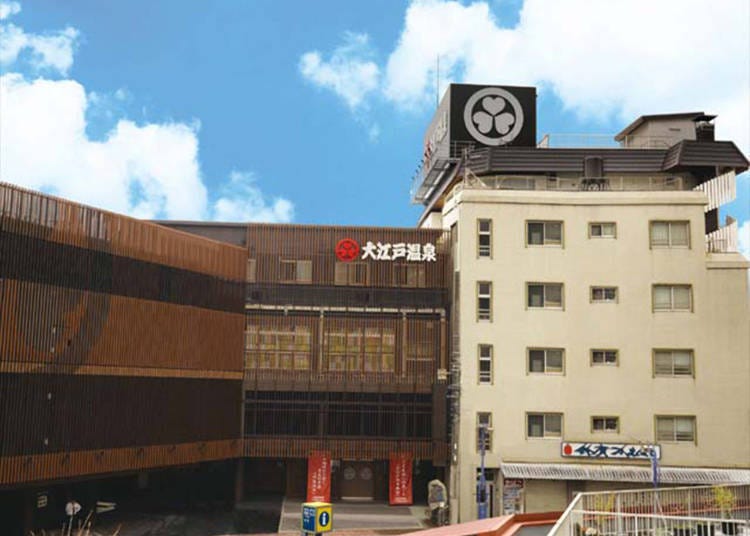 After relaxing in the hot spring baths, guests can relax in the spacious lounge where there is a collection of some 4,000 manga, go and shogi boards, as well as massage chairs.

Playing ping pong, karaoke, and game corners are an integral part of Japanese hot spring culture that can be enjoyed here, too. There are also relaxation spaces for aromatherapy and foot massages. At the gift shop you can buy Atami souvenirs.
Address

8-3, Sakimicho, Atami-shi, Shizuoka, 413-0019
View Map

Nearest Station

Atami Station (Tokaido Shinkansen Line / JR Tokaido Main Line / JR Ito Line / JR Ueno Tokyo Line)
7 minutes on foot


Phone Number

0557-83-1512
2. Shukaen Yu-no-Hanazen: Offering spectacular views of the sea and night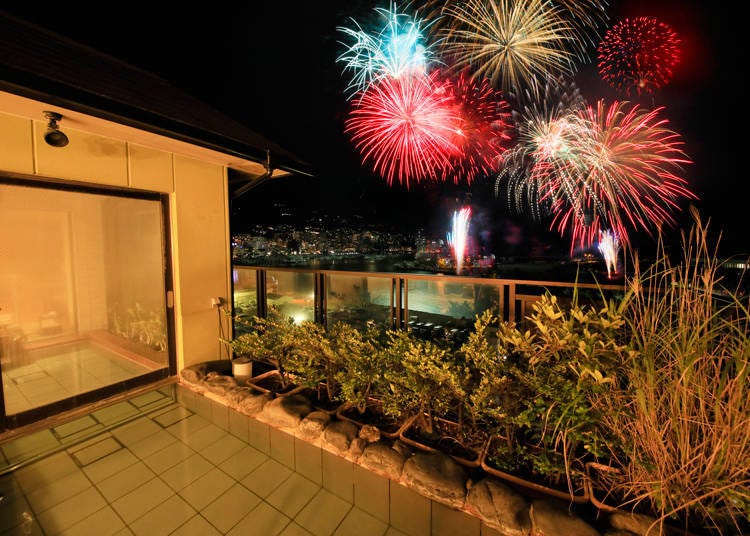 Shukaen Yu-no-Hanazen, located just a short 10-minute bus ride from Atami Station, is a Japanese-style seaside inn facing Atami Bay. All of the guest rooms face the sea and each room has its own open-air bath. The open-air baths are popular for the superb views of Atami offered from them.
The beautiful view from the open-air bath Gekka Bijin
The Hana no Yusho and Tsuki no Yusho hot spring baths located on the rooftop are used alternately by men and women at different times. Both of these open-air baths are highly recommended.

Bathers can enjoy the beautiful panorama of Atami while being caressed by breezes from the sea in the Gekka Bijin (beauty under the moon) open-air bath which is for use by men during daytime bathing. Of course there are also open-air baths for women, too.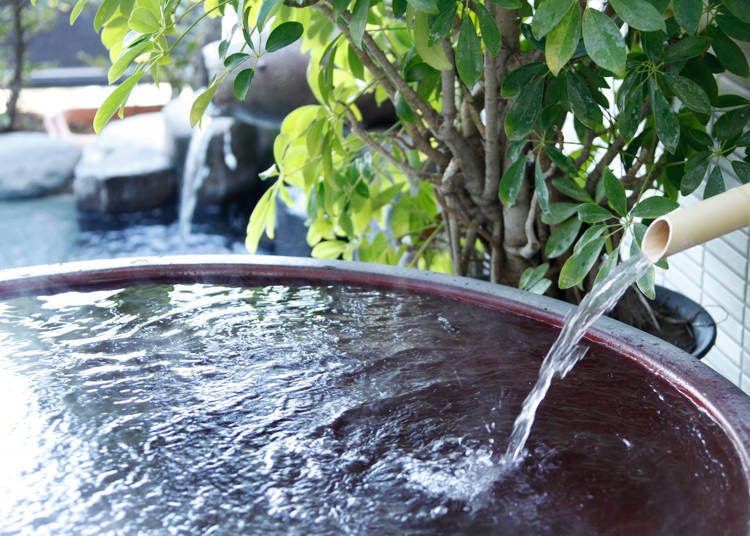 Quaint pot tub
You can get a panoramic view of Atami Bay from the indoor baths through the large glass windows, while relaxing alone in either the Kame Buro (turtle tub) or Tsubo Buro (pot tub). There is also a micro-nano bubble shower that uses the power of small bubbles that are gentle on the skin.

There are also lunch plans offering seasonal dishes for groups of 20 or more day-trip visitors. The Atami Marine Fireworks Festival, which is held throughout the year, is also right in front of the inn, so visitors are afforded an excellent view of these impressive fireworks.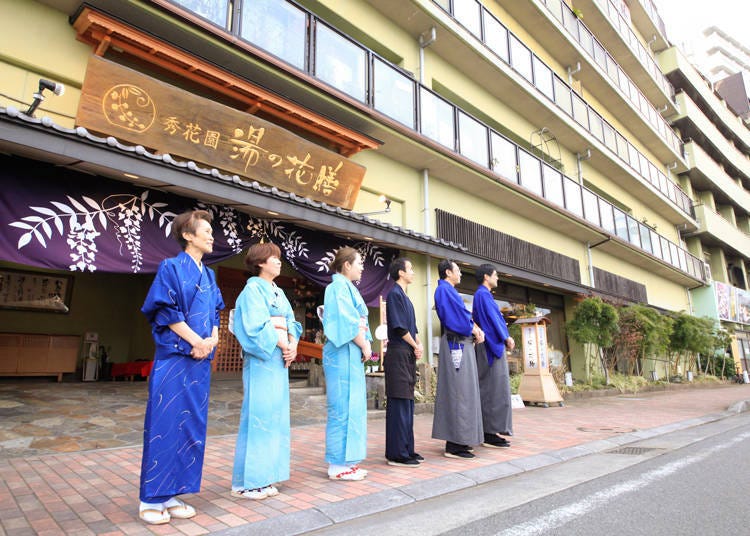 Address

7-13, Wadahamaminamicho, Atami-shi, Shizuoka, 413-0023
View Map

Nearest Station

Atami Station (Tokaido Shinkansen Line / JR Tokaido Main Line / JR Ito Line / JR Ueno Tokyo Line)
12 minutes by bus


Phone Number

0557-83-5151
3. Hotel Micuras: Stylish hot-spring resort hotel for adults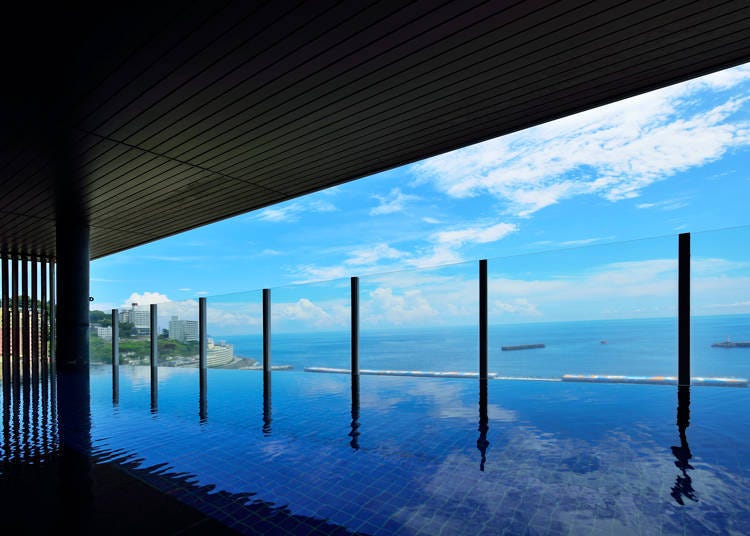 Hotel Micuras, situated in front of the white sandy Atami Sun Beach with its row of palm trees and tropical island atmosphere, is a hot-spring resort hotel designed for adults seeking a comfortable place to relax and unwind.

The open-air bath equipped with an ocean-view deck affords a spectacular view of Sagami Bay, as well as the city of Atami located below, and also the distant islands of Hatsushima and Izu Oshima.

Two unique features of this facility are the women's bath on the 8th floor, 25 meters above the ground, and the men's bath, 40 meters above the ground, located on the top 13th floor. Both offer romantic night views of the beautifully illuminated Sun Beach.

The hotel is especially proud of its Bijin no Yu [beauties' bath] that is acclaimed for the gentle qualities of its spring water and which is equipped with a mist sauna. It also has a full array of amenities favored by women.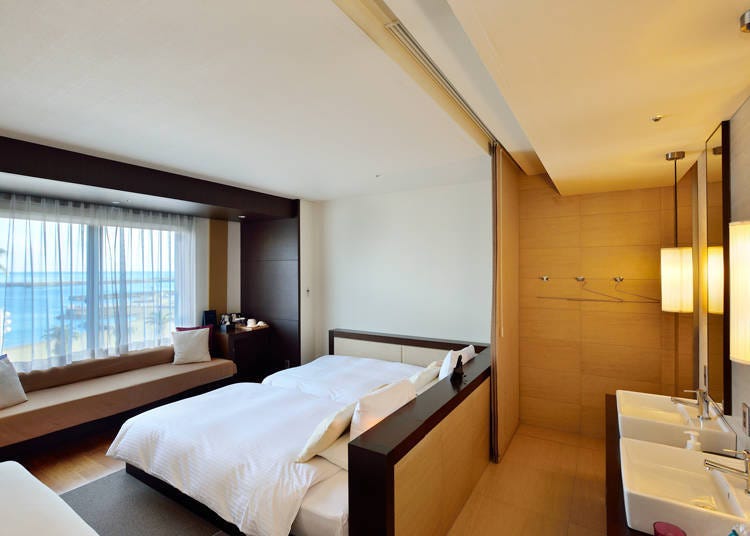 Guest rooms may also be used by day-trip visitors (photo shows a Superior Room)
Guest rooms with a focus on design and comfort can also be used by day-trip visitors. If you choose a day plan with a room (reservation required), you can take a leisurely nap after a relaxing soak in the hot spring without being disturbed by anyone.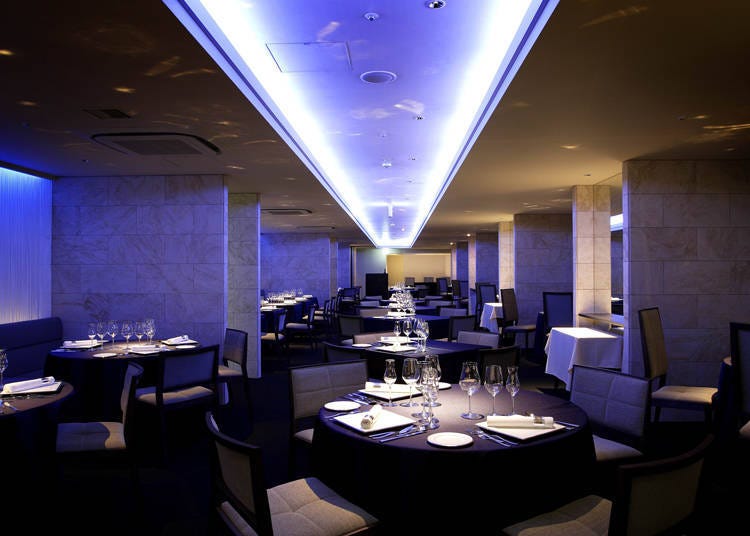 Enjoy French cuisine in the Micuras dining room.
The perfect end to a relaxing day-trip is with a full-course French dinner at the hotel for which there is also an optional plan.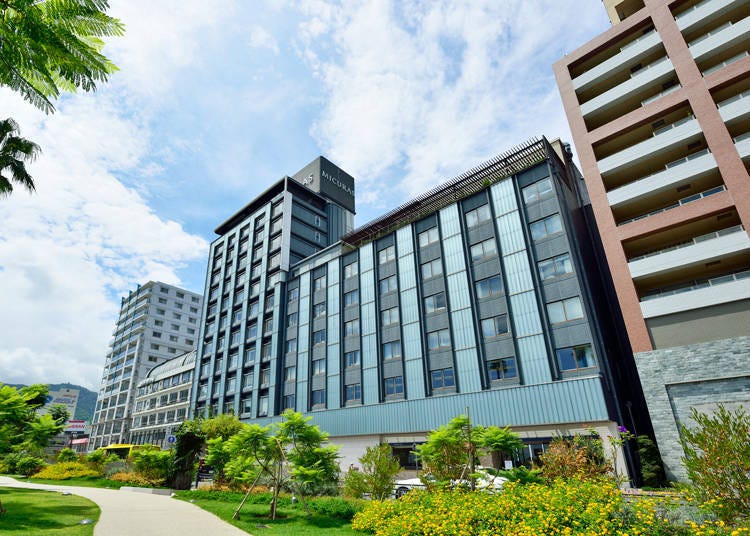 Address

3-19, Higashikaigancho, Atami-shi, Shizuoka, 413-0012
View Map

Nearest Station

Atami Station (Tokaido Shinkansen Line / JR Tokaido Main Line / JR Ito Line / JR Ueno Tokyo Line)
15 minutes on foot


Phone Number

0557-86-1111

Vacancy search, reservation

from

28,980JPY

1room, 2adults

Check with our partner site as the latest rates, rate details, and guest room requirements may vary.
4. Heartpia Atami: Natural hot spring with lie-down baths and cascading baths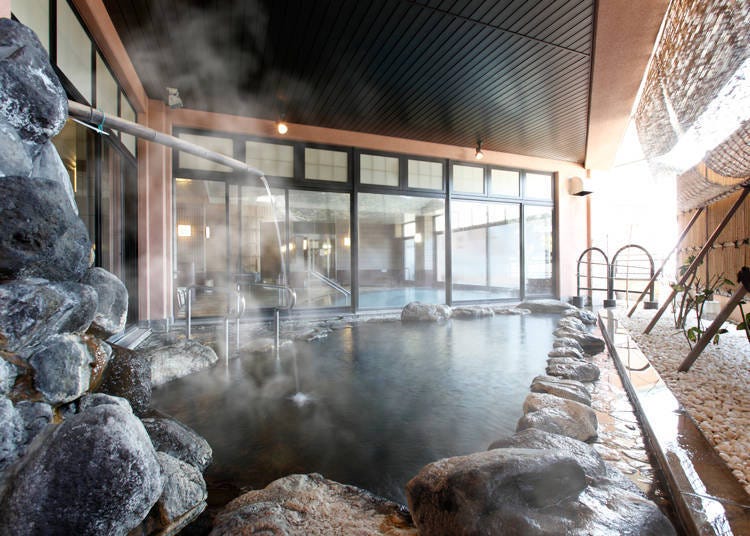 Located on a high ground overlooking Sagami Bay, Heartpia Atami is an inn where you can enjoy magnificent views of both the mountains and the sea. Its location provides excellent views of the distant islands Hatsushima and Izu Oshima in Sagami Bay.

Heartpia Atami uses spring water mixed from two private springs, so there is an ample supply of hot water that can be enjoyed in its various types of baths.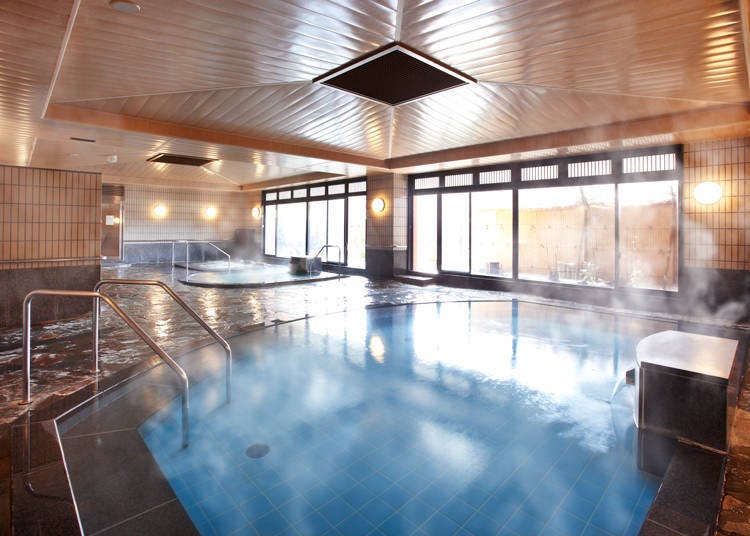 The large communal bath has a lie-down bath and jet bath
The large communal bath is equipped with a bed-style bath, a jet bath that shoots out water containing air bubbles, and a low-temperature sauna that provides a thermal effect without putting stress on the body.

Hot spring water pours down from above in the open-air bath and when directed on stiff shoulders and neck relaxes them. Care has been taken in the design of the baths to make them easily and safely accessible for the enjoyment of older bathers, too.

Off to the side of the large communal bath there is a tatami room where one can relax at no charge, making this the perfect place to relax during a leisurely day-trip.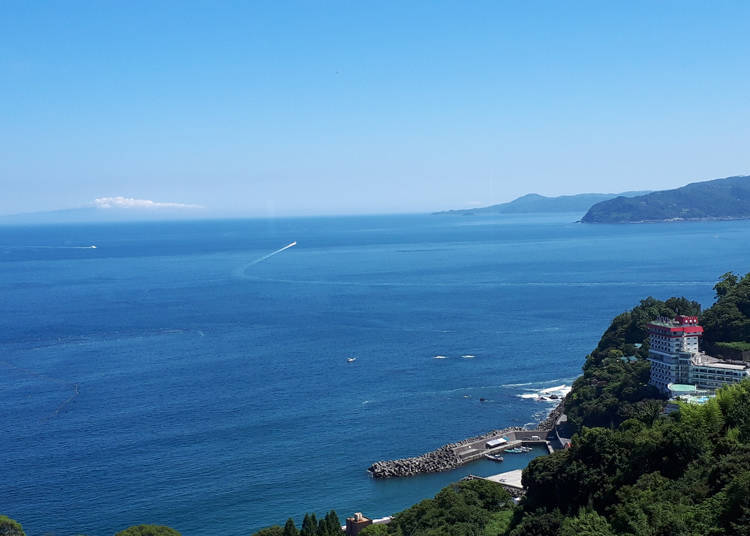 The view from the lounge and restaurant
The inn offers lunch plans where seasonal dishes can be enjoyed in the restaurant. Enjoying seasonal dishes while admiring the view of Sagami Bay after a relaxing soak in the hot spring baths is a pleasant way to spend time before returning to the city. There is a free shuttle bus from Atami Station which only takes about 5 minutes to reach the inn.
Address

717-18, Izusan, Atami-shi, Shizuoka, 413-0002
View Map

Nearest Station

Atami Station (Tokaido Shinkansen Line / JR Tokaido Main Line / JR Ito Line / JR Ueno Tokyo Line)


Phone Number

0557-80-4050
5. New Tomiyoshi: Lodging, meals and many unique open-air baths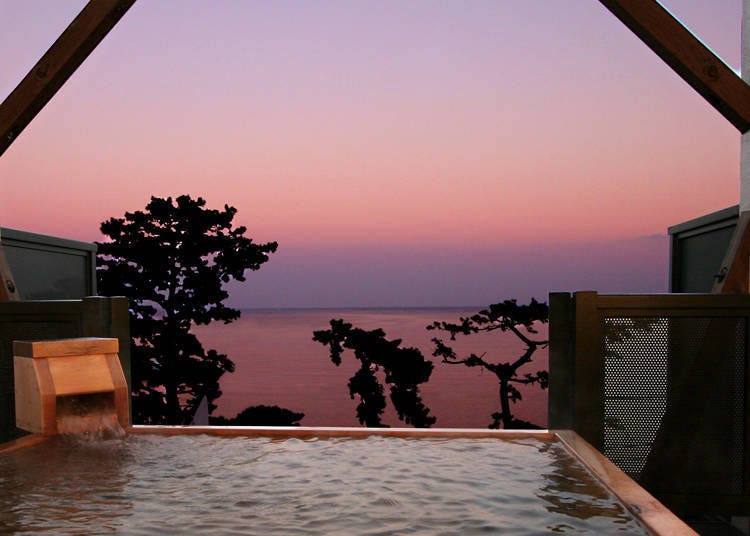 Nagahama Beach is just in front of the New Tomiyoshi, a hot spring inn where you can really feel Japanese culture. Being able to admire the huge expanse of Sagami Bay beyond the 200-year-old black pine trees while luxuriating in a hot spring is a priceless experience.

What makes New Tomiyoshi unique is that it offers three different types of open-air baths that can be privately reserved.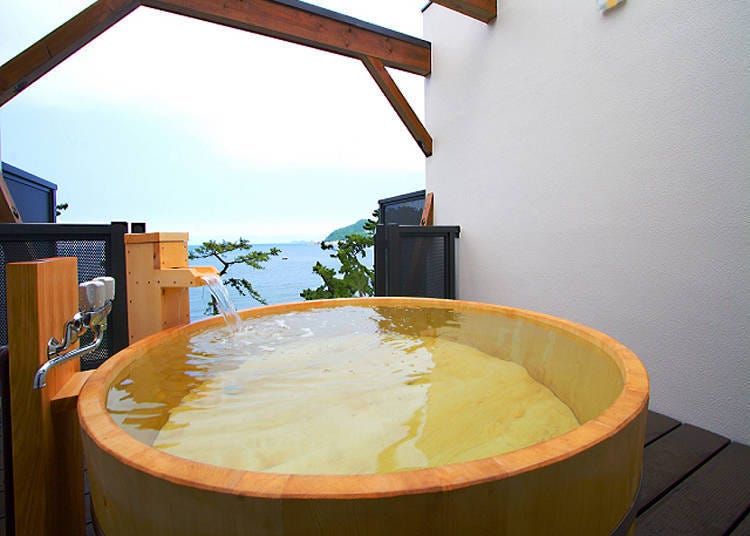 The private bath Kai has a tub made of Japanese umbrella pine
Each of the three private baths is uniquely different and equally luxurious. Ten has a tub made of Shigaraki ware, a ceramic with a unique, earthy appearance; Kai is a round tub made from Japanese umbrella pine noted for its fine wood grain; and Ku is a tub made from Japanese cypress, its aroma such that you feel that you are bathing in a forest. When the weather is nice, the roof and fence can be removed to make it fully open, making it feel as though you are connected to the sea.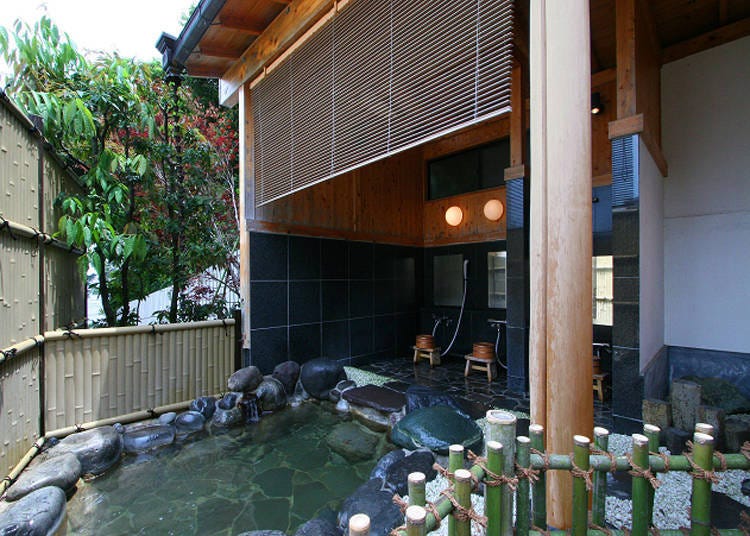 Hama no Yu is the hotel annex bathing facility
You can also use the Hama no Yu garden-style open-air bath in the hotel annex. The open-air baths are made in a garden-style using gravel and natural stone so you can fully enjoy the comforting effect of relaxing in the hot spring bath while surrounded by nature.

The chic bathtub and washing area of the indoor bath are made from Izu stone and granite and the aroma of Japanese cypress permeates the air creating a calm and relaxing atmosphere.

It is about 20 minutes by bus from Atami Station, but only about 10 minutes on foot from Izu-Taga Station. Although a slight distance away from Atami City, it is well worth the walk if you are looking for some exercise.
Address

1472-1, Shimotaga, Atami-shi, Shizuoka, 413-0102
View Map

Nearest Station

Izutaga Station (JR Ito Line / JR Ueno Tokyo Line)
10 minutes on foot


Phone Number

0557-67-0017

Vacancy search, reservation

from

57,200JPY

1room, 2adults

Check with our partner site as the latest rates, rate details, and guest room requirements may vary.
Located not far from Tokyo, Atami is a great place to enjoy a day-trip to the hot springs. Gift shops and places to eat line the streets in front of Atami Station. The shopping area has a retro feel about it with its vendors of hot buns and dishes made from fish products, so it is perfect for getting something to eat while you walk about exploring the city.

Not only is Atami famous for its hot springs, but also for its culinary delights using fresh seafood products. If you plan your visit right, you may be able to be there during one of the Atami Marine Fireworks Festivals that are held more than ten times throughout the year. Most facilities have towels and other items that can be purchased for use in the baths, so day-trip visitors need not bring anything with them.

Written by: Yoko
*This information is from the time of this article's publication.
*Prices and options mentioned are subject to change.
*Unless stated otherwise, all prices include tax.