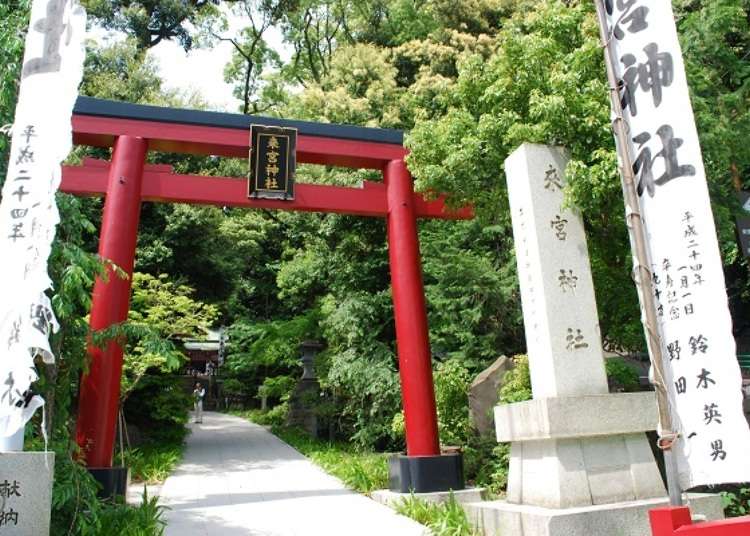 Kinomiya Shrine in Atami is a popular tourist destination known as one of the most spiritual places in Japan. At the end of the main shrine, there is O-kusu (a giant camphor tree), which is regarded as a holy tree. The tree is said to be endowed with spiritual powers and, every day, many worshipers visit the tree to pray for their health and longevity and for their wishes to be fulfilled. When you visit the shrine, you should also visit the tree. There is a nice cafe near the shrine.
Kinomiya Shrine, which protects Atami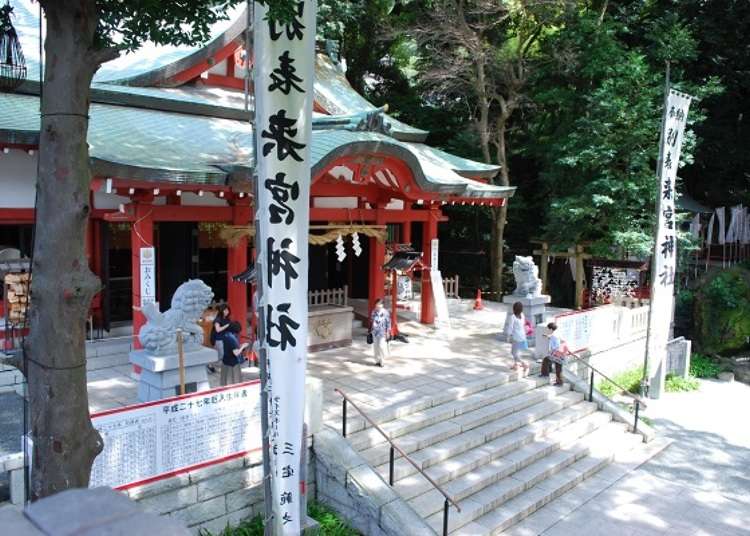 Kinomiya Shrine is about a 20-minute walk from Atami Station of the JR Tokaido Line and about a three-minute walk from Kinomiya Station of the JR Ito Line.
It is considered proper etiquette for visitors to bow slightly in front of the giant torii gate, the entrance to the shrine, and avoid walking in the middle of the approach to the shrine because it is used by the deity.
We see many local residents joining their hands in prayer during their usual walk, indicating that Kinomiya Shrine is closely related to local residents' daily life. It is regarded that the shrine enshrines the local deity of Atami. Before visiting the main shrine, it is a ritual to purify your hands and mouth at the chozuya, or a water ablution pavilion situated on the way to the main shrine. The proper way to pray is "to bow twice, clap twice, and bow again." Offer prayers in gratitude and bow calmly and deeply.
Offering prayers at a spiritual place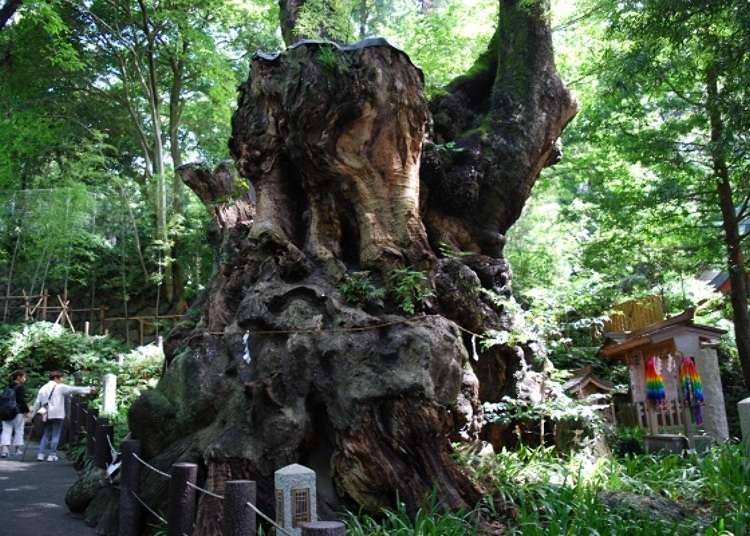 Local people have worshipped at Kinomiya Shrine since ancient times, as it is the home of a deity of happiness and good luck. It is said that O-kusu (a giant camphor tree) is endowed with spiritual powers to help people live a healthy and long life. Some pray for finding a good marriage partner.
The shrine is also home to a deity of abstention from smoking. Therefore, many people who wish to quit smoking and drinking also visit here.
In recent years, many people who wish to have a share of the vitality of O-kusu, the Holy Tree, visit to pray for their health.
A giant tree more than 2,000 years old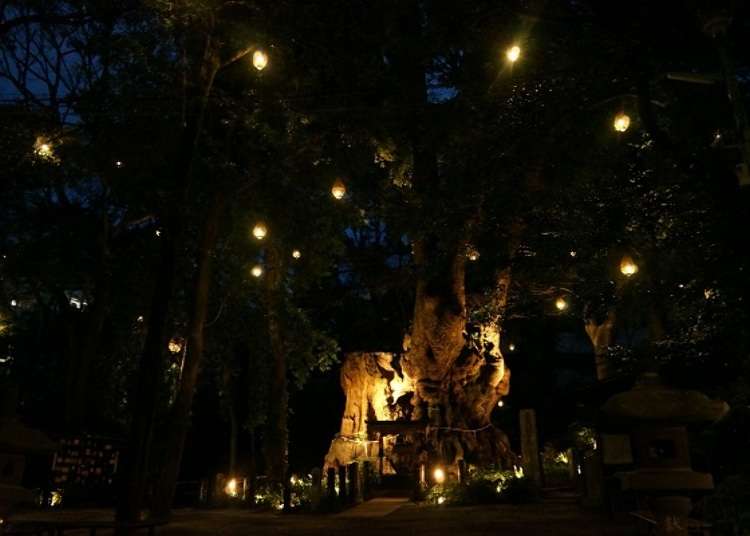 The trunk of O-kusu (a giant camphor tree), which has been designated as a natural monument by the Japanese government, is a giant tree with a circumference of 23.9 meters and a height of about 26 meters, which is equivalent to an eight- to nine-story building. It is believed that, when you walk around the trunk, it lengthens your life expectancy by one year and that, when you walk around the trunk with a wish in mind, your wish will come true.
This giant camphor tree is lit up from the evening to around 11:00 p.m., as part of the Kodama Forest Project. Kodama, spirits inhabiting grass and trees, are depicted using 160 light bulbs.
Amulets to ward off misfortune
There are some 30 different kinds of amulets (from 500 JPY) for different wishes available at the amulet counter. It is rather surprising but many people buy "O-kusu amulets for repelling bugs." This is related to the fact that people in the old days compared misfortunes to bugs. "Bugs" include short-temperedness, cheating on one's partner, and gambling. These amulets are very popular because a camphor tree is effective at warding off bugs.

Hours of prayer services: 9:00 a.m. - 4:30 p.m.
Visiting hours (the shrine compound): Any time
Address

43-1, Nishiyamacho, Atami-shi, Shizuoka, 413-0034
View Map

Nearest Station

Kinomiya Station (JR Ito Line / JR Ueno Tokyo Line)
3 minutes on foot

Cafe in a renovated traditional Japanese-style house located in a back alley near Atami Station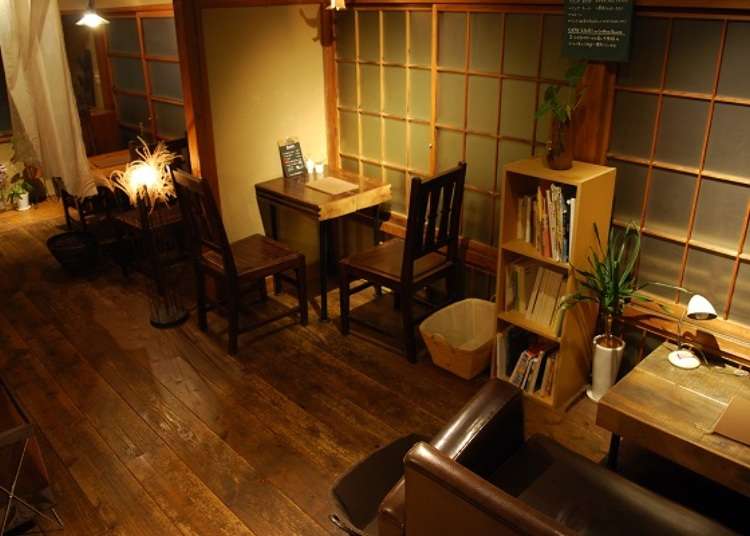 CAFE KICHI, situated on a quiet alley just off Nakamise-dori near Atami Station. This shop was created by renovating a traditional Japanese-style house, with its original characteristics unchanged. There are tables made by combining pieces of wood used for kamoi (lintels) before the renovation. There are also lampshades created by an up-and-coming designer. This is a place where old and new blend harmoniously.
Each cup of coffee is hand brewed. The cafe offers four kinds of coffee, including Mocha Blend (510 JPY, tax excluded), and also other seasonal beverages.

Open: 1:00 p.m. - 9:00 p.m. (last order by 8:45 p.m.) on Monday thru Friday; Noon - 9:00 p.m. (last order by 8:45 p.m.) on Saturday, Sunday and national holidays
Closed on Wednesday
CAFE KICHI

Address

5-9, Taharahoncho, Atami-shi, Shizuoka, 413-0011
Written by : Noriko Kobayashi
*This information is from the time of this article's publication.
*Prices and options mentioned are subject to change.
*Unless stated otherwise, all prices include tax.