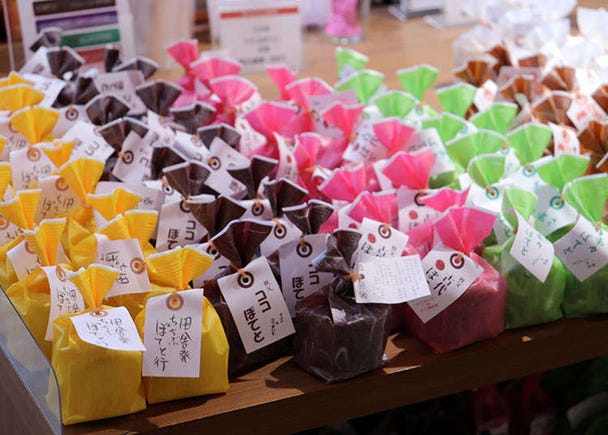 Chichibu, located in the northwestern region of Saitama Prefecture is a sightseeing destination that has been gaining popularity in recent years. Home to the whisky distillery for Ichiro's Malt and known as the stage for the live action film, "The Anthem of the Heart" and a pilgrimage site for anime enthusiasts because of the anime, "The Flower We Saw That Day", it's easy to see why it has become the focus of so many people from all demographics!

Another major reason contributing to Chichibu's popularity among travelers is its relative close proximity to Tokyo. It only takes a reasonable two hours by train to reach Chichibu's gateway station, Seibu-Chichibu Station!

Really then, there's very little not to like about Chichibu, with its abundance of nature and great-tasting food. Speaking of food, we're going to be featuring seven food souvenirs from Chichibu we think is among the best the region has to offer, so if you're going to Chichibu soon, this article is just right for you!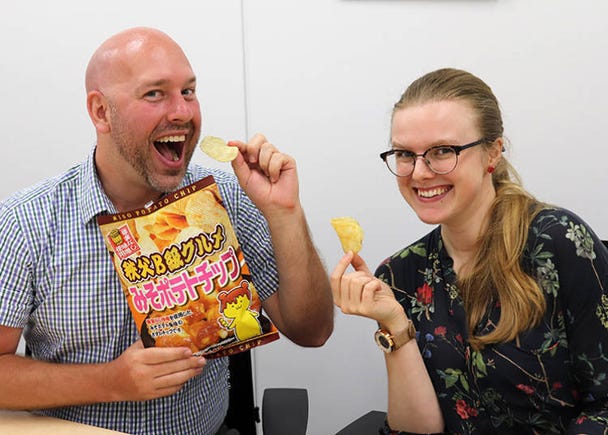 Our panel of food judges this time will be four foreign staff members of Live Japan, a tourism website that provides the latest and greatest information for visitors to Japan. They are: Timothy from the United States, Cassandra from the United Kingdom, Park from South Korea, and Zhang from Taiwan. You might notice how they have distinct preferences and recommendations due to national or cultural differences! Without further ado, then, let's see what our editorial staff have to say about their personal experiences!
Miso Potato Chips: Cheap but tasty local Chichibu fare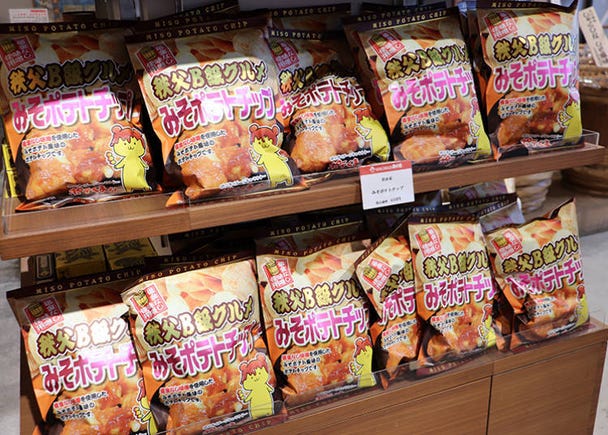 Get a taste of one of Chichibu's cheap local snacks with the delightful "Miso Potato Chips (410 yen, tax included)"! Our English speaking staff are especially fond of this product that is exclusive to Chichibu, saying, "Many regions in Japan have their own local specialty snacks, so definitely try this one out!"

The character on the package is Chichibu city's mascot character, Potekuma-kun. "It's a great way to introduce Japan's mascot culture to others too," says Timothy. Park adds, "You can find it almost anywhere in Chichibu, and many Koreans have talked about how cute the mascot character is." Looks like the mascot's almost as much of a selling point as the snack itself!
At first glance, this snack looks like regular potato chips. Once you bite into one, you'll find that it's seasoned with Shakkinnashi miso stock, made from Shakkinnashi soybeans native to Chichibu.

Timothy: "I think the popularity of potato chips is just hard to match. I also doubt you can find miso flavor overseas, so I'd definitely recommend it as a local snack. It's unusual too, since miso adds a certain sweetness to the flavor, and there are very few potato chip flavors that are sweet!"

Cassandra: "There are so many potato chips in Japan that I've never even heard of before. It's easy to feel unsure about choosing one to try because you just don't know if you'll like it, so this one will be a great introduction to Japanese potato chips. It helps that Potekuma-kun is so cute, too!"

Zhang: "It's got a solid potato taste. The packaging makes you think it'll be heavily seasoned, but it's actually not, and every bite makes you just want to keep eating."

Park: "The miso taste didn't seem very strong at first, but the more chips I ate, the more pronounced it became!"

As our editors comment about the snack, they can't seem to stop munching on it. I guess that's solid proof that the snack is great for both eating on the trip and buying back as souvenir!
Waraji Katsu Senbei: Best way to pack some "Waraji Katsudon", a local specialty back home with you!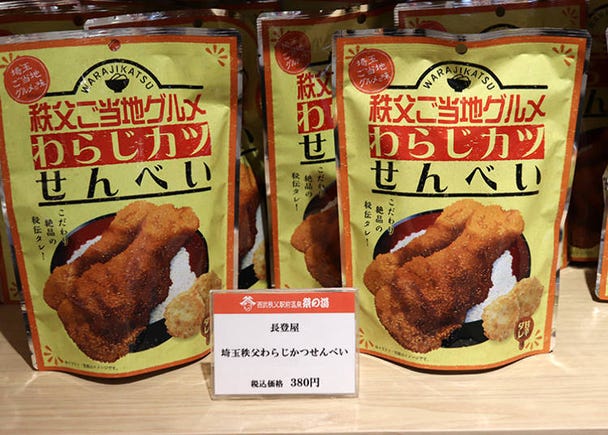 "Waraji Katsudon", or sandal-shaped pork cutlet rice bowl is something many would agree is one of Chichibu's iconic specialty food. "Waraji" refers to sandals that are made by weaving straw together. "Waraji Katsudon" was so named because of its resemblance to the shape of those sandals, and this rice bowl is not topped by the usual egg. If you're curious about what the dish tastes like, you can have a sneak peek with the "Waraji Katsu Senbei" for 380 yen including tax.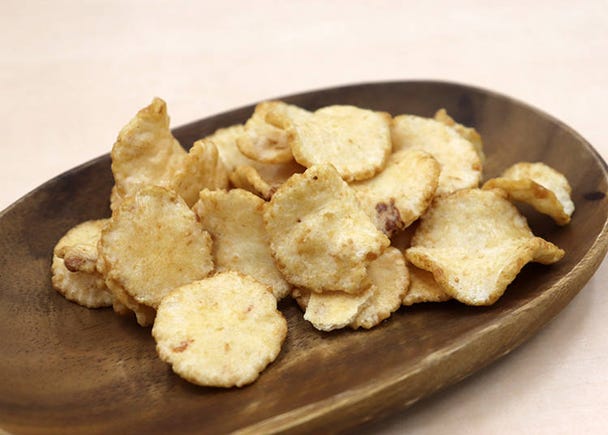 Well-seasoned with a salty-sweet sauce, this senbei, or rice cracker, comes in easy-to-eat bite-size chunks.

Timothy: "Senbei is available in the States as well, but there's not much variety in flavors compared to Japan. These senbei actually taste like chicken, dipping sauce, and a lot of other things at once, so I'd love to share them with my friends!"

Cassandra: "We have something like this in the U.K.! This really brings back memories... The more you chew on it, the more you get a meaty taste in the mouth. It's great!"

Park: "South Korea has something like this too! The flavor is quite strong, so it's nice to have them available in bite-size chunks."

Zhang agrees with them all, and adds that he would eat something like this when doing his work. Seasoned with a rich and tasty secret sauce, this is a crispy tidbit you can't stop eating once you start!
Premium Whisky Cake: Savor the difficult to obtain Ichiro's Malt in cake form!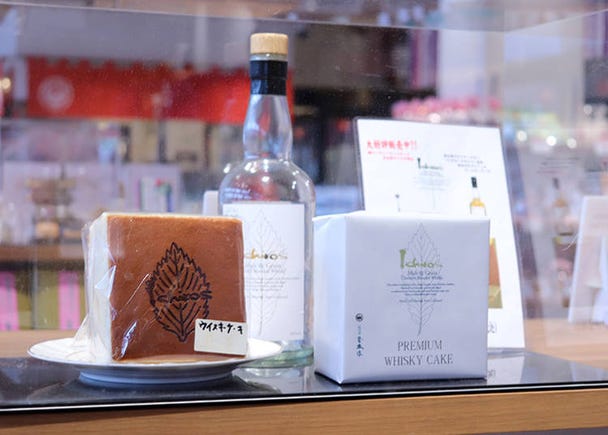 Japanese whisky is considered one of the top five whiskies in the world and has many fans internationally. The "Ichiro's Malt" that is made in a whiskey brewery right here in Chichibu is an extremely popular brand, as evidenced by the constantly sold-out condition of its stock. No wonder it has a reputation for being hard to obtain!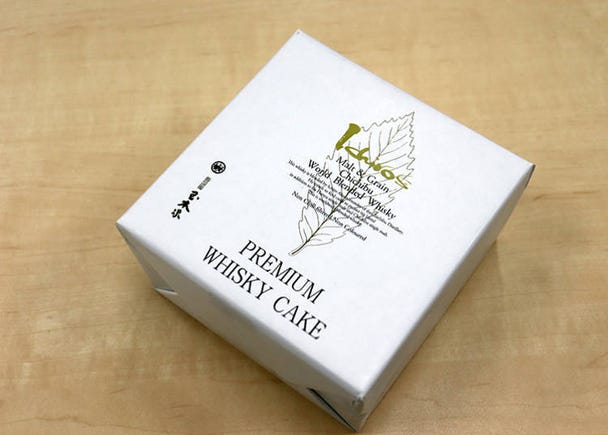 The "Premium Whisky Cake (1,500 yen, tax included)" we're introducing here is made using that ultra-rare "Ichiro's Malt" as one of its ingredients. "You can't say you've been to Chichibu until you've tried some Ichiro's Malt," Timothy explains, citing this item as one of his top recommendations. "Since it's unbelievably difficult to obtain in bottle form, getting the cake is really the next best way to bring some of that precious malt home with you!"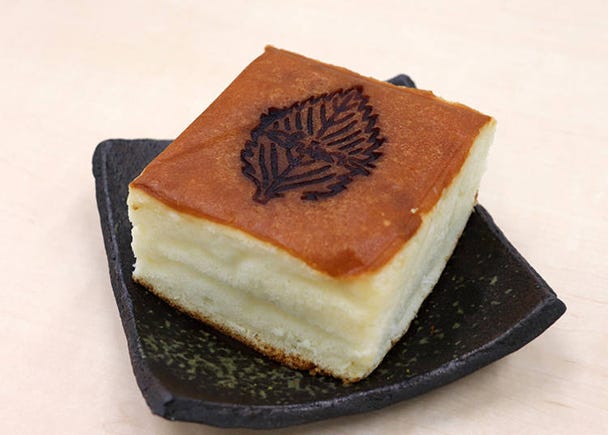 The mellow aroma of whisky fills your olfactory senses the moment the cake is unwrapped.

Timothy: "It's the same kind of aroma you'll get from opening the doors of a distillery. Although the cake's alcohol content isn't as high as the original, the great tasting flavor of Ichiro's Malt is still present for your enjoyment."

Cassandra: "This looks like a great after-dinner dessert for sure, with an air of maturity about it. It may even go well with a digestif. I'm sure some of my Scottish friends would be happy to receive something like this as a present, haha!"

Zhang: "The fragrance is so strong! It's difficult to buy alcohol back as a present because it makes my luggage so heavy, so a cake like this would be just nice."

Park: "I used to work at a bakery, and this smells just like the scent of freshly fermented bread. And it's so soft and tasty too!"

It would appear everyone is very satisfied with the premium taste of the cake. Since it looks as classy as it tastes, this would be a perfect gift to buy for your bosses, parents, or anyone of a more senior status.
Ayadori Potato Series: Their cute and colorful packaging is a strong draw!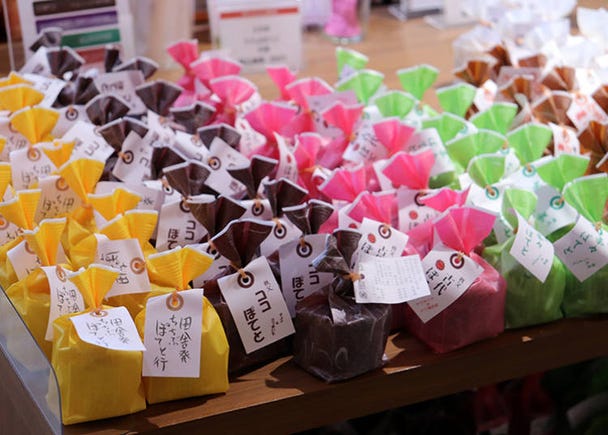 The "Ayadori Potato" series feature baked sweet potatoes that were cultivated in the rich natural environment of Chichibu. Their cute and colorful packaging make them very suitable souvenirs.

"Chichibu Potato" contains sweet potatoes with reduced sweetness that were prepared Japanese-style. If you're feeling more adventurous, there are other colorful flavors to try too, like chocolate, matcha, and more! Each packet will set you back 195 yen including tax. Since they're available as individual pieces, you can mix-and-match them to your preferences, and this flexibility is part of the reason why it's in our recommended list.
For this occasion, we chose to go with the "5-Piece Ayadori Potato (1,200 yen, tax included)" box that contains five different types of tasty potato snacks! There's the plain old Chichibu Potato, a Kodai Potato made with taro from Kagoshima, Chacha Potato made with Saitama's Sayamacha matcha, Choco Potato made with Belgium chocolates, and Kaede Potato made with Chichibu Japanese maple. All snacks have an expiry date of about 20 days from time of purchase.

Timothy: "They look and feel like cupcakes. When I was living in the States, I don't remember seeing a lot of potato sweets. I like the Kaede Potato because of the maple flavor. Feels like a great snack to enjoy during autumn!"

Cassandra: "I tried the Chichibu Potato, and the sweet potato taste is strong with this one! It's so soft, too."

Park: "The cute packaging is made with Japanese paper, which is so Japan! The colors also make them very photogenic."

Zhang: "The matcha taste of Chacha Potato is awesome. "Choco Potato" kind of tastes like brownies."

Timothy: "Potato brownies, eh? That's a new one!"

One thing we did find out is that the texture of the food item may differ depending on the flavor. Whatever the case, everyone had a blast debating over which flavor to try next! As it turns out, this may actually be a good pick as a souvenir for colleagues!
Chichibu Pudding: Have your fill of locally cultivated Chichibu fruits!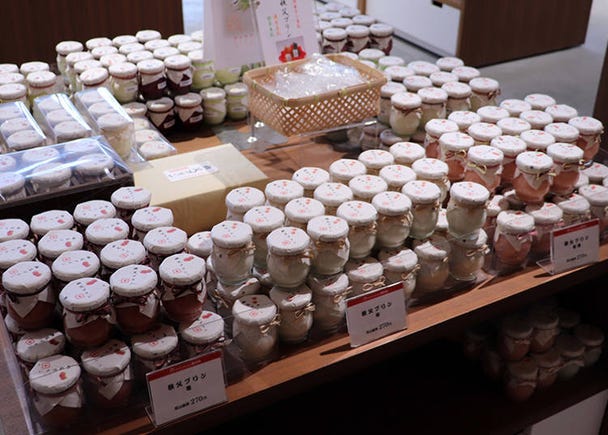 Chichibu is not only known for its lush nature, but as a producer of plenty of vegetables and fruits as well. How do you try as many of them in as little time as possible? Enter "Chichibu Pudding (270 yen per piece, tax included)" - a dessert that allows you to have your fill of locally produced fruits and vegetables. It comes in an assortment of flavors, such as peaches, strawberries, Kyoho grapes, apples, and others. Products can last about two months after date of purchase if stored at room temperature or below, so they make an attractive candidate for souvenirs to buy back overseas!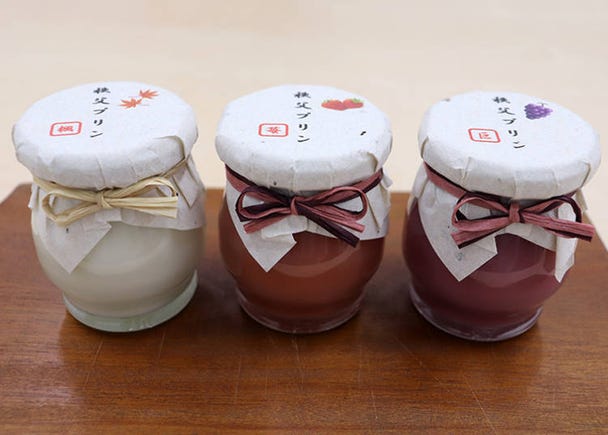 We got our hands on a box of random flavors of "Chichibu Pudding", which costs 950 yen including tax. As depicted in the picture, the flavors from left to right are maple, strawberry, and Kyoho grape.

Timothy: "Tastes really rich!"

Cassandra: "The Kyoho fragrance is quite strong! Grapes in the U.K. taste different from those in Japan, so when I first tried Japanese grapes, I almost thought I was eating candy instead! That's how different they are! The maple flavor tastes like panna cotta."

Park: "The sweetness is really pronounced in the strawberry one. It tastes like jam! When you buy them in a set, they look very colorful and cute together."

Zhang: "The maple flavor one has a milky taste. I'd say it tastes more like almond tofu than panna cotta, myself."

Similarly for this item, the flavor seems to dictate their texture. "I think they'll go well with ice-cream or on top of some toast," remarks Timothy. Maple is the preferred flavor among all four editors, but it can't be denied that buying a few flavors to try out together would make for a fun and enjoyable activity as well!
Chichibu Meisen Jelly: Collectible packages with lovely Japanese patterns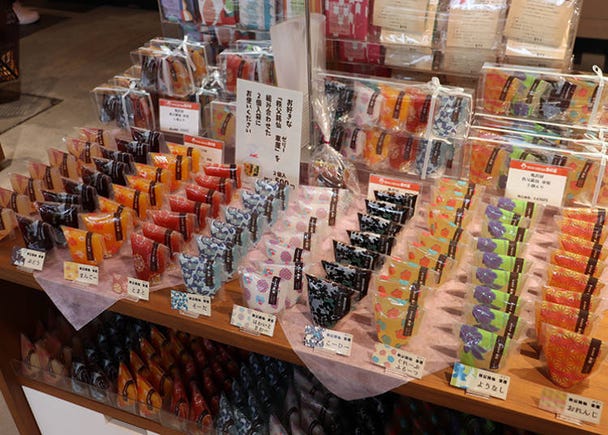 This snack comes in packaging that has Japanese patterns from Chichibu Meisen, a traditional Japanese silk fabric produced in Chichibu, where there is a prosperous sericulture industry. This fabric has been used by the populace to make everyday clothes since times past, and having their uniquely Japanese patterns as a package design makes the snack an excellent subject for beautiful photographs. There are 10 available flavors to choose from, each with its own package pattern.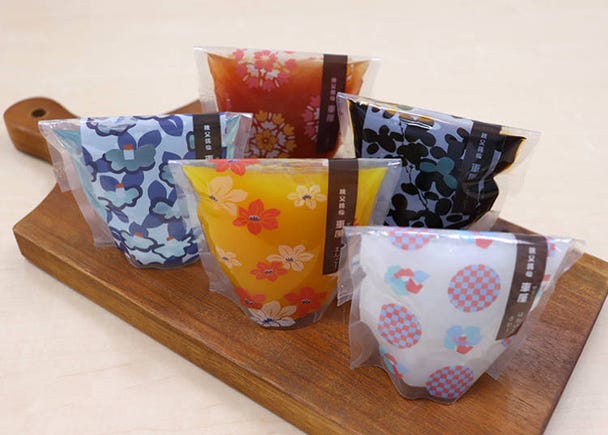 For this occasion, we've chosen to go with the "5 Piece Chichibu Meisen Jelly (1,450 yen, tax included)" set that comes with the tomato, mango, coffee, Calpis white sour, and soda flavors.

Timothy: "The tomato flavor isn't as sour as you would expect. It tastes more like fruit tomato or dessert tomato. Basically, very nice! I'd say this is a good recommendation to get a taste of Japan."

Cassandra: "I'm not a big fan of jelly myself, but this is easy to go down. The mango flavor tastes like canned peach. Like puree. Tastes even better when eaten together with a portion of maple flavored "Chichibu Pudding"!"

Park: "The packaging is so classy and uniquely Japanese - just wonderful to behold! I'd buy this to give out to lady friends!"

Zhang: "You can pick up flavors that are non-sweet, or go for the sweeter options. The patterns are really cute, too. Since the snacks are quite light, it's easier to carry back than a lot of other souvenirs I can think of."

Likewise for this snack, the texture and even firmness changes according to the flavor chosen. Since they are available in individual packages, you can always grab a whole bunch of different flavors to dole out upon your return!
Chichibu Mayu: A souvenir that highlights Chichibu's sericulture industry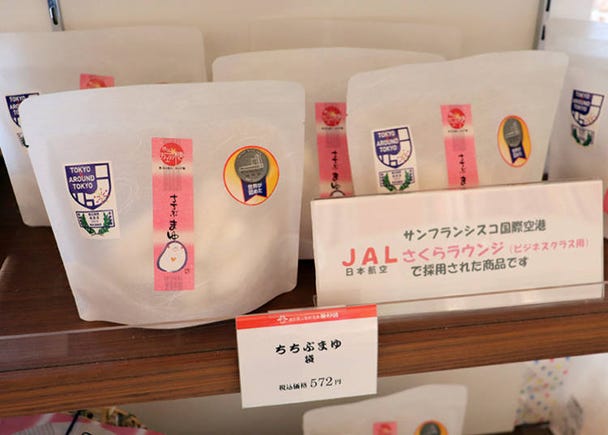 To show off Chichibu's thriving sericulture industry to friends back home, some Chichibu Meisen fabric will be probably be most appreciated. Another popular souvenir to consider is a packet of "Chichibu Mayu" going for 572 yen including tax. This is a premium item used in Japan Airline's Sakura Lounge (for business class passengers) in San Francisco International Airport.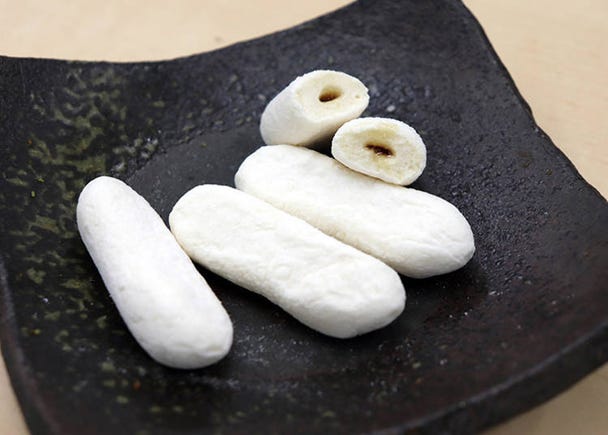 The extra-long snack with maple syrup filling is modeled after silkworms.

"Tastes like s'mores!" Timothy says as he bites into one. Cassandra nods in agreement. "It looks quirky but is really delicious - like biting into premium marshmallow," she adds.

"It just melted in my mouth the moment I put it inside!" exclaims a surprised Zhang. This unfamiliar snack seems to have made a deep impression on all of our editors. Since the item is not bulky, we highly recommend going with this if you're looking for something small and handy.
Chichibu Souvenir Market: All the Chichibu souvenirs you can think of!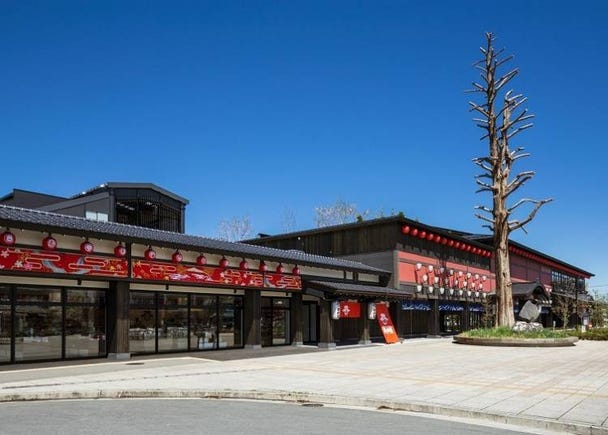 All the souvenirs we've shone a spotlight on in this article can be found in the Chichibu Souvenir Market located at the sales area of Seibu-Chichibu Ekimae Onsen Matsurinoyu Hot Spring. The marketplace is directly connected to Seibu-Chichibu Station, making it a convenient spot to drop by on your way back from sightseeing.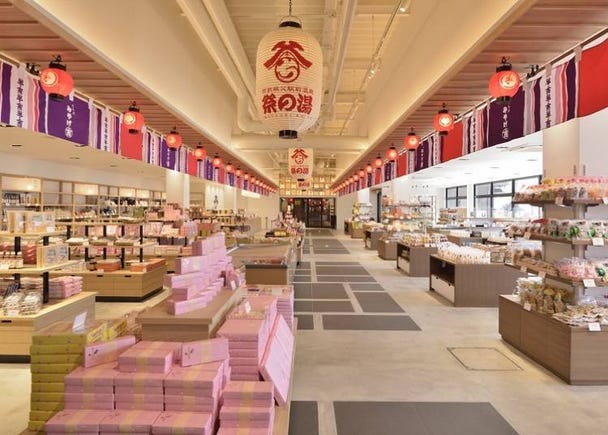 Besides Chichibu's specialty and limited products, the marketplace also sells a large number of other items like Japanese and Western sweets, local Japanese sake, and general merchandise that will be great souvenirs to bring home as well.

Sakasho Yatai, a joint establishment offering local Japanese sake, wine, and snacks. Another joint establishment called Chichibu Bijin Yatai is where you can find Chichibu Meisen clothing and accessories, bathing goods, Western sweets, and other products ladies will enjoy looking at.

Besides the ones we've introduced this time, there are plenty of other souvenirs out there waiting to be discovered as well. You won't be disappointed if you go on an adventure to find the Chichibu souvenir of your dreams!
Seibu-Chichibu Ekimae Onsen Matsurinoyu Chichibu Souvenir Market

西武秩父駅前温泉 祭の湯 ちちぶみやげ市

Address

1-16-15 Nosaka-machi, Chichibu-shi, Saitama-ken

Phone Number

0494-22-7111

Hours:
[Chichibu Souvenir Market] 9:00 a.m. – 8:30 p.m.
[Sakasho Yatai] 10:00 a.m. – 8:30 p.m.
[Chichibu Bijin Yatai] 10:00 a.m. – 8:30 p.m.
Written by: Naho Jishikyu.
*This information is from the time of this article's publication.
*Prices and options mentioned are subject to change.
*Unless stated otherwise, all prices include tax.