The town of Shinano in Nagano Prefecture - just 30 minutes by train from Nagano Station - has a rich agricultural heritage. The farmers here grow everything from rice, corn, wasabi, and - perhaps most famously - soba (buckwheat), a roughly textured grain used to make a range of noodle dishes. Soba restaurants appear frequently as you drive through the town, outnumbering convenience stores, supermarkets, or gas stations.
Sobadokoro Takasawa: part restaurant, part community hub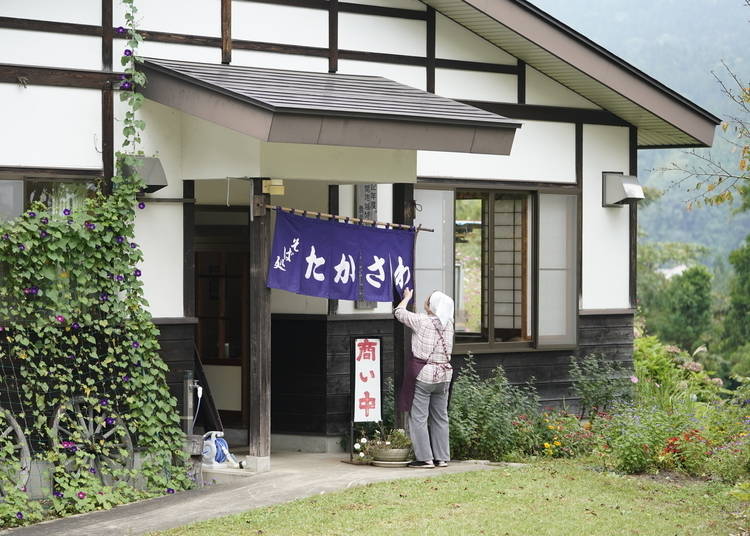 Toshiko Kobayashi prepares for the busy day ahead
No visit to the area would be complete without enjoying a hefty portion of soba noodles. To really savor the depth of this centuries-old cuisine, take a trip to Sobadokoro Takasawa, where soba expert Toshiko Kobayashi, among others, will teach you the intricacies of the craft. In the kitchen, a handful of women are busy at work cutting vegetables, preparing deep fryers for the tempura, and boiling noodles.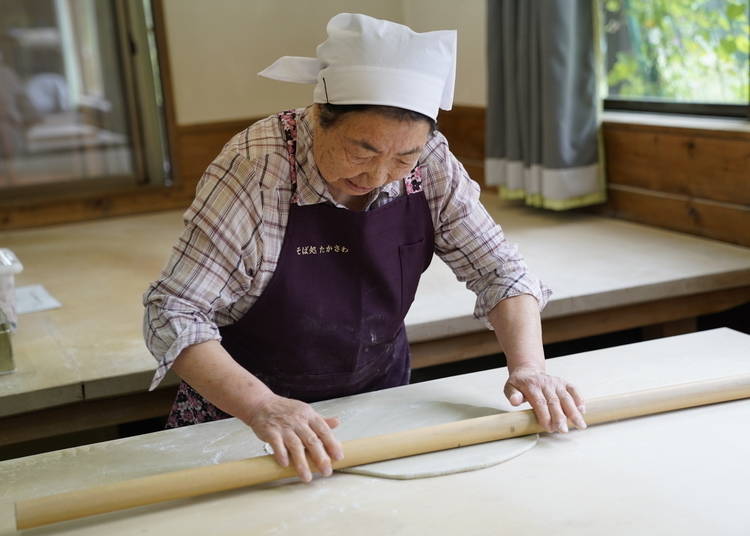 Decades of experience making soba noodles have led Toshiko to teaching the craft
The shop functions as both a restaurant and a kind of community hub. Pamphlets and fliers of local events and organizations sit on a table in a front entrance. Nearby, pumpkins, potatoes, and apples grown by area farmers are on display for sale. It's clear the area's residents are working together to sustain and develop the region.
Aprons and bandanas on - let's get busy!
Mixing the dough
Toshiko first opened the shop in 1995. Over the decades, she's expanded her remit to include hands-on soba-making classes, where diners can learn how to make soba from ground buckwheat. After donning aprons and bandanas, Toshiko has her students mix a combination of buckwheat flour, wheat flour, and water, which is pounded into a malleable dough. Once the dough is thoroughly kneaded, Toshiko teaches the students to roll it out using a slender, cylindrical pole, slowly flattening it into a thin, pizza-like shape.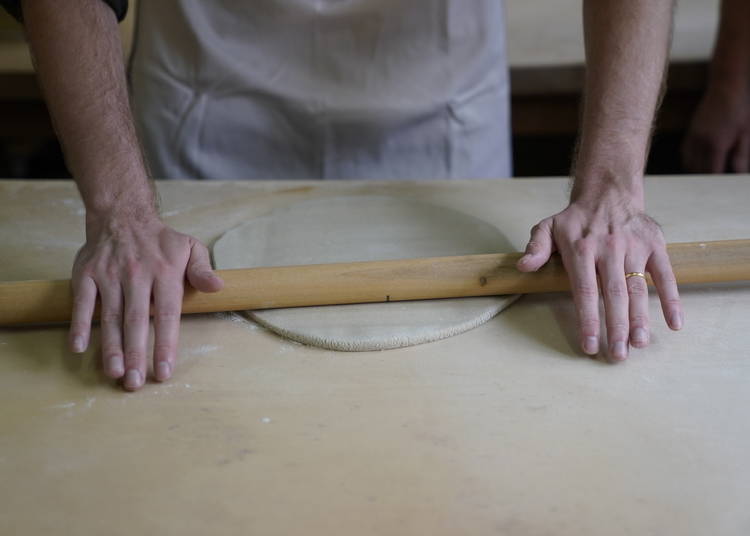 Rolling the dough ever-flatter
With every pass, the dough becomes thinner and thinner. Soon, it's ready to be cut into noodles. After folding the dough into a layered rectangular shape, a wooden book-shaped implement and a sharp, cleaver-like blade are then used to cut out thin strips from the buckwheat dough. The wooden implement serves to measure the width of each noodle before bringing the blade down.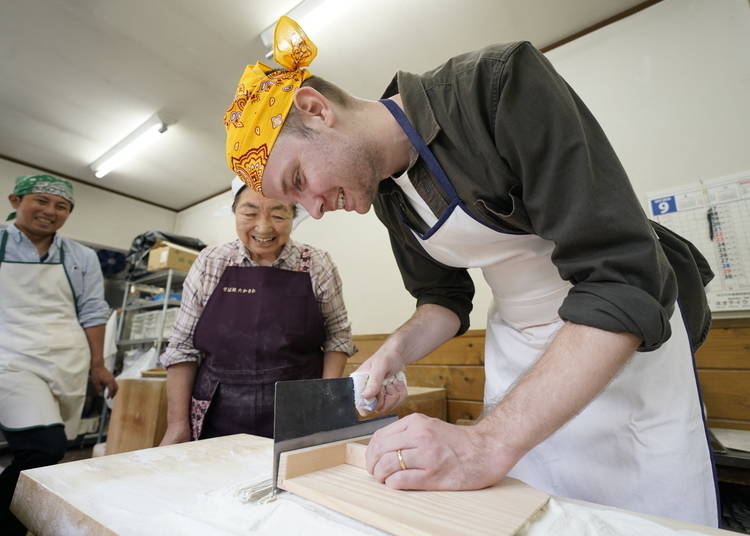 Toshiko laughs at a student's lack of finesse
The process is akin to cutting scallions, but the soft texture of the noodles requires more dexterity. A soba expert will complete this task in a matter of seconds, but it's not so easy for beginners. And, without a well-practiced technique, the soba will start to resemble something more akin to fettuccini than the thin, perfectly proportioned thread-like strips demonstrated by the instructor.
Plating up and tucking in
The soba tastes excellent, despite the student's uneven slicing
Once the noodles have been cut, they're carefully arranged in a small box and taken to the main kitchen for preparation. Before long, Toshiko arrives with a wide, flat, woven basket piled with boiled soba noodles - the very same that were cut just moments before. Soon, the soba is joined by an assortment of fried tempura, a plate of fried soba balls known as soba dango, and additional servings of soba prepared by the experienced kitchen staff (separate fees apply).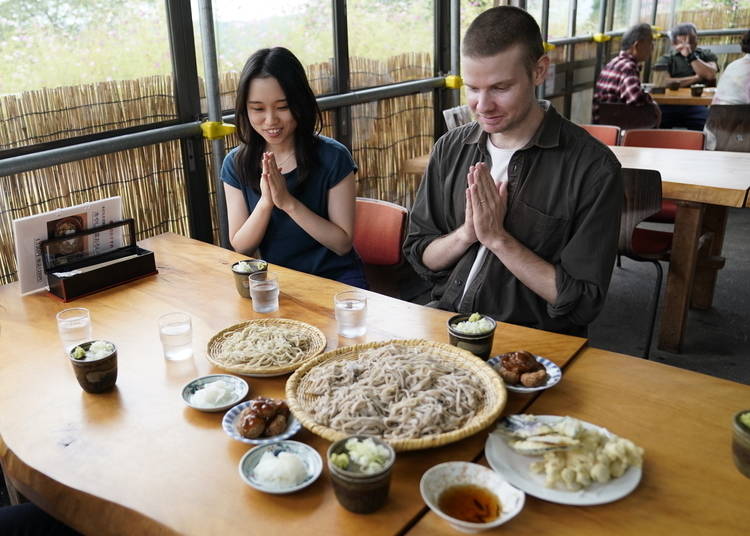 Preparing to tuck into a multi-dish feast
Despite the awkward shapes of some of the noodles, the refined flavor of the freshly prepared buckwheat quickly eclipses its atypical appearance. Zaru soba presents the soba in its most unadulterated state: the noodles are boiled, quickly drained of water, and then arranged on a woven basket or tray known as a zaru in Japanese. Accompanying the soba is a small dipping bowl with tsuyu broth (typically made of dashi soup stock, soy sauce, mirin, and sugar), thinly cut scallions, and wasabi.
Getting to grips with noodle-eating etiquette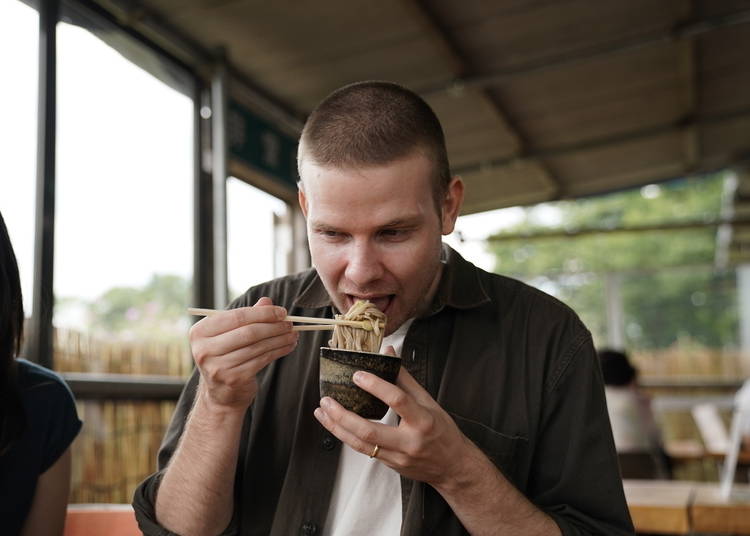 Attempting to master the intricacies surrounding noodle consumption
Place the scallions and wasabi into tsuyu broth to taste, then delicately use your chopsticks to pick up a serving of noodles, placing them halfway into the dipping sauce before slurping. Seasoned Japanese diners claim that dipping halfway, rather than submerging fully, is the most acceptable way to enjoy zaru soba. Ultimately though, you're free to do what tastes best. And, as with all Japanese noodle dishes, slurping is encouraged.

The accompanying tempura can also be dipped into the tsuyu bowl before eating, or you can season it with salt. As always, don't leave your chopsticks unattended upright in any bowls: this is one part of dining etiquette that's strictly observed across age groups and demographics.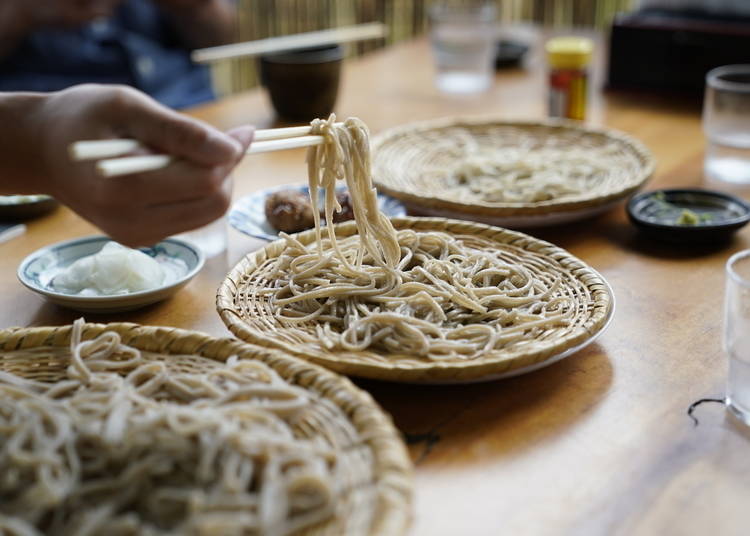 Try to discern the differences between various types of soba
In addition to student-prepared noodles, the restaurant offers regular menu items. One particularly renowned dish is their Juwari Kurohime Soba. While typical Nagano-style soba includes 20% wheat flour, juwari soba is made from 100% buckwheat. Likewise, the shop is also known for its Nihachi Hisui Soba, which presents a slightly different composition of buckwheat. Consider trying all three to get a sense of the subtle variations in flavor.
Variations on a noodle-based theme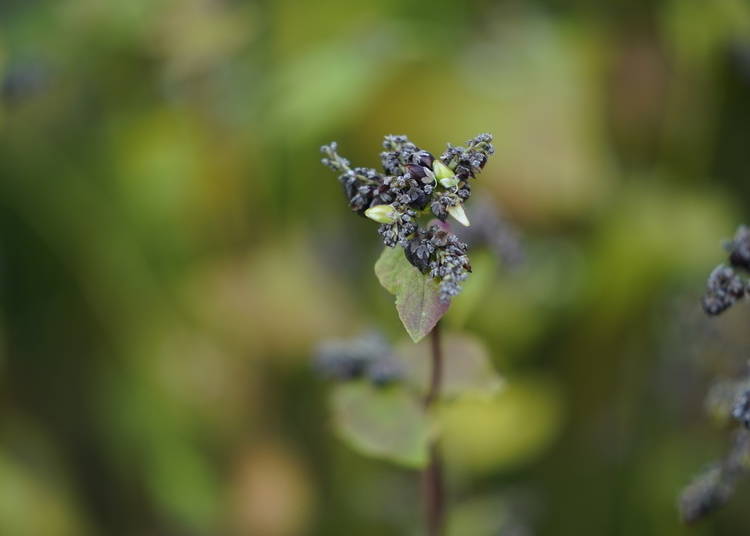 The buckwheat plant, from which soba is made
While noodles like ramen and yakisoba (stir-fried noodles) cater to those who prefer slightly heavier meals, soba is tailored to creating a more minimal culinary experience, delicately balancing the slight earthen flavor of the buckwheat with the subtle sweetness of the broth. So, while something like pork-based tonkotsu ramen leaves one ready for a nap afterward, soba has more rejuvenating effects, making it a great meal option for the active traveler.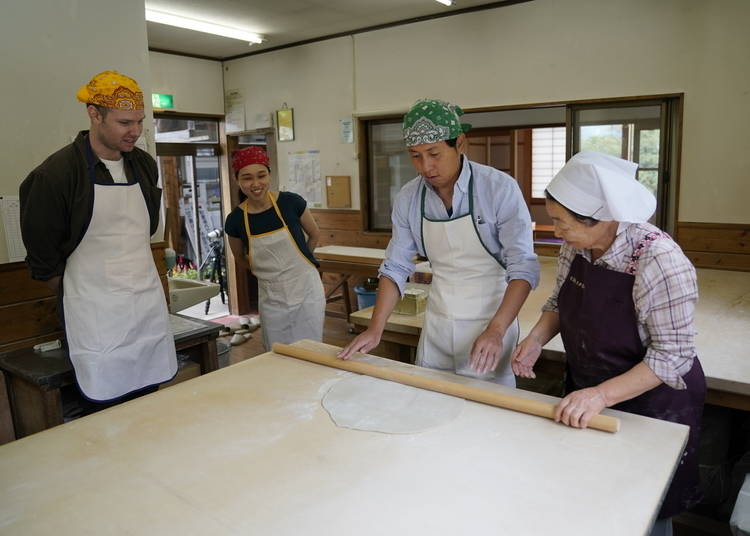 Classes are tailored for four people
The entire soba-making experience, including the meal, takes about one hour. The class is tailored for four people, with a four-person serving totaling 5,500 yen. While Toshiko is not an English speaker, she will happily use gestures to communicate during the lesson.
Make a post-lunch visit to Mt. Kurohime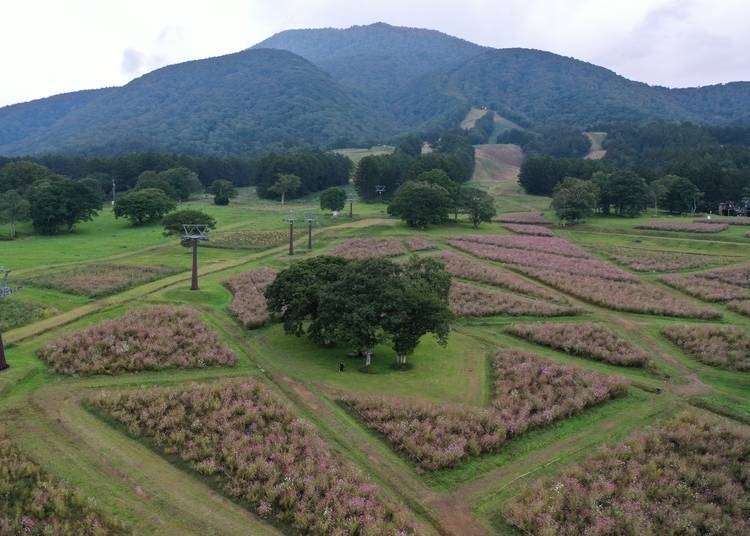 For the perfect post-meal trip, head to the base of Mt. Kurohime
After finishing your food, consider a visit to nearby Mt. Kurohime. The mountain is replete with numerous ski resorts, lodges, and accommodations that cater to all seasons. While the main attractions focus on wintertime recreation, the blooming cosmos flowers and lush greenery in warmer seasons make this an idyllic area to visit year-round.
そば処たかさわ

Address

2195-1 Nojiri, Shinano, Kamiminochi-gun, Nagano

Activity:Soba-making
Business hours:11 a.m.–5 p.m.
Fee:5,500 yen (tax included) for four servings
Requirements:
Reservations required (minimum group of four people)
Closed:Thursdays (except July 15–Oct. 31)
Languages available:Japanese
Organization name:Association of Farmstay Shinano
Organization address:Tomino 4152-1, Shinano-cho, Kamiminochi-gun, Nagano
Email:info@farm-stay.jp (Association of Farmstay Shinano)

*This information is from the time of this article's publication.
*Prices and options mentioned are subject to change.
*Unless stated otherwise, all prices include tax.
Limited time offer: 10% discount coupons available now!