Hakone has a history of 1200 years as a hot spring hot spot. A short 1 to 2-hour journey away from the city center, it's just right for a day trip to see the sights as you go around the abundant shops in leisure, and Hakone Yumoto Station is well-known as the entrance to the area.

With numerous hot springs specifically catered for those on day trips, it's no wonder Yumoto is a prestigious hot spring town even within Japan. Today, we'll be introducing the 3 of the various onsens near the station as our top recommendations. All of them are a skip away from the station, a perfect fit to kill time as you wait for the train.
1. Right outside the station: Kappa Heaven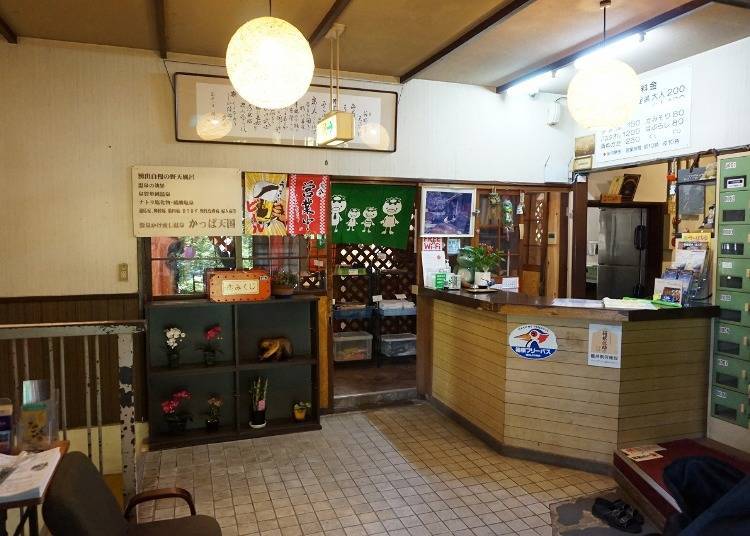 3 minutes away from the station while having the high ground, the establishment overflows with natural goodness. Over 40 years old, the veteran onsen is popular for its retro atmosphere. With its proximity to the station, it's the best place for a quick reprieve before you catch the return train.
(Free wifi available on-premises)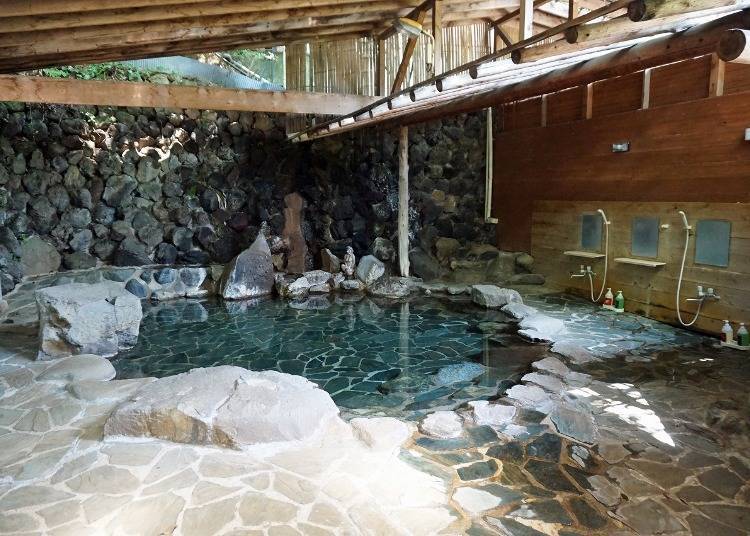 The open-air bath is sheltered, so no matter the weather you're free to use it. It costs 800 yen for a visit (adult, tax inclusive), and you can rent a towel for 150 yen (tax inclusive), reasonable prices for anyone on a tour. The water is also 100% pure spring water, which can relieve all sorts of pains like muscle aches, neuralgia and chronic skin diseases, not to mention it helps give beautiful skin.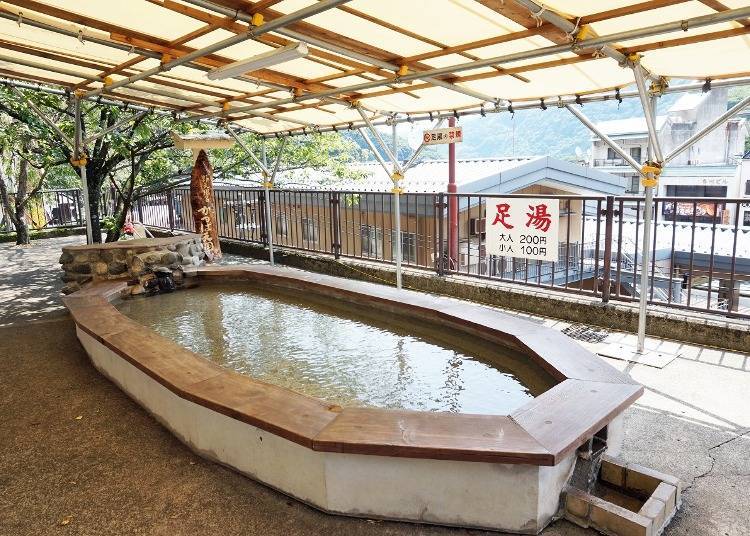 The foot spa also uses the same water source as the onsen and costs a measly 200 yen per use. Similar to the open-air bath, it is available not only for guests but for visitors as well. Enjoy the elevated view of the town as you soak your feet in the spa.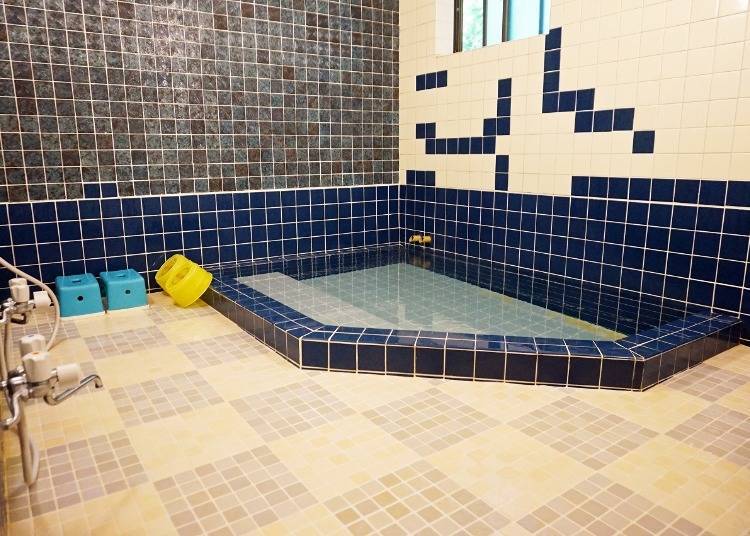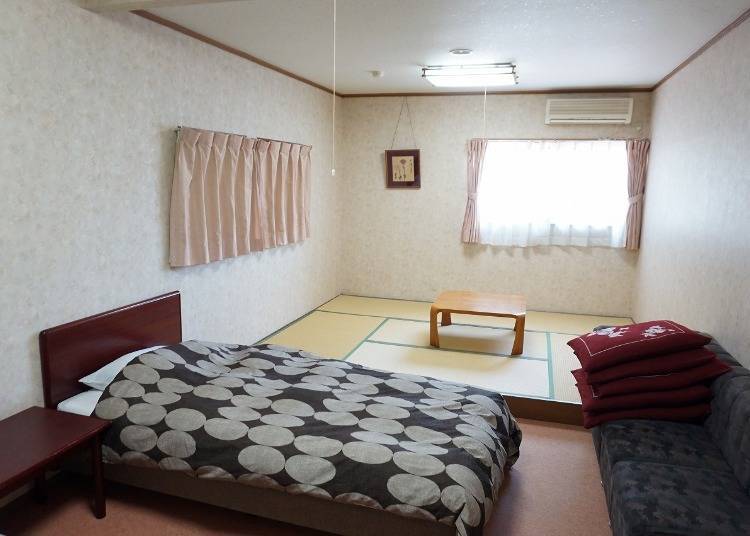 There are even private baths for those staying overnight, perfect for a family or those bringing their children along. An overnight stay costs as little as 5,500 yen as well, and what better way to enjoy a trip in Hakone with a night in a hot-spring hotel?
箱根湯本温泉 かっぱ天国

Address

777 Yumoto, Hakone-machi, Ashigarashimo-gun, Kanagawa-ken 250-0311

Nearest Station

3 minutes from Hakone Yumoto Station on foot


Phone Number

0460-85-6121

Hours: 10am - 10pm
Prices:
Bath Entry - 800 yen (Adult), 400 yen (Child)
Foot spa - 200 yen (Adult), 100 yen (Child)
Private bath - 1000 yen per 45 minutes + Bath Entry Price

Vacancy search, reservation

from

17,000JPY

1room, 2adults

Check with our partner site as the latest rates, rate details, and guest room requirements may vary.
2. Yoshiike Ryokan: Spreading out over 8 acres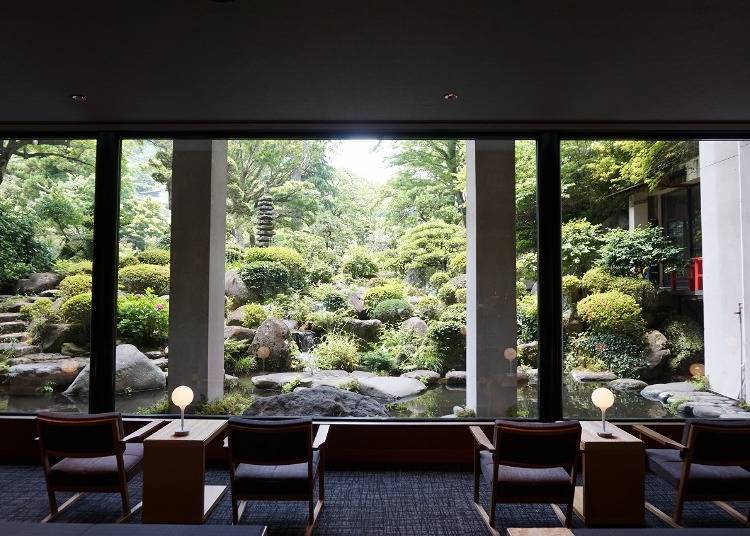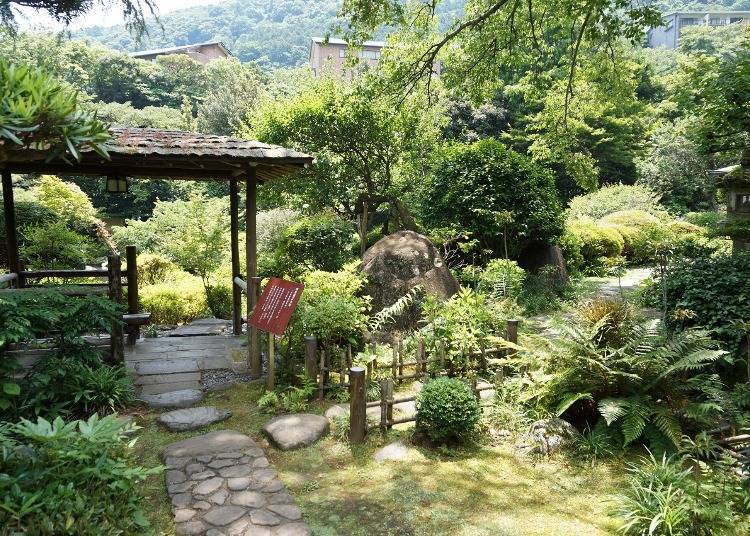 7 minutes away from Hakone Yumoto Station, the Yoshiike Ryokan is a famous onsen renowned for its Japanese landscape garden. Not only can you soak in the onsen as you take in the view of the gardens, strolling around the gardens is also perfectly fine. Within the expansive area is also the Kyu-iwasaki-tei Villa and Tea room, a Tangible Cultural Property that's definitely worth checking out.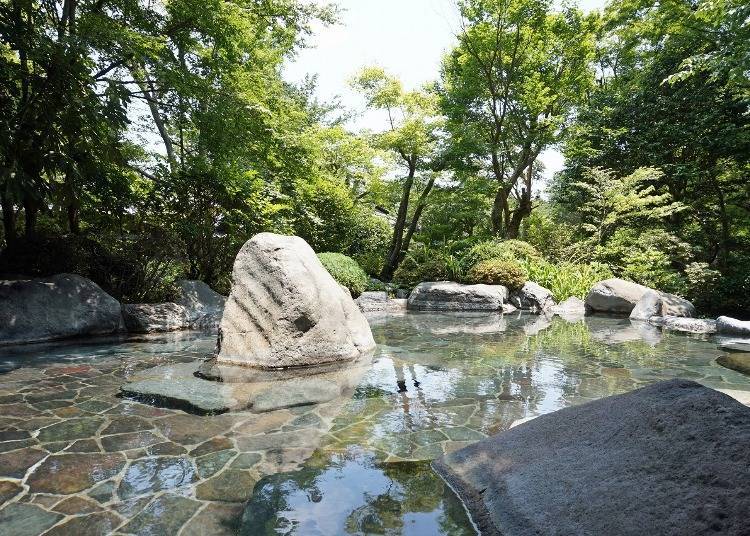 Enjoy a panoramic view of the surrounding greenery as you relax in the bath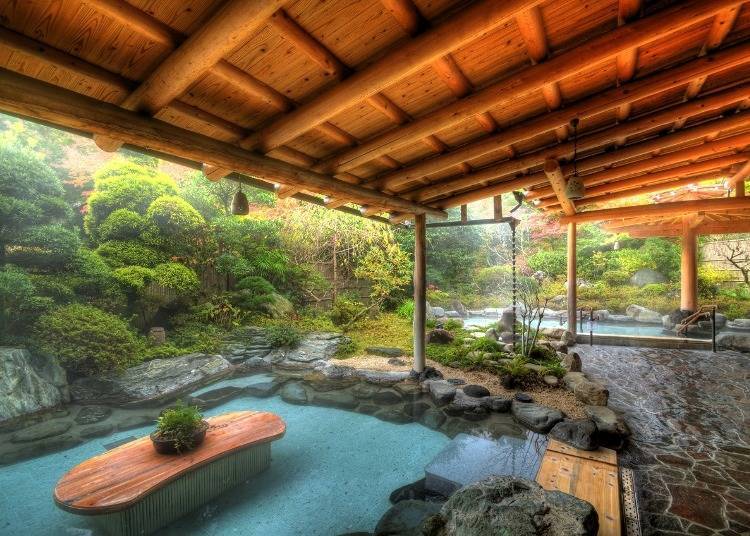 Immerse yourself in the four seasons within the open-air bath
The open-air bath uses the onsen's own water source and is accessible even for those not staying overnight. Soak in the natural stone tub as you take in the view of the serene greenery around you.

All of their baths here use pure spring water without extra heating or additional water, so it's very effective in getting soft beautiful skin, not to mention the various health benefits.

The Yoshiike Ryokan uses a total of 6 water sources, which allows it to draw a maximum of 720 liters in total for its baths, something not replicated easily. Bath and hand towel sets are also available, which means there's no need to bring your own.
Signs are written in both English and Japanese. The hotel also offers complimentary Wi-Fi service.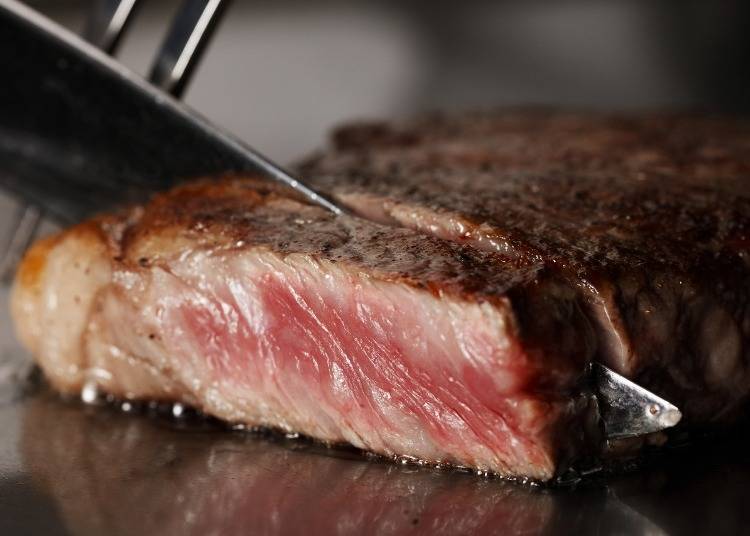 The steakhouse next door "Yoshiike Steakhouse" sells genuine Japanese Black Wagyu Beef steaks, highly recommended for anyone looking for a gourmet treat!
箱根湯本温泉 吉池旅館

Address

597 Yumoto, Hakone-machi, Ashigarashimo-gun, Kanagawa-ken 250-0311

Nearest Station

7 minutes from Hakone Yumoto Station on foot


Phone Number

0460-85-5711

Hours: 1:30pm - 10pm
Prices:
2,000 yen (Adult), 1,500 yen (Child)
*Prices are tax exclusive
3. Tenseien: Pass the time leisurely under a deep blue sky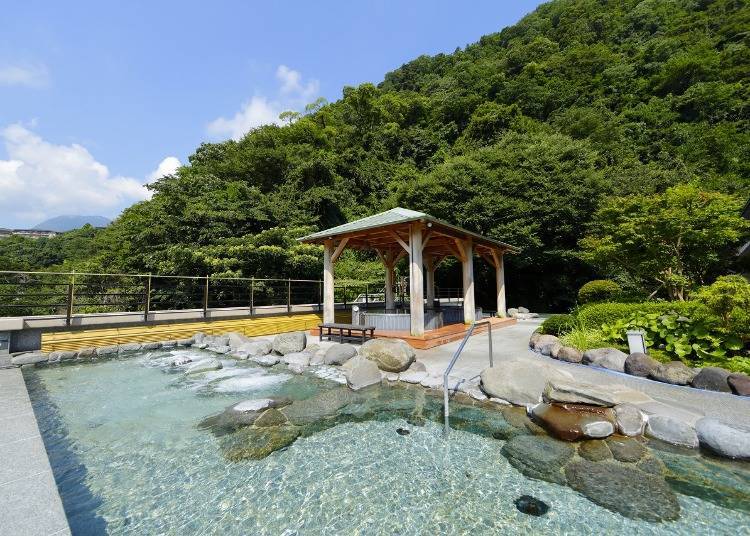 Free wifi is available on premises
Furthest away from the station at about 12 minutes on foot, this onsen has one of the most unique architectures with its Japanese landscape garden which comes with a waterfall, as well as its rooftop open air bath. It's public use onsens operate 23 hours a day (just one hour short!) which means you can enter at almost any time you fancy. Take a snooze in their "Relax Room" or their "Aroma Este", all of which are open to visitors as well.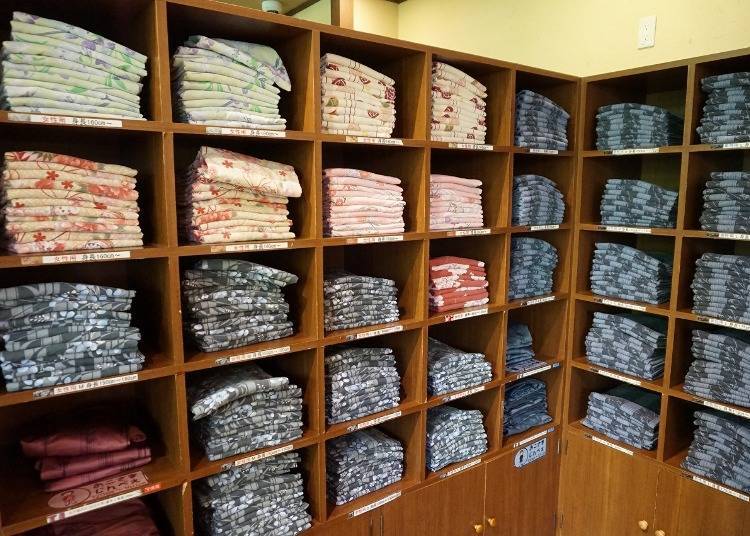 Rental yukatas come in 4 different designs and are free to use for visitors! Bath and face towel sets are also available (at a price), so there's no need to bring your own if you're visiting.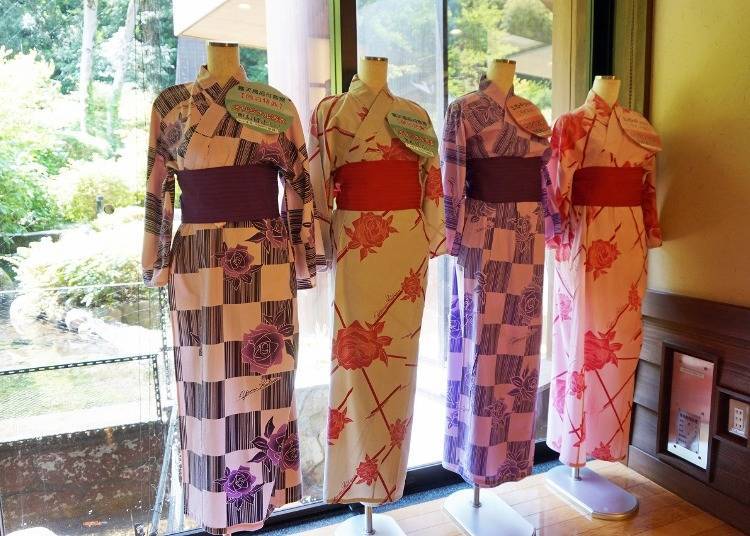 If the regular yukatas aren't to your taste, for 500 yen you can rent yukatas designed by Yumi Katsura, a Japanese designer famous for her gorgeous wedding dresses.
There are two waterfalls within the garden, the tallest splendidly towering over 20 meters. Near the top of the waterfall are steppingstone for you to go close and appreciate the intensity of the spraying water down below. Moreover, the Gyokuren shrine, which houses a deity that graces marriages, is also located right next to the waterfall. There, you can make wishes by writing them on ema plaques and drawing omikujis. As a side note, you can actually enter the garden even if you're not a guest at the ryokan.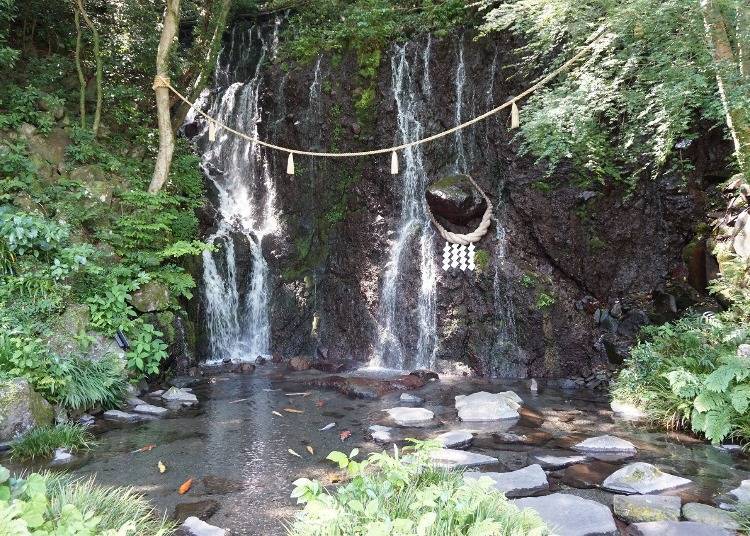 The gush of the waterfall rings pleasantly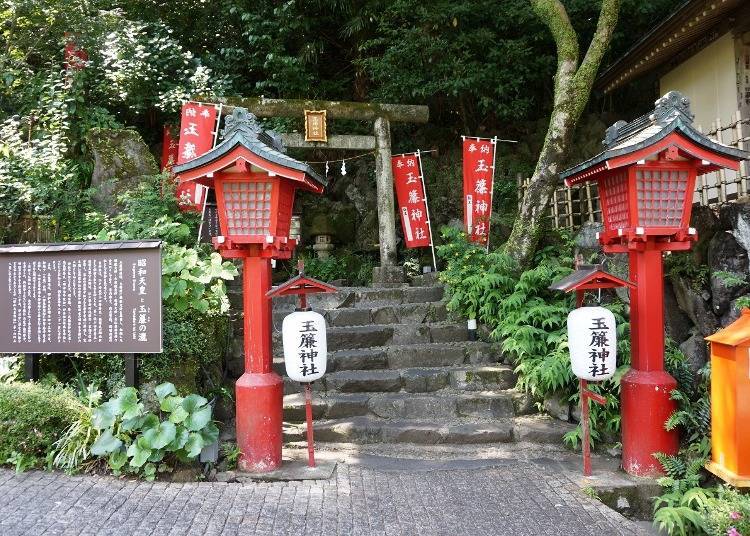 Power spot within the garden at the Gyokuren Shrine
Private facilities are also available for reservation at 2,000-yen per hour (tax exclusive). However, the foot spas are completely free, even for non-guests! It's worth visiting the gardens and foot spa even if you don't have a reservation.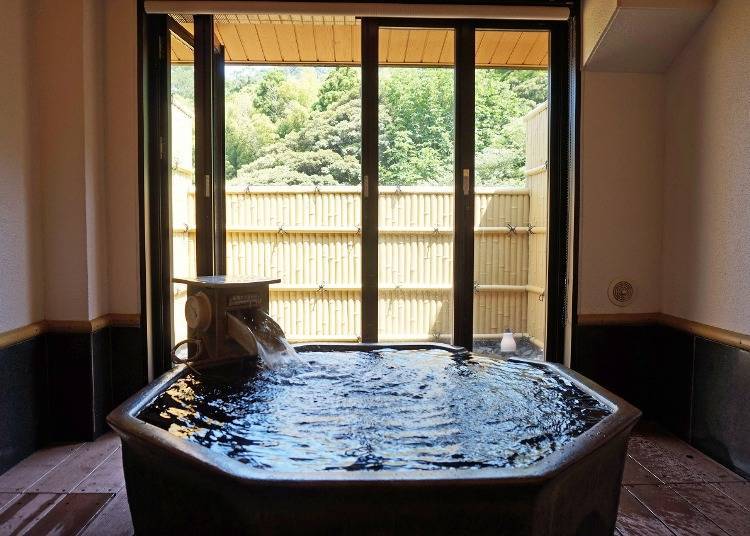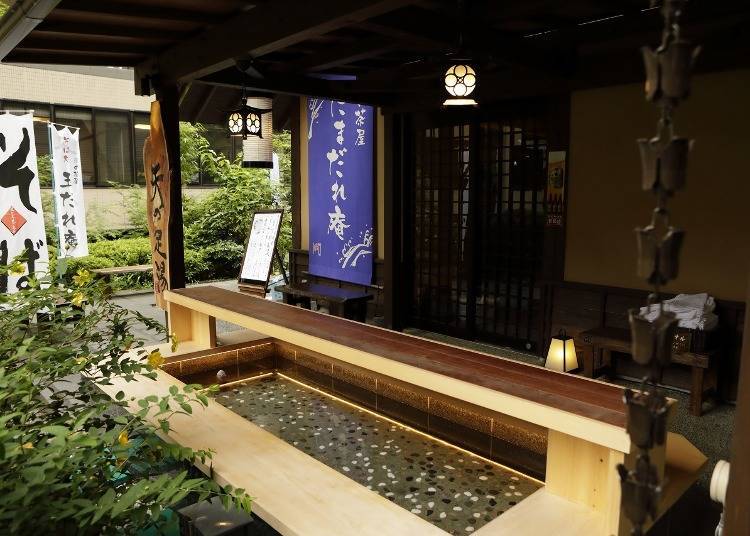 The free foot spa inside the garden is a nice addition for visitors
箱根湯本温泉 天成園

Address

682 Yumoto, Hakone-machi, Ashigarashimo-gun

Nearest Station

12 minutes from Hakone Yumoto Station on foot


Phone Number

0460-83-8511

Hours: 10am - 9am the following morning
Prices:
2,000 yen (Adult), 1,200 yen (Grade-schooler), 900 yen (3-6 years old)
*All prices are tax exclusive
**Any reservation done between 12 midnight and 5:59am is liable to a late-night service surcharge
Nature and architecture aplenty, going around the various souvenir shops as you enjoy the different hot springs is one of the main draws of the Hakone Yumoto Station area. Refresh your body and soul in a region steeped in nature and history.

Written by Medium KK
*This information is from the time of this article's publication.
*Prices and options mentioned are subject to change.
*Unless stated otherwise, all prices include tax.