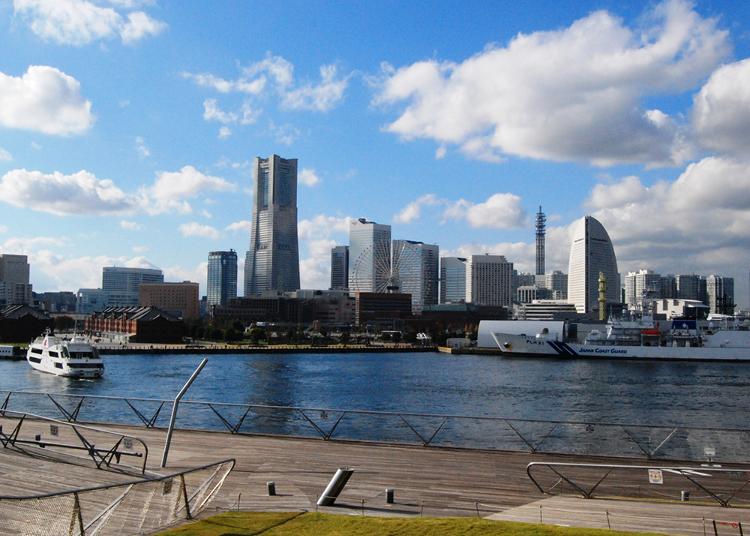 These are the top recommendations for Minato Mirai 21 / China Town, with travel tips and more, according to LIVE JAPAN, a top-class travel website for visitors to Japan. Our ranking is based on the most popular pages viewed by foreign visitors in a given category.

For instance, Yokohama Stadium, Yokohama Chinatown, Yokohama Anpanman Children's Museum & Mall and other related spots will be listed. Be sure to check them out during your visit to Minato Mirai 21 / China Town!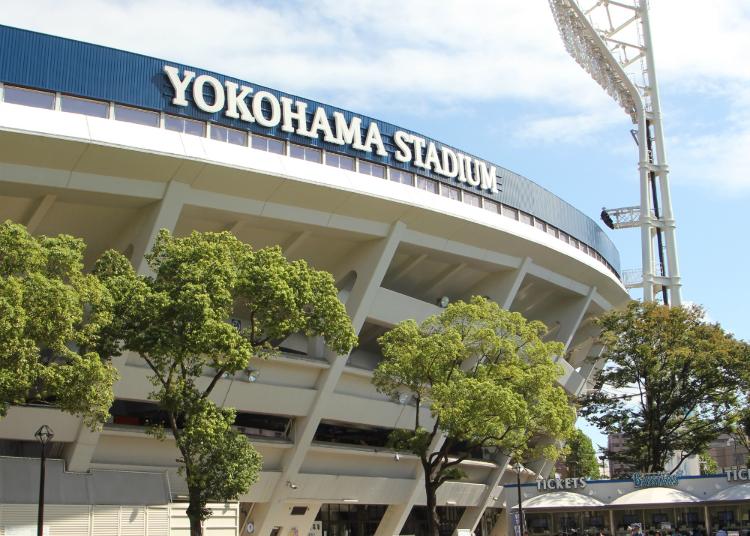 The Yokohama Stadium, which is also known by the nickname "Hamasuta," is the home ground of the Yokohama DeNA Baystars, which is a professional baseball team in the Japanese Central League. It opened in 1978 as the first multipurpose stadium in Japan and celebrated its 30th anniversary in 2008.

The stadium introduced at an early stage an artificial field turf that was good for reducing the number of errors. It has been making an effort to improve facilities so that the audience can enjoy watching games more. One of such efforts is that the infield net is lowered so that the audiences can watch and sense a game that is realer.

The stadium is also used for sporting events, not to mention professional baseball games and concerts, and is known as the beloved stadium of the local people. There is a shop where you can find official merchandise and character goods of the Yokohama DeNA Baystars within the stadium. It is a two-minute walk from the JR Negishi Line Kannai Station South Exit.
Address

Yokohamakouen, Naka-ku, Yokohama-shi, Kanagawa, 231-0022
View Map

Nearest Station

Kannai Station (JR Negishi Line / Line 1 (Yokohama Blue Line) / Line 3 (Yokohama Blue Line))
2 minutes on foot


Phone Number

045-661-1251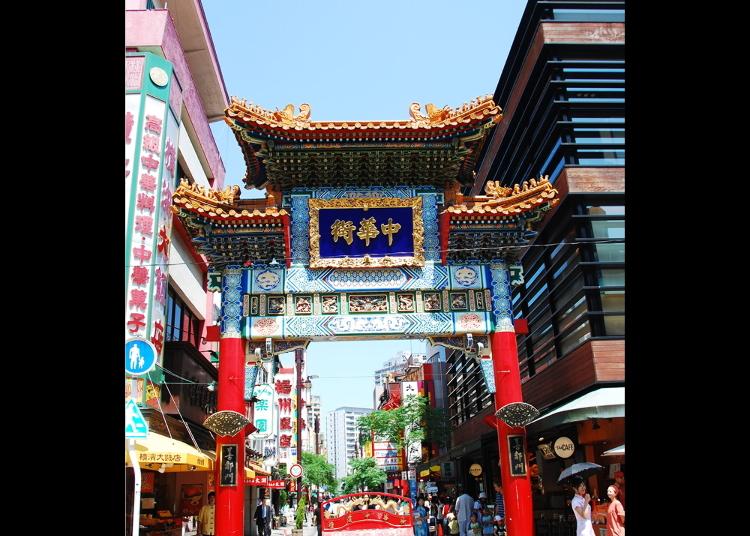 The Chinatown is a business street enclosed by 10 gates standing in different directions. Within a square site of 500 meters on each side, there are 620 stores, including 226 Chinese restaurants, which line the street (as of 2010). You can go to an authentic Chinese restaurant or walk around munching on roasted chestnuts or dim sum.

In addition, you can have a taste of Chinese tea, served in Chinese tea sets, in a cafe or search for Asian-styled sundries and souvenirs at the numerous shops; there are many ways to enjoy yourself.

There also are volunteer concierges who will not only take you to the stores but also teach you about Chinese history and the culture in the Chinatown. It is a one-minute walk from Motomachi-Chukagai (Chinatown) Station on the Minato Mirai Line, or a five-minute walk from the Ishikawacho Station or the Kannai Station on the JR Keihin-Tohoku Negishi Line. It is also accessible by a direct bus from the Narita Airport.
Address

Naka-ku, Yokohama-shi, Kanagawa, 231-0023
View Map

Nearest Station

Motomachi-Chukagai Station (Minatomirai Line)
1 minute on foot

3.Yokohama Anpanman Children's Museum & Mall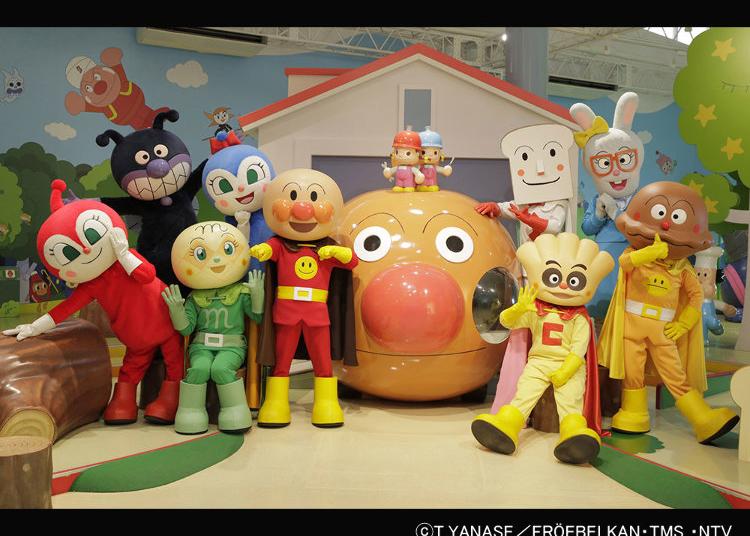 This is a museum where you can experience the world of Anpanman, an animation loved by children and adults alike. In the paid interactive museum area, you can experience a character diorama, see animations, make your own crafts, play freely in the kid's room, and take a look at Takashi Yanase (author of Anpanman) memorial museum.

In the shopping mall area, there is a bakery selling bread in the image of the characters and restaurants with delicious meals, where you can take a break. There is also a photo studio, a beauty salon for kids, and various shops that sell original goods and toys.

A nursing room for babies is also available for the convenience of visitors with small children. It's a seven minute walk from Minato-Mirai Line Shin-Takashima station or Yokohama Municipal Subway Blue Line Takashimacho station.
Address

4-3-1, Minatomirai, Nishi-ku, Yokohama-shi, Kanagawa, 220-0012
View Map

Nearest Station

Shin-Takashima Station (Minatomirai Line)
7 minutes on foot


Phone Number

045-227-8855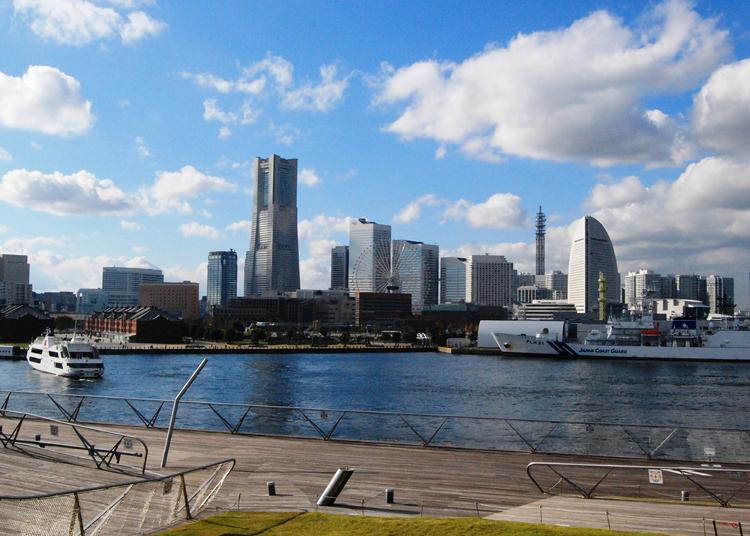 Since its original construction in 1894, it has gone through extension work, restoration work after the 1923 Great Kanto earthquake, and requisition by the U.S. occupation army. In 2002, it was renovated into an international terminal that Japan boasts about to the world.

The terminal can accommodate up to four 30,000-ton class passenger liners, or two if over that class. You can see the attention paid not only to the function as a passenger terminal but also the interior and exterior design of the terminal building.

The rooftop, which gently curves like the heave of the sea, was created with the design concept of "a port like a garden." It has a wooden deck area and a lawn area where visitors can relax. It is also a popular spot to see the whole view of Yokohama. The second floor is a huge, column-free space. The terminal building has restaurants, cafes, and shops. It is a seven-minute walk from the Minato Mirai Line Nihon-odori Station.
Address

1-1-4, Kaigandori, Naka-ku, Yokohama-shi, Kanagawa, 231-0002
View Map

Nearest Station

Nihon-Odori Station (Minatomirai Line)
7 minutes on foot


Phone Number

045-211-2304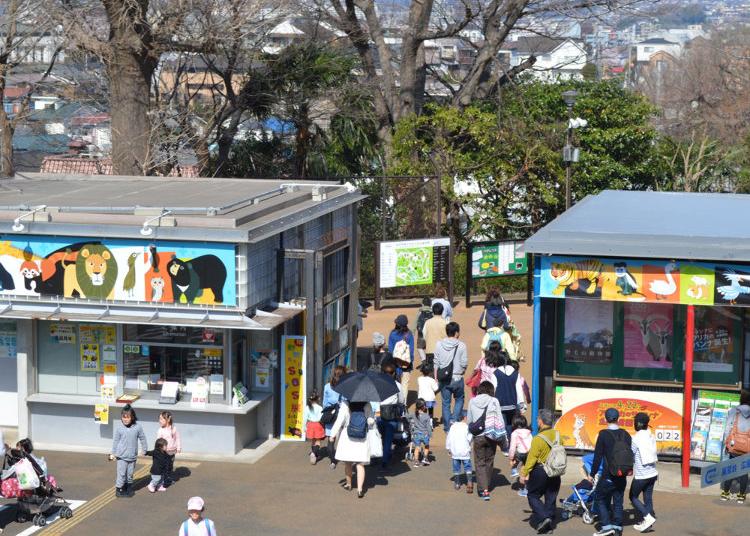 This zoo is in Nogeyama Park (Nogeyama Comprehensive Park), with a view of Minato Mirai. There are over 90 different species kept in this zoo, and the concept of the exhibitions in the zoo is for guests to be able to see the animals up close. In Nakayoshi Square, you can pet small animals like guinea pigs and mice.

If you wish to enter the area with a group of more than 30 people, a reservation is required in advance. There is a feeding time for animals every day that guests can observe along with an explanation from the zoo keeper. There is also a free resting area and a cafe that serves light meals in the zoo.

With facilities such as Yokohama City Central Library nearby, the zoo is a spot you can drop in on as a part of a leisurely stroll. Admission is free. It's a 15-minute walk from JR Negishi Line or Yokohama Municipal Subway Sakuragicho Station.
Address

63-10, Oimatsucho, Nishi-ku, Yokohama-shi, Kanagawa, 220-0032
View Map

Nearest Station

Sakuragicho Station (JR Negishi Line / Line 3 (Yokohama Blue Line))
15 minutes on foot


Phone Number

045-231-1307
6.Yokohama Red Brick Warehouse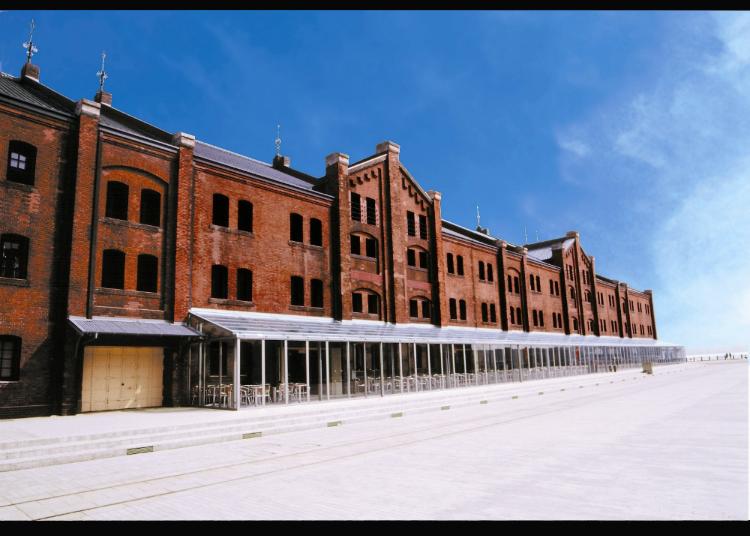 The Yokohama Red Brick Warehouse (the original name was the Newport Pier Tax Keeping Warehouse) is a historical building used as a bonded warehouse to temporarily keep import goods in the 1910s. When the Minato Mirai 21 development project later started in the 1980s, it became part of the project to create a town that took advantage of the history of the warehouse and view.

In 2002 the warehouse was renewed and opened to the public as a cultural and commercial facility. There are cultural facilities including halls and exhibition spaces in the Yokohama Red Brick Warehouse 1, and there are commercial facilities including restaurants and shops in the Warehouse 2. The surrounding area with a square and a park is called Red Brick Park.

There are many attractions such as shops selling Yokohama related items, jazz events (as Yokohama is the origin of Japanese jazz history) and an ocean view with many ships. In the evening, the warehouse is illuminated with orange lights. A 15-minute walk from JR Sakuragicho Station along Kishamichi Promenade.
Address

1-1, Shinkou, Naka-ku, Yokohama-shi, Kanagawa, 231-0001
View Map

Nearest Station

Sakuragicho Station (JR Negishi Line / Line 3 (Yokohama Blue Line))


Phone Number

045-211-1515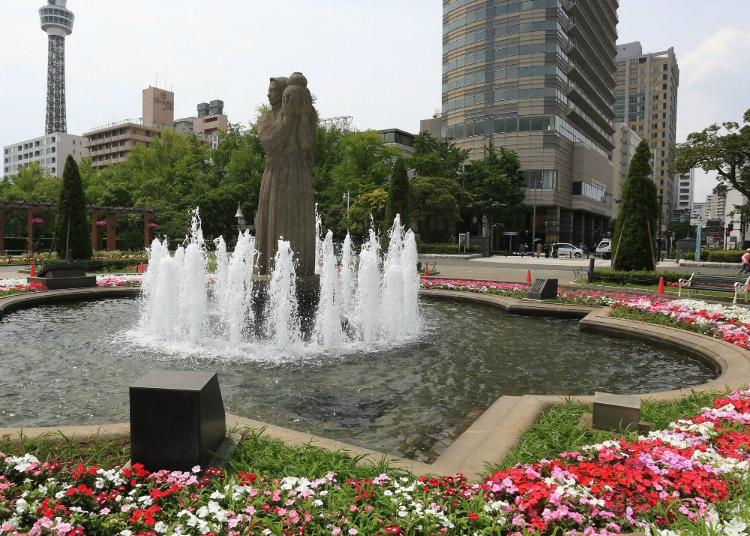 The park is the seaside public park that was opened in 1930 as a part of reconstruction work after the Great Kanto Earthquake (the historic earthquake that struck the Kanto region in September 1923) which had involved filling the sea with the rubble from the earthquake. It stretches along the seaside for approximately 700 meters from the entrance of the Osanbashi pier to the Yamashita Futo landing. It is the most famous park, known as "The Park of Yokohama".

It was extensively renovated at the time of the Yokohama Exposition, held in 1988. The facility represents the port city Yokohama's view of the world, including Sekai-no-hiroba (the World Plaza), which was designed to express six roads stretching out to the six continents and the long staircase coined as the Grand Staircase, which resembles the one in a park in Spain. You will also see the statue of "A Little Girl with Red Shoes On", which is familiar to many Japanese people as a children's song; the Indian water fountain, which was donated by the Yokohama Indian Union; and the Guardian of Water statue, which was gifted by the City of San Diego.

The park is also famous for its beautiful roses in a sunken flowerbed garden during the flowering season. It is a three-minute walk from the Minato Mirai Line Motomachi-Chinatown Station.
Address

279, Yamashitacho, Naka-ku, Yokohama-shi, Kanagawa, 231-0023
View Map

Nearest Station

Motomachi-Chukagai Station (Minatomirai Line)
3 minutes on foot


Phone Number

045-671-3648
8.Cup Noodles Museum (The Momofuku Ando Instant Ramen Museum)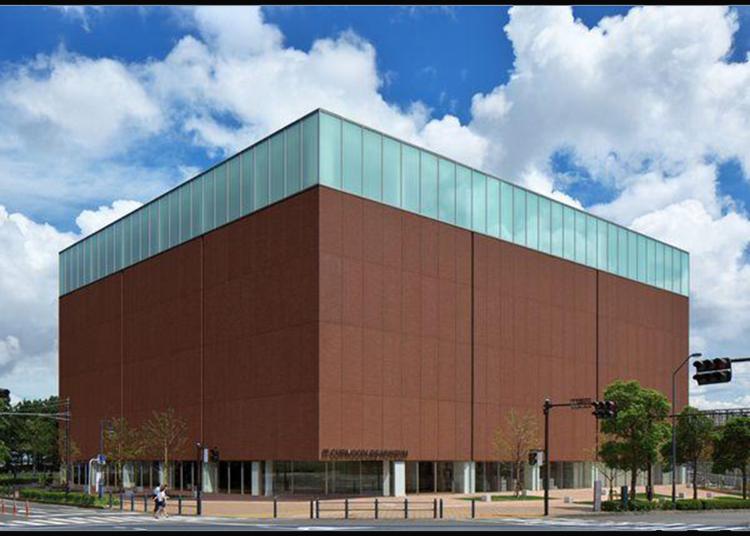 The Cup Noodles Museum is where you will be able to trace the thoughts and track the path of Momofuku Ando, the founder of Nissin Foods and inventor of Chicken Ramen, the world's first instant ramen noodles.

The museum offers an attraction where you can experience creating your original cup of Cup Noodles; you design the cup first and then, choose your favorite soup and toppings (a numbered ticket or user ticket required). It is a popular spot for tourists as well as you can create your unique Cup Noodles. You can also learn the history of instant ramen by looking at the over 3,000 different package designs and see an animation film about Mr. Ando's life in the theater.

The theater is equipped with an audio guide in English, Chinese, and Korean, so foreign tourists can also enjoy. There is an attraction where you can taste noodles of various countries and a museum shop. It is an eight-minute walk from the Minatomirai Station or the Bashamichi Station on the Minatomirai Line.
Address

2-3-4, Shinkou, Naka-ku, Yokohama-shi, Kanagawa, 231-0001
View Map

Nearest Station

Minatomirai Station (Minatomirai Line)
8 minutes on foot


Phone Number

045-345-0918
9.YOKOHAMABUNMEIDOU Isezakicho 1chome store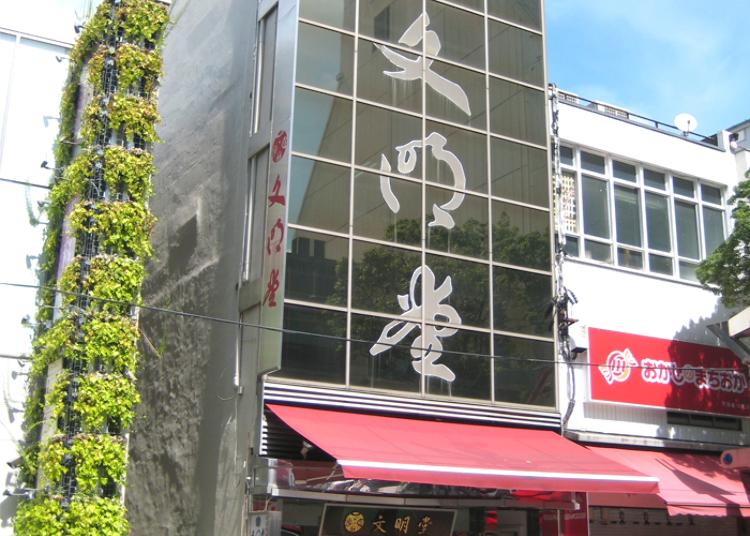 Bunmeido was established in 1900 in Nagasaki and built up a strong reputation among customers with its craftsmanship and quality products, centered on its famous Castella (sponge cake). Yokohama Bunmeido was created when Bunmeido moved to Yokohama from its original location in Nagasaki, establishing its flagship store in Isezakichō, Yokohama.

Eggs, flour, and sugar are the main ingredients in Castella. The crisp texture of granulated sugar and a moist, mellow sweetness are combined in a beautiful golden-brown pastry that can only be created by the hands of a skilled craftsman. Castella has a long history. It is said that it traces its origin back to Spain in the 3rd century BC, where a confection called "bizcocho" ('sponge cake' in Spanish) was made. Castella was later brought to Japan through Dejima in Nagasaki, which was bustling with activity at the time as the only port in Japan open to the outside world.

Its method of creation changed over time to fit Japanese tastes, and soon spread throughout the whole country. Thus, modern-day Castella can be thought of as a work of culinary art whose flavor Bunmeido has studied and refined over many years. However, our work is far from over. We at Bunmeido continue to strive every day in our pursuit of the perfect flavor.
*This information is from the time of this article's publication.
*Prices and options mentioned are subject to change.
*Unless stated otherwise, all prices include tax.