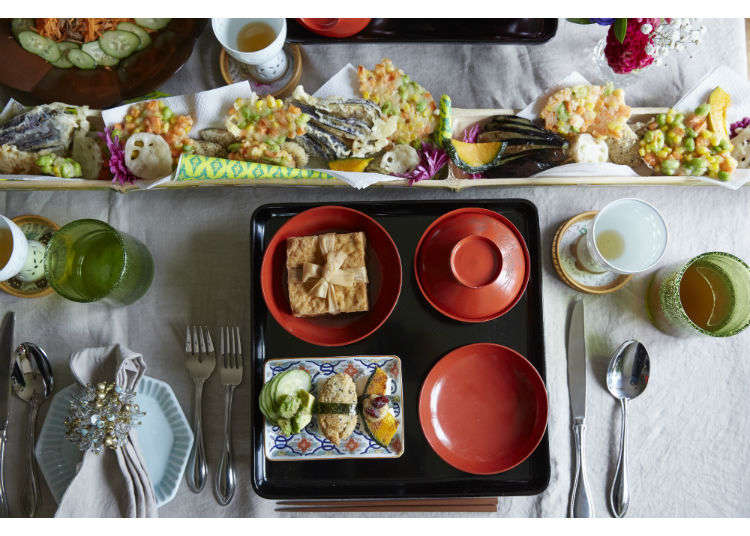 People often visit new cultures with a guidebook in hand, checking off the big sights as they travel around. During a trip to Japan, people can visit shrines, eat sushi at restaurants, and even wear a yukata at a hot springs hotel. Every year, millions of visitors do exactly these things, and they have a wonderful time.
But more and more frequently, people want a richer experience--they want to interact with regular people and really get in touch with the local culture.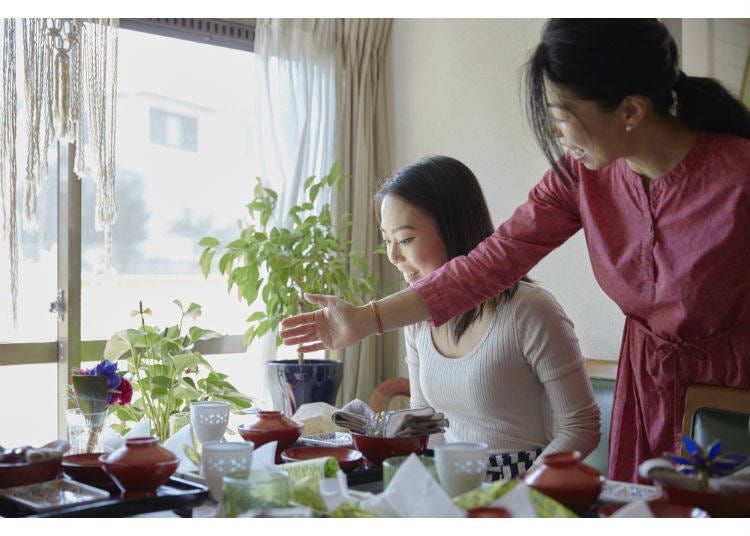 Tadaku is a service that matches visitors with locals, letting you deepen your Japan experience. Your hosts will invite you to their home for a lesson on Japanese home cooking, or for a session where you can experience local dining and gain insights on the lives of ordinary Japanese people. It's a fun and tasty way to broaden your understanding of another culture! Through Tadaku, we were able to meet Tori, a nice lady who teaches people how to make Ayurvedic vegetarian and vegan dishes. Afterwards we were able to dine with her and ask her all sorts of questions about herself and the common Japanese lifestyle .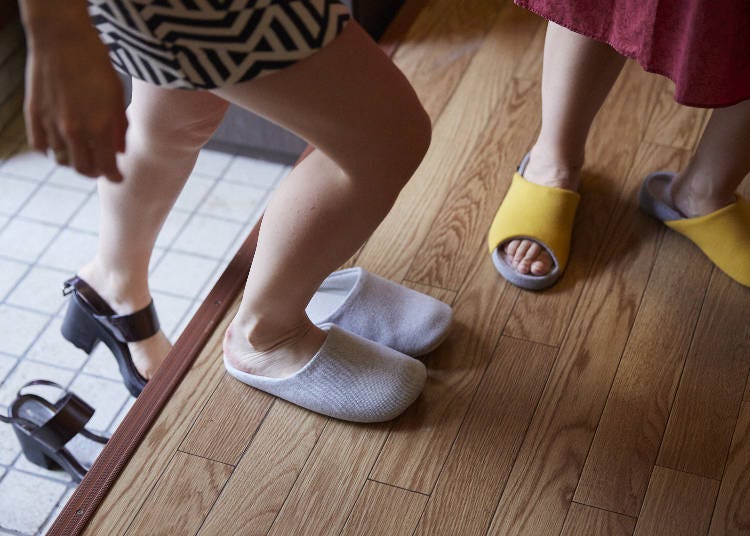 My group visited Tori at her house in Shin-Yurigaoka, a quiet suburb about 20 minutes outside downtown Tokyo. Right away, we got our first lesson on how to enter a Japanese home. A small area called a genkan is inside the front door. In this area, you take off your shoes before entering the house. Guests wear house slippers inside, which are provided by the host.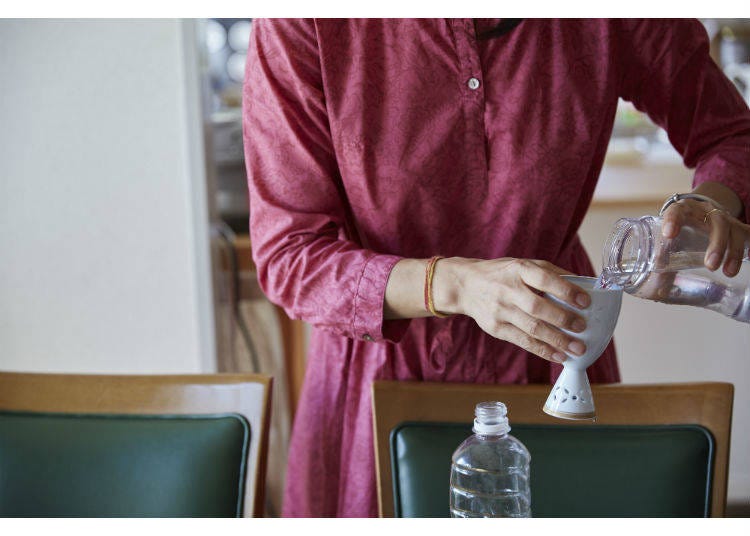 Tori welcomed us with a drink - an ume (plum) cooler. Her version is non-alcoholic, though stronger versions do exist. "Many Japanese people make plum wine when their children are born," she said. "They are supposed to save it for an important life event, like when the child gets married. But it's so good, some people can't wait that long." And after I had a sip, I could see why! It was slightly sweet and pleasant on the tongue.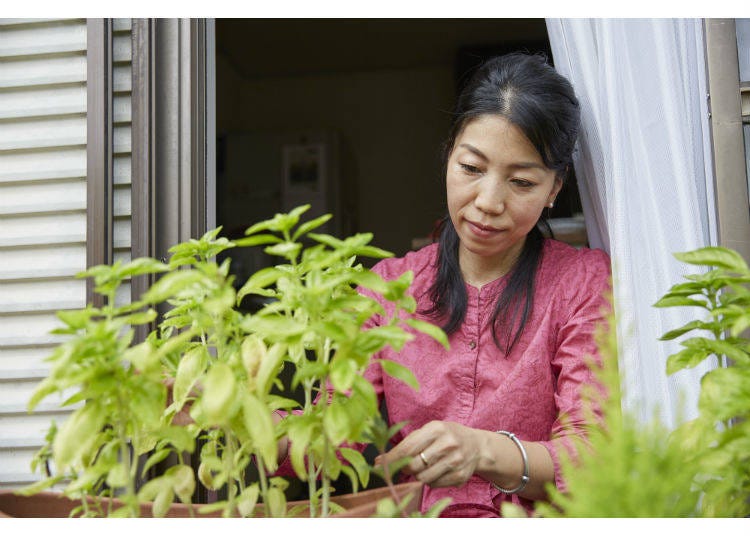 "It is difficult to be completely vegan in Japan," Tori said. "Most Japanese dishes use animal products. Unless you are okay with fish, meat and other animal based products, there just aren't as many options."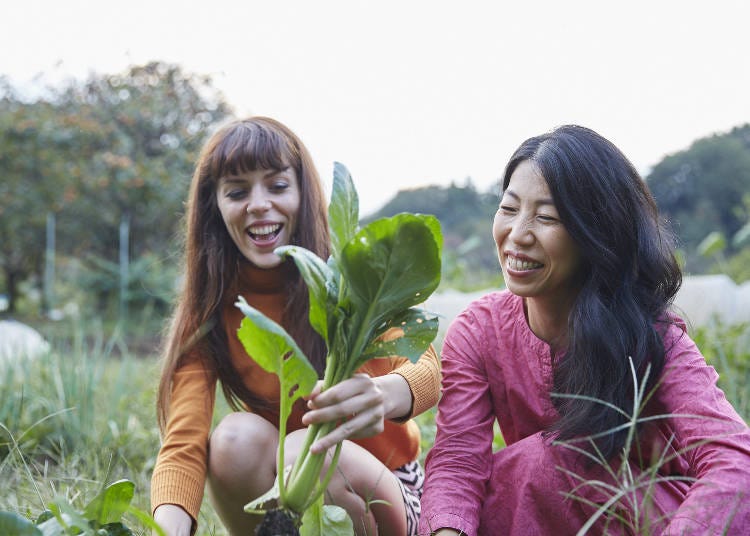 Fortunately, she already had a solution. Near her home is a small plot of agricultural land where Tori and other urban farmers grow their own vegetables. It is an organic garden, and everything grows without pesticides or chemicals. Under Tori's direction, we picked pumpkins, Komatsuna, a Japanese spinach, and Japanese basil. Straight from the field to the table! This was already looking good, and we were just getting started.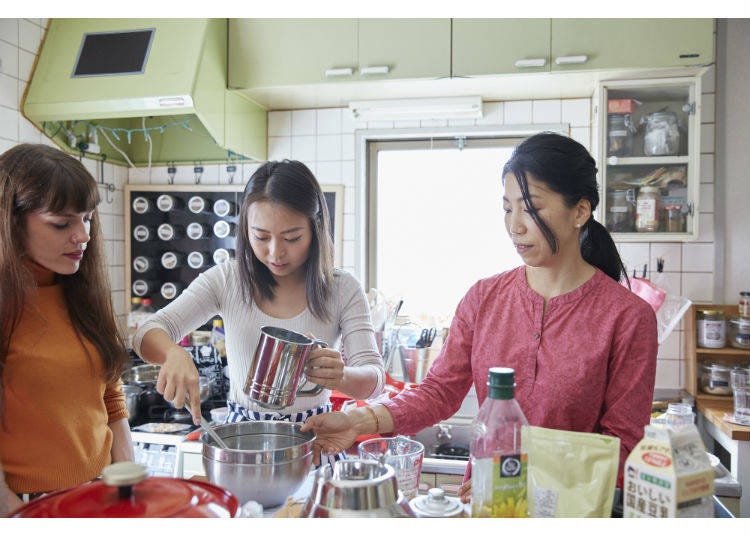 After returning to Tori's home, she showed us the menu and also gave us printouts to take home. (Scroll down to see a sampler of recipes you can try making, too!)
We started with the macha parfait with vegan whipped cream. Although it wasn't a difficult dish, it was going to take the longest to cook. And as we mixed the soy milk and tofu to make the macha-flavored sponge cake, I began to notice the subtle differences between her home and mine.
Japanese kitchens do not have Western-style ovens. Where an oven would be in a Western kitchen, the Japanese have a smaller grill used for cooking fish. Today we would use it to grill slices of pumpkin for our vegetarian sushi (below).
Instead of an oven, Japanese people use an oven range. It looks like a microwave and combines the features of a microwave and an oven. Because she likes to cook and entertain guests, Tori has a large one. She placed the sponge cake batter in the oven range and set it for 25 minutes.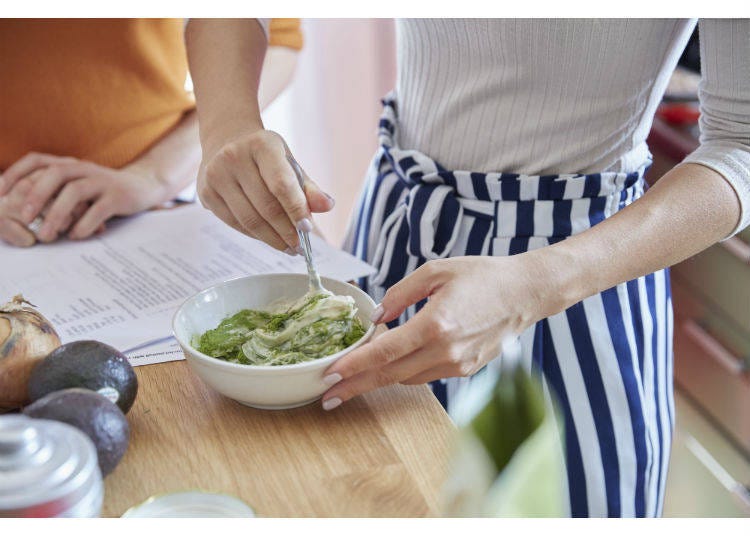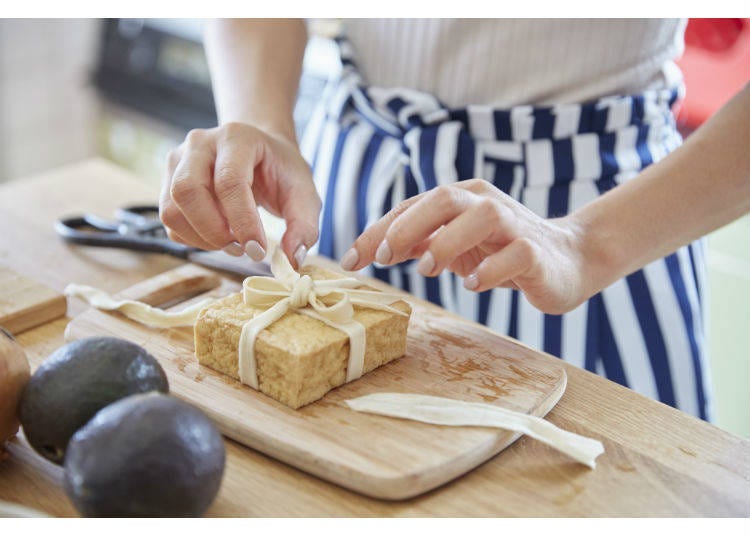 Next, we made an atsuage tofu jewel box. "This is a quick Japanese side dish," Tori told us. "Sometimes people come over unexpectedly, and you have to make something quick! You can find this kind of tofu in any Japanese convenience store, and the recipe is so easy that anyone can do it." We each took half of the tofu and squeezed it dry. Then we used kanpyo (dried strips of calabash gourds) to tie it and make it look like a little present. The tofu jewel box then went ribbon-side down in a pan to boil in a mixture of mirin, sake, and soy sauce.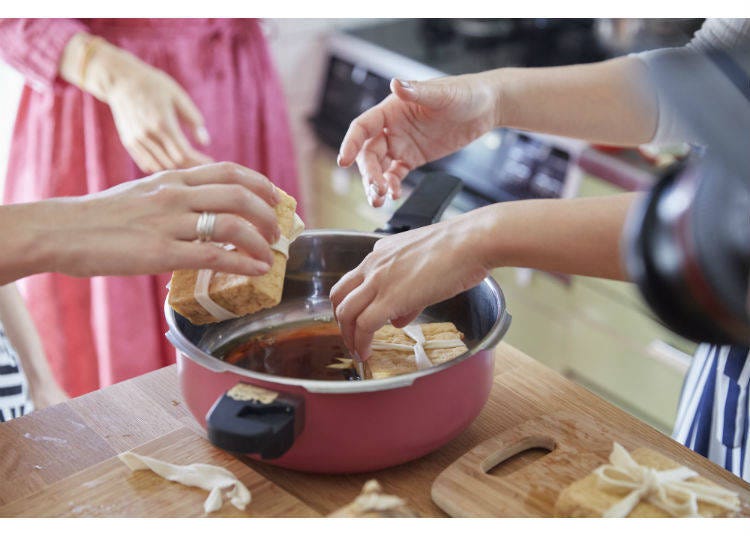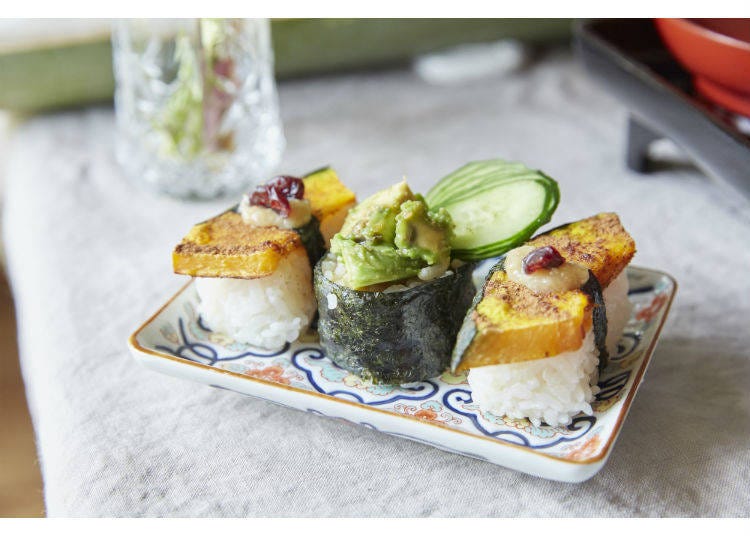 Next was the vegetarian sushi. Here, we learned about another Japanese kitchen tool. Normally, you see sushi chefs on TV making nigirizushi by pressing the mound of rice in the palm of their hand. But what sort of busy Japanese mom has that kind of time on her hands? Tori showed us how to use a small rice mold, which looked like an ice cube tray. You pack the sushi rice in, press down hard, and you have six perfectly-shaped rice mounds for your sushi. Excellent! It was so easy even I could do it.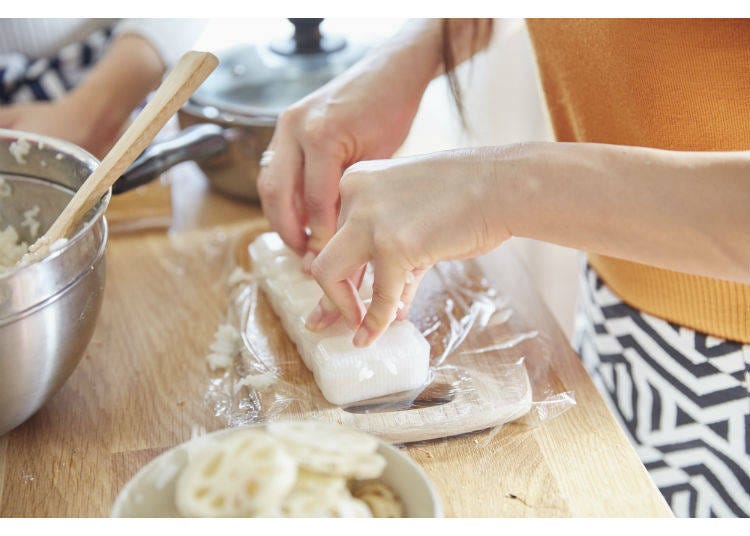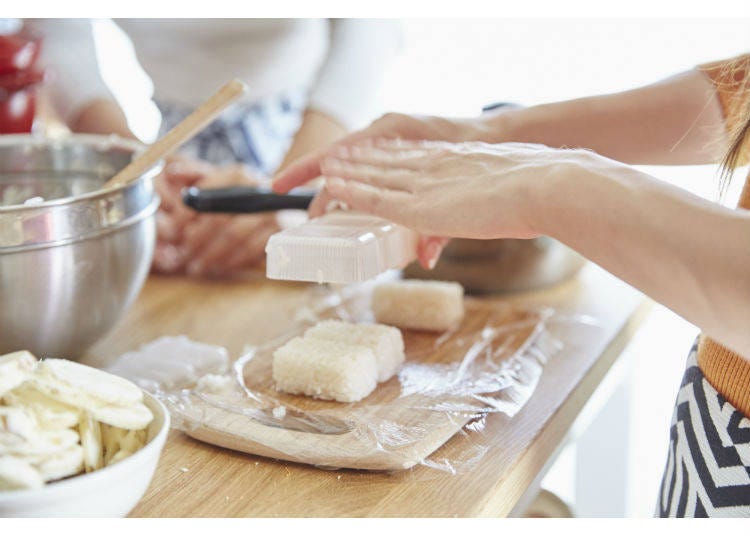 But vegetarian sushi? I had never heard of it. Tori had prepared ingredients for three kinds--the first with Avocado-Cucumber with Wasabi Soy Sauce, the second with grilled organic pumpkin and cinnamon-ginger miso. And the third? Fried Tofu "Karaage". We drained the water from another batch of tofu and crumbled it into a bowl, making small nugget-like shapes. These we mixed with nori (toasted seaweed), deep-fried, and placed on top of the waiting rice mounds. Then we wrapped nori strips around the sushi, just like in the restaurants!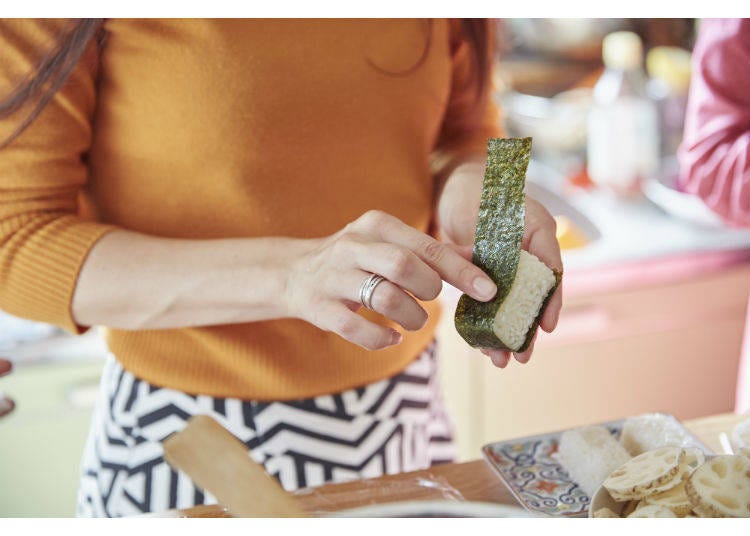 We also sliced up and deep-fried some other vegetables: pumpkin, eggplant and lotus root. Next was the kakiage, which is a mix of smaller vegetables (in our case, corn, carrots, and edamame) mixed with potato starch and flour. I helped by using the long chopsticks to keep the battered vegetables separated in Tori's deep fryer. Using long chopsticks is different from using regular-sized ones, but I was able to manage. When they were finished, our group placed the tempura vegetables in the center of the table. Here, Tori had placed a bamboo stalk, split sideways, that made a perfect communal bowl.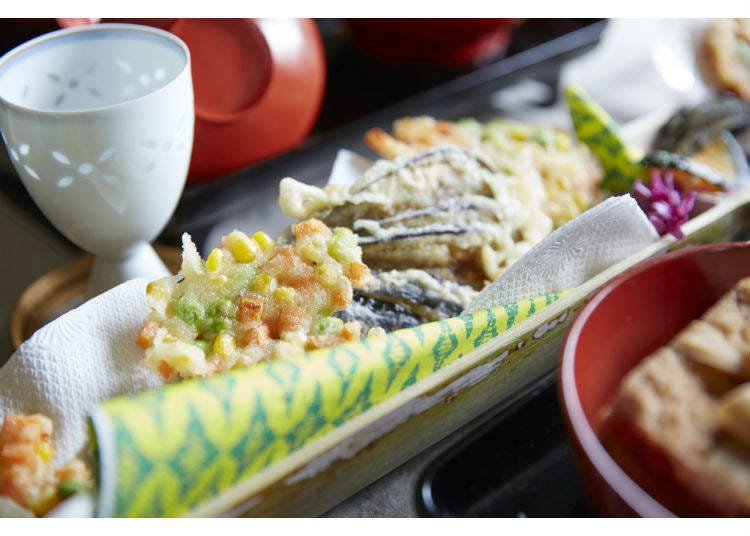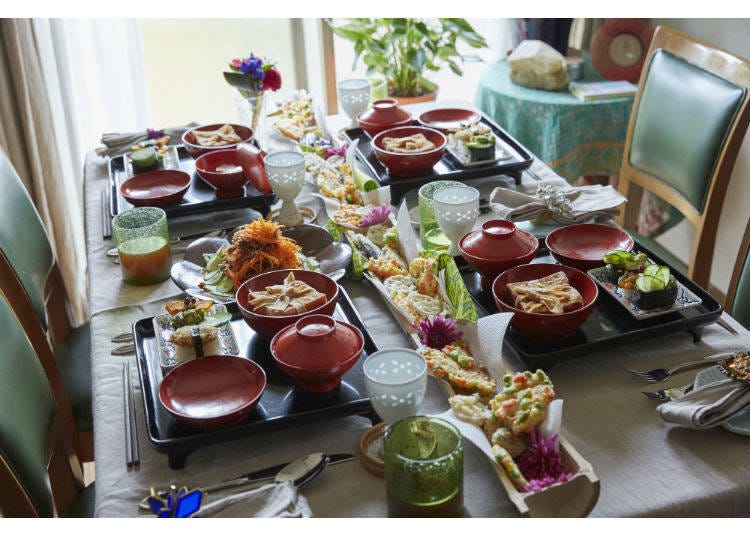 Now that everything was ready, it was time to eat! Dinner was a fantastic experience. I started with a light soup, then moved on to the tofu jewel box. I am not normally a vegetarian, and I usually eat tofu soft. But the tofu jewel box became more dense after being cooked. Even a meat-eater could appreciate the texture and soy flavoring of this dish!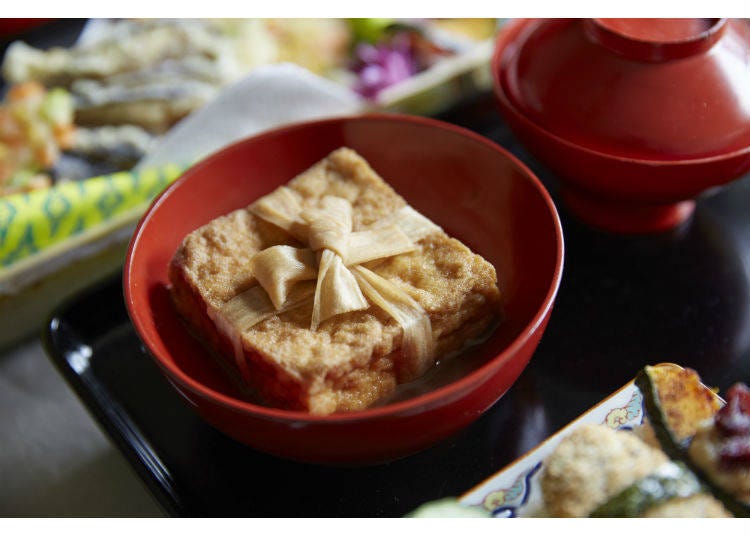 I went through about half of the jewel box before moving on to the vegetarian sushi. I love avocado, and the avocados Tori provided were at just the right level of ripeness to mix well with the sushi rice. The baked pumpkin was also satisfyingly crunchy, but the real surprise was the deep-fried tofu sushi. It tasted just like chicken!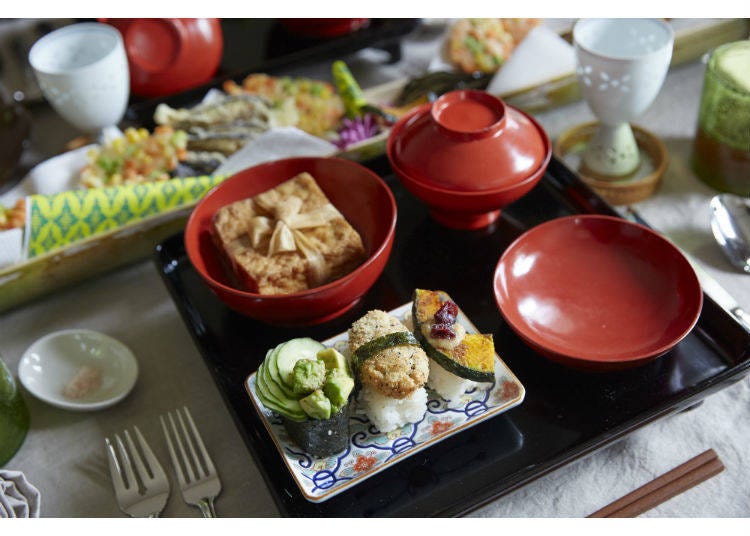 Next, I tried the gobo-carrot-mint salad with sesame dressing. Gobo is the sticklike root of the greater burdock plant. Tori had trimmed them down and mixed it with julienne carrots, and the sesame sauce on the side made everything taste delectable.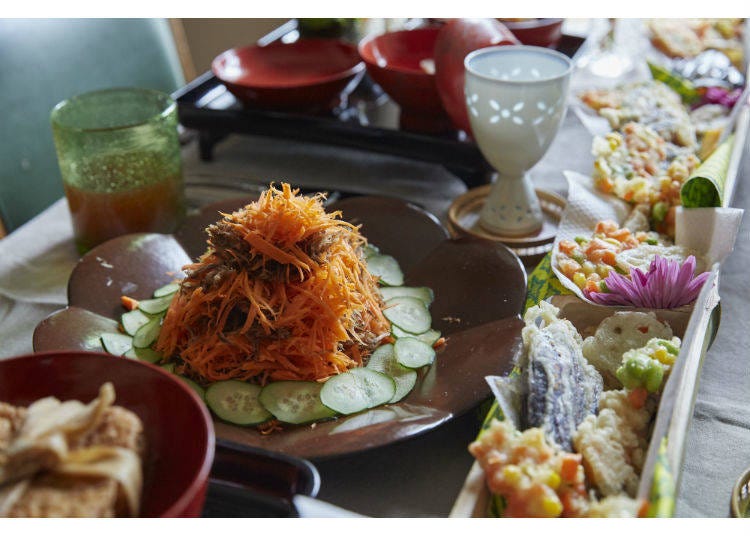 And finally came dessert. The macha parfait was built in layers. The macha whipped cream sat on the bottom, layered over with a few cubes of sponge cake. The second layer was white cream and more sponge cake, and more macha whipping cream on top. The macha powder gave the parfait a subtle sweetness, not overwhelming. It was perfectly sublime, and a fantastic end to a great meal.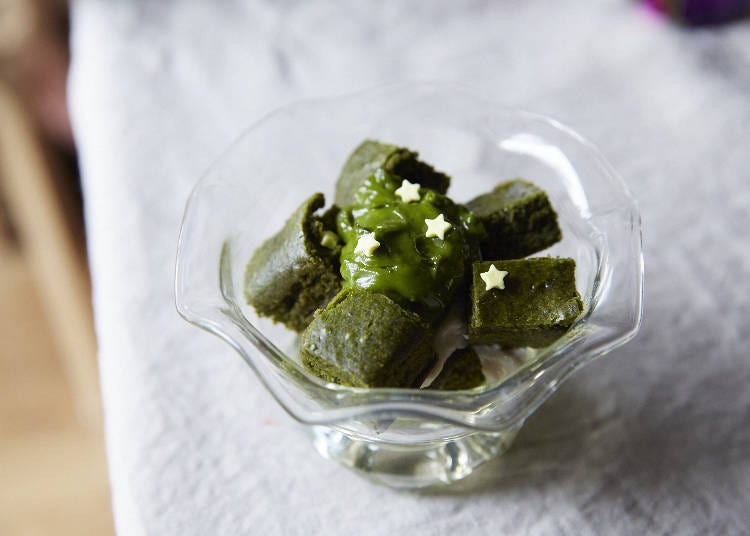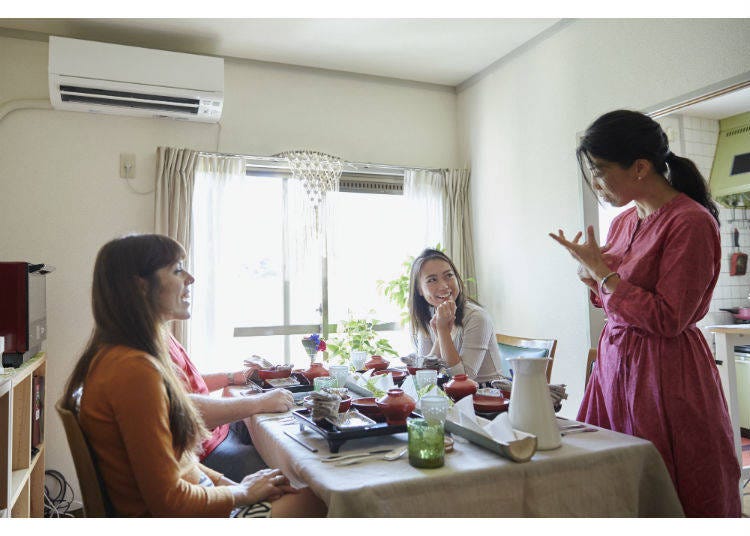 The Tadaku - With locals experience is not just about the food, it's also about the people you meet! Tori was a quick-witted and funny hostess. She has traveled all over the world as a photographer and a yoga teacher, and examples of her own work hung on the walls of her home. She lived in New York for more than a decade, and told us several stories about working and living there.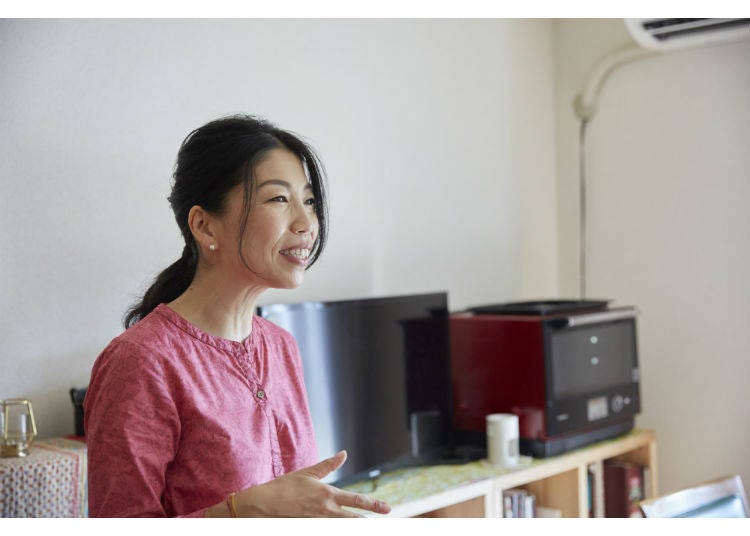 Why does she teach cooking in her own home? "I just love entertaining!" she said. "I like talking to people and learning about them. It's also part of my yoga practice to care for others. Besides, it's fun!"
Tori was also patient enough to field all of our questions about Japanese culture. In the end, we learned a lot from a local resident and had a great dinner with her in her home. Now that's a cultural experience to tell people about!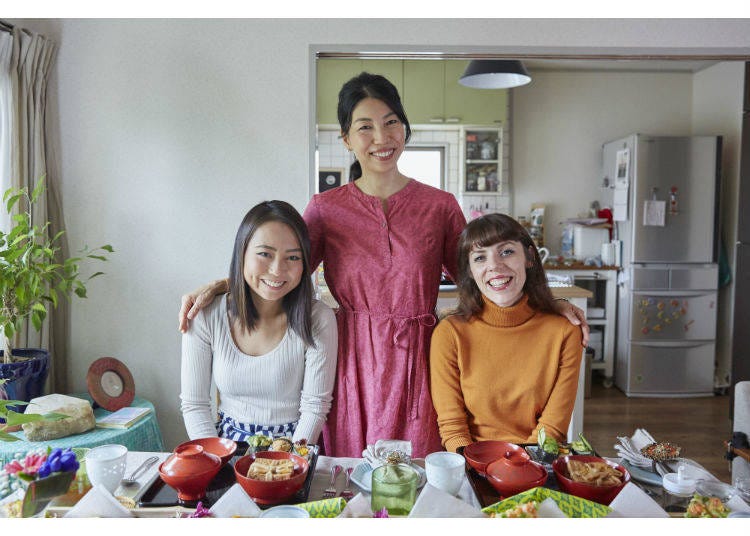 About Tadaku - with locals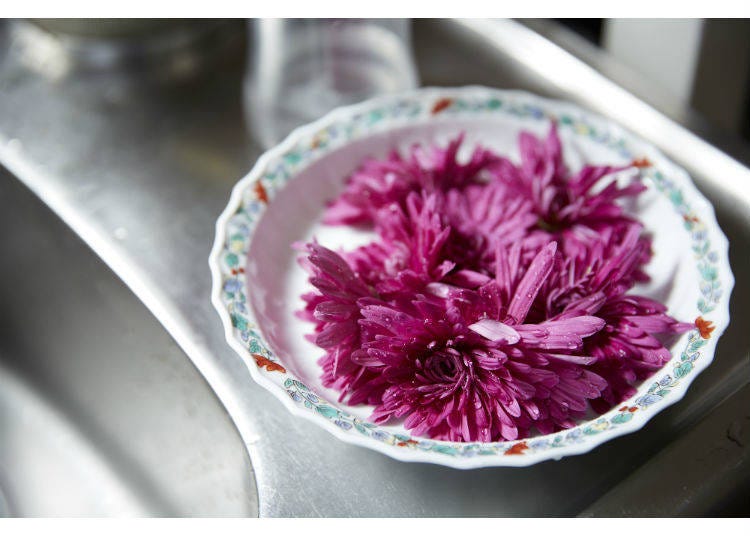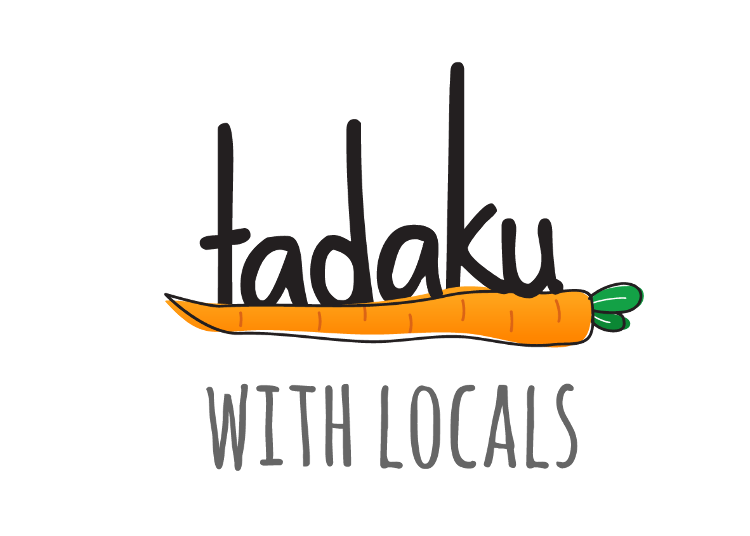 Of course, none of this would have been possible without Tadaku The site matches visitors with local Japanese people for cooking class, dinner, and good conversation. It's a great way to get away from the touristy stuff and get to know real people!

You can browse the available menus at Tadaku - with locals's website (http://locals.tadaku.com) Once you find something you like, use the Request Form to contact Tadaku and start the conversation! Tadaku will help you find a host and set up a date and time for you to visit.
If you're a resident (or just curious), you don't have to limit yourself to just Japanese cuisine. Another service they offer, Tadaku - share table (shared table or table share?) knows people from many different cultures, almost from 80 countries, who are living in the Tokyo area. You could also try Thai, French, Indian, Lithuanian, and many others.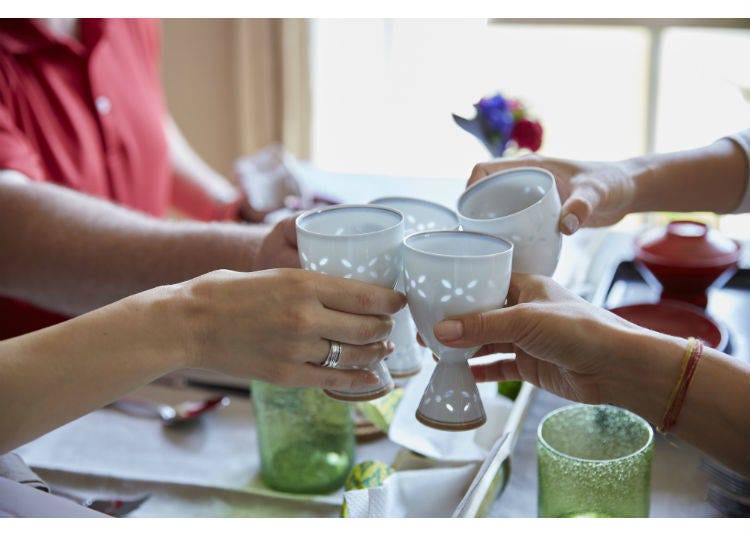 If you want to get right into learning about the local people and their culture, there is no better way than to go to their home and enjoy a meal with them. There are so many people to meet, and so much food to try. You'll be talking about your Tadaku experience long after you return home.
Other Tadaku - With Locals Hosts in the Tokyo Area
■Location:Kiyosumi-shirakawa, Koto-ku, Tokyo

■Title:Organic Seasonal Simple Japanese

■Type:Vegetarian cooking class and dining session. Gluten-free option is available.

■Menu Description:You will get to explore Japanese seasonal organic vegetables and fish. You will also get to try Aya's home-made preserved food such as miso, umeboshi, rakkyo, along with the delicious meal you will cook together.

■Menu Examples:
- Basic: Organic brown rice, and few seasonal organic vegetable side dishes and fish/meat - Traditional: A main dish (Tempura/Sushi/Tonkatsu/Yakitori), and a side dish with miso soup
- Twist: Okonomiyaki (savory pancake) or Teriyaki fish with few side dishes

■About Aya:Aya worked as a traditional Japanese chef in Osaka for several years. She also has wide knowledge of organic ingredients from her former career as a recipe developer. You will learn recipes and principles for healthy dishes that you can easily reproduce back in your home country.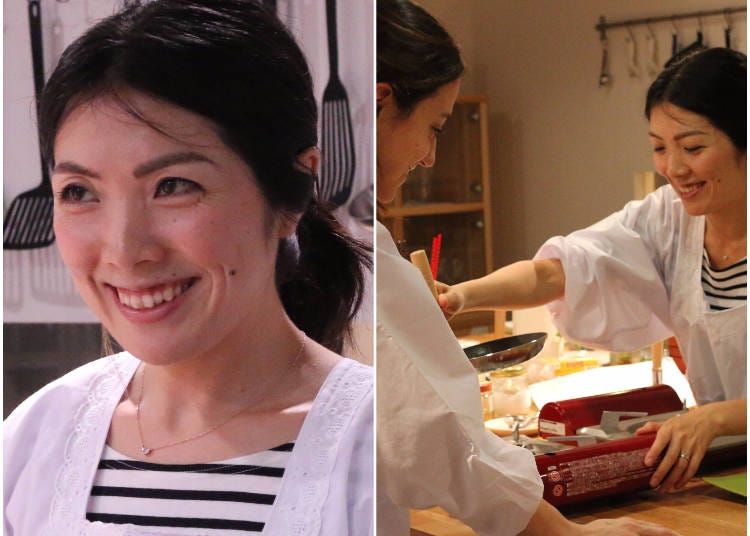 ■Location:Ryogoku, Sumida-ku, Tokyo

■Title:Halal-friendly Japanese classics

■Type:Cooking class/Halal

■Menu Description:If you want to learn how to cook Japanese basic cuisine from scratch (like broth) this is the perfect lesson for you! You'll get to choose from several options for the main dish.

■Menu Examples:
- Choose main dish from Sushi / Donburi (Rice bowl) / Okonomiyaki / Takoyaki / Rice ball / Gyoza (Japanese dumplings) / Dorayaki (Sweet pancake with red bean paste inside)
- Several Japanese-style side dishes
- Miso soup

■About Nahoko:Nahoko was born and raised in Tokyo. She works in the food service industry, including hands-on experience as a sushi staff at a Japanese restaurant.
■Location:Jimbocho Jinbocho , Chiyoda -ku, Tokyo

■Title:Sake Tasting with Popular Izakaya-Style Dishes

■Type:Cooking class/Dining session/Vegetarian

■Menu Description:You will choose different seasonal types of sake to enjoy while preparing popular dishes served at izakaya-style restaurants. You will also learn how to make homemade Japanese seasonings that can be used in a variety of dishes.

■Menu Examples:
- Seasonal Japanese Sake (tasting)
- Popular Japanese Izakaya-style Dishes: Japanese Omelet (2 kinds), Tofu or Vegetable Dishes
- Choice of Chicken, Fish, or Tofu using homemade Japanese Seasonings: Miso, Yuzu Pepper, Salt Melt, etc.
- Fruity Japanese Liqueur (cherry, etc.; also homemade and seasonal)

■About Naoko:Naoko likes traveling, including travels to sake breweries across Japan. She enjoys making her own fruity Japanese liqueur and creating her own homemade seasonings.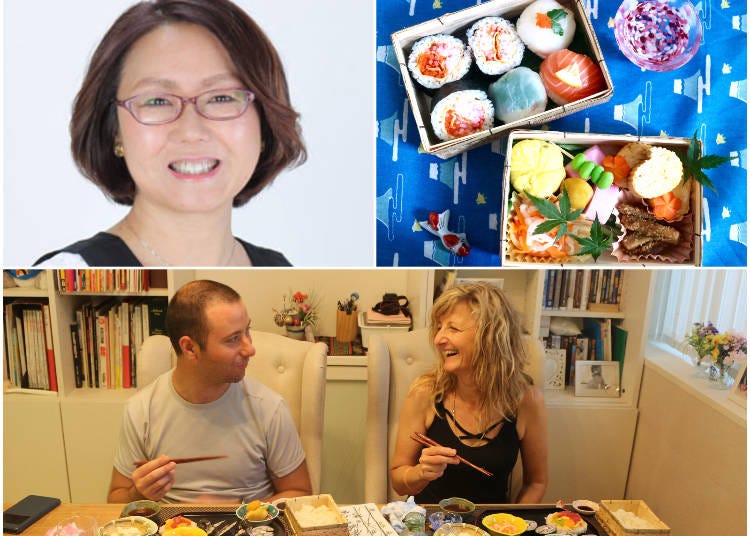 ■Location:Sangenjaya, Setagaya-ku, Tokyo

■Title:Casual sushi party

■Type:Cooking class/Dining session/Vegetarian (optional)

■Menu Description:You'll get to experience Sushi in 3 ways: temari (ball style), temaki (hand roll style), and oshi (pressed style). In addition, Takako would have you try a few traditional dishes Japanese people usually have on New Year's Day.

■Menu Examples:
- Three different varieties of sushi
- Miso soup
- A few traditional Japanese side dishes

■About Takako:Takako lived in the US for several years. Their two children are both married to non-Japanese (Australian and American), so their family is pretty international. She usually conducts sessions with her husband, and you'll get to see their cute doggy too!
Tadaku - With Locals Campaign Information
Tadaku is having a campaign to attract people to its service! Simply write "LIVE JAPAN" in the Campaign Code Column at the time of booking and complete the follow-up survey, and you will receive a 2000 yen Amazon Gift Card for each class you book.

■Conditions:
- Please write "LIVE JAPAN" in the Campaign Code Column at the time of booking
- Please respond to the survey that will be sent to you after the Tadaku - With Locals class

■Process Flow:
1.View LIVE JAPAN articles (by guest)

2.Write "LIVE JAPAN" in the Campaign Code Column at the time of booking on the "Tadaku - with locals " page (by guest)

3.After the class, a survey will be sent to the email entered at the time of booking (by Tadaku)

4.After confirming receipt of the survey, an Amazon Gift Card (2000 JPY) will be sent via email (by Tadaku - with locals)

■Note:
This promotional incentive is only given once per booking. When multiple people make one booking together, only one 2000 yen Amazon Gift Card will be presented.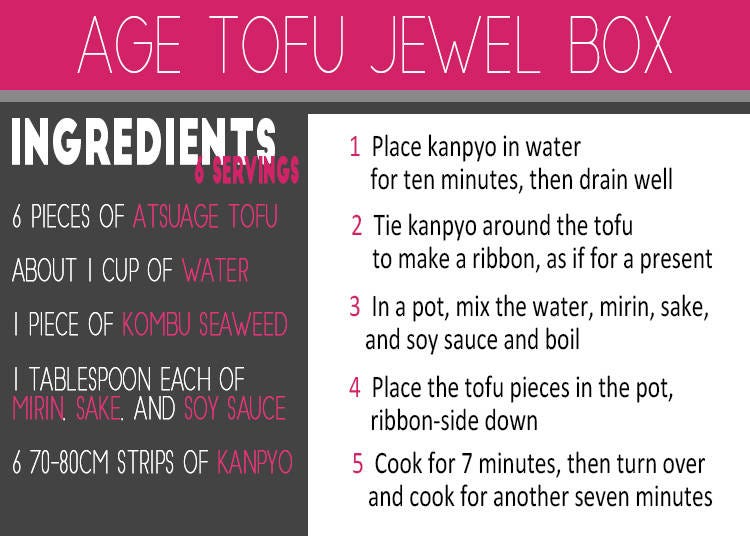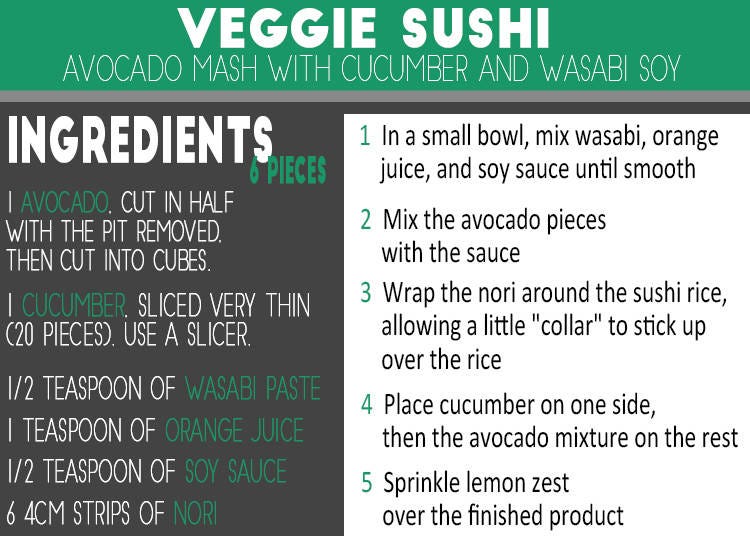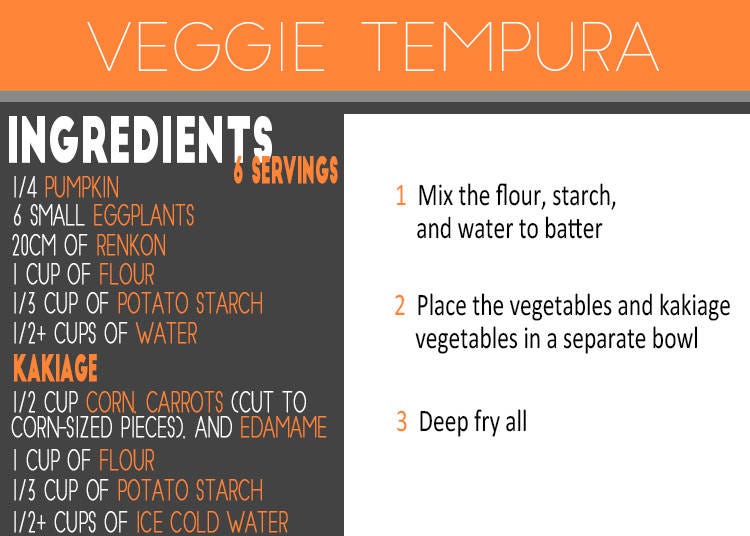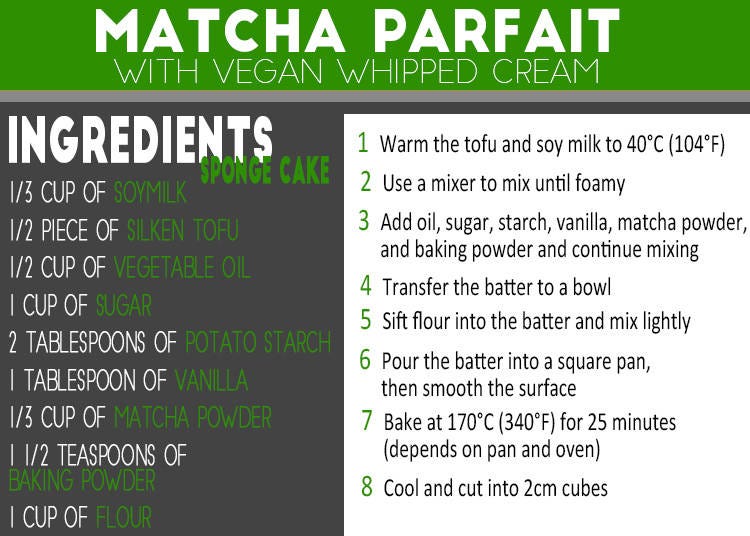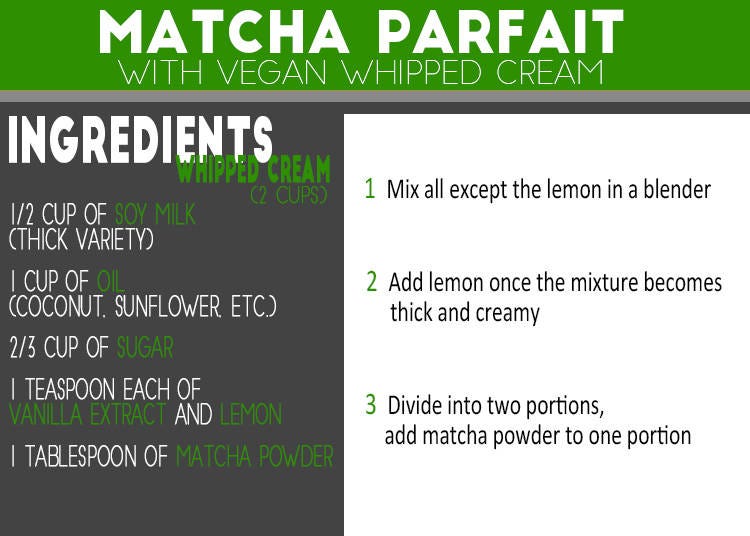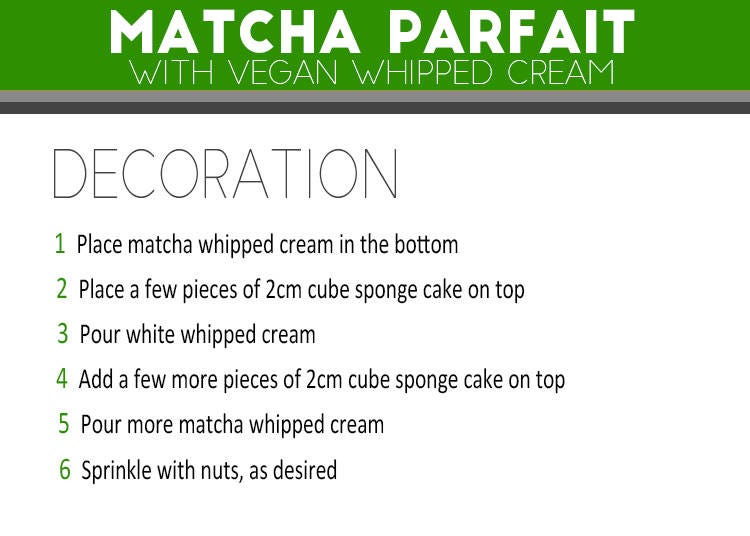 *This information is from the time of this article's publication.
*Prices and options mentioned are subject to change.
*Unless stated otherwise, all prices include tax.
Limited time offer: 10% discount coupons available now!