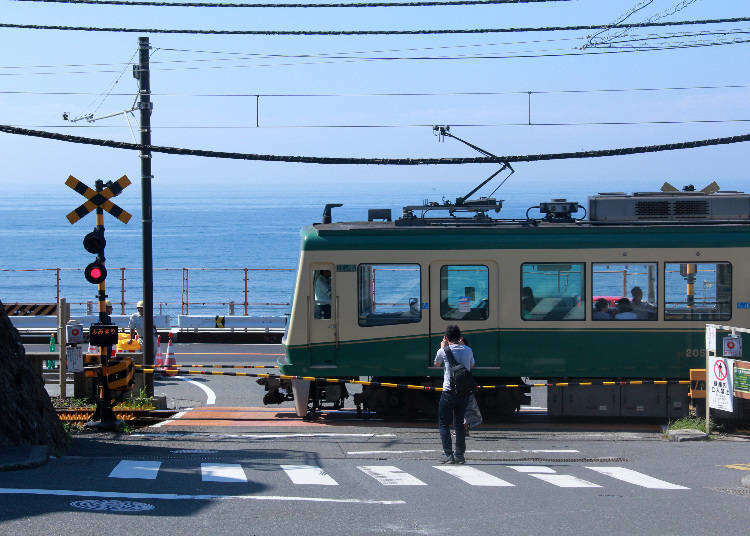 Kamakura's classic atmosphere, ocean view, and a variety of gourmet attractions make it a popular tourist destination for day trips from Tokyo. Only about an hour from Tokyo on the Enoshima Electric Railway, the Kamakura-Shonan area covers a stretch of 10 kilometers on the "Enoden."

A retro 2- to 4-car train runs along a fashionable coastal area that's a common filming location and also rolls past photogenic temples, shrines, and residential areas.

From Shichirigahama Station to Kamakurakokomae Station, there are many spots where you can get a view of both the Enoden Line and the ocean, including the railroad crossing that appears in "Slam Dunk," as well as relaxing cafes and restaurants with superb views.
SPOT 1) "Slam Dunk" Fans Gather at "Kamakurakokomae Railroad crossing"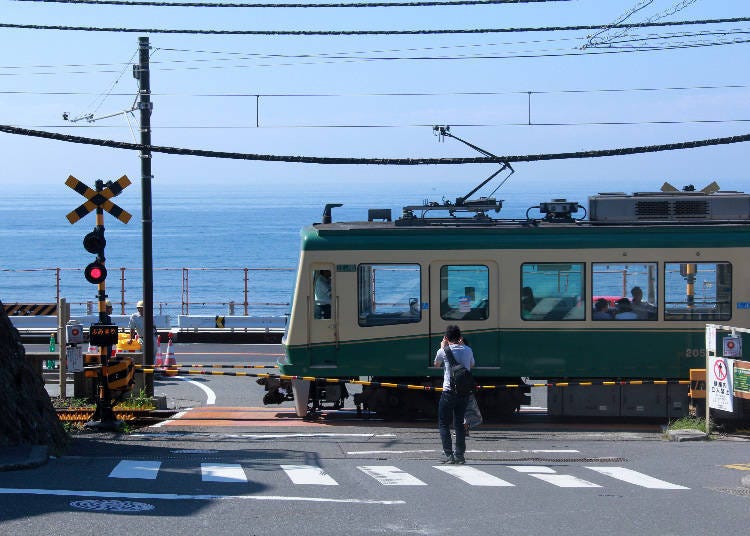 Kamakurakokmae crossing where the Enoden passes in front of the ocean view
The railroad crossing that appears in the opening of the still-popular basketball anime "Slam Dunk" (based on the original manga series by Takehiko Inoue) is on the Enoden line in Kamakura, and the stream of enthusiastic fans who visit there from all over the world is endless. It's located just outside the ticket gate of Kamkurakokomae Station.

Throughout the day, Enoden trains roll by at intervals of 12 minutes in either direction, so you'll easily be able get the perfect shot with or without a train in view (or both!).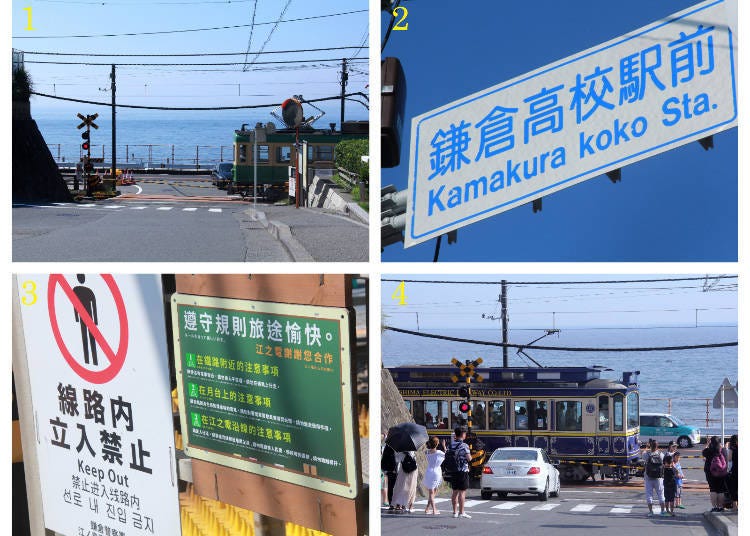 1. Looking down the hill toward the crossing 2. Steet sign on the trffic signal over National Route 134 3. Warning signs near the crossing 4. Happy tourists looking for the perfect shot as the Enoden passes
鎌倉高校前 踏切

Address

3-11-2 Koshigoe, Kamakura, Kanagawa Prefecture, 248-0033
SPOT 2) Enoden and Ocean View from Shichiko-dori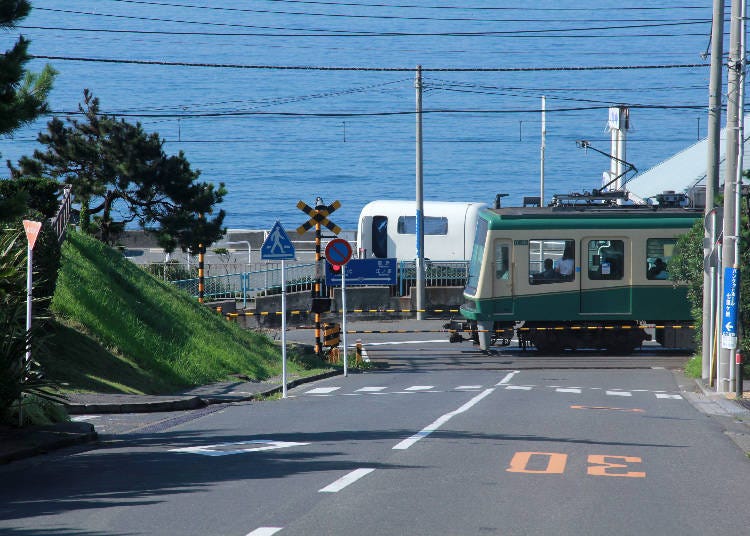 Enoden railroad crossing at Shichiko-dori
Shichiko-dori is another popular spot in the Shichirigahama area, just down the line from the "Slam Dunk Railroad Crossing." This scenic road runs straight toward the sea between Shichirigahama High School and the Kamakura Prince Hotel, and often appears in film. Also known as the "Bijin-zaka," or "Beautiful Slope" it offers an excellent view of the Enoden with a striking ocean backdrop.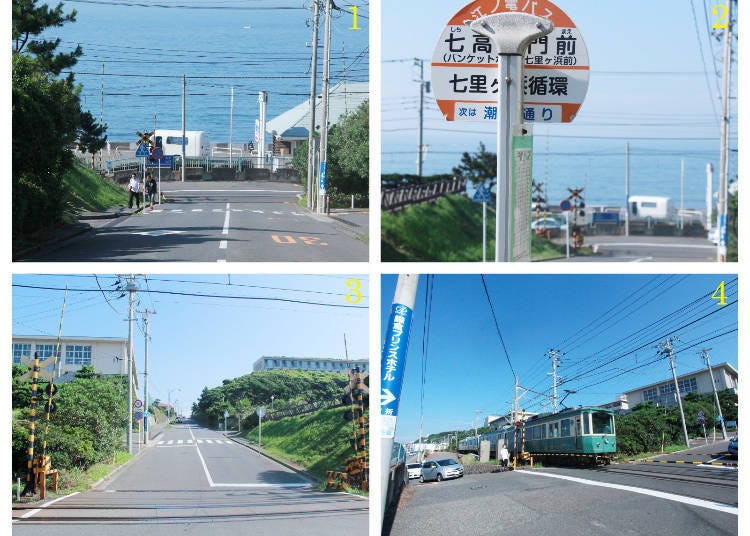 1. Railroad crossing seen from the Shichirigahama High School gate 2. Bus stop signboard 3. Looking up the hill from the railroad 4. The Enoden passing by
七高通り

Address

2-3-1 Shichirigahamahigashi, Kamakura, Kanagawa Prefecture, 248-0025
SPOT 3) Hawaiian-style Breakfast and Lunch at Pacific Drive-In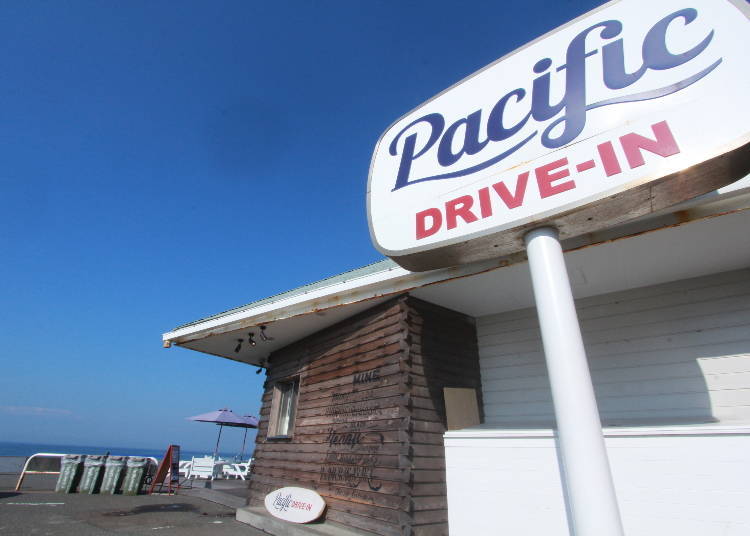 Classically-styled signage
Located in the center of the Shichirigahama Coast parking lot along Route 134, Pacific Drive-In is a superb drive in cafe overlooks Enoshima and Shichirigahama. From the comfort of its terrace seats or window seats you can take in the spectacular view while enjoying one of Pacific Drive-In's 15 Hawaiian-themed lunch platters. From their signature Garlic Shrimp Plate to steamed pork and cabbage, fried Hawaiian dishes, sandwiches, and seasonal pancakes, the menu is full of excellent choices. The restaurant also sells souvenir tote bags, mugs, tumblers, and more.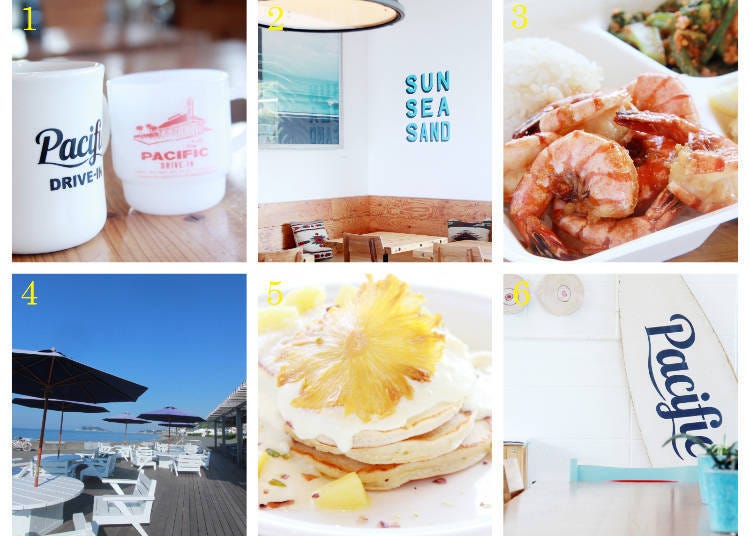 1. Mugs (left, 2,500 yen; right, 3,000 yen) 2. Restaurant interior 3. Garlic shrimp plate, 1,250 yen 4. Terrace seating 5. Seasonal pancakes 1,200 yen (pineapple and cream cheese pictured).6 Surfboard decoration inside the shop
パシフィックドライブイン

Address

2-1-12 Shichirigahamahigashi, Kamakura, Kanagawa Prefecture, 248-0025

Hours: 8:00 - 20:00 (Last order, 19:30), depending on the season
Directions: 5-minute walk from Enoden Shichirigahama Station.
SPOT 4) Casual Australian Dining at Bills Shichirigahama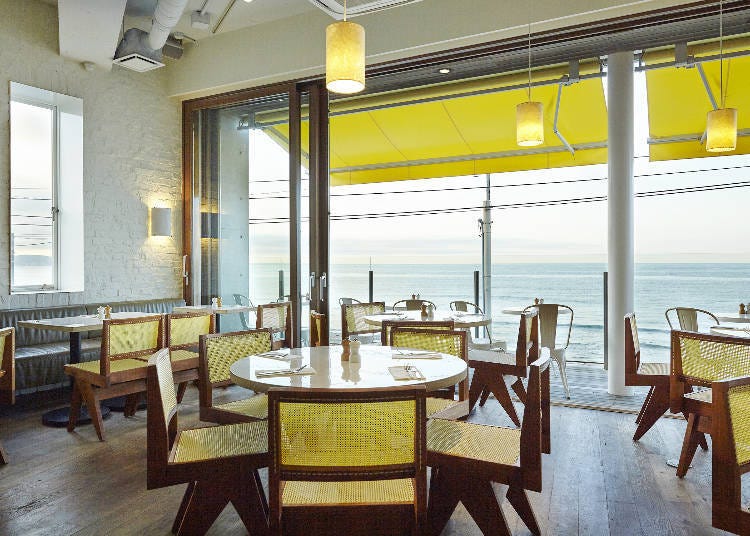 Renovated in 2015, all seats have an ocean view (c) Petrina Tinslay
Founded in Sydney, Australia, Bills opened its first overseas branch in Shichirigahama in 2008. Bills Shichirigahama's menu offers a wide variety of foods including hamburgers featuring Wagyu beef and shrimp, sandwiches, pasta, risotto, and curry. The Ricotta Pancakes with fresh bananas and honeycomb butter (1,620 yen) is another of their most popular dishes.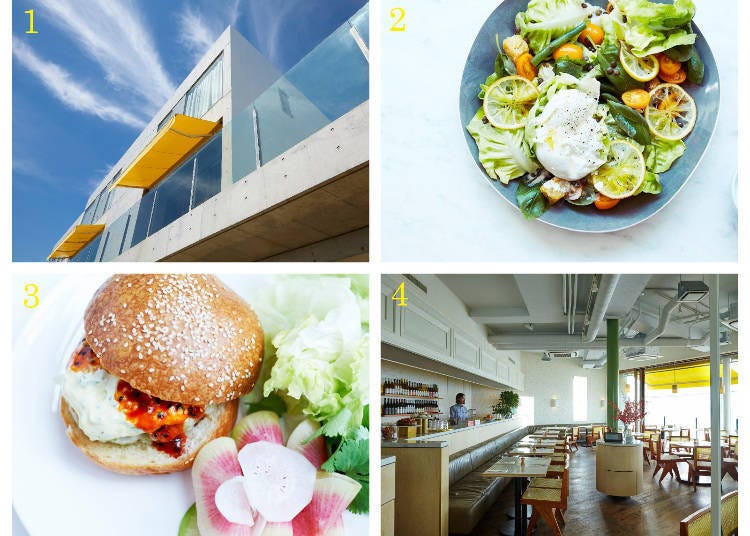 1. The building, along Route 134 (c) Petrina Tinslay 2. Lentil and burrata cheese salad (c) Petrina Tinslay 3. Shrimp burger (c) Anson Smart 4. Counter-side seating also available (c) Petrina Tinslay
bills 七里ヶ浜

Address

WEEKEND HOUSE ALLEY 2F, 1-1-1 Shichirigahama, Kamakura, Kanagawa Prefecture, 248-0026

Hours: 7:00 - 21:00 (Last order, food 20:00, drinks 20:30), Closes at 17:00 on Mondays (Last order, food 16:00, drinks 16:30)
Directions: 2-minute walk from Enoden Shichirigahama Station
SPOT 5) Superb Terrace View and Italian Dining at Amalfi Della Sera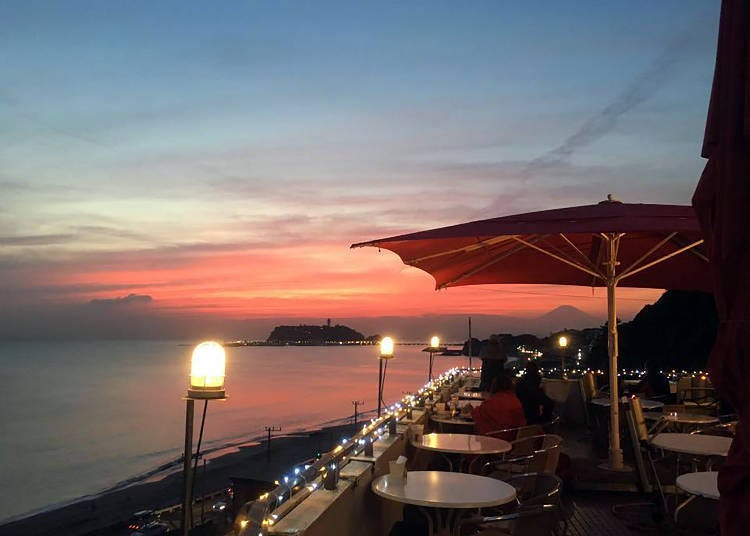 Panoramic view of Enoshima and Shichirigahama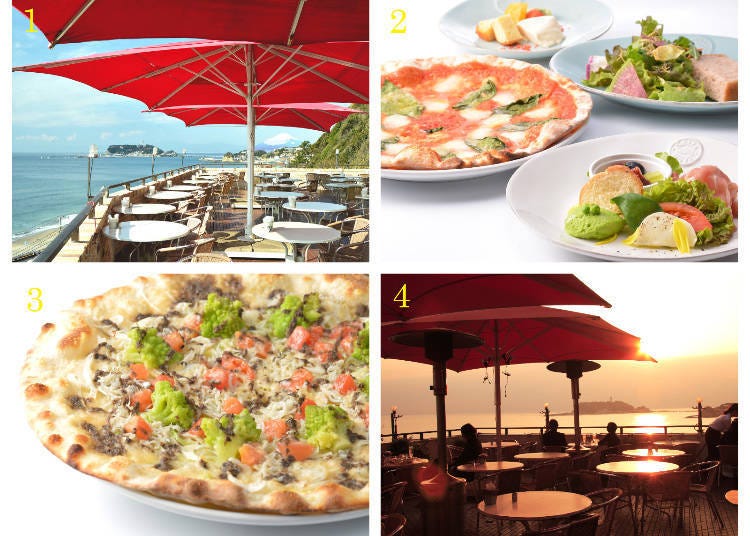 1. During clear weather Mt. Fuji is visible 2. Typical lunch set 3. Shirasu Pizza Shichirigahama, 1,750 yen 4. Beautiful sunset view towards Enoshima
Amalfi Della Sera boast popular crispy pizza and a breathtaking 180 degree ocean view. Situated on the side of a small mountain, customers ascend about 100 stone steps to reach the restaurant, which overlooks both the Enoden and Route 134. Most of the seating is on the terrace, but there are some indoor seats in case of high winds or rain. If you're able to sit in the front row of seats, you'll have an expansive, unobstructed view of the ocean. In addition to pizza (1,330 yen) Amalfi Della Sera also features fresh pasta and delicious appetizers and desserts. Lunch courses (11:00 - 15:00) are 1,890 yen or 2,500 yen. Reservations can be made, but weekends are often busy so the number reservations accepted may be limited.
アマルフィイ デラセーラ

Address

1-5-10 Shichirigahama, Kamakura, Kanagawa Prefecture, 248-0026

Hours: 11:00 - 22:00 (last order, 21:00), Opens at 10:30 on Saturdays, Sundays & public holidays
※ Hours subject to change according to weather, season, or number of customers
Directions: 5-minute walk from Enoden Shichirigahama Station
SPOT 6) Shonan souvenirs and Original Desserts at Amalfi Dolce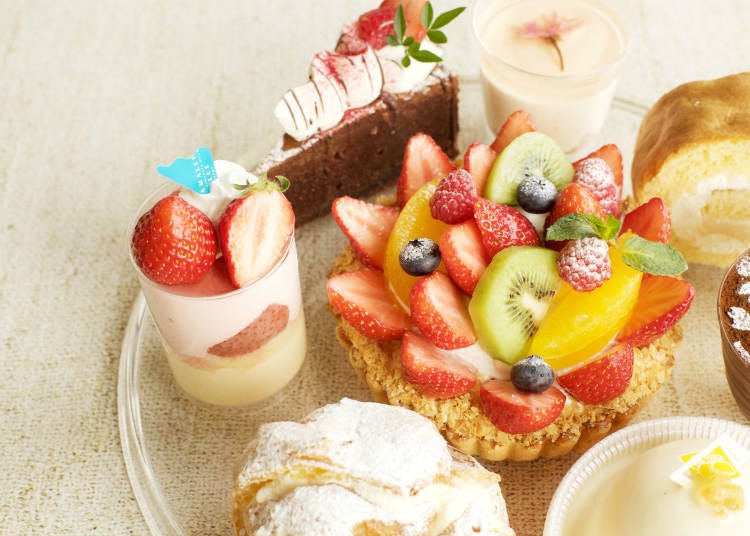 Nagisa Cream Puff, Kamakura Roll, and various other sweets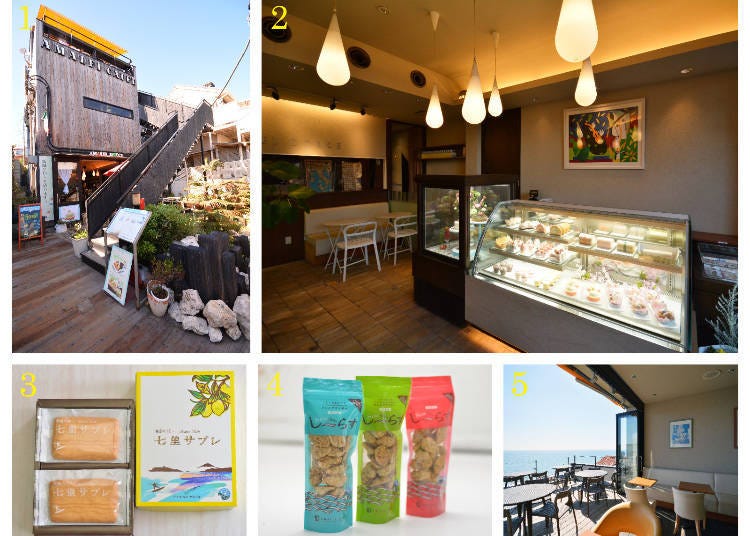 1. 1st floor, Amalfi Dolce; 2nd floor, kitchen; 3rd floor, Amalfi Caffe 2. Amalfi Dolce shop 3. Shirichiri Sable 4. Shirasu 5. Amalfi Caffe ocean view
Also associated with Amalfi Della Sera is the nearby Amalfi Dolce dessert shop. Made from carefully selected ingredients such as eggs from Kanagawa Prefecture, the popular Shichiri Sable (10 pieces, 1,280 yen) comes in a beautifully decorated box and makes an excellent gift. The "Sea Lasu" meringue cookies are an interesting blend of two local products – shirasu and aosa nori – and come in plain, basil, and tomato flavors (390 yen). On the third floor of the same building, Amalfi Caffe has an excellent terrace view and and offers desserts like the Kamakura Honey roll cake (300 yen) and the Nagisa Cream Puff (250 yen).
Amalfi Dolce / Amalfi Caffe

アマルフィイ ドルチェ/アマルフィイ カフェ

Address

1-3-14 Shichirigahama, Kamakura, Kanagawa Prefecture, 248-0026

Hours: 10:00 - 19:00, Amalfi Cafe 11:00 - 18:00
※ Subject to seasonal change
Directions: 5-minute walk from Enoden Shichirigahama Station
Walking Route 1: Kamkurakokomae Station → Kamkurakokomae Railroad Crossing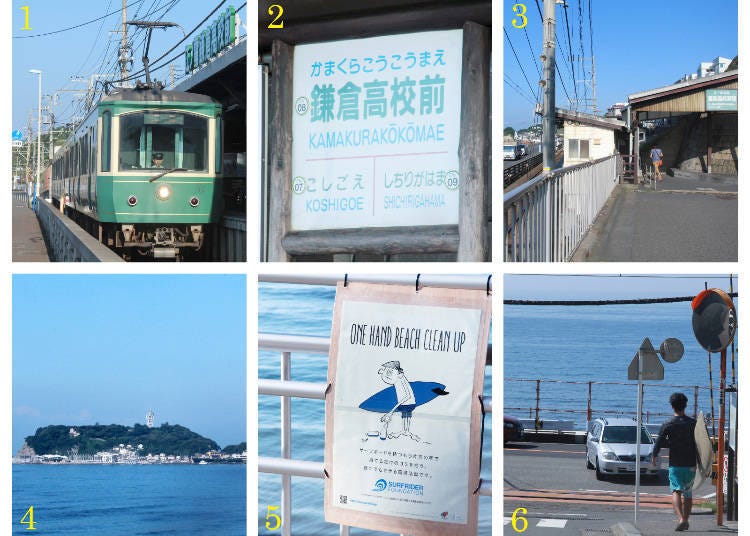 1.-3. Enoden Kamkurakokomae Station 4. Enoshima 5. No littering sign 6. Kamkurakokomae railroad crossing
Take the Enoden from Kamakura Station for 18 minutes and get off at Kamkurakokomae Station, the 7th station after Kamakura. Kamkurakokomae Station is situated along Route 134, and is a great place to see the ocean and Enoshima. Exit the ticket gate and follow the road along the track for about 50 meters, and you'll arrive at the Kamkurakokomae railroad crossing that appears in the opening of the "Slam Dunk" anime series. Enjoy taking photos that bring back fond memories of the series!
Walking Route 2: Shichirigahama Station → Shichiko-dori → Pacific Drive-In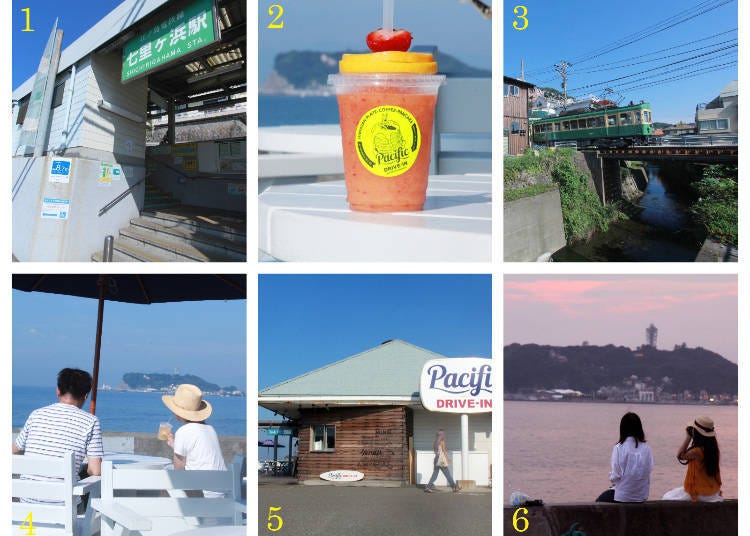 1. Enoden Shichirigahama Station 2. Pacific Drive-In Smoothie 3. Yukiaigawa flowing under the Enoden near Shichirigahama Station 4. Pacific Drive-In terrace seats 5. Pacific Drive-In 6. Evening view of Enoshima from Shichirigahama
When you return to Kamkurakokomae Station, get on the Enoden again, heading towards Kamakura, and get off at the first stop – Shichirigahama Station. Go out of the ticket gate and turn left. Cross the river, turn right, and continue straight ahead and you'll reach Route 134, which runs along the coast. Turn left (east) and Shichiko-dori is about 200 meters away. Enter the underground walkway near the railroad crossing, and you'll come out near the Pacific Drive-In, which is near the seaside parking lot. Hawaiian-style lunches and smoothies are popular at the cafe. In addition, there are many restaurants near Shichirigahama Station with great ocean views such as Bills Shichirigahama and Amalfi Della Sera.
A leisurely area to enjoy the view of the Enoden running along the ocean and Enoshima beautifully colored in the setting sun. If you have the time, you may even want to take the Enoden to Enoshima.

If you'd like to eat out around Komachi-dori and Kamakura Station, check out Enoden Walk 1, and for those who want to enjoy the walk around Hase Station, don't miss our other articles in this series.
*This information is from the time of this article's publication.
*Prices and options mentioned are subject to change.
*Unless stated otherwise, all prices include tax.
Limited time offer: 10% discount coupons available now!