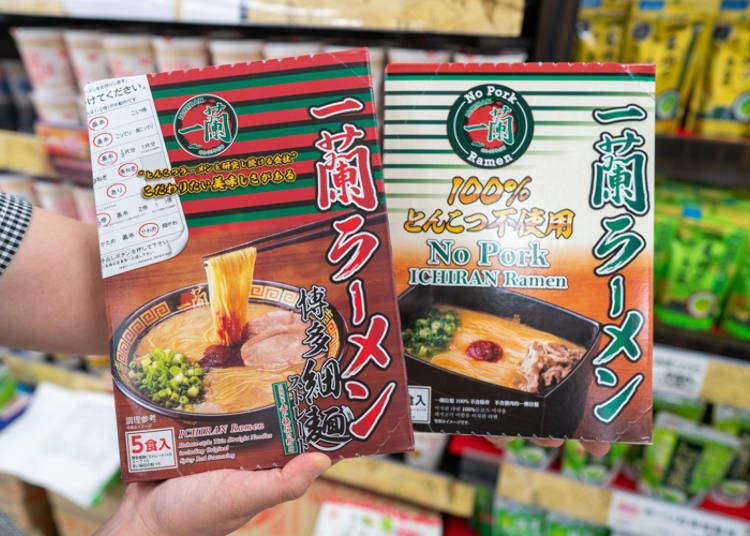 Located about 20 minutes by shuttle bus from Narita Airport, AEON STYLE Narita is the number one shopping spot popular with inbound tourists. Today we will introduce our top 10 sweets and food items available at AEON STYLE Narita. Feel free to use this guide as a reference when shopping for souvenirs in Japan.
Narita Glocal Urban Life: Renewed in 2019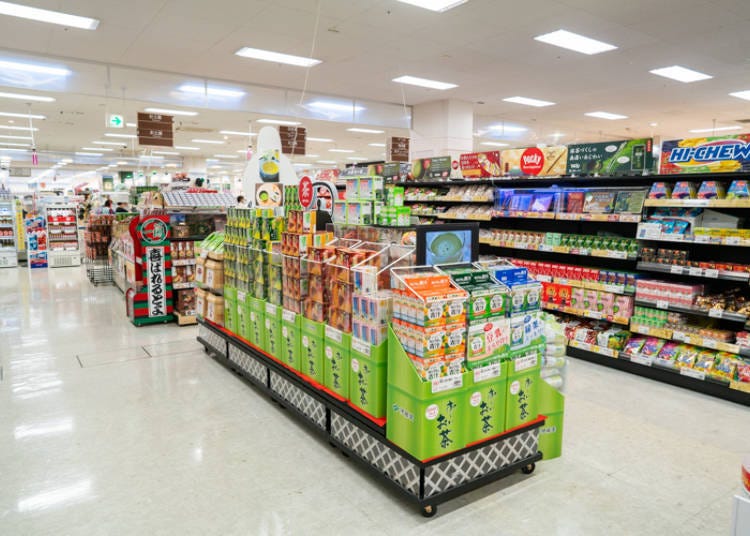 AEON STYLE Narita takes advantage of its convenient Narita Airport location by responding to the demands of inbound tourism. In 2019, it underwent a large-scale renewal into an entertainment park for people from all over the world, becoming Narita Glocal Urban Life. The food section displays plenty of popular Japanese items, making it easy for foreign visitors to Japan to find what they need.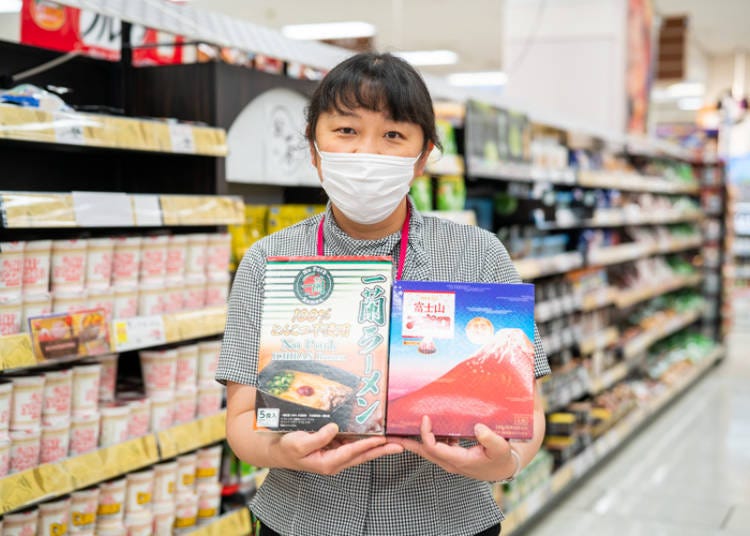 Ms. Murayama, the duty-free counter supervisor we spoke to for this interview
1. KitKat Mini Otona-no-Ajisa Dark Matcha: Enjoy the Bittersweet Taste of Uji Matcha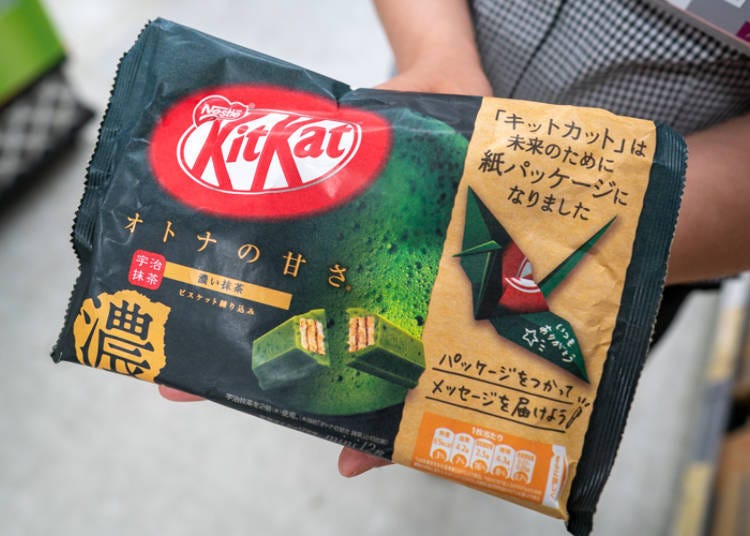 KitKat Mini Otona-no-Ajisa Dark Matcha (12 individually-wrapped pieces). Manufacturer: Nestle
KitKat Mini Otona-no-Ajisa Dark Matcha combines the delicious taste of Uji Matcha, popular in Japan and overseas, with the sweet chocolate of the KitKat for an exquisite balance. It uses two times the normal amount of Uji matcha for a deep and authentic bittersweet flavor, and a strong, delicious aftertaste.
2. Umeboshi Sheets: Bite-sized Traditional Treats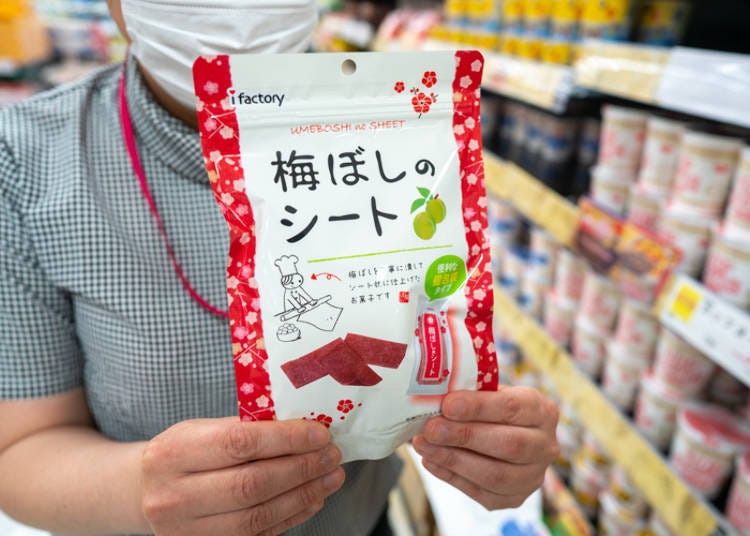 Umeboshi Sheets (40g x 6 packets). Manufacturer: i Factory
Umeboshi Sheets are bite-sized treats made by pressing Umeboshi, a traditional Japanese food, into a sheet. They are individually wrapped for an easy-to-carry authentic Japanese treat that you can enjoy anytime, anywhere.
3. Ichiran Ramen: Enjoy Delicious Tonkotsu Ramen at Home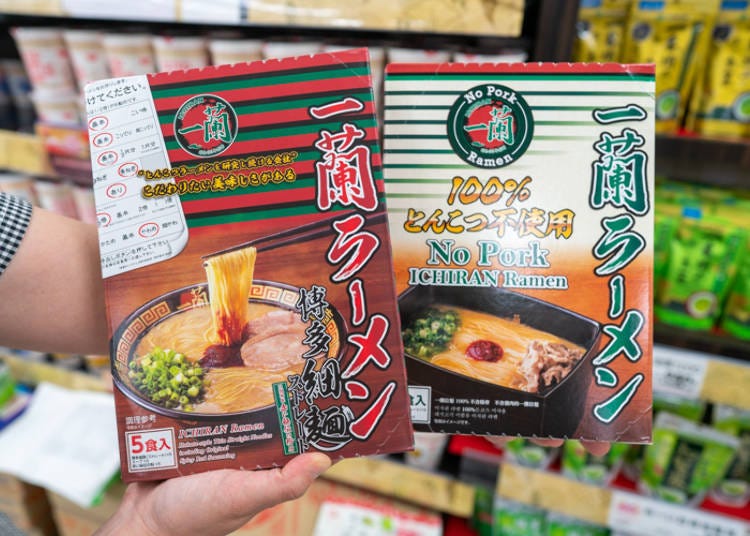 Ichiran Ramen Hakata Hosomen Straight with Ichiran Special Red Powder (5 servings) (left), and Ichiran Ramen 100% Pork-Free (5 servings) (right). Manufacturer: Ichiran Co., Ltd.
Ichiran is a specialty shop famous for natural tonkotsu ramen since its founding. Their ramen is super popular both in Japan and overseas, and is now also available as a souvenir! This product was born after many years of trials and research with tonkotsu ramen. Now you can bring tonkotsu ramen's signature chewy noodles and rich, aromatic soup back home with you!
4. Tsujiri Matcha Milk: A Harmonious Blend of Milk and Matcha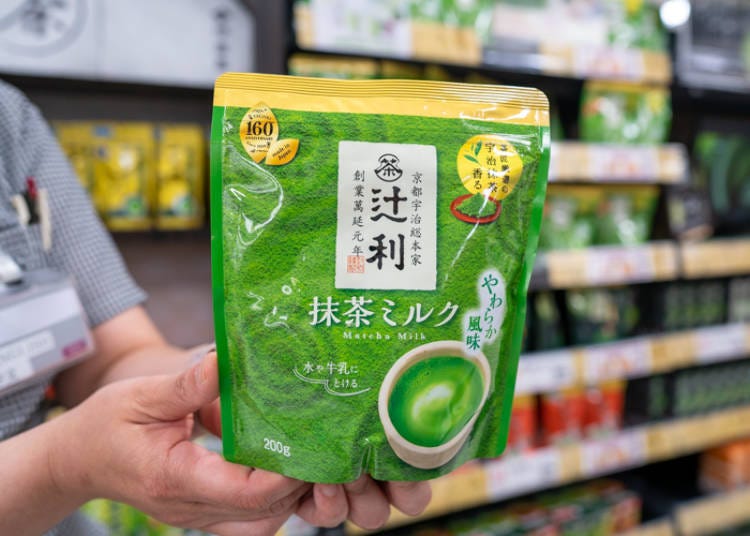 Tsujiri Matcha Milk. Manufacturer: Tsujiri
Tsujiri Matcha Milk is a product of the long-established tea shop Tsujiri, born in Uji, the long-time center of Japanese tea culture. It has a rich yet gentle flavor and a balanced sweetness, created by the harmonious blend of stone-ground matcha and deliciously mellow milk. The powder easily dissolves in both water and milk, so you can also enjoy it chilled.
5. Cup Noodle: Japan's Leading Instant Cup Ramen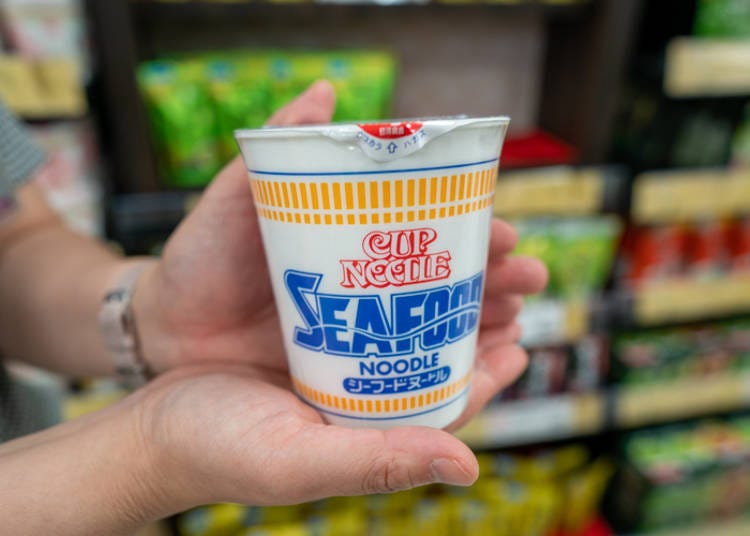 Cup Noodle. Manufacturer: Nissin Foods
The world's first Cup Noodle was released by NISSIN FOODS on September 18, 1971. Since then, it has become a globally-recognized symbol of Japan. There are a wide variety of regular flavors, including original, seafood, and curry, as well as fun limited-edition flavors. They are a super popular souvenir from Japan, and many visitors to Japan buy them by the box.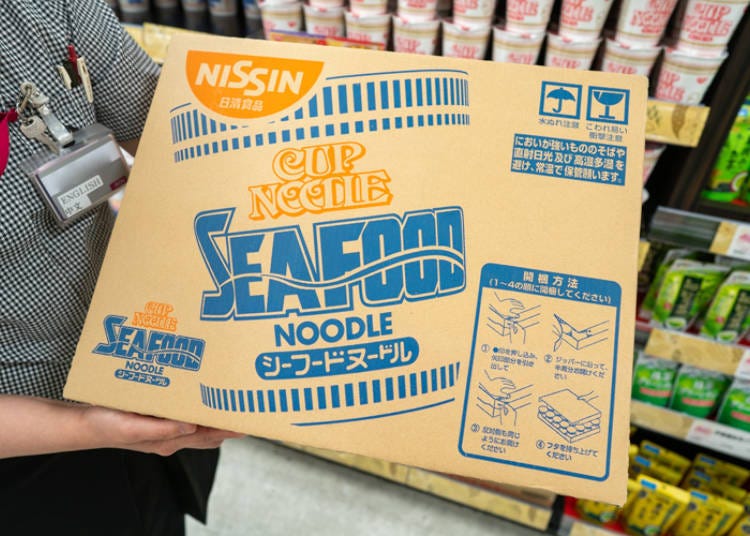 They are often bought by the box as souvenirs
6. Green Snack Pistachio Wasabi: A Perfect Snacktime Treat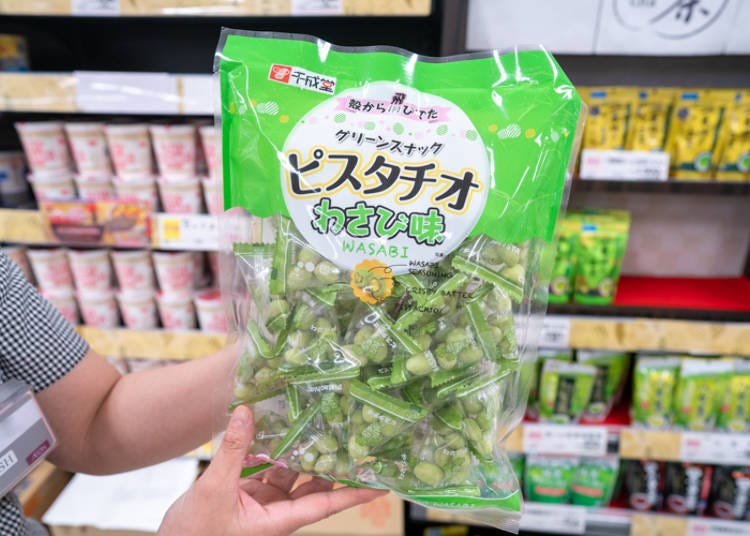 Green Snack Pistachio Wasabi Flavor (240g). Manufacturer: Sennarido
Green Snack Pistachio Wasabi is a wasabi-flavored snack made by coating pistachios in a crispy shell. The actual pistachio shells have been removed, leaving behind only the crisp, delicious nuts for an easy-to-eat treat. Though it may seem like an unusual pairing, the spicy taste of the wasabi brings out the flavor of the pistachios. Once you start eating this popular Japanese snack, you won't want to stop!
7. Oi Ocha Premium Tea Bag Green Tea with Uji Matcha: Enjoy the Flavor of a Perfectly Brewed Tea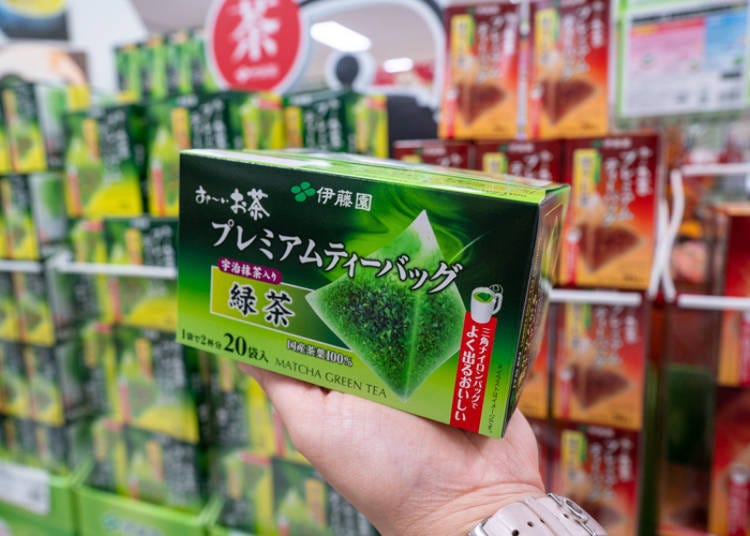 Oi Ocha Premium Tea Bag Green Tea with Uji Matcha (20 bags). Manufacturer: ITO EN
Oi Ocha Premium Tea Bag Green Tea with Uji Matcha is made from 100% domestic tea leaves, blending delicious Uji Matcha with fragrant green tea. The triangular nylon bags have coarse filters, resulting in a delicious brew combining the taste, color, and aroma of both teas. Don't just drink Japanese tea - experience it!
8. Mt. Fuji Apollo Chocolate: Gorgeous Red Fuji Themed Package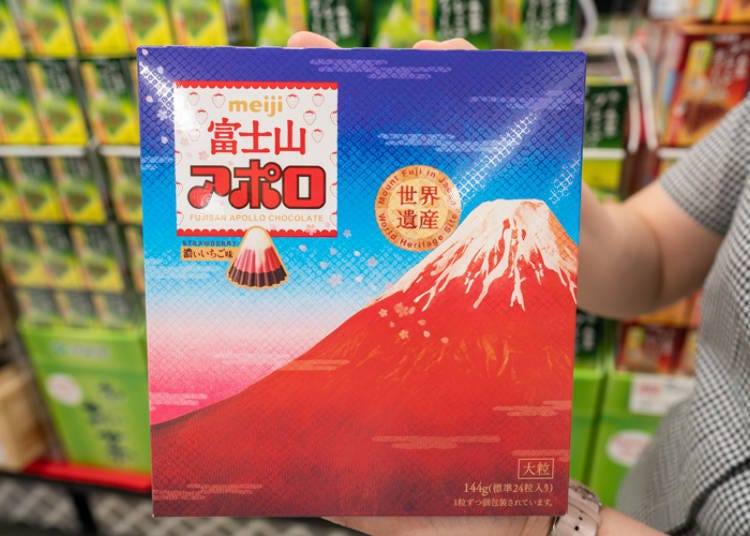 Mt. Fuji Apollo Chocolate. Manufacturer: Meiji
Mt. Fuji Apollo is a confectionary treat based on Mt. Fuji, the tallest mountain in Japan and a registered World Heritage Site. The package design features Katsushika Hokusai's famous ukiyo-e painting of Mt. Fuji, "Fine Wind, Clear Morning." The treat itself is a three-layered candy featuring milk chocolate, strawberry chocolate, and white chocolate, shaped to look like Red Fuji. Each piece is large and satisfying, sure to please anyone who receives it as a souvenir.
9. Macadamia Chocolate: Whole Macadamias Coated in Chocolate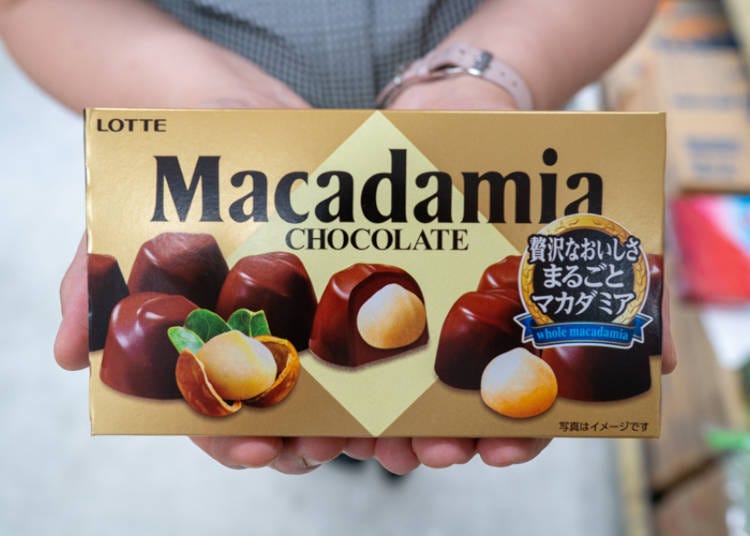 Macadamia Chocolate. Manufacturer: LOTTE
These Macadamia Chocolates are made with carefully-roasted whole macadamias wrapped in a layers whipped milk chocolate. Enjoy the indulgent taste and texture of whole macadamia nuts, untouched and straight from the harvest.
10. Tasting Bar: Sample Japanese Sake Before You Buy!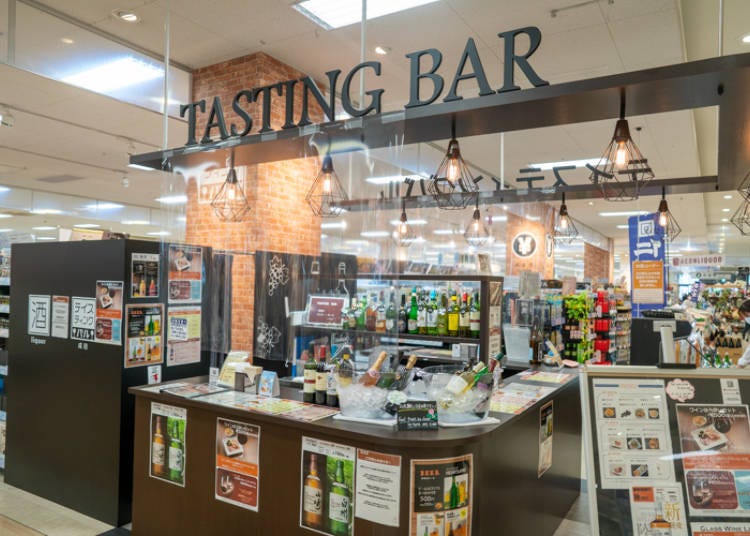 The Tasting Bar is a place where you can sample some of the best alcoholic beverages right in the store before deciding which ones to buy as souvenirs.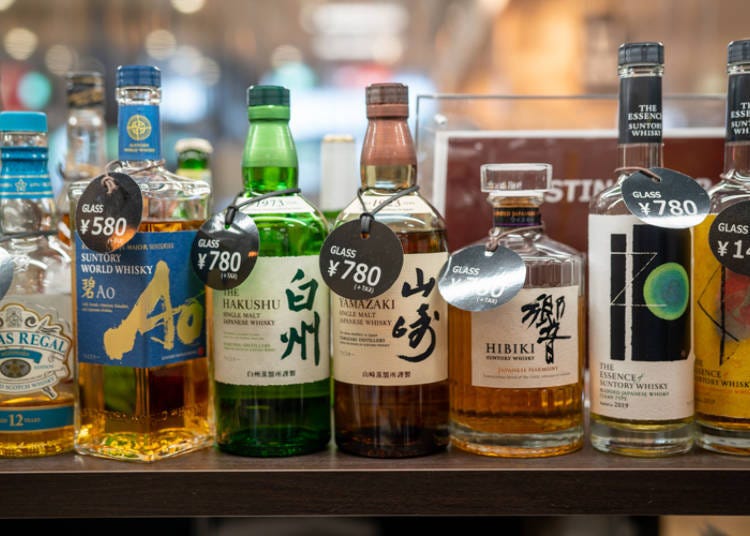 Tasting Bar: You can sample popular sake from Japan, right in the store!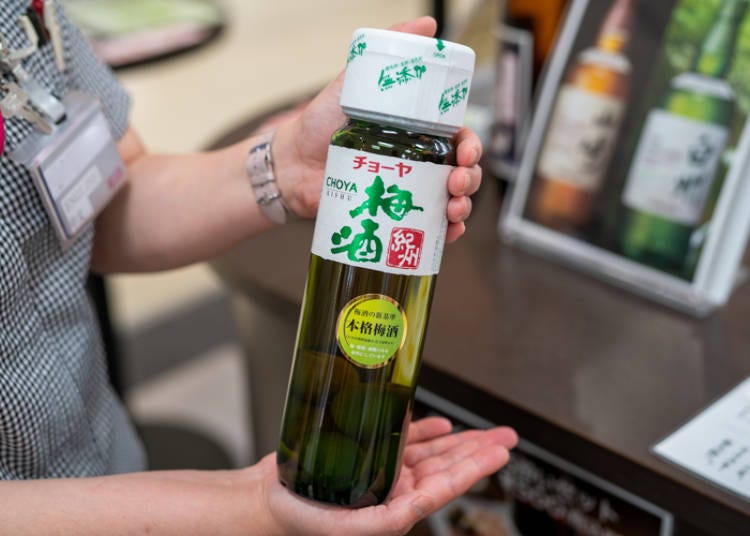 Our recommendation: Umeshu Kishu Plum Wine (Manufacturer: Choya). This popular souvenir is a standard in authentic plum wines. It is made with 100% domestic Japanese plums.
Duty Free Counter: Available in Multiple Languages!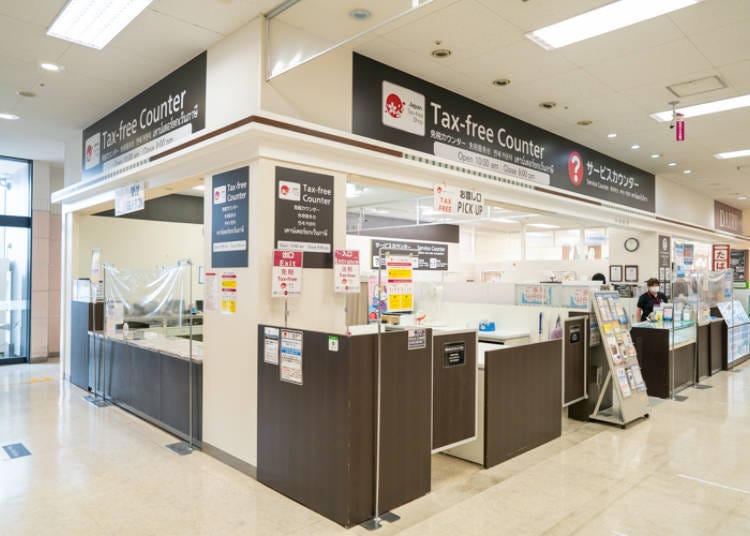 AEON STYLE Narita is dedicated to providing great support to its many inbound visitors. The duty-free counter on the 1st floor employs multilingual staff members who are happy to assist! Feel free to approach them if you have any questions or concerns, including about tax exemption procedures. (Currently available languages are Japanese, English, Chinese, Korean, Thai, and Vietnamese).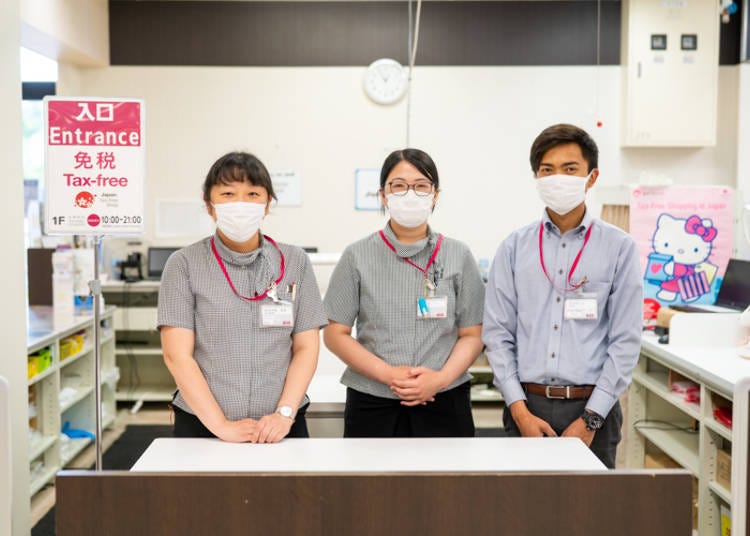 Multilingual duty-free counter staff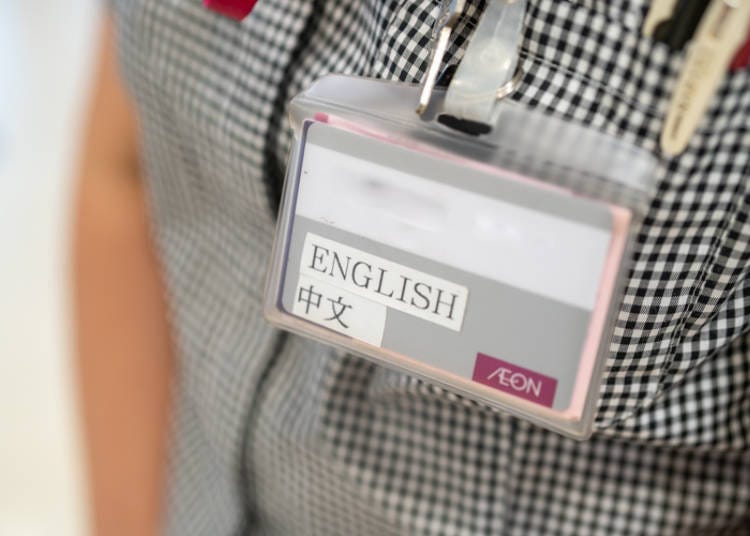 Available languages are written on staff name tags
AEON STYLE Narita has also recently introduced the "Mieru Tsuyaku", a video interpretation service that connects you with a live interpreter operator in a single touch. To use one, visit the Duty Free Counter, or ask any staff members you see with a tablet or smartphone. The devices are available in 10 languages including English, Chinese, and Korean. You can connect with an operator immediately, and enjoy your shopping with peace of mind.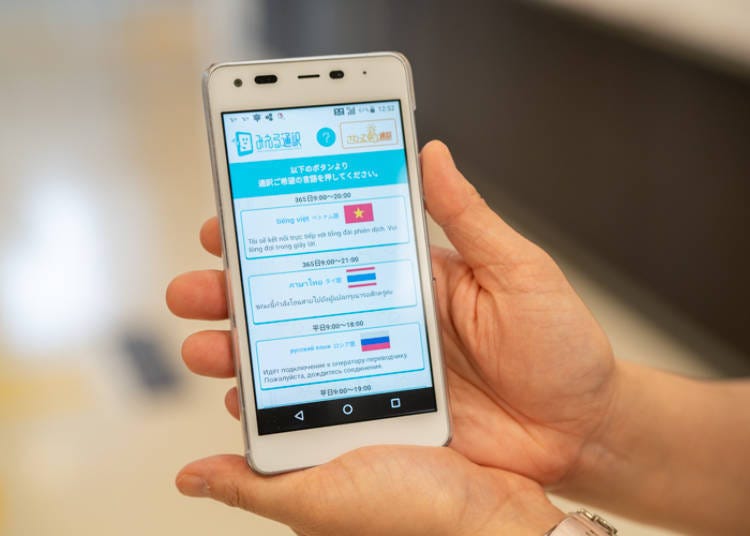 Mieru Tsuyaku: A video interpreter service available in 10 languages
Find Your Perfect Souvenir at AEON STYLE Narita!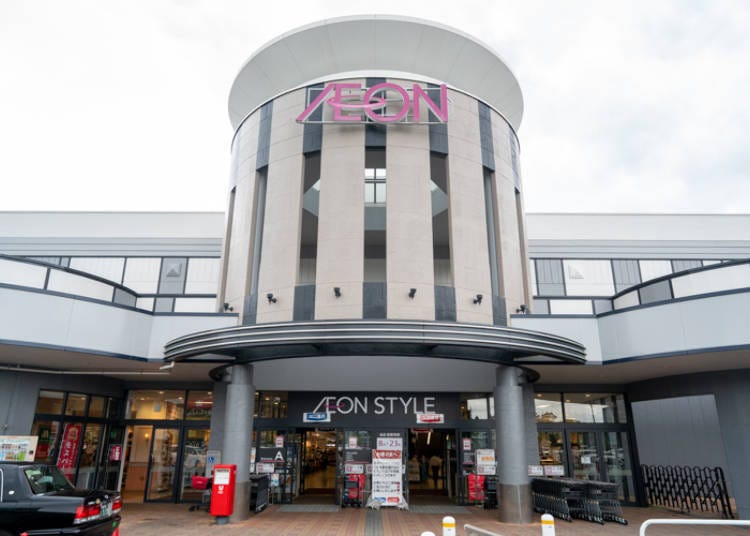 There are so many great products and shops in AEON STYLE Narita, we couldn't possibly introduce them all here! And as tourism continues to increase, the number of great products will continue to grow. So take a look around, browse their modern and traditional Japanese goods, and bring home your favorites as souvenirs.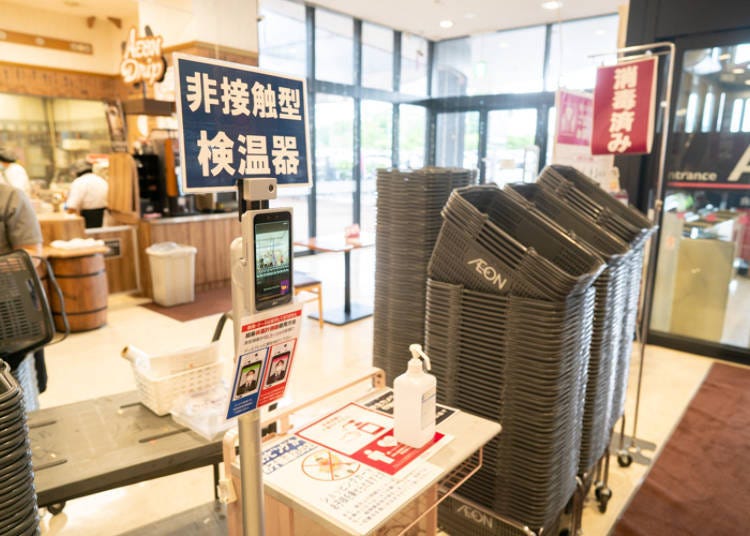 Thorough measures against coronavirus include checking temperatures at the door, alcohol disinfection, and disinfection of shopping carts
イオンスタイル成田

Address

24 Uingutsuchiya, Narita City, Chiba Prefecture 286-0029

Nearest Station

Approx. 10 minutes by bus from JR Narita Station, and Keisei Electric Railway Keisei Narita Station; approx. 25 minutes by shuttle bus from Narita Airport Terminal 2, and 20 minutes from Terminal 1


Phone Number

0476-23-8282

Hours: Food Section: 8:00AM-11:00PM; Other Areas: 9:00AM-10:00PM (*Other shops may differ)
Regular Holiday: Open year-round (*May temporarily close due to maintenance, or in the event of a natural disaster)
Address

24, Wing Tsuchiya, Narita-shi, Chiba, 286-0029
View Map

Nearest Station

Narita Station (JR Narita Line)


Phone Number

0476-23-8282
Written by Kaiichiro Yoneyama
* The information in this article is as of September 2020.
*This information is from the time of this article's publication.
*Prices and options mentioned are subject to change.
*Unless stated otherwise, all prices include tax.