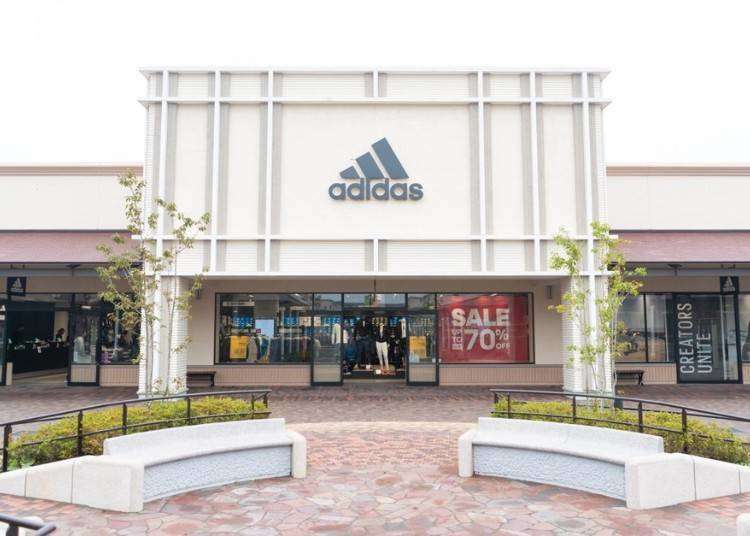 Shisui Premium Outlets is easily accessible from the city center, and is located 15 minutes by car or bus from Narita Airport, attracting many foreign tourists.

For this reason, there is particular attention to service for foreigners, and it's a great spot for your shopping. Let's check out the charms of Shisui Premium Outlet!
Overview of Shisui Premium Outlets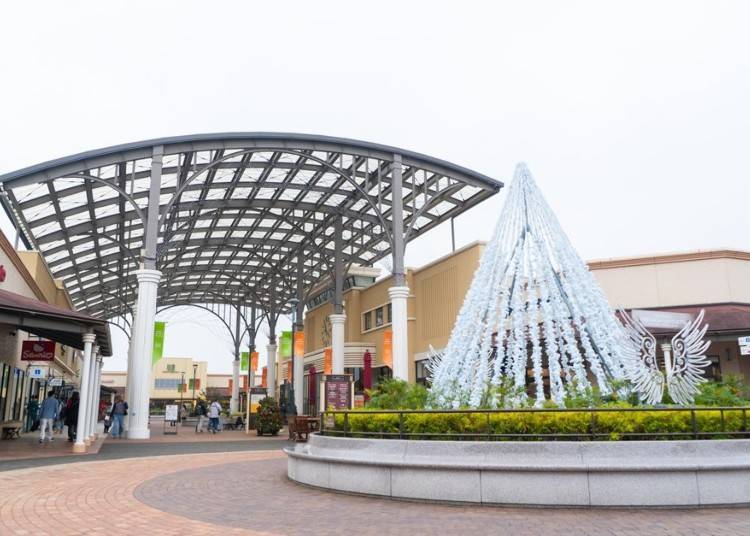 Inspired by American Art Deco cityscape
Shisui Premium Outlets is an outlet mall near Tokyo that opened in 2013 in Izumi, Chiba Prefecture. It's a highly international complex near Narita Airport, visited by many foreign tourists traveling to Japan. Here you can buy a host of fashion items, amd all kinds of goods from sport brands to luxury brands.
Access from Narita Airport and Tokyo Station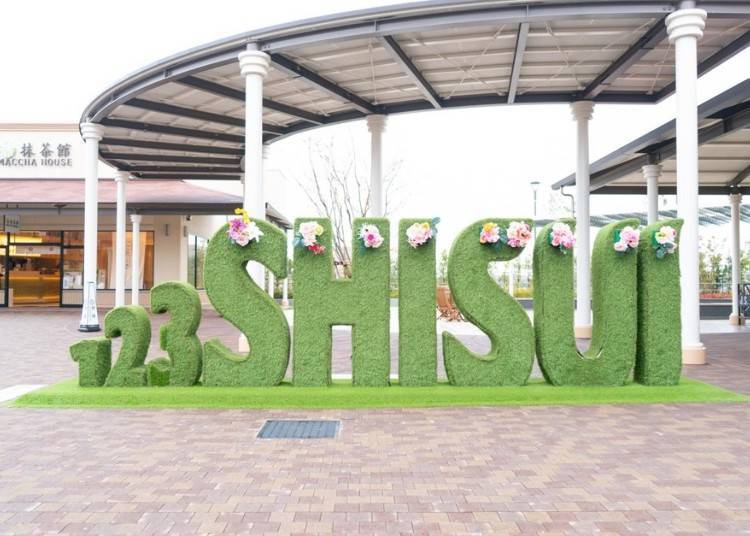 Photo spot of Shisui Premium Outlets
There are several ways to get from Narita Airport or Tokyo Station to Shisui Premium Outlets.

Access from Narita Airport
You can access the shopping center from Narita by car or direct highway bus.

・By car
You will arrive at Shisui IC from Narita Airport in about 10 minutes, using the Higashi Kanto Expressway. From there you will arrive at Shisui Premium Outlets via a regular road (about 1km).

・By bus
About 15 minutes by direct highway bus from Narita Airport. The bus operates daily, and the fare is 360 yen (one way) for adults. Please pay in cash when boarding. Reservation is not possible.

Access from Tokyo Station
There are direct busses and regular trains you can use to reach the shopping center from Tokyo Station.

・By direct bus
About 70 minutes from Hamamatsucho Bus Terminal/Tokyo station (Yaesuguchi-mae Keisei Bus No.1), with buses operating daily. The fare is 1,200 yen(one way) for adults. You can pay with your IC card. Reservation not possible.

・By regular train
Take the JR Sobu Line Rapid Service from JR Tokyo Station. Transfer to the JR Narita Line at JR Chiba Station, and take the route bus from JR Shisui Station. It takes about 75 minutes.
Introducing Shisui Outlets shops
次に酒々井プレミアム・アウトレットで買い物するのにおすすめのお店を、外国人に特に人気のあるスポーツブランドや時計店などからピックアップして紹介していきます。
Adidas: Super popular, affordable outlet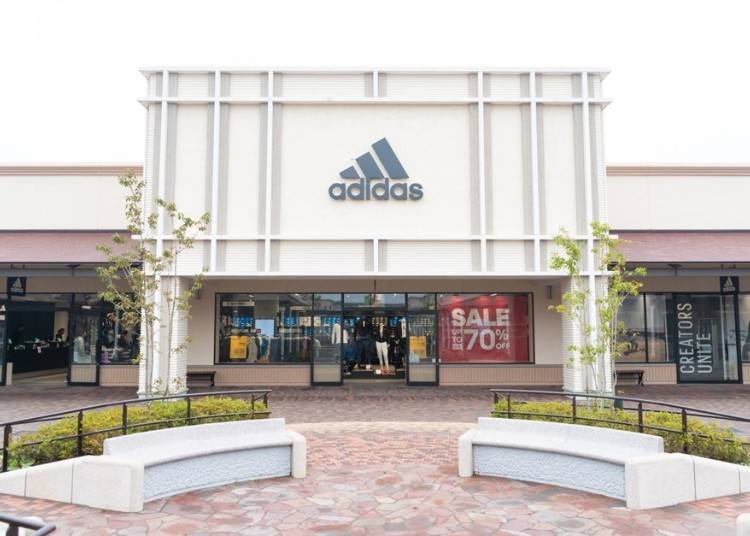 The large Adidas store
Adidas Shisui Premium Outlets is a sport good specialty store that opened in 2018 and handles sportswear and shoes.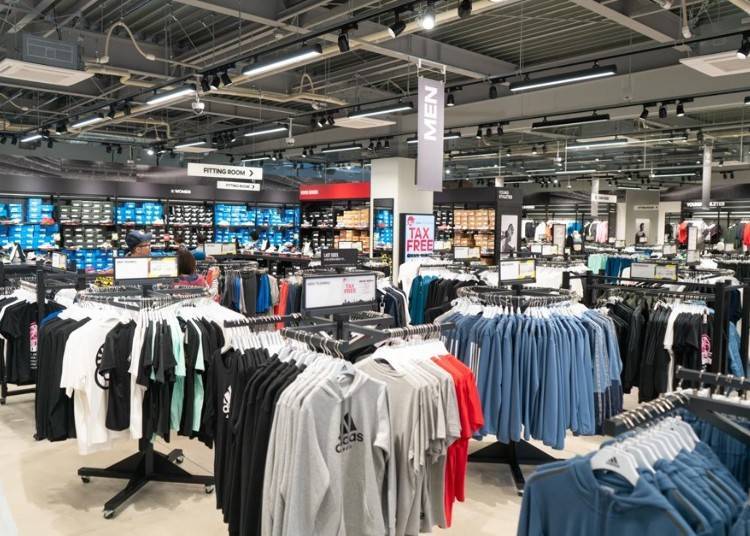 There's a large selection of sportswear and shoes in the store
Adidas in Japan seems to offer competitive prices even when compared to other stores around the world, and it's one of the most popular stores among foreigners.
A large selection of all kinds of sneakers
It's amazing how many sneakers are piled up in this large store! There are also Japan-exclusive designs, among the many different kinds. If you are not sure which you want, there are many foreign staff, so feel free to ask any question.

In-store broadcasting is also available in Chinese, and the signs are also available in Chinese and Korean, so you'll be fine even if you can't read Japanese.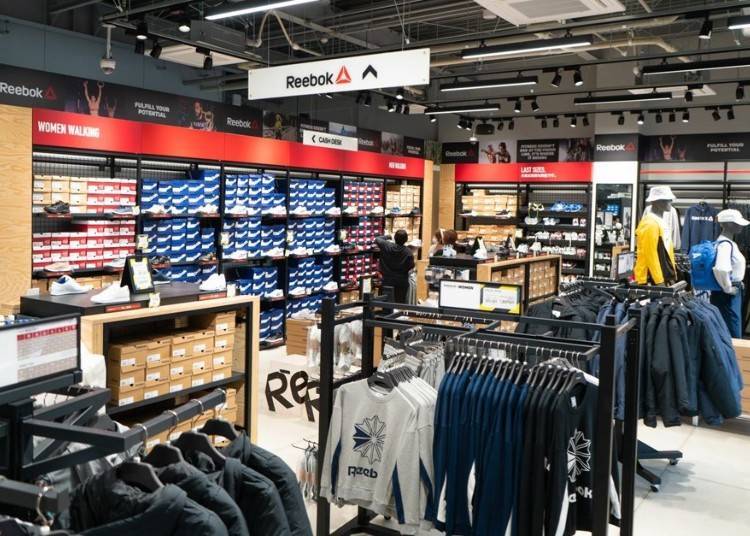 Reebok attached
The Adidas store also has Reebok, with products for men, women, and kids.
Seiko: Where you can purchase products of reliable quality at great prices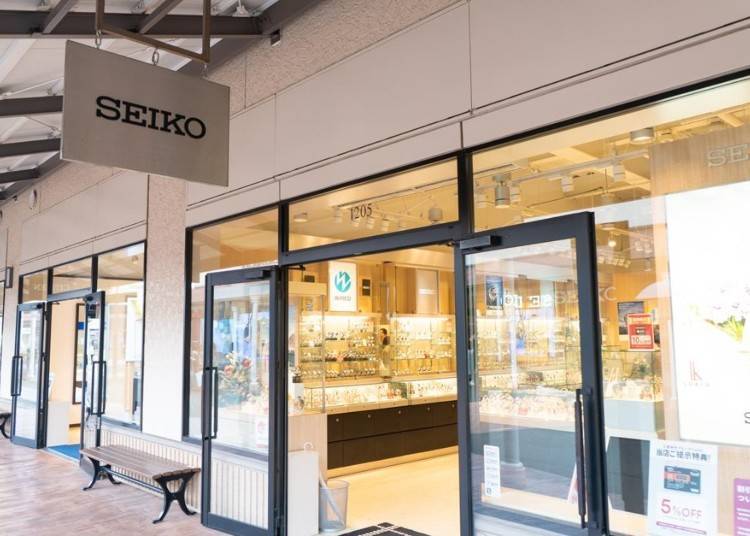 Seiko, close to the food court
Seiko, a store in the Shisui Premium Outlets, is a watch shop where more than half of the items are from overseas. Whether you want to buy a watch for yourself or as a gift, you will be able to find the one you want. You can buy products of reliable quality, like Prospex, or Lukia, popular among women.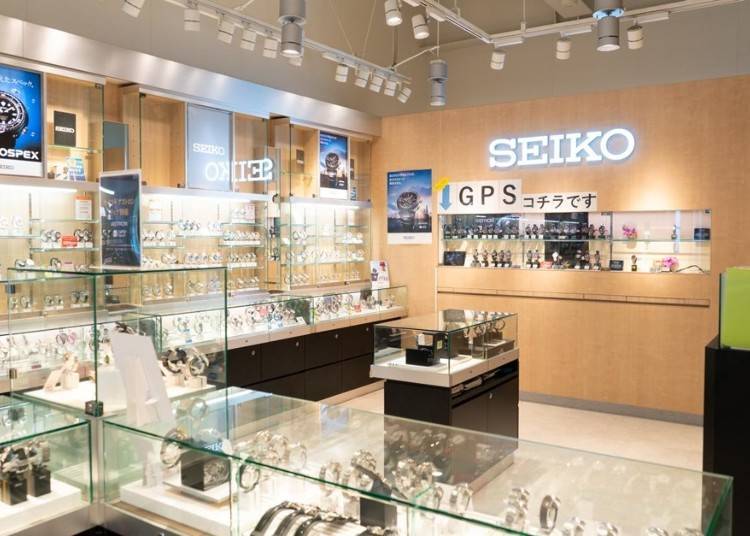 Products also have simplified Chinese notations
Furthermore, since there are many customers from China, Seiko is conducting Chinese language training as well. Shisui stores use PokeTalk, so you won't need to worry about communication.
Japanese Apparel Brands: Journal Standard, Iena, Spick and Span, Edifice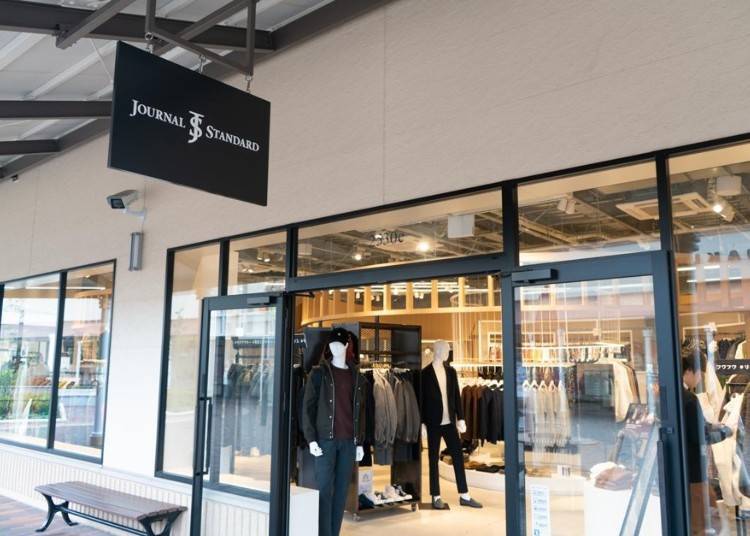 Apparel brands for both men and women
A store full of brands like Standard, Iena, Spick and Span, and Edifice. A Japanese apparel brand that offers a wide variety of clothing for women and men. It's becoming more and more popular among women and men 20-50 years old.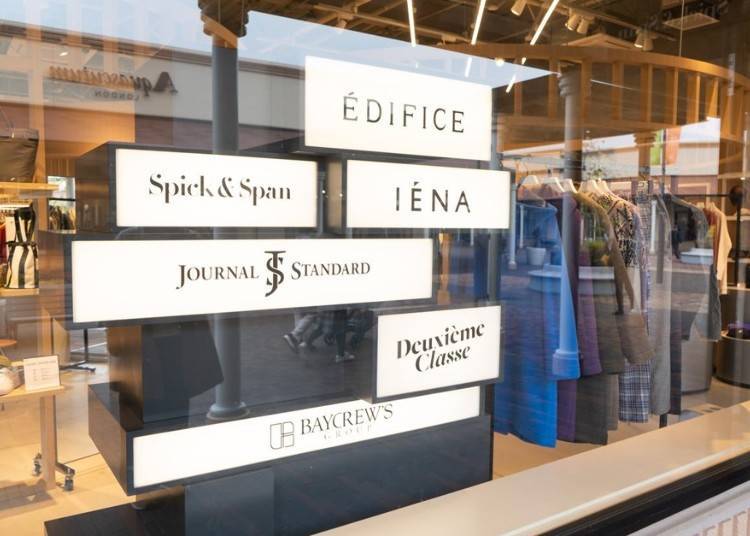 Several shops operated by Bay Cruise Group in one store
Journal Standard is a select shop with various brands and items. Iena is a brand that handles elegant fashion items for women, inspired by French Chic. Spick and Span is a select shop that combines original clothing and imported items from around the world. Edifice is a brand that deals with everything from casual, to elegant clothing for men.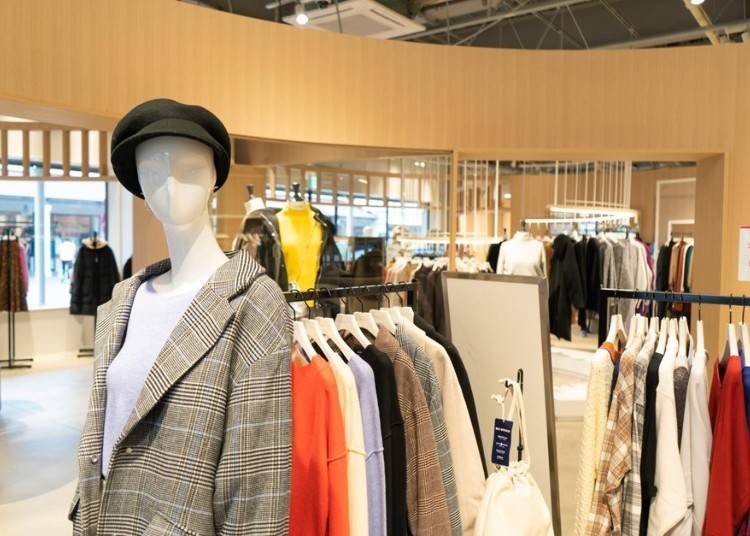 For people of all ages
You can certainly find items that suit your taste because it's a large shop with four brands connected. Find everything you need for comfortable, everyday use.
Take your lunch break! Introducing recommended restaurants
The following are restaurants that are ideal lunch and eating while shopping. The outlet is large and you're going to get tired walking all day. If you want to take a break, here are some shops where you can enjoy unique Japanese food and a food court where you can enjoy many dishes.
Sushi Choshimaru: Full of Japanese character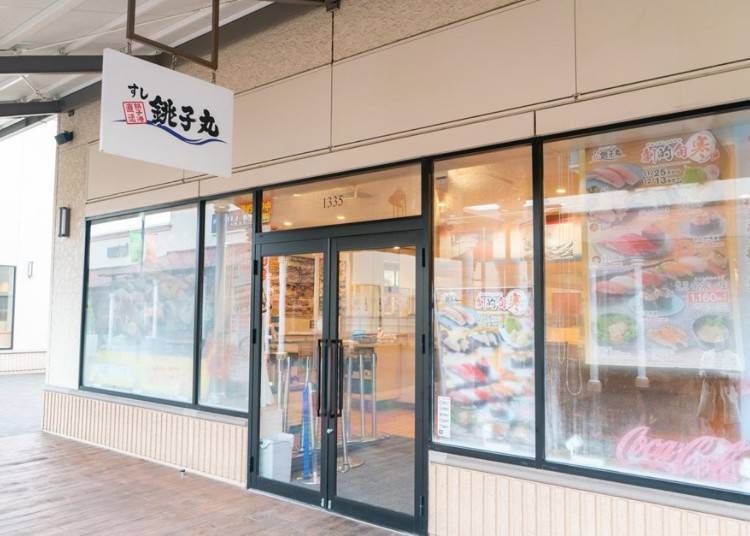 Sushi Choshimaru on Eastern Street
Sushi Choshimaru is a place where you can enjoy fresh food with ingredients from around the world, and Choshi Port.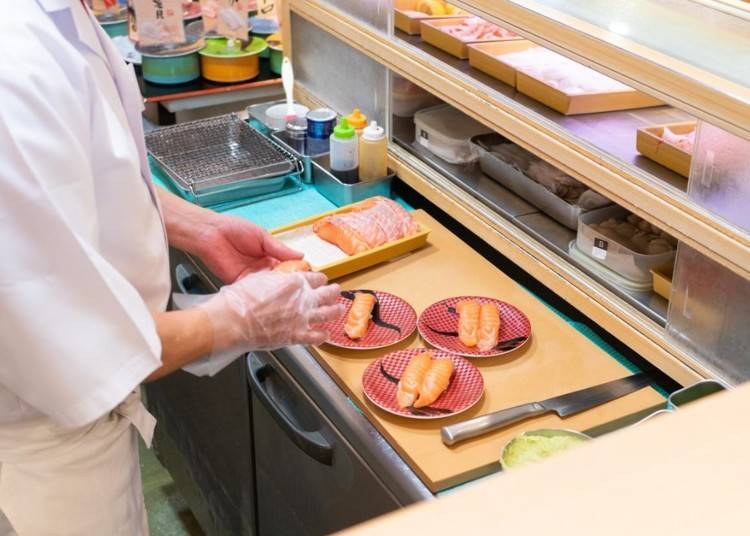 Sushi-handling craftsmanship
When you place your order, it will be prepared in the moment and served to you on a rotating line.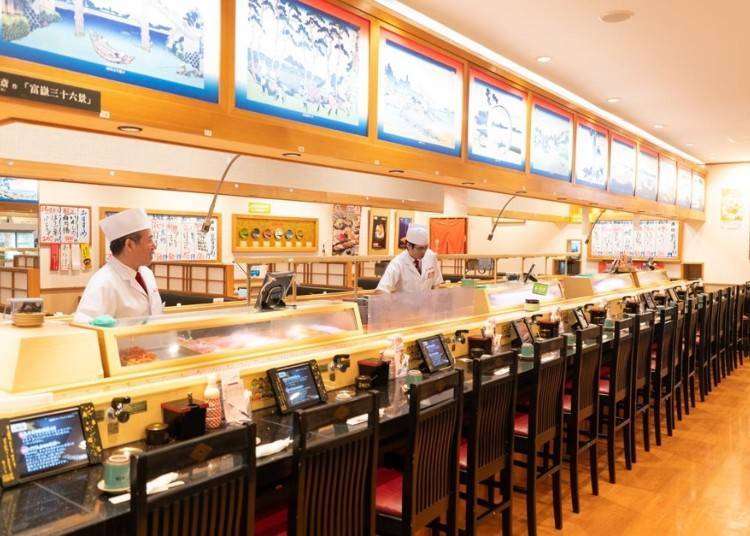 Sushi Choshimaru, inside the store
There's counter seating in the front, and tables in the back.

Overlooking Hatsushika Hokusai's Thirty Six Views of Fogoku, you can enjoy your sushi while looking at a painting of Mount Fuji in Japan.

Orders can also be placed from the touch screen, available in five languages: Japanese, English, simplified Chinese, traditional Chinese, and Korean.
Dashidokoro Hannari: Using special bonito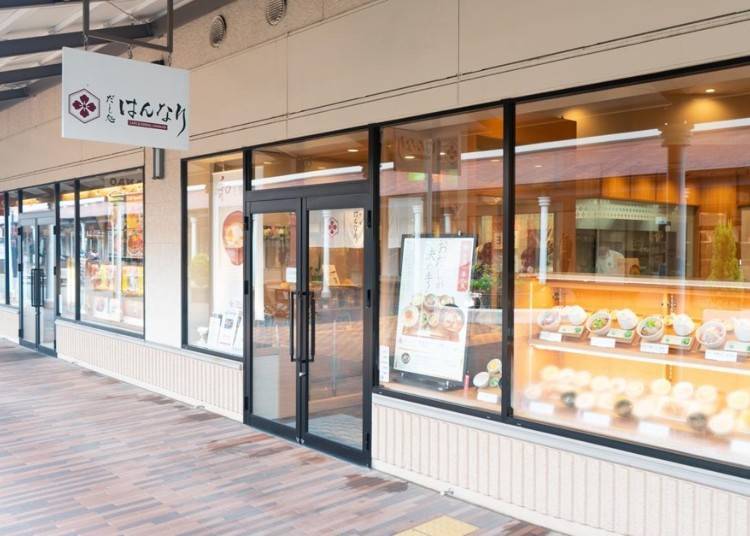 A place where you can enjoy Japanese food
Dashi Hannari is a specialty dashi shop using Boshu bonito. For a real taste of Japan.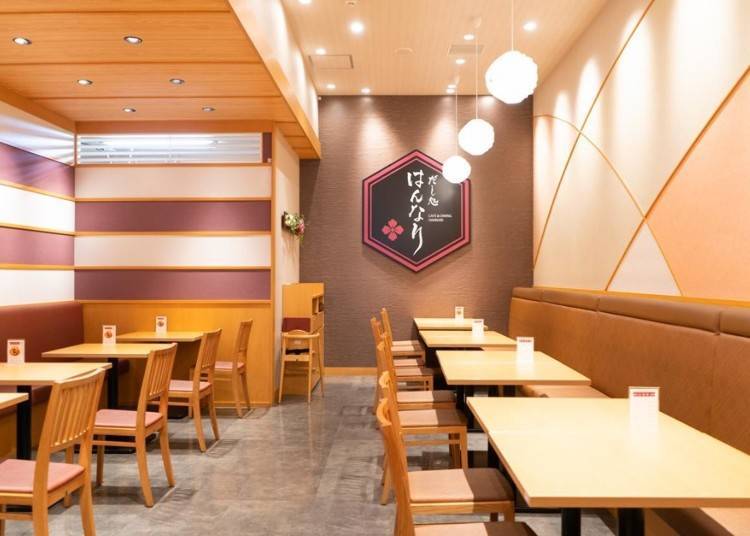 A quiet shop where you can enjoy "Hanari"
The restaurant is characterized by a calm atmosphere. There are plenty of meat-based meals, like teriyaki and steak. There is an English menu, and halal choices.

Here are some of the popular items: "Zen Vegetable Dashi Soup" (1,380 yen not including tax); "Wakatori Broiled Yakizen" (1,400 yen, tax not included).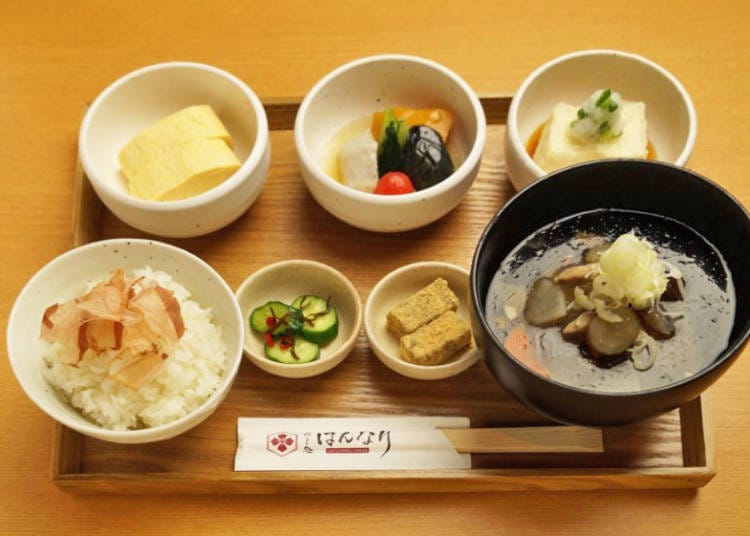 Zen Vegetable Soup meal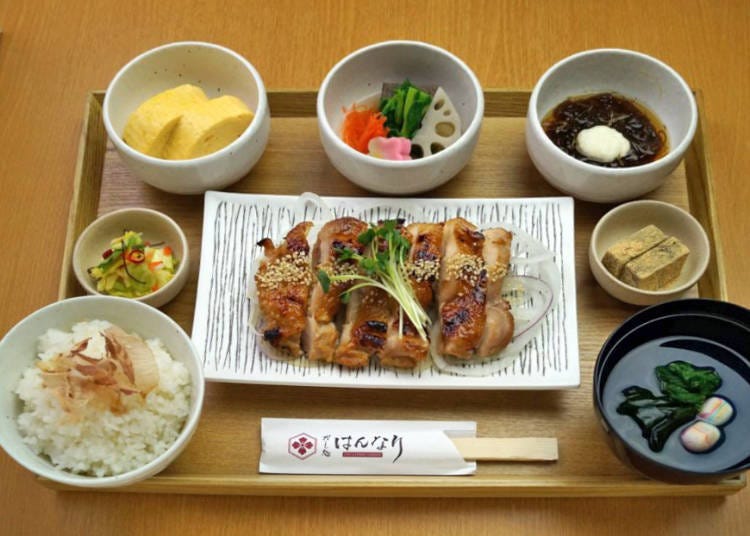 Broiled roast chicken
The side dishes are generous and rich. You can fully enjoy this healthy Japanese food.
You can see the staff shaving bonito through a window
The specialty bonito is purchased from Nagai Shoten, a specialized store. It's very fresh because the staff shaves it every morning. Enjoy the taste of Japanese dashi made with fresh bonito.
Macchakan: A maccha house popular for its tiramisu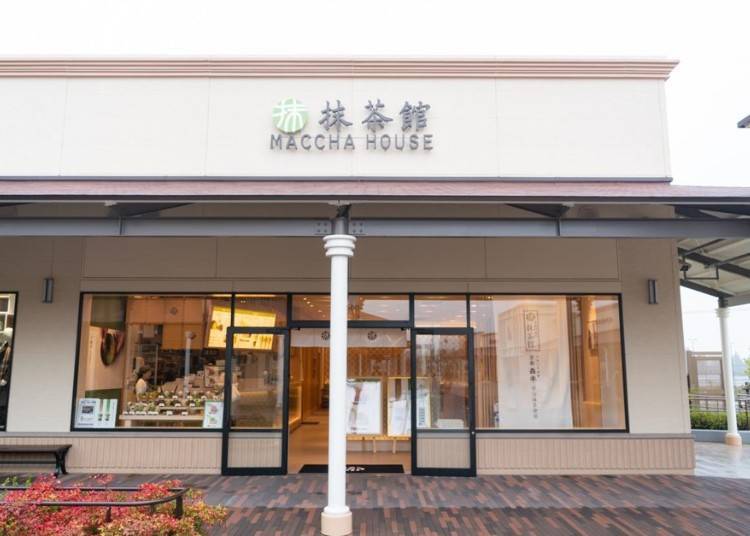 Maccha house Macchakan in Northern Avenue
At "Maccha house Macchakan" you can enjoy drinks and sweets prepared with matcha, a Japanese traditional product. It's Kyoto store is one of the 7 most popular in the city.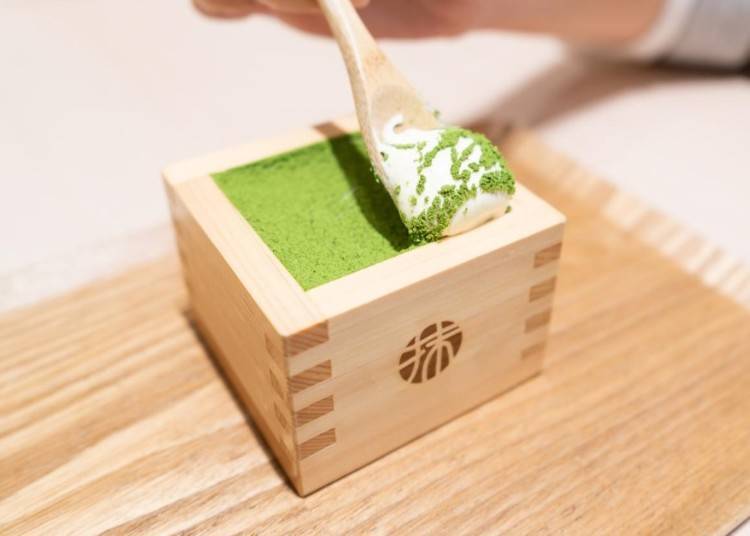 Popular matcha tiramisu
The item we recommend is the popular green tea tiramisu. You are going to love this snack break.

The warm tiramisu is served in a wooden container filled with a thick cream and covered with matcha powder. The two flavors combine perfectly, into a delicious cake. Because of its volume, it can fill you up nicely.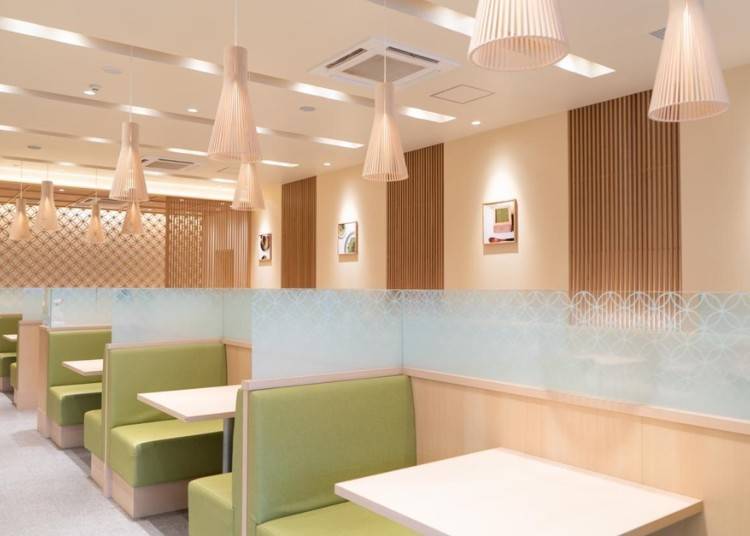 Inside the green store
The interiors are also decorated in matcha-green. Since there are many seats, you can comfortably enjoy the popular tiramisu, tea, icecream, and more (or you can take it out to enjoy it at a later time).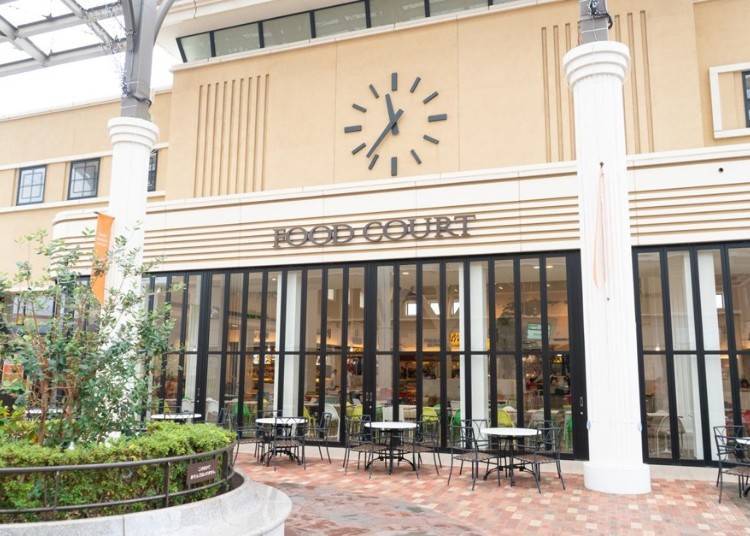 Food court with 9 restaurants
The food court is very close to the bus rotatory and it's convenient for those who want to eat before shopping. People traveling with friends or family sometimes have a hard time deciding where to eat, because everyone wants something different. The advantage of a food court is that everyone can order from different shops and still enjoy the meal together.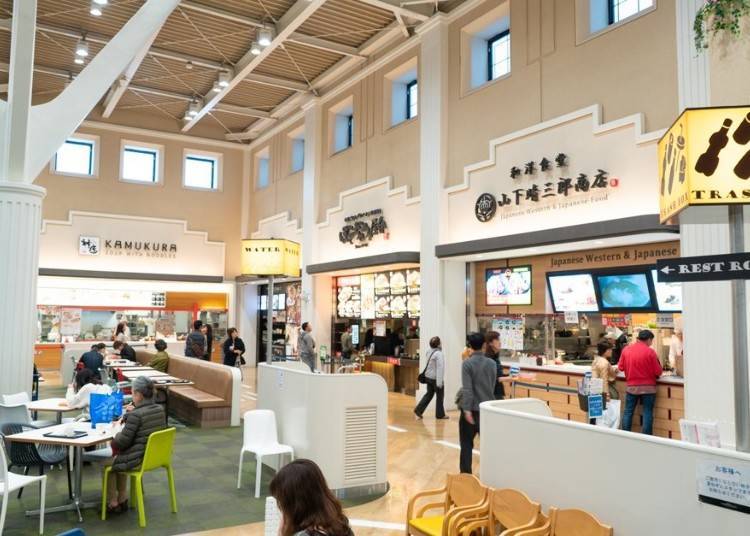 The food court is large and has many seats
There are 9 stores that include Japanese food, Korean food, fast food and sweets.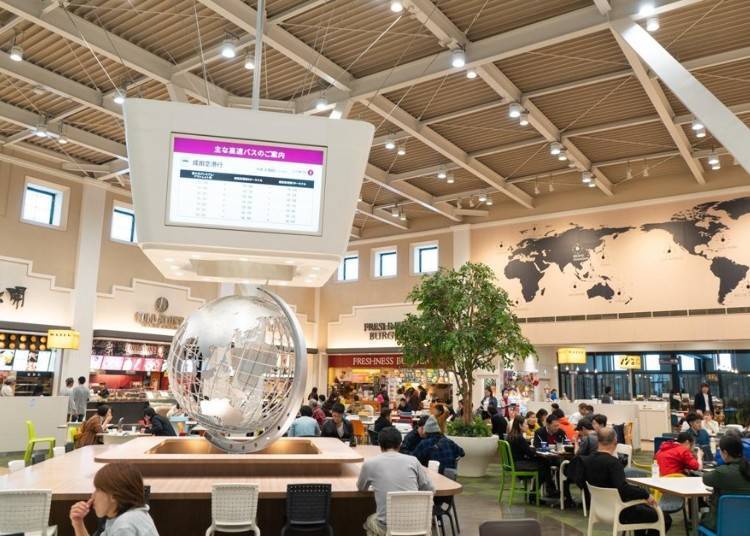 The food court is equipped with monitors that display flight information
In the middle of the court, you can see information on express buses, and flights. This is very convenient for those who are going to Narita Airport, or to Tokyo Station by bus.
Services for foreigners, like foreign currency exchange, and coin lockers
There are many services for foreign visitors to Japan, like foreign currency exchange, coin lockers, flight information, and duty-free counters.

If you have a problem, come here! Information center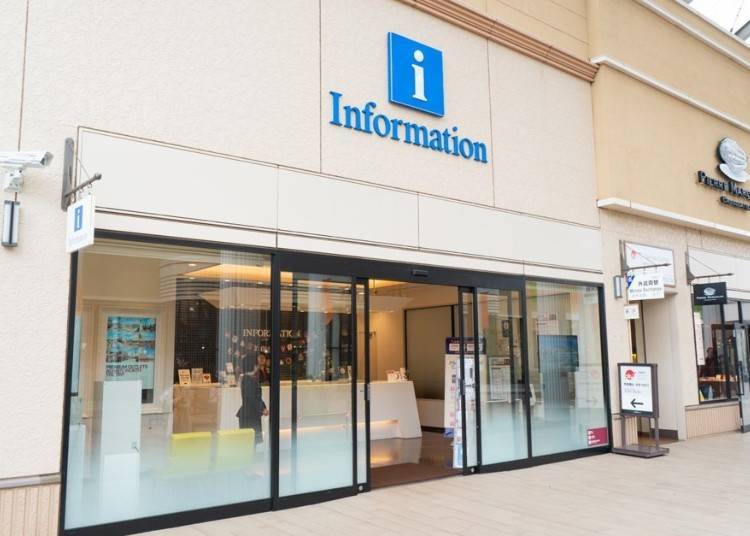 Information Center by the bus rotatory
You can get a coupon by presenting your passport at the information center. They also offer information about shops, wheelchair lending, and more. If you have any issue, come here.

The staff can speak English, Chinese, Korean, Spanish, and more.
*English and Chinese are available every day, but other languages are limited to one or two specific staff members.

Full of useful facilities, like duty-free counters and lockers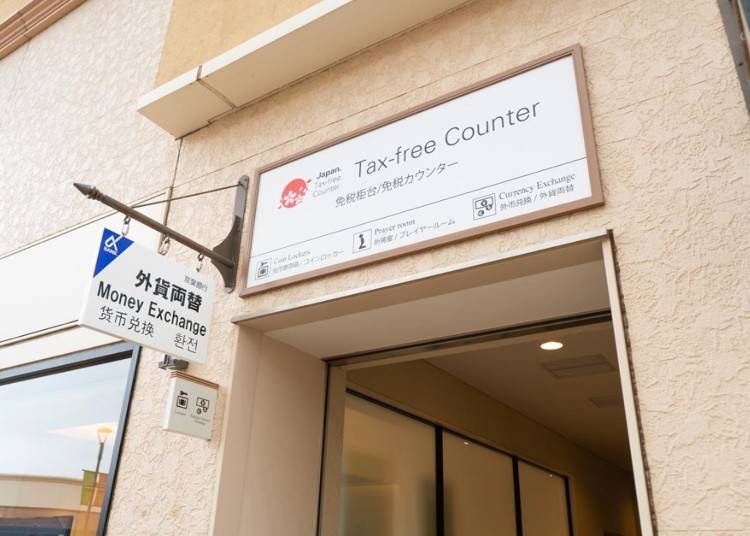 Tax exemption counter by the information center
The tax exemption counter is located in the back of the information center. There are English and Chinese-speaking staff at the counter that can help you process products bought from tax-exemption stores.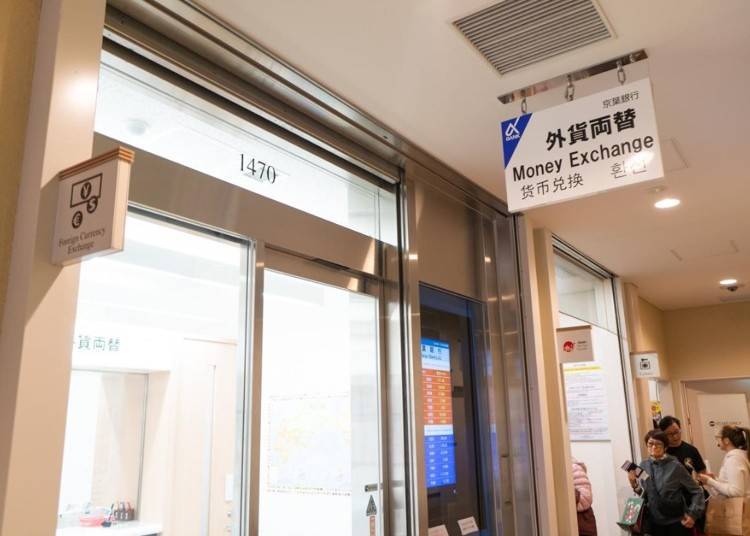 Foreign currency exchange in front of the tax exemption counter
Foreign currency exchange offices buy and sell foreign currencies.

Available currencies: Euro, US dollar, Singaporean dollar, British pound, Chinese yuan, Korean won, Taiwan dollar, Hong Kong dollar, Thai baht, Australian dollar, Canadian dollar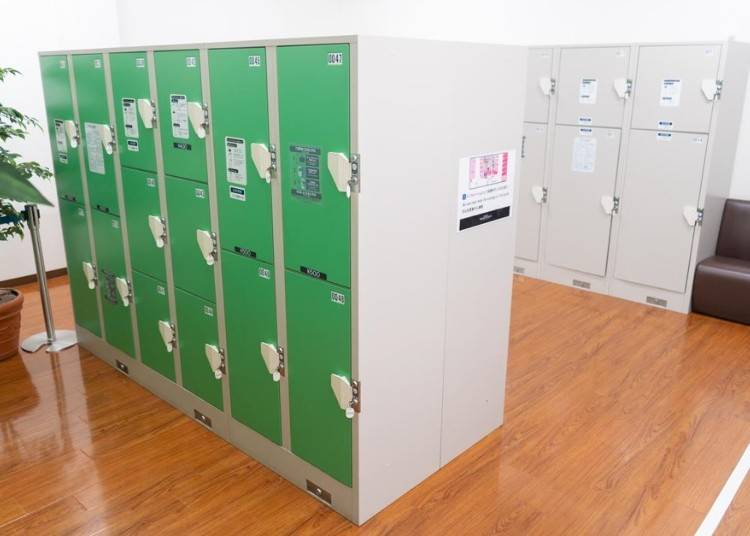 2 locker locations
The lockers are located near the bus rotatory and next to the information center. Sizes range from small to extra-large. The price is 300-800 yen.
Shisui Premium Outlets is an outlet that not only offers services for foreigners, but also offers a Japanese experience. When you fly to Narita Airport, why not stop ny and enjoy a pleasant shopping experience?
酒々井プレミアム・アウトレット

Address

2-4-1, Iizumi Shisui-machi, Inba-gun, Chiba, Japan 285-0912

Hours: Stores/Food court 10:00am-08:00pm; restaurants 11:00am-09:00pm; cafe: 09:00am-08:00pm
*Hours might change depending on the season
Holidays: Closed once a year on the third Thursday of February
*This information is from the time of this article's publication.
*Prices and options mentioned are subject to change.
*Unless stated otherwise, all prices include tax.