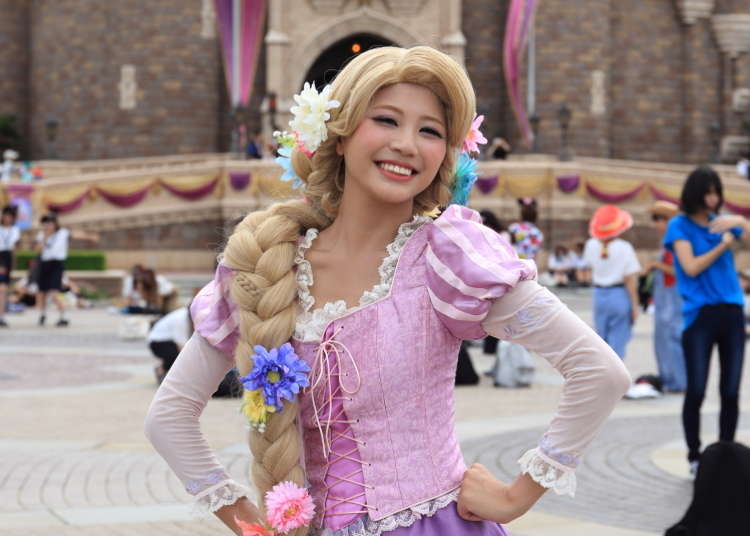 'Tis the spooky season! Tokyo Disney Resort celebrates it with the special Disney Halloween event from September 11 to October 31. Look forward to the two parks being taken over by ghosts, villains, and a wonderfully eerie atmosphere, and there'll be plenty of events and special gourmet experiences to match the spooks. Another fantastic highlight is the Disney costumes and cosplays. Only during this time, it's possible to enjoy the park dressed up as a Disney character! Recently, Japanese people are dressing up in full-fledged costumes for Halloween more and more, and many of them choose to celebrate a costumed Halloween at Tokyo Disney Resort. This time, we interviewed park visitors cosplaying Disney characters to hear how to make the most out of a Disney costume!
Komomo from Saitama: Becoming Snow White for the Third Year of Disney Cosplays!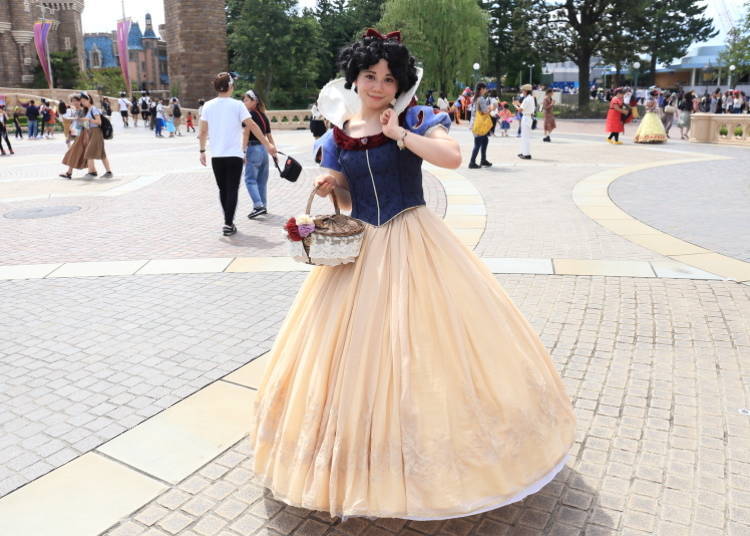 Komomo took a day off from work to turn into Snow White – she loves Disney princesses. She got her stunning costume at "Secret Honey," a shop that offers Disney princess dresses in its lineup, while the basket-like bag accentuating her outfit was a find at an online shop. It's the third year in a row that Komomo dresses up as a Disney Princess and you'll also find a Rapunzel costume in her dresser – one of her favorite characters. The very first year, she was "incredibly shy and embarrassed," but now she even got all the poses down to a T. "When I took the first step in full cosplay, I really started to enjoy the costume!" She also tells us that she got changed at the changing space near the entrance to Tokyo Disneyland.

Komomo looks forward to this season every year. Today, she's not going to hop on any attractions because she simply wants to enjoy herself and her costume, but she tells us that Sindbad's Storybook Voyage in Tokyo DisneySea is her favorite ride. Later, she's going to meet up with a friend of hers to go buy the limited "Glowing Poisoned Apple."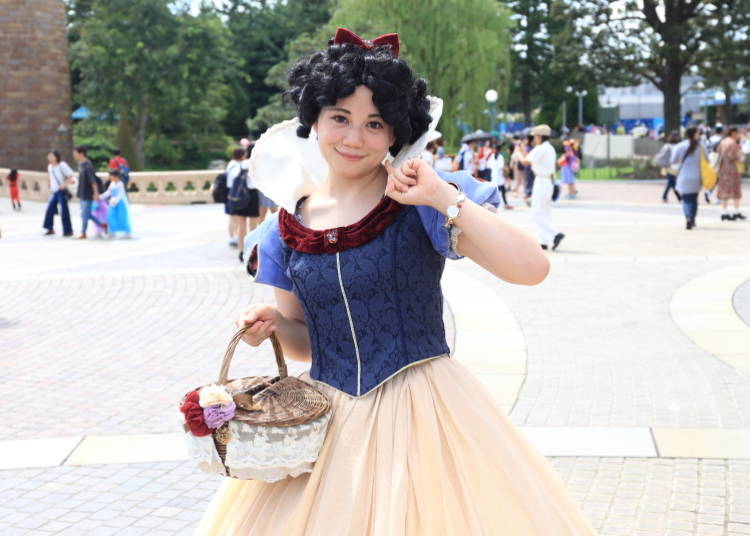 Posing for pictures is fun!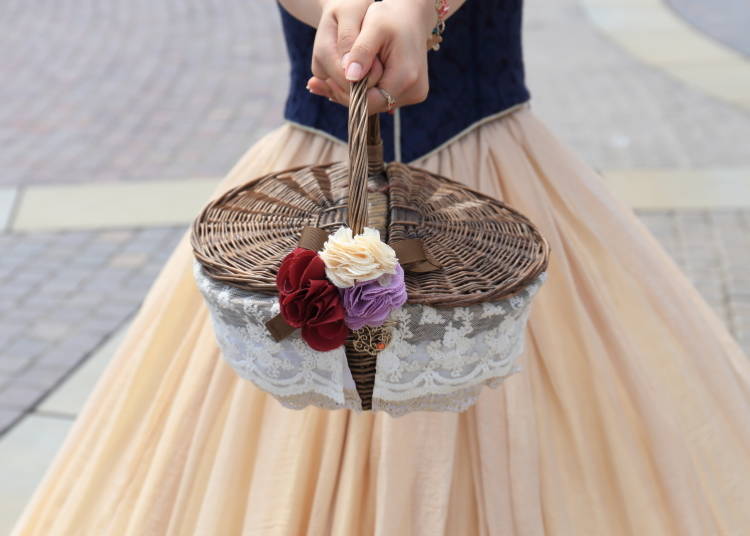 The basket fits the costume perfectly. "It fits all my important things, including smartphone and wallet!"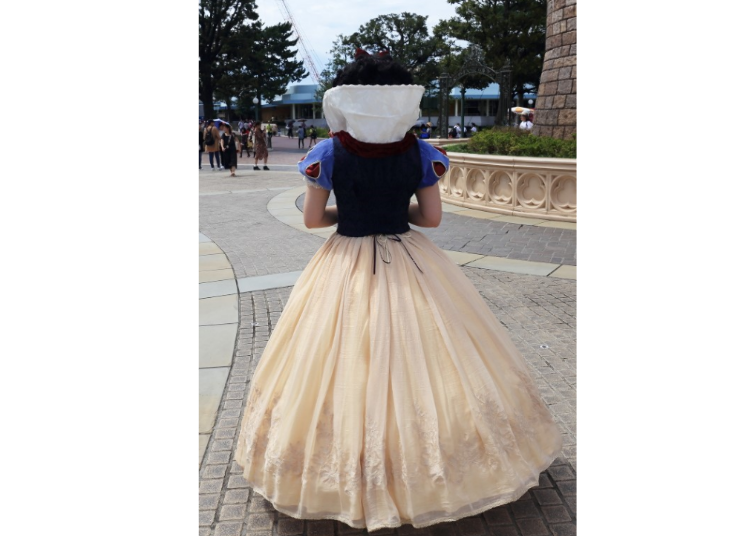 Stunning even from behind.
Turning into Peter Pan and Tinkerbell! Meet Yu and Ogawa, Two Close Friends Cosplaying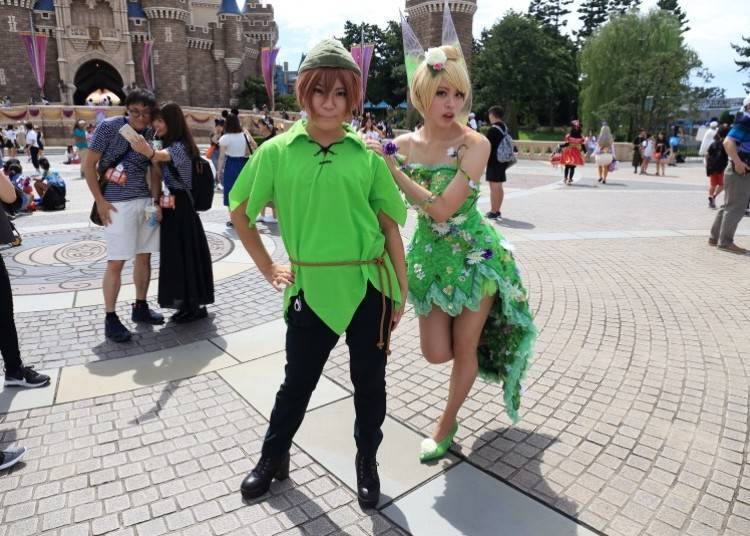 Yu – or rather Peter Pan – took some time off work and came to Tokyo from Toyama Prefecture, just for the Halloween event. He loves Halloween in itself and is cosplaying as a Disney character while visiting Tokyo Disneyland for the second year. He changes his costume every day, which means that his suitcase is packed with three unique costumes for three days! His favorite show is Tokyo Disneyland's One Man's Dream II – The Magic Lives On. He's seen it many times and keeps enjoying it!
Tinkerbell is Ogawa from Tokyo who also took vacation for the Disney Halloween event. She met Yu in Tokyo and since last year, they're visiting the park cosplaying together. Everything they're wearing today is handmade, also crafted to not get in the way of shows and rides.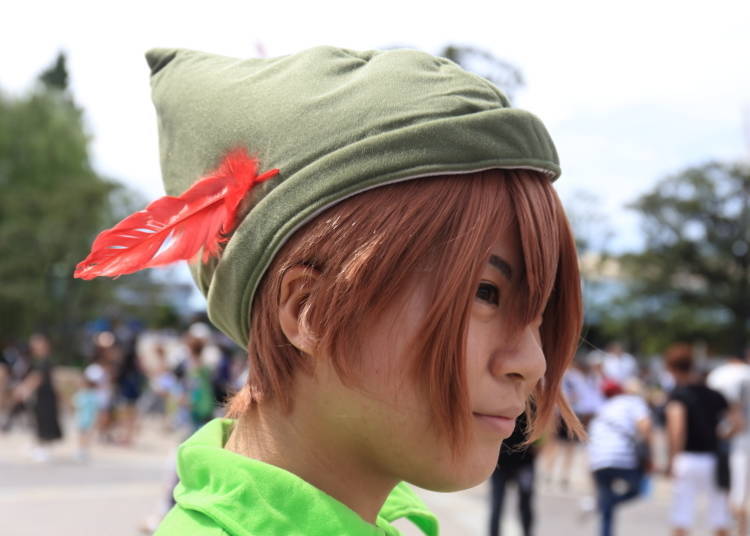 The red feather is a nice accent.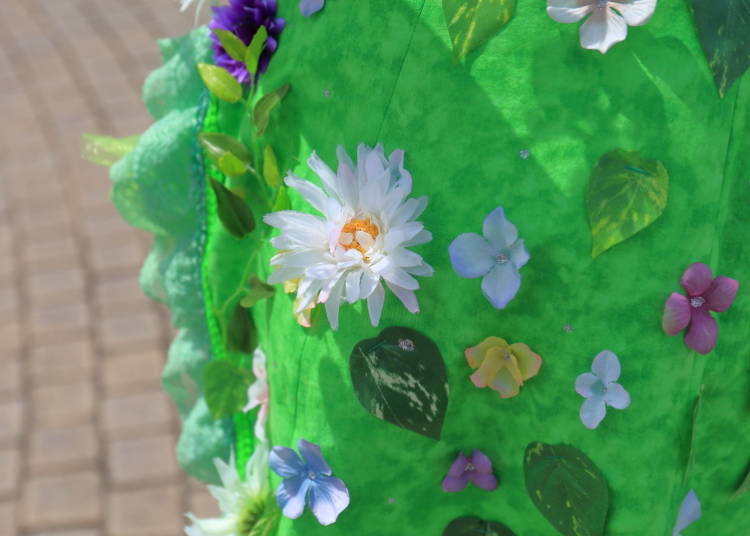 Even the flowers are handmade, apparently from cloth left after cutting.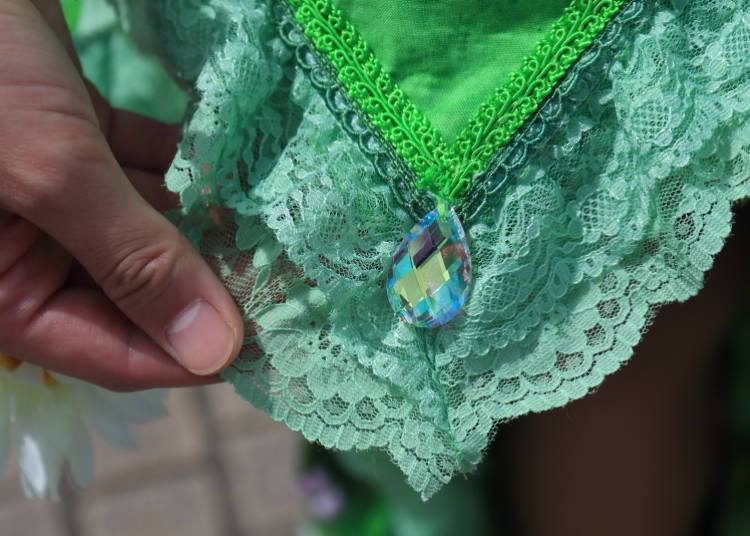 She used parts of a chandelier gorgeously on her costume!
Kazu and Momi: Four Days of Holiday for the Halloween Event!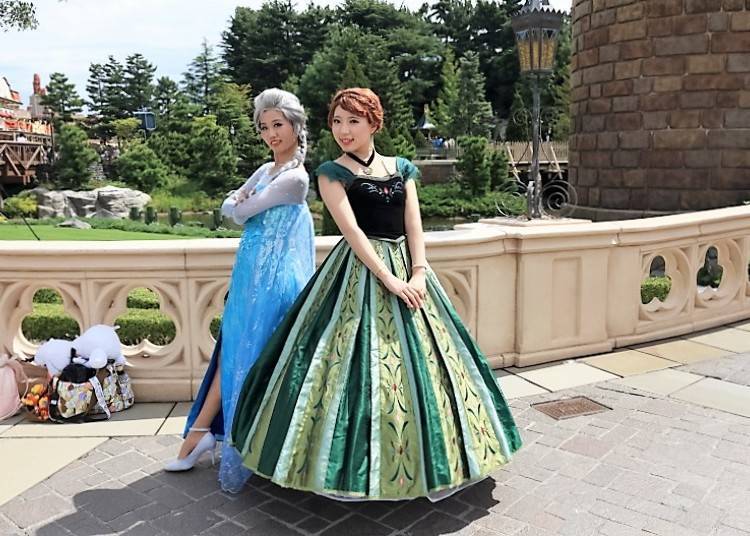 Here's Kazu from Chiba and Momi from Kanagawa, dressed up as Anna and Elsa from Frozen! When they first met each other, they immediately had a connection and started cosplaying together. It's the third year of Disney costumes for them. Their costumes are ready-made dresses from Secret Honey but their beautiful wigs are made by themselves. "For princesses, the bangs are important," they say, as well as telling us that "It was quite hard to make the wigs keep this shape." This year, they'll stay four days at Tokyo Disney Resort and Kazu plans to dress up as Snow White and Belle while Momi will transform into Sally from Nightmare before Christmas. Momi also loves Pooh's Hunny Hunt and she tells us that she already got to enjoy it today. "The Western River Railroad is also fun because the costumes don't get in the way."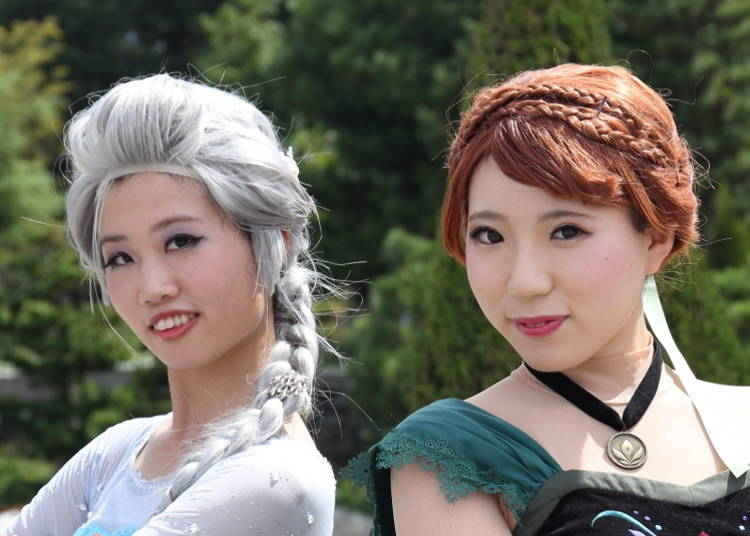 Hairpins and wax keep the wigs stylings in shape!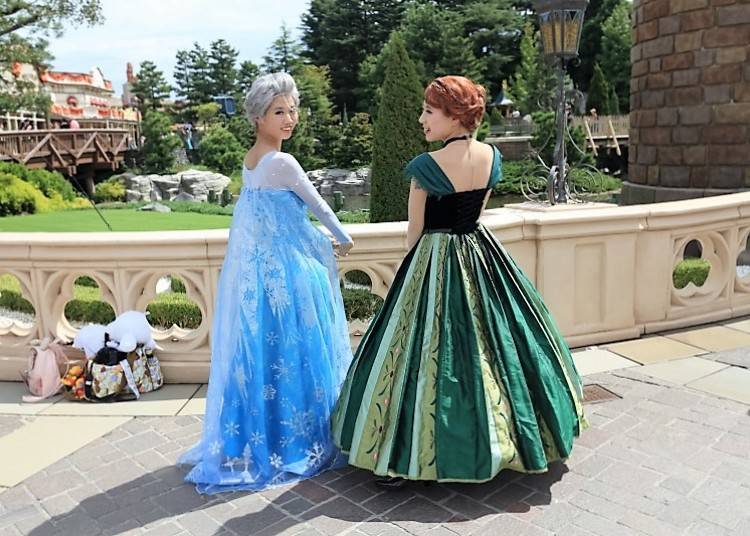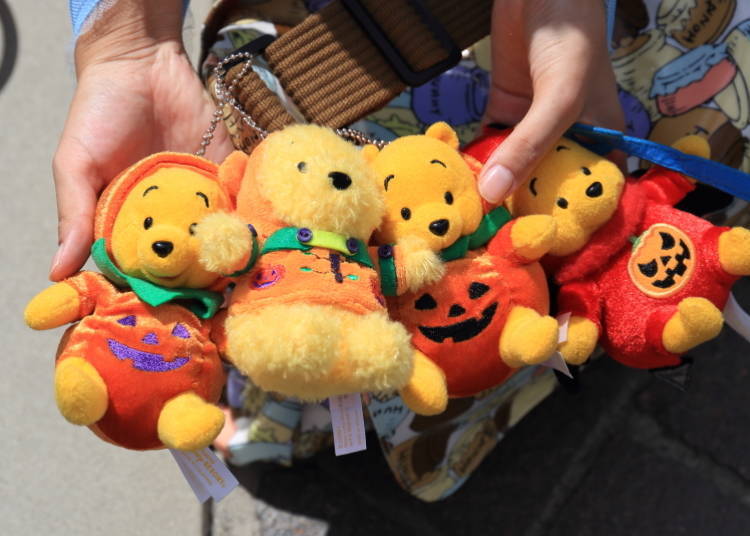 The limited Pooh plushies of this year's Halloween event.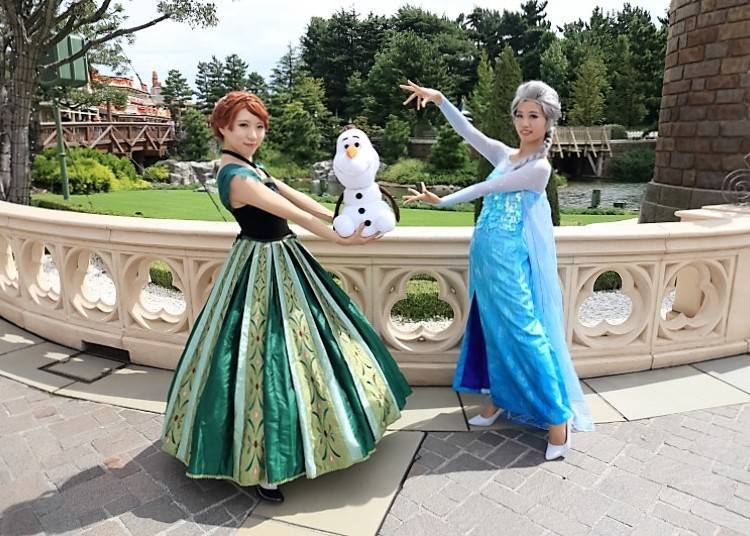 Of course, Olaf is here as well.
Mizuki, a Disney Cosplay Veteran of 5 Years Also Likes to Visit Parks Outside of Japan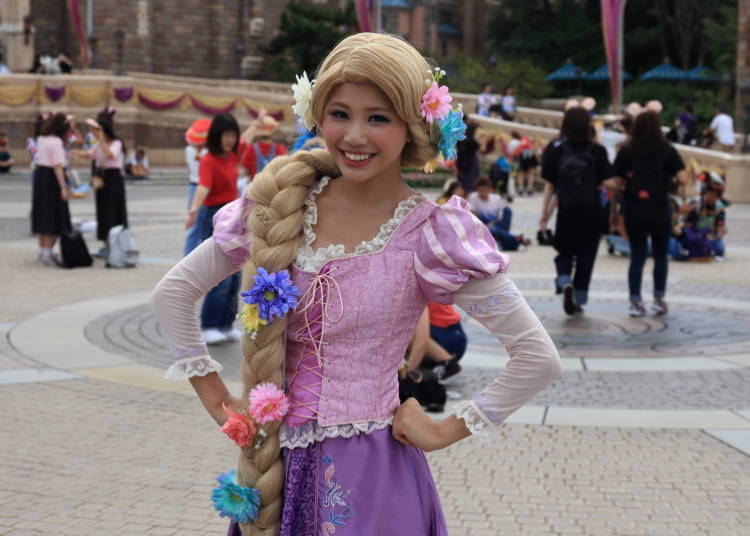 Mizuki from Kanagawa Prefecture is here to do Disney cosplays for the fifth year. She likes cosplaying as much as she likes traveling abroad to Hong Kong and other places, and according to her, she has over 20 cosplay outfits. "Rapunzel is my favorite," she says, which is why she donned it for the first day of her stay. She got the costume from Secret Honey, but the wig is her own creation. She used a number of wigs to create the volume and length of the hair and the decorative flowers are also added by hand.
Her favorite ride is Star Tours: The Adventures Continue, a ride with little waiting, but today, Mizuki tells us that she isn't going on any rides but simply plans on enjoying her costume. Tomorrow, she'll visit Tokyo DisneySea as Anna!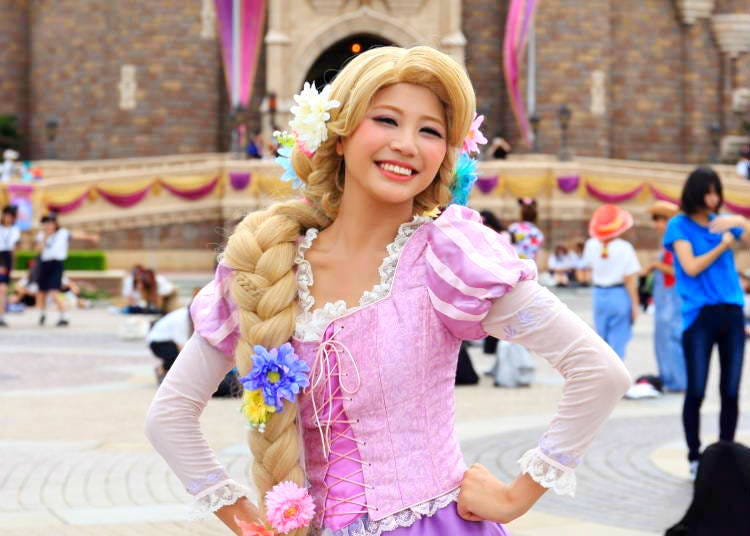 "I like Rapunzel's tomboyish side that isn't princess-like at all!"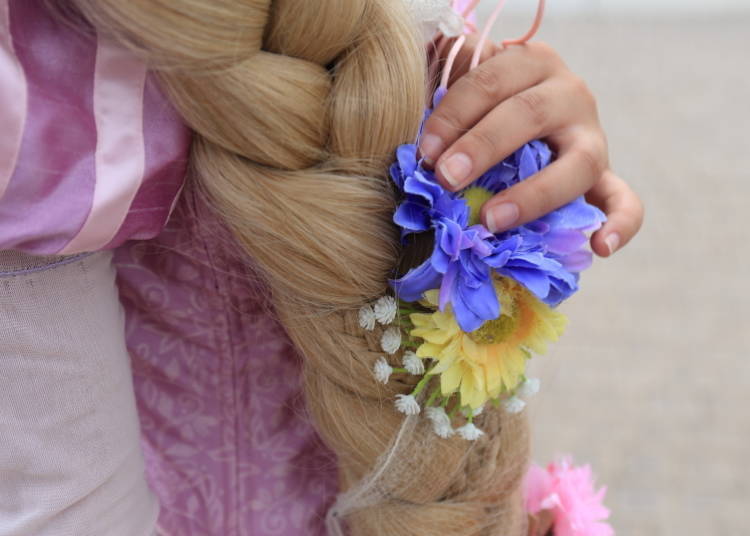 The flowers are from Daiso.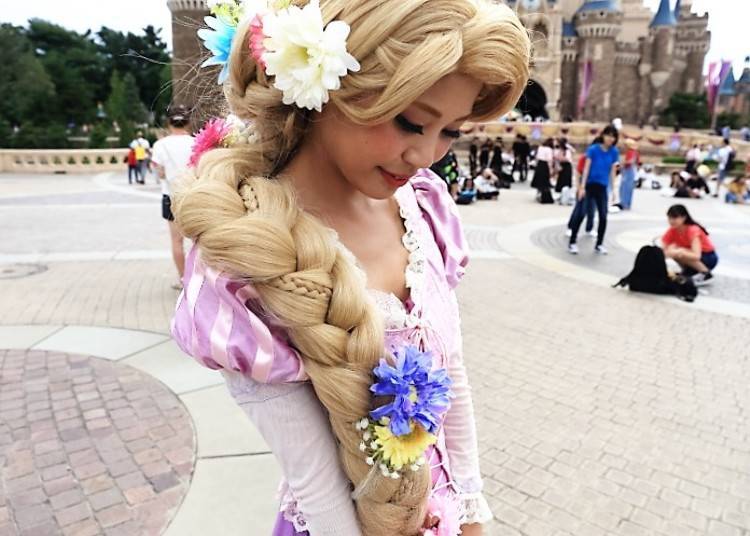 Making her wig this voluminous wasn't easy at all.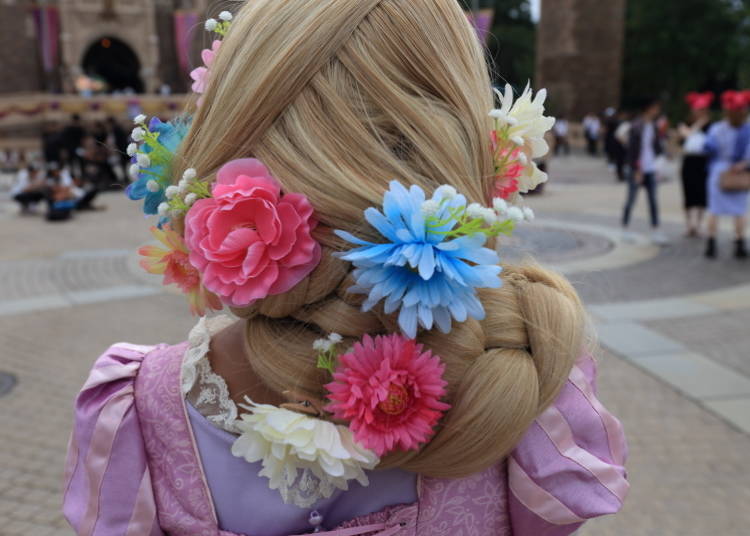 Even from behind, the hairdo looks stunning.
Tina from Hong Kong Visits Friends in Japan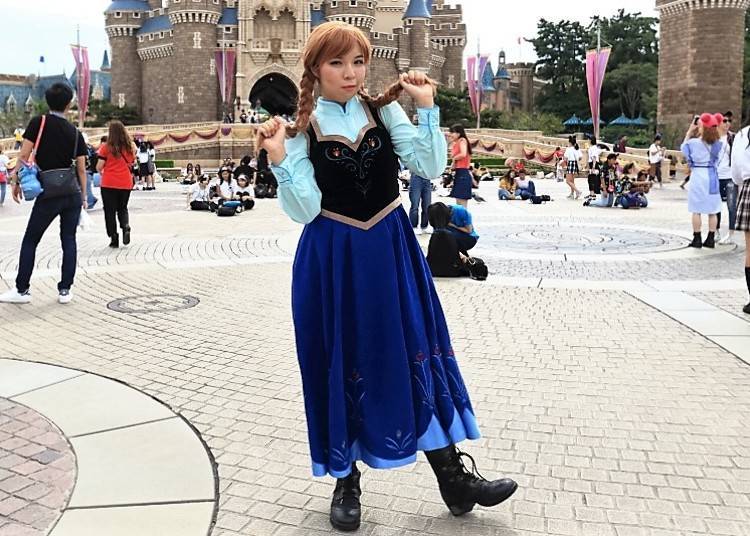 It's the first time for Tina from Hong Kong to cosplay at Disney Resort Tokyo. The office worker enjoys anime cosplay as a hobby, but a Japanese friend who she met in Hong Kong persuaded her to come to Japan and visit the park while dressed up for the first time. The dress is from Secret Honey, the wig is made by her. She'll stay and cosplay for three days. "I won't be riding any attractions today and only take pictures. I'm surprised by the high quality of Japanese costumes!" Her favorite character is Nick from Zootopia because he is "nice and cool." Tina also plans to get the Ghost Bride Headband as a souvenir!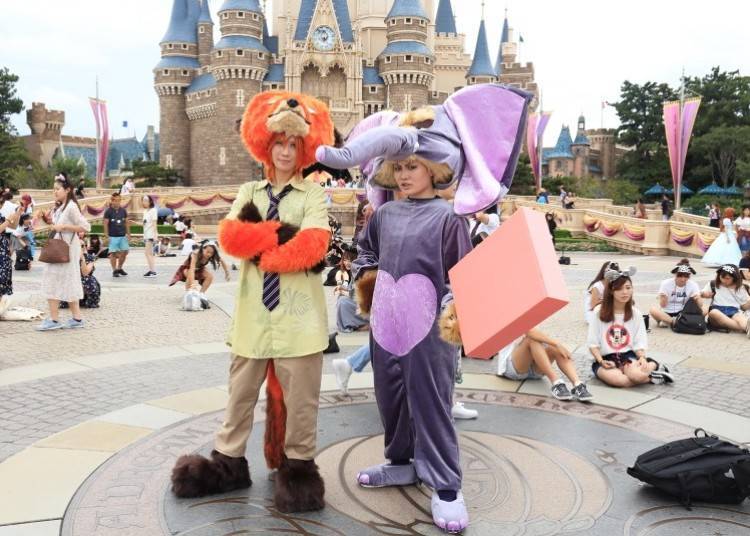 "The wig is made by me. I am really getting into Disney cosplay!"
Everything Hand-Made: Sugachi and Itto in Zootopia Costumes!
Sugachi and Itto from Funabashi are getting quite a lot of attention, even compared to other cosplayers! They've been doing Disney costumes for eight years, owning countless costumes. Sugachi is dressed up as Finnick from the movie Zootopia – Finnick wearing his iconic elephant suit, to be precise. Every part of the costume is hand-made and it took her about two to three weeks. "Making the head shape was the hardest," she says.
Itto, dressed up as Nick from the same movie, also made the head herself. It took her about two weeks to make it, while the clothes are store-bought and carefully chosen to match the original. They both like "wild beasts" and met each other while participating in a "wild beast"-themed Disney dress-up.
Today, they're not going to ride any attractions because "We'd bother other park guests." However, they plan on buying some ice candy to reproduce a scene from the movie!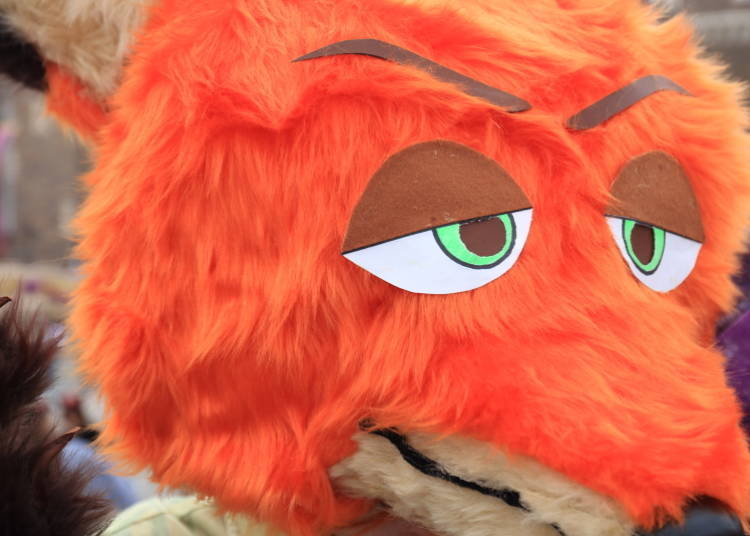 They paid great attention to the characters' expressions.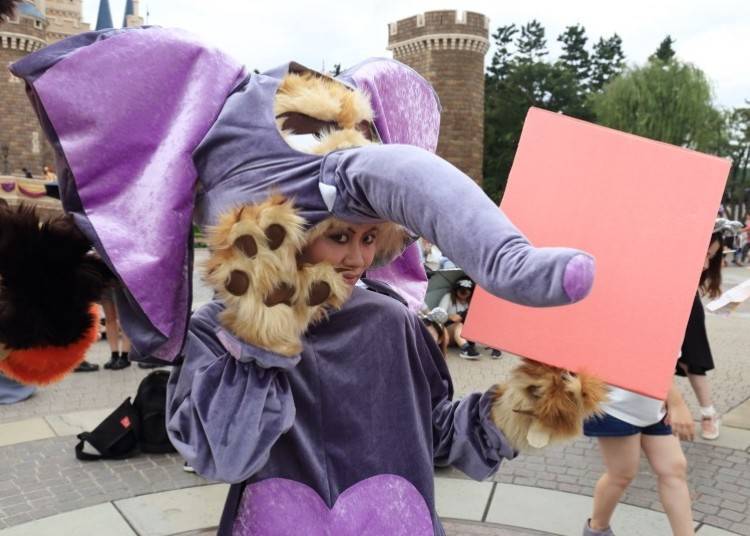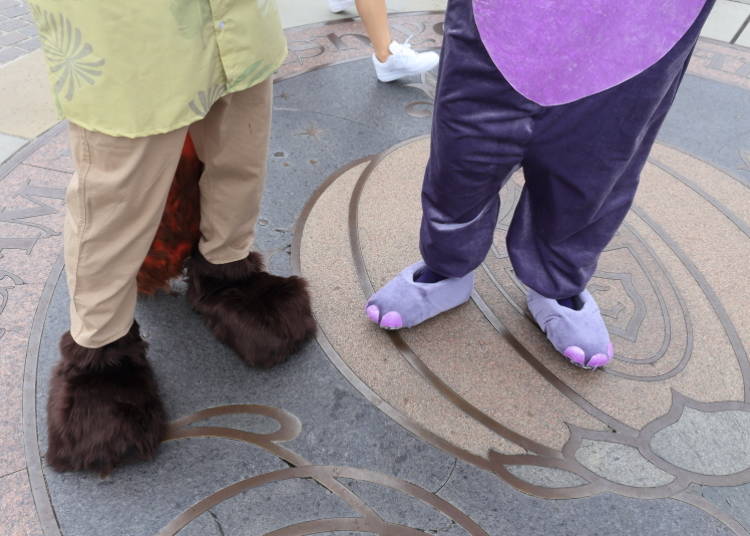 Even the feet are properly crafted!
The large tail is Nick's characteristic.
Spooky Gourmet Adventures: Limited Halloween Snacks and Sweets!
1) Tokyo Disneyland: the Special Set at Huey, Dewey and Louie's Good Time Café (990 yen)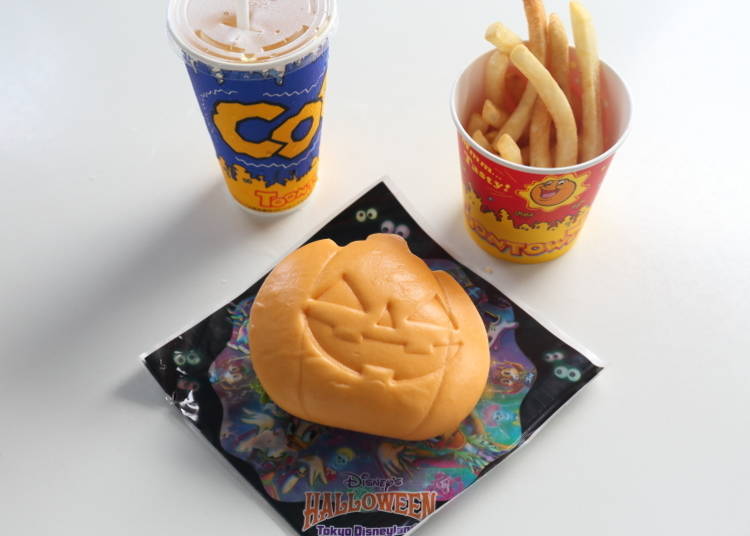 The Disney Halloween event also features plenty of spooky snacks, sweets, and drinks boasting seasonal motifs such as ghosts, pumpkins, and various villains. The "pumpkin shape scallop cream croquette pao" is a steamed-bun sandwich that's quite fun to look at with its bright orange pumpkin color. The scallop cream croquette is nice and crispy on the outside while the mellow core harbors a rich scallop flavor. The croquette, purple cabbage, and sandwich buns go great with the Southern Island dressing and this snack is also available in a set with a drink and French fries.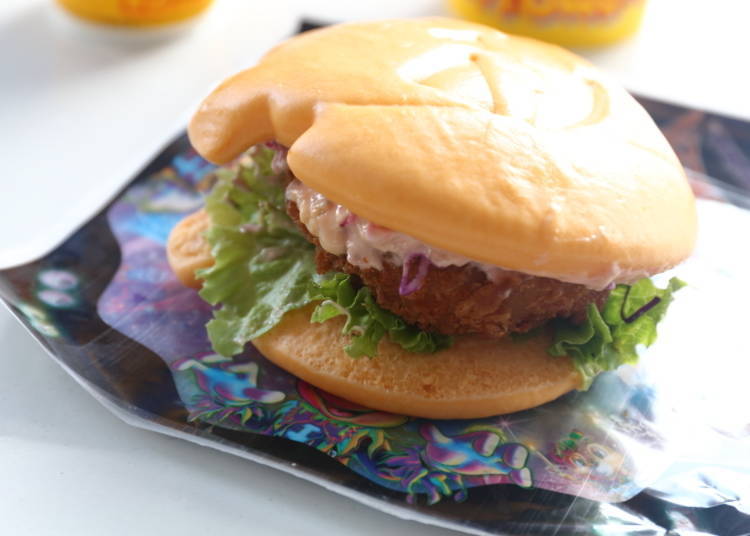 Location: Huey, Dewey and Louie's Good Time Café
2) Tokyo Disneyland: the Special Set at Sweetheart Café (1,050 yen) and more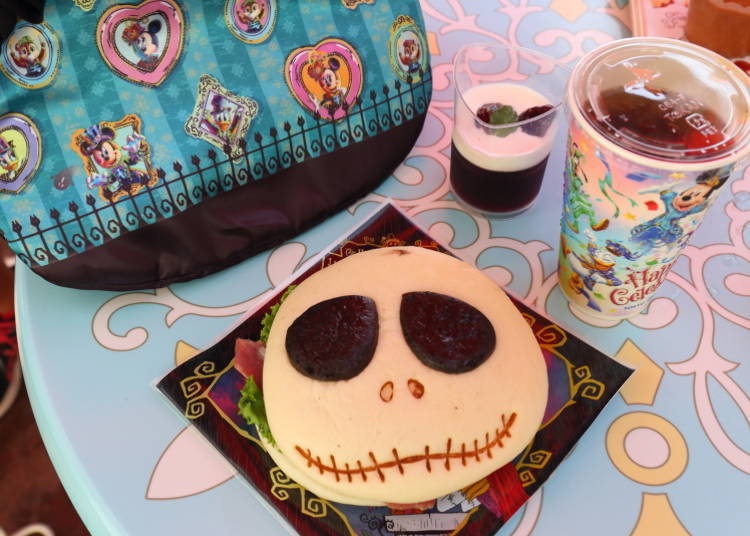 Pastrami, egg, and sliced cheese are sandwiched by buns that look just like Jack Skellington. The pastrami is enhanced with pepper and if you order this sandwich in a set of grape jelly and a drink plus 1,000 yen extra, you'll get an exclusive Halloween souvenir lunch box!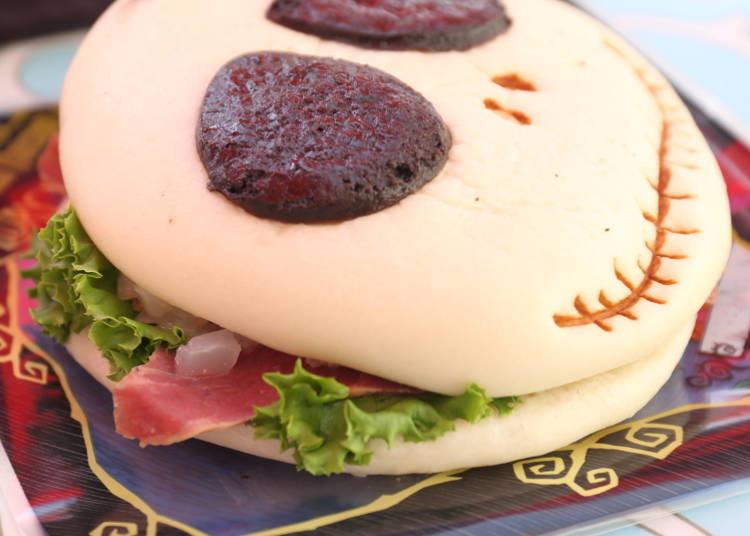 ©Disney Tim Burton's "The Nightmare Before Christmas"
・Pumpkin pudding with souvenir cup (780 yen)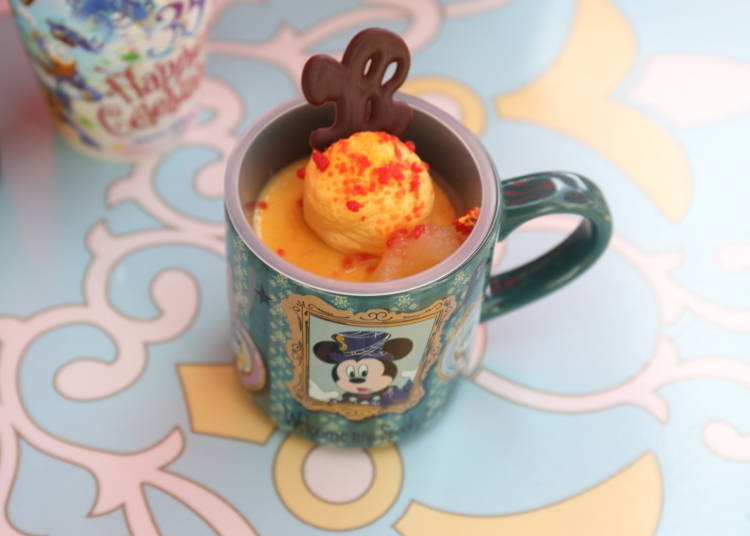 Orange-colored applesauce and raspberry top this pumpkin pudding. The rich flavors of apple and pumpkin will spread throughout your entire mouth! It comes with a Halloween-exclusive souvenir cup that features Mickey in a Halloween costume.

・Almond caramel muffin with souvenir plate (780 yen)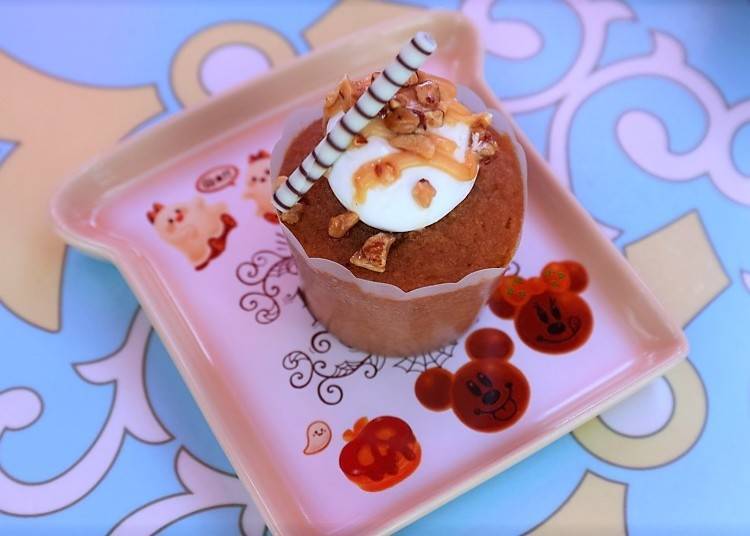 A flavorful muffin with an almond caramel sauce and a wonderfully rich flavor. It features a bread-shaped souvenir plate with motifs of Mickey and Minnie as bread and little bats.

・Custard cake (azuki & strawberry) with souvenir case (1,000 yen)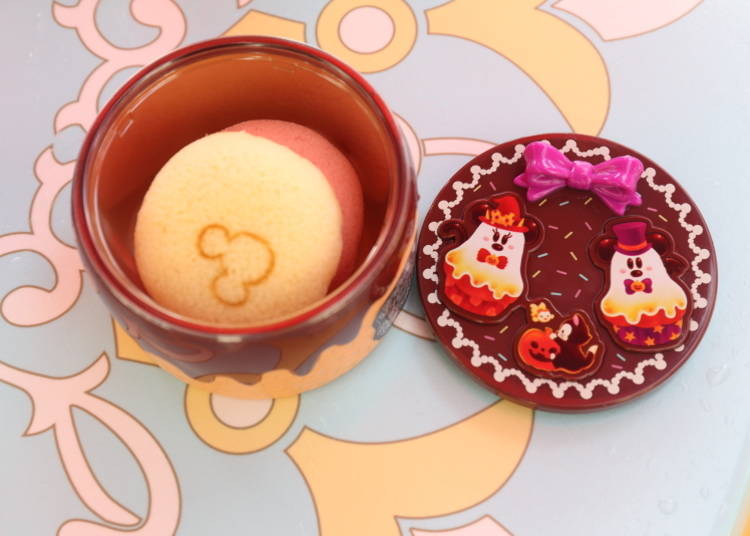 Two custard cakes, one is red and the other one is white, feature little images of Mickey and Minnie. The red cake is custard cream and strawberry, the white cake is custard cream and azuki beans. The little plastic souvenir case is great for safekeeping small accessories!

Location: Sweetheart Café
3) Tokyo DisneySea: the Special Set at Café Portofino (1,880 yen)
This set features an assortment of appetizers made up of shrimp, mussels, and octopus, as well as a meatball designed to look like a poisoned apple. It's a dish filled with the fresh tastes of seafood! The pasta dish was inspired by Cruella de Vil from 101 Dalmatians, including black and white pasta in a white sauce with red paprika. The pancetta and potatoes in the dish mix nicely with the creamy sauce. Look forward to a dessert of chocolate mousse cake created in the image of Sleeping Beauty's Maleficent. Its moist texture melts right on your tongue! It comes with a soft drink and the pasta can be changed to Salsa Pomodoro (tomato sauce). For an extra 600 yen, you'll get a limited souvenir placemat for an extra 600 yen!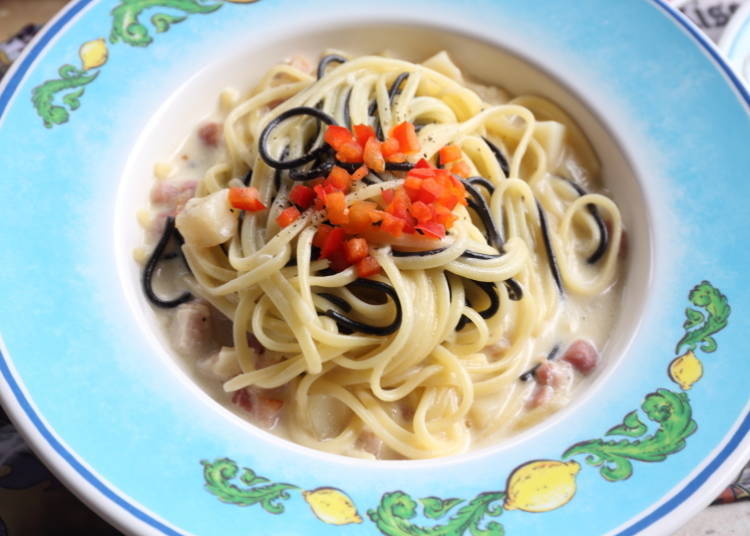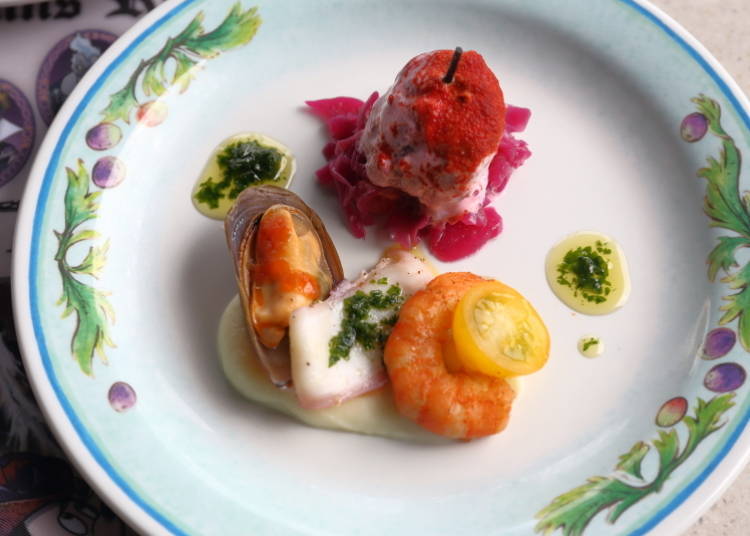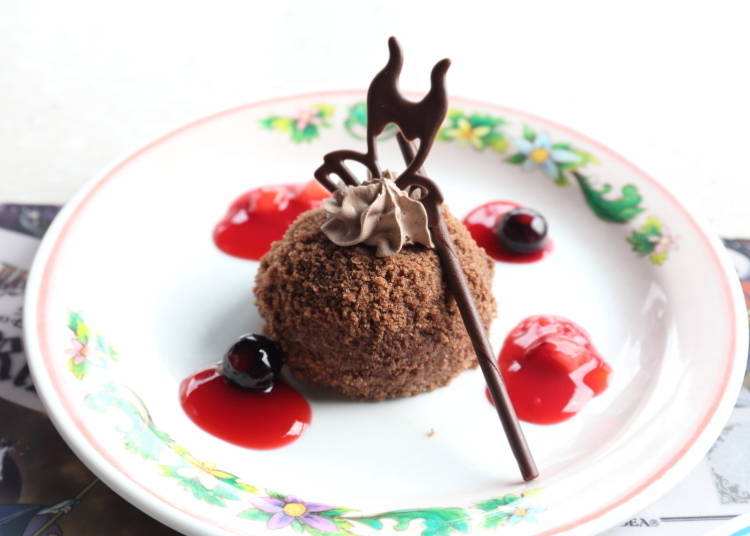 Location: Café Portofino
4) Tokyo DisneySea: the Pumpkin Pudding with Souvenir Cup (780 yen) and more at Mamma Biscotti's Bakery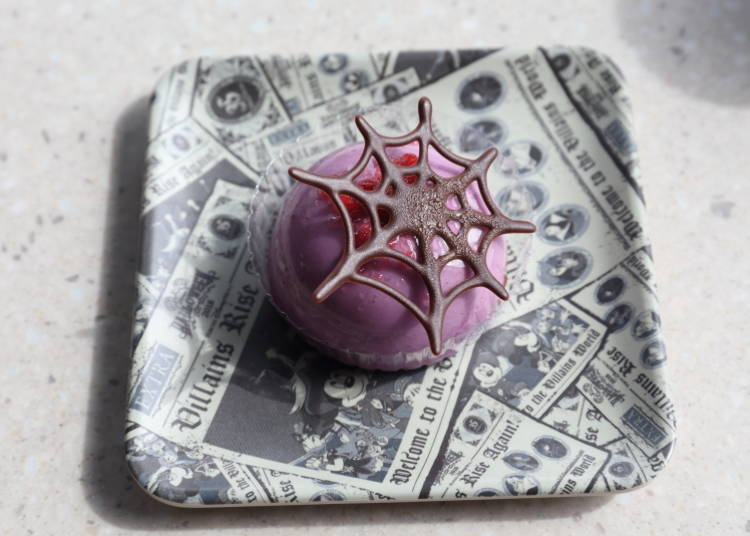 Accentuated with red sauce and orange cream, this pumpkin pudding also features marshmallows and a chocolate bat as decorations. It's a rich autumn dessert with a nice pumpkin aroma. Mickey wearing a Halloween costume adorns the souvenir cup.

・Purple yam mousse cake with souvenir plate (780 yen)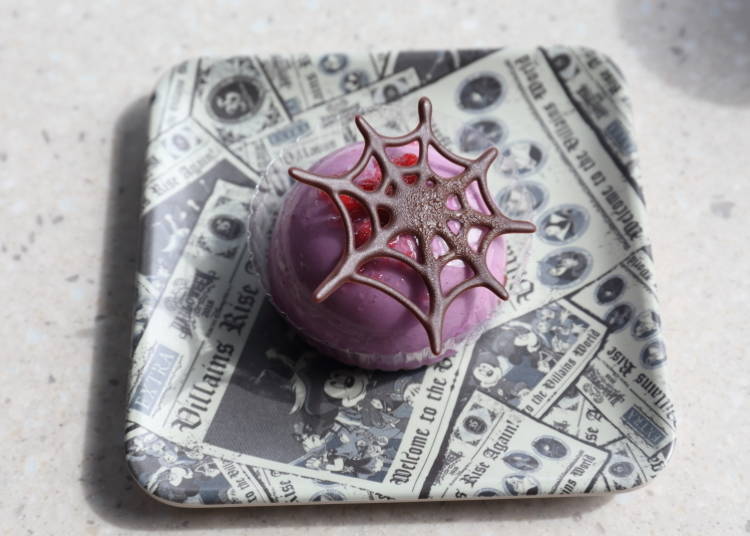 The purple yam mousse is topped with a chocolatey spiderweb and raspberry flakes. It's heavenly sweet and moist, melting right on your tongue! The square-shaped souvenir plate features Mickey in a Halloween costume, great to keep small things or serve little dishes on.

・Custard cake (azuki & strawberry) with souvenir case (1,000 yen)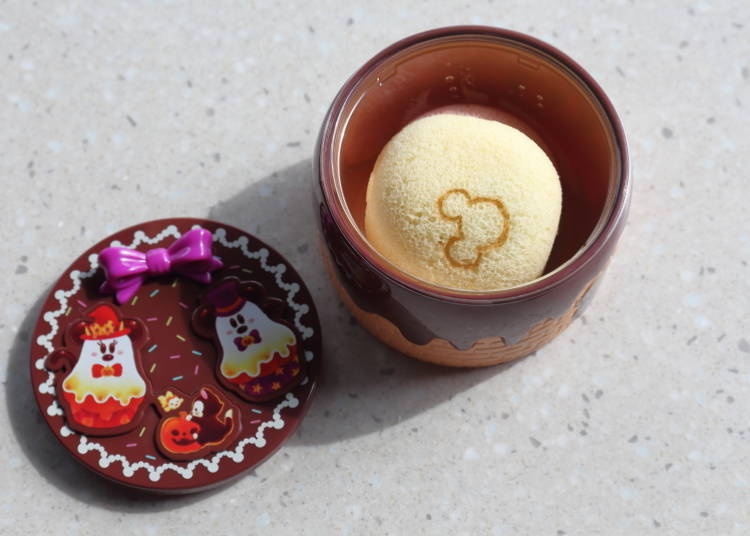 The red custard cake contains red strawberry jam while the white one is made with azuki bean paste cream. The adorable prints of Mickey and Minnie fancy them up further. This dessert comes with a plastic souvenir case.

Location: Mamma Biscotti's Bakery
5) Tokyo DisneySea: the Special Set of Casbah Food Court (1,580 yen)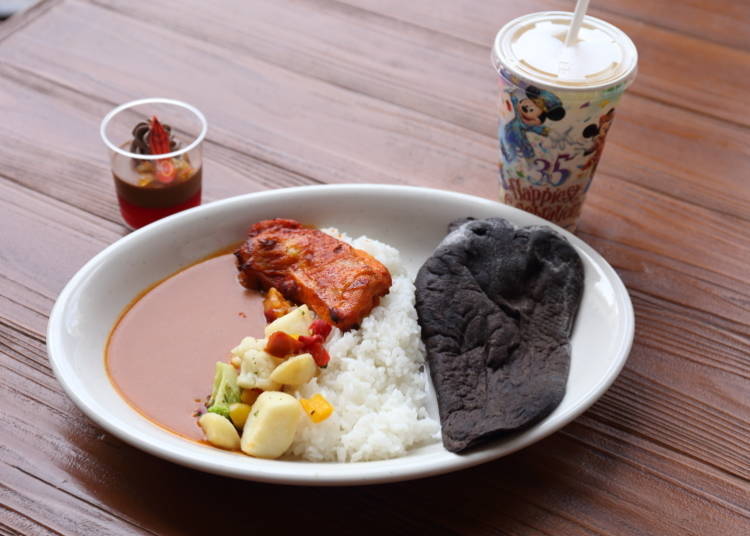 This special curry set is created in the image of Aladdin's Jafar. If you stir the medium spicy curry roux, you'll mix it with the beet sauce underneath and its color turns to red! The black naan bread is colored with cocoa and goes great with the spicy tandoori chicken and vegetable toppings.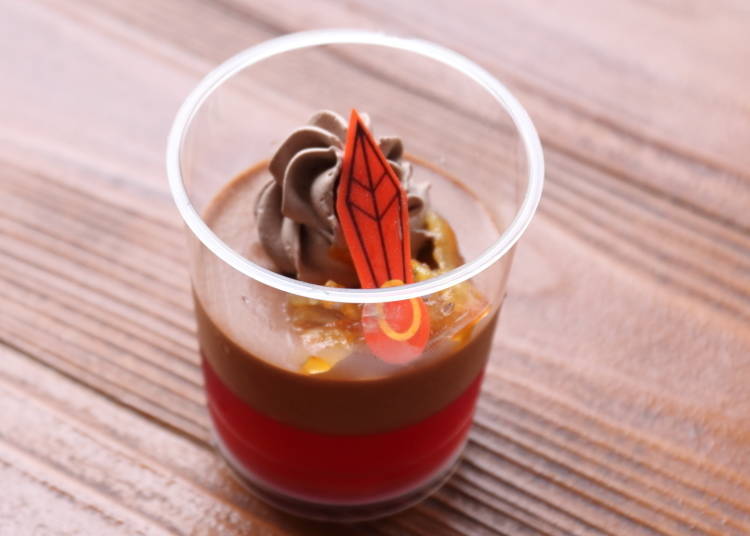 Chocolate mousse cup dessert

Location: Casbah Food Court
New at Tokyo Disneyland! The Ghastly Spooky "Boo!" Parade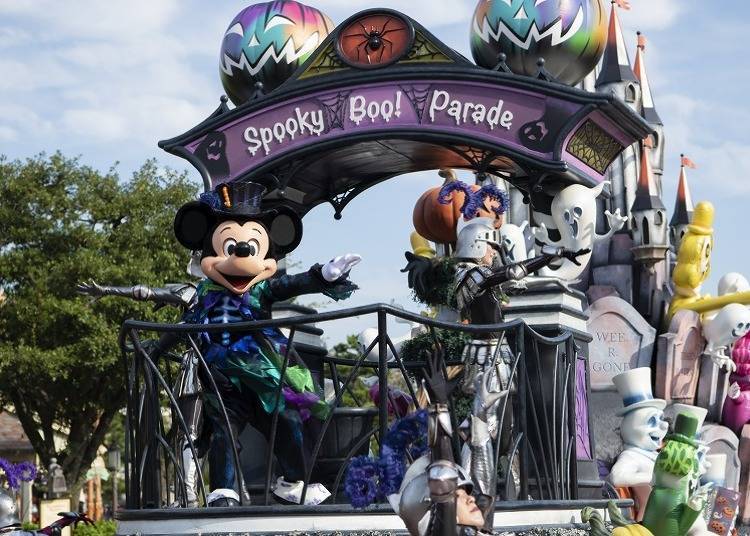 The Spooky "Boo!" Parade is Tokyo Disneyland's first parade that features floats designed around the theme of "ghost version of Tokyo Disneyland," featuring Mickey and his friends. Every character who joins the parade got their own ghastly outfit and the many ghosts welcoming you to the park will send a pleasant shiver down your spine!

Venue: Parade route
Duration: about 40 minutes (twice a day)
Number of performers: about 95
Number of floats: 6
Event period: September 11 – October 31, 2018
Nostalgic Songs Galore at Tokyo Disneyland! Enjoy the Halloween Version of the "Celebration Street"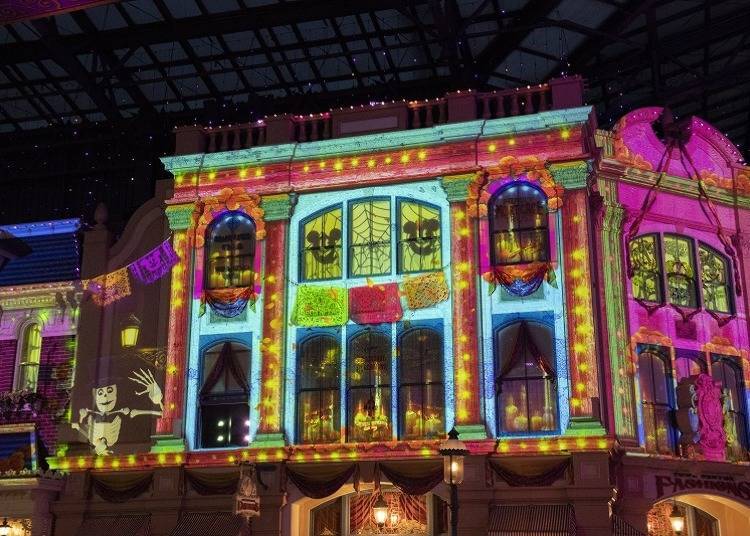 The World Bazaar's Main Street will also host a special Halloween event during the night. In accordance with the 35-year celebration of the park, the street will be filled with all representative Halloween songs that came out up until now. Skeletons, pumpkins, ghosts, and various Disney villains will populate the area via gorgeous projection mapping, engulfing the entire street in an exciting atmosphere.

Venue: Celebration Street
Tokyo DisneySea Goes Gorgeous and Mysterious! "The Villains' World" Excites Us This Year as Well!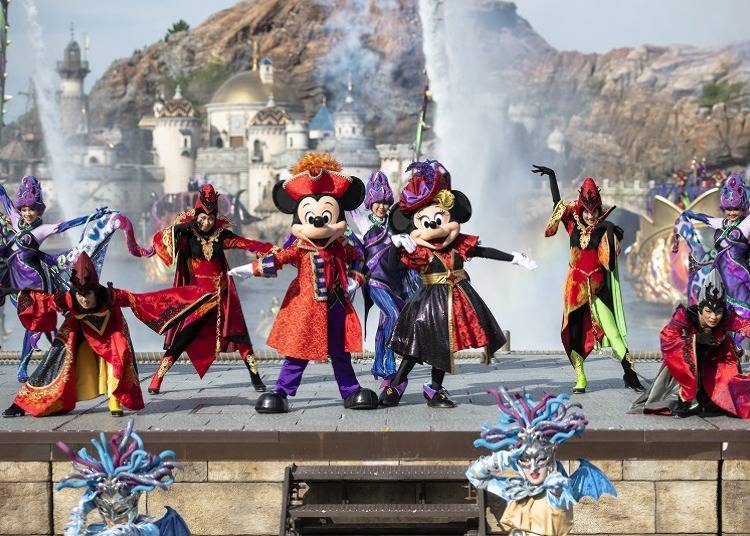 Get ready for a thrilling part thrown by Disney's most notorious: the villains! The other characters are, of course, invited and show up in outfits designed after their iconic counterparts. The villains themselves will entice their guests with a spectacular show that underlines their own strengths – beauty, elegance, magic, and so forth! One particular highlight is The Little Mermaid's Ursula singing in Ariel's voice, causing the water to splash high into the sky! Of course, the grand finale is dominated by the one and only Maleficent. Do you dare to attend?

Venue: Mediterranean Harbor
Duration: about 25 minutes (twice a day)
Number of performers: about 120
Number of ships: 5
Event period: September 11 – October 31
Become a Villain Yourself at Tokyo DisneySea! The "Villains Halloween Party"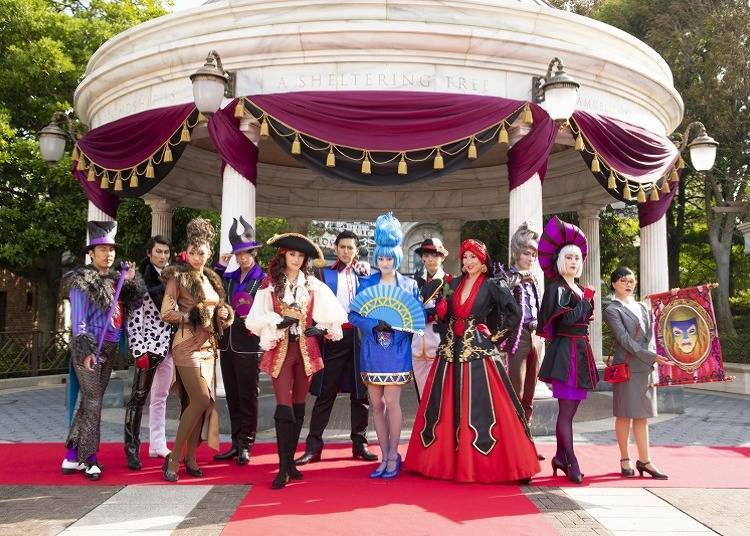 This year, Disney's villains are stronger than ever and have transformed into rather stunning humans – you'll find them throughout the Waterfront Park, trying to recruit the park's guests as friends (underlings?) by showcasing their many charms. Don't miss this chance of meeting Disney's most notorious!

Location: Waterfront Park
Event period: September 11 – October 31
Notes about the Disney Dress-Up
Disney Dress-Up
1) The costume needs to be that of a Disney character.
2) No excessive makeup or dangerous items allowed.
3) Highly revealing outfits or tight full-body suits are not allowed.
Please see the official website for details:
https://www.tokyodisneyresort.jp/treasure/fantasy/halloween2018/dressup/rule_en.html

Notes
*Products and food may be out of stock. The price, contents, etc. are subject to change.
*The entertainment programs may be changed, canceled, or the number of performances may change depending on circumstances such as weather.
Address

1-1, Maihama, Urayasu-shi, Chiba, 279-0031
View Map

Nearest Station

Maihama Station (JR Keiyo Line)
4 minutes on foot


Phone Number

0570-00-8632
Address

1-1, Maihama, Urayasu-shi, Chiba, 279-0031
View Map

Nearest Station

Maihama Station (JR Keiyo Line)
13 minutes on foot


Phone Number

0570-00-8632

*This information is from the time of this article's publication.
*Prices and options mentioned are subject to change.
*Unless stated otherwise, all prices include tax.
Recommended places for first-time visitors to Tokyo