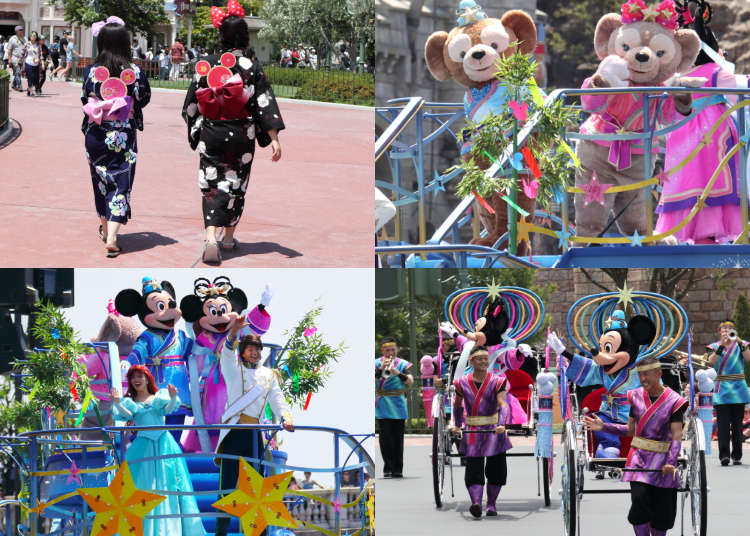 June and July a special Tanabata themed event called Disney Tanabata Days. Tokyo Disney Resort holds many exciting events throughout the year. Tanabata is an annual holiday based on a Chinese legend of two star-crossed lovers, Princess Orihime and Hikoboshi, who were separated by the Milky Way and only able to meet once a year on July 7th. During this event you can find greeting cards and special menus related to this story unique to the Tanabata Disney Resort Event.
TDL: "Tanabata Greetings" Hikoboshi and Orihime Parade!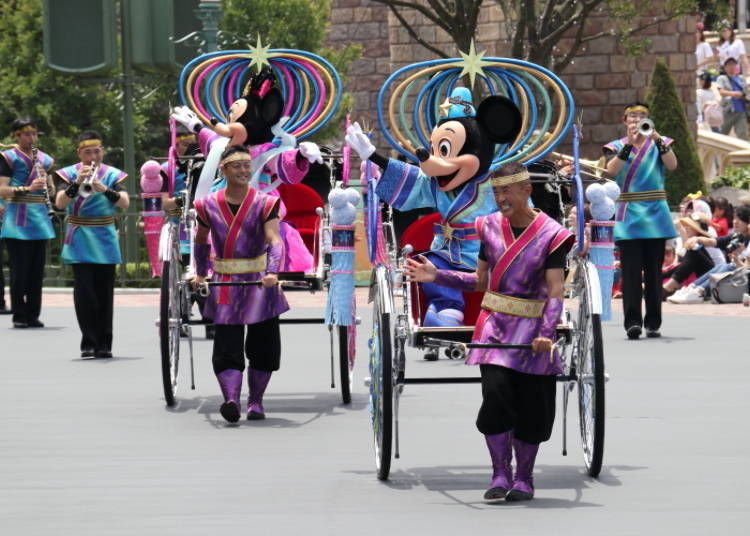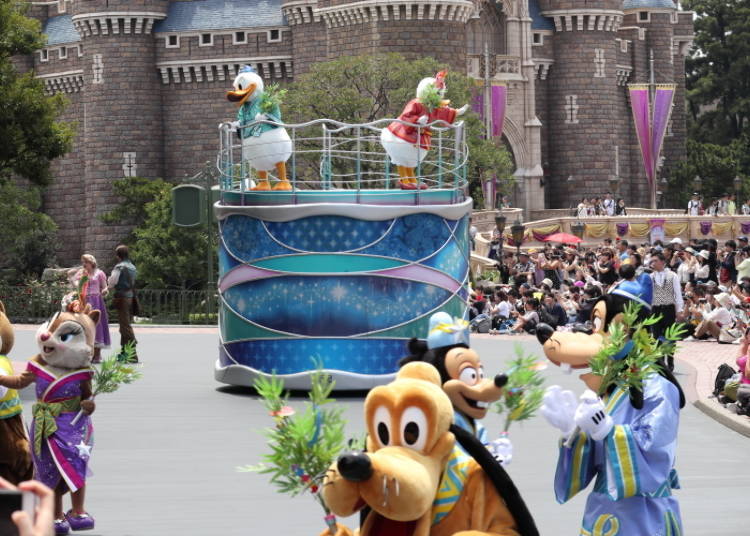 Mickey and Minnie Mouse appear in full costume replicating the imagined dress-up of Hikoboshi and Orihime, pulled around in a rickshaw as they greet us with a popular Tanabata song, "Tanabata-san." Mickey wears the blue costume of Hikoboshi, while Minnie dons Orihime's lovely pink dress. Joining them in the festivities are a total of 32 of their friends, including Donald and Daisy Duck. In their hands they hold a bamboo stick, also called Tanabata.

■Event Location
Parade Route
■Frequency
2 times daily
■Length
Approx 25 min
TDL/ Wishes Do Come True! Make a Wish at the Wishing Place!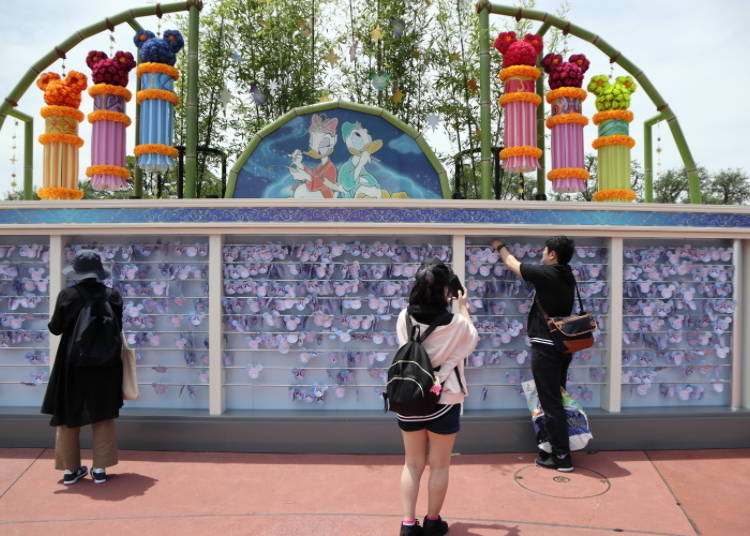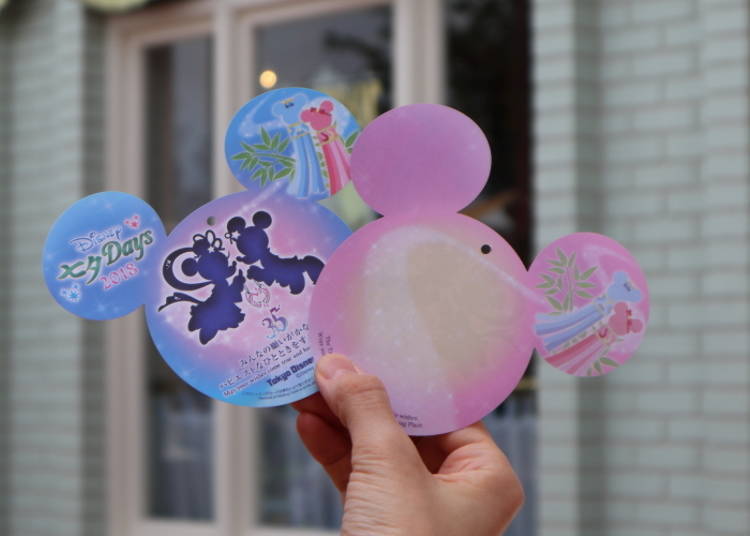 Guests can visit the park in yukata!
There are two Wishing Places on the Plaza Terrace overlooking Cinderella Castle, one with Mickey and Minnie, another with Daisy and Donald Duck. It is named after the Tanabata custom of hanging "wishing strips" on bamboo leaves, and is decorated with Mickey shaped windsocks and bamboo, true to the unique atmosphere of Tanabata. Write your deepest desires on the wishing cards around the Wishing Place, and watch your dreams come true!
TDL/ Limited Time Only Tanabata Menu!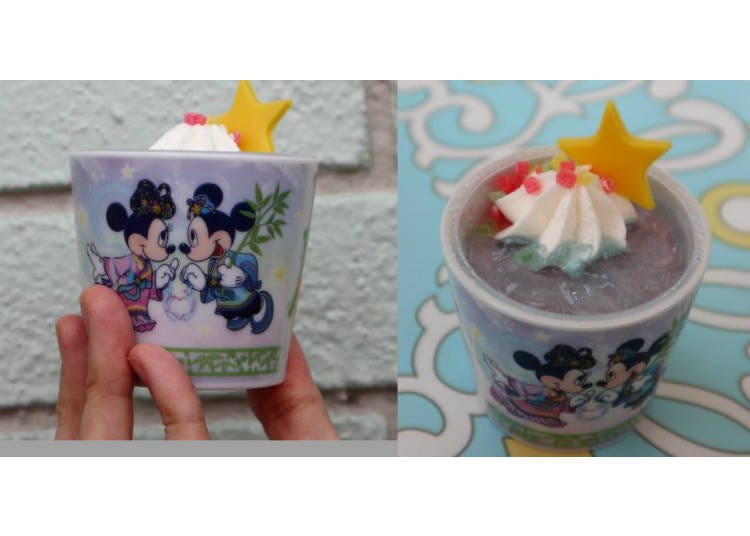 Strawberry Mousse with Souvenir Cup, ¥680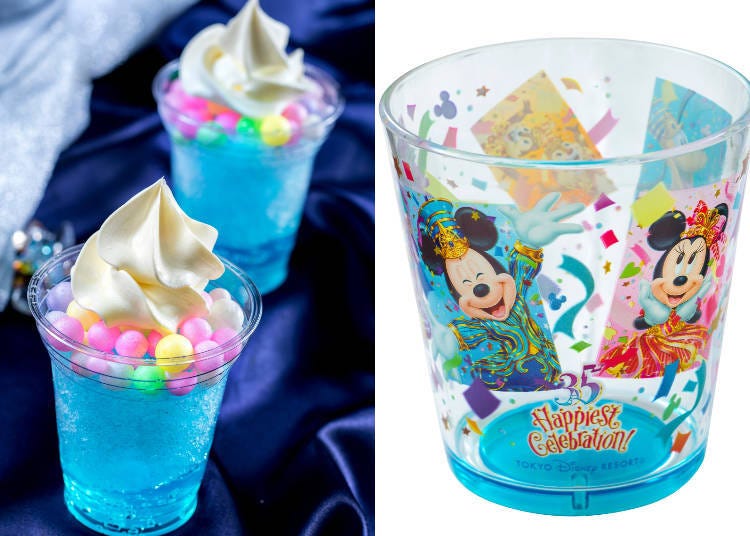 Blue Jelly Shaved Ice ¥500 (left), With Souvenir Cup, ¥860 (right)
In establishments such as the Sweetheart Cafe you can get a Souvenir Cup for ¥680 with Mickey and Minnie dressed as Hikoboshi and Orihime. With strawberry scented mousse topped with blue jelly, and star-shaped chocolate decorating the whipped cream, it truly looks like a star floating in the night sky. Mickey and Minnie and Hikoboshi and Orihime on the souvenir cup are also pretty cute.

Another recommendation is the Blue Jelly Shaved Ice, featuring the crisp, refreshing taste of blueberries.

■Strawberry Mousse Souvenir Cup available at: Sweetheart Cafe, Hungry Bear Restaurant, Grandma Sara's Kitchen, Captain Hook's Galley, and Pan Galactic Pizza Port
■Blue Jelly Shaved Ice available at: Rackety's Raccoon Saloon
TDS: Tanabata Greetings from the Tanabata Ship!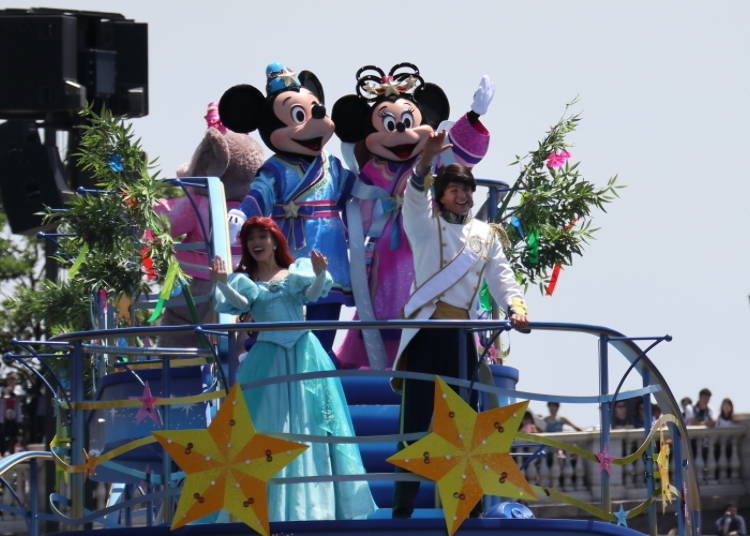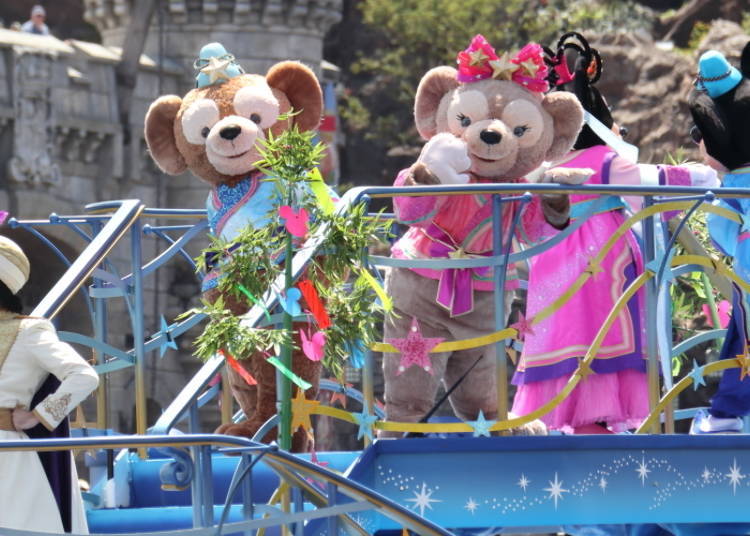 Watch 8 of our friends cruise the Mediterranean Harbor on a Tanabata star and bamboo decorated ship at Tokyo Disney Sea! Joining Hikoboshi Mickey and Orihime Minnie are Duffy and Sherry Mae, Aladdin and Jasmine, and Ariel and Eric, singing our favorite Tanabata songs and making our wishes come true.

Mediterranean Harbor
Twice Daily
About 12 Min
TDS/TDS: Wishing Places on Both Sides of the Pier!
There is also a Wishing Place on the New York side of the American Waterfront, decorated with more bamboo and Mickey-shaped windsocks. The fancy and colorful decorations make for a great photo shooting spot! Grab a wishing card from one of the cast members, and make your wish come true!
TDS: Special Night Sky Cocktail Menu for Adults!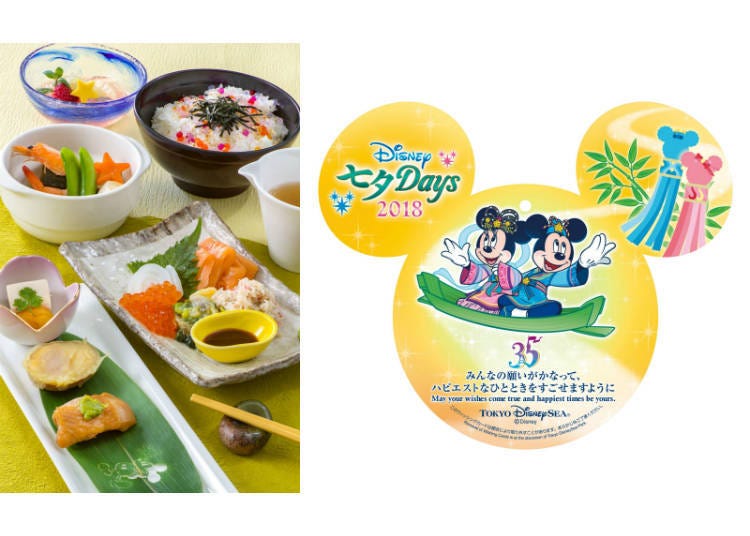 Restaurant Sakura Special Set - ¥2880 (left), and Limited Menu Wish Card (right)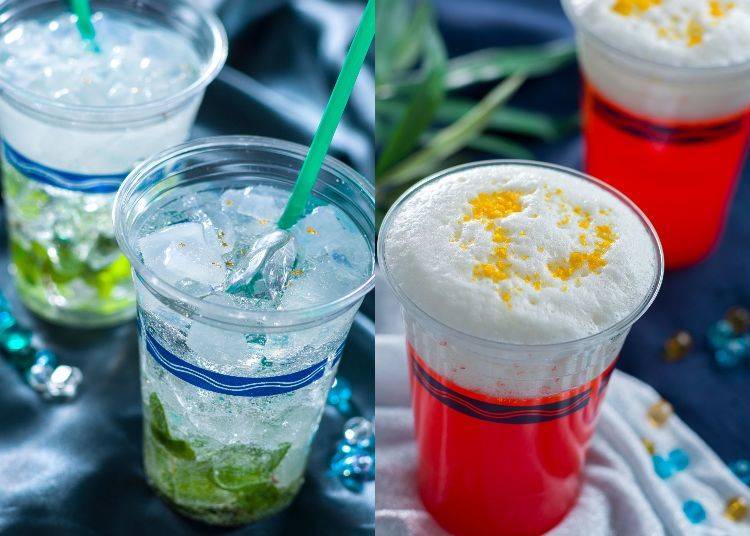 Refrescos Mojito, ¥680 (left), Nautilus Galley's Blood Orange and Grapefruit Beer Cocktail, ¥680 (right)
Enjoy an original limited time Tanabata Menu at Tokyo Disney Sea. Restaurant Sakura offers a gorgeous meal set arranged with plenty of colorful ingredients, or wind down with an adults-only Tanabata cocktail, such as a Refrescos Mojito, and the Nautilus Galley Blood Orange and Grapefruit Beer Cocktail.

■Special Set: Restaurant Sakura
■Mojito: Refrescos
■Blood Orange and Grapefruit Beer Cocktail: Nautilus Galley
TDL & TDS: Cute Tanabata Goods!
Plush Toy Set, ¥5200 (left), Plush Toy Badge, ¥1700 each (right)
You can find many Tanabata themed goods at both Tokyo Disney Land and Sea, decorated with romantic scenes, Hikoboshi Mickey and Orihime Minnie in their bamboo boat, and Tanabata windsocks. The stars on the plush toy badges also glow in the dark! Don't miss out on checking these limited time goodies!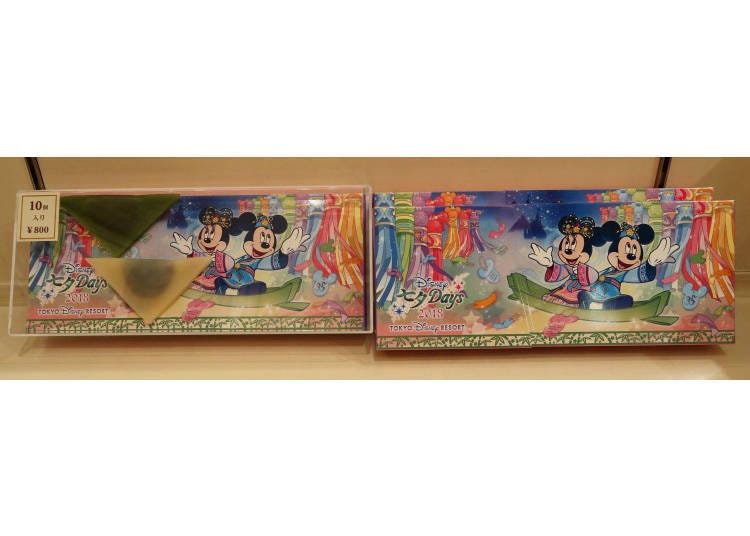 Warabimochi Sweets, ¥800
Sweet bean paste wrapped in soft mochi dough. Plain and matcha flavored. Recommended to eat after chilling in refrigerator.
Duffy and Sherry May Plush Badge, ¥1800 each
Cute Duffy and Sherry May plushies dressed as Hikoboshi and Orihime! (Limited to Tokyo Disney Sea)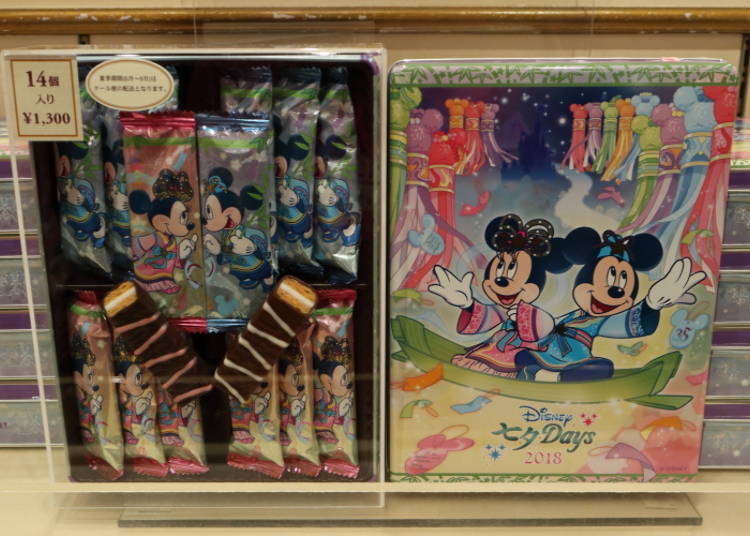 Tanabata Designed Chocolate Covered Millefeuille, ¥1300
The Mickey version is milk chocolate, and Minnie's is sweet chocolate. Enjoy two different varieties of sweet!

■Where to Buy: Tokyo Disney Resort Shops
Another Special Event?! Donald Duck's Special Birthday Program, "Donald's Happy Birthday to Me!"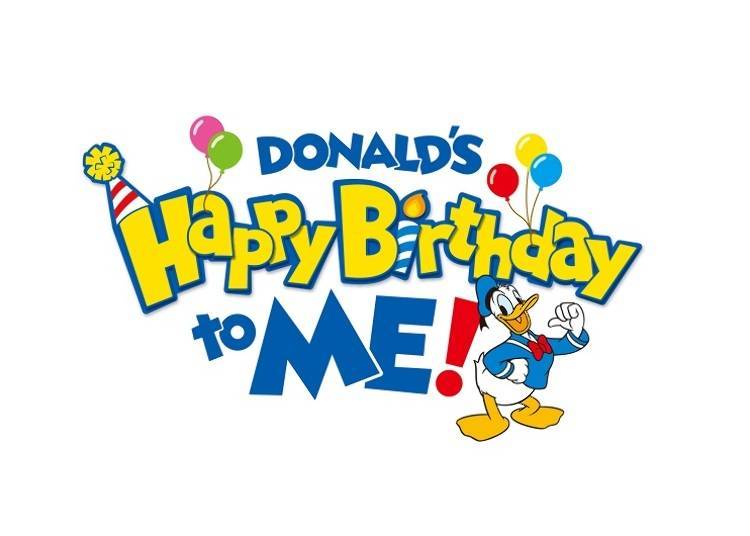 Another event held around the same time is Donald Duck's birthday event, being held for the first time from June 7 to July 7, to celebrate his June 9 birthday! Celebrate with Donald and see tons of fun birthday decorations around the attractions and restaurants, buy limited special goodies, and enjoy special menu items.
Celebrate with Donald! Fee-based Experience Program, "Join the Fun"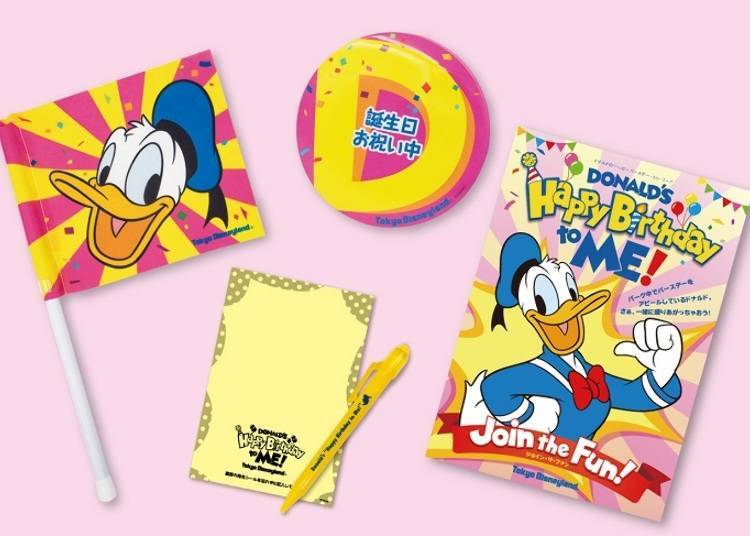 A fee-based experience program (¥1500) will also become available at Tokyo Disney Land and Sea. Join the Fun is a hands-on experience where you will search for Donald's posters, answer questions and quizzes, receive an original festive badge, and even a special message card and pen to write to Donald (in which you can receive a special thank-you card from Donald himself in response!) Both parks are designed a little differently for this event, so you can enjoy two different experiences at each. You can even watch special Donald Duck bonus videos!
Donald Duck Special Decorations, Menu Items, Goodies, and More!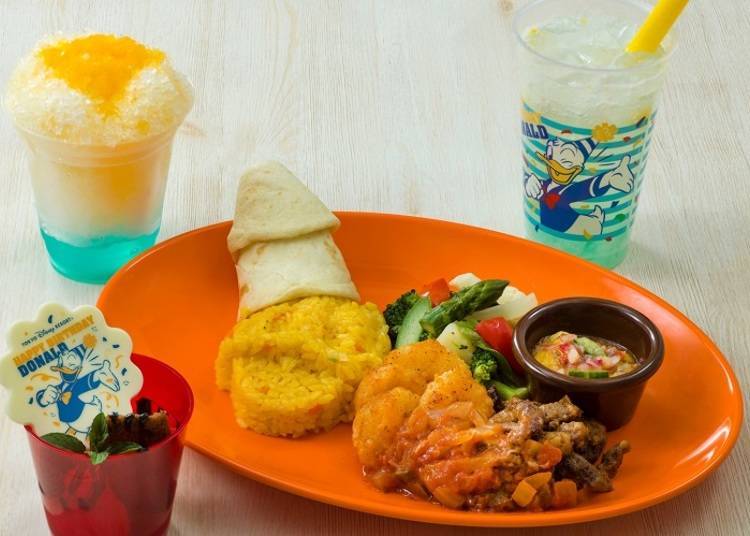 Tokyo Disney Sea, Miguel's El Dorado Cantina Special Menu - Beef Plate (medium) ¥1370
Tokyo Disneyland's Donald's Boat and Camp Woodchuck Kitchen, and Tokyo Disney Sea's Miguel's El Dorado Cantina are celebrating in full swing with tons of birthday decorations and excitement. Each restaurant also features a special menu with festive chocolate dishes.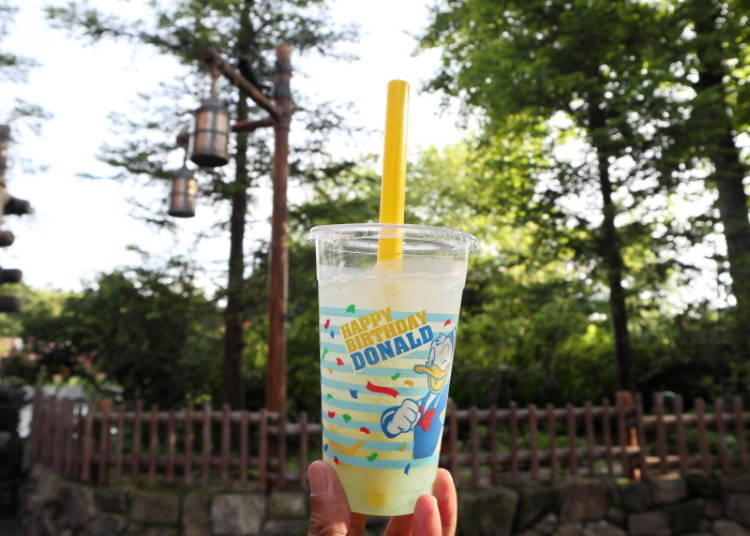 Donald Duck Cider (Sour White & Blue Jelly), ¥380
Refreshing cider drinks with a summery taste, and summery cup, too!

Tokyo Disney Land Camp Woodchuck Kitchen, Huey, Dewey and Louie's Good Time Cafe, and Tokyo Disney Sea's Miguel's El Dorado Cantina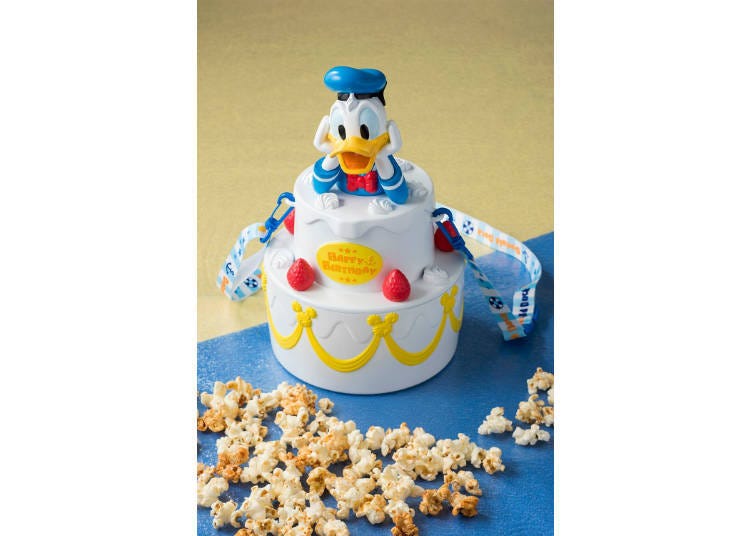 Popcorn with Bucket, ¥2,500
Don't forget to stop by the popcorn wagon for a special birthday decorated popcorn bucket, too!

In front of Café Orléans (popcorn wagon)
Via delle Viti (popcorn wagon)
Pop-A-Lot Popcorn

* Images are for illustration purpose only.
* Goods and menu items subject to change without notice. Limited availability.
* Business hours vary by establishment. Subject to closings due to weather and other causes.
Address

1-1, Maihama, Urayasu-shi, Chiba, 279-0031
View Map

Nearest Station

Maihama Station (JR Keiyo Line)
4 minutes on foot


Phone Number

0570-00-8632
Address

1-1, Maihama, Urayasu-shi, Chiba, 279-0031
View Map

Nearest Station

Maihama Station (JR Keiyo Line)
13 minutes on foot


Phone Number

0570-00-8632
*This information is from the time of this article's publication.
*Prices and options mentioned are subject to change.
*Unless stated otherwise, all prices include tax.