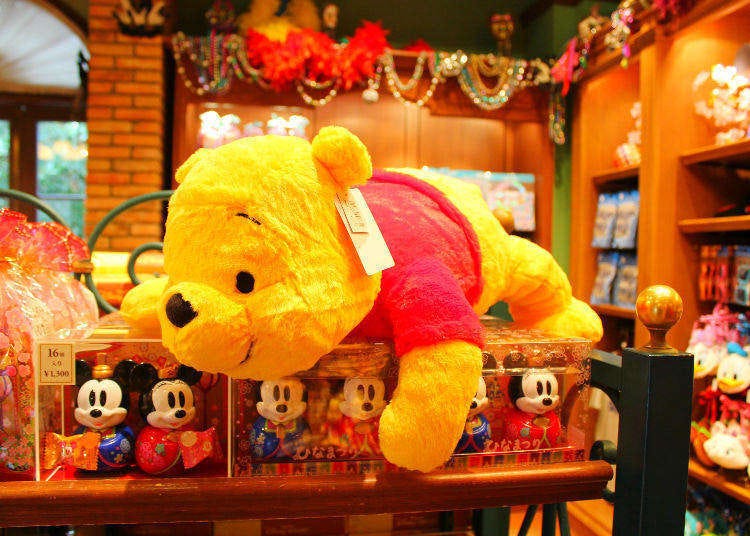 The ever-enjoyable Tokyo Disneyland. As much fun as it is to ride the rides and see the shows, shopping for souvenirs can be just as magical. If you're going to the park for the first time and know you'll have a hard time deciding just what souvenir to take home with you, worry not. LIVE JAPAN met up with the people in charge for Disney's merchandise to talk about their selection! We will unveil some of the most popular souvenirs among tourists, brand-new goods of this year, and what to look out for when you're choosing souvenirs – all in one article!
To further enhance your souvenir shopping plans, also check our Disney's 2018 Spring Season Souvenirs are here: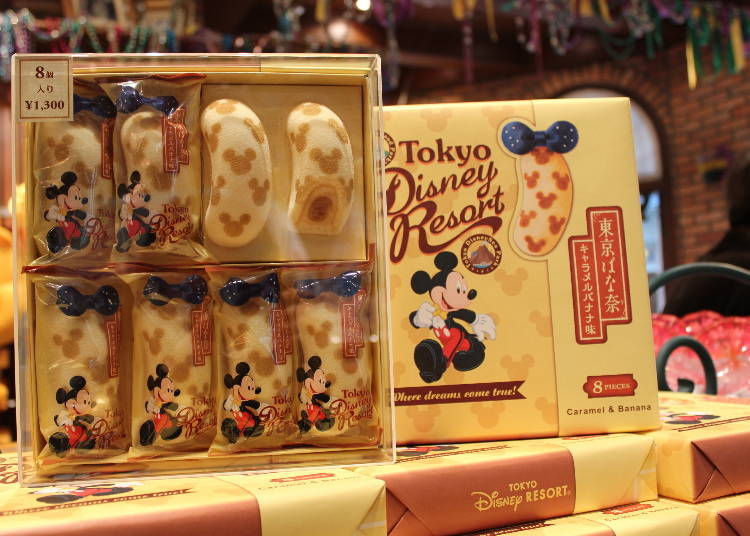 This collaboration between a popular treat and Mickey Mouse is a big hit!
Tokyo Banana 1,300 yen

Our merchandise pro at Disney confirms that this product is a top-seller! "Not only is the treat adorably adorned with Mickey heads, the caramel banana flavor is really good," they say. With its tasty cream wrapped in a fluffy sponge cake, Tokyo Banana is so popular you could even call it the standard Tokyo souvenir these days. Although you can buy their products at certain train stations or directly from their store, Tokyo Disneyland is the only place selling this tasty Mickey collaboration. Though Tokyo Banana makes for a great souvenir, you might want to buy one box just for yourself as well!
These products are even featured in Narita Airport's pamphlets
Tokyo Disneyland Mickey and Minnie with Traditional Japanese Garments and Umbrellas 3,800 yen each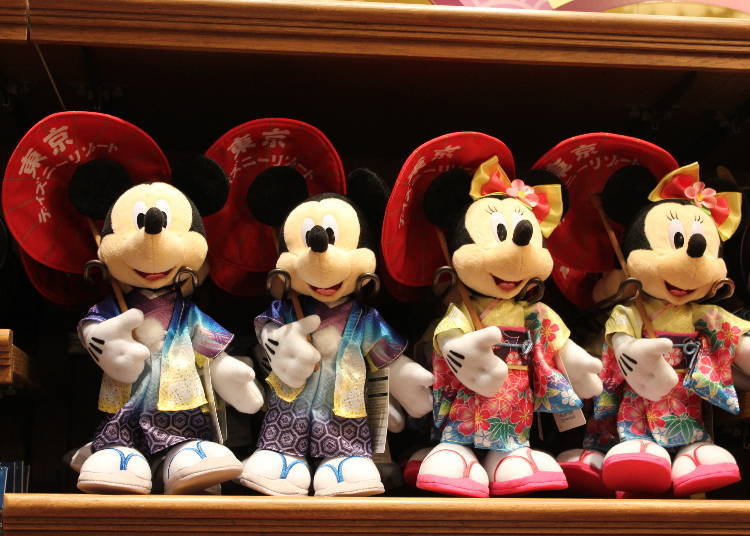 "These Mickey and Minnie plush dolls are holding umbrellas with 'Tokyo Disneyland' written on them in Japanese. About half of the people buying them are from overseas. Since they are on display at Narita Airport and on the front cover of a pamphlet in the airport, there are several customers exclaiming 'Here they are!!' as they find them," explains our contact at Tokyo Disneyland.
Standing 30cm tall, these plush dolls have quite the presence. There are several types to choose from, but the most memorable souvenir might be the ones wearing traditional Japanese clothing, always reminding you of your travels!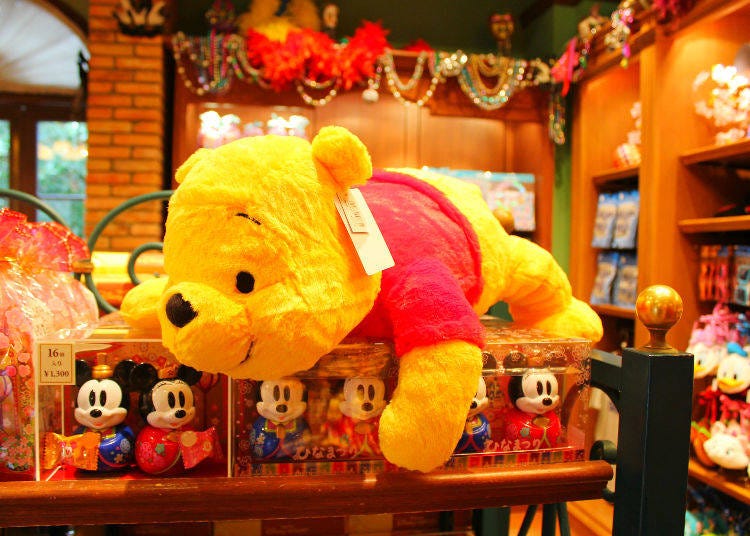 Just try hugging him once and you'll want to take him home with you!
Winnie the Pooh Huggable Pillow (Large) 5,800 yen

Even the Disney staff seems to be quite in love with this goodie: "There are a lot of people hugging these tight as they take them home. It feels comforting and warm."
The heart-healing Winnie the Pooh is available now as a huggable pillow. There are a variety of sizes of the plushie, but the large one apparently sells the best.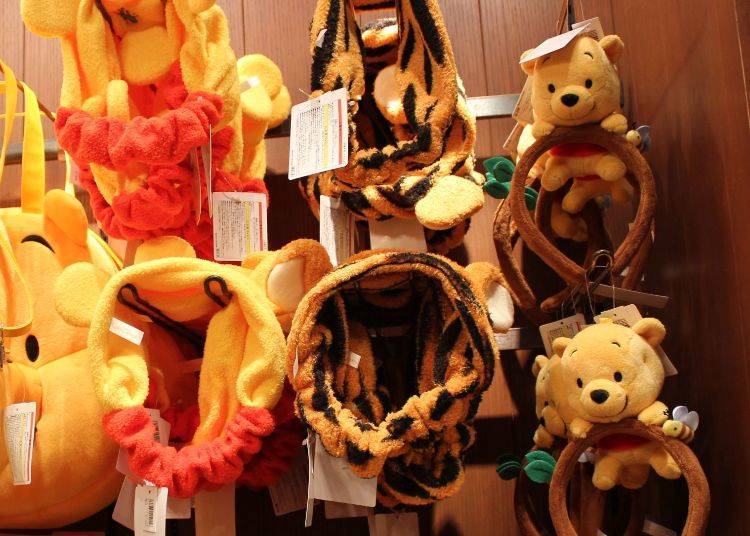 Great for keeping your hair out of your face or just to look good!
Hair Bands 1,500 to 1,600 yen each, Headbands 1,200 yen to 1,400 yen each

"Any products with ears out tend to sell pretty well," says the Tokyo Disneyland staff.
A big reason for this is that after wearing these adorable headbands and hair bands in the park, you can continue to use them at home to tame your hair or simply to look and feel absolutely adorable!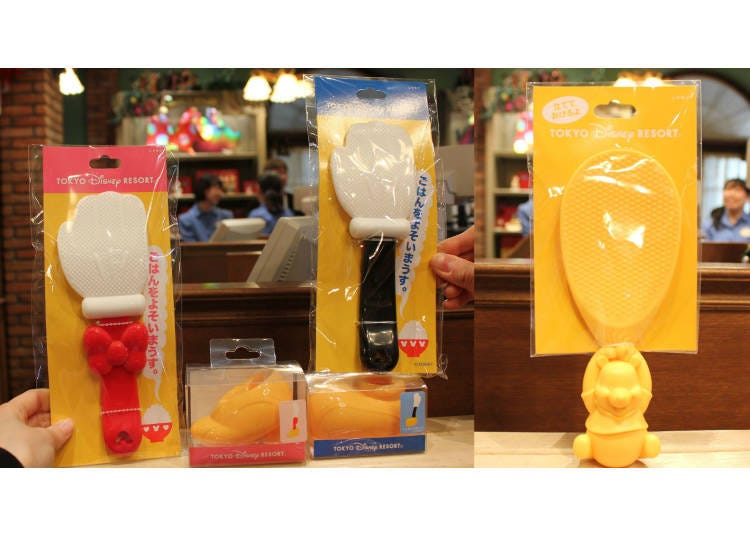 Goods for your daily rice
Rice Scoop / Rice Scoop Holder 500 yen each, Winnie the Pooh Rice Scoop 800 yen

"Rice is just as much of a staple food in other countries as it is Japan, which explains why these are so popular."
If you like both Mickey and Minnie, you might be faced with a tough choice. There even is a variety of shoe-shaped rice scoop holders to keep your rice scoop clean as you cook and serve. The Winnie the Pooh scoop has a self-standing handle and there also is a whimsical version shaped like Donald Duck's foot.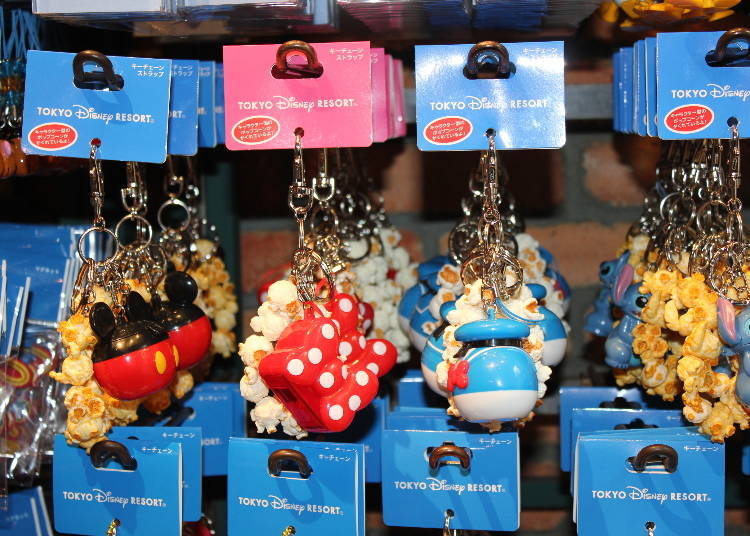 Try to find the characters hidden in popcorn!
Keychains 850 yen each

The Disney staff in charge of merchandise showed us these popcorn keychains and told us: "This really is an interesting item, I really recommend it. They're also quite affordable."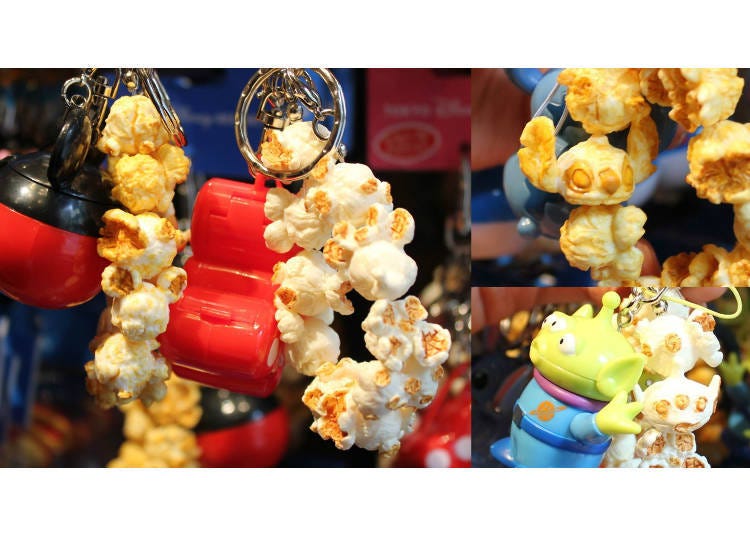 "Can you see the little Mickey and Minnie or the Stitch and Toy Story characters in the right picture?" Apparently, these keychains have fans among both the young and the old and people try to collect as many as they can!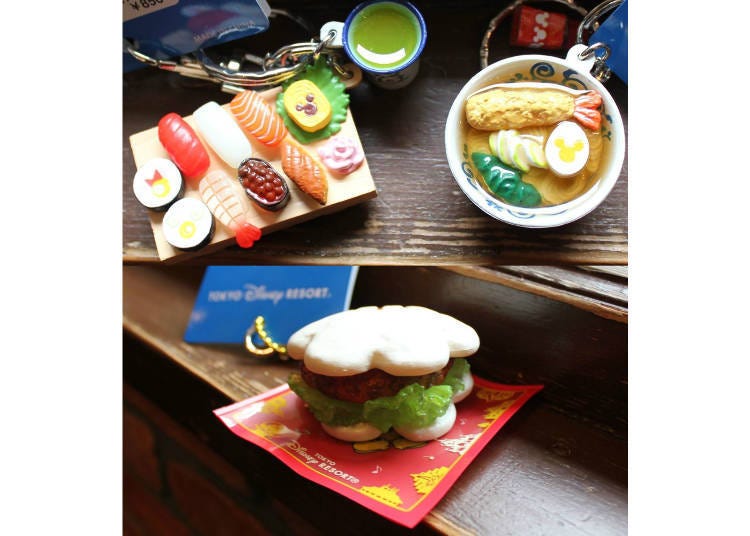 Find Mickey hiding in your sushi or soba!
Fake Food Keychains 850 yen each

"There are a variety of different sample food souvenirs. They're actually pretty popular," explains the staff.
Japanese people are said to be quite the gourmands, which would explain the appearance of so many food toys. If you take a good look at the eggs in the sushi or soba noodle keychains, you'll notice the shape of Mickey's head hidden in the dish! The hamburger-like keychain on the bottom was created in the image of the Glove-Shaped Pork Pau that is sold in the Boiler Room restaurant in Tokyo Disneyland. It even comes with the wrapping paper the original is served in!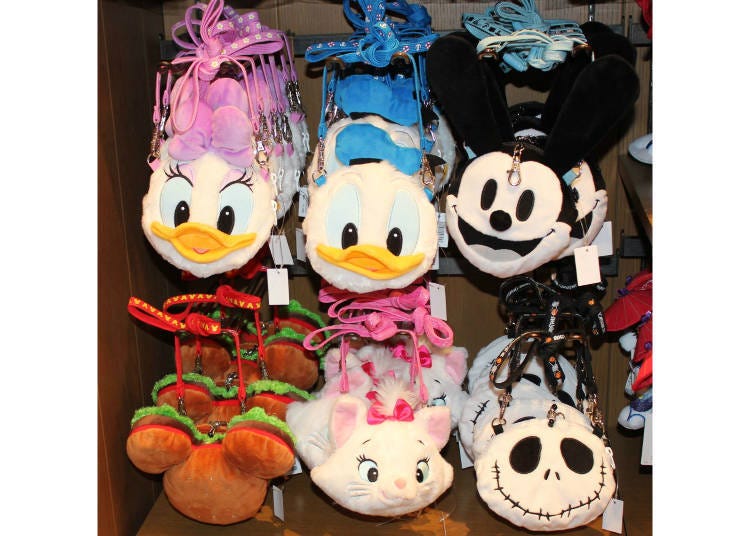 Everybody is wearing them! A cute product you use right away.
Passport Case 1,800 yen each

"This one is a really popular product as well. There is a strap to hang it around your neck and a strap to attach it to your bag."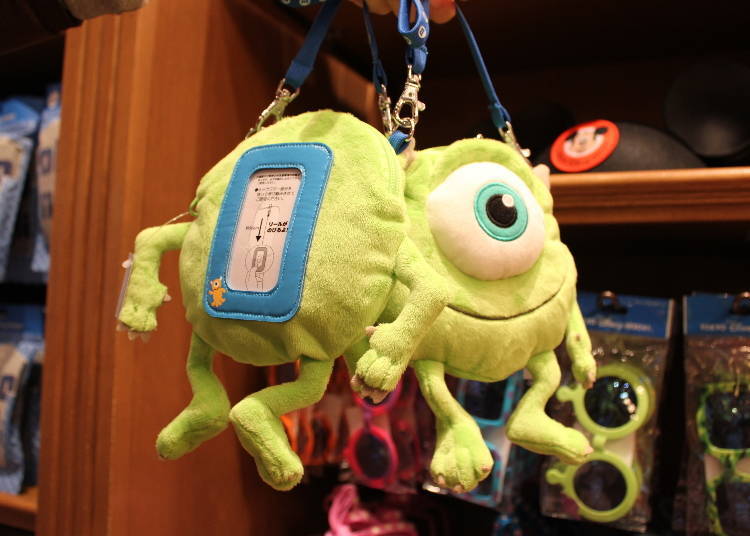 The vivid colors make for a whimsical fashion accessory
"With a zipper on top, you can use it as a wallet or to put your phone in. The back offers space for a passport or cards."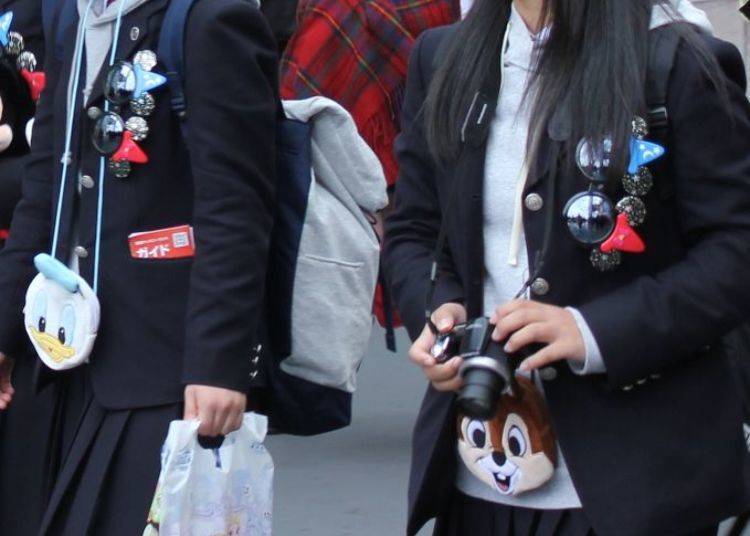 There are a lot of people making use of these!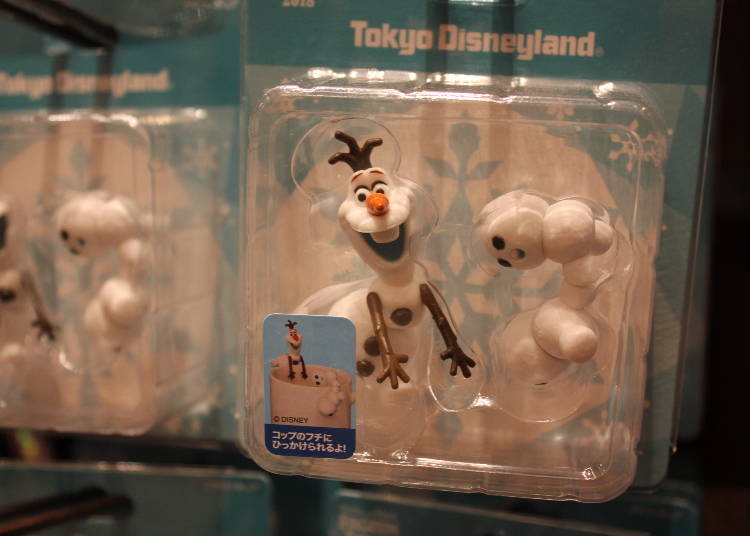 Last chance to buy! If you love Frozen, don't miss this chance.
Toy Figure 1,500 yen

"Place this fun toy is fun to place on your cup or mug. Because it is so cute, this figurine is massively popular," says the staff.
March 19th marks the end of the Frozen event which means this product will soon no longer be on shelves. If this is something you fancy getting your hands on, you'd better hurry!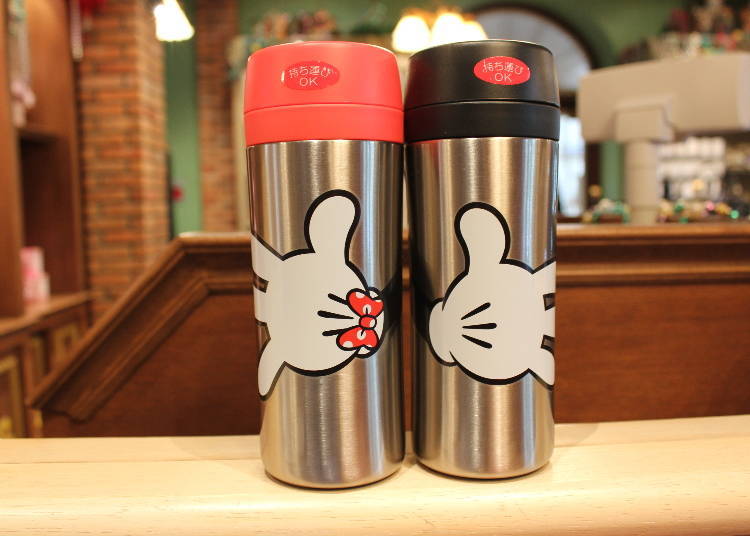 Stainless Steel Bottles for 3,240 yen

"Tumblers have always been a popular product."
These are thermally insulated tumblers with a simple design. When holding these in your hand, it looks like you're shaking hands with Mickey or Minnie!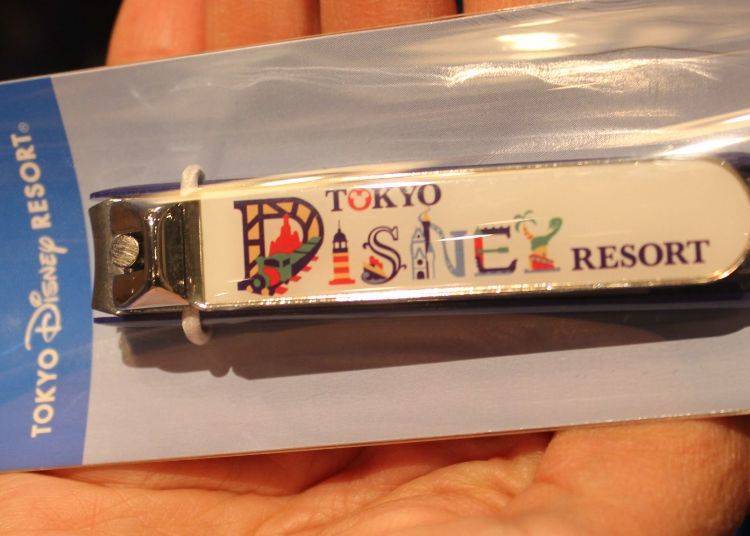 Surprisingly Popular: Made-in-Japan Nail Clippers For 1200 yen

"For some reason, people were buying a lot of these, so we decided to ask why," explains the staff. "Apparently, nail clippers made in Japan are famous for cutting really well."
When asking for popular souvenirs of Tokyo Disneyland, this is the first product that was mentioned. The nail clipper in the picture sports the park logo, but there are other nail clippers with character designs as well.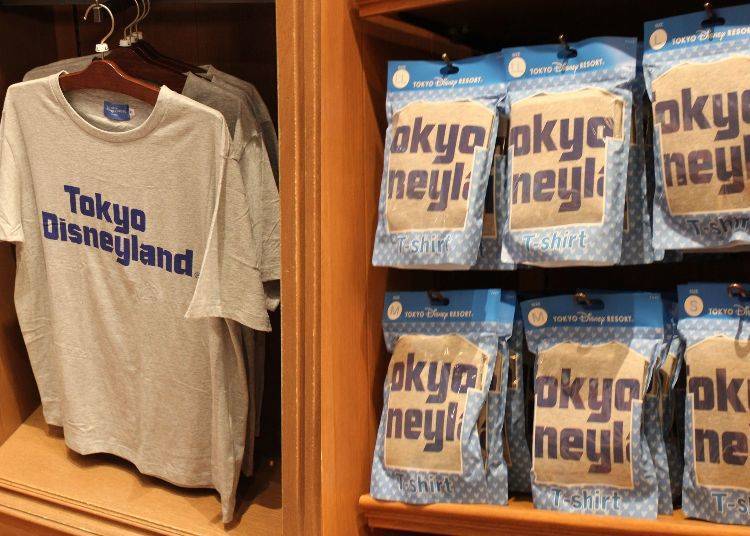 T-shirts with a Simple Logo for 1500 yen

"There are several customers who buy these simply because the packaging is cute."
The shirts are kept gray to appeal to all kinds of people. This simple but comfortable shirt is all the proof you need that you've indeed been to Tokyo and Disneyland! Available in sizes small through extra-large.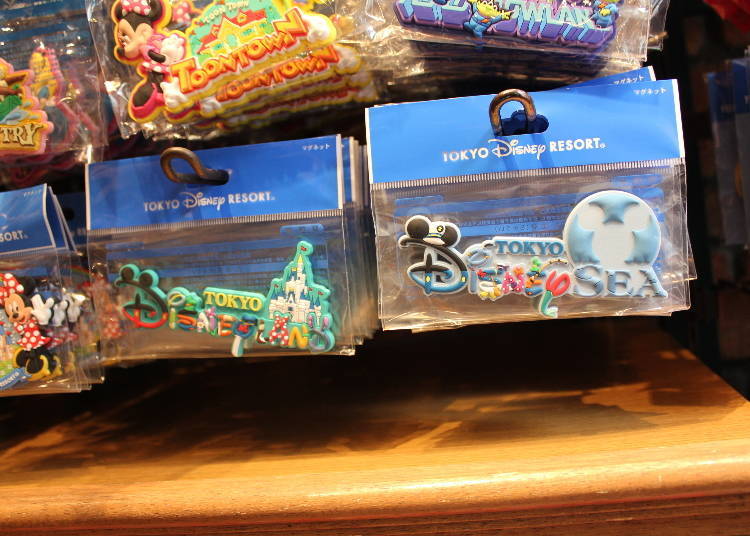 Put it on your fridge and never forget
Magnet 600 yen each

"Magnets have been a popular souvenir for a long time."
Both Disneyland and DisneySea offer a selection of magnets, so take your time to find the one you like most!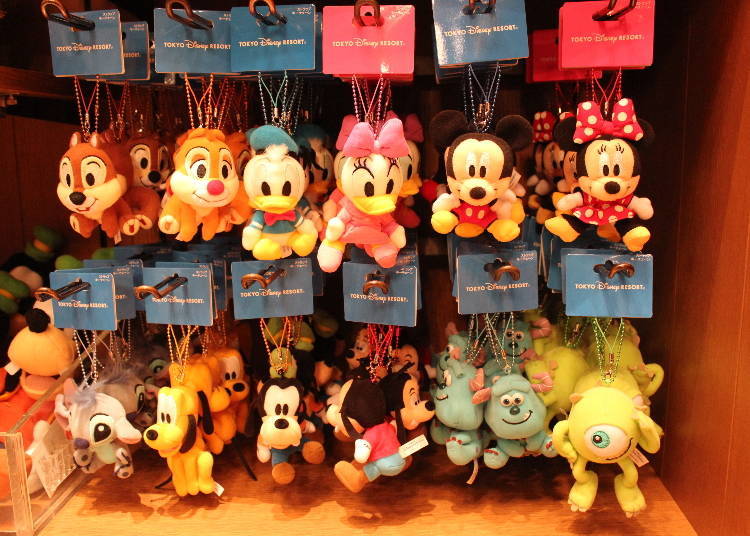 Popular products to hang on your bag or cell phone
Straps 1,000 yen each

The Disney merchandise pro recommends these adorable straps as well: "Since they are pretty affordable, there are quite a lot of people buying several at a time or collecting them all."
Small and adorable, these are perfect souvenirs for every Disney lover.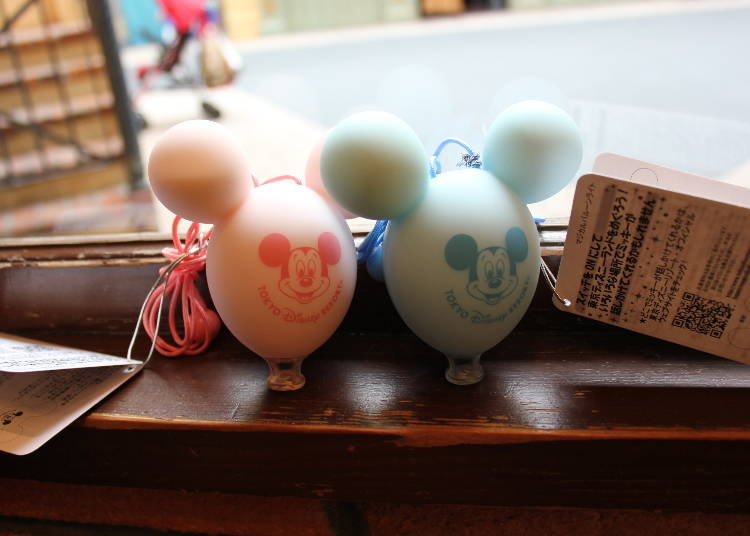 Listen to Mickey talk!
Magical Balloon Light 2,300 yen each

"If you turn on the switch and walk around the theme park, you can hear Mickey talk to you," explains the Disney staff.
This whimsical toy has Mickey talk to you in Japanese upon arriving at one of 14 spots all around Tokyo Disneyland. The light flashes in a different color for each location and each color you gather is recorded and saved inside the toy. If you push the button on the back, these colors flash to the Disney theme song. This is a great souvenir for those who know or are studying Japanese.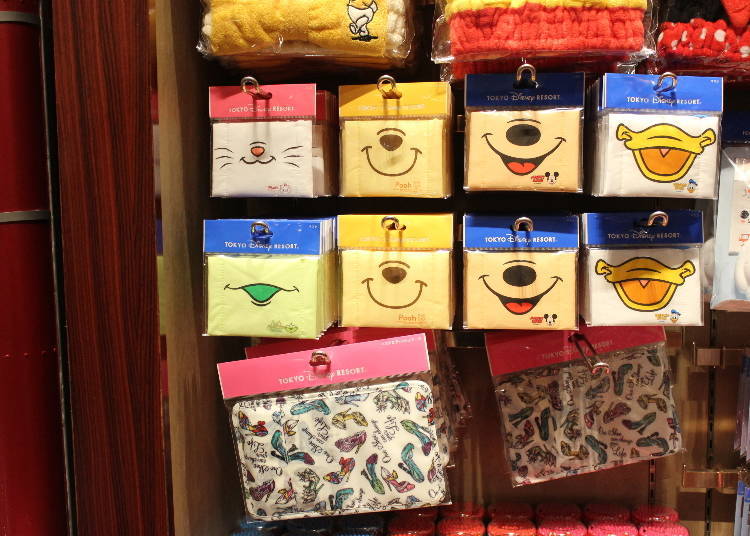 Keep a smile on your face protect it from the cold as well
Masks 450 yen each

"These are masks with the mouths of characters drawn on them."
Pick your favorite character and you'll get to transform yourself with Disney magic just a little bit!
Products making use of Tokyo Disneyland's fashionable logos are really popular!

"Any designs resembling Tokyo Disneyland attractions or buildings are massively popular. Geared towards adults, they're popular with men. Travel items such as stickers for your suitcase or name tags are top-sellers as well."
Take a peek at the brand new products this year featuring fashionable Disneyland logos!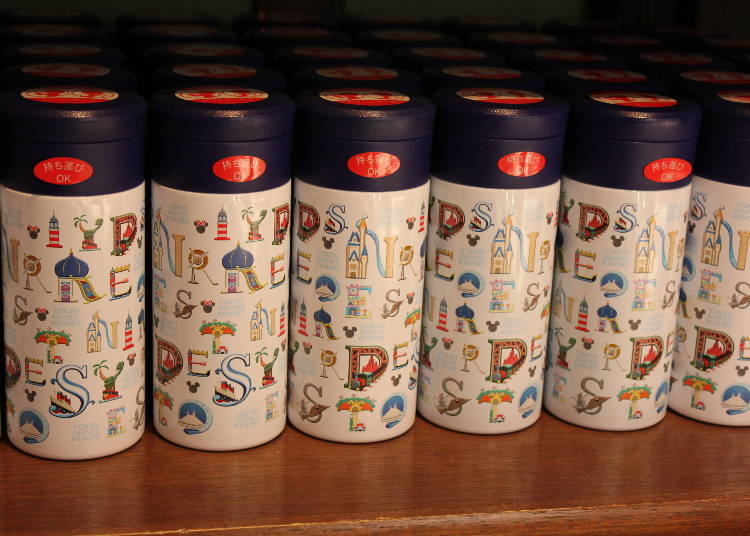 Tumblers for 2,600 yen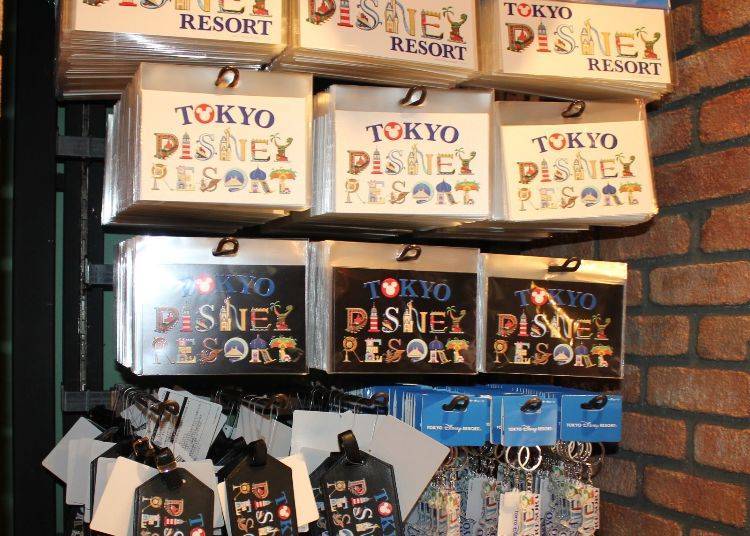 Stickers (top) for 300 yen, White & Black Postcards (center) for 200 yen, Name Tags (bottom left) for 900 yen, Keychains for 800 yen (bottom right)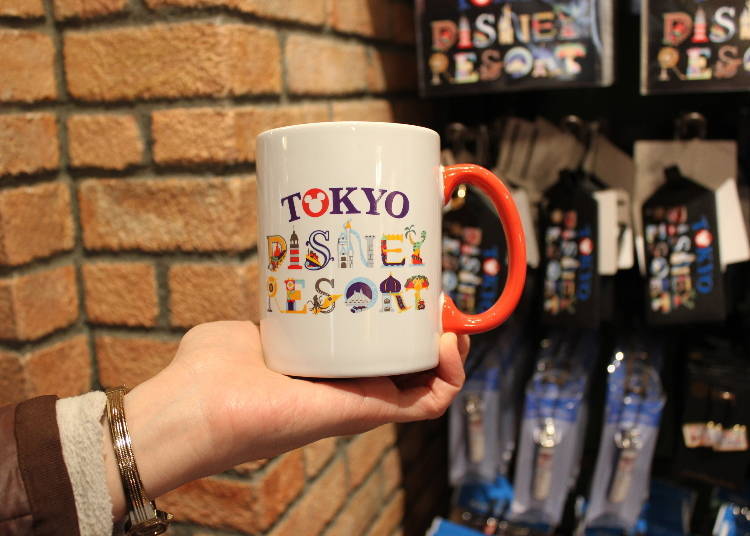 Mugs for 1,200 yen
Perfect Souvenirs: Delicious Sweets with Cute Designs|
Snacks and treats are the perfect souvenir if you plan on deciding later who to give it to. They're also quite popular with Taiwanese visitors. The can designs are constantly changing, making them great collector's items for big fans.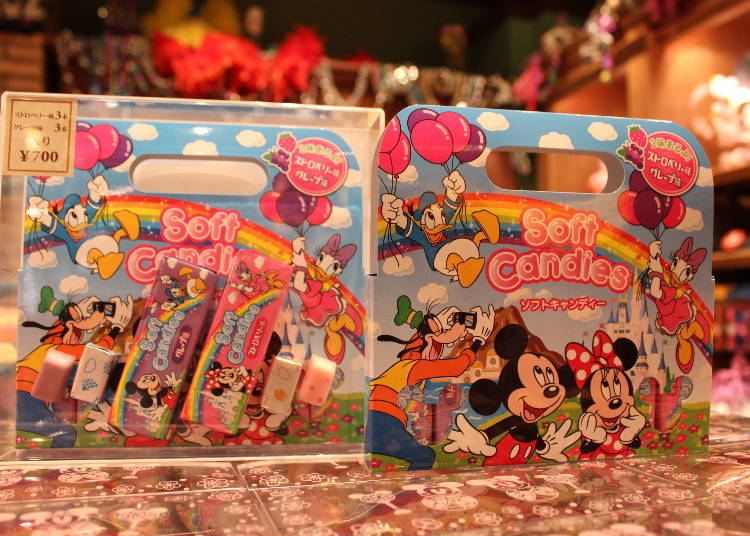 Soft Candies for 700 yen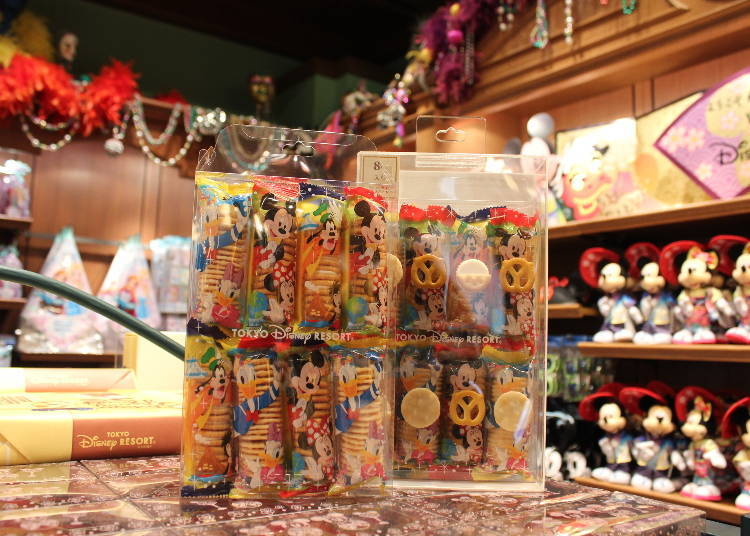 Crackers and Biscuits for 850 yen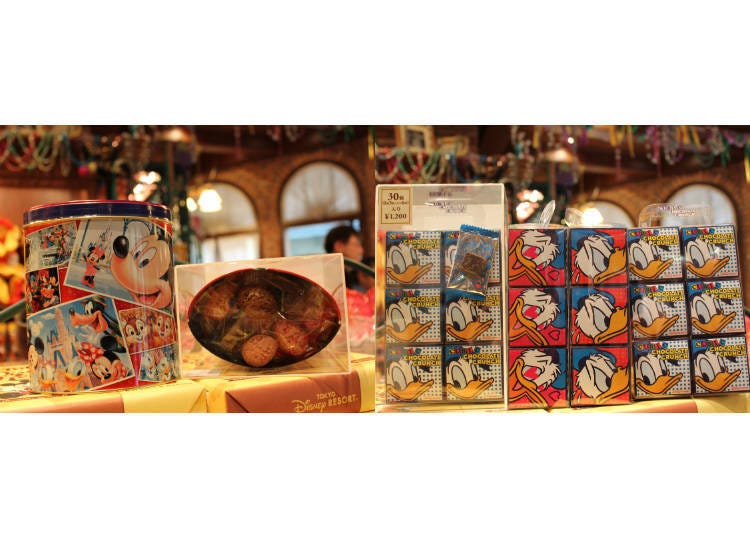 Chocolate Crunch (Left) for 800 yen, (Right) 1,200 yen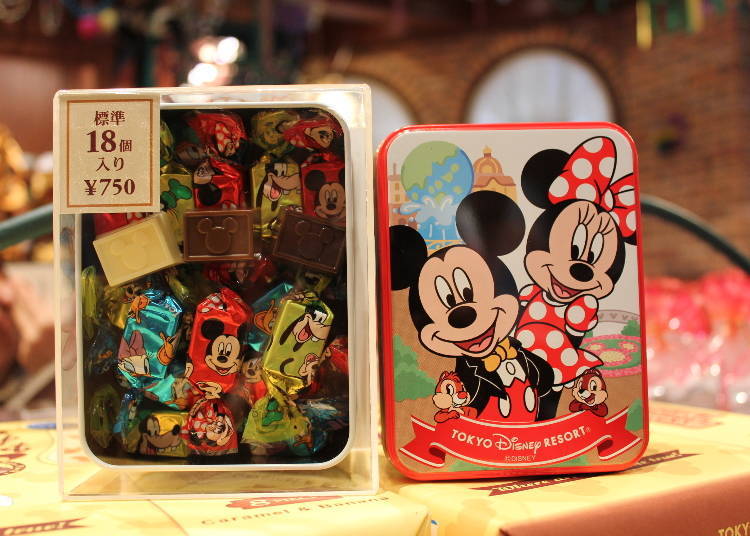 Chocolate for 750 yen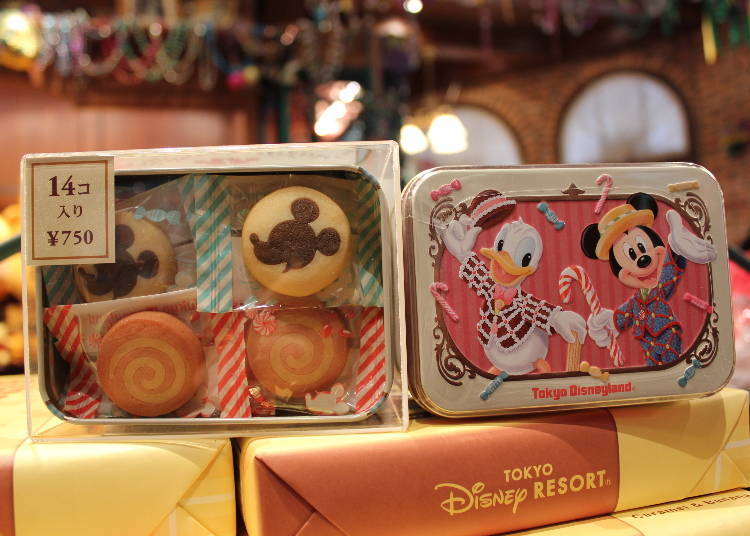 Cookies for 750 yen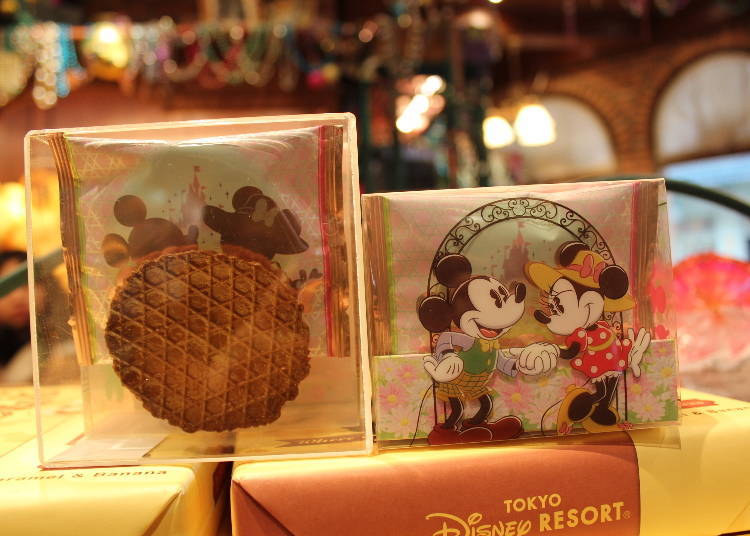 Caramel Wafers for 800 yen
We found this amazing souvenir as well!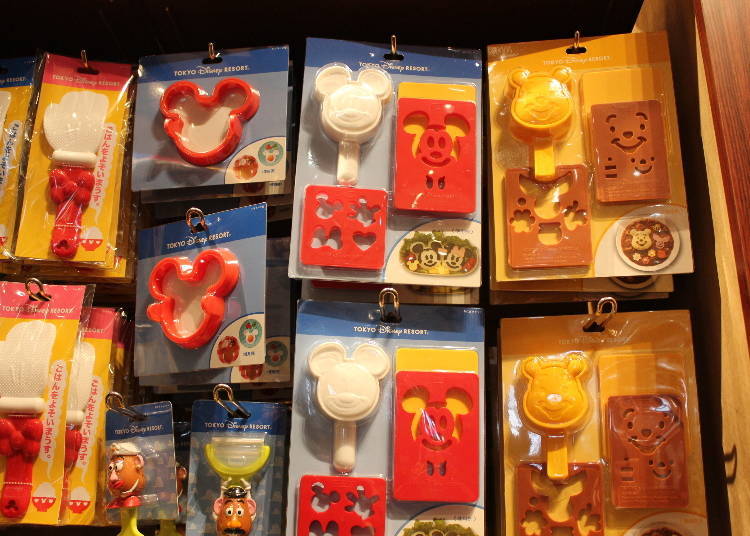 Let's make some decorated Japanese onigiri!
Onigiri Set (Left) for 1,500 yen, Silicon Mold (Right) for 500 en

This item comes with a mold to create onigiri (rice balls) in the shape of Mickey or Winnie the Pooh's face, as well as the necessary tools to make this whimsical snack. With the silicon mold on the left, make sunny-side-up eggs in the shape of Mickey's head. This is definitely an interesting item to pick up!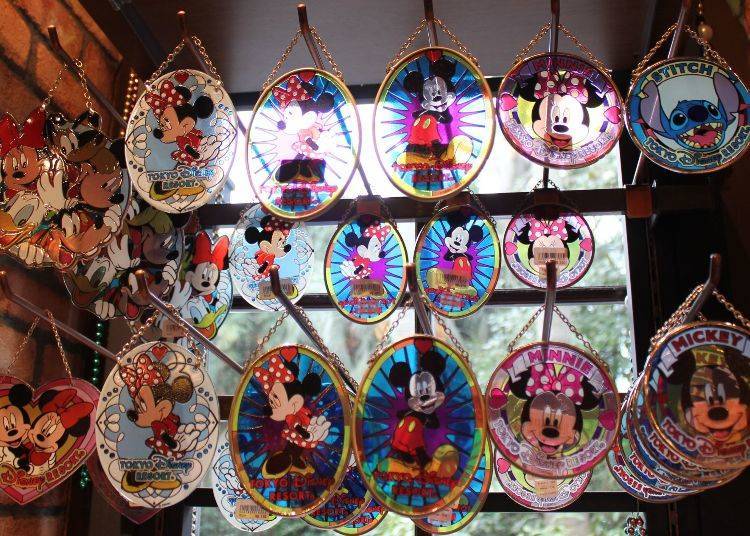 Flood Your Room With Color and Light: Stained Glass from 2,110 yen

You can also find items to decorate your room! The sunlight that shines through your window will dye these stained-glass Disney decorations with vidid colors and dip your entire room in the soft glow. This is definitely one of the most unique and beautiful souvenir recommendations we found!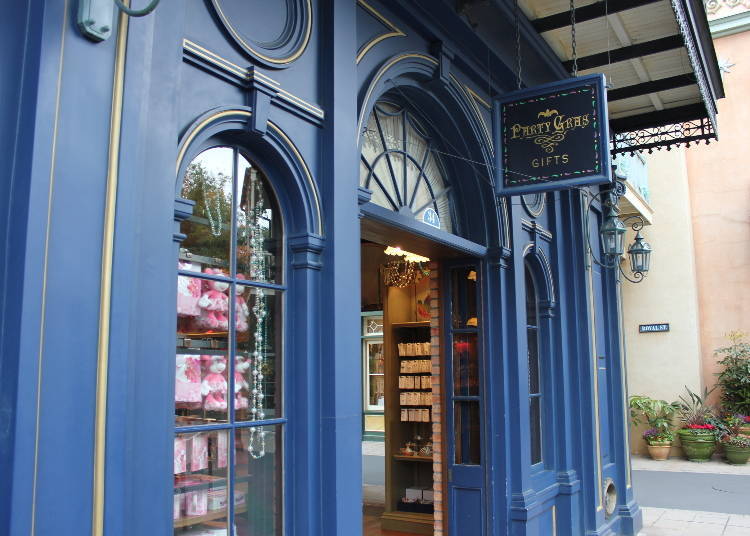 Limited Goods Galore: Party Gras Gifts

The picture above shows Party Gras Gifts (number 34 on the guide map), a shop that is stocked with all limited goods of the spring season. You can also find most regular popular souvenirs here. All souvenirs introduced in this article can be found in this shop.
Other than Party Gras Gifts, the World Bazaar also offers most goods, so make sure to check it out should something be sold out that you absolutely want!

For those of you planning on going to Disney Sea, don't worry, the Bella Minni Collections shop in DisneySea sells the same goods that we introduced in this article!

*All products include tax.
*Products may be sold out or no longer for sale.
Address

1-1, Maihama, Urayasu-shi, Chiba, 279-0031
View Map

Nearest Station

Maihama Station (JR Keiyo Line)
4 minutes on foot


Phone Number

0570-00-8632
*This information is from the time of this article's publication.
*Prices and options mentioned are subject to change.
*Unless stated otherwise, all prices include tax.