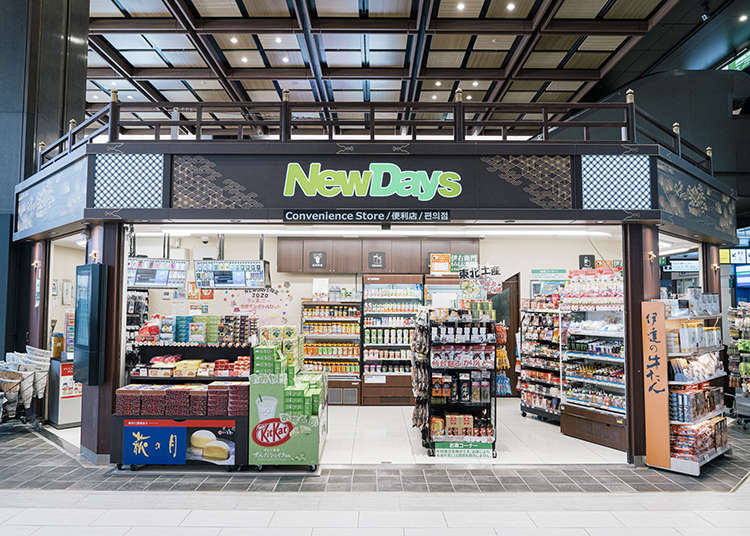 Sendai Station is thought of as the gateway to northeast Japan, with easy access to sightseeing spots in Miyagi Prefecture and surrounding areas. Here, we'll introduce three establishments you'll find in Sendai Station that could be convenient while traveling the area.

Find out how to complete your outfit before striking out, local cuisine you can get at hotels or on the Shinkansen, and exclusive souvenirs to bring home. Learn about shopping spots and Sendai Station, and have yourself a more pleasant and smart trip.
Sendai: Gateway to Tohoku – Japan's Great Northeast
Sendai City is one of the biggest cities in northeast Japan, on the main island of Honshu. Its central station, Sendai Station, is an easy 90-minute trip from Tokyo Station. Many tourists coming to Japan undoubtedly use Sendai Station to get to the famous scenery of Matsushima, the world heritage site Hiraizumi in Iwate Prefecture, or fruit-picking attractions in Yamagata Prefecture.
If you are curious to get travel information or are experiencing trouble, first head for their Travel Service Center, found in the second floor View Plaza. They'll help you figure out systems of transit like the buses and trains, plus give tips on places to stay, and even local specialty products. And rest assured! They speak English.

The View Plaza also has a SIM card vending machine adjacent to its entrance. Quite handy for those that forgot to buy one at the airport or find themselves suddenly in need of one.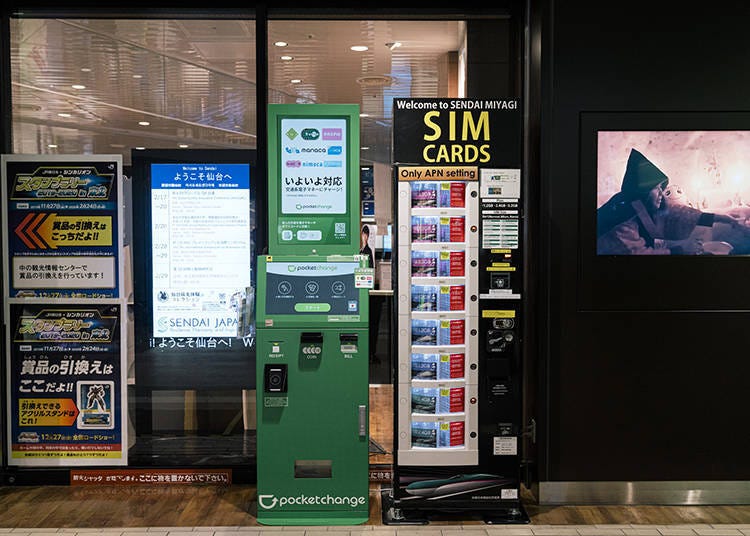 NewDays: You'll soon learn to spot this green and yellow logo – they carry all the essentials for trips!
Once you arrive at Sendai Station, you'll be able to spot the green and yellow logo for NewDays both within and outside the ticket gates. NewDays is one of Japan's convenience store chains, which came about to answer a demand for convenience stores accessible within stations. There are a whopping 15 locations (including NewDays KIOSKs) just within Sendai Station. Wherever you are in the station, look around, and you should be able to find one. And that's no exaggeration!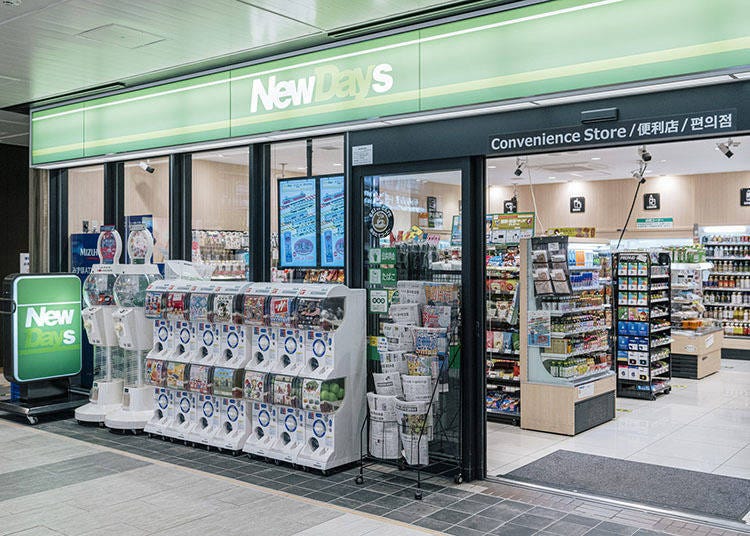 NewDays location next to the Sendai City Travel Service Center on the station's 2nd floor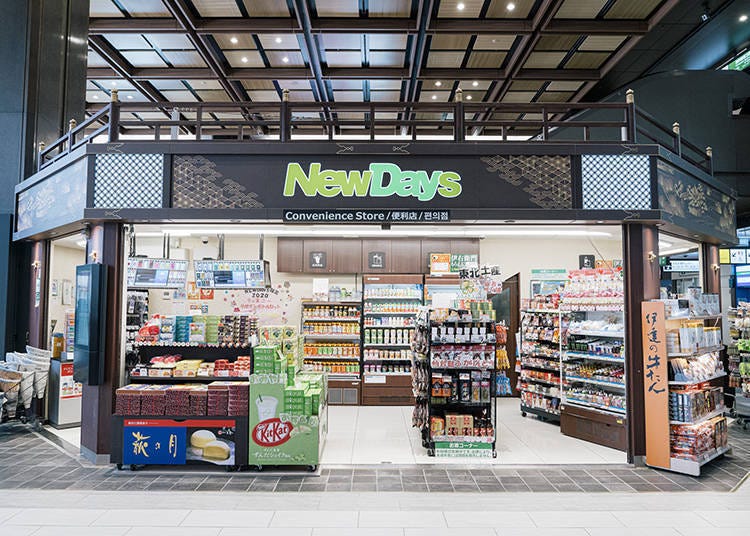 NewDays location near the central ticket gate on the 2nd floor
NewDays stores stock pocket-sized tissues, lip balm, band-aids, toothbrushes, nail clippers, and other everyday necessities, as well as mobile batteries, batteries, and many more kinds of products. Ask at the cash register if you're looking for specific travel supplies. More likely than not, they'll have what you're looking for.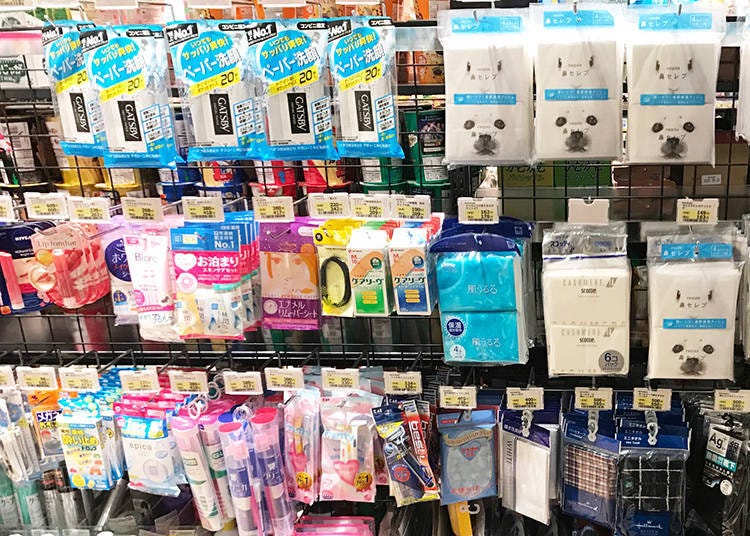 They also have a wide selection of snacks, drinks, and light meals like onigiri, bento, sandwiches, and instant ramen. They could prove useful if you missed your chance to dine at a hotel or restaurant. The onigiri, in particular, have much variety: everything from the standard tuna, pickled plum, and salmon to rarities like beef tongue and trout sushi.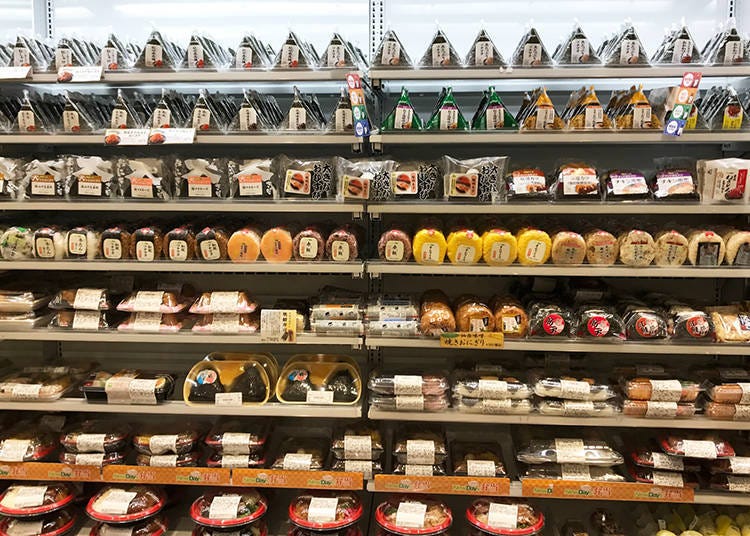 Onigiri: a cheap and easy bite on-the-go. No wonder Japanese people love them too!
There are also some items exclusive to the Sendai area, like the "Date Masayume Onigiri Bento," which uses Miyagi Prefecture's brand of rice, Date Masayume. One more is the Sendai Miso Yaki Onigiri, flavored with a kind of miso local to Sendai. Date Masayume Onigiri Bento are particularly popular, so if you spot one, we encourage you to grab it while you can. The Date Masayume rice gives the onigiri a chewy consistency and the sweetness of natural rice.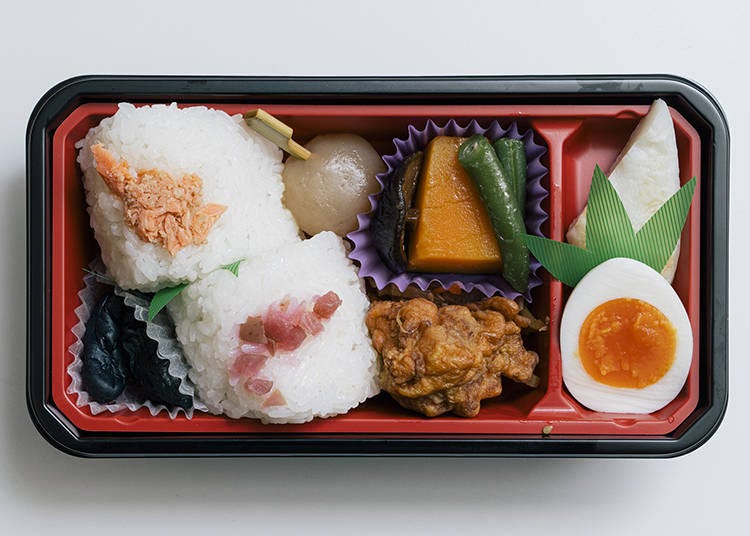 Date Masayume Onigiri Bento includes both a salmon and pickled plum onigiri with a boiled egg, fried chicken, simmered vegetables, and more. Also, check out famous Sendai products like "Sasa Kamaboko" and "Tama Konnyaku"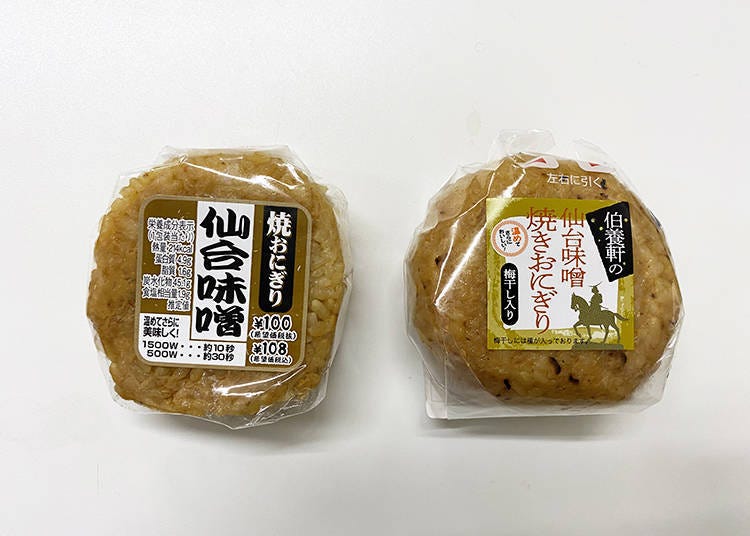 Sendai miso is an heirloom variety that's been passed down in Miyagi Prefecture since the time famed historical leader Date Masamune still controlled the Sendai Domain
For travelers coming back from their trip, looking to kick back with some sake, but without the energy or time to go find some, they also sell local sake brands. They sell sake in small 180ml bottles, so you could try comparing brands if that sounds like fun.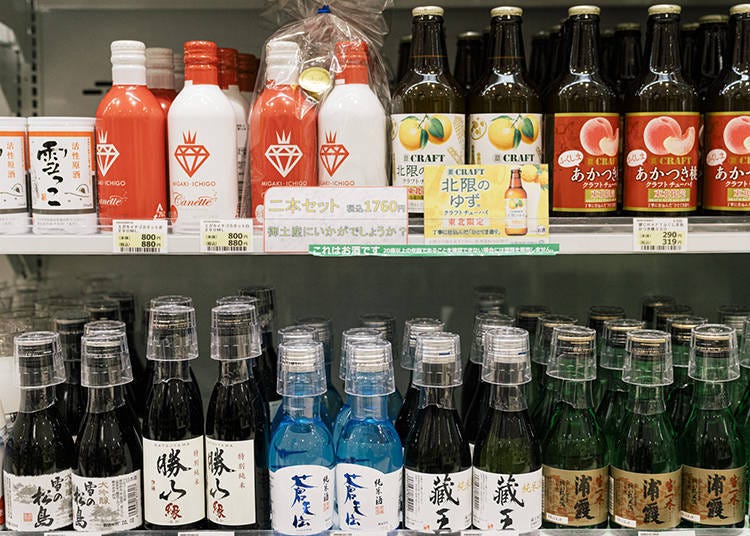 The location also has a souvenir corner for regional specialties. There, you'll find things like senbei rice crackers, chocolates, and Japanese sweets in individually wrapped and efficient packages. Some locations will have products to thrill gourmets, like "Sendai Chili Oil," which is filled with "90% beef tongue," and "Sendai Fukuchan," a satisfyingly crunchy traditional sweet made with Sendai-fu gluten.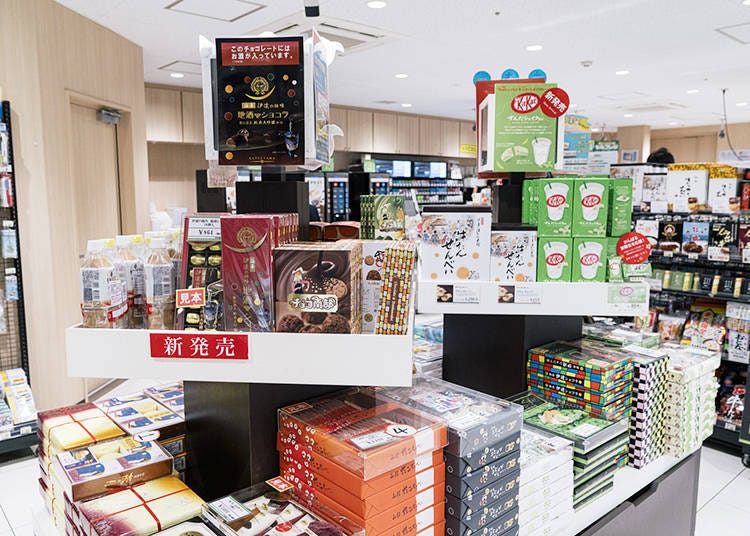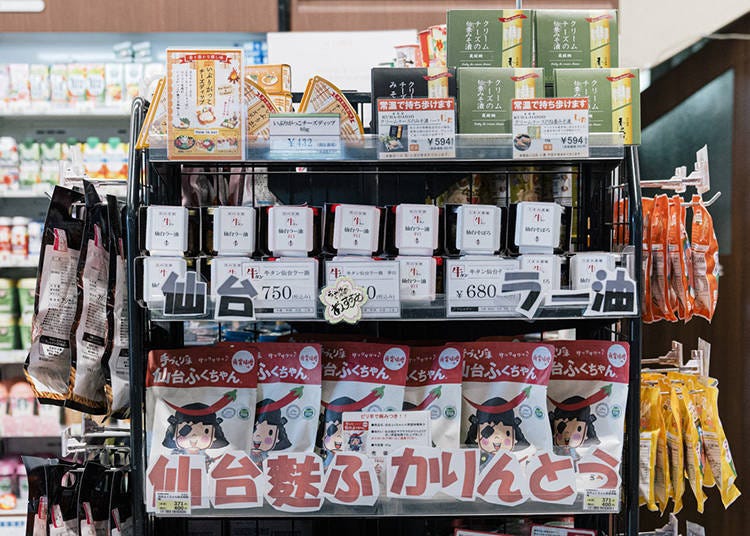 Sendai Fukuchan comes in "Nanban Miso" and "Sendai Miso" flavors
If you're left with an excess of coins at the end of your trip, try your hand at a capsule toy machine (also known as "gatcha"). Their little figures, character key-holders, and other small items could make a neat-and-quick souvenir! It's a fun surprise, as you never know what you're going to get.
Capsule toys, as cheap as two 100-yen coins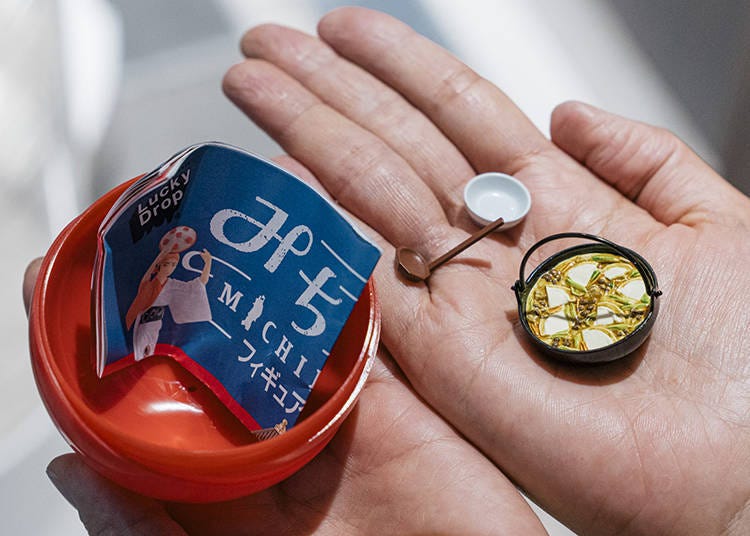 This machine has "Michinoku Figure Souvenirs" (500 yen), with objects representing all six prefectures in northeast Japan. Pictured here is "senbei-jiru," cuisine from Aomori Prefecture. There are also collectibles representing Iwate Prefecture's "Sanriku Railway" and Chūson-ji Temple's "Konjikido"
So that's NewDays, a convenience store chain to help you in your traveling time of need. They accept credit cards and transit charge cards like Suica, making purchases a breeze. You can even charge your Suica card at the cash register, allowing you to skip the hassle of ticket machines.

Just remember to look for their green and yellow logo!
Miyage Kasen: Superb spot for Tohoku Japan souvenirs
Every good trip needs a souvenir. But the tighter your itinerary, the harder it is to look around for them. Thankfully, Sendai Station has multiple shops specializing in souvenirs, so swing by at the tail end of your trip.
For people who want to take their time finding the best souvenir, we recommend "Miyage Kasen," a shop in the "Ekichika Omiyage Dori" souvenir area on the B1 floor of Sendai Station's shopping facility "S-PAL Sendai." This shop has local products from all six of northeast Japan's prefectures. Let's see five of their products popular with visitors to Japan.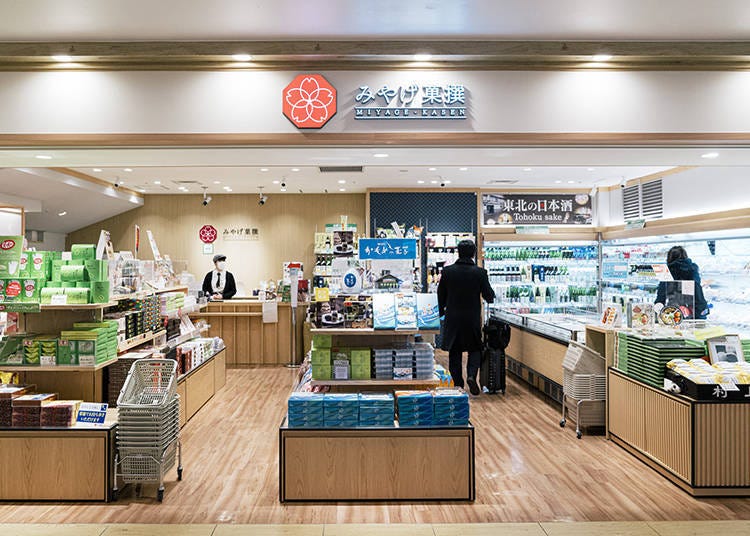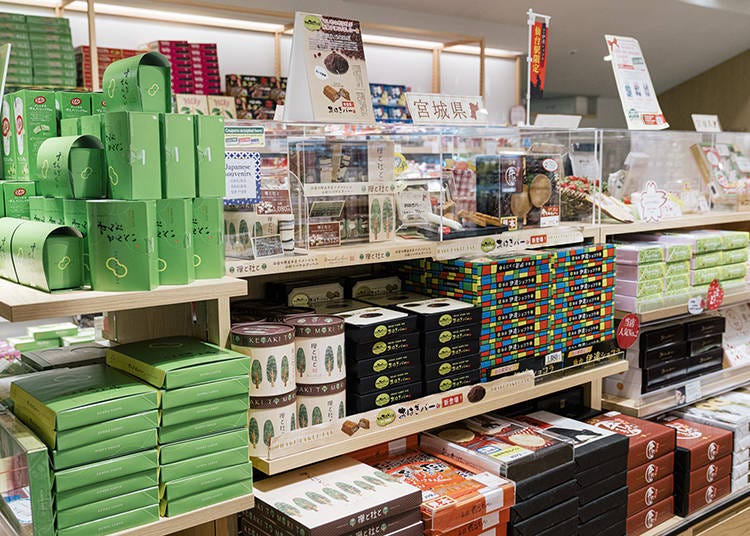 Includes displays for specialties from areas in each prefecture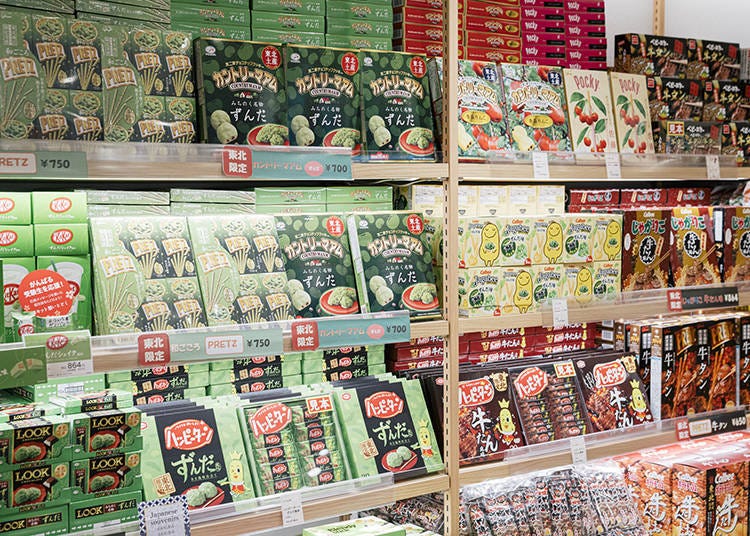 These boxed, individually wrapped treats are made with local ingredients and have long shelf lives. Reportedly, many visitors buy them in bulk amounts
●Soft beef tongue jerky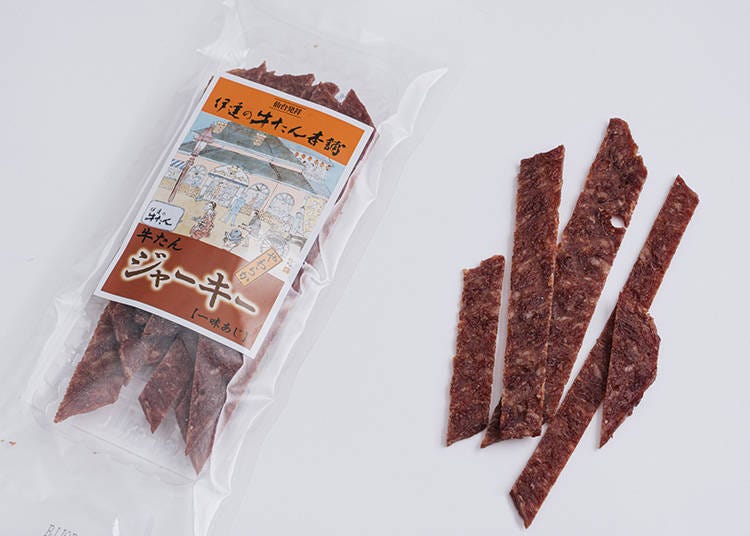 Soft beef tongue jerky (308 yen)
Beef tongue is known as a local specialty of Sendai. There are many restaurants in Sendai City that specialize in it, but the easiest way to try it out is in jerky form. It's mildly spicy and generates more flavor with every bite: an excellent companion for beer or sake.
●Zunda Sweet Sand Pie (sandwich pie)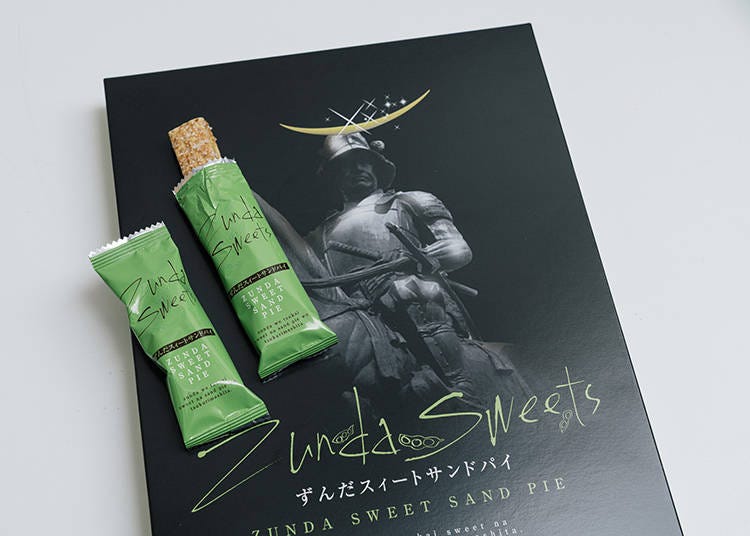 "Zunda Sweet Sand Pie" (21 per box, 864 yen)
In general, "zunda" is a characteristic flavor amongst Sendai products. Zunda is a paste made of ground edamame and broad beans. Although Miyagi Prefecture is famous for it, zunda is used in local dishes all around northeast Japan. "Zunda Sweet Sand Pie" are cookies of light zunda cream sandwiched between pie crust cookies. Notable for complimenting flavors and fancy Date Masamune packaging.
●Wagokoro Pretz - Zunda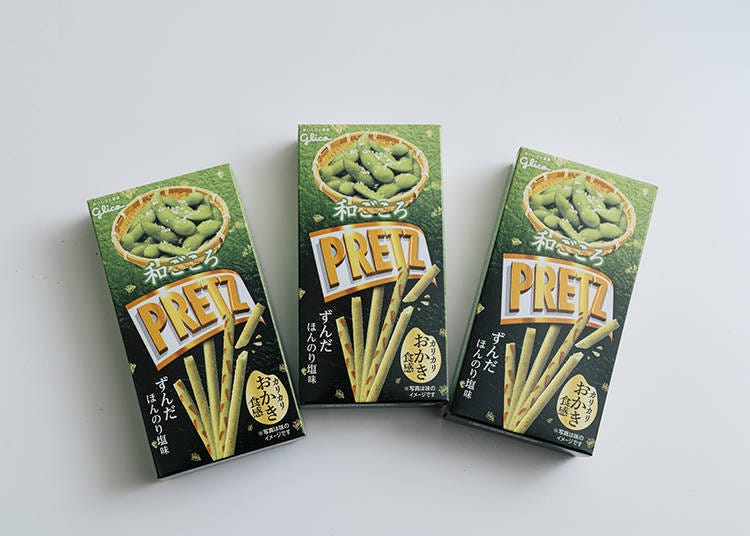 Wagokoro Pretz - Zunda (six boxes for 750 yen; image shows three boxes)
Pretz are a staple of Japanese snack foods. Their standard flavors are "Salad" and "Roast," but you'll find exclusive flavors for each area of Japan. "Wagokoro Pretz - Zunda" are, unsurprisingly, lightly salted and seasoned with zunda flavoring. What's surprising is how addictive they are! Pretz are baked using rice, creating a pleasant crunch.
●Kamome no Tamago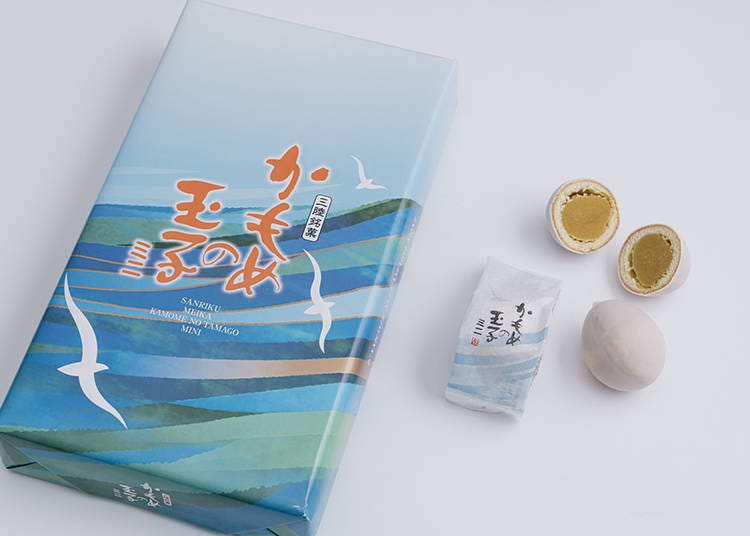 Kamome no Tamago - Mini (contains 9, 874 yen)
"Kamome no Tamago" are a confection representative of the northeast region. This Japanese sweet consists of sweet white bean filling, wrapped in sponge cake and coated in white chocolate. Its memorable, cute egg shape seems to appeal to visitors to Japan.
●Sendai Strawberry "Yaki Chocolat"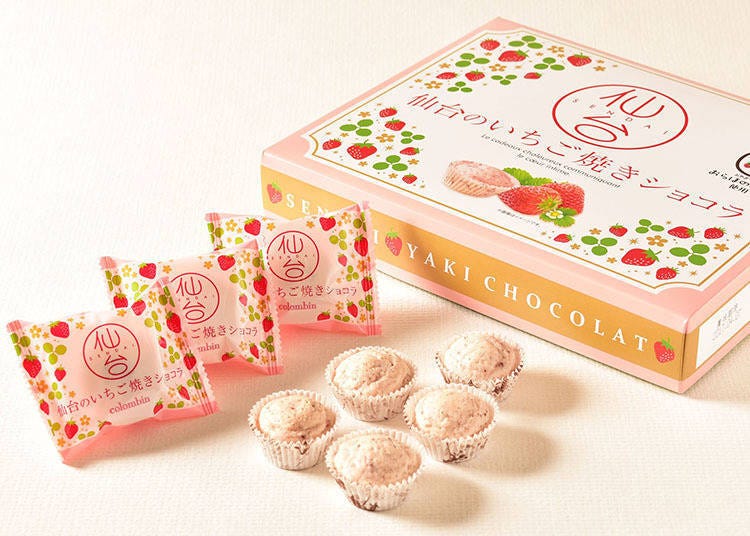 Sendai Strawberry "Yaki Chocolat" (contains 12, 1,080 yen)
Sendai "Yaki Chocolat" is made using strawberries from Miyagi Prefecture's Watari District, which produces most of northeast Japan's strawberries. The blissful match of tart fruit with white chocolate is exquisite. These bite-sized chocolates are light and crisp, with a delightful texture you're sure to love.
Miyage Kasen
Location: S-PAL Sendai - Main Wing B1F
Hours: 7:30 - 22:00
TEL: 022-397-7660
Meguri Megurume: Discover delicious foods from all around Japan
Completing our list is "Meguri Megurume," found in the inter-gate walking space on Sendai Station's 2nd floor. They sell food products and seasonings from all over Japan, so you can discover tastes loved at homes around the country. This makes them particularly popular with Japanese travelers looking for a taste of home.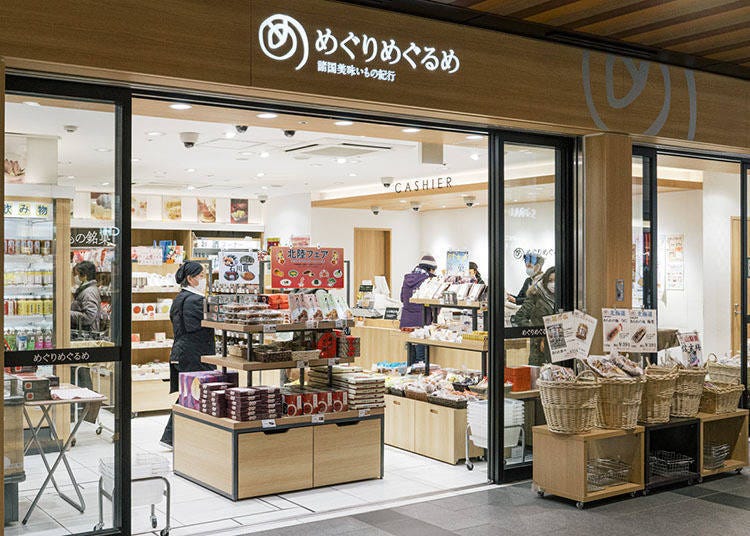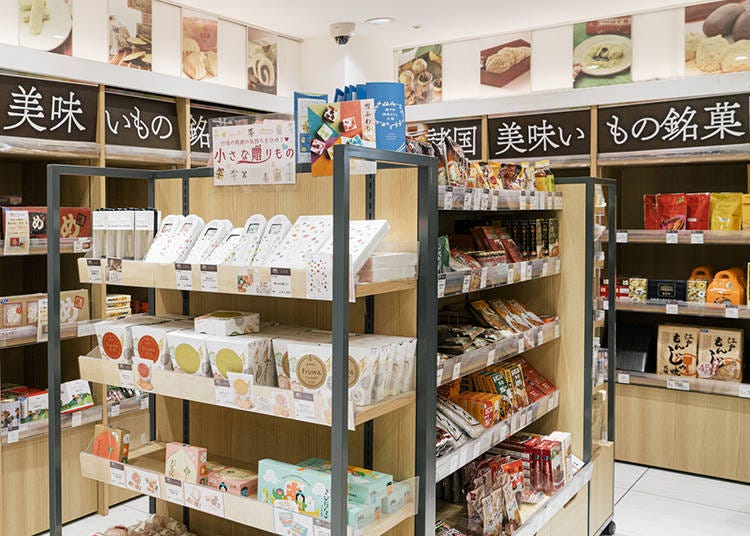 However, they sell more than nostalgic food products for Japanese people. Check them out to find a variety of old-fashioned local confections. Their confections are also sold individually, so you can try whatever piques your interest.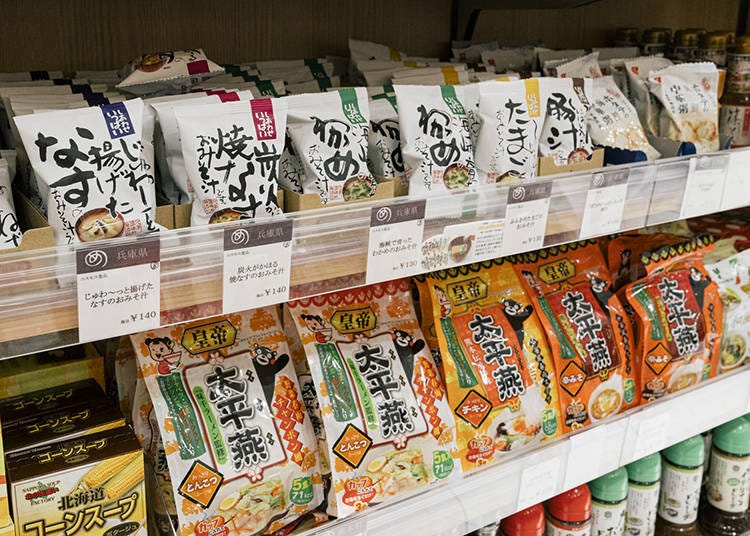 Freeze-dried soups like miso soup would serve well at your home's table: a practical souvenir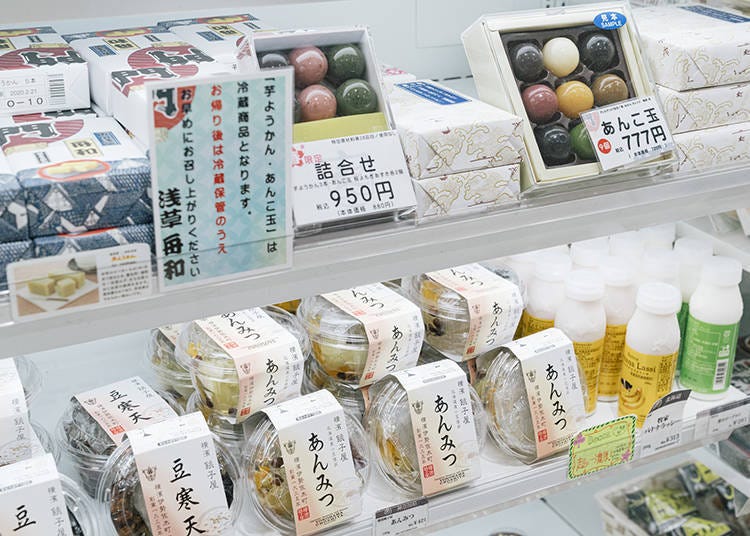 Many tourists are reported to eat purchases of confections or Japanese sweets on the spot or at hotels
Part of their store is devoted to carrying famous sweets from confectioneries around the country. This display could contain one-off selections from Kyoto, Hokkaido, Tokyo, and other prominent locations, so people with a sweet tooth ought to take a look.
Meguri Megurume
Location: Sendai Station 2F, outside central ticket gate, inter-gate walkway
Hours: 8:30~21:30
TEL: 022-380-7801

See anything interesting? Perhaps you can see why stations in Japan, and Sendai Station, in particular, aren't just places to pass through. Sendai Station has products for travel, excellent food, and products exclusive to northeast Japan. Figure these establishments into your travel plans or take advantage of them when you're passing through.
*This information is from the time of this article's publication.
*Prices and options mentioned are subject to change.
*Unless stated otherwise, all prices include tax.