Tono is in central Iwate Prefecture in northeast Japan. It's an area steeped in Japanese mythology, having provided the inspiration for The Legends of Tono, a 1910 work of collected folktales regarded as the Japanese equivalent of Grimms' Fairy Tales (1812).
Tono culture guardians guide visitors through traditional Tono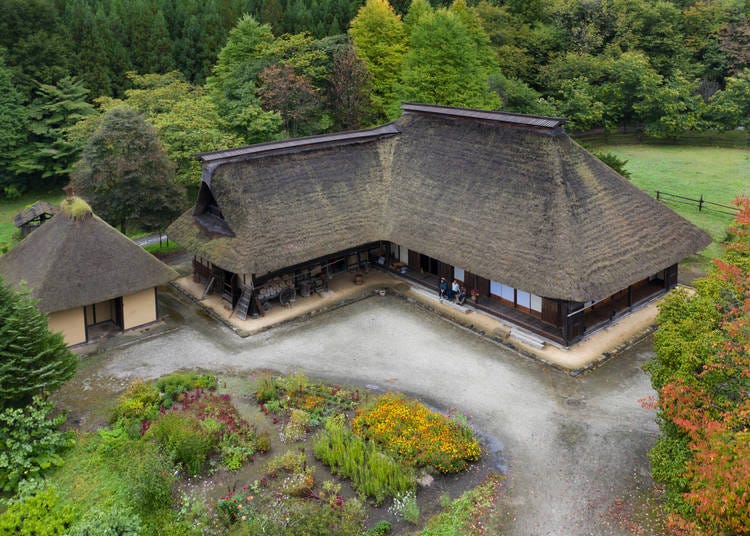 One of the magariya in the village
Tono's traditions aren't purely mythological. There are many tangible traditions that visitors to the area can enjoy and experience. The Tono Furusato Village is one such place where you can explore Tono's traditional landscape, and by taking part in one of the village's experience programs, you can dig deeper into Tono's rich history and culture.

Tono Furusato Village is a model village that recreates the feel of Tono during the Edo-period (1603–1867). The atmospheric village is dominated by large thatched-roof houses known as magariya. The recreated buildings and landscape are so detailed and authentic that the village is often used as a set for movies and period dramas.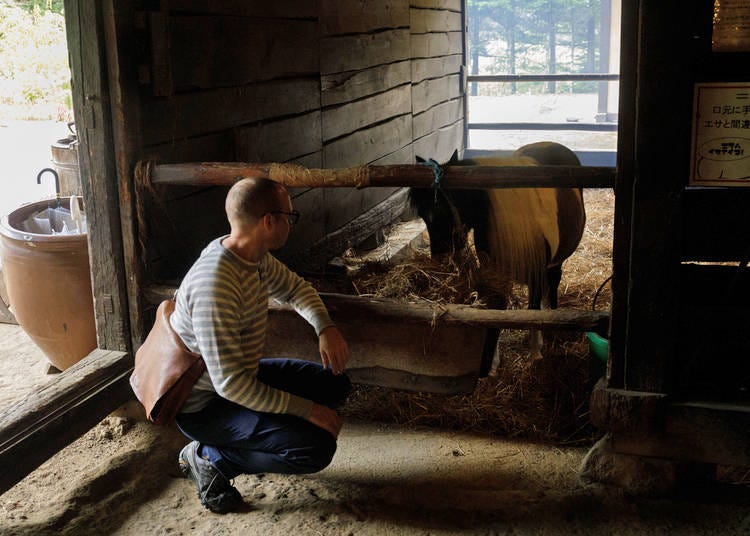 Living with horses
Many magariya are in a distinctive "L" shape because Tono villagers used to live together with their horses. Horses were unable to survive the harsh Tohoku winter, so a space was built for them inside the family home. The living space and stable were at right-angles, thus creating the "L." Visitors to the village will find a Shetland pony living in one of the magariya, giving you an idea about how people lived.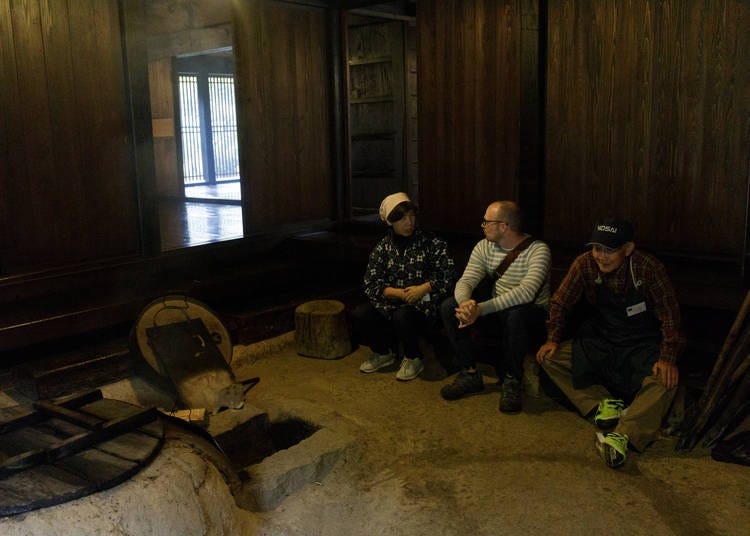 Maburitto - friendly and engaging
The atmospheric grounds and buildings are impressive, but it's the people that make the Tono Furusato Village experience worthwhile. Maburitto - the guardians of Tono culture - are dotted around the village to greet guests and inform them about cultural points of the village and the wider Tono area. These warm-hearted and friendly volunteers bring the village to life, and while they don't pretend to be fluent in English, they make use of a translation tool that helps communication run more smoothly.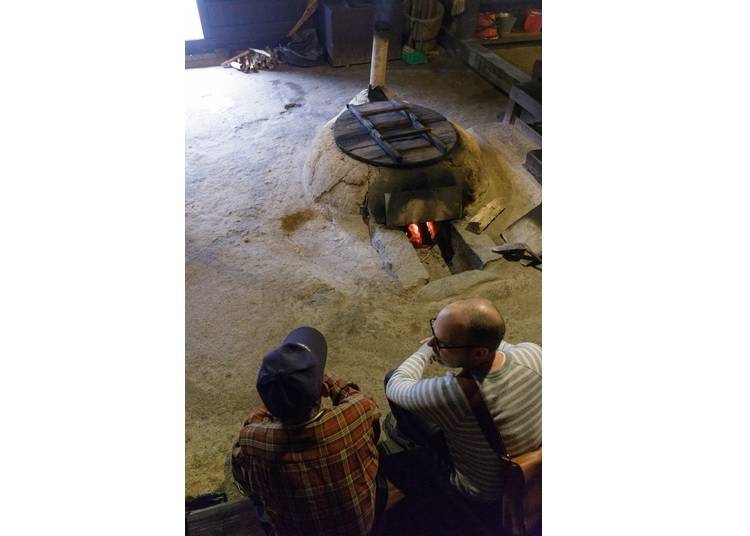 Maburitto keep an eye on the kamado stove
The maburitto keep the kamado stove burning in the Kimoiri House - the largest thatched cottage in the village. Fumiko, one of the maburitto, explains how they take it in shifts to light the stove fires in the morning and evening. This traditional stove has many uses, for example, the smoke the stove produces is used as a natural pesticide to keep bugs out of the thatch.

All the magariya have different quirks. The Daiku-don, or carpenter house, has a god of fire enshrined in the kitchen. The Kawamae Bekke house in front of the river is a work of carpentry art with bent pillars and beams, and the second floor of the Yajurodon house is actually a hidden room.
Get hands-on with traditional crafts and activities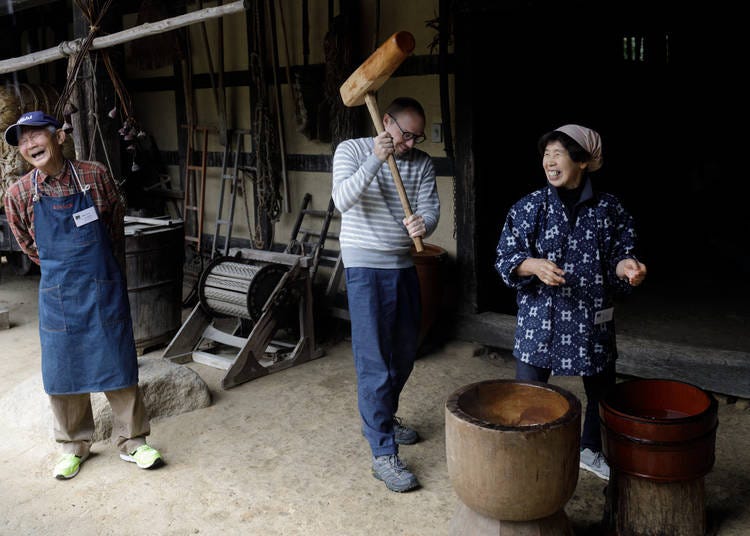 Mochitsuki rice-pounding is trickier than it seems
Visitors to Tono Furusato Village can experience more than just the feel for old Tono. You can engage in traditional practices through the village's hands-on experience programs. Mochitsuki, or rice pounding, is one of these experiences. Freshly-cooked rice is placed in a large mortar and then pounded with a mallet until it becomes sticky and glutinous.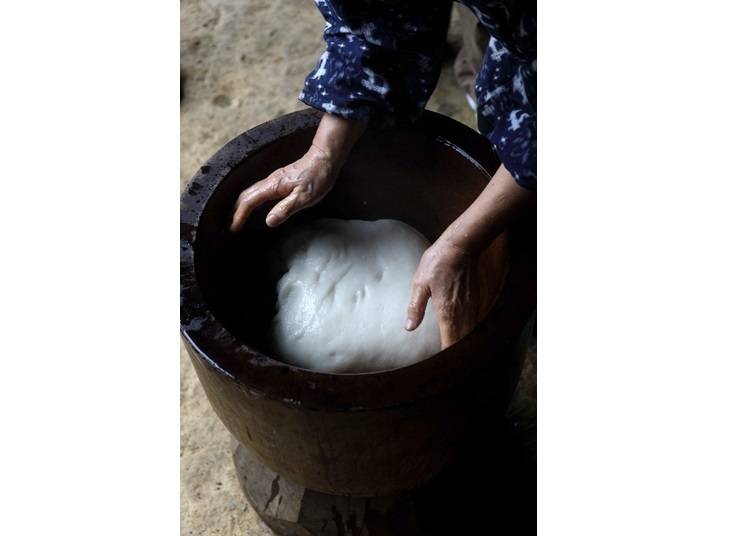 Living dangerously - maburitto handle the rice
Mochitsuki is a two-person job, and the maburitto takes the more dangerous role of flipping and turning the rice between mallet strikes. The process is trickier than it seems. It's important to lock into a rhythm, and the maburitto helps you to do this.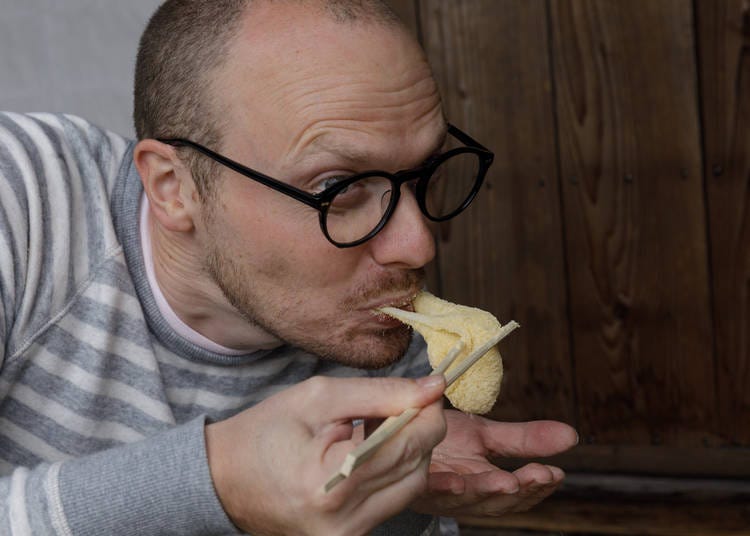 Rice cakes coated in kinako flour
After pounding the rice for around five minutes, the mochi is ready. Fumiko shows us how to make mochi cakes by tearing off pieces of mochi the size of your hand and then coating them in kinako - flour made from roasted soybeans. The result is a warm, filling snack with the kinako providing a flavorsome, nutty taste.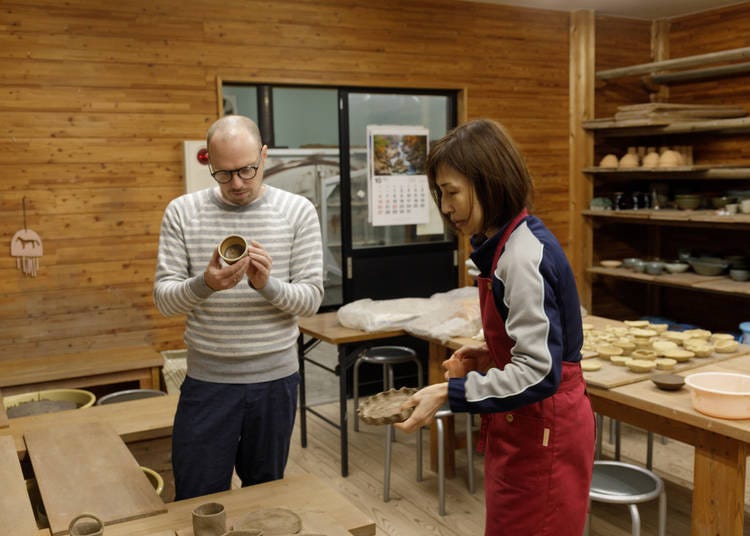 Finding inspiration from previous visitors' pottery
In the pottery class, you can create your own mug, bowl, or other implements. Staff will guide you through the process and teach you how to put your own stamp of originality on your piece of pottery.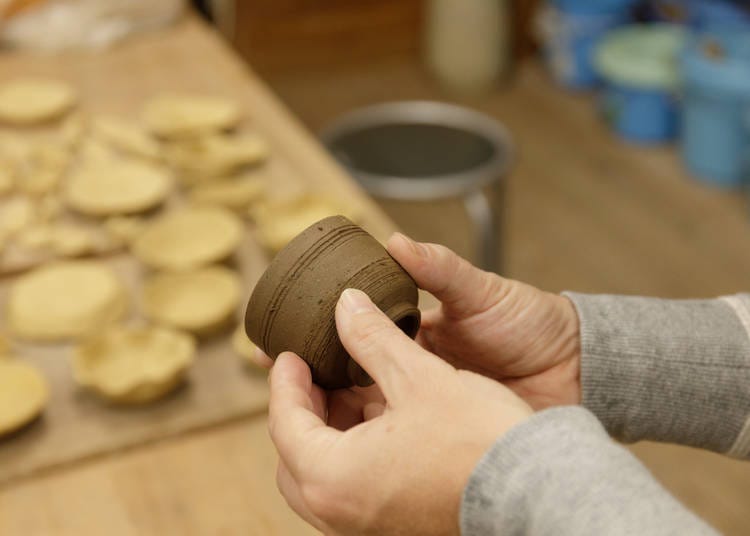 Create your own clay cup
This is a fun activity for kids (aged six and above), and after you've finished your piece, it's fired in a kiln and then sent to your home address (including overseas) around one month later. Shipping fees need to be paid in advance.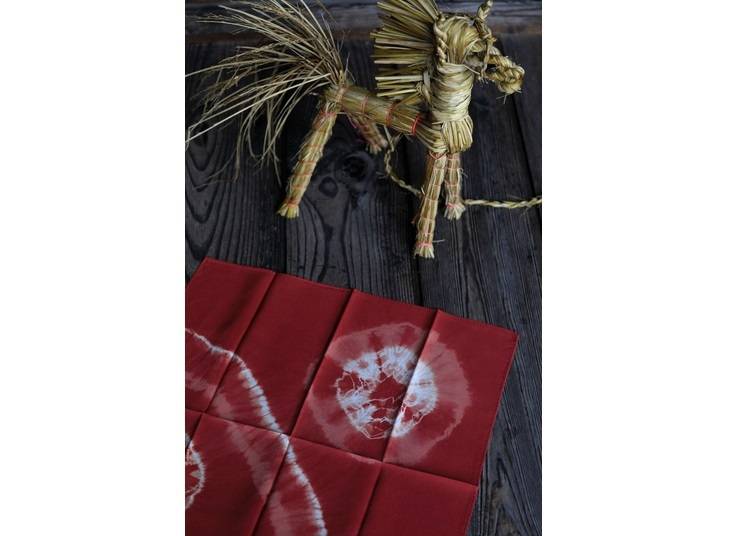 Try your hand at traditional dyeing techniques or straw doll-making
Other experiences include straw doll-making, designing your own traditional Japanese toys or votive plaques, and cloth-dyeing using traditional methods. Children aged six and above can take part in most experiences. However, the age limit is higher for some classes; make sure to check at the time of reservation. All experiences must be reserved one week in advance, so forward planning is essential.
Discover more about Tono Furusato Village at the on-site visitor center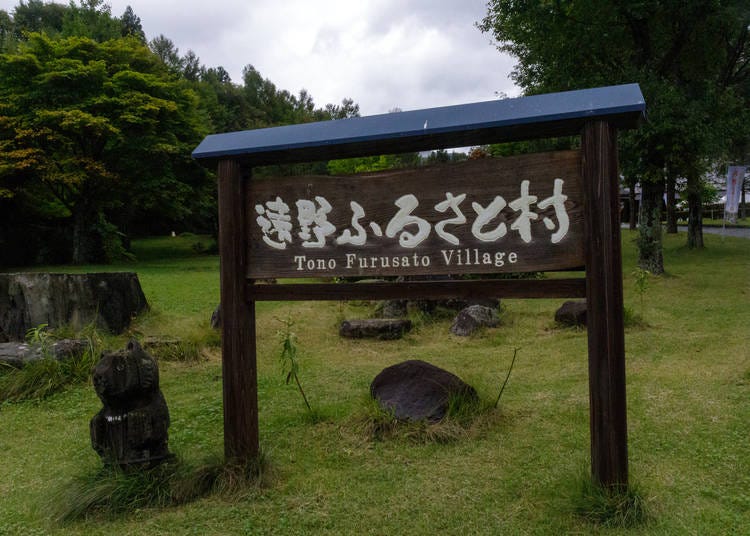 The visitor center is the first (and last) port of call for visitors to the village
The visitor center is the most modern building in the Tono Furusato Village and is the start and end of a trip here. Visitors can find out more about the village and local Tono culture through a range of English-language leaflets and pamphlets, and by asking the staff.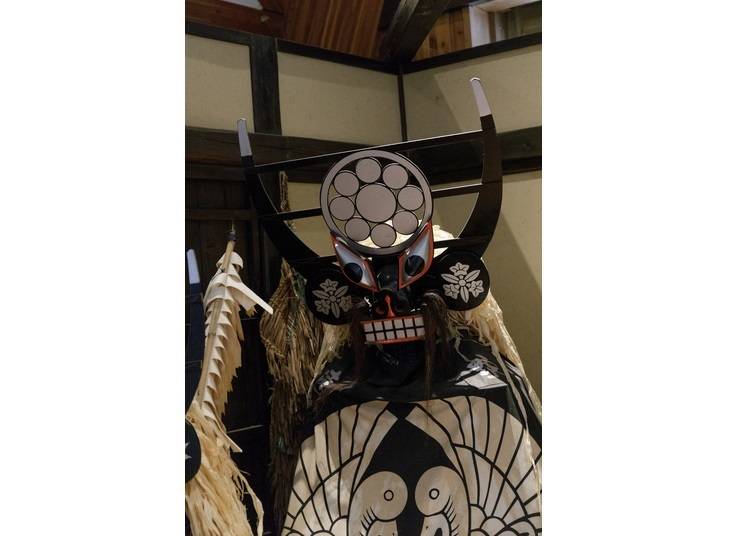 Tono is steeped in myth and folklore - find out more in the visitor center
There's a wide selection of omiyage - souvenirs or mementos - for you to purchase as a memory of your trip. There's plenty of kappa-related merchandise, too. Kappa are the mischievous water sprites that are a part of The Legends of Tono, and the visitor centers stocks cute stuffed toys, clothing, and a whole host of other items emblazoned with the distinctive creature. Alternatively, if you're interested in the myths and folklore of Tono, consider purchasing an English-language version of the 1910 text. The visitor center stocks these books.

The restaurant in the visitor center is a good place for lunch. They serve a range of light and hearty meals including jingis kahn - grilled strips of lamb meat that you barbeque. Jingus kahn is commonly associated with Japan's northern island of Hokkaido, but the Iwate version of the dish differs in that the meat is cut into larger chunks.
遠野ふるさと村

Address

5-89-1 Kamitsukimoushi, Tsukimoushi-cho, Tono, Iwate

Program:Rice-pounding; cloth-dyeing
Fee:700 yen (tax included) for rice-pounding program (groups of 10 or more); 1,000 yen (tax included) for cloth-dyeing program
Business hours:Year-round
Requirements:Reservations must be made one week in advance; entrance fees apply (550 yen for adults, 330 yen for children.*tax included)
Languages available:Japanese (English available using electronic translator)
Email:tourism@tonotv.com (NPO Tono Natural Life Network)
*This information is from the time of this article's publication.
*Prices and options mentioned are subject to change.
*Unless stated otherwise, all prices include tax.