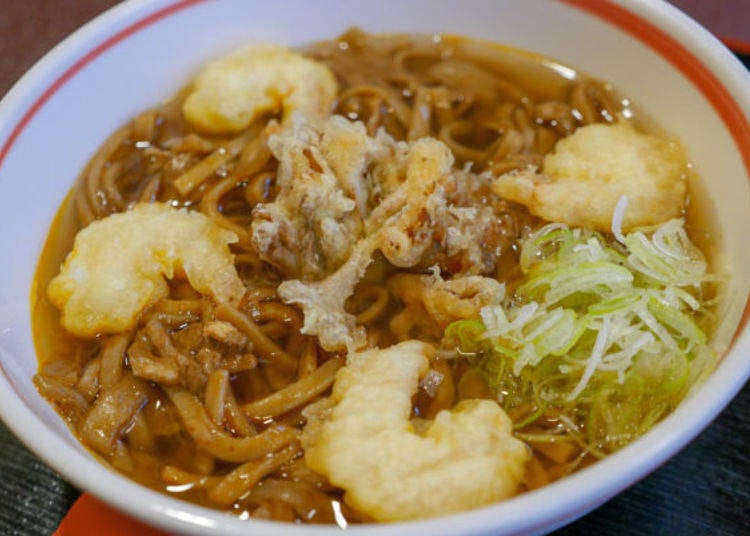 There are many famous local stir-fried yakisoba noodles around the country, such as Shizuoka Prefecture's Fujimiya Yakisoba and Akita Prefecture's Yokote Yakisoba.

Aomori Prefecture's local cuisine called Kuroishi Tsuyu Yakisoba, or stir-fried noodles in soup, has been picked up the media in recent years. This time we visited popular restaurants in the place of origin, Kuroishi City, to learn how this unique soul food was created and the secret behind its charm.
▲What is Kuroishi Tsuyu Yakisoba?
What is Kuroishi Tsuyu Yakisoba?
Located in the center of Aomori Prefecture, 80% of Kuroishi City is covered with forest and nature. It is a popular sightseeing location in autumn, where people come to enjoy the beautiful fall foliage. Also, it was known as a castle town during the Edo period, and it is full of history with buildings like sake breweries.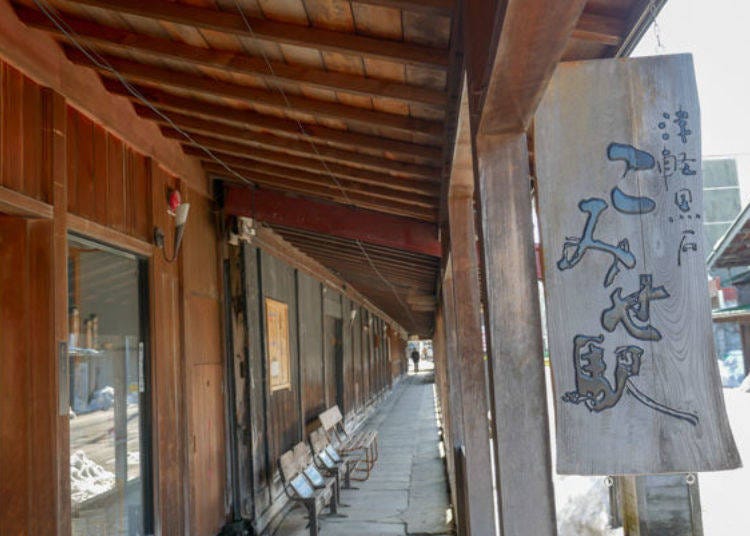 ▲Nakamichi Komise Dori designated as an Important Preservation District of Historic Buildings
One thing you can't leave out when talking about Kuroishi City's food culture is yakisoba. After the war, many noodle-making factories opened up in the city and Kuroishi Yakisoba, boiled dried noodles stir-fried with soy sauce, became a popular snack in the area.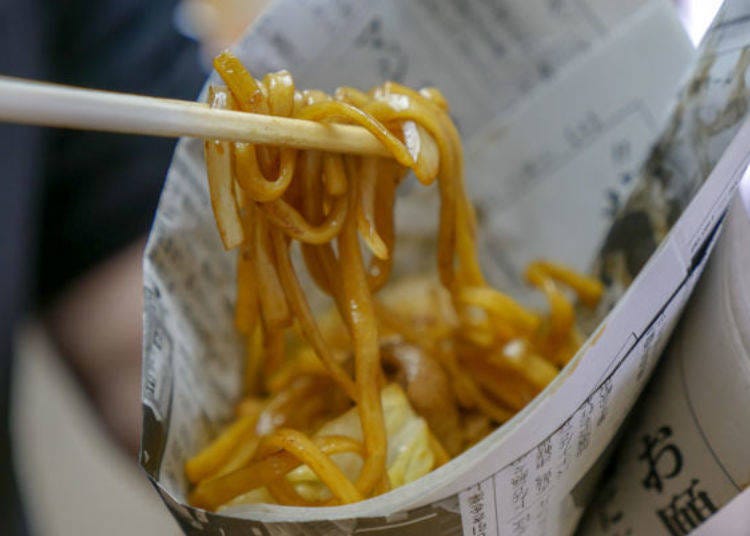 ▲Recreation of the Kuroishi Yakisoba of that time. The noodles didn't have many ingredients, and newspaper containers were common at the time
Kuroishi Tsuyu Yakisoba was created around the latter half of 1955. It is said that a small diner called Mimasu in Kuroishi City started putting Kuroishi Yakisoba in tsuyu (soup) so people can have something warm to eat in winter (there are various theories).

When Mimasu closed the tsuyu yakisoba went with it; however locals who missed the flavor started recreated the menu in local restraints, and it became the new hot topic. The group that promotes Kuroishi Tsuyu Yakisoba, "Kuroishi Tsuyu Yakisoba Happy Megoija" has ranked in the "B-1 Grand Prix (R)" (a festival to revitalized towns through local cuisine) multiple times, and it became popular nationwide.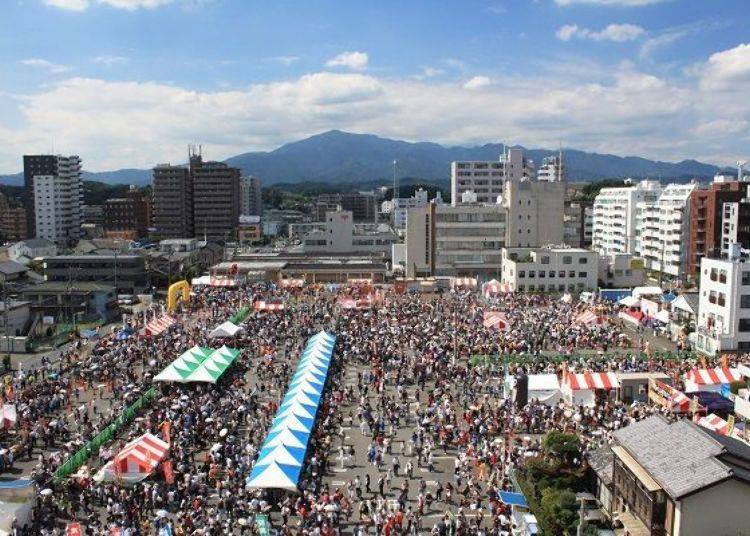 ▲The sight of "B-1 Grand Prix (R)" held in the past in Atsugi
As of 2019, there are over 70 stores that offer Kuroishi Tsuyu Yakisoba in the city, and it has become a standard dish that represents the area. The most common soup is made with Japanese dashi, but there are various flavored soups such as ramen soup, tonkotsu soup (pork bone soup), and salt-based soup. Each shop has its own unique spin, and we tried out three popular restaurants!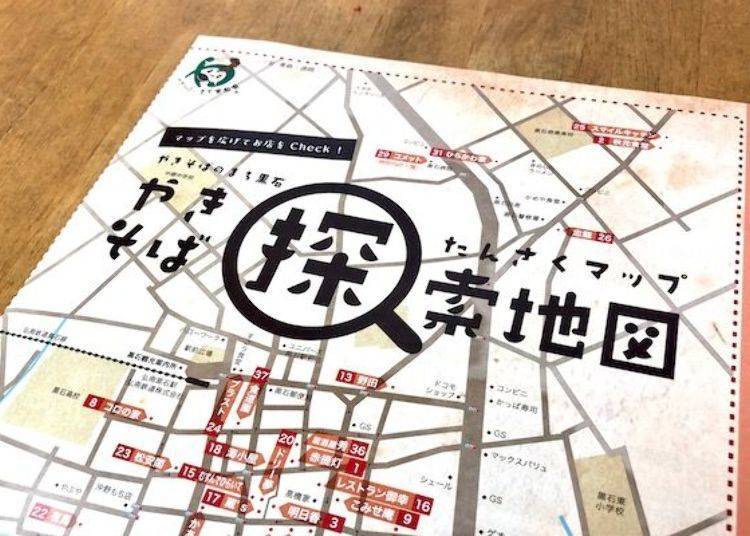 ▲The free "Yakisoba Search Map" that lists restaurants that serve Kuroishi Yaskioba and Kuroishi Tsuyu Yakisoba in the city area.
1. Myoko: Originator of Tsuyu Yakisoba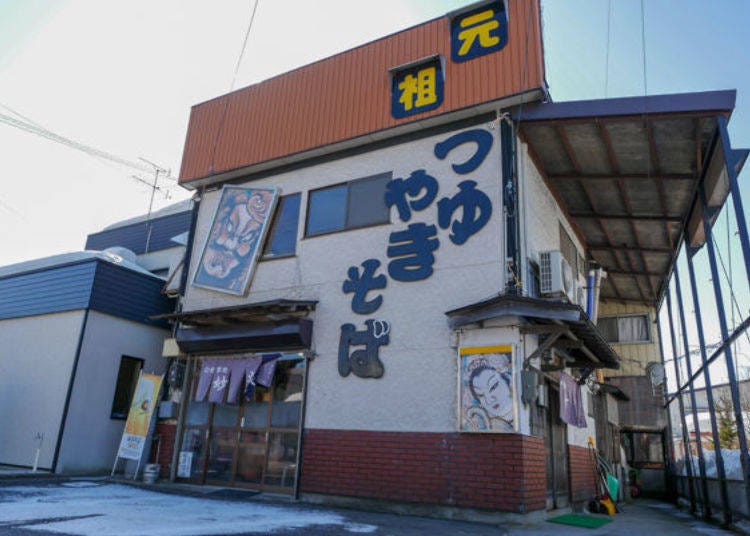 ▲Look for the sign
Restaurant Myoko opened in 1978, and it is located about 15 minutes on foot from Konan Railway Kuroishi Station. The owner Mr. Hiromi Nakamura is also a painter of kites for the Neputa Festival and many Tsugaru Kites made by Mr. Nakamura are on display.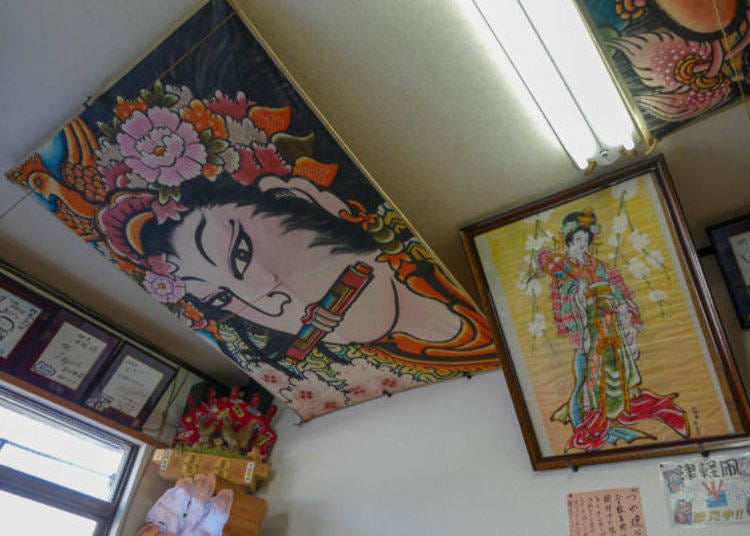 ▲The Tsugaru Kite's displayed in the restaurant were used in local kite contests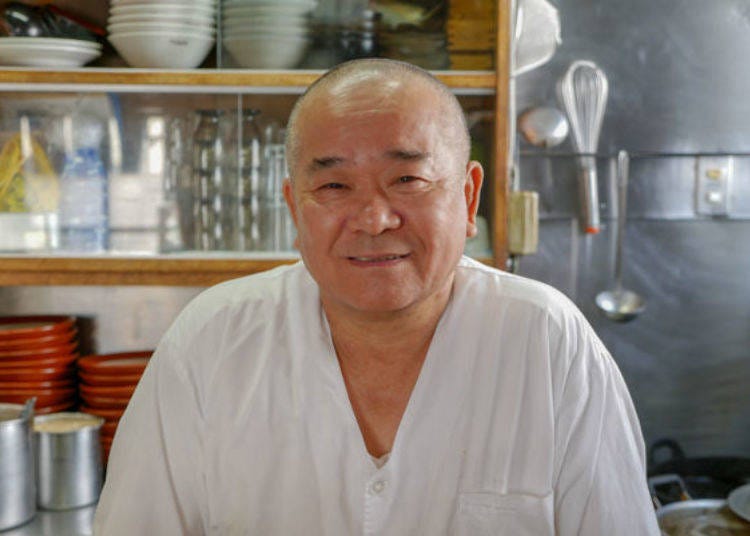 ▲Mr. Nakamura trained to become a chef in Tokyo Asakusa, and then returned to his hometown of Kuroishi
The signature dish "Ganso Tsuyu Yakisoba," is a ramen based Kuroishi Tsuyu Yakisoba, and it is the first of its kind.

As an original it has become a local favorite. However Mr. Nakamura says that "it was created by accident."

About 10 years after the restaurant opened, he accidentally dropped the sauce based yakisoba into the shoyu based ramen soup, and this is how Ganso Tsuyu Yakisoba was created. Watching him cook the dish, he puts yakisoba into ramen soup!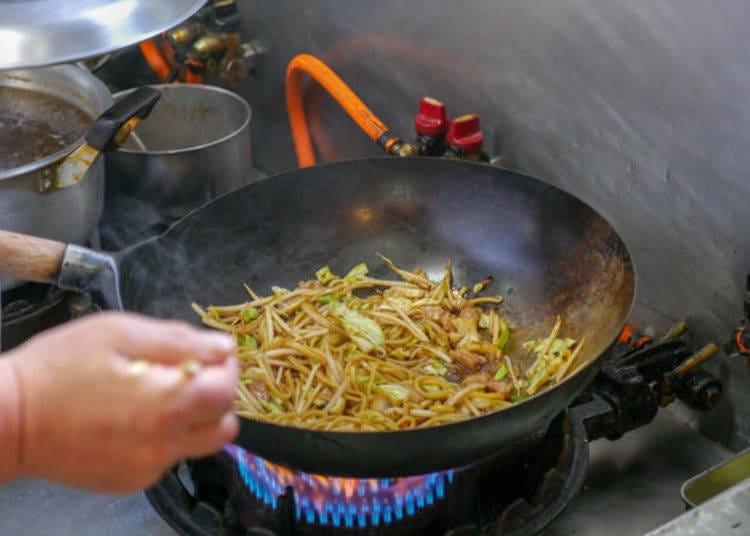 ▲The yakisoba is made with lots of cabbage, bean sprouts, pork, and the secret sauce.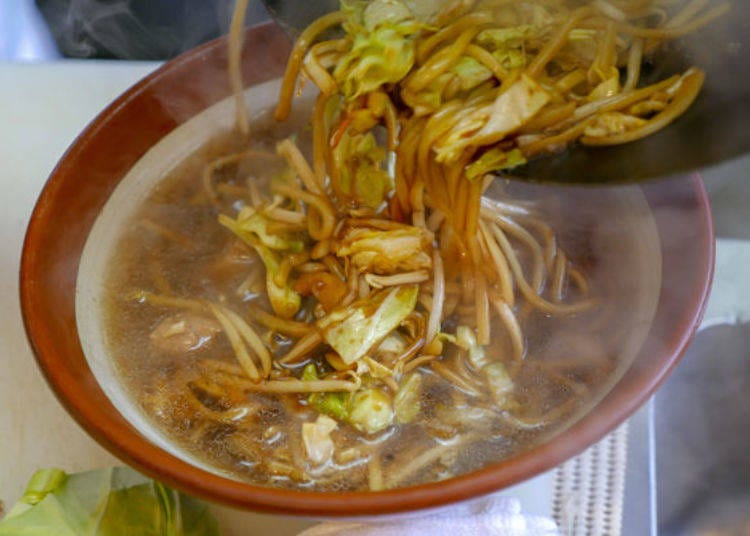 ▲Then the noodles are placed in a shoyu based soup made with chicken and pork bones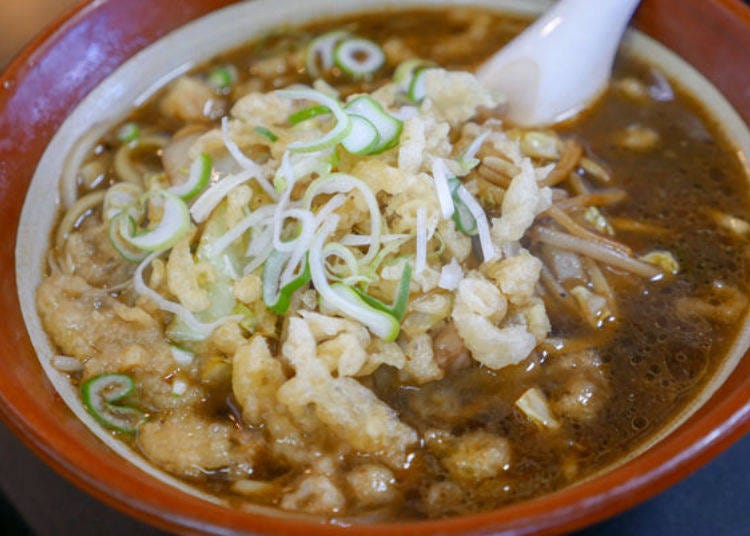 ▲The "Ganso Tsuyu Yakisoba" (700 yen tax included) is completed with lots of green onions and agetama (deep-fried flour batter bits) toppings.
I was first surprised by the combination of yakisoba and ramen soup, but the soup is very light and delicious. Next, I took a bite of the special thick flat noodles made for yakisoba, and it mixed well with the soup and was easy to eat.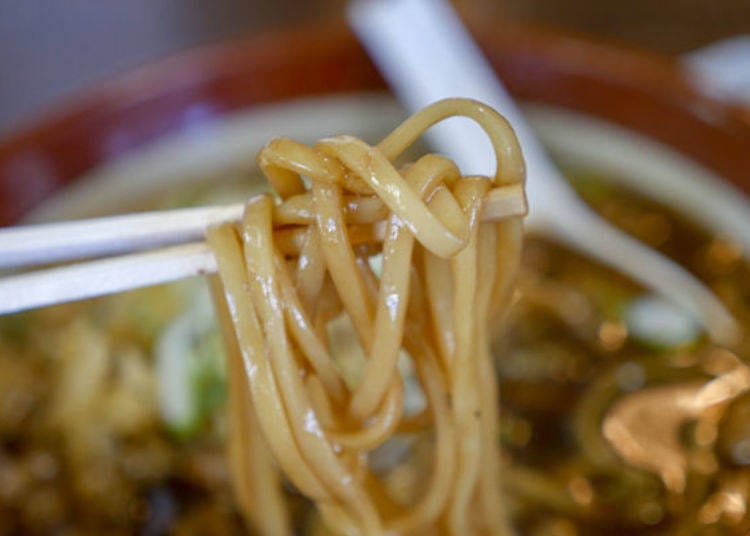 ▲The chewy, thick flat noodles have a nice texture and match the rich sauce
After eating for a while, the sauce and agetama melts in the soup and changes the soup to a sweet and sour flavor. It is a flavor that gets you hooked to it. It's not too salty and heavy, the soup and sauce amazingly matches.
▲The soup was clear at first but turns to darker sauce color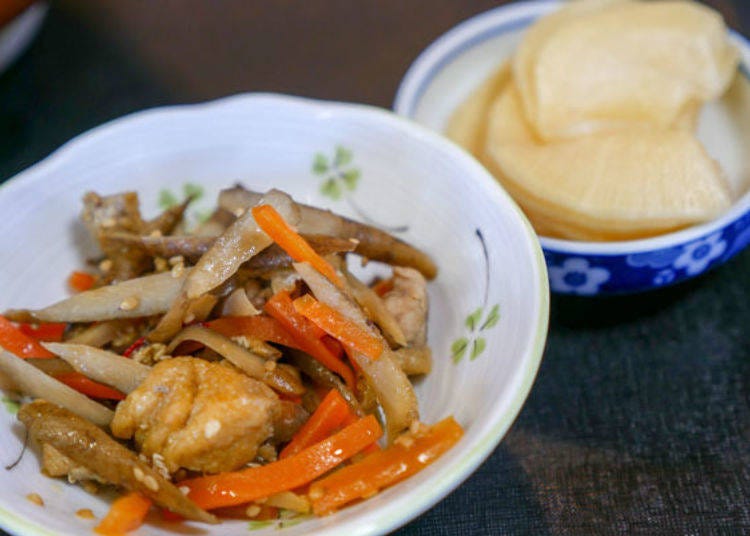 ▲The kimpira gobo (chopped burdock root cooked in sugar and soy sauce) and radish pickles that comes with the set is also a nice addition
The mixture of soup and yakisoba is amazing, and it's hard to believe it was created by accident. Also it is a hearty dish with lots of vegetables. We also recommend the Tako Ramen (700 yen, tax included); the ramen has pickled octopus (tako) which is a play on word in Japanese for kite (tako).
お食事処 妙光

Address

66 Motomachi, Kuroiwa-shi, Aomori

Phone Number

0172-53-2972

Hours: 11:00 a.m - 6:00 p.m.
Closed: not scheduled
2. Suzunoya: A Restaurant that Succeeded the Original Flavor
Next up is the Kuroishi Yakisoba specialty restaurant Suzunoya, located on a corner of Nakamichi Komise Dori. Suzunoya is run by Mr. Tamio Suzuki, who remembers the flavor of Mimasu, and here you can enjoy the original flavor of tsuyu yakisoba.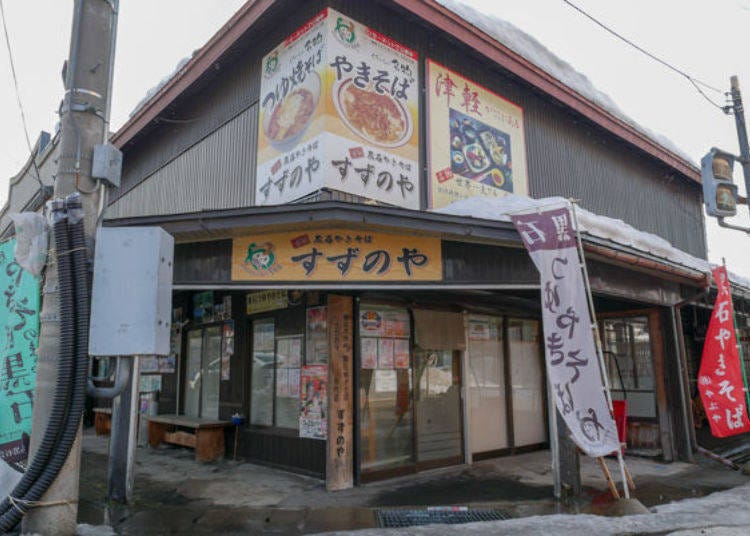 ▲Suzuya located on the corner of Nakamichi Komise Dori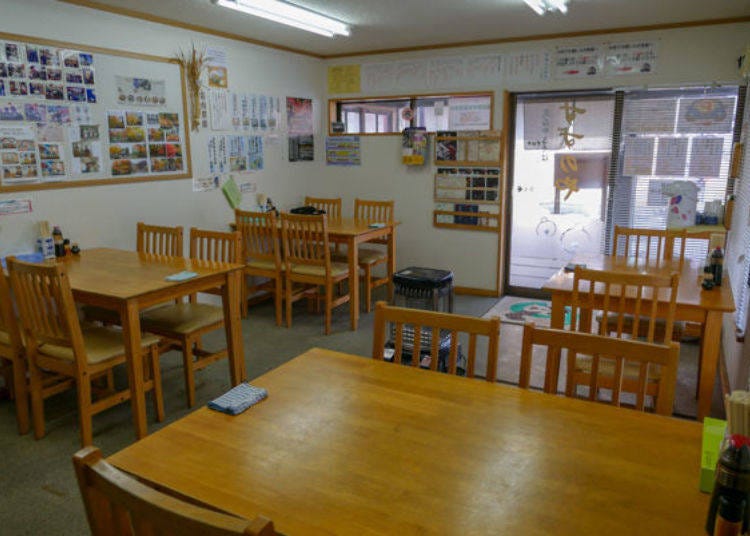 ▲In the store, there are many articles of Suzuya from newspapers and other media outlets
▲Kuroishi Tsuyu Yakisoba (550 yen tax included)
The Kuroishi Tsuyu Yakisoba, was created to recreate the original flavor of Mimasu, it has simple toppings of green onions and agetama. The plainer tasting shoyu flavor soup and thick flat noodles matches and once you start you can't stop.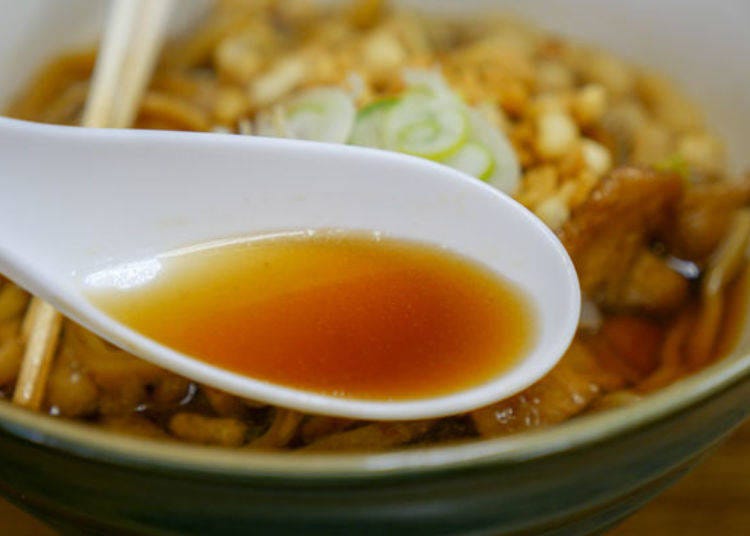 ▲The shoyu based soup made with chicken bones and kombu dashi (kelp soup stock) is light and goes down smoothly.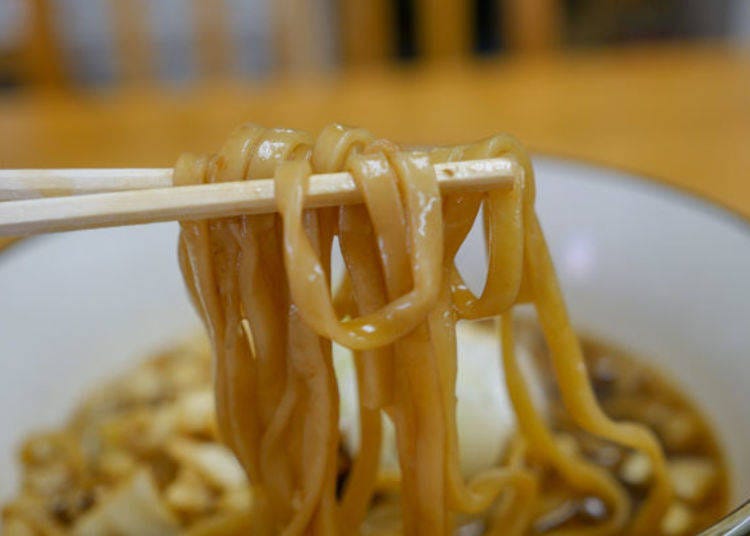 ▲The thick flat noodles made with flour from Aomori Prefecture
We recommend adding Worcestershire sauce as you eat to adjust the flavor. Mr. Suzuki said that when he was a child, he would use Worcestershire sauce when he ate at Mimasu as a child. By adding extra sauce it gives a deeper flavor to the soup.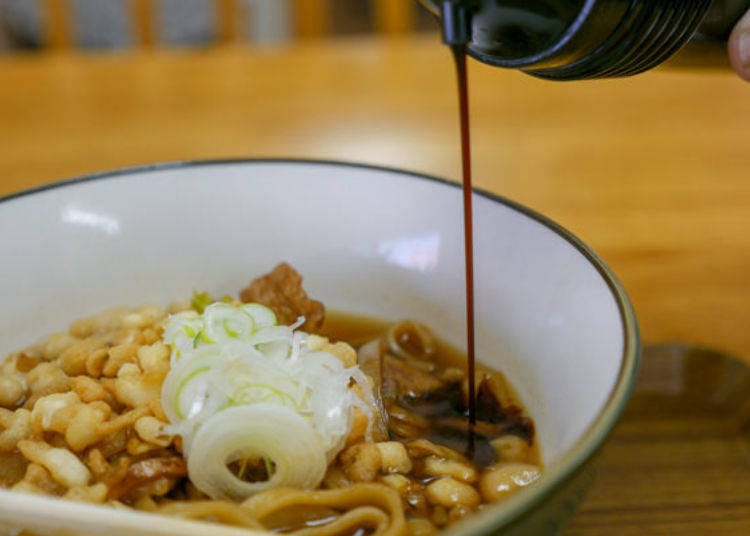 ▲Enjoy the change of flavor with Worcestershire sauce
The simple yet rich, soft flavor, gave me a nostalgic feeling. The hot soup warms up the body, and you can see why it is loved by locals and tourists.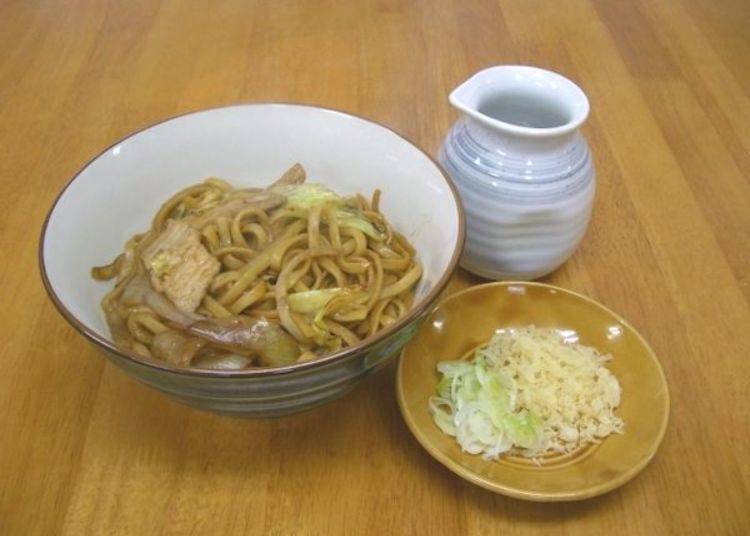 ▲Kuroishi Yakisoba and soup are separate, and the popular the "Bake Yakisoba" (650 yen tax included) allows you to enjoy both flavors (Photo provided by Suzunoya)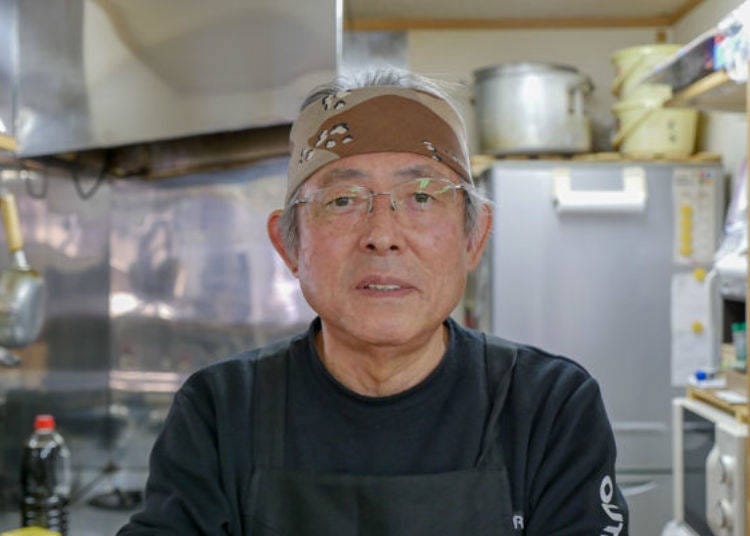 ▲Mr. Suzuki attends local cuisine events in other prefectures to promote Kuroishi Tsuyu Yakisoba.
すずのや

Address

1-3 Maemachi, Kuroiwashi, Aomori

Phone Number

0172-53-6784

Hours: 11:00 a.m - 3:00 p.m.
Closed: Tuesday
3. Kurayoshi: Fancy Toppings and Rich Flavored Japanese Soup
Fifty meters past Suzuya is "Sousaku Ryori no Mise Kurayoshi," which is a creative cuisine restaurant that renovated a storage building built in 1845. The Kuroishi Tsuyu Yakisoba they offer is said to be more of a Japanese restaurant style, so we decided to give it a try.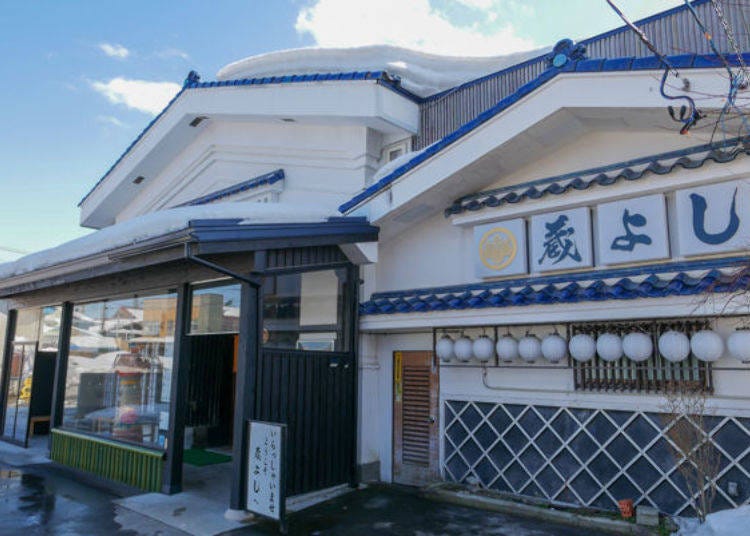 ▲An impressive historical storehouse exterior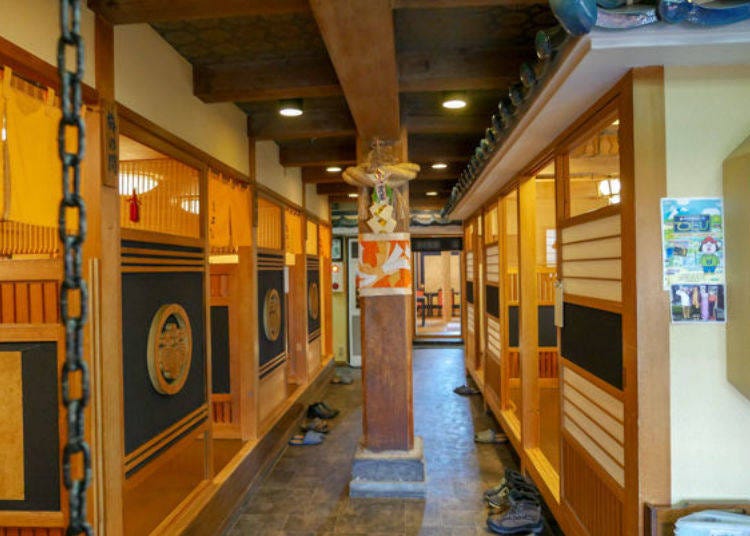 ▲An interior that gives an Edo period feeling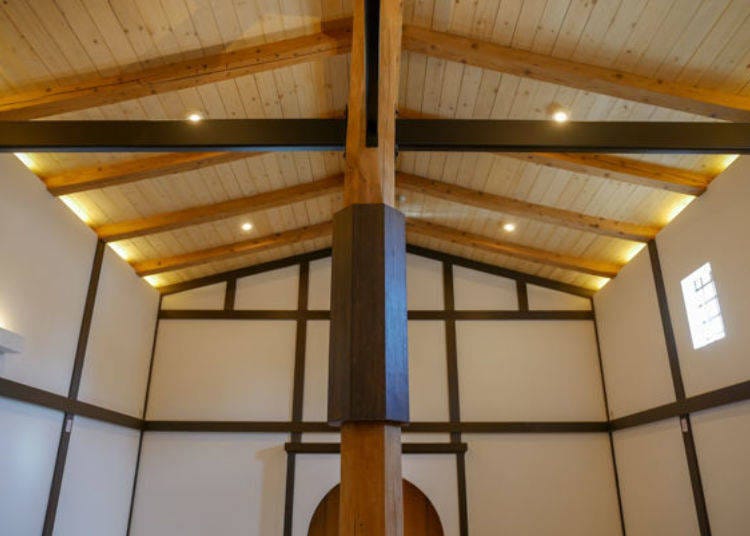 ▲The large pillar in the group guest private room "Tenpo no Ma," was created using the wooden framework technique from the Edo period
Kurayoshi's Tsuyu Yakisoba, the biggest feature is the soup. The soup stock is made from quality dried-bonito shavings and flavored with shoyu and other ingredients, which gives it a clean taste. When the stronger sauce flavor from the yakisoba mixes it allows you to enjoy two different flavors at once.
▲The Tsuyu Yakisoba (800 yen, excluding tax) comes with shrimp tempura and maitake mushroom tempura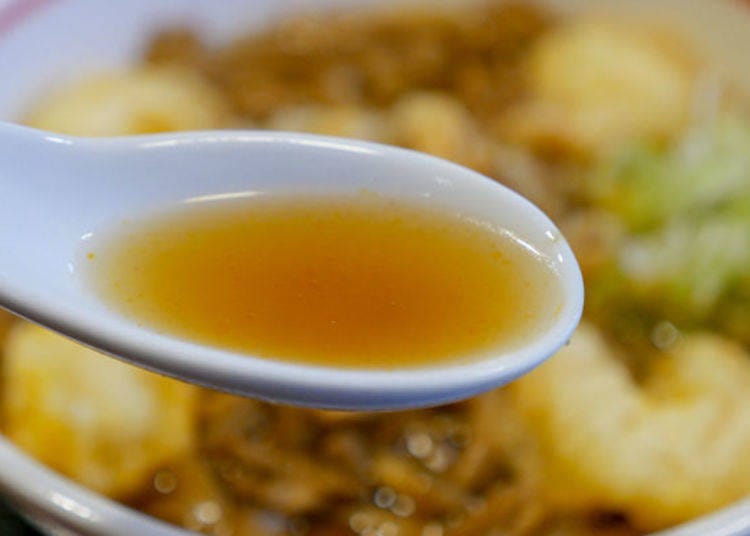 ▲To enjoy the flavor of the dashi, take a sip of the soup before mixing it
The most common type of toppings for Kuroishi Tsuyu Yakisoba is green onion and agetama, but the unique feature of this store is the higher rank toppings of shrimp tempura and maitake mushroom ('hen of the woods') tempura. The combination with the Japanese style soup reminds me of Japanese style soba. The thick flat noodles that have a chewy texture is such a delight and will get you hooked to it.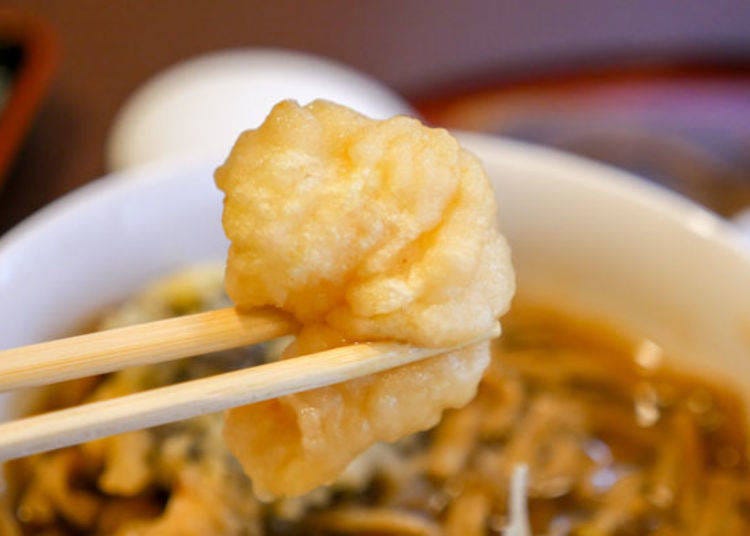 ▲The noodles have 4 shrimp tempura that are nice and plump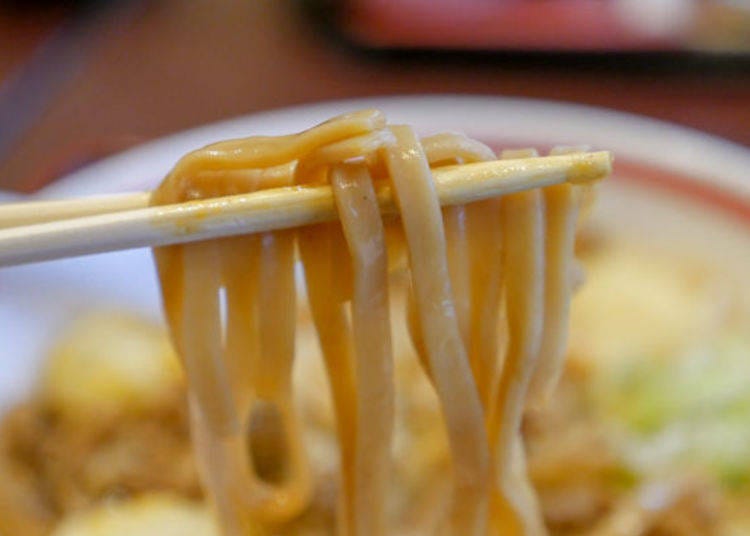 ▲As you eat, the noodles start to mix in with the soup
For people who would like to try other local cuisines, we recommend the tsuyu yakisoba set "Tsugaru." This popular set offers seafood and mountain vegetables.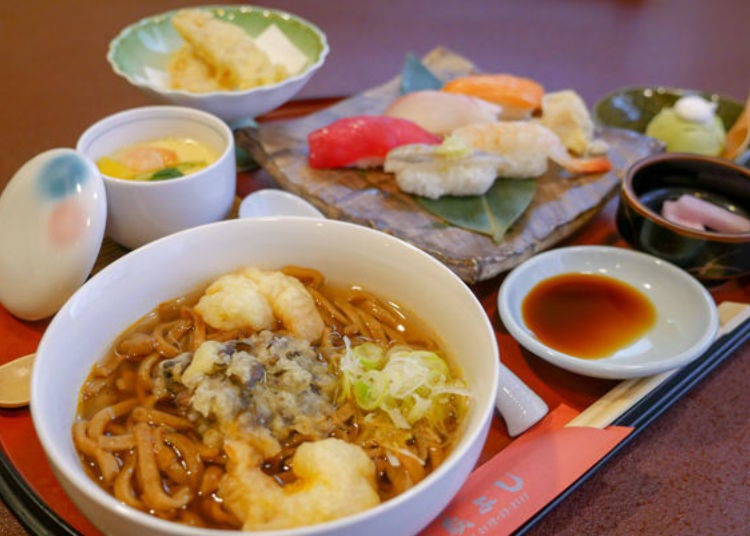 ▲Tsugaru, the tsuyu yakisoba set that offers local ingredients of the Tsugaru region year-round (1,500 yen excluding tax). From the left going clockwise, Kuroishi Tsuyu Yakisoba (small), Slightly Sweet Tsugaru Chawanmushi , Dakekimi corn tempura, 5 item sushi set, Kurayoshi handmade matcha ice cream, and Shichinohe Yamaimo Shibatsuke (pickles)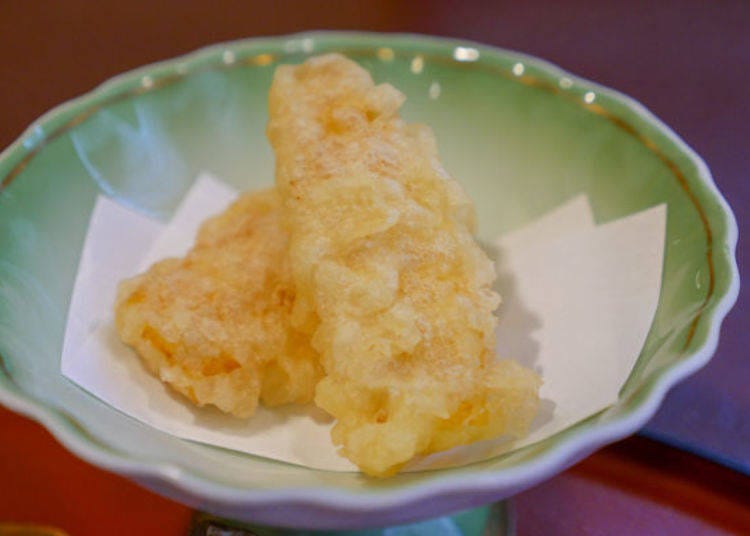 ▲Out of the set I strongly recommend the Dakekimi Tempura. The local brand corn "Dakekimi" is so sweet that you can eat it raw (for ala carte with 5 pieces, 500 yen excluding tax)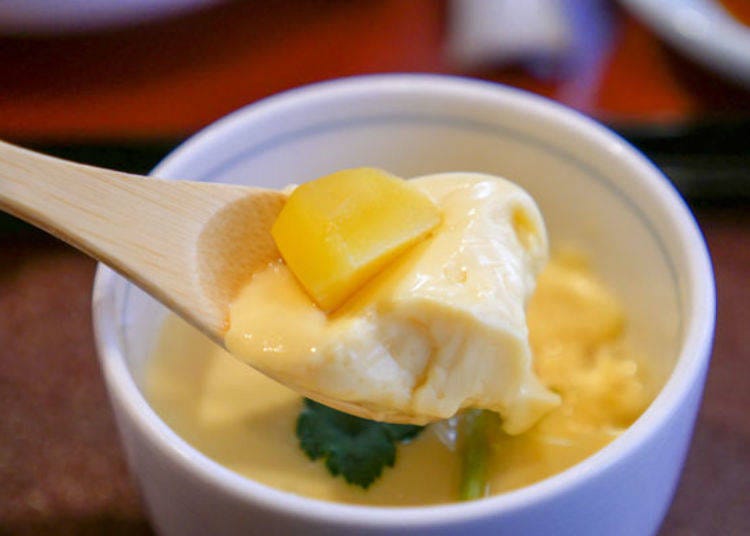 ▲The chawanmushi in the Tsugaru region has chestnut in it and it is slightly sweet
Satisfying soup and quality toppings. The tsuyu yakisoba set required reservations, however, due to its popularity, you can order it without reservation now so that you can stop by casually.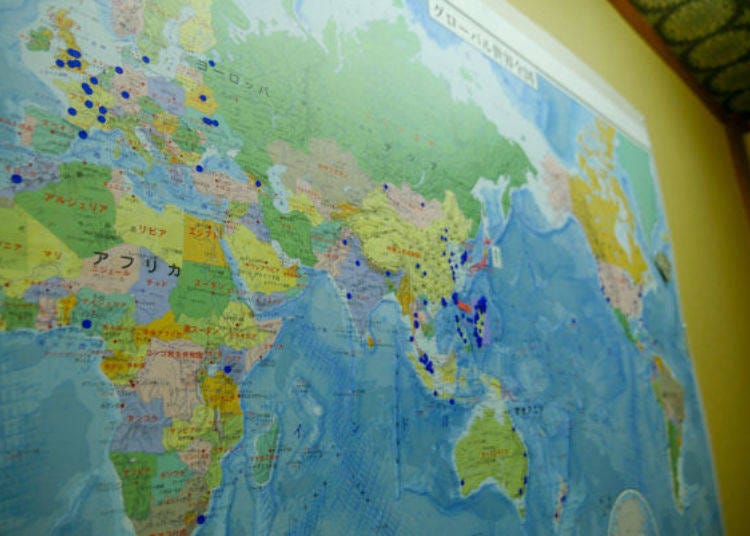 ▲With many customers from around the world, the menu is also in English
Sousaku Ryori no Mise Kurayoshi

創作料理の店 蔵よし

Address

13 Yokomachi, Kuroishi City, Aomori

Phone Number

0172-53-2111

Hours: 11:00 a.m. - 3:00 p.m. (L.O. 2:30 p.m.), 5:00 p.m. - 9:30 p.m. (L.O. 8:45 p.m.)
Closed: Wednesday, January 1st, August 13th, December 31st
It's hard to explain the combination of yakisoba and soup flavor mixing, but when it mixes, it creates an amazing flavor. Please try out the local dish Kuroishi Tsuyu Yakisoba in Kuroishi City!
*This information is from the time of this article's publication.
*Prices and options mentioned are subject to change.
*Unless stated otherwise, all prices include tax.