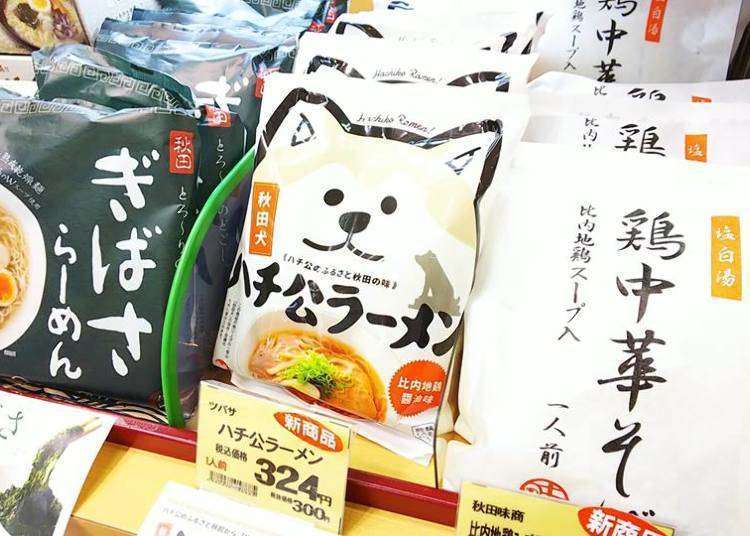 You've finally made it to Akita, and after lots of fun and sightseeing, it'll be great if you could get all the Akita souvenirs you needed in one place. In such a case, Akita Prefectural Goods Plaza is the perfect place for you!

Located at the proverbial entrance into Akita, the shop is located near Akita Station. From Akita-inu plushies to famous souvenirs from Akita to other unique goods, the variety is astounding, and you're sure to find something you'll like from their wares.

This time, we'll be introducing some goods that are especially suited for foreign tourists to Akita!
Akita Prefectural Goods Plaza: A must-go during your search for souvenirs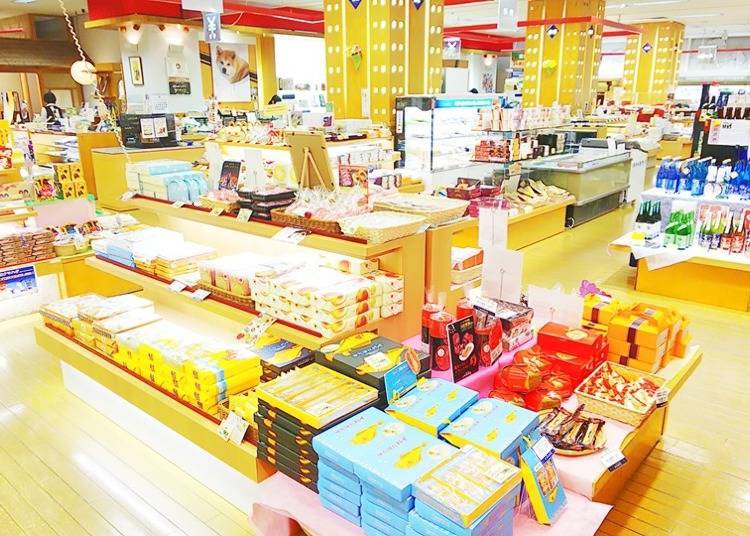 Located just 5 minutes away from JR Akita Station, Akita Prefectural Goods Plaza is located in the basement of Atorion, a shopping complex housing a museum and concert hall.

From famous confectionaries of Akita, to kiritanpo, a rice skewer unique to Akita, and iburigakko, Akita-style pickled vegetables, and traditional craft goods such as magewappa, goods made of steam bending wood, there are over 4000 Akira souvenirs and items to be found. The goods are also arranged by genre, such as Inaniwa Udon noodles, and Akita-inu plushies, making it easy to find your favorite things.

As the shop also offers tax exemptions, it's regularly frequented by foreign tourists too.

With that, let's take a look at some souvenirs that foreign visitors will find particularly attractive.
1. Akita-ben can badge: a button badge that teaches you the Akita dialect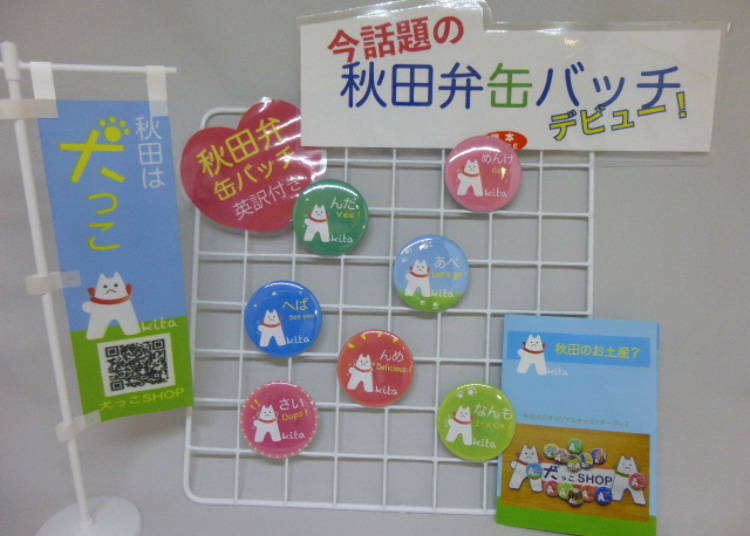 The most popular items are can badges. A relatively small badge at just 56 millimeters, an adorable Akita-inu is printed with a word in the Akita dialect.

Each badge is printed with the English translation of each word too, such as "nme (Delicious)" and "heba (See you)", making them particularly popular amongst foreign visitors.

There are seven different badges available, including "nda (Yes)", "sai (Oops)", "abe (let's go)", "nanmo (It's ok)", and "menke (Cute)".

The price is reasonable as well, at 330 yen each. There are other can badge designs as well, including ones featuring illustrations of "namahage", a monster in Akita's folklore, as well as pictures of adorable Akita-inu dogs, so be sure to search for your favorites!
2. Green soybeans dragée: a marriage between soybeans and chocolate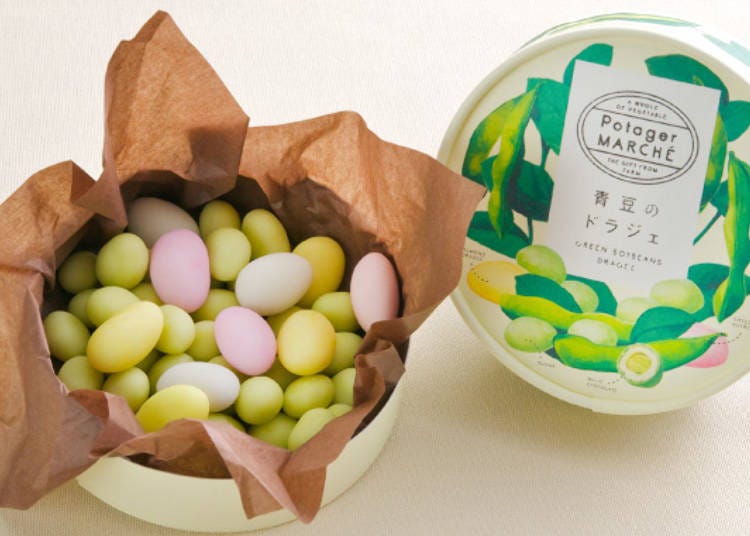 Outside of Japan, soybeans can often be found in the freezer section of supermarkets. Full of nutrients and low in calories, it's popular amongst the health-conscious and vegetarians. The combination of soybeans with chocolate resulted in the candy "green soybeans dragée", which costs 1000 yen.

The soybeans used are a variety originating from Akita, the "Akita Kaori Goyō", acclaimed for its fragrance and taste. The beans are freeze-dried and dipped in a white chocolate coating. Besides the light green dragée used for soybeans, pink, yellow, and white dragées are used for almonds. The combination of pastel colors is pleasing to the eye as well.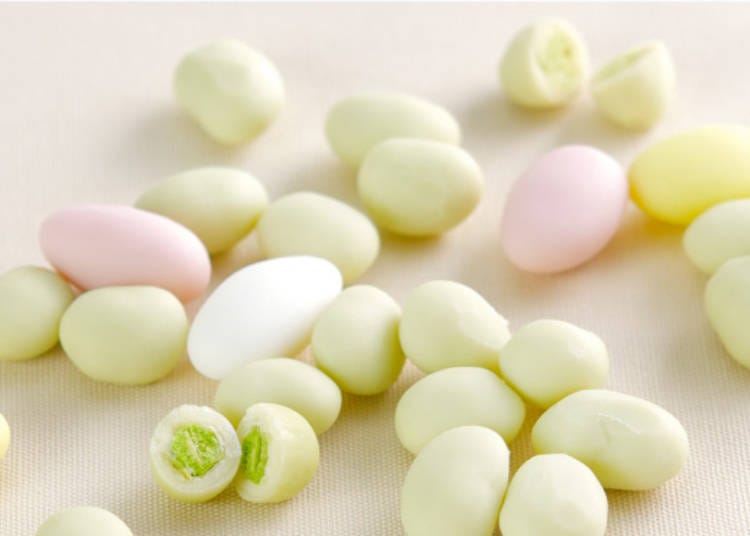 As you pop each one in your mouth, the light and crisp texture is accompanied by the gentle fragrance of soybeans. The mellow flavor of the chocolate, accompanied by the top-grade soybeans, melds into a sophisticated flavor.

The oriental flavors of the soybeans are an exquisite match for the taste of western chocolate. Even after being processed, the Akita Kaori Goyō retains its flavors. The chocolates can last for six months and can be transported at room temperature, making them a great souvenir to bring home.
3. Masaru Akita-inu plush toy: a warm and friendly face that melts your soul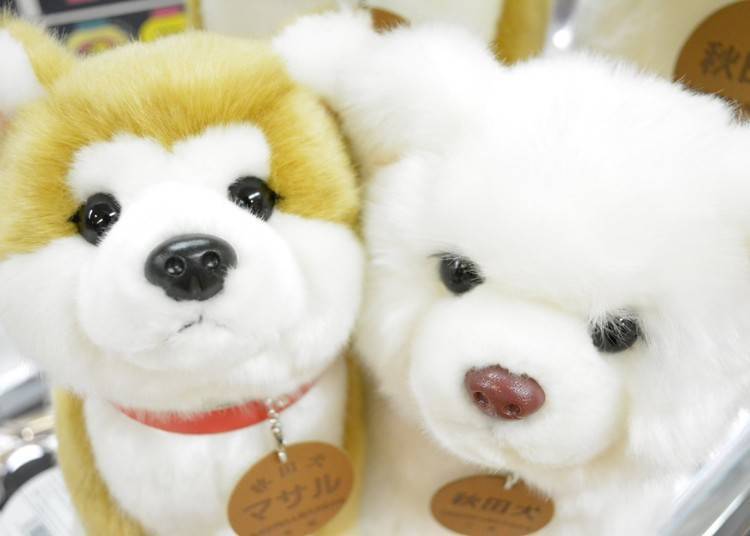 One of the most fiercely popular items is this item, a plush toy featuring one of Japan's dog breeds, the Akita-inu, which hails from Akita Prefecture.

Akita Prefectural Goods Plaza carries many goods with motifs of the Akita-inu, including sweets, daily goods, and stationery, and amongst them, one of the most popular items with foreign visitors is this large plush toy.

Out of all the plush toys available, the one we recommend is one of the Akita-inu Masaru, which costs 3476 yen. This particular doll is modeled after Masaru, the Akita-inu that was gifted to Russian figure skater Alina Zagitova, after her gold medal win at the Pyeongchang Winter Olympics.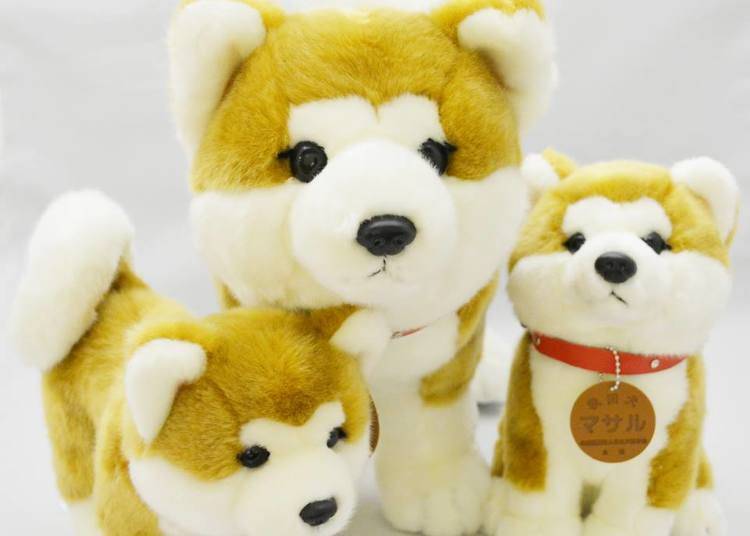 In fact, this particular product is officially endorsed by the Akita Dog Preservation Society, a group dedicated to the preservation, protection, and breeding of the Akita-inu. As such, the position and angle of its eyes and ears, and even the roundness of its tail, are all made to very specific requirements. There are two sizes available, in M and L, as well as two postures, with the dog either standing or sitting.

There are other types of Akita-inu plush toys available, from ones with pure white fur, to those that can fit in the palm of your hand. If you prefer something more affordable, there are handkerchiefs, socks, and ballpoint pens available too.
4. Akita Instant ramen: a taste of gourmet food right at home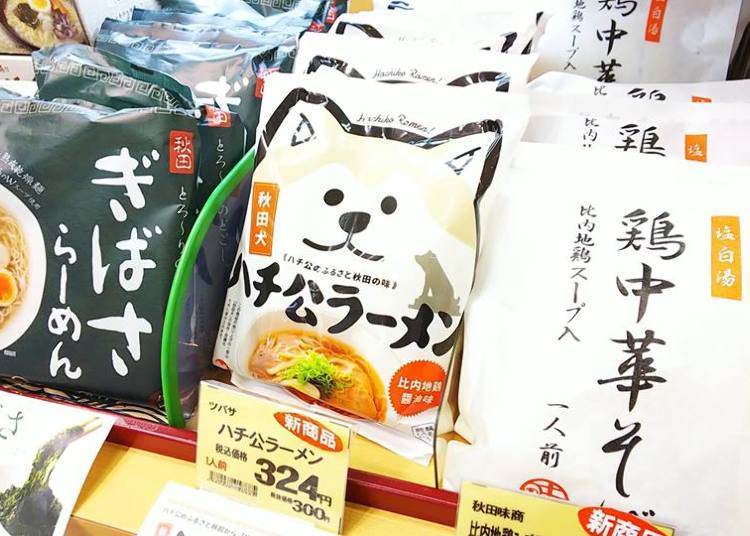 One of the must-have souvenirs from Japan is, of course, instant ramen. Akita Prefectural Goods Plaza features instant ramen created and supervised by famous Akita ramen shops in Akita Prefecture, with soup stocks made using branded beef and Hinai chicken, a breed of chicken local to Akita, and it's 100% made in Akita. As you can easily get a taste of Japan back in your home country with this, it's a very highly rated product!

From cup noodles to ramen that can be made in the microwave or cooked over a stove, there's a wide variety available. Both light and long-lasting, it's the perfect souvenir to bring back home. Above all else, at affordable prices ranging from 300 to 1000 yen, regardless of the price tag you're guaranteed some delicious and high-quality ramen in the comfort of your own home.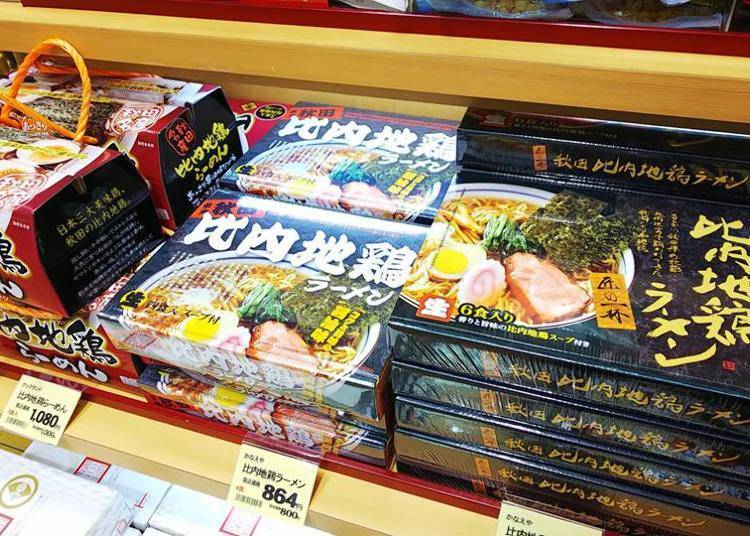 For those who want a taste as close to the real thing as possible, raw noodles are the way to go. The package will have the characters "生", which means "raw", or "生麺", "meaning raw noodles", to indicate that the package contains raw noodles. This type of instant ramen typically has a shorter shelf-life, so do take note.

Of the varieties on sale, the ones that come with a soy sauce base with Hinai chicken soup stock are especially recommended. Another popular variety includes "Mabasa" seaweed in the pack, a local delicacy in Akita. As these are very affordable, you can buy those that catch your eye, and taste and compare them back in your home country.
5. Namahage-no-okurimono: A fragrant and delicious sable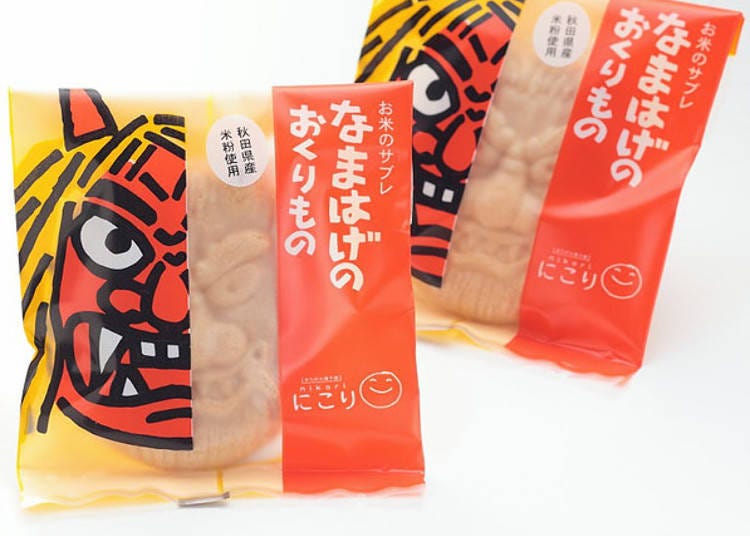 The "namahage" is a monster from Akita folklore, a creature with a mask and cloak of straw that you may meet while on your way home. "Namahage-no-okurimono" is a snack featuring this creature of legend. With the shape of the namahage's mask as the selling point, the sable is made using rice from Ōgata-mura in Akita prefecture.

With a light and crunchy texture, the sable is full of sesame flavor, and the fragrance envelopes your mouth with each bite. With such an impactful appearance, it'll definitely be a great talking point when handing out souvenirs from your trip.

So how about it? Akita Prefectural Goods Plaza features such a wide variety of souvenirs and products unique to Akita prefecture, there's something for everyone. When you're in Akita for sightseeing, be sure to check it out!
あきた県産品プラザ

Address

2 Chome-3-8 Nakadori, Akita, 010-0001

Hours: 9:30am – 6:30pm
Closed: New Year's Day (Closed due to inventory, equipment inspection, etc.)
Text by: SHOE PRESs
*This information is from the time of this article's publication.
*Prices and options mentioned are subject to change.
*Unless stated otherwise, all prices include tax.
Limited time offer: 10% discount coupons available now!