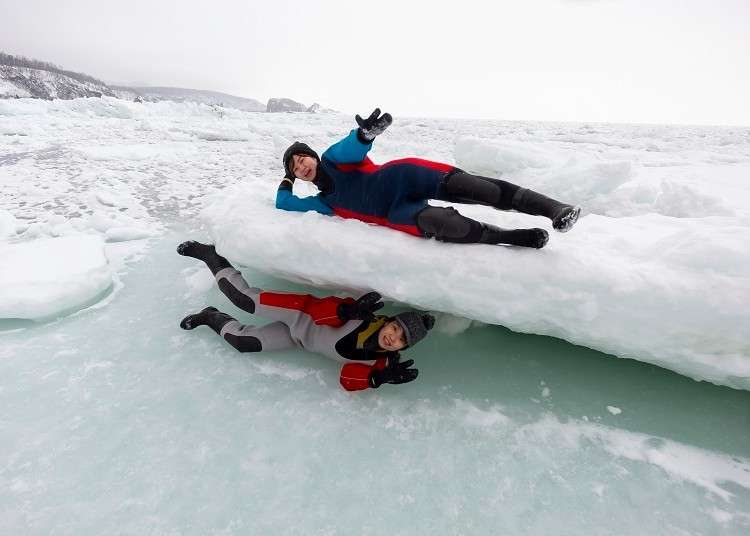 The Shiretoko Peninsula, part of northeast Hokkaido, juts out into the Sea of Okhotsk. It possesses rare natural features and a unique ecosystem. In recognition of such remarkable traits, it was designated a natural world heritage site in 2005.

If you're to visit Shiretoko, we recommend going in winter! Here are some of the best tips to get the most out of a trip to Shiretoko in the winter.
1. Get a closeup view of Shiretoko's dramatic, life-sustaining ice floes!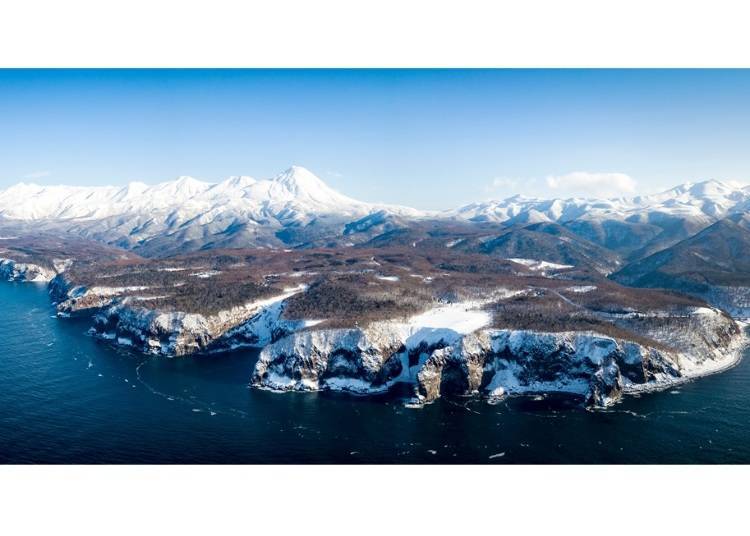 Shiretoko is the most southern location in the world where the seas can freeze over. In winter, ice floes cover the seas around Shiretoko, bringing plenty of nutrients along with them. Plankton grow from these nutrients, which attract fish that eat them, which attract sea lions and other mammals.

Gifts from the sea reach all the way into the forest. Salmon swim up rivers to spawn, feeding predators like brown bears and Ezo red foxes. Their remains become fertilizer for the forest. The forest is also where unique species hibernate and propagate, including birds like Steller's sea eagle, white-tailed eagles, and Blakiston's fish owl, plus Hokkaido squirrels and deer.

The natural drama produced by living things of the rivers, land, and sea forms a significant part of what brings tourists to Shiretoko.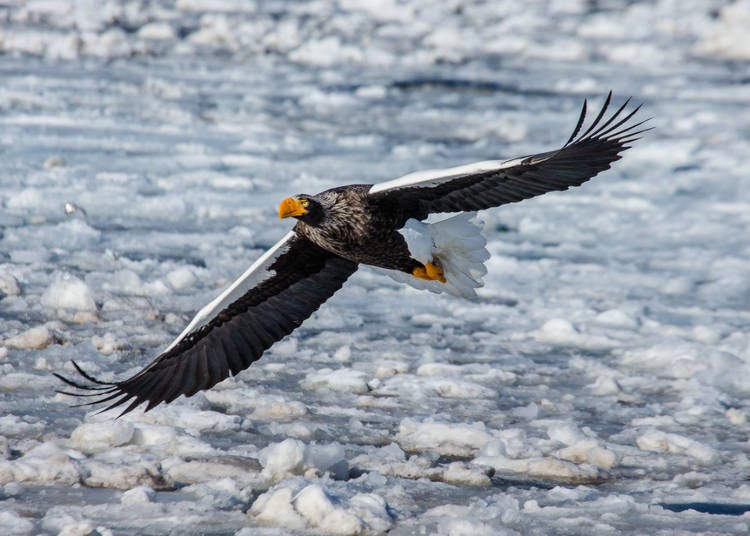 With the ice floes and other natural wonders, winter gives Shiretoko sights you can't see anywhere else. At both Shiretoko World Heritage Conservation Center and Shiretoko National Park Nature Center, you can learn about the role that ice floes play, local ecosystems, Shiretoko as a whole, and tourism spots. Arm yourself with information about your destination for a more satisfying trip around Shiretoko!

And while destination info is always great, let's get some details on manners and rules for visiting Shiretoko. In recent years, there have been reports of more people straying from paths into nature and attempting to interact with wild animals. These actions can damage ecosystems and pose a personal danger to visitors, too. Respect the environment and enjoy your Shiretoko travels.
2. Experience the thrill of a Shiretoko "Ryuhyo(Ice) Walk"!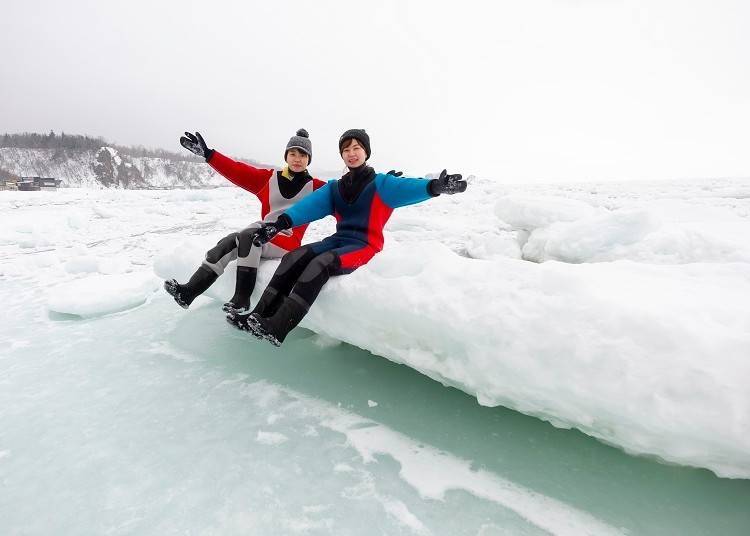 Drift ice season for Shiretoko is from late January to late March. Some ice floes have portions of thin or slippery ice, so make sure to stay within permitted areas. You could also get a guided "Ryuhyo(Ice) Walk" tour of the ice floes!
A shuttle bus will take you to the starting point. There, put on a dry suit before heading for the sea.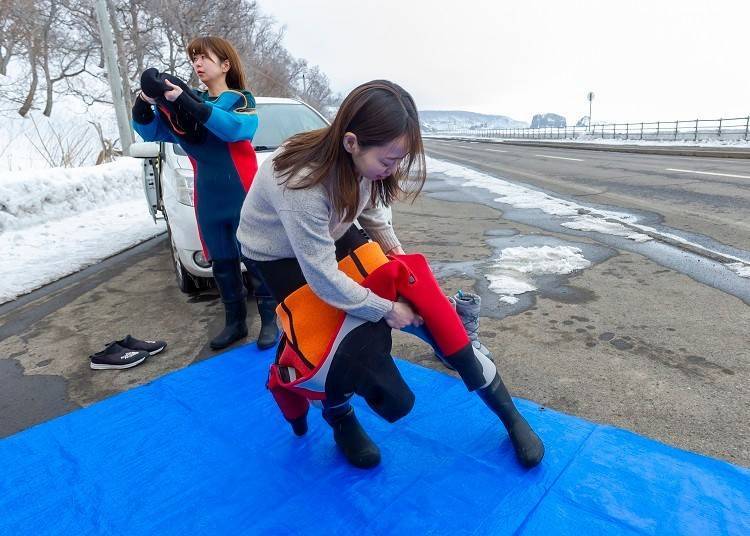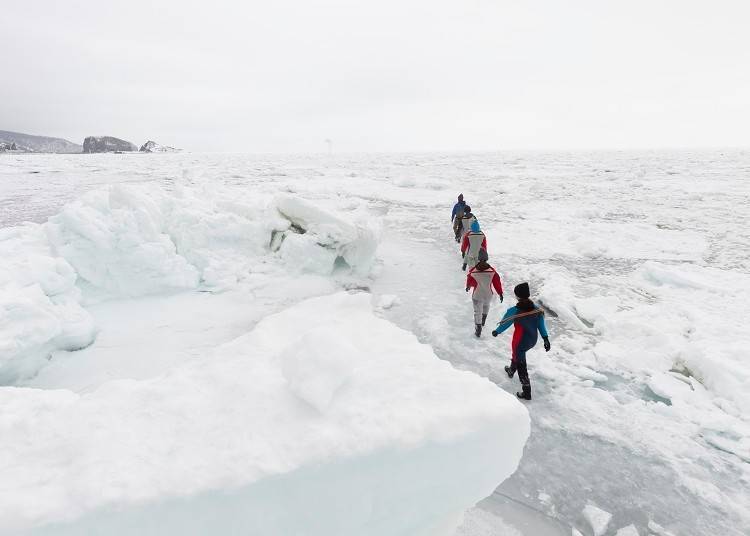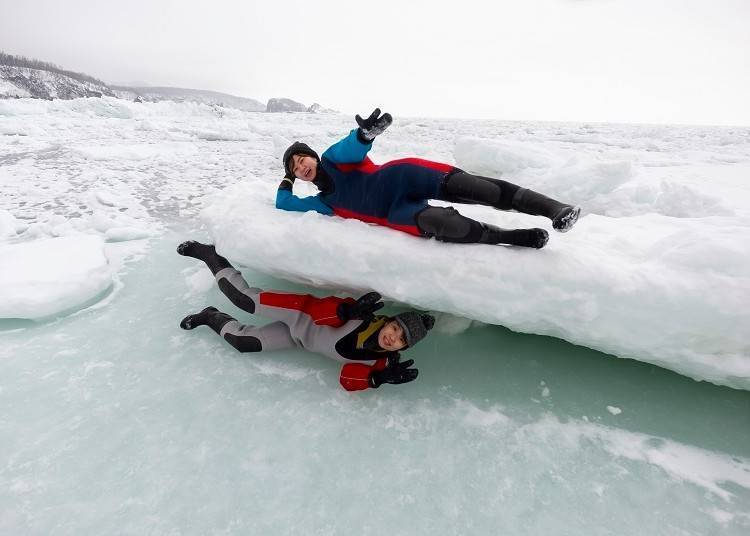 Roll around on the ice floes like a bed...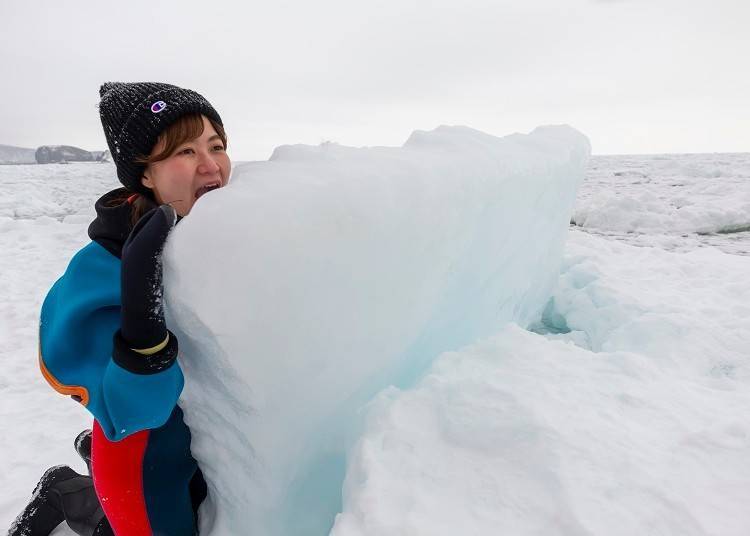 Or chomp down on an ice floe...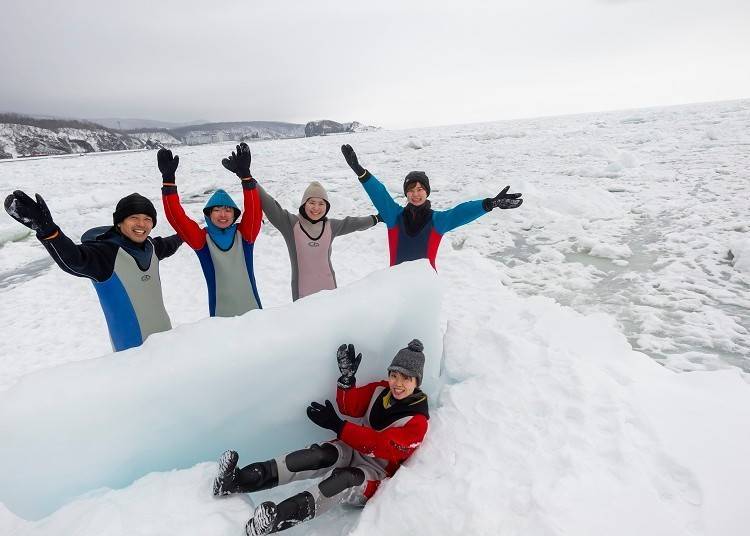 Just make sure you get a group photo to remember this experience of a lifetime!
Some tours even let you get in the ocean! Thanks to the buoyancy of the dry suits, you don't even have to know how to swim to join in the fun. There's no other way to experience the joy and mystique of floating in the ocean amongst the ice! It's like becoming an otter or sea lion.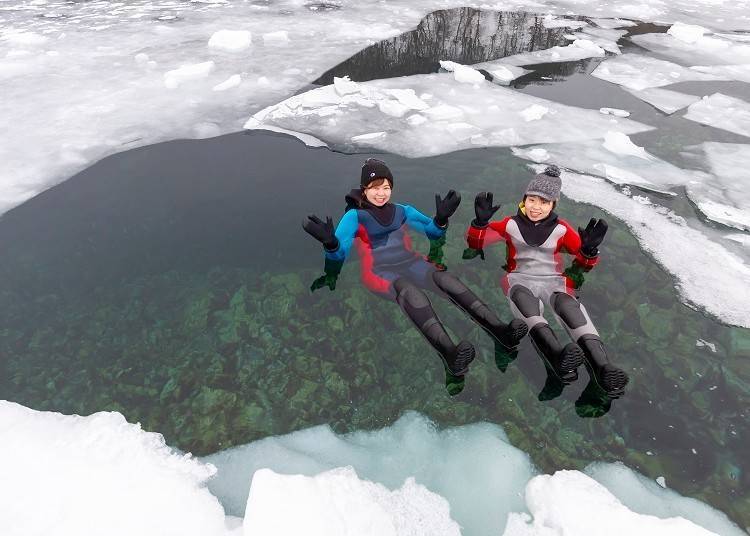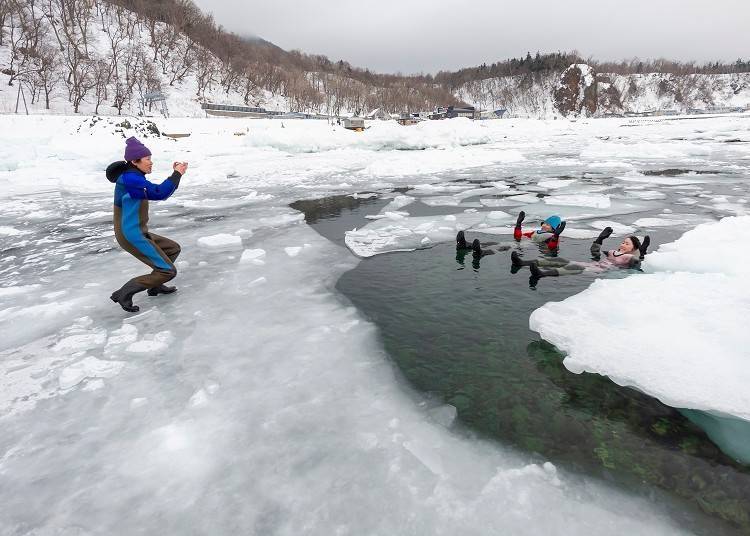 Be sure to have the guide snap your photo!
3. Go "Shiretoko Five Lakes Snowshoeing" for winter's most beautiful sights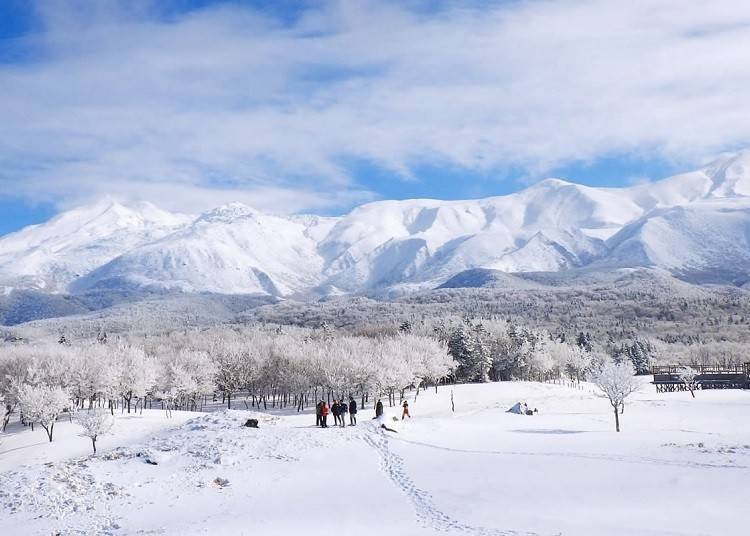 (c) SHINRA
Shiretoko Five Lakes is one of Shiretoko's most popular tourism spots. These five lakes, numbered from one to five, are surrounded by ancient forests. You can visit the area and walk their raised paths year-round, but you can neither walk nor drive to the lakes in winter. Instead, you can go on a guided "Shiretoko Five Lakes Snowshoeing" tour into forests unavailable in other seasons, or even walk out onto the frozen lake surfaces!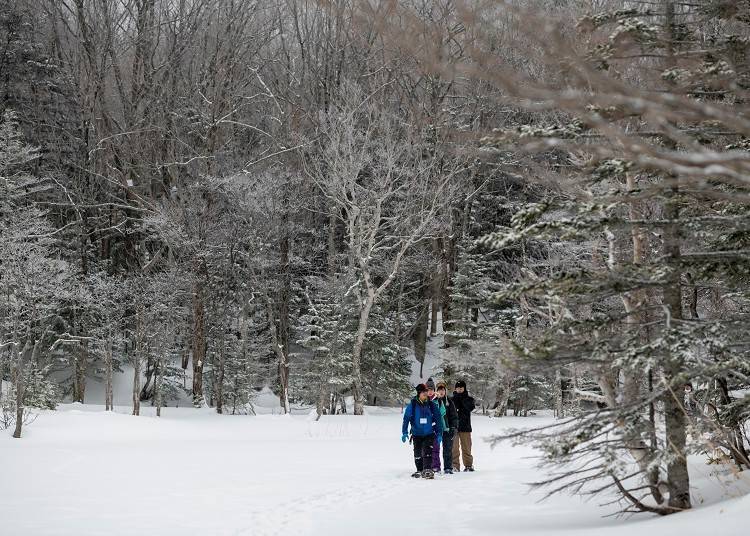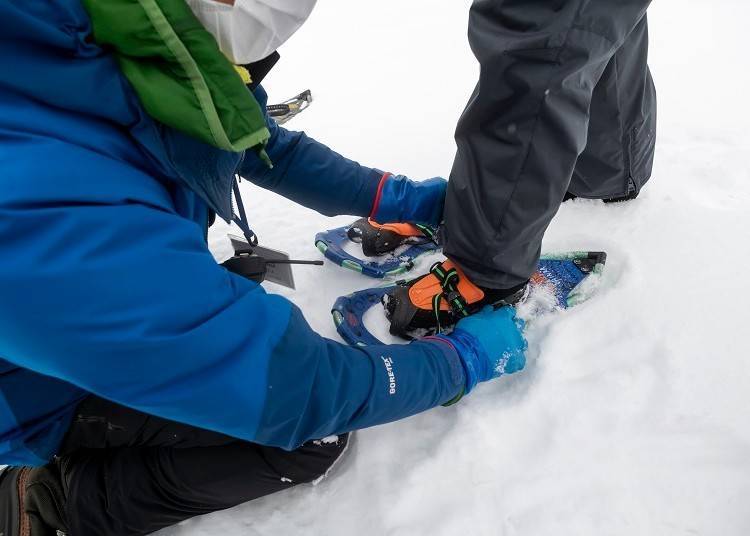 Put on your snowshoes and head for the forest. Now, this is an adventure!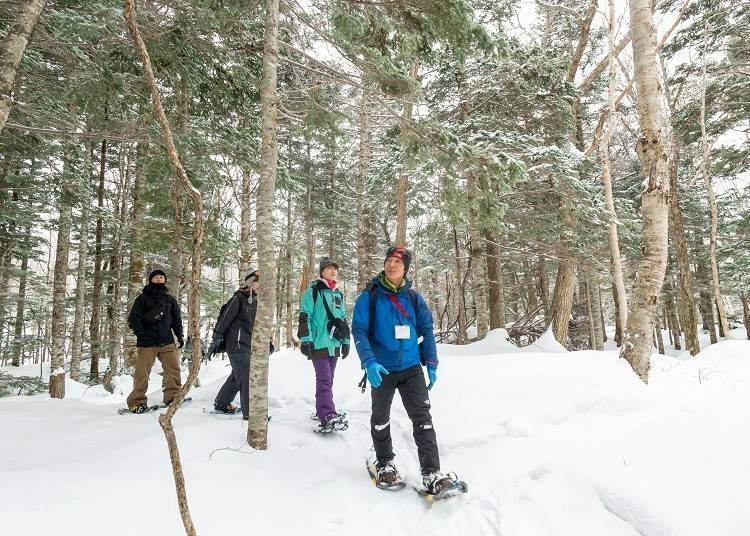 Your guide will tell you about the types and traits of the trees and the lives of the many different forest animals. The guide's keen eyes will also point out animal tracks you wouldn't notice otherwise!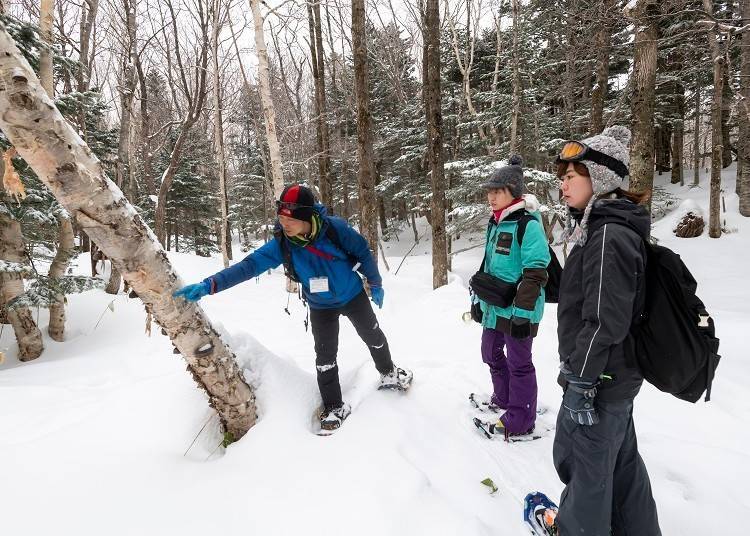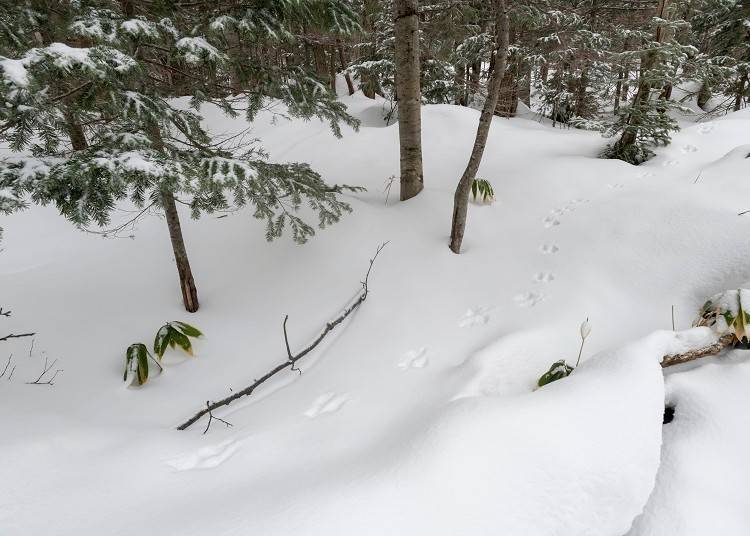 Even Hokkaido squirrel tracks are well-preserved in the snow.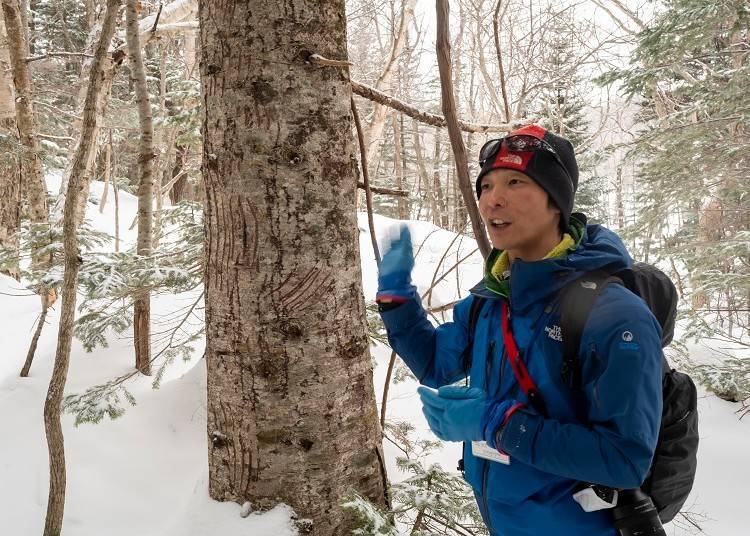 A brown bear left claw marks on this tree!
Amongst the bare broadleaf trees, muffled by snow, it's so tranquil. The chirps of wild birds and sounds of woodpeckers can be clearly heard.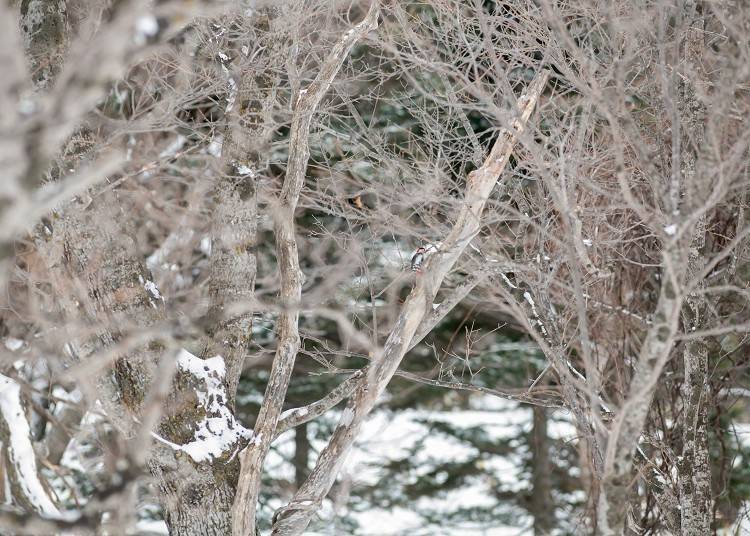 Look at how cute the Great Spotted Woodpecker is.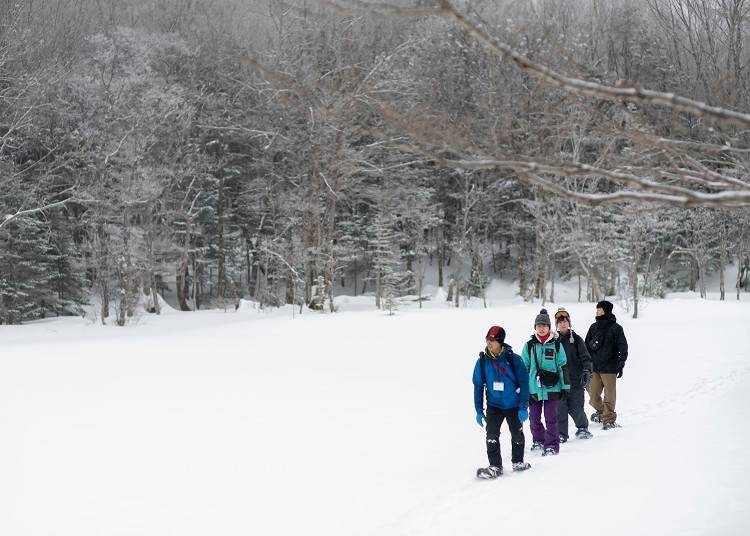 This looks like an expansive snowed-over field, but it's actually above a lake.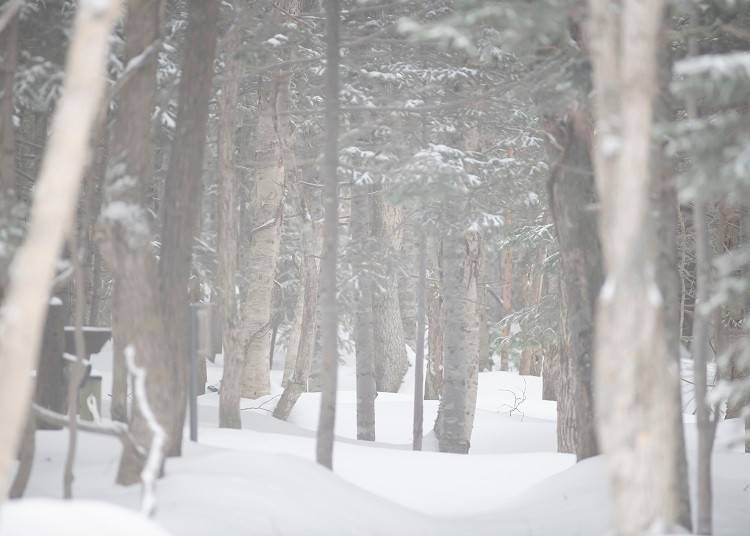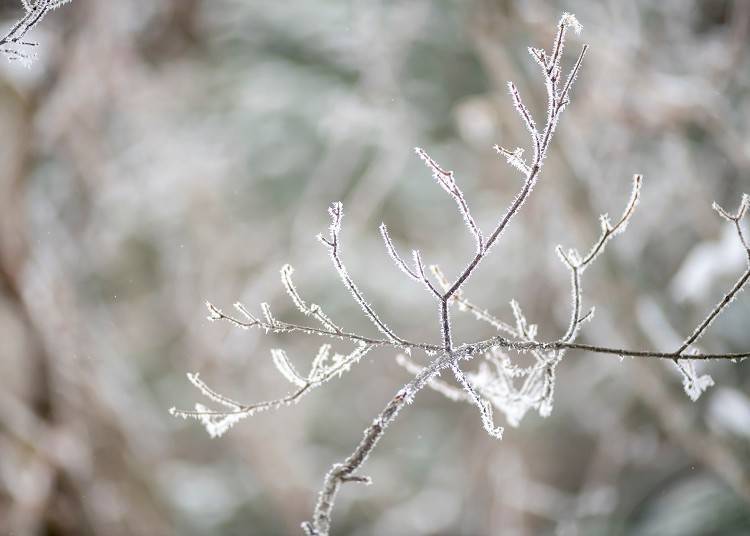 4. Shiretoko Drift Ice Festival: The fun continues into night!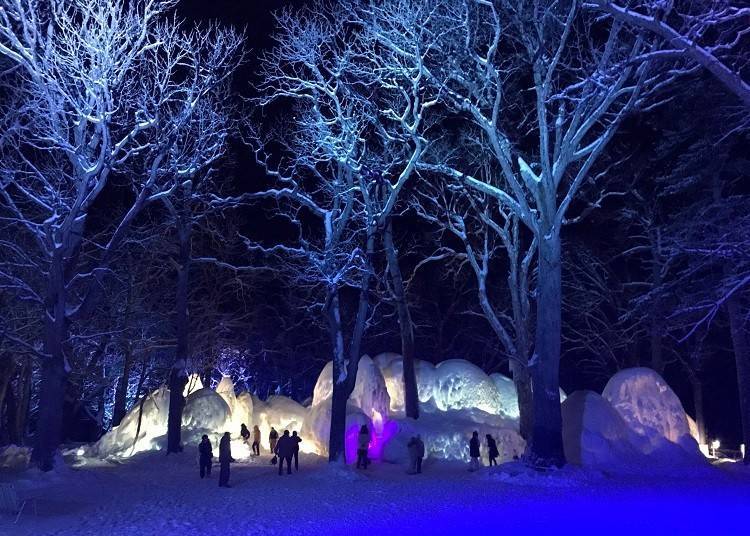 An ice dome made of around 30 chunks of ice
The Shiretoko Drift Ice Festival is an event hosted at Shiretoko Campground in the Utoro area from the end of January to the end of February. The event features an illuminated ice dome, an ice slide, and hammocks for viewing the stars.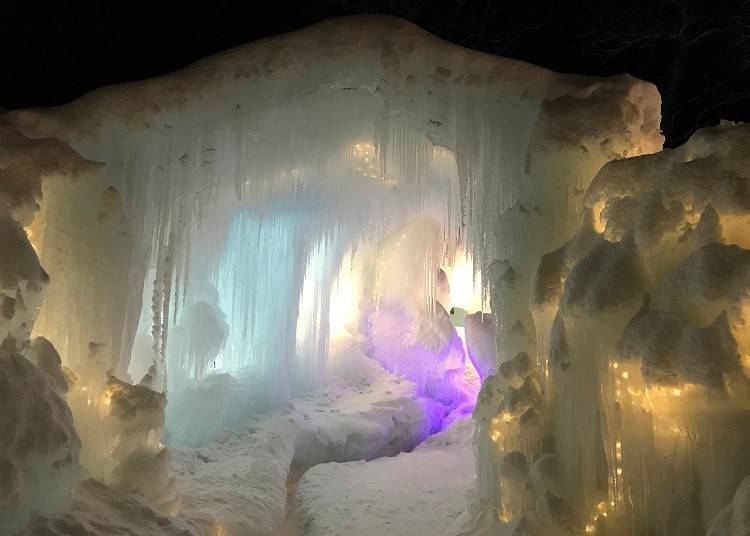 An icicle hall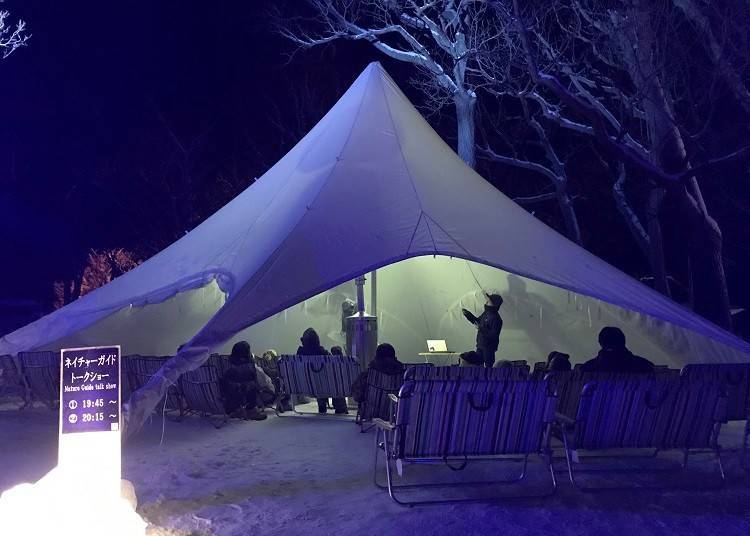 Nature talks
Plenty of food options, too. Roast marshmallows or cheese over a fire and have a "Chepuman" steamed bun with a fluffy salmon chan chan-yaki filling. You can also get yourself a variety of drinks and cocktails in ice glasses.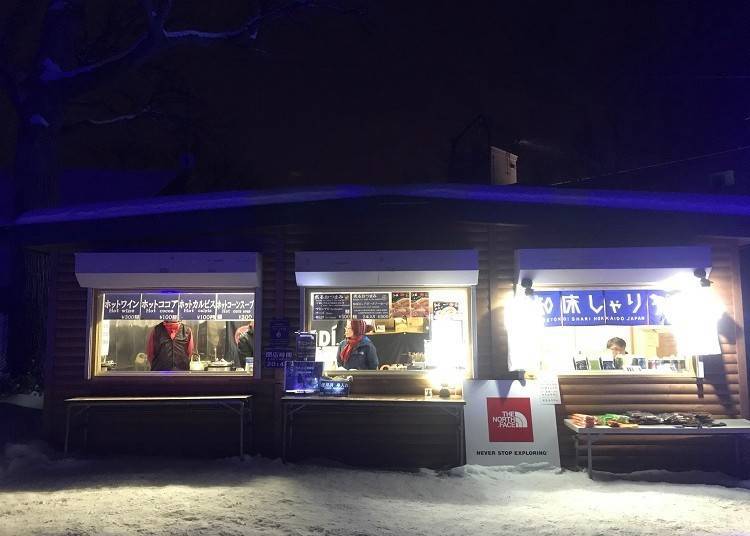 Food and Souvenirs Market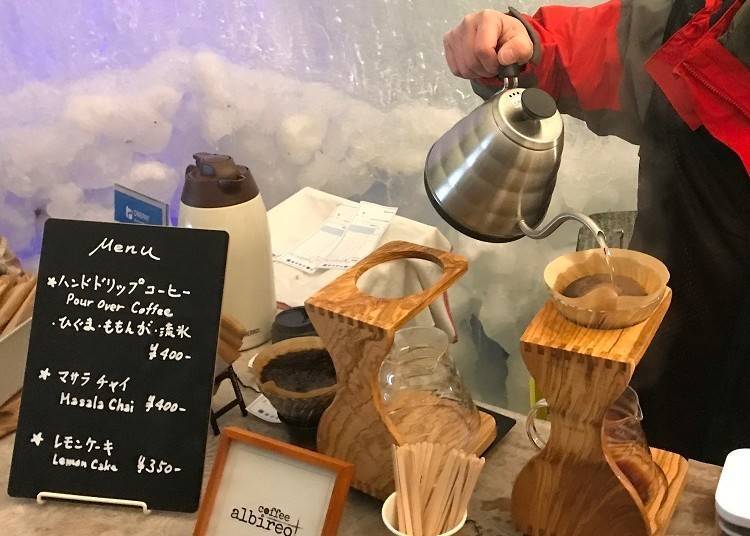 Fresh coffee available
5. Live the Shiretoko resort life, relax amid nature's glory
Where to stay in Shiretoko? The Shiretoko area has plenty of onsen hot springs and hotels, including extravagant resort hotels. They'd make for a great extended stay.

● Kitakobushi Shiretoko Hotel & Resort: A relaxing spot by the sea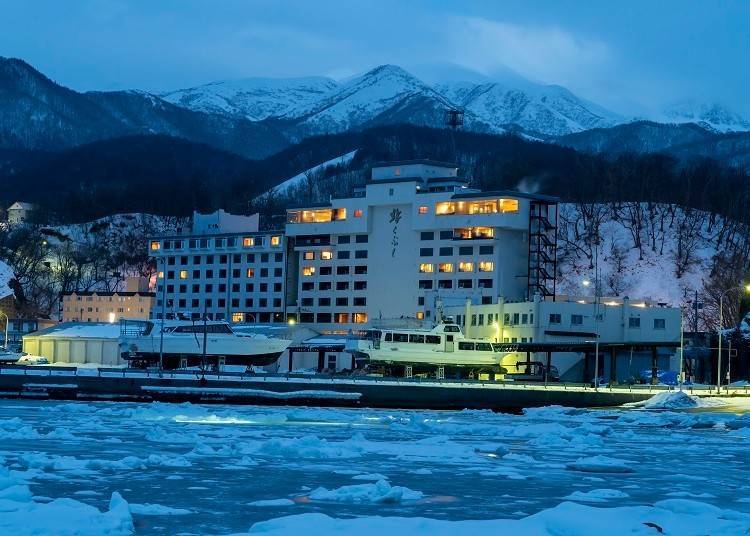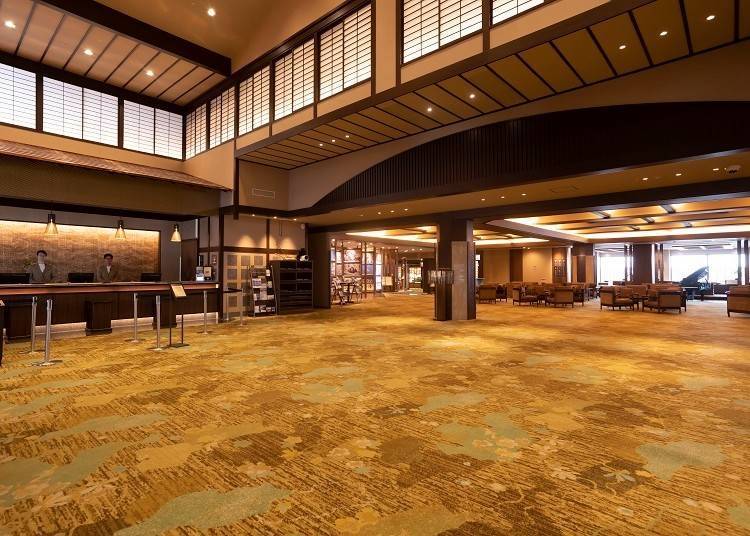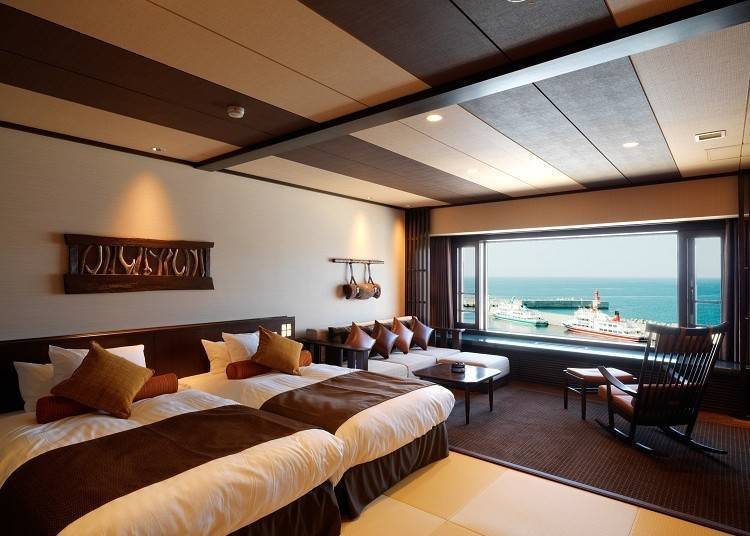 A luxury hotel in the Utoro area. With a great view of the sea, in winter, you can look out on the ice floes from the guest rooms, the lobby, and even the open-air baths. Perhaps the best spot to see them are the saunas. Few places in the world could claim to have saunas where you can see ice floes.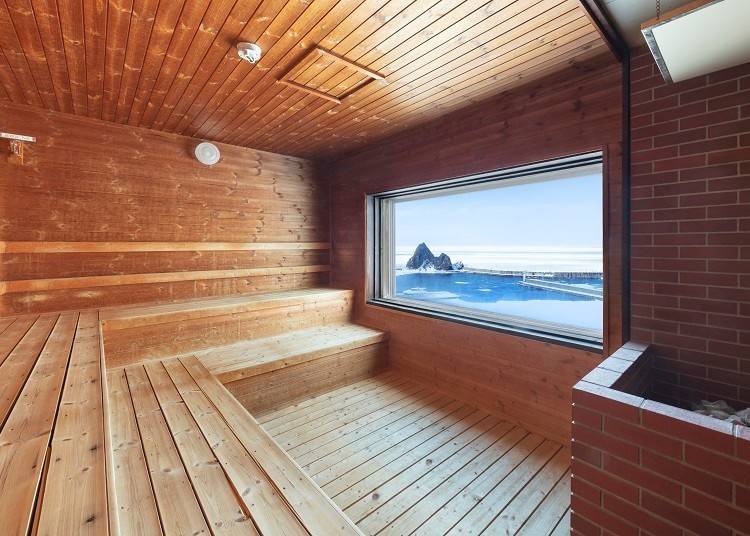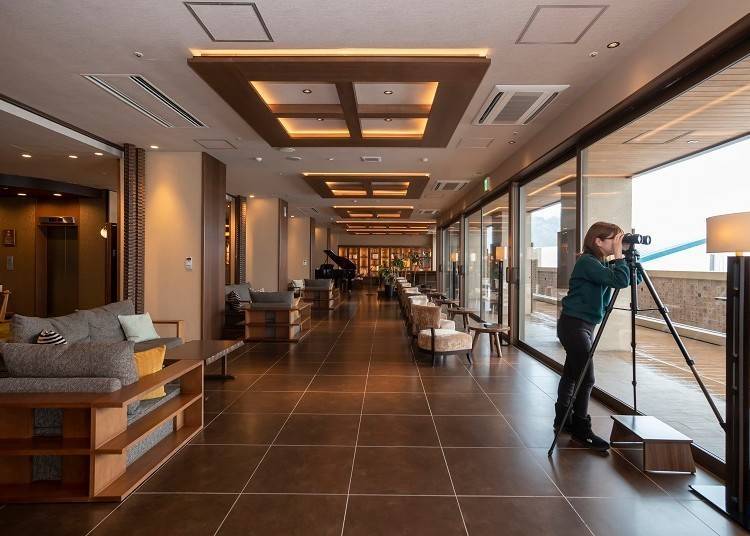 The lounge has binoculars!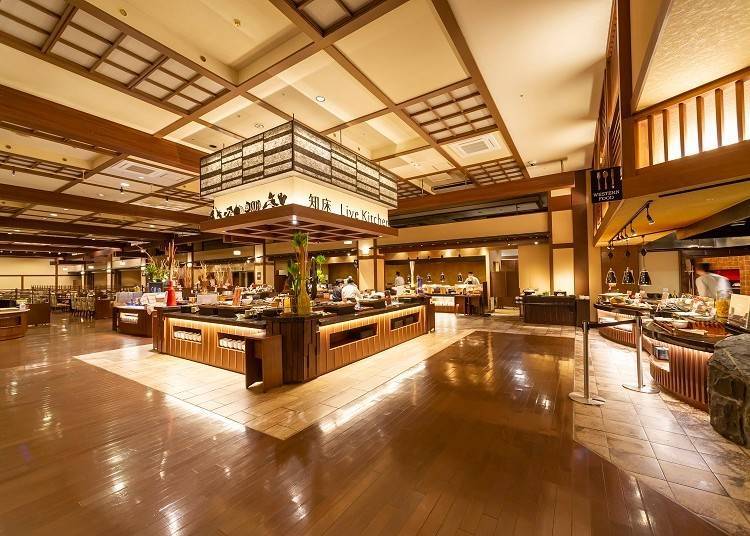 A wide-open dining space. Partake in cuisine both Japanese and Western, made with Shiretoko ingredients
Not far from Kitakobushi Shiretoko Hotel & Resort is a more casual hotel themed on the forest, KIKI Shiretoko Natural Resort.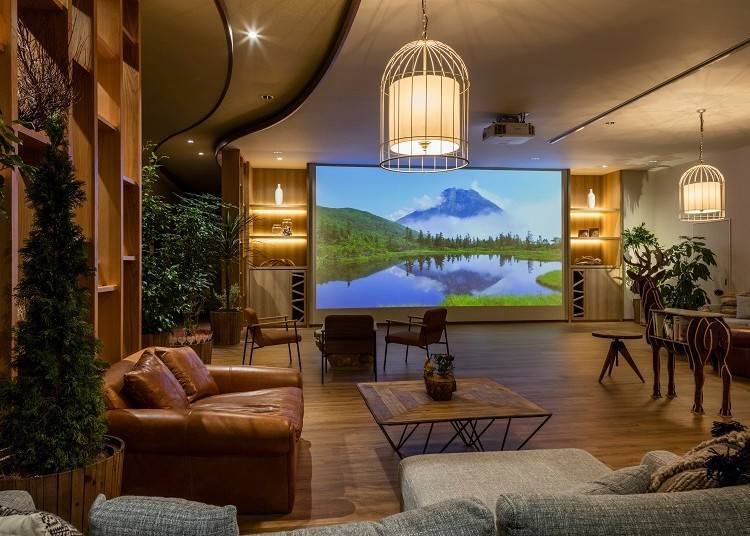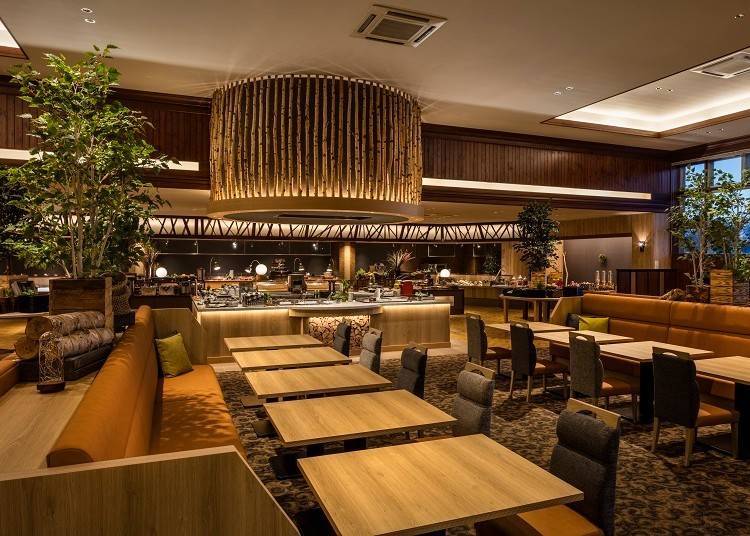 Address

Utorohigashi 172, Shari, Hokkaido, 099-4355
View Map

Nearest Station

Shiretoko-Shari Station (Senmo Main Line)


Vacancy search, reservation

from

28,300JPY

1room, 2adults

Check with our partner site as the latest rates, rate details, and guest room requirements may vary.
Address

Utorokagawa 192, Shari, Hokkaido, 099-4351
View Map

Nearest Station

Shiretoko-Shari Station (Senmo Main Line)


Vacancy search, reservation

from

30,300JPY

1room, 2adults

Check with our partner site as the latest rates, rate details, and guest room requirements may vary.
● Shiretoko Daiichi Hotel: A resort on the Utoro highlands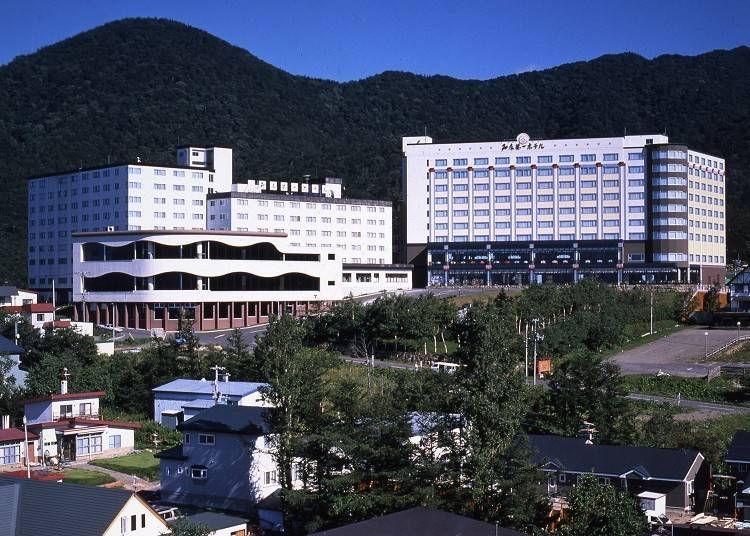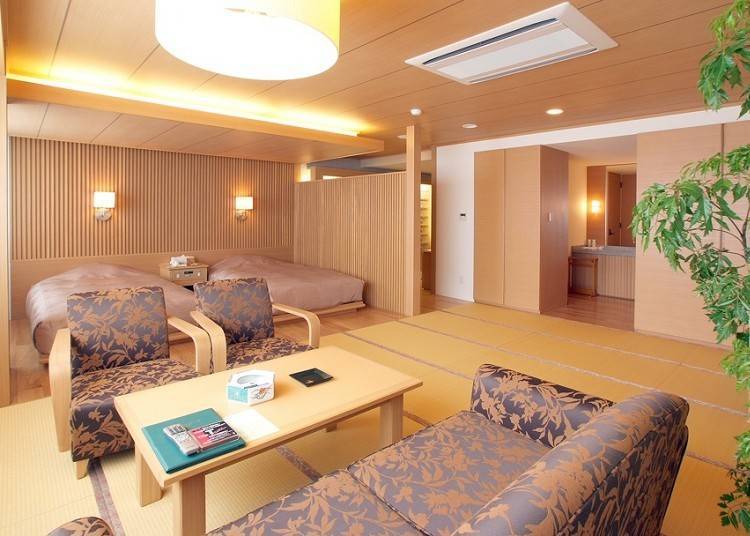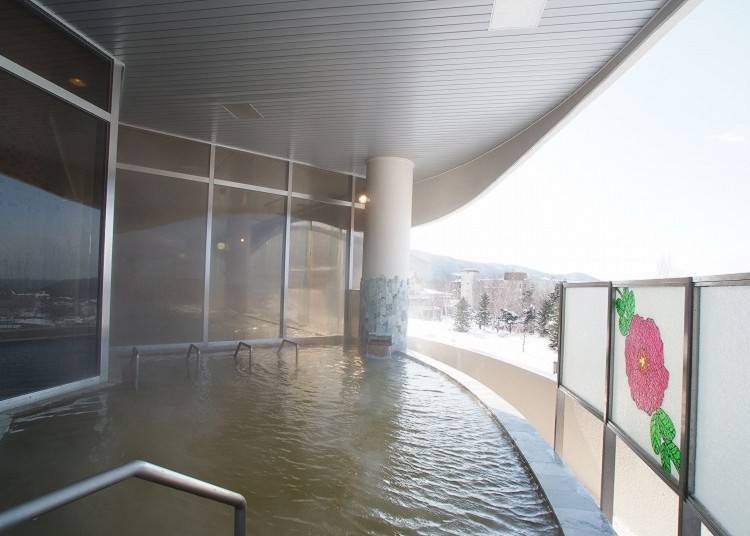 View the Utoro cityscape from their outdoor open-air baths
One of Utoro's veteran resort hotels, Shiretoko Daiichi Hotel is known for its excellent cuisine. Their food is served fresh, and their buffet includes a wide variety of desserts.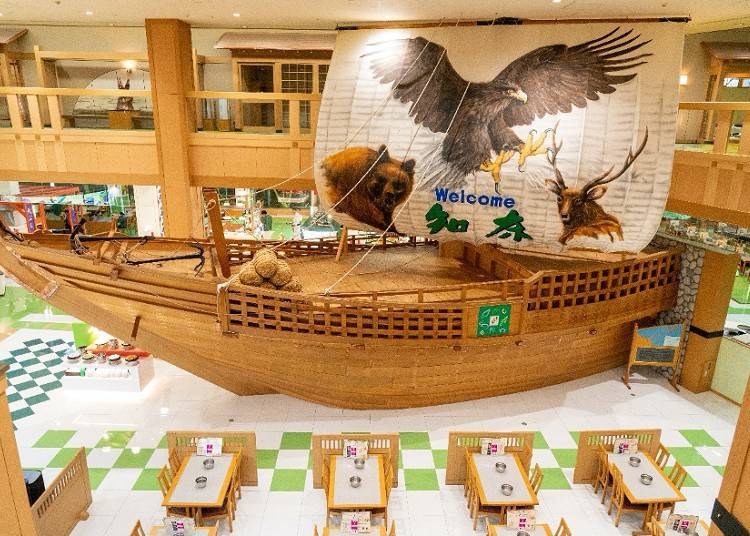 The large boat in the dining hall is a popular photo spot!
Buffet menu renewed in December 2019
Address

Utorokagawa 306 , Shari, Hokkaido, 099-4351
View Map

Nearest Station

Shiretoko-Shari Station (Senmo Main Line)


Vacancy search, reservation

from

24,720JPY

1room, 2adults

Check with our partner site as the latest rates, rate details, and guest room requirements may vary.
6. Don't miss the food: 3 popular Shiretoko restaurants with great eats!
Utoro has a wide variety of dining options. Let's take a look at three spots popular with both tourists and locals!

● Namishibuki makes their exquisite ramen soup over two whole days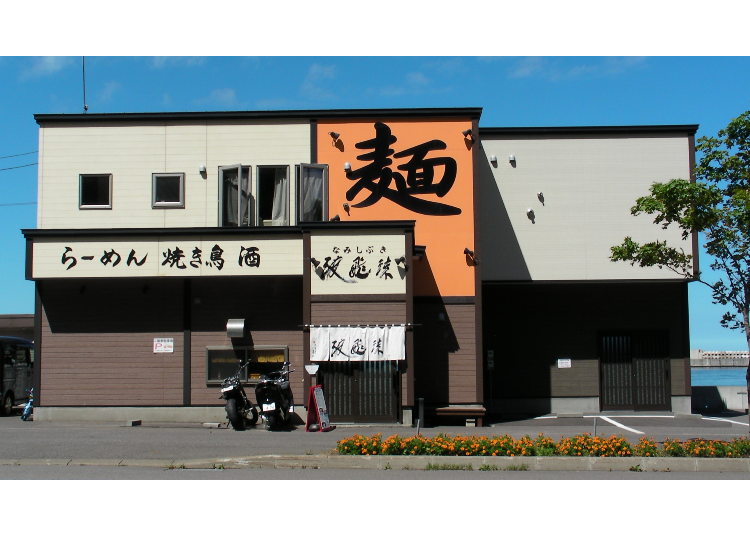 We highly recommend the tonkotsu ramen available here. It's distinctly free of gamey odors and is popular with tourists from around the world. This Shiretoko ramen restaurant is also close to the sea, so you can dine while viewing ice floes or the sunset.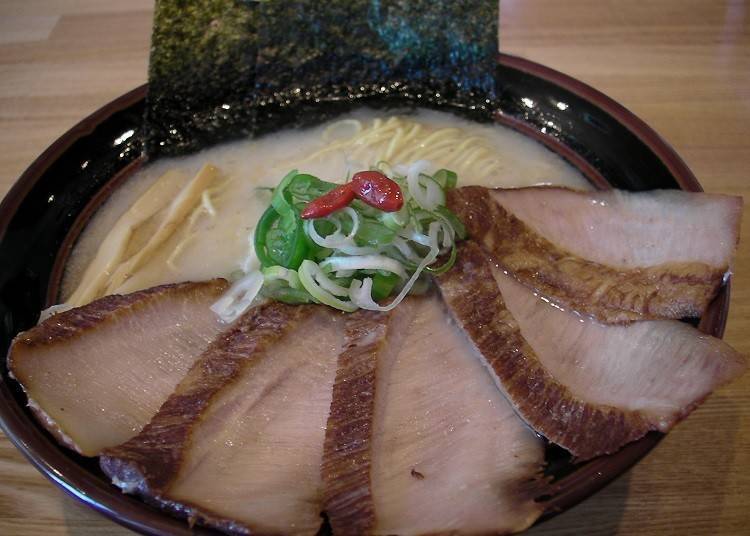 Special Toro-chashu Noodles, 1,050 yen (limited amount; tax included)
波飛沫

Address

176-10 Utoro Nishi, Shari-cho, Shari-gun, 099-4354 Hokkaido

Phone Number

0152-24-3557

Hours: 11:00am to 2:30pm serving ramen only, 5:30pm to 10:00pm (9:00pm on Sundays) serving ramen and izakaya sides (yakitori, shōchū)

Closed: Mondays (April to October), Sundays (November to March)
● Cafe & Bar 334: Kick back with their excellent food and drinks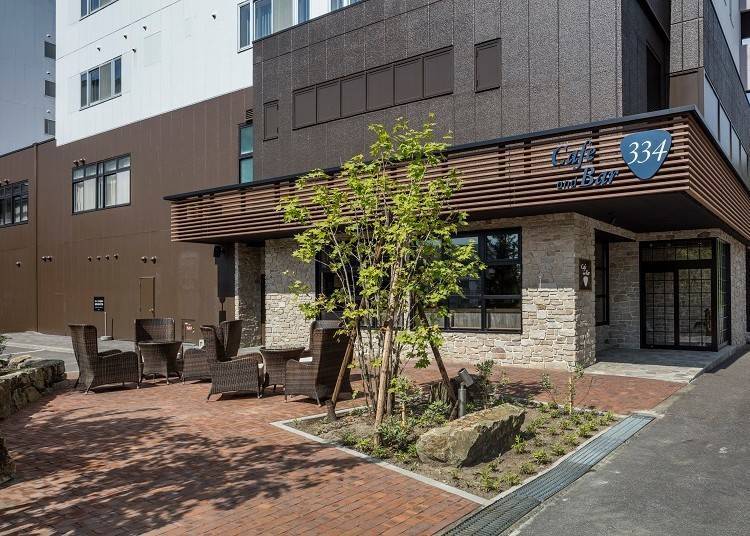 Cafe & Bar 334 operates out of Kitakobushi Shiretoko Hotel & Resort. They serve Utoro-caught salmon, Shiretoko chicken, and Hokkaido wine.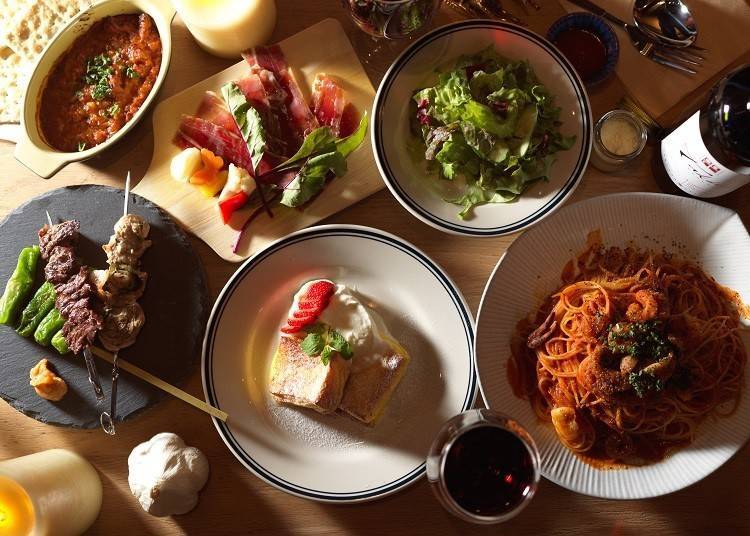 カフェ&バル334

Address

172 Utoro Higashi, Shari-cho, Shari-gun, 099-4355 Hokkaido

Phone Number

0152-24-2021

Hours: Lunch Time, 11:00am to 3:00pm (Last order for food at 2:00pm; for drinks, at 2:30pm)
Dinner Time, 6:00pm to 11:00pm (Last order for food at 10:00pm; for drinks, at 10:30pm)

Closed: Irregular
● Yakiniku Kobo Kurikara: Get your fill of high-quality Shiretoko-gyu Japanese Black Beef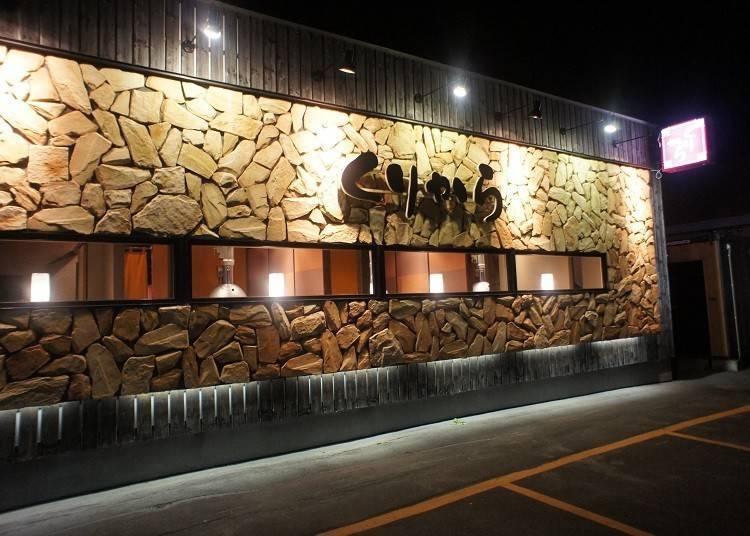 Try melt-in-your-mouth Shiretoko-gyu beef with special miso and soy sauce dipping sauces. Serves local sake from Shari's neighbor Kiyosato. Tablet devices allow you to make orders in English or Chinese.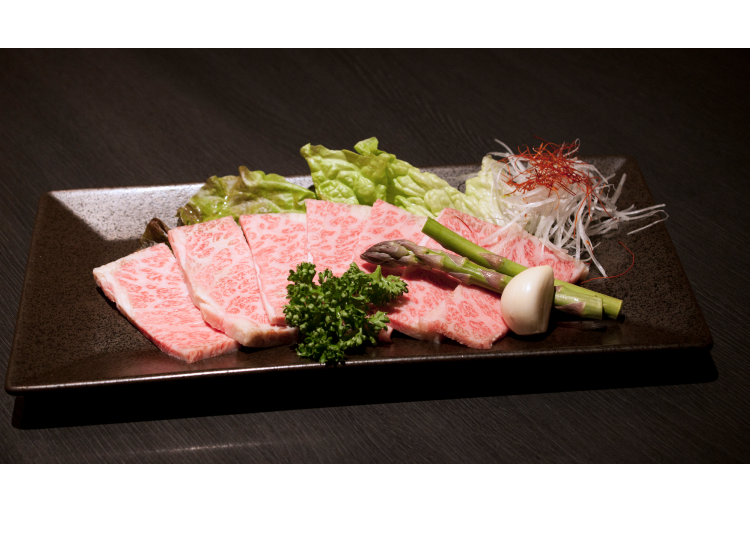 Shiretoko-gyu 1,550 yen (with tax)
焼肉工房くりから

Address

51-17 Toyokura, Shari-cho, Shari-gun, 099-4141 Hokkaido

Phone Number

0152-23-3088

Hours: 5:00pm to 10:30pm (Last order at 10:00pm)

Closed: Wednesdays
Getting to Shiretoko by plane, bus, and train!
To get to the secluded region of Shiretoko at the far north of Japan and Hokkaido, Memanbetsu Airport is a useful option. There are direct flights to it, even from Tokyo.

Thankfully, there are many more public transportation methods you can use to get there. Each method has its own merits, so choose wisely and enjoy traveling to Shiretoko.

Flying to Shiretoko
● From Haneda and New Chitose Airports
Board a flight for Memanbetsu Airport, and then take a Shari Bus "Shiretoko Airport Liner" for Utoro's roadside station. The bus trip takes about two hours and is the fastest route to Shiretoko.
● Getting to Shiretoko by bus
Board a Hokkaido Chuo Bus "Eagle Liner", departing from the front of JR Sapporo Station. Leave late at night from Sapporo, and you'll arrive at Utoro the following morning. An easy jump from starting line to finish, all while you're asleep.

● Getting to Shiretoko by train
Board a Hakodate Main Line or Sekihoku Main Line train. Once you reach Abashiri Station, switch to a Senmō Main Line train and head for Shiretoko-Shari Station. From there, board the Shari Bus "Shiretoko Airport Liner" and head to Utoro's roadside station. It's a seven-hour trip in total, but you have the benefit of enjoying the scenery from the train window.
*This information is from the time of this article's publication.
*Prices and options mentioned are subject to change.
*Unless stated otherwise, all prices include tax.
Limited time offer: 10% discount coupons available now!