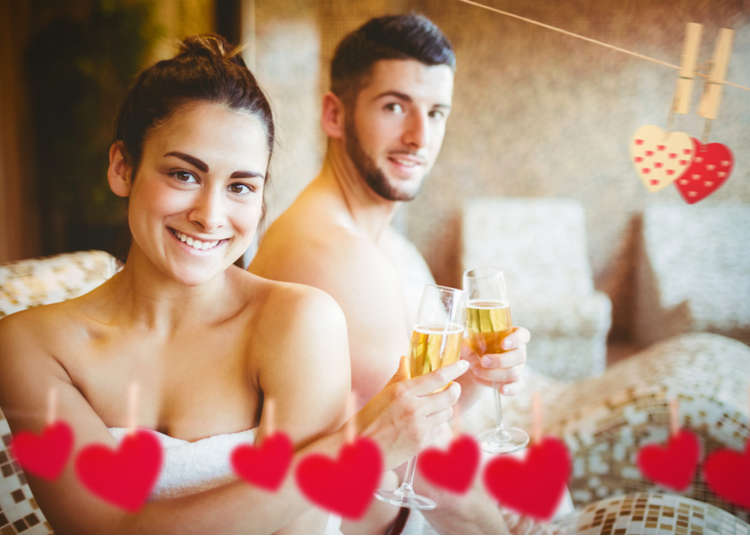 Tokyo love hotels. Start exploring around practically any corner of Tokyo or other large Japanese city and you'll probably come across a district with uniquely constructed hotels. Sporting flashy names like "Hotel La Passion" or "Hotel Secret," these hotels might strike you as different from the ones you're used to seeing during your trip. These are Japan's famous Love Hotels.

Love hotels are exactly what you can infer from their name. They offer accommodation for (usually) couples who are looking to spend a few hours alone in a comfortable and private environment, but they are also more than just that. Join us as we tour inside one of Japan's secret worlds!
Tokyo Love Hotels: More Than Just a Bed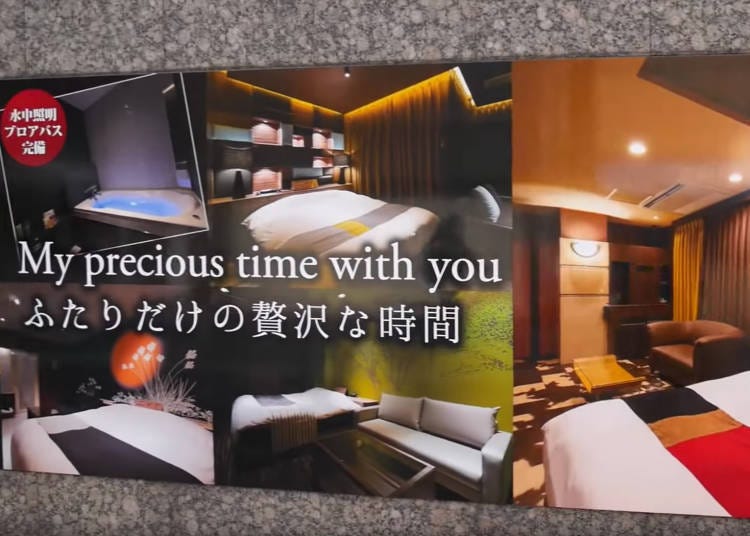 Poster on a love hotel in Tokyo showing some of the sample rooms. Photo courtesy of YouTuber @OzzyAwesome.
Now especially if you're from Europe, the U.S, or other Western countries, you may be thinking of love hotels as some sleazy motel rooms. In Japan, this is most often not the case.

In fact, love hotels in Tokyo are not only relatively common, but they compete also on looks, cleanliness, amenities, services, and overall high-quality stays for their customers, at prices that are often very competitive.

Love hotels are often not just a bed and four walls offering a "rest" at a discounted rate. In fact, most of them have amenities and facilities that rival those of some of the best "regular" hotels in Japan.

You can often choose among rooms with indoor or open-air sento (hot bath), jacuzzis, saunas, karaoke machines. Many are designed around a central theme, which can be anything from a tropical resort to a cuddle anime theme to an S&M dungeon.
Where can I find Tokyo love hotels?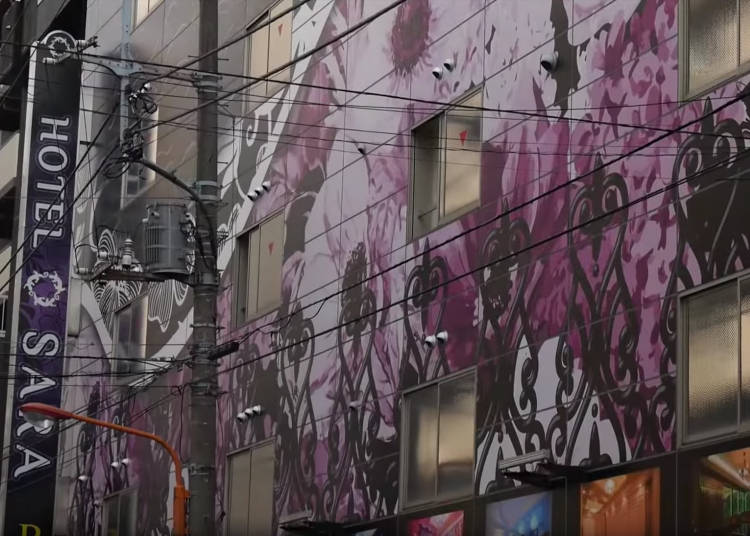 Exterior of a Tokyo love hotel showing its bold, beckoning colors. Photo courtesy of YouTuber @OzzyAwesome.
At glance, Tokyo love hotels are pretty easy to recognize. They are hotels with darkened windows, and with their rates displayed on bright signage right by the entrance. If you want to choose where to go before you head out, a quick google search (in English or ラブホテル in Japanese) paired with the city you're in, or a specific neighborhood, will show hundreds of results.

Love hotels appear to be in a higher concentration either near minor stations (non-heavily residential areas), as well as in neighborhoods with lots of nightlife entertainment.

While Tokyo love hotels are in many places, some of the more famous areas include Ikebukuro or Kabukicho (in Shinjuku), or to the so-called Love Hotel Hill in Shibuya. Also, Uguisudani, in the very popular area of Ueno has a lot of options.
What to Expect Inside Tokyo Love Hotels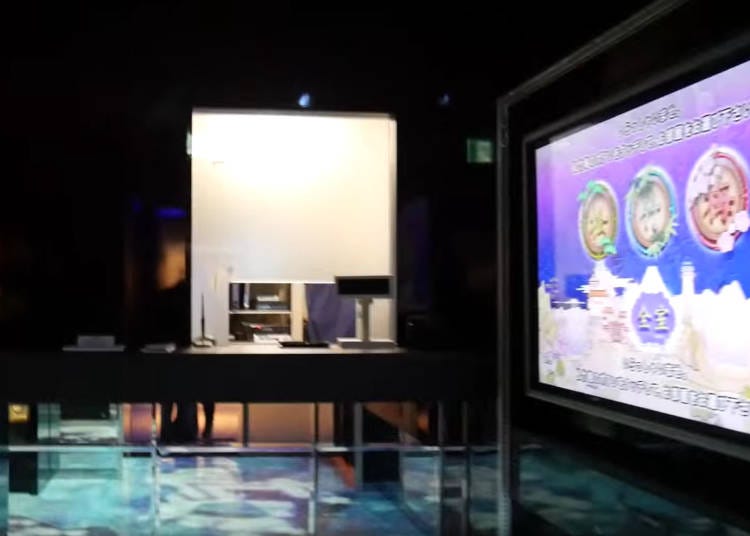 Inside a typical love hotel is a colorfully lit entrance with a spot showing the available rooms. Photo courtesy of YouTuber @OzzyAwesome.
Just outside the love hotel will be pictures showing inside the different rooms in the hotel. Beside the typical gaudy exteriors, this is one of the key ways to distinguish between a love hotel and a standard hotel. (Another key indicator is that love hotels will offer prices for "rests" and "stays" whereas more standard hotels will typically not advertise rates outdoors.)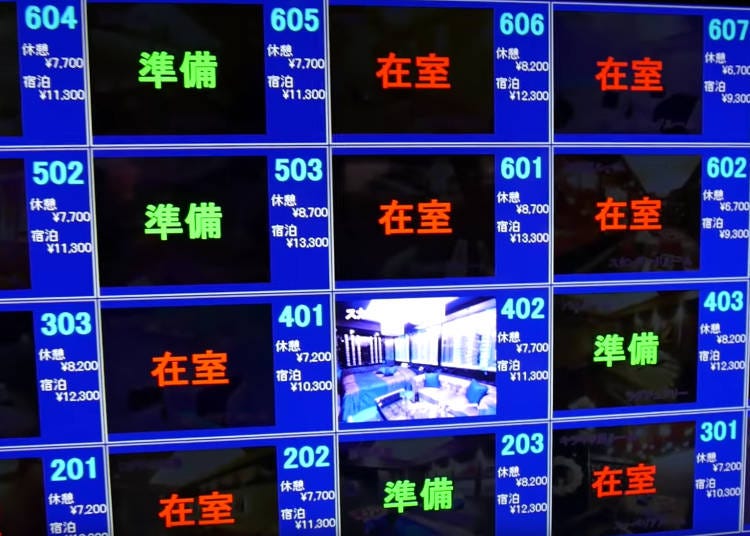 Available love hotel rooms will be indicated clearly and will often have a button to press to select the room. Photo courtesy of YouTuber @OzzyAwesome.
Venture into the reception area inside a love hotel and you'll likely encounter a panel showing the different kinds of rooms that are currently available. This can take the form of a kind of touchscreen, in the case of newer buildings, or a photo with a price indicated and a button beneath it. Rooms will often have various options for its theme.
Reception at Tokyo love hotels often feels very anonymous. Here you would receive the key to the room. Depending on the hotel's system, payment may be made up front, before leaving, or made in the room itself. Photo courtesy of YouTuber @OzzyAwesome.
You can enjoy a simple and bland room, or one littered with strategically positioned mirrors, as well as rooms filled with flowers, or resembling a dungeon. Others will look like art museums, or will be equipped with exotic-dancing poles.

Or if the "kawaii" style is what you're looking for, Love Hotels have got you covered. What's more is that not only are love hotels in Japan, by and large, quite clean and well kempt, but they also make it a point to respect the privacy of patrons and staff alike. Hence, you will likely not see the reception staff directly.

Further, if you order food or other items to your room, they will be delivered to your door and left there. You will likely never see, or be seen by, anyone from the moment you enter to when you leave.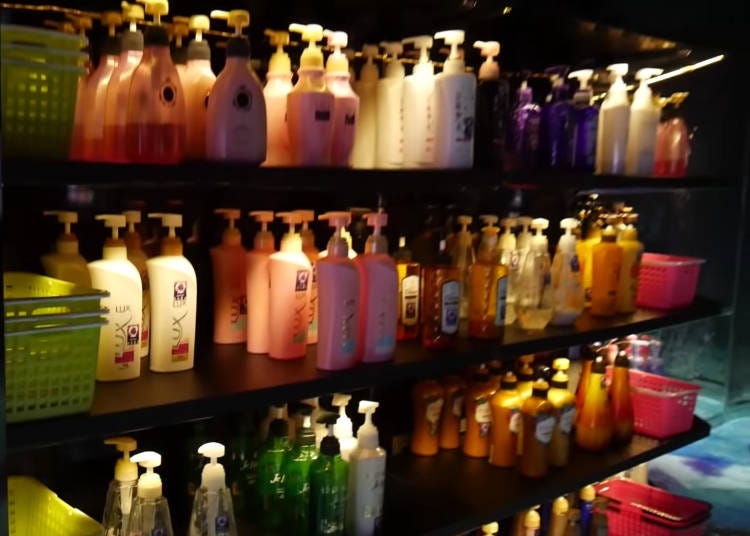 Special amenities are often available in the reception area. Photo courtesy of YouTuber @OzzyAwesome.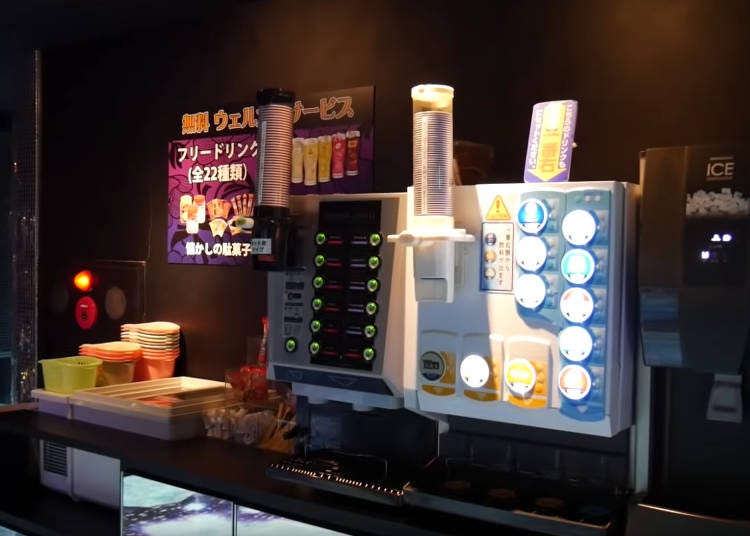 Reception areas also often have a drink bar available. Photo courtesy of YouTuber @OzzyAwesome.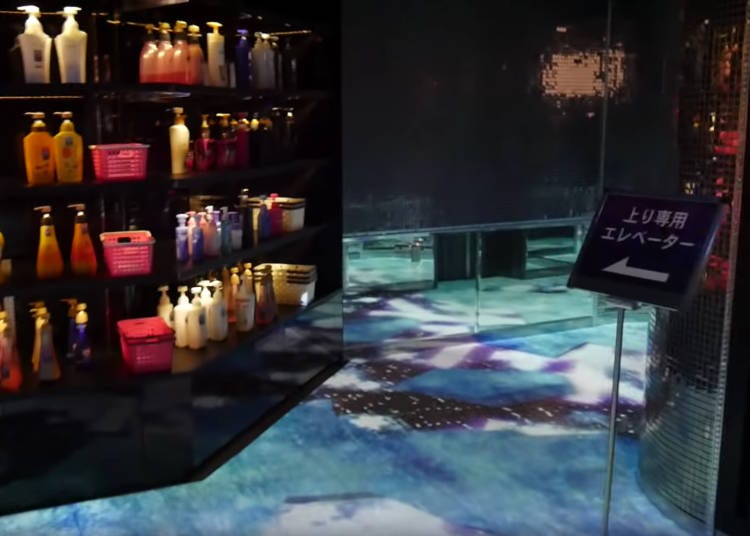 For added discretion, some hotels will offer separate elevators for entering versus leaving. Photo courtesy of YouTuber @OzzyAwesome.
Typical Amenities at Tokyo Love Hotels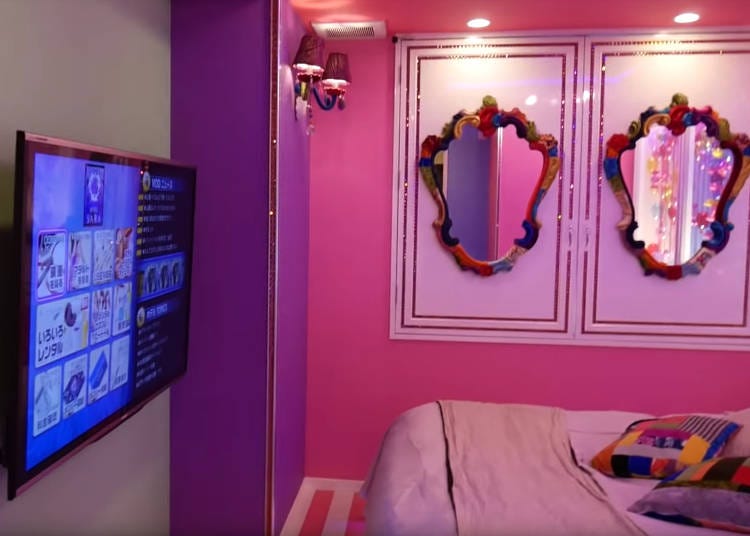 At first look, this themed love hotel is pretty loud on the eyes! Photo courtesy of YouTuber @OzzyAwesome.
You will also often get a TV and free access to some spicier channels. Most love hotels also have room service with more than decent food, gadgets and toys, a lot of toiletries and, oftentimes, free protection. There may also be a vending machine selling cosplay costumes or similar free rentals available.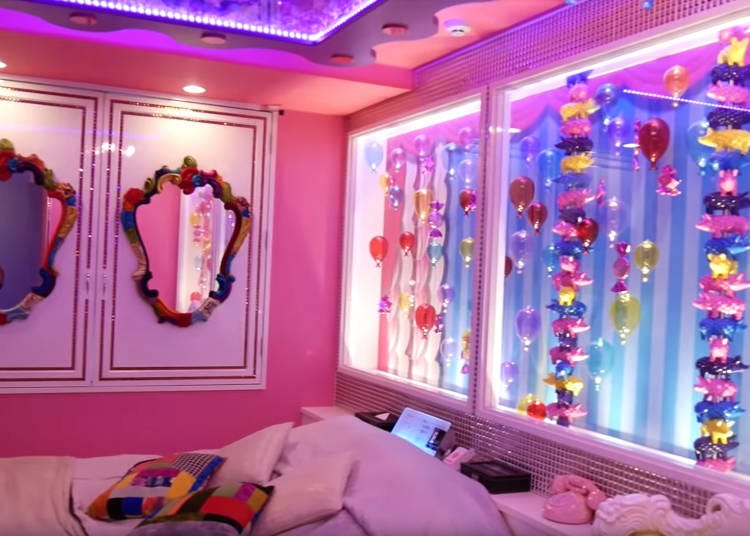 Photo courtesy of YouTuber @OzzyAwesome.
Most rooms are almost like mini amusement parks of their own. There are so many options and features to choose from that even if you visit alone, you'll definitely be able to have fun.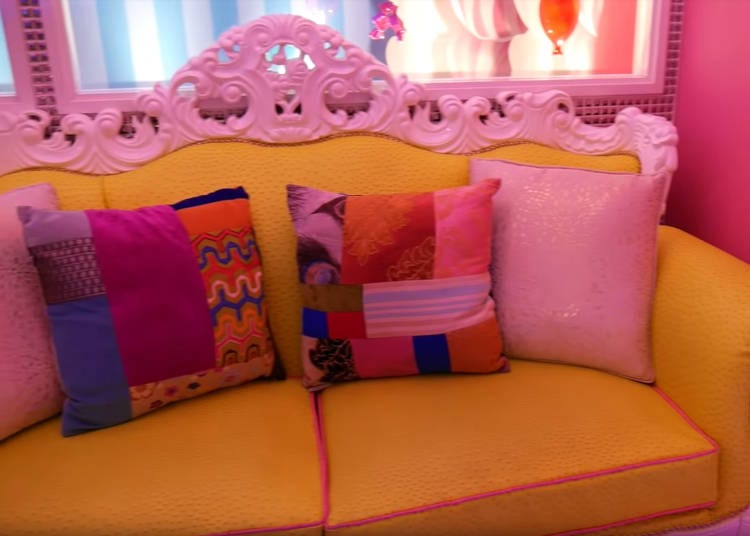 Photo courtesy of YouTuber @OzzyAwesome.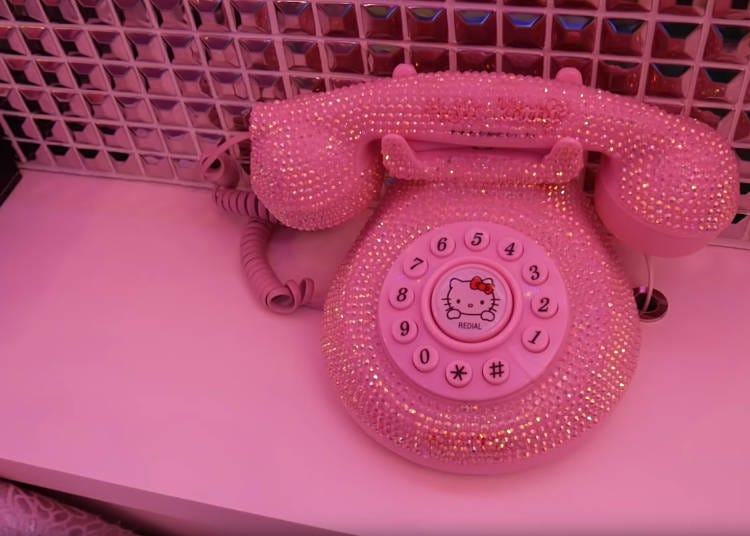 Many Tokyo love hotels will have unique items to accent the decor. Photo courtesy of YouTuber @OzzyAwesome.
The interior "scene lighting" panel is often right near the head of the bed. Photo courtesy of YouTuber @OzzyAwesome.
Computerized controllers will allow you to choose the look of the room (dimming the lights, changing the color of the lights, modifying the atmosphere around you from a party-inducing one to a more romantic, or relaxing one.

Rooms also have complementary anything-anyone-may-ever-need in a room and bathroom.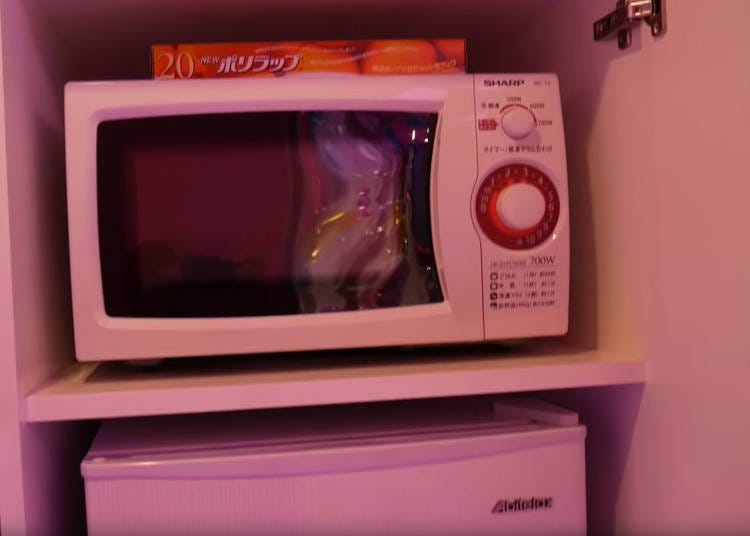 Microwave ovens and mini-fridges are common at love hotels. Photo courtesy of YouTuber @OzzyAwesome.
Not only will you find dozens among shampoos, conditioners, toiletries, but also hair straighteners, curling irons, creams, and more.

Rooms often have the option to choose among a number of relaxing gadgets like foot massagers, self-warming eye marks, massage chairs, and a number of amenities that you're unlikely to find in regular hotels (or for which you'd have to pay out of your nose).

You're also likely to see vending machines in the room for drinks, and sex toys, if that's your fancy.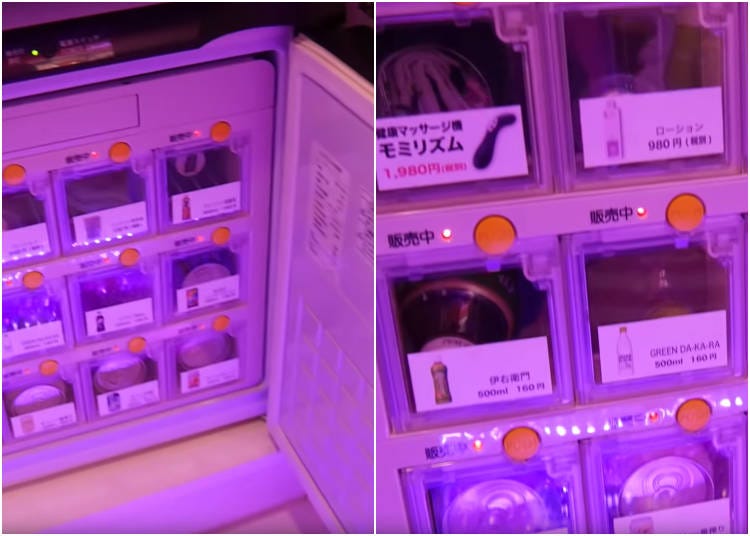 At some Tokyo love hotels, unique vending machines can be found - offering everything from drinks to toys. Photo courtesy of YouTuber @OzzyAwesome.
Why do Japanese people choose love hotels and why should I?
Love hotel bathrooms are often something in an entirely different league, offering different skincare product samples, bubble bath soaps, and a variety of other freebies. Photo courtesy of YouTuber @OzzyAwesome.
Japanese customers and those who are not simply passing by, choose love hotels for a number of reasons. While some people may legitimately seek a rest, many are looking for a reasonably discreet place with thicker walls than the typical Japanese apartment.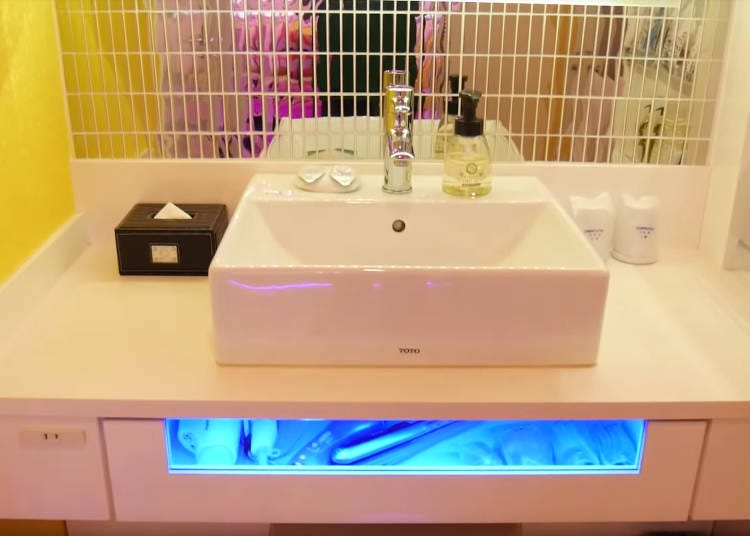 Photo courtesy of YouTuber @OzzyAwesome.
More recently however, there are many other reasons for people to choose love hotels above a standard hotel. Love hotels tend to offer fancy services like heated rock floors, jacuzzis, hot tubs, and more, do so at a fraction of the price regular hotels offer.

You won't need to book a room beforehand. You might find a couple that have no available rooms, but it's near impossible to not find a room within a few blocks, even during peak hours. Unlike many hotels, you can rent a room in love hotels by the hour.

There aren't really many cons to staying in a love hotel, except maybe the feeling of being in a slightly-too-unconventional place. Love hotels are made to stay in until check-out, so in many of them you won't be able to leave your room, once you get in.

Some love hotels might also be resistant to renting a room to a single person, or may ask for increased rates. Some also tend to turn down same-sex couples (but there are a number that you can find online that are same-sex-couple friendly).
Are Tokyo Love Hotels Expensive?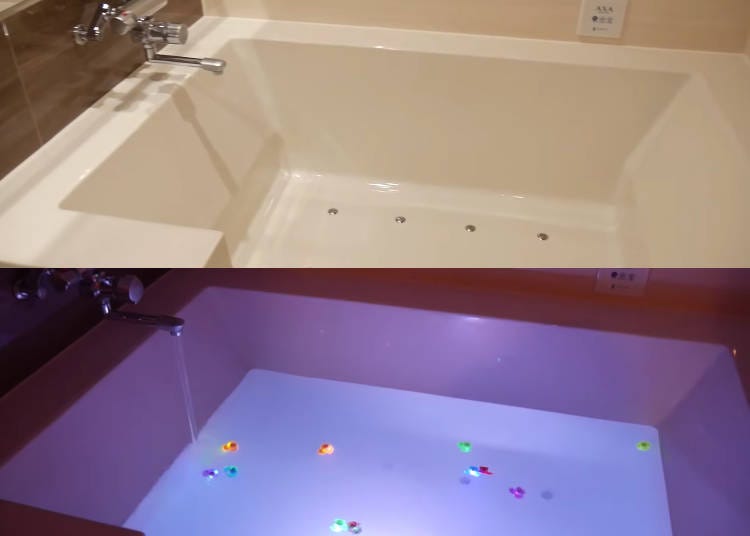 More than a tub: many love hotels in Japan offer jacuzzis or other luxury features. Photo courtesy of YouTuber @OzzyAwesome.
As mentioned before the prices for Tokyo love hotels are by and large lower than those in their more mainstream counterparts.

Prices, of course, change greatly depending on the room you choose, the services, the extras, and so on. Love hotels usually have two types of rates: short stay and long stay.

On average a short stay will be around 4,000 yen. Longer stays vary from 4,000 yen (simple, lower-end with rooms similar to those of a regular business hotel) to 20,000 yen (you'd be staying in a high-end room with lots of amenities). On average you can expect to spend around 9,000 - 12,000 yen for a night stay.

If you're looking for a bargain, though, love hotels offer several (aside from those coming with membership).
Those hotels that allow booking online, often have special prices on some rooms.

More commonly, though, almost all love hotels offer reduced prices during non-peak hours. Look for "service" or "free" time offers for discounts of up to 50%. They usually appear after 6am (Tokyo nightlife can be quite engaging and it won't be unlikely for you to go for a few drinks and realize it's morning and time to rest), and they continue well into the afternoon.

When it comes to paying, as mentioned before usually you'll pay in your room, before leaving, or upon checking in. Most hotels accept cash and credit cards, but some only take cash, so be prepared. If you want to use your card, but you don't want the charge to show on your statement, you will find that many establishments will charge under a different business name.

Love hotels can be comfortable, cheaper, and an interesting new experience. They are also very much part of Japanese society and subculture, so they may be worth trying out during your trip to Japan.
Written by:
Booking Stays at Tokyo Love Hotels
More and more frequently, Tokyo love hotels can be found on booking websites. These three love hotels in Tokyo are within walking distance of major sightseeing areas and train stations. Experience one of Japan's most unique subcultures - make your booking today!
HOTEL THE HOTEL SHINJUKU

Address

4 Chome-31 Kotobashi, Sumida City, Tokyo 130-0022

Phone Number

03-6380-3737

Vacancy search, reservation

from

7,900JPY

1room, 2adults

Check with our partner site as the latest rates, rate details, and guest room requirements may vary.
Hotel California Kaminarimon

ホテルカリフォルニア 雷門

Address

2 Chome-13-9 Kaminarimon, Taito City, Tokyo 110-0034

Phone Number

03-3845-2521

Vacancy search, reservation

from

7,500JPY

1room, 2adults

Check with our partner site as the latest rates, rate details, and guest room requirements may vary.
HOTEL & SPA J-MEX Shinjuku Kabukicho

新宿 歌舞伎町 ホテル ジェイメックス(HOTEL J-mex)

Address

160-0021 Tokyo-to, Shinjuku-ku Kabukicho 2-5-6, Japan

Phone Number

03-3205-2223

Vacancy search, reservation

from

11,220JPY

1room, 2adults

Check with our partner site as the latest rates, rate details, and guest room requirements may vary.
*This information is from the time of this article's publication.
*Prices and options mentioned are subject to change.
*Unless stated otherwise, all prices include tax.