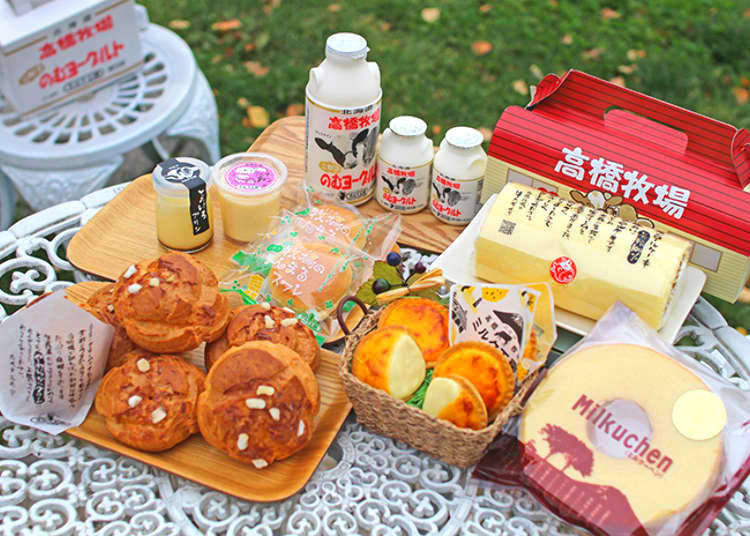 Most people imagine winter when talking about Niseko. It is true that many visitors come to Niseko every year to ski on the superb powder snow. However Niseko has its own charm in the summer. Summer is when Niseko's food ingredients are the best and something you don't want to miss. We will cover restaurants that offer Niseko's summer cuisine and dishes that use dairy products.
Popular Vegetable Buffet at Restaurant PRATIVO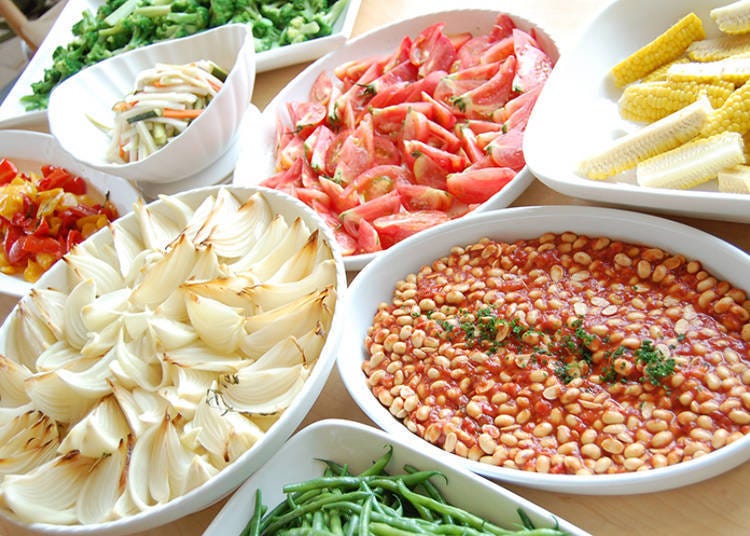 Colorful fresh vegetables. Fresh summer vegetables from Niseko region makes a perfect meal!
The restaurant PRATIVO located in Niseko Takahashi Dairy Farm is a perfect place to have Niseko's summer cuisine. The vegetable buffet (see picture) during lunch time is very popular. The buffet with seasonal vegetable dishes use fresh local ingredients, the seasoning is kept at a minimum so you can enjoy the natural flavor. A perfect option to fully enjoy the natural flavor of vegetables.
The buffet menu using various vegetables
The selection for the main meal are fish, meat and two types of pasta. The buffet also offers all you can eat sweets and drinkable yogurt made from raw milk. Seats are aligned in a way that you can get a great view of Mt. Youtei through the large window from any seat. On a nice day you can enjoy a great view while you leisurely enjoy your food. Also on the weekends the restaurant is packed with a waiting list. For dinner they offer a la carte and a party plan with large portions to share. You can spend a relaxing moment in the calm atmosphere, which is different from daytime.
Niseko Takahashi Dairy Farm

ニセコ髙橋牧場

Address

〒048-1522 北海道ニセコ町曽我888-1 / 888-1, Soga, Niseko-cho Abuta-gun, Hokkaido, 048-1522, Japan

Phone Number

0136-44-3734

Price: Vegetable buffet 1,550 yen (lunch time only)
Hours: Lunch 11 AM ~ 3 PM last order (Saturday, Sunday and Holidays start from 10:30 AM), Dinner 6 PM ~ 8 PM last order (until July 9th, resume from September)
Closed: Lunch is always open, Dinner closed from July 9th ~ end of August
Access: 8 minute drive from JR Niseko Station
Bunch of Delicious Food in Niseko during the Summer! Enjoy some Delicious Food after Your Activity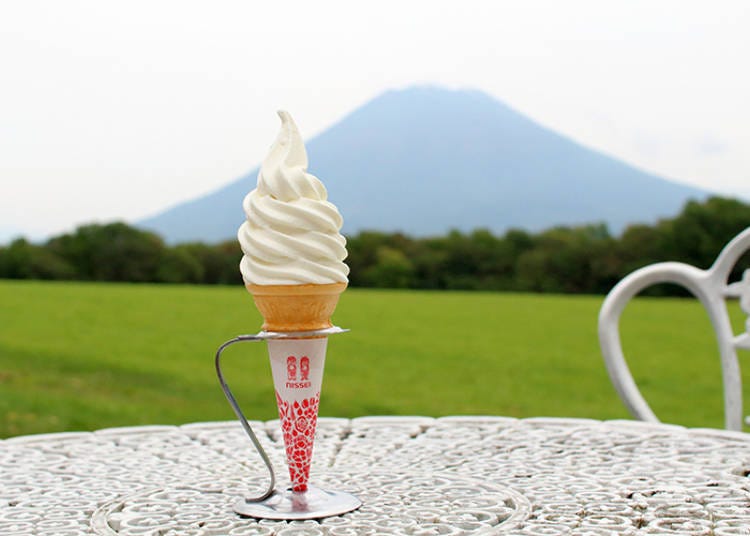 Soft-served ice cream made with fresh raw milk offers a refreshing milk flavor and aftertaste
The fertile ground that Mt. Yotei fostered has blessed Niseko with magnificent ingredients. Especially during the summer you can enjoy dishes with vegetables, fish and dairy products. We strongly recommend visiting Niseko Takahashi Dairy Farm during your drive or activities. With a motto of "raising quality cows with quality grass," they work on raising cows and product creation. They wish for many people to enjoy their dairy products, so they have established the Milk Kobo which offers handmade dairy products.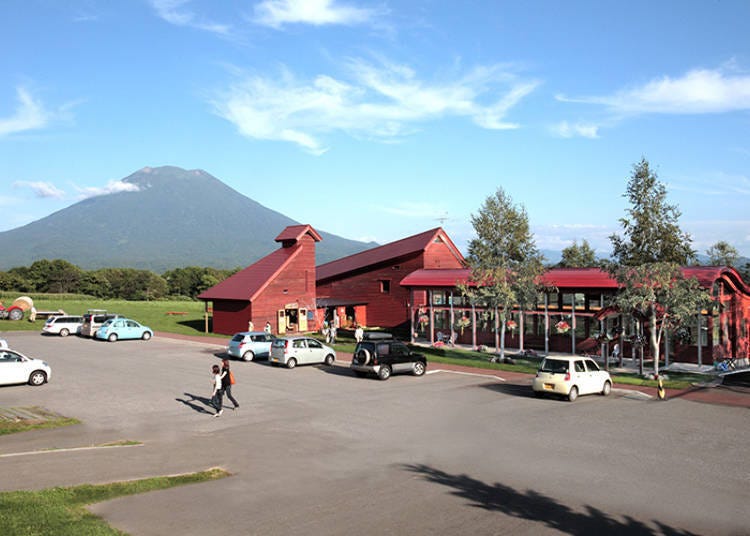 Delicious soft-soft served ice cream at a beautiful farm by the majestic Mt. Yotei
Reputed as one of the best is the vanilla soft-served ice cream (290 yen). Products are pasteurized and additives are avoided to the extent possible. It has a refreshing taste making use of the milk's original flavor and also has a wonderful aftertaste. In the summer there is a line to get one of these treats. They also have various dairy product sweets such as drinkable yogurt, cream puffs, pudding and baked snacks, a perfect place to look for some gifts. The store has a dining section, which offers a relaxing view of the farm.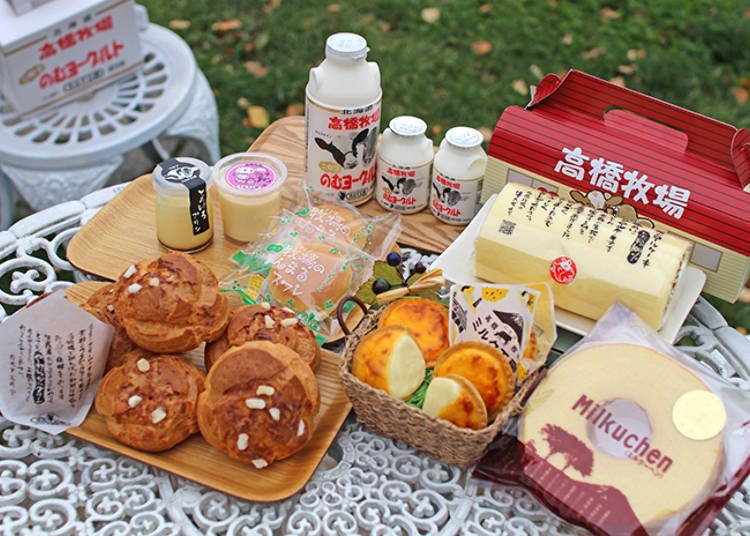 Perfect dairy product gifts made with fresh milk
Niseko Takahashi Dairy Farm Milk-Kobo

高橋牧場 ミルク工房

Address

〒048-1522 北海道虻田郡ニセコ町字曽我888-1 / 888-1, Soga, Niseko-cho Abuta-gun, Hokkaido, 048-1522, Japan

Phone Number

0136-44-3734

Hours: 9:30 AM ~ 6 PM (winter season ~ 5:30 PM)
Closed: End of the year and New Year holiday
Access: 8 minute drive from JR Niseko Station
Fresh Ingredients Made into a Delicate Dish at Robata Niseko Naniwatei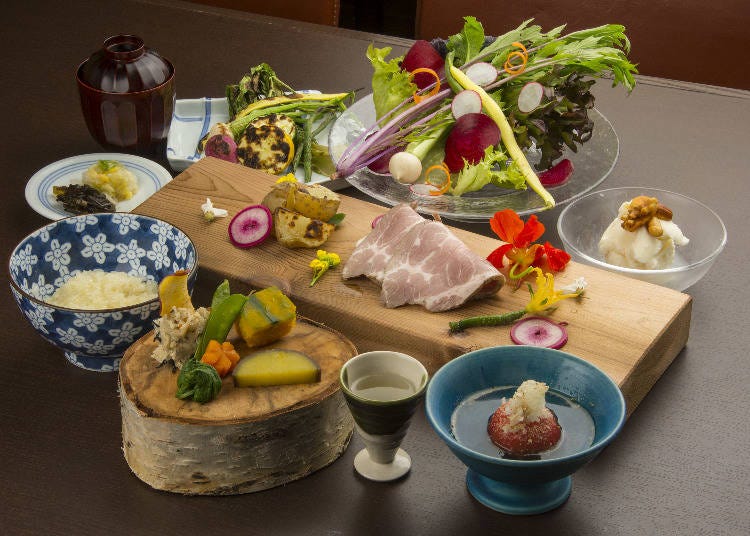 In the hotel district of Niseko, there are many stylish western restaurant that use local ingredients to server dishes like steak and pizza. However a little way from the shopping district is a restaurant that serves authentic kaiseki (a form of Japanese course meal) style meals using seasonal ingredients from Niseko. The robata (form of Japanese barbeque cooking) and kaiseki restaurant Niseko Naniwatei is a popular spot loved by locals and foreign visitors.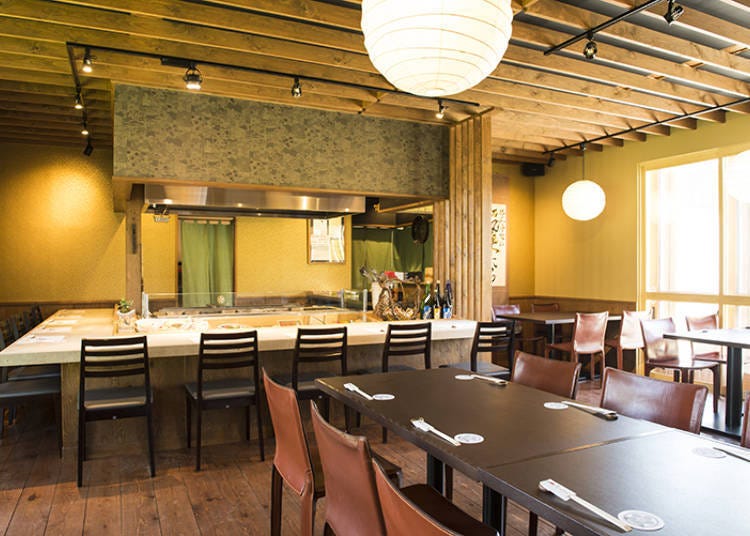 Beautiful Japanese harmony in the store. You can see the grilling process from the counter
Carefully selected quality ingredients such as ayu (sweetfish) are charbroiled then served with a delicate food presentation. The counter seat provides a spectacular view of the head chef's skills. There are table seats for groups. Beautiful foreign Nakai (waitress) provide English translation for foreign guests. The menu offers only course meals. Lunch course starts from 3,240 yen and dinner kaiseki course starts from 5,400 yen (reservation required for dinner). Enjoy the taste of Japanese harmony from the calm and stylish interior, plates, sake and cooking.
炉ばた にせこ浪花亭

Address

〒044-0078 北海道倶知安町字樺山259ハックルベリーファーム内 / 259, Kabayama, Kutchan-cho Abuta-gun, Hokkaido, 044-0078, Japan

Phone Number

0136-22-3388

Price: Lunch course from 3,240 yen, dinner from 5,400 yen (*reservation required)
Hours: Lunch 11:30 AM ~ last entry at 2 PM, dinner 5:30 PM ~ last entry at 8:30 PM
Closed: Irregular holidays
Access: 9 minute drive from JR Hirafu Station
Of course the skiing in winter is wonderful, but summer in Niseko is spectacular. There are various outdoor activities such as rafting and canoeing. You can also enjoy the seasonal ingredients from the ocean and mountain at the same time. Head on over to Niseko in the summer with beautiful scenery and delicious food!
*This information is from the time of this article's publication.
*Prices and options mentioned are subject to change.
*Unless stated otherwise, all prices include tax.
Search for International flights