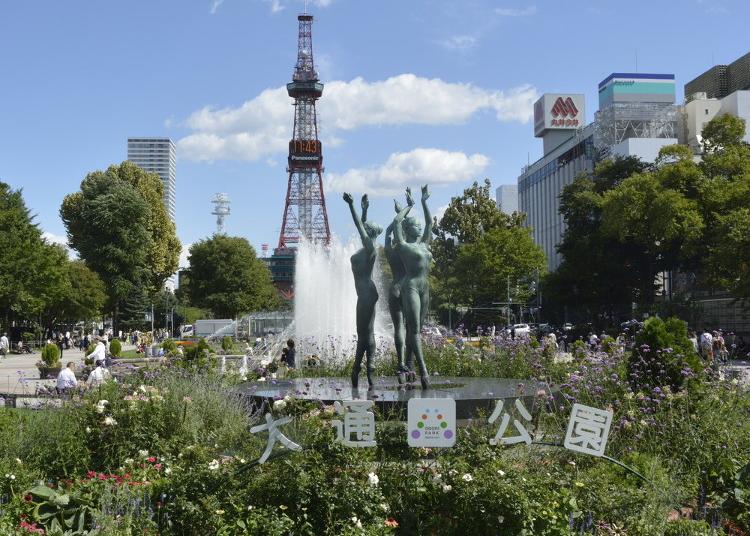 Here are the best Parks in Hokkaido, with travel tips and more, according to LIVE JAPAN, a top-class travel website for visitors to Japan. Our ranking is based on the most popular pages viewed by foreign visitors in a given category.

For instance, Odori Park, Nakajima Park, Moerenuma Park and other related spots will be listed. Be sure to check them out during your visit to Hokkaido!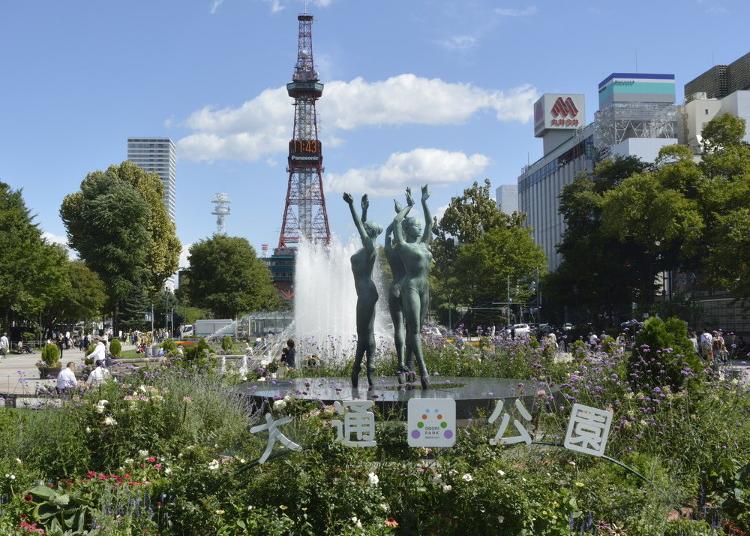 Odori Park occupies a narrow stretch of land about 1.5 km from east to west in the heart of Sapporo. Home to some 4,700 trees, the park extends from Nishi 1-chome to Nishi 12-chome. It's the ideal place for Sapporo's citizens and visitors alike to soak up the summer sun, with plenty of benches and lawn to relax on.
The main sightseeing area starts at Nishi 1-chome, where the Sapporo TV Tower dominates the skyline, and runs up to Nishi 3-chome with its fountain and statues. If time allows, take in all the sights the park offers as you stroll from Nishi 1-chome all the way to Nishi 13-chome, where you'll encounter the Sapporo City Museum. Dotted throughout the park are various monuments, including a stone slide made by Isamu Noguchi called Black Slide Mantra, as well as a rose garden at Nishi 12-chome.
The park also hosts the Sapporo Snow Festival and a slew of other big events throughout the year.

Access Info
Odori Park is situated 8 minutes by foot through the underground walkway from JR Sapporo Station, or a short walk from Odori Subway Station or Nishi-Juitchome Station on the Tozai Subway line.

Odori Park Events
(1) Yosakoi Soran Festival / June 6–10, 2018
This festival takes place at 19 locations in the city including this park, with willing teams gathering from around Japan to show off their dancing.
(2) Sapporo Summer Festival / July 20–August 17, 2018
The park transforms into a beer garden during the festival, featuring booths selling beer and food to enjoy outside. Be sure to catch the Hokkai Bon Odori dance, which is held on certain days during this period.
(3) Sapporo Autumn Fest / September 7–30, 2018
Farm produce and seafood from all over Hokkaido gather here as Sapporo celebrates the annual harvest. Don't miss the chance to sample and savor specialties from locales right across the island.
(4) Munich Christmas Market in Sapporo / Late November–late December, 2018
This event recreates the Christmas market in Munich, Sapporo's sister city. Stalls sell all sorts of Christmas-related wares, and food stalls set up shop serving hot wine, sizzling sausages, and other warming morsels to stave off the city's winter chill.
(5) Sapporo White Illumination / Late November–December 25, 2018
Beautiful illuminations adorn each block in Odori Park. Amble through the light tunnels and discover photo spots to preserve you memories. Rest areas and other facilities are also available.
(6) Sapporo Snow Festival / February 4–11, 2019
Sapporo's major winter event. Over 200 snow and ice sculptures grace Odori Park, one of three festival sites along with Susukino and Tsudome.

Corn Wagons Open for a Limited Period
Stalls selling sweetcorn, called Corn Wagons, set up shop in Odori Park at Nishi 1-chome, 3-chome, and 4-chome between late April and early October (subject to change.) Corn is served roasted or boiled, and the aromatic roasted sweetcorn drizzled with a sauce that blends sugar and soy sauce is particularly delicious.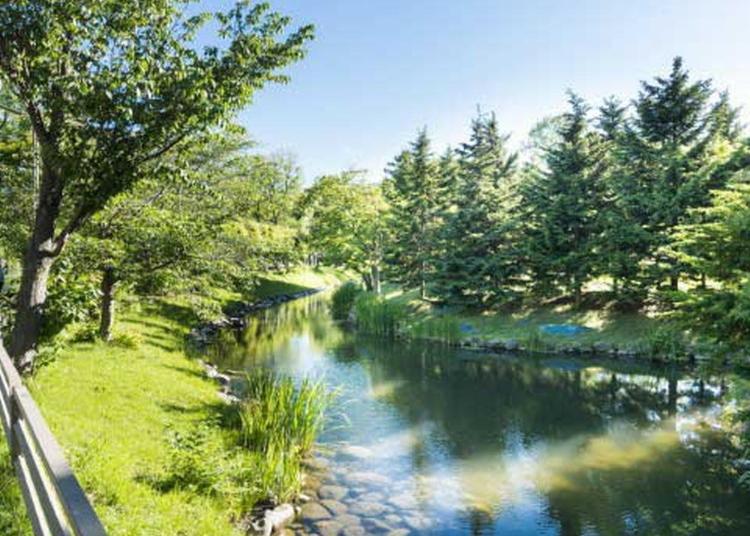 This park rivals Odori Park as Hokkaido citizens' go-to spot for relaxation. It has facilities to explore northerner culture like Concert Hall Kitara, and plenty of places to exercise, including a gym facility and tennis court.
Address

Nakajimakouen, Chuo-ku, Sapporo-shi, Hokkaido, 064-0931
View Map

Nearest Station

Nakajima koen Station (Namboku Line)


Phone Number

011-511-3924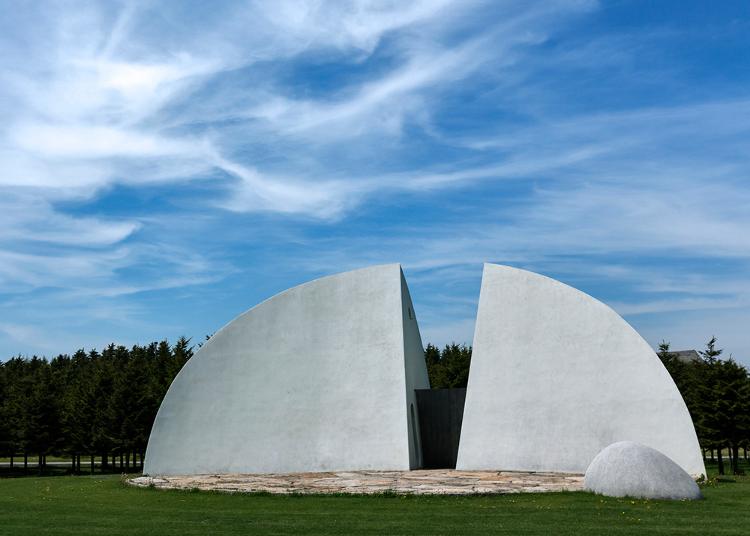 Opened in 2005, this park was built using the basic design created by the Los Angeleno sculptor Isamu Noguchi with the concept of "the entire park is a single sculpture."
Converted from the grounds of a waste-treatment plant, the park features a forest, a beach, a plaza, a fountain, and monuments scattered across approximately 189 hectares of land. Featuring plenty of nature in the surroundings, the area offers different delights depending on the season, with cherry blossoms in the spring, water play areas and budding greenery in the summer, scarlet leaves in the fall, and fun in the snow in the winter.
There is a restaurant in the park serving lunch and dinner (bookings are required), and a takeout shop is also open between mid-April and November 3. You can buy a lunch box in the shop to have a picnic outside.

Access Info
From JR Sapporo Station, walk 6 minutes to Sapporo Station on the Toho Subway Line, and ride the subway for 6 minutes to Kanjo Dori Higashi Station. Take the "Higashi 69" or the "Higashi 79 (heading to Nakanuma Shogakko Dori)" bus for 25 minutes and get off at Moerenuma Koen Higashiguchi (East Entrance), right next to the park.

Admission Fee
Admission is free of charge

Getting Around Moerenuma Park
(1) Walking
One lap around Moerenuma Park is about 3.75 km. The path is flat, making it easy for children to walk around as well. One lap takes between 1 hour 30 minutes and 2 hours.
Why not try the "Mountaineering Course?" Starting at the east entrance beside the bus stop then climbing Mt. Moere with a view of the city, it then passes the Tetra Mound, the Sea Fountain, and the Glass Pyramid, before returning to the east entrance.
(2) Cycling
There is a bicycle rental counter in the parking lot at the east entrance, which is open between late April and November 3. Both regular and children's bicycles are available to ride, and rental fees start at 200 JPY for 2 hours, with 100 JPY or more for each extra hour. The park features walkways that double as comfortable bicycle paths.

Main Attractions in the Park
(1) Glass Pyramid
This pyramid, with its largest triangular face measuring 51.2 m on each side, partially swallows a glass cube to produce a three-dimensional geometric exterior. Comprising 1,113 panes of glass, the atrium includes a restaurant, gallery, and gift shop, as well as the park manager's office. The pyramid is sometimes used for music events or art exhibitions on weekends.
(2) Sea Fountain
A grand fountain 48 m across in the center of the park. Between late April and mid-October the fountain offers a dynamic show, jetting water up to a maximum of 25 m high. The fountain runs three to four times each day, and features dazzling illuminations at night.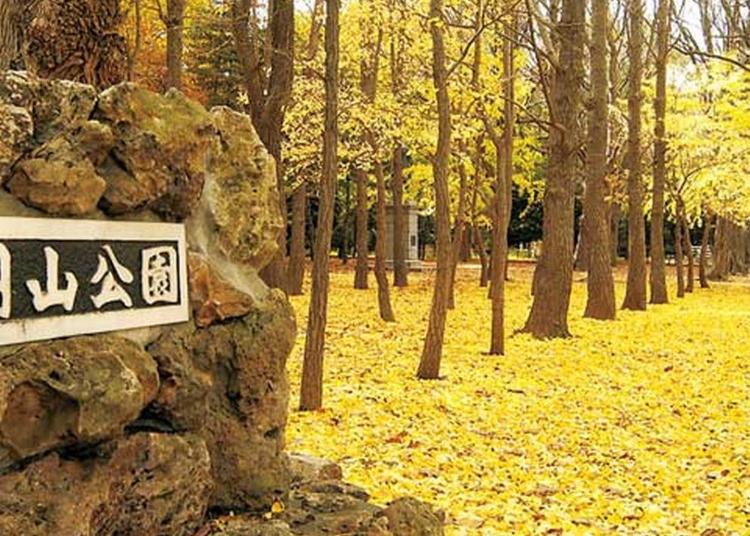 A park north of Mt. Maruyama. Its virgin forest is a lush green. Inside the park is Hokkaido Shrine, one of Hokkaido's most famous cherry blossom spots. The shrine's cherry blossoms signal the delayed arrival of spring to the northern provinces, around the start of May.
Address

Miyagaoka, Chuo-ku, Sapporo-shi, Hokkaido, 064-0959
View Map

Nearest Station

Maruyama koen Station (Tozai Line)
5 minutes on foot


Phone Number

011-621-0453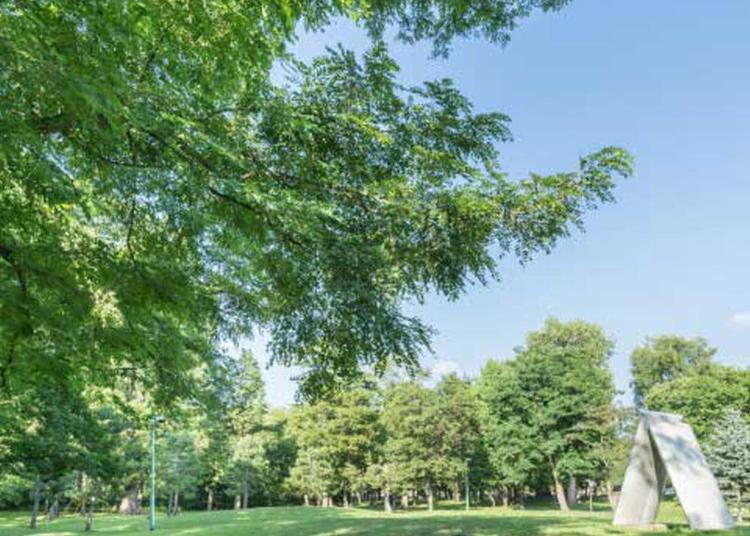 The first park to be opened in Asahikawa: an oasis at the center of the city. It was picked in 1989 as one of Japan's top 100 city parks. It features facilities like an art museum and central library.

A ten-minute trip from Asahikawa Station on Asahikawa Denkikidou for Suehiro, bus stops at the park
Address

Tokiwakouen, Asahikawa-shi, Hokkaido, 070-0044
View Map

Nearest Station

Asahikawa Station (Soya Main Line / Hakodate Main Line / Furano Line)
10 minutes by bus


Phone Number

0166-23-8961
6.Onuma Quasi-National Park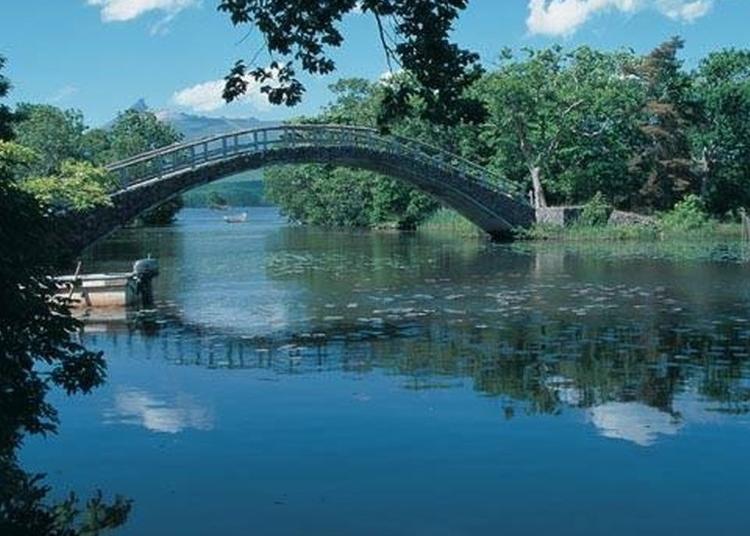 This national park features Onuma Lake, Konuma Lake, Junsai Swamp, and the 1131-meter-tall Mt. Komagatake as a backdrop. This marshland was produced in the wake of an eruption from Mt. Komagatake, and some 126 islands dot its surface.
Address

Onumacho, Nanae-cho, Kameda-gun, Hokkaido, 041-1354
View Map

Nearest Station

Onumakoen Station (Hakodate Main Line)


Phone Number

0138-67-2170
7.Takino Suzuran Hillside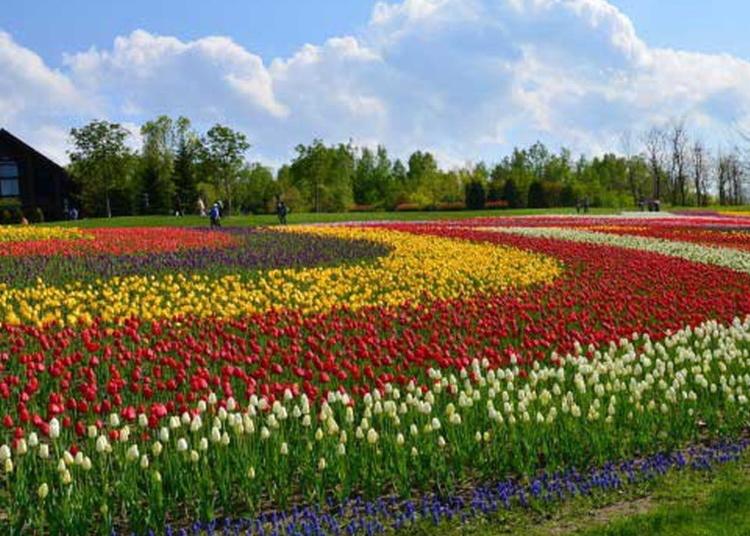 This roughly 400-hectare park is divided into four zones, and each area has seasonal flowers to view. There are all sorts of nature activities and craft workshops to engage in, even in winter.

A 35-minute trip from Makomanai Station on the Hokkaido Chuo Bus for Suzuran Hillside Park
Address

247, Takino, Minami-ku, Sapporo-shi, Hokkaido, 005-0862
View Map

Nearest Station

Makomanai Station (Namboku Line)
35 minutes by bus


Phone Number

011-592-3333
8.Fukidashi Springs Mount Yotei
The Ministry of the Environment selected this spring water as one of Japan's top 100 waters. 80,000 tons of this cool, clear water flows down from Mt. Yotei every day, attracting thirsty crowds during weekends. The soft water is a refreshing 6.5 degrees Celsius year round.

A 30-minute trip from Kutchan Station on the Donan Bus for Date Station, then a 15-minute walk from Kyogoku Bus Terminal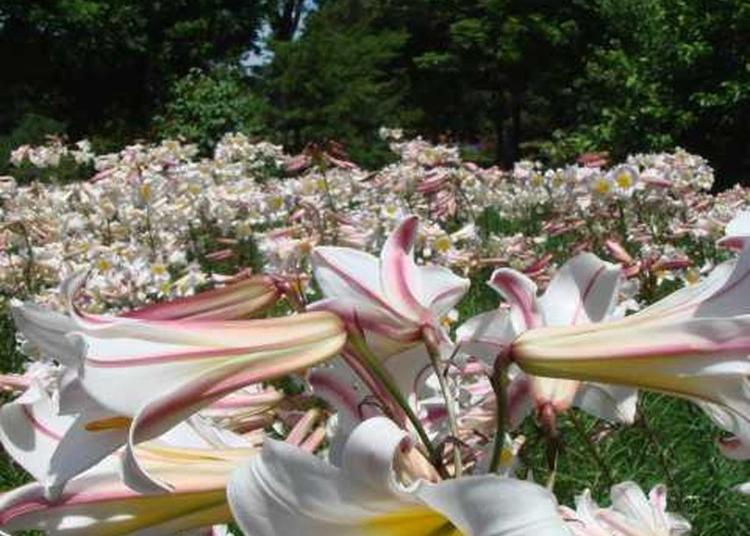 Approximately 6400 species of flowers are grown in this park, including 100 types of lilies from the world over. These lilies can be observed at the park's first attraction, "The World Lily Gardens". Clever flower bed designs and caretaking methods can be seen throughout the park.

A 20-minute trip from Sakae Station on the Hokkaido Chuo Bus for Shinoro Elementary School, bus stops at the park
Address

210, Yurigaharakouen, Kita-ku, Sapporo-shi, Hokkaido, 002-8082
View Map

Nearest Station

Sakaemachi Station (Toho Line)
20 minutes by bus


Phone Number

011-772-4722
10.Hokusei-no-oka hills Observatory park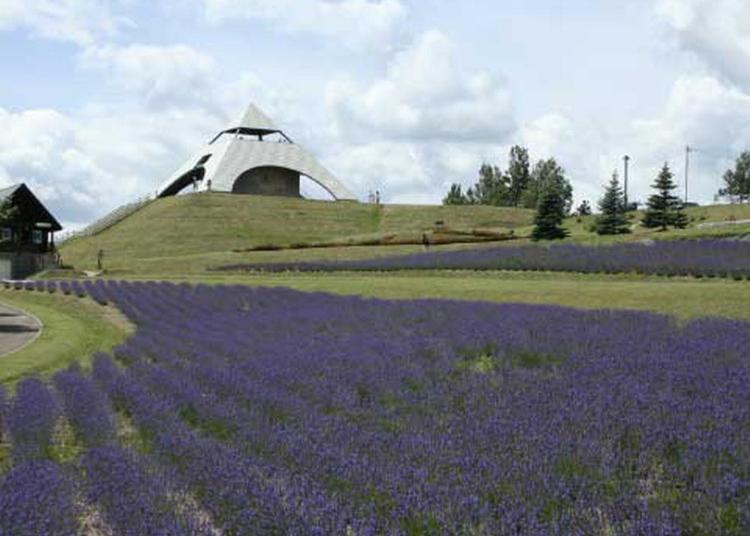 A five-hectare observatory park, containing flowers such as lavender and sunflowers. From the pyramid-shaped observation deck, one can see Biei's hills and the Daisetsuzan mountains. There's also a tourism information kiosk.
Address

kitakaidojokawagumbieichodaikyuhokyosei, 071-0200
View Map

Nearest Station

Biei Station (Furano Line)
5 minutes by car


Phone Number

0166-92-4445
*This information is from the time of this article's publication.
*Prices and options mentioned are subject to change.
*Unless stated otherwise, all prices include tax.