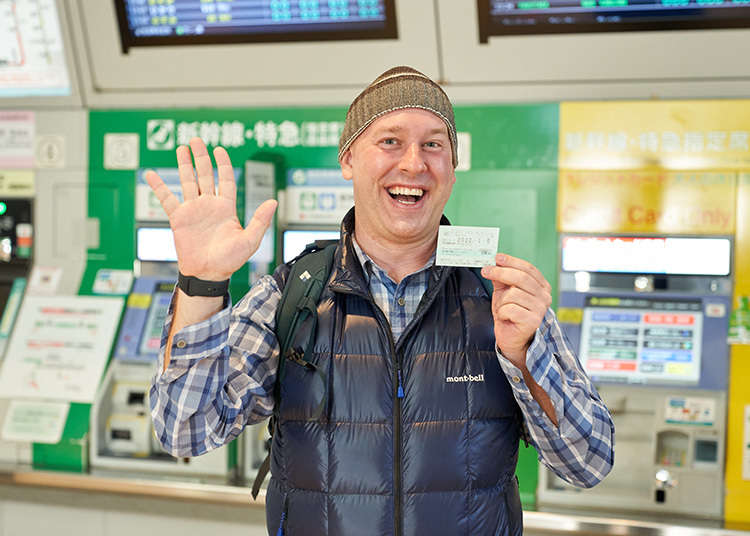 Eastern Japan is a popular destination among travelers for its wealth of seasonal scenic beauty and cuisine. To travel through the vast eastern Japan area, the Shinkansen is vital. And with a JR EAST PASS, you'll have unlimited access to the Shinkansen and more for five days: a very economical option that's available to all expatriates, too.

Speaking of which, did you know you can now buy a JR EAST PASS online via JR East's official JR-EAST Train Reservation website as of its 2021 renewal?

What's more, certain Reserved Seat Ticket Vending Machines are now equipped with passport readers, making the pass and ticket pickup smoother than ever. Now was the perfect time to send LIVE JAPAN's American editor into the field to explore the streamlined JR EAST PASS purchase process. Let's hear his candid feelings on how easy it has become!
JR EAST PASS: A vital free pass to eastern Japan
Timothy, LIVE JAPAN's chief English editor, will handle our test run using the JR-EAST Train Reservation website and getting a JR EAST PASS.

A seasoned traveler, he knows eastern Japan well: "Eastern Japan has a bit of something for everyone—cherry blossoms in the spring, hiking in summer, colorful foliage in fall, and skiing in winter, all popular activities with international travelers."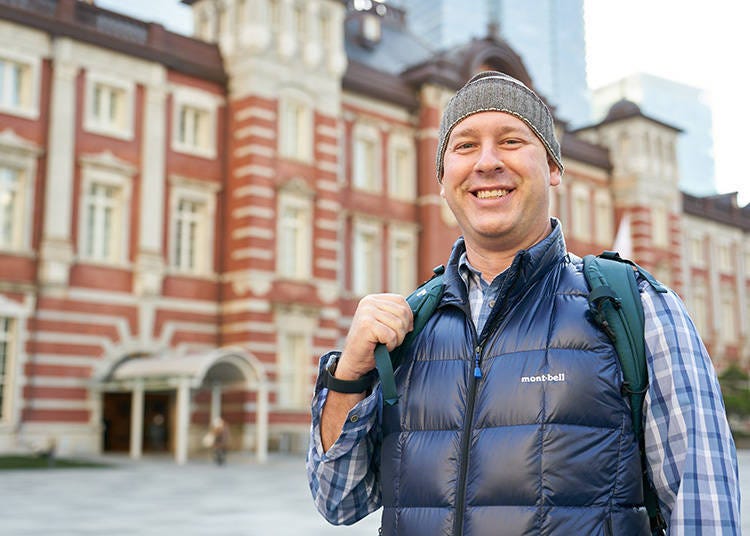 "The JR EAST PASS comes in two versions, one for the Tohoku area (20,000 yen for adults, 10,000 yen for children) and one for the Nagano/Niigata area (18,000 yen for adults, 9,000 yen for children). It gives you free access to the Shinkansen and local trains for five days, so it's a bargain that's definitely worth using! It's also fun knowing you can hop off the train at any station that strikes your fancy and explore the area. This flexibility gives you more options for your trip," Timothy explains. Now, let's go buy one!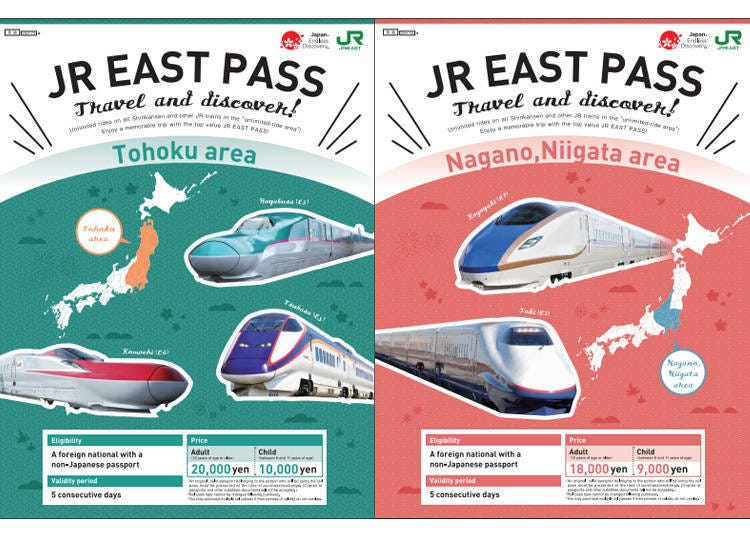 Purchasing: Now you can buy a JR EAST PASS on the official website! Multilingual and stress-free
Up until now, prospective JR EAST PASS buyers would have to visit a JR EAST Travel Service Center in major stations like Tokyo and Ueno Station. But with the renovation of JR-EAST Train Reservation, you can now purchase passes online. "Since it works with smartphones, you can buy one ahead of your trip—or even the same day if you are a bit more spontaneous," Timothy adds appreciatively.
From the JR-EAST Train Reservation top page, you can select your language, then choose to Purchase a pass, after which it's a matter of following directions. To get the pass of your choice, you'll need to create an account with JR-EAST Train Reservation. You'll also need a credit card to make a purchase. Currently, VIEW CARD, JCB, Visa, Mastercard, American Express, and Diners Club cards are accepted.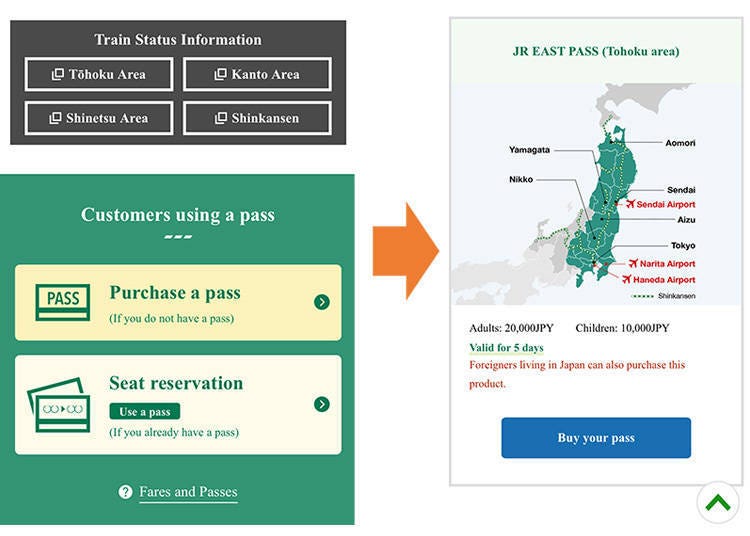 Once you have picked a pass to buy, fill out the form to set your number of users, usage start date, name, birthday, passport country or region, and passport code. On the next page, select a station and day to pick up your pass. You can pick it up even on the usage start date. When your purchase is complete, a message and QR code will be sent to your email address.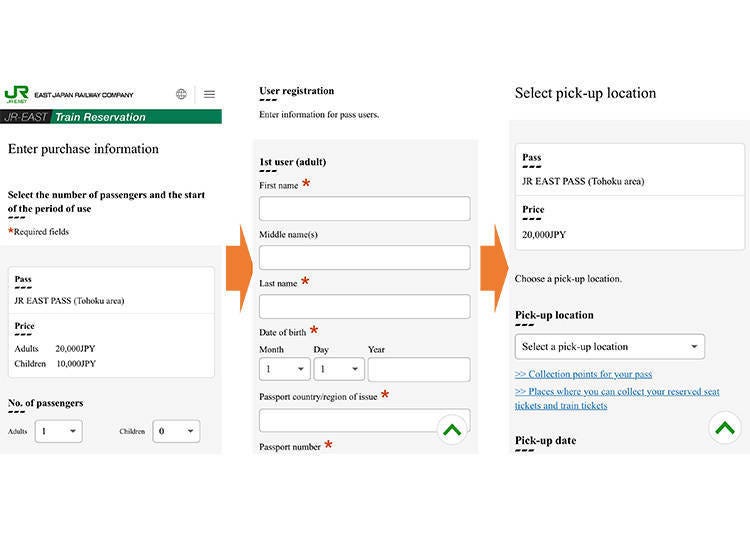 On the JR-EAST Train Reservation website, you can also make train seat reservations after buying your pass. Tap Seat reservation on the top page, and select a pass you have purchased to find seats you can reserve. And with JR-EAST Train Reservation's site renewal, you can use it in nine different languages—English, Chinese (Simplified and Traditional), Korean, Thai, Indonesian, French, German, and Spanish.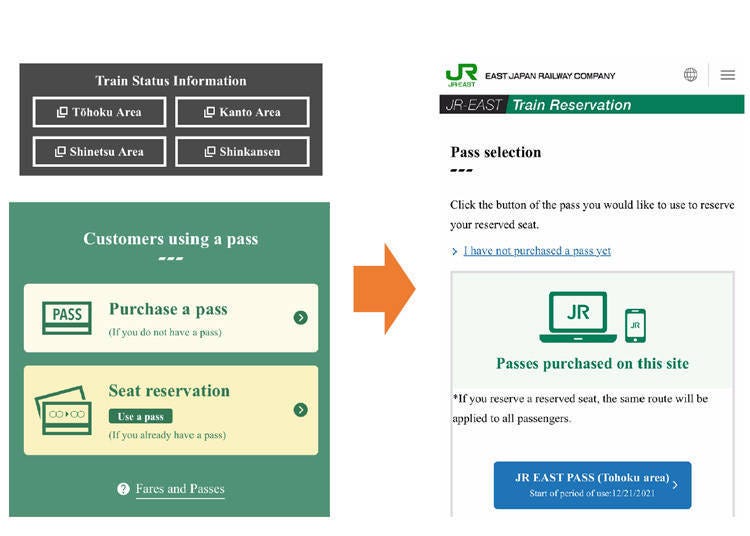 How did Timothy feel about his experience purchasing a JR EAST PASS through JR-EAST Train Reservation for the first time?

"You have to create an account, but it's a smooth path from top page to purchase, so it was all very straightforward. Until now, you had to buy a pass in person, which meant you would have to wait for the ticket office to open and then stand in line. So it's great that you can buy a pass whenever and wherever you want now. I'll bet people who weren't confident in their Japanese will be happy to find it's multilingual now."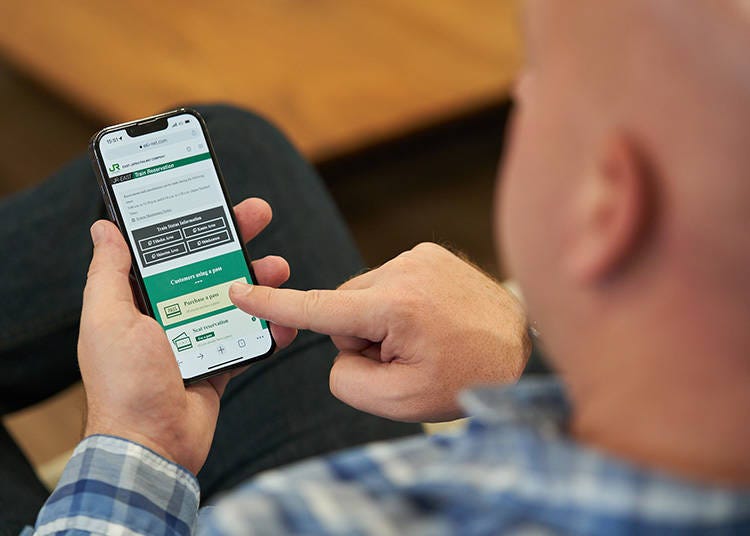 JR-EAST Train Reservation also allows you to purchase Shinkansen e-tickets and a selection of other train tickets, so there are plenty of ways for you to use the service.
Pickup: Now you can pick up passes from Reserved Seat Ticket Vending Machines —No desk interaction required!
It's time to go pick up our purchased JR EAST PASS. Previously, we selected Tokyo Station as our pickup location on JR-EAST Train Reservation.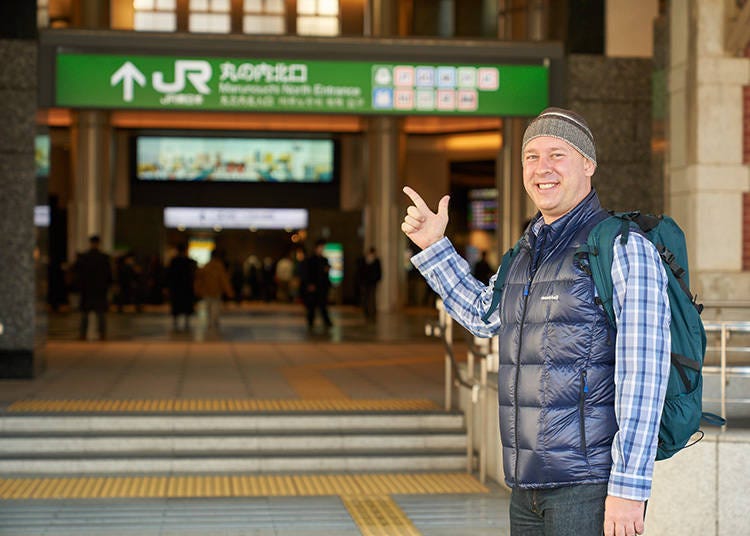 Now you can pick up passes purchased through JR-EAST Train Reservation at Reserved Seat Ticket Vending Machines with red JR-EAST RAIL PASS labels.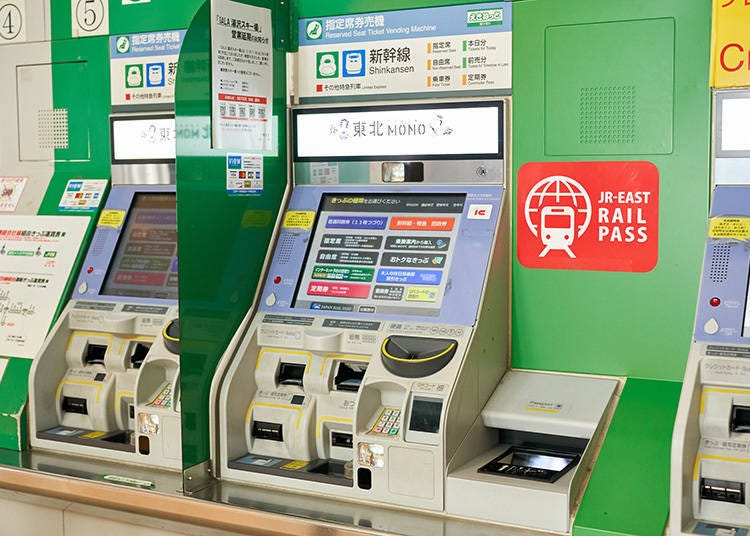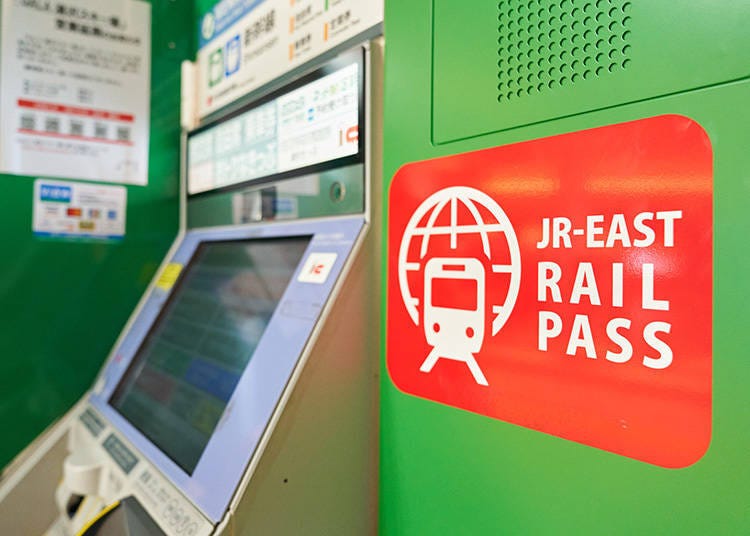 Until now, JR EAST PASSes purchased through services like travel agencies had to be picked up at a JR EAST Travel Service Center. The rules for JR-EAST Train Reservation were also stricter: seat reservations had to be at least three days in advance, and pickups had to be at least one day in advance.

With the renovated system, you can purchase both a JR EAST PASS and seat reservation and pick them up on the day of your trip from a passport-reader equipped Reserved Seat Ticket Vending Machine.

"Say you wanted to go explore eastern Japan, but you make your travel plans kind of at the last minute. In times like that, it's nice to know you can both buy and pick up tickets all on the same day!" Timothy makes a good point—anyone's schedule can get tossed for a loop.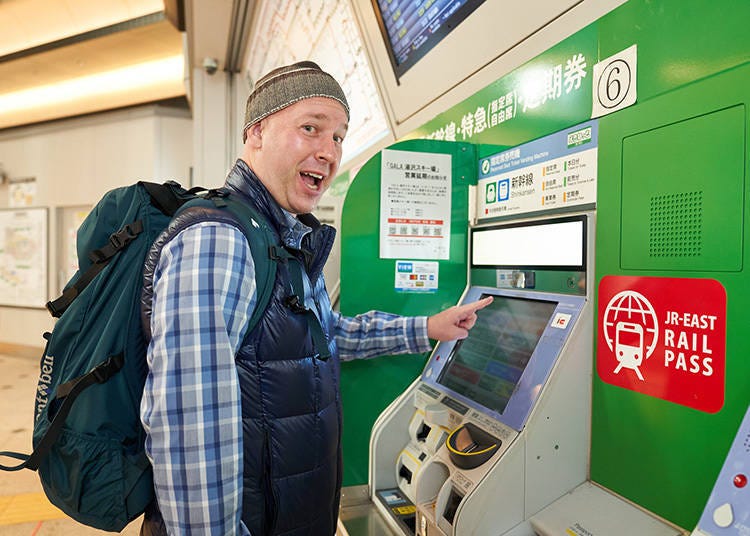 Pickup is just as smooth and straightforward. Tap your language at a Reserved Seat Ticket Vending Machine , follow directions, and scan the QR code that was sent to you after purchasing. During the pickup process, you will also be asked to confirm your eligibility by scanning your passport, so be sure to bring your IC chip-equipped passport with you. Two or three minutes, that's all it takes to get your pass.

"People often imagine pickup involving waiting in line, but it's remarkable how fast these Reserved Seat Ticket Vending Machine make the process," Timothy remarked.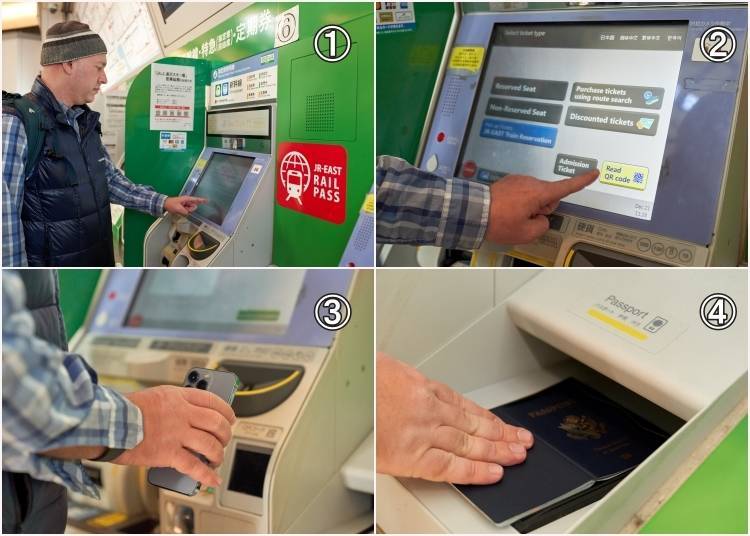 He continued, "JR EAST Travel Service Centers are only open from 9:00 until the evening, but these machines can be used from the early morning to night. This ought to prove useful to travelers who want to catch the first train in the morning or pick up their pass at a late hour."
(*JR EAST Travel Service Centers differ in hours between location.)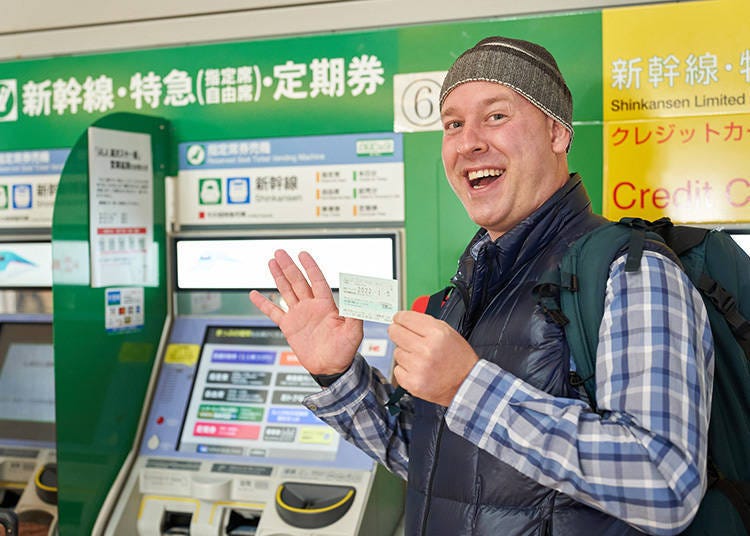 Boarding: No need to pass through manned ticket checks! Stroll through the automatic ticket gates
With your JR EAST PASS in hand, all that's left to do is go through the automatic ticket gates and board your train. Your JR EAST PASS works just like a regular ticket, allowing you to pass straight through the ticket gates. There's no need to show your pass to a station employee to gain passage.

"It was a pain back when you had to wait at the manned ticket gates to get through, but their new compatibility with automatic ticket gates should make for an easy, stress-free trip." It can be a little stressful when the first step of your journey has a little bump; you can hold your head high knowing you can breeze through the automatic turnstiles now!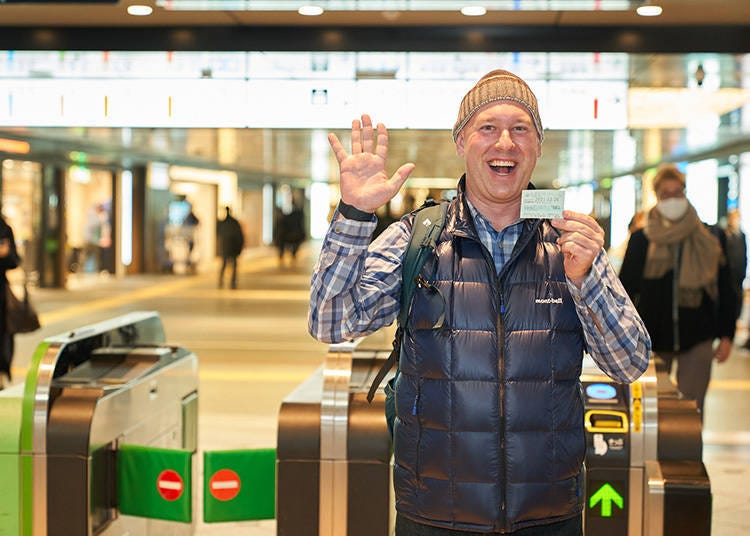 Use JR-EAST Train Reservation and enjoy a stress-free railway trip through eastern Japan!
Wherever you go, buses and tickets can be worrisome: is it easy to get one? Am I choosing the right one? But if you use JR-EAST Train Reservation, everything from purchase to pickup to boarding is a breeze. We encourage you to try out JR-EAST Train Reservation on your next trip!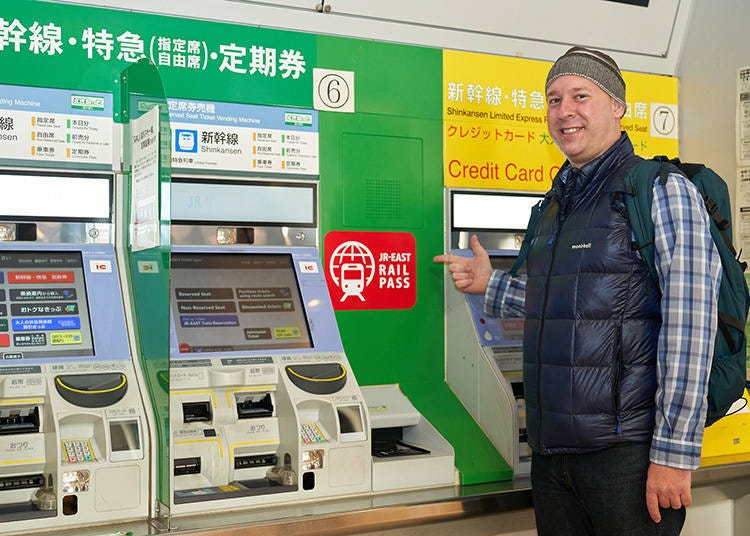 *This information is from the time of this article's publication.
*Prices and options mentioned are subject to change.
*Unless stated otherwise, all prices include tax.
Limited time offer: 10% discount coupons available now!