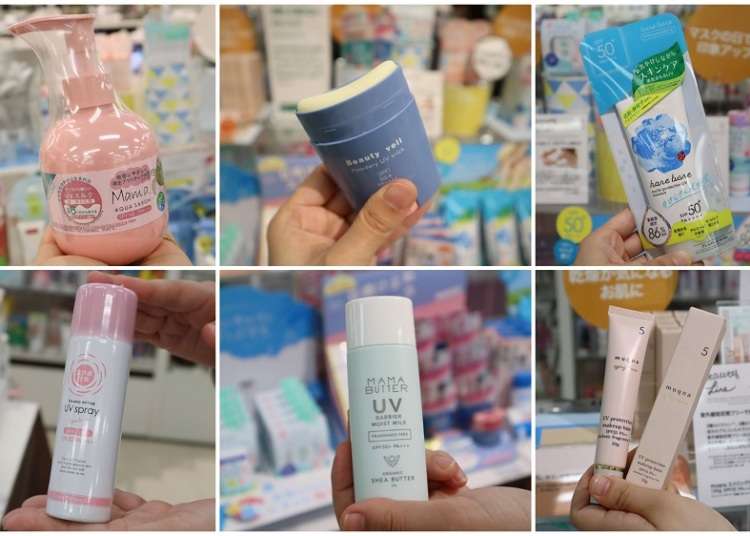 Coming into the warmer months, now is the time to start thinking about UV protection. In Japan, the period between May and July has the most powerful UV rays of the year - even stronger than those in midsummer!

To help get your sunscreen kit sorted, we asked the official product buyer of Tokyo's leading department store Tokyu Hands for their top 10 Japanese sunscreen recommendations for 2021. After giving each product a test run, we bring you our thoughts on the latest sunscreen trends and types best suited for Japan's summer.
We Visited Tokyu Hands in Tokyo's Shinjuku Ward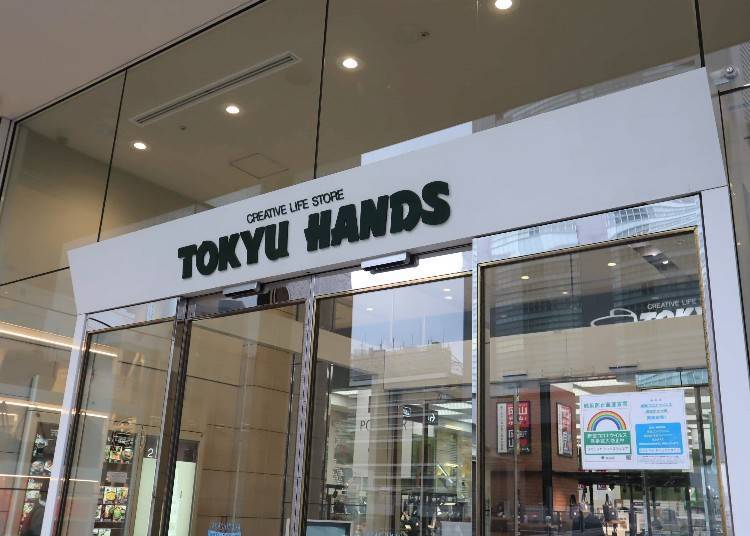 With a staggering diversity of goods and services, Tokyu Hands is one of Japan's leading providers of daily essentials and lifestyle products. They also boast a wide assortment of original products providing exciting new ways to spice up your home life.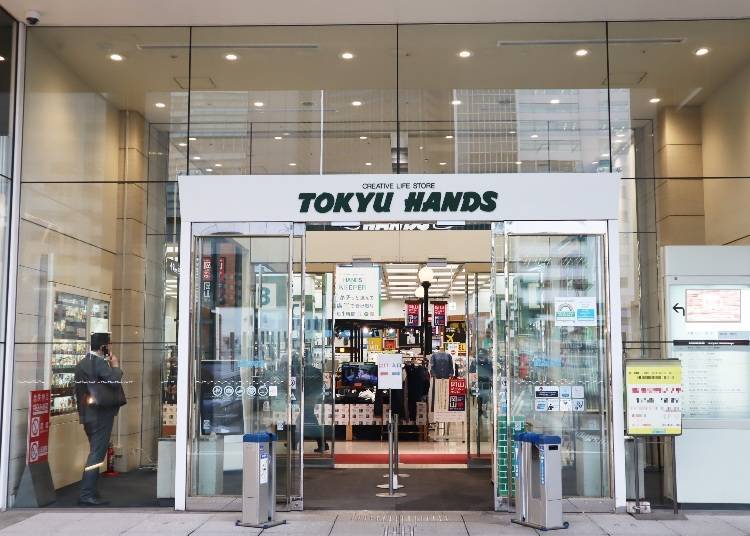 To discover more, we ventured to the Shinjuku outlet of Tokyu Hands, a massive complex situated between floors 2 and 8 in the prominent Takashimaya Times Square department store.

Only a 2-minute walk from the new south exit of JR Shinjuku Station, the location is second-to-none. This particular Tokyu Hands is famous for holding events, promotions, and displays flaunting the styles of the trend-setting economic powerhouse of Shinjuku.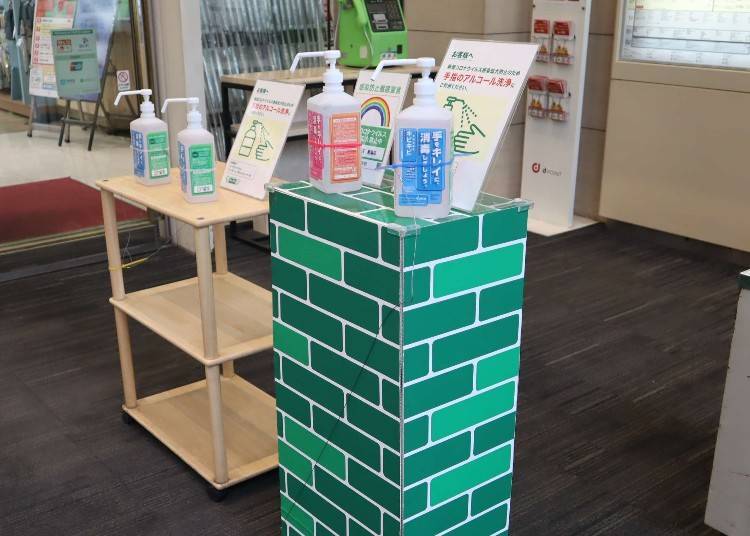 The entrance is fitted with hand sanitizer, ensuring customers are protected against the spread of COVID-19.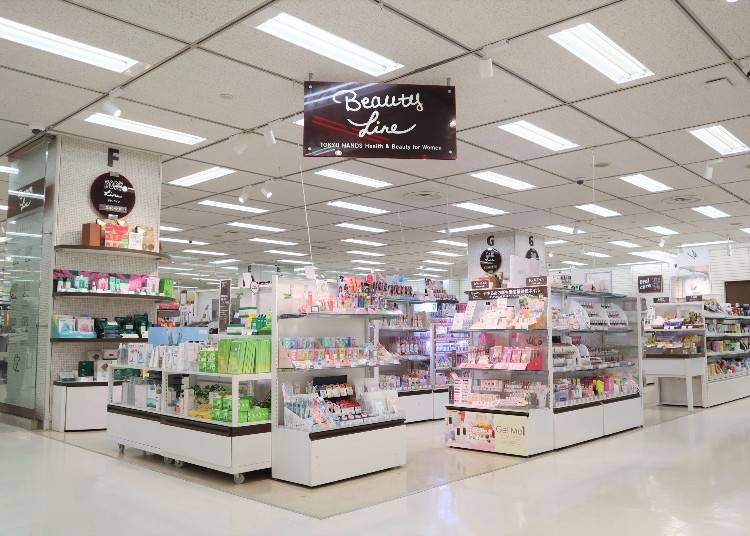 The cosmetics and healthcare section of Tokyu Hands Shinjuku rests on the 3rd floor. The renowned "Beauty Line," which exhibits women's cosmetics, is visibly larger than most Tokyu Hands outlets, with a wide selection of trendy new products bolstered by the traditional best-sellers.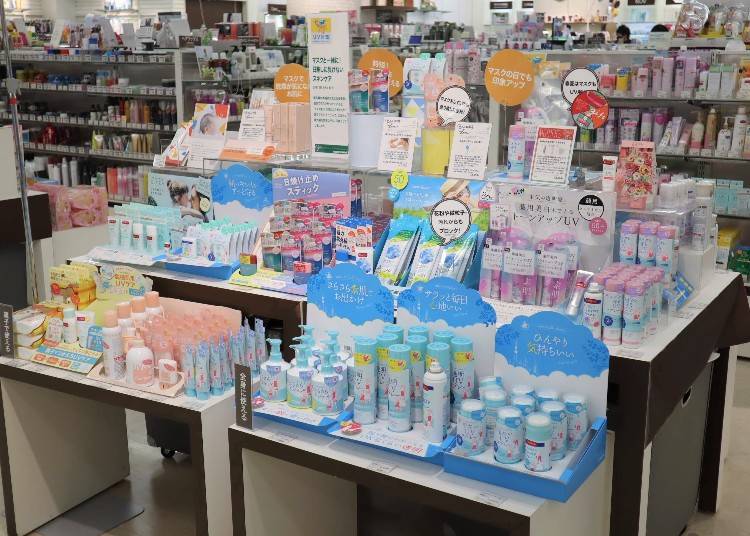 Even the Japanese sunscreen corner bursts with variety, beating the tiny selection found at most drug stores by a long shot! Best of all, most products here have samples, allowing you to see how they feel and smell on your own skin.
Recommendations From Tokyu Hands' Skin and Body Care Buyer!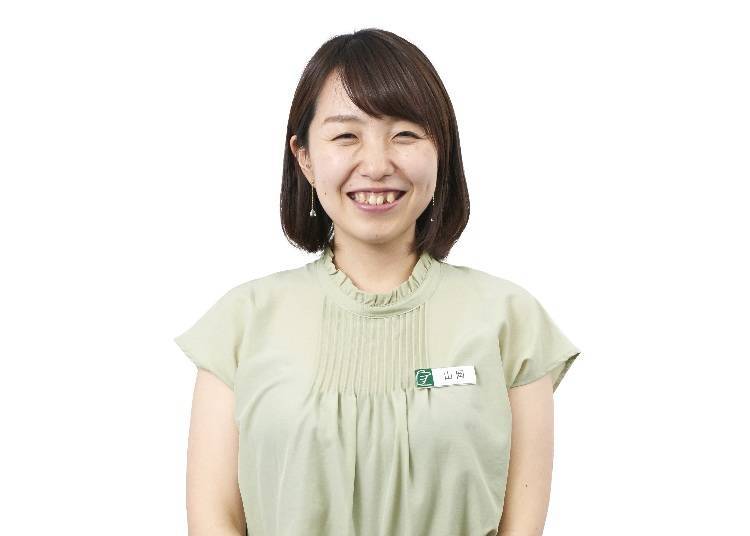 For this article, we spoke with Ms. Okayama, who works as Tokyu Hands' skin and body care product buyer. Using her deep knowledge of the industry, she can select products suitable for all needs and skin types. She was kind enough to share her knowledge and recommendations with us, including the different types of Japanese sunscreen available and how best to choose one.

For those overwhelmed by Japan's vast selection, this guide will surely point you in the right direction!
2021 Japanese Sunscreen Trends: Moisturization and Sophistication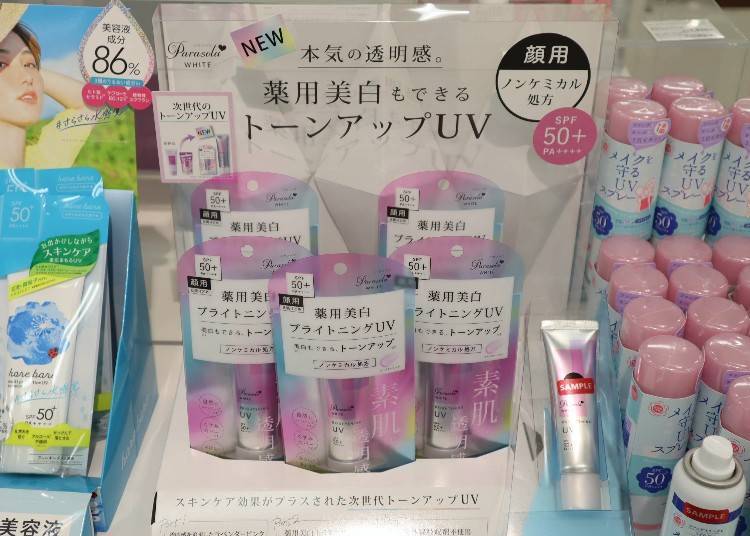 Nowadays, most of us are donning masks to protect ourselves against COVID-19. Because of this friction and dryness, many feel their skin is more sensitive than ever before, increasing the demand for high-quality moisturizers.

"This year, in particular, we're seeing sunscreens with powerful moisturizing properties, which have been gaining popularity with those suffering from sensitive skin. Many are also seeking products with additional benefits, like skin-whitening and softening properties, leading to manufacturers offering a line of sophisticated, high-functioning sunscreens."

*PA = Blocks ultraviolet A, which causes wrinkles and sagging. The higher the number of "+," the more potent the effect.
*SPF = Blocks ultraviolet B, which causes red skin, blotches, and freckles. The higher the number, the longer the effect will last.
1. Mama Aqua Savon "Coral Friendly UV Milk" - Great for the Environment! (1,430 yen, milk-type, SPF32・PA+++)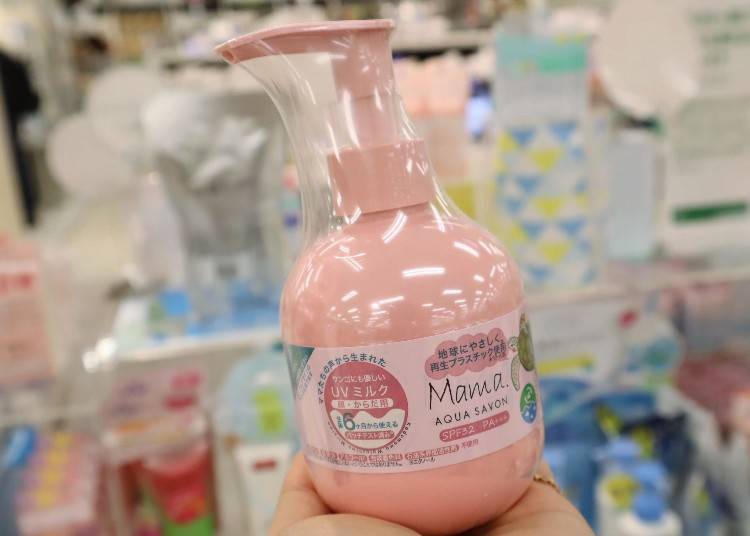 A sunscreen from Mama Aqua Savon, a Japanese cosmetics brand serving the needs of mothers with children. As per the name, "Coral Friendly UV Milk" is free from the chemicals oxybenzone and octinoxate, which are claimed by scientists to contribute to coral bleaching. This makes it perfect for those swimming or snorkeling at beaches, allowing you to enjoy the beauty of coral without harming it.

"Due to its lack of chemicals, it can be applied safely all over the body - including the face. It can also be used on infants older than 6 months."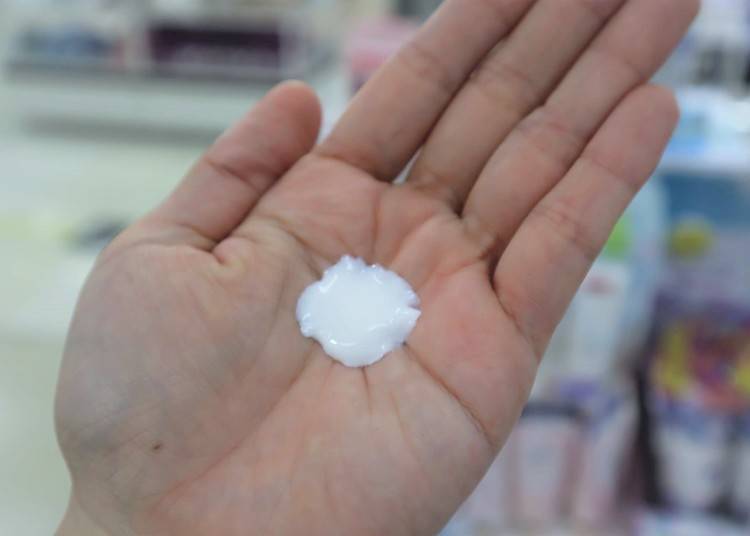 The sunscreen is a milk-type with a silky texture free from the unpleasant thickness, often prone to lesser sunscreens. In addition, it has a clean and pleasant soap-like fragrance, making it an enjoyable addition to your full-body skincare routine.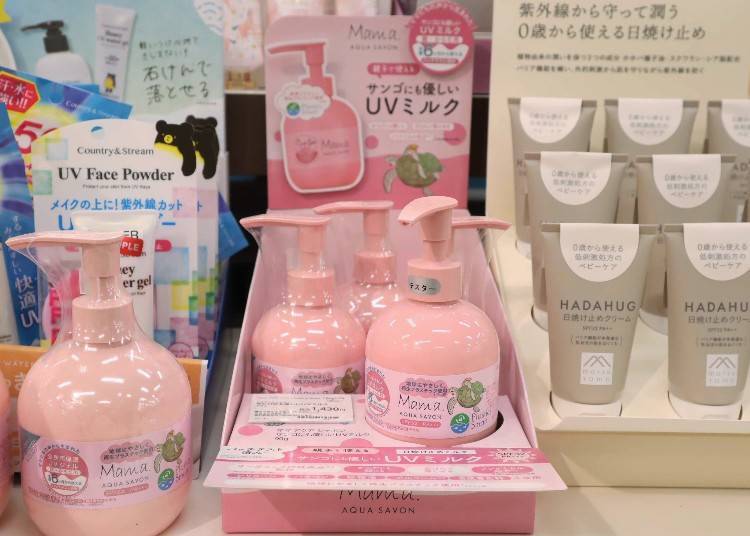 The bottle is made from recycled plastic, furthering the product's consideration for the environment. This, in addition to its quality and fragrance, makes it an easy product to recommend for a wide range of people.
2. Mama Butter UV Barrier Moist Milk - Ideal for Dry Skin! (2,090 yen, milk-type, SPF50+・PA+++)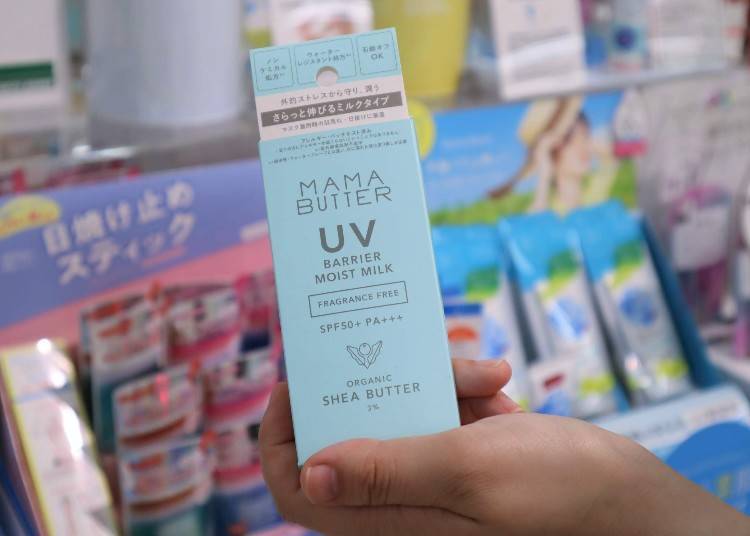 A Japanese sunscreen released by the "Mama Butter" brand, known for their lineup of shea butter-based cosmetics. This milky, chemical-free sunscreen solution brims with moisturizing components, warding off dryness and making it suitable as a year-round product.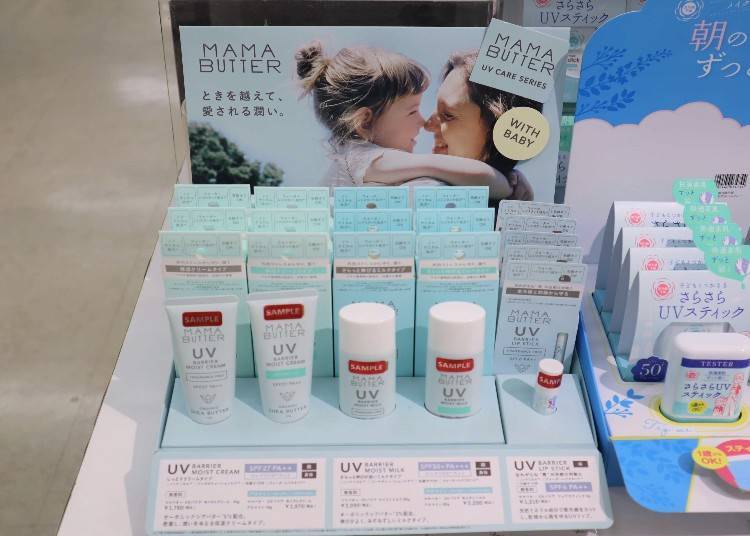 "As it includes 3% organic shea butter, one of the earth's natural moisturizing elements, the sunscreen virtually bursts with luscious moisture. Even after extended use, it remains pleasant on the skin."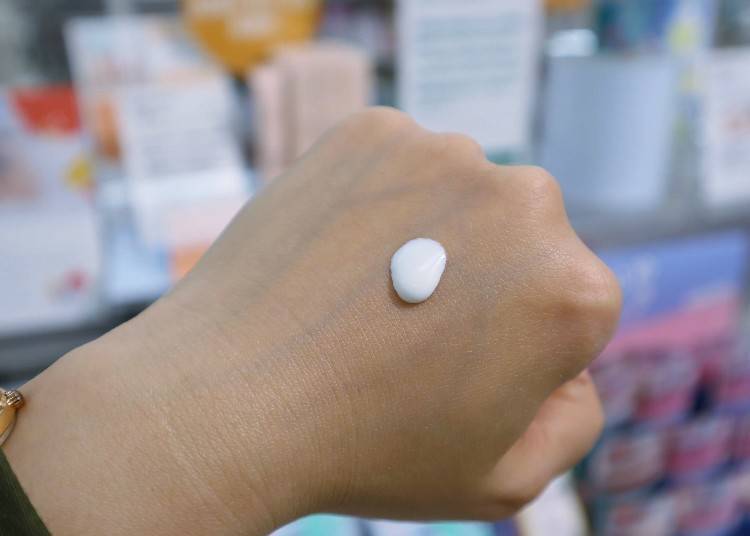 Indeed, the shea butter provides a noticeable hit of extra moisture, culminating in a smooth texture ideal for makeup bases and as a full-body lotion. For those particularly concerned about dry skin, this is your best bet!
3. Mummom UV Stick - A Versatile Solution For Sensitive Skin (1,540 yen, stick type, SPF50+・PA++++)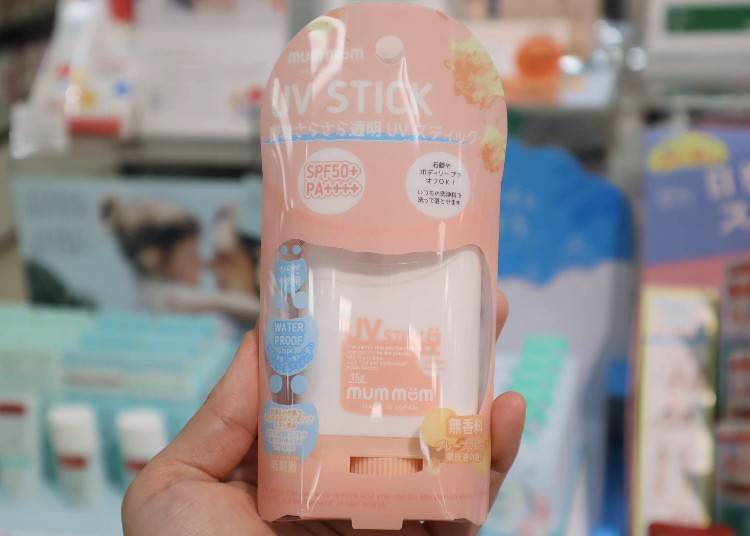 Allowing easy application without the mess, stick-type sunscreens have been all the rage in Japan in recent years.

"Beloved brand Mummom's sunscreen stick is an exceptionally high-quality product. After applying, your skin will become smooth and silky, feeling nice and fresh!"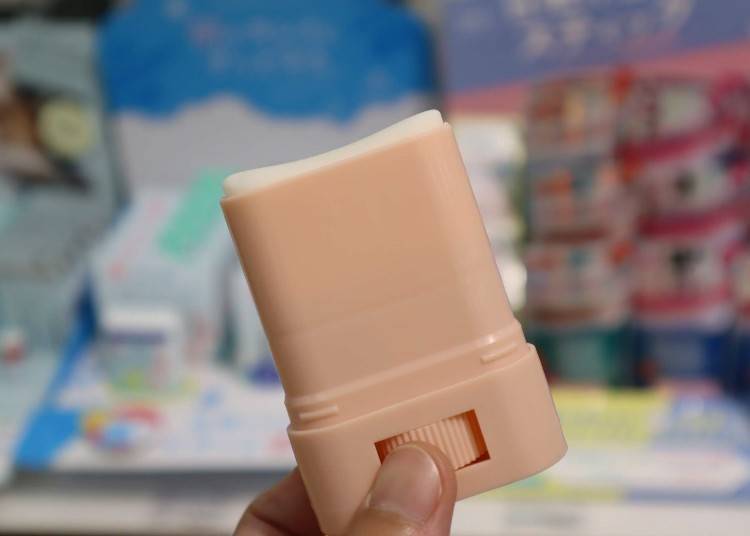 Without a doubt, this wonder stick will make your skin feel noticeably softer after application. Being totally colorless, it can also be applied anywhere on the body without getting in the way of clothes and accessories.

The product itself is slim and pocket-sized, making it easy to carry around on days out. It is also waterproof, so don't hesitate to bring it to the beach!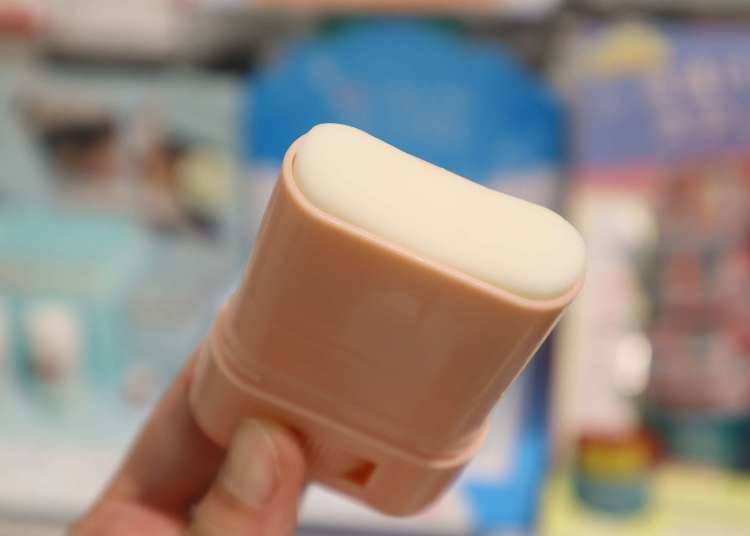 "While only tested on Japanese people, it has undergone a patch test (to determine allergies) and stinging test (to determine whether a product is suitable for sensitive skin), so it can be used for those with delicate, hypersensitive skin."
(*Some people may still experience irritation.)
4. Beauty Veil: Powdery UV Stick - Easy to Apply! (1,430 yen, stick type, SPF50+・PA++++)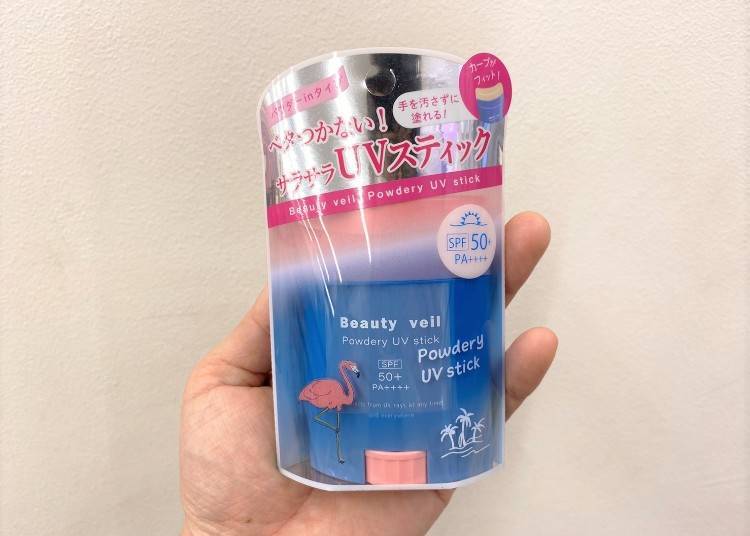 Able to be applied directly from the bottle, Beauty Veil's "Powdery UV Stick" is another one of our recommended stick-type sunscreens. Designed with a distinctive curve, it seamlessly pairs with the shape of the body, making it super easy to use.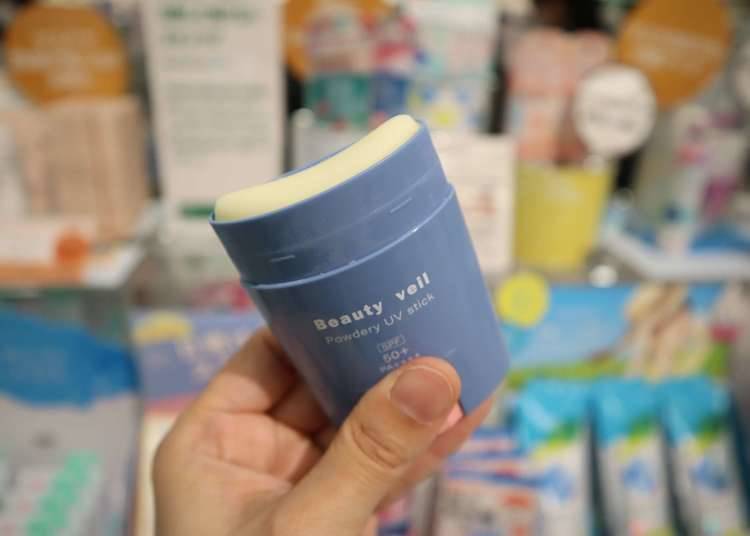 "The perfectly designed curve fits in those difficult-to-reach places, such as the back of your neck or top of the feet. As it can be easily applied without dirtying your hands, you can use it regularly throughout the day."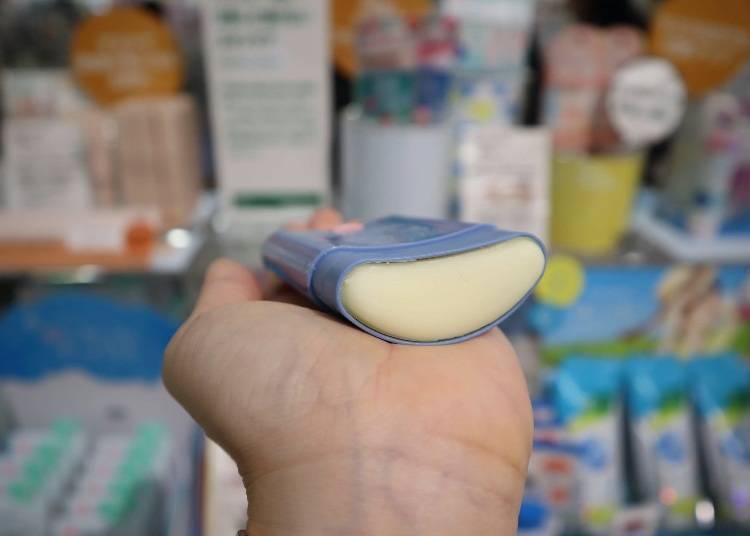 Indeed, the curved design is perfect for your neck, back of the hand, and other places with pronounced indentation. In addition to being waterproof, it boasts a faint floral scent and the ability to be applied over makeup, making it a great all-rounder for days about town or at the beach!
5. Harebare Multi-protection UV Essence - 86% Beauty Lotion! (1,650 yen, gel type, SPF50+・PA++++)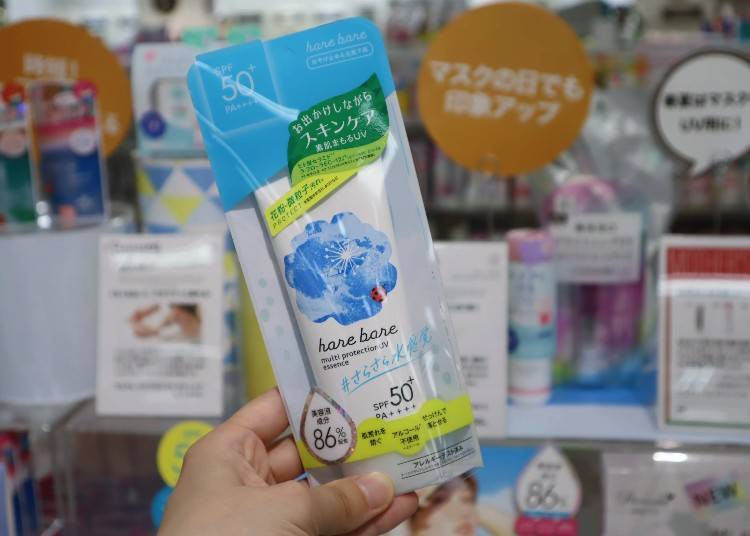 In addition to UV rays, this gel-type masking agent protects your skin against pollen, particles, and other airborne nuisances that may damage your skin. It is completely free from alcohol, parabens, artificial coloring, and mineral oil.
"This is a brand-new product just released in 2021. With a smooth, agreeable touch, it can easily be used as both as a makeup foundation and a full-body sunblock. With just one product, you can moisturize your skin while keeping out unwanted elements!"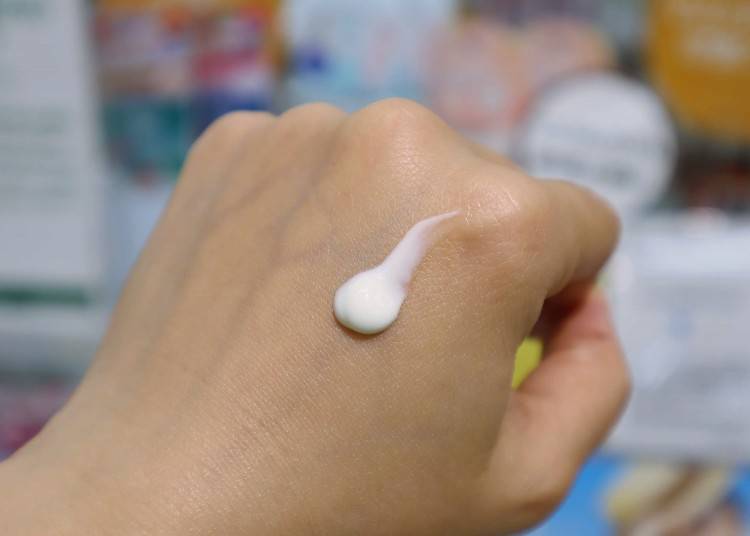 While appearing as a milky lotion, the gel properties ensure that it completely disappears without a trace. In addition to providing a barrier for your skin, it is packed with beautifying agents allowing one to practice proper skincare alongside their sunscreen routine.

Complemented by a delicate citrusy fragrance, this product is less of a sunscreen and more of a luxury comprehensive skincare experience! For a product that does it all, you can't go wrong with this!
6. Mommy UV Mild Gel N - A Cute Family Bottle! (990 yen, gel type, SPF33・PA+++)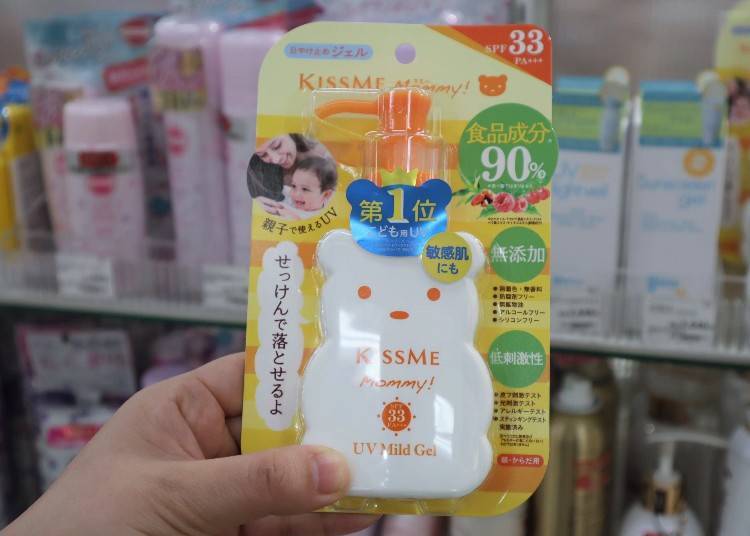 Family care specialists "Mommy" offer an easy-to-use, gentle gel sunscreen with an adorable bottle loved by children. Sourced from 90% natural food products, it has a low irritation rate with no coloring, fragrances, preservatives, mineral oil, alcohol, or silicone. It can be safely used every day by children above the age of 1.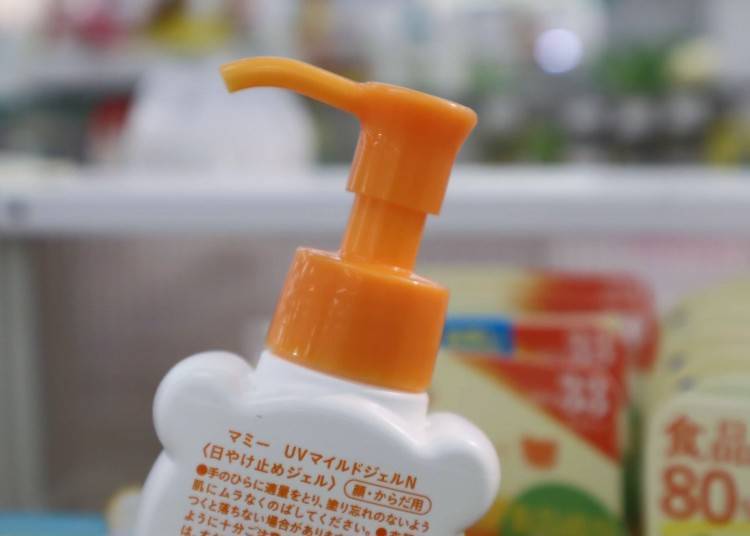 "The pump makes it easy to use while the gel is firm yet silky. It's a savior for busy families in a rush, allowing quick UV protection without any drama."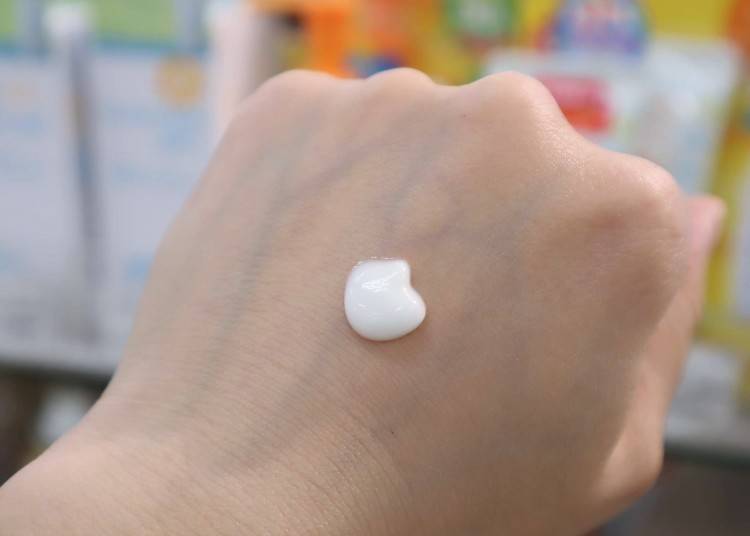 The light, airy gel is quickly absorbed by the skin, making application quick and painless. It is also the only entry on this list with a pump, making it the ideal Japanese sunscreen to place near the front door to use before going out.
7. Parasola White Brightening UV - A Makeup Base with Tone Up Skin Care (1,430 yen, makeup base type, SPF50+・PA++++)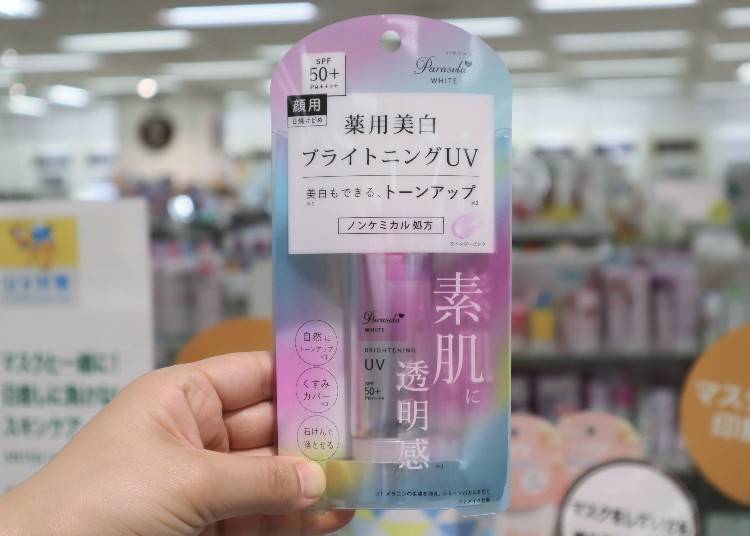 This makeup base is a quasi-drug with potent skin-brightening properties complemented by powerful UV protection. With an ever-growing reputation, it has begun attracting the eyes of savvy shoppers overseas!
(*A quasi-drug is a formula with ingredients whose effect is recognized by Japan's Ministry of Health, Labor and Welfare.)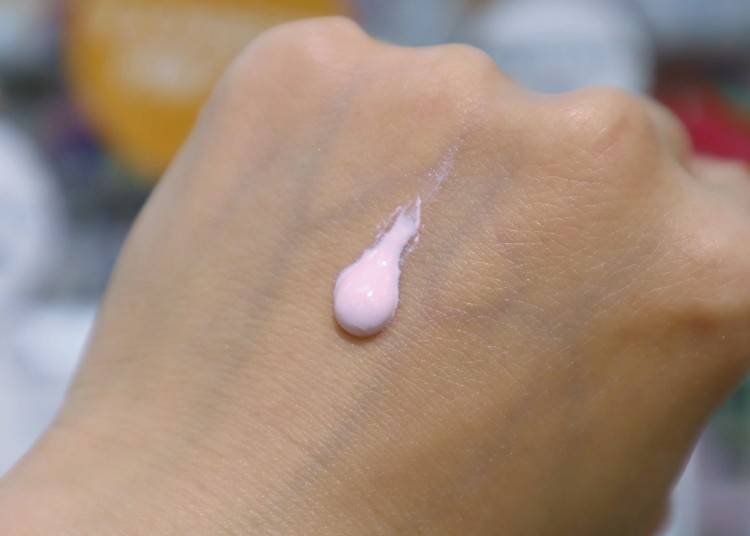 "This gorgeous lavender-pink cream will work to lighten the user's skin tone naturally. It will draw out lush, glowing skin, which is all the rage in Japan these days!"

After spreading it over our face, we immediately noticed a distinctive brightening effect making our skin glow with energy and life. Alongside this powerful effect, you'll also be protected against UV rays - two birds, one stone!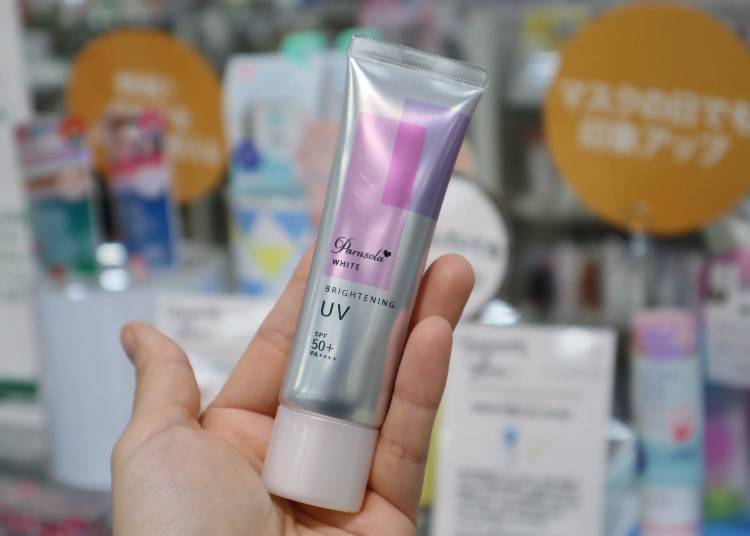 Developed especially for faces, it will cover dullness and pores in a way regular body/face sunscreens and lotions simply can't match.
8. Muqna Aging Care UV Makeup Base - A Tokyu Hands Limited Product! (2,618 yen, makeup base type, SPF35・PA++)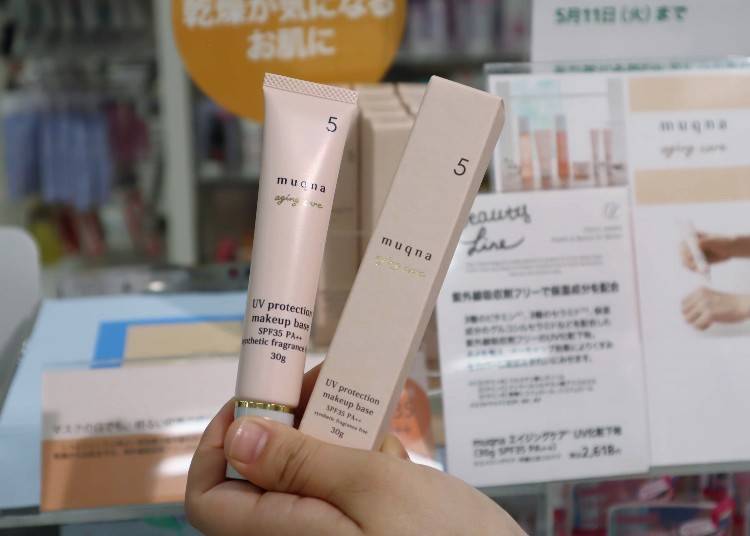 This next makeup base/sunscreen recommendation comes from Tokyu Hands' original brand, "muqna."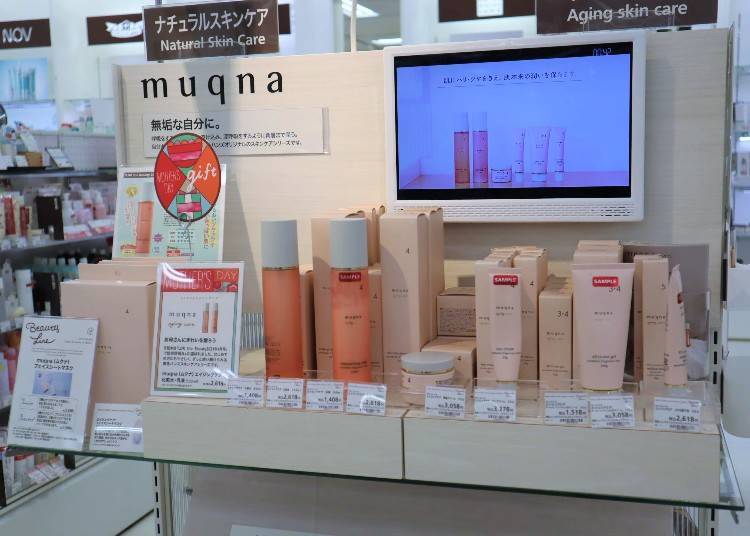 Muqna was developed upon the concept of "returning to one's purest self." As a result, their most popular makeup bases boast a luscious texture free from UV absorbing agents, making irritation extremely rare.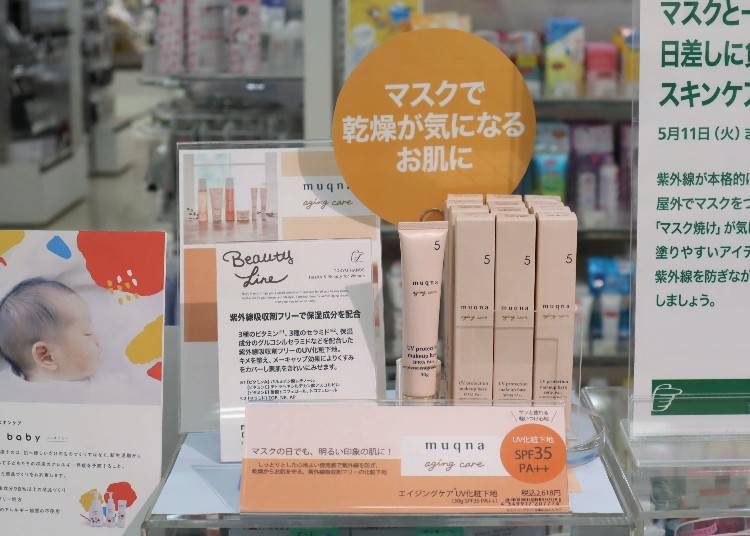 The "muqna basic series" aging care focuses on moisturization with additional components to reinvigorate and rejuvenate skin, making it ideal for older customers concerned with the effects of aging.

"Taking care against UV rays is a year-round ordeal. With this gentle and lovingly produced item, you can improve your skincare routine while taking proper measures against the harsh sunlight."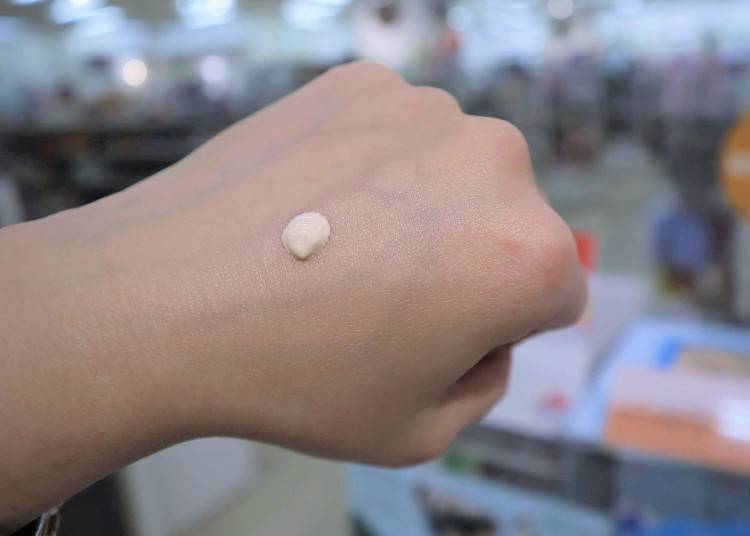 The product itself is cream-colored with a thin texture apt for makeup bases. No matter the skin type, it will be easily absorbed, with even a little dab immediately covering dullness and adding vigor. With ample skincare benefits, it will surely become the basis of your daily beauty routine.
9. ISHIZAWA LAB UV Barrier and Makeup Protector Spray - A Versatile Product Saving Makeup and Skin! (1,650 yen, spray type, SPF50+・PA++++)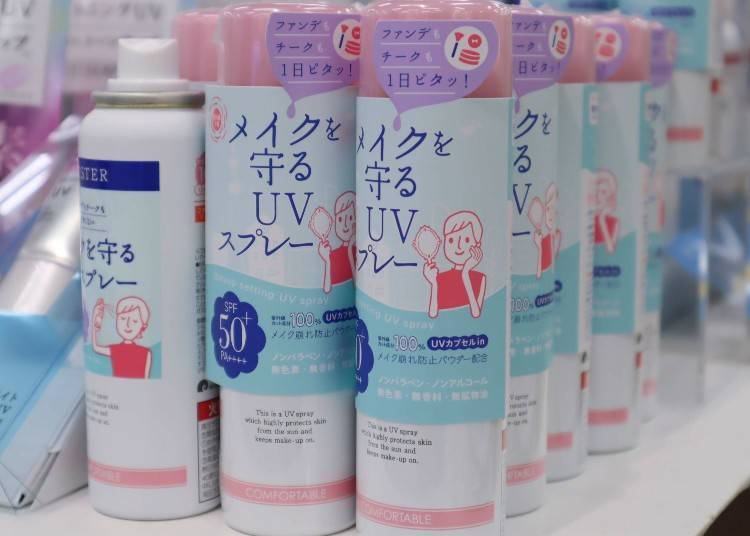 With a stellar reputation gained from their esteemed pore products, this Japanese sunscreen spray was released by the reputable Ishizawa Lab. With the addition of makeup protection powder, you won't have to worry about your makeup being ruined even during particularly oily or sweaty days. It is also waterproof, making it a great accessory for beach-goers!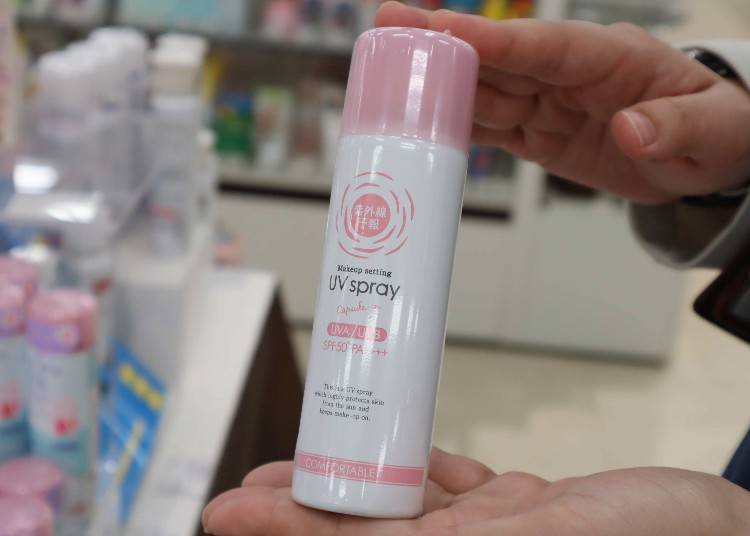 "This product has been a best-seller at Tokyu Hands for a long time. As you can directly spray it over makeup, it makes for an easy UV routine completed in just a few seconds. No matter how many times it's reapplied, it won't become sticky or noticeably white."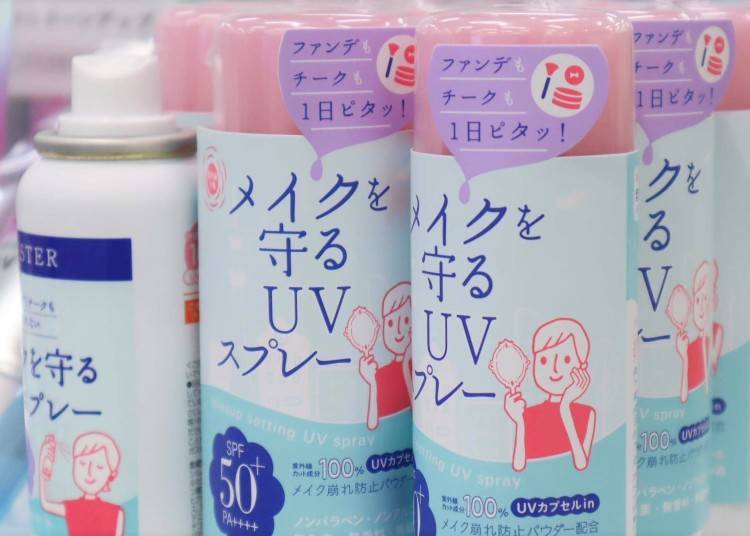 Even on the most idyllic summer days, worries about sweat and oil undoing your makeup can lead to spoilt fun. With most of us constantly wearing masks, we now have additional concerns about our faces getting damp and clammy. However, these troubles can be quickly resolved by adding this handy spray bottle to your bag during your summer escapades!
10. RAFRA UV Mist 100g - The Most Powerful Sunscreen Level in Japan! (2,090 yen, spray type, SPF50+・PA++++・Long-UVA protection)
To safeguard the luster of our face, hair, and body while ensuring more-than-adequate UV protection, we recommend checking out RAFRA's sunscreen spray. Boasting the highest SPF level in Japan, this beauty lotion mist will drastically cut down even the strongest UV rays while protecting your skin against pollution, blue light, and more.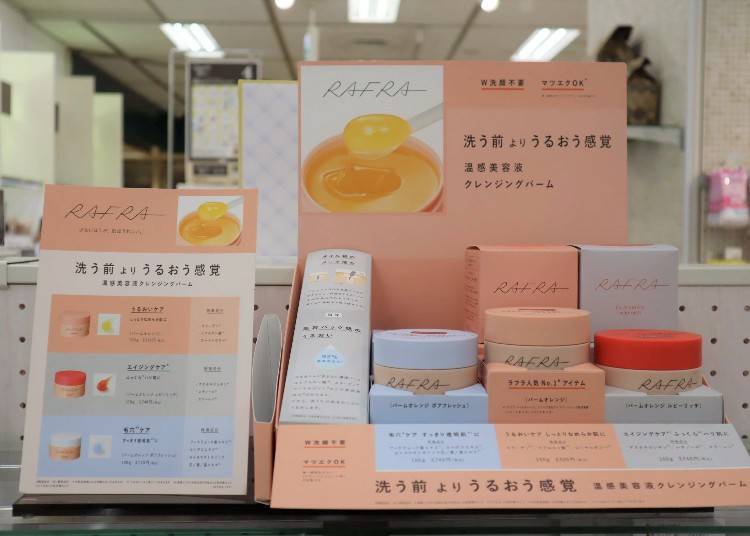 RAFRA is a cosmetics brand aimed at women using carefully selected ingredients in their beauty range. Their cleansing cream "Balm Orange" has been a consistent best-seller.

"This fantastic mist solution protects the moisture of the skin while drastically cutting UV exposure. RAFRA's products also use oranges to naturally amplify their effectiveness, giving them an agreeable citrusy fragrance. It's also totally waterproof, free of residue, and can be easily removed with just soap."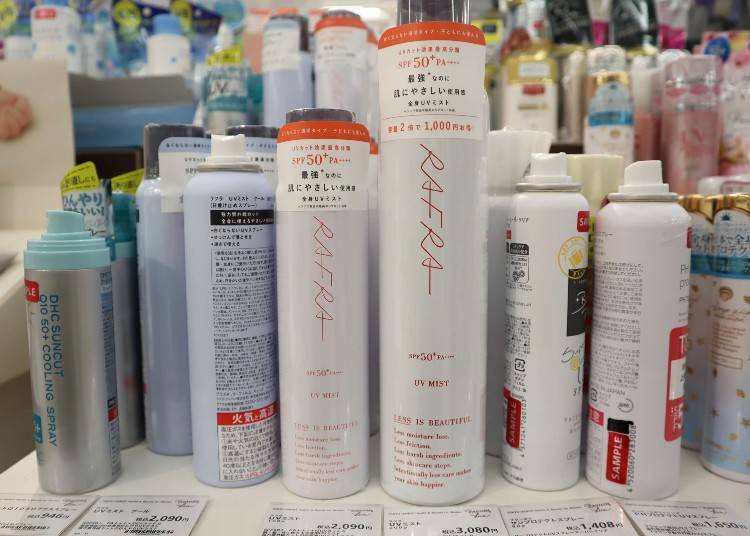 With just one spray, the nourishing scent of oranges filled our nostrils, instantly soothing and relaxing us. The bottle can even be sprayed upside down, working at awkward angles to reach every part of the body.

The large booster size, which comes at the reasonable price of 3090 yen, will sort out your sunscreen needs for the immediate future and beyond! It also ranks in the highest level of UV protection in Japan, making it a popular choice for those spending long amounts of time outdoors.

Current Campaign Information:
New members who join the Tokyu Hands "Hands Club" will receive a 300 point present. In addition, those who make purchases of 5,000 yen or more (including tax) will be entered into a lottery to win 1,000 points (until May 16).

Tokyu Hands Have an Online Shop!
All the products listed in this article are available at the Tokyu Hands online shop!
*Some products may be sold out
Upgrade Your Sunscreen Game with Next-level Japanese Products!
All the entries to this list are made with exceptional quality in Japan. With a wide range including milk, gel, and spray types complemented by delightful scents and sweeping versatility, each Japanese sunscreen boasts a distinctive characteristic suiting different lifestyles and uses.

So instead of opting for the same-old basic UV protection, this year, level up your skincare and makeup routines with these all-in-one smart and convenient Tokyu Hands sunscreens!
COVID-19 Countermeasures:
Indoor disinfection measures taken - Sanitizer installed - Ventilation measures in place - Coin trays used - Plastic partitions installed - Staff wear masks, gargle, wash hands regularly, and monitor body temperature - Capacity is limited, reservation system in place - Masks required - Temperature check enforced

*This information is accurate as of April 2021
*Product availability will depend upon individual stores
*Pricing and details may change
*All prices are including tax
*Thorough sanitization procedures were taken during photography
Tokyu Hands Shinjuku Store

東急ハンズ新宿店

Address

Times Square Building 2-8F, 5-24-2 Sendagaya, Shibuya-ku, Tokyo 〒151-0051

Phone Number

03-5361-3111

Hours: 10:00am to 9:00pm
Closed: Open daily
*Business hours may be affected by the spread of COVID-19
Written by:
*This information is from the time of this article's publication.
*Prices and options mentioned are subject to change.
*Unless stated otherwise, all prices include tax.