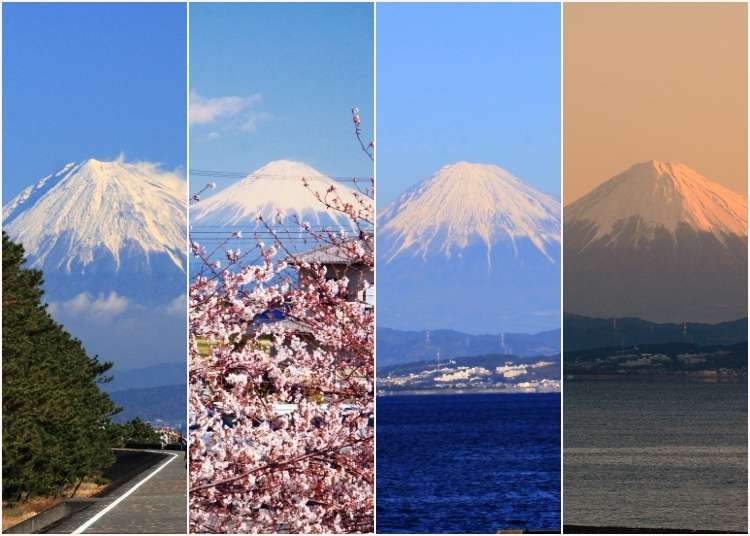 Delicious seafood cuisine and the divine majesty of Mt. Fuji are both great reasons to visit Japan. Know of any spots you can enjoy both at the same time? The port town of Yaizu in Shizuoka Prefecture is one such place, and it offers a variety of Mt. Fuji views. Its easy access, only about an hour away from Tokyo, is another useful point. Let's take a look at seven different spots to see Mt. Fuji from Yaizu, the "Town of Fish!"
Just an hour away from Tokyo! Enjoy views of Mt. Fuji from Yaizu in Shizuoka Prefecture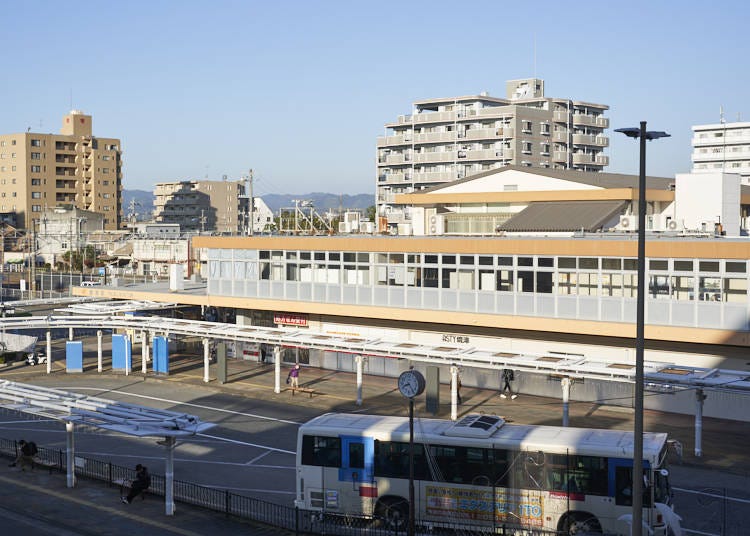 To get to Yaizu, the "Town of Fish," the first part of your trip will be to Shizuoka Station by way of the Tokaido-Sanyo Shinkansen. This bullet train line goes from Tokyo to Osaka. Tourists may not frequently disembark at Shizuoka Station, but in addition to Yaizu, it's a very useful jumping-off point to get to popular spots like Mt. Fuji proper, Fuji-Q Highland, and Miho-no-Matsubara. Once you've reached Shizuoka Station, it's a quick 12-minute train ride to Yaizu.
This town has three ports, from which hauls of skipjack tuna, bluefin tuna, mackerel, and whitebait come in. It's been the source of Japan's biggest hauls for four consecutive years.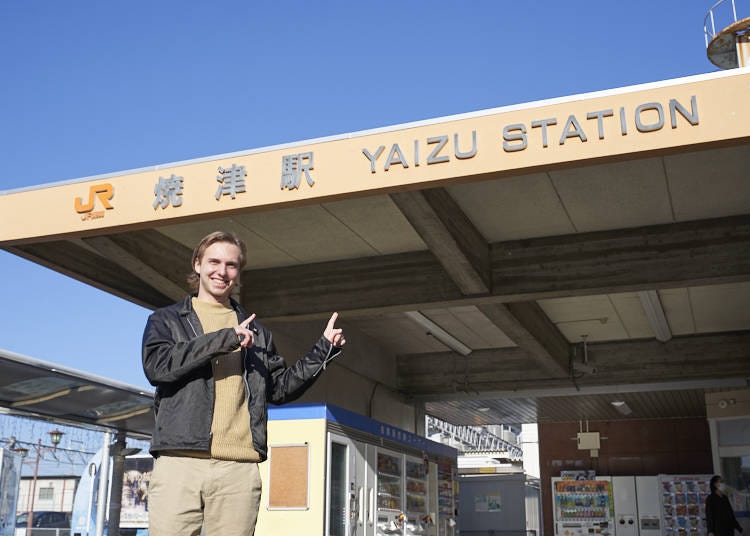 Today, we'll look for great scenery and food along with Roman, who comes from Russia. Roman was pumped: "It's only an hour from Tokyo or Nagoya. I can't wait to see those Fuji views and enjoy some fresh seafood!"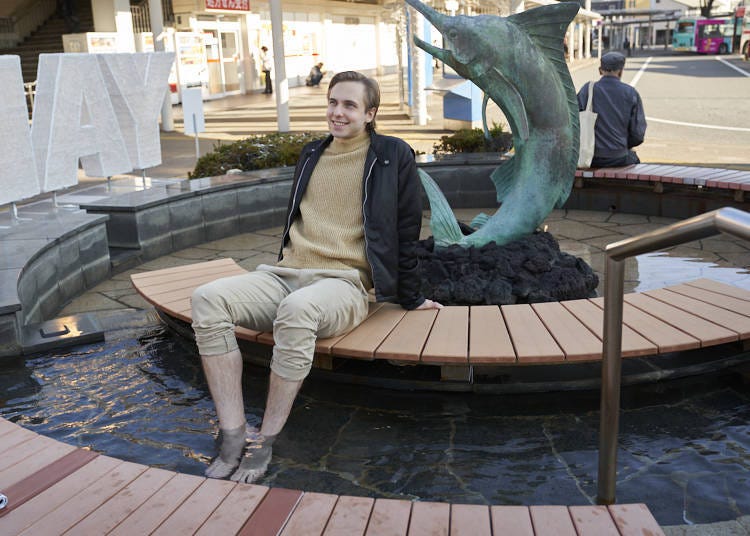 We started out by relaxing at a footbath near the station. Mt. Fuji is on the border of Shizuoka and Yamanashi prefectures, and many are familiar with its appearance from the banks of Lake Kawaguchi, but few (Roman included) know it can be seen from by the ocean. "Everybody coming to Japan wants to get a picture of Mt. Fuji. But I don't think of the ocean when it comes to Mt. Fuji. That'll be a sight to see." Now, let's begin our Yaizu journey and look for that Mt. Fuji scenery.
Find seven views of Mt. Fuji here! Check locations on map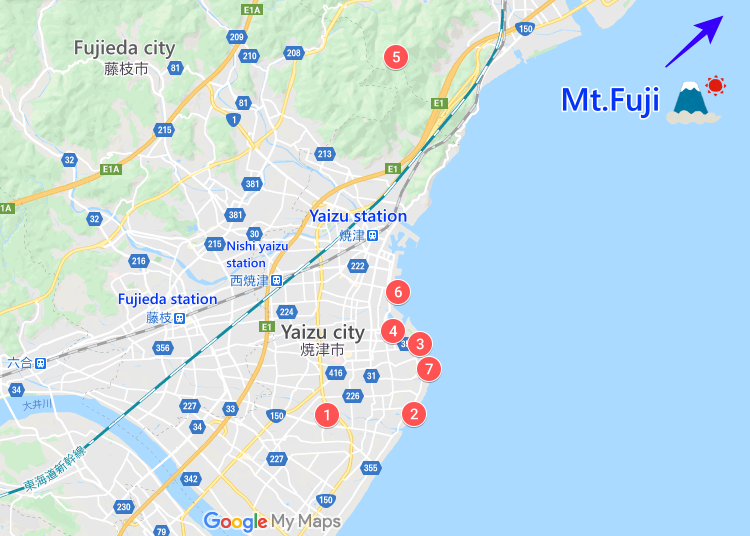 ©Google
1. Mt. Fuji with Cherry Blossoms: Cycle along the Tochiyama and Asahina Rivers for stunning views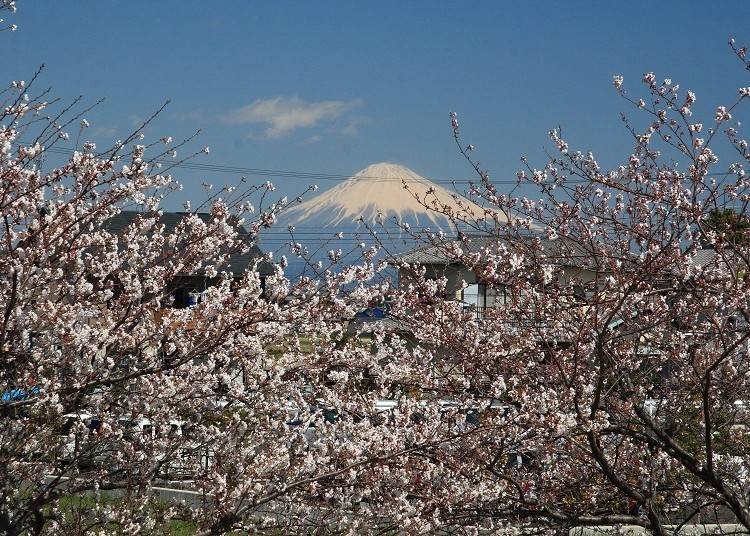 When visiting Yaizu in spring, don't miss the chance to see the incredible sight of Mt. Fuji with cherry blossoms. Going along the Tochiyama River from National Route 150 towards Nagaminehana Café, you can catch a view of Mt. Fuji framed by cherry blossoms in full bloom.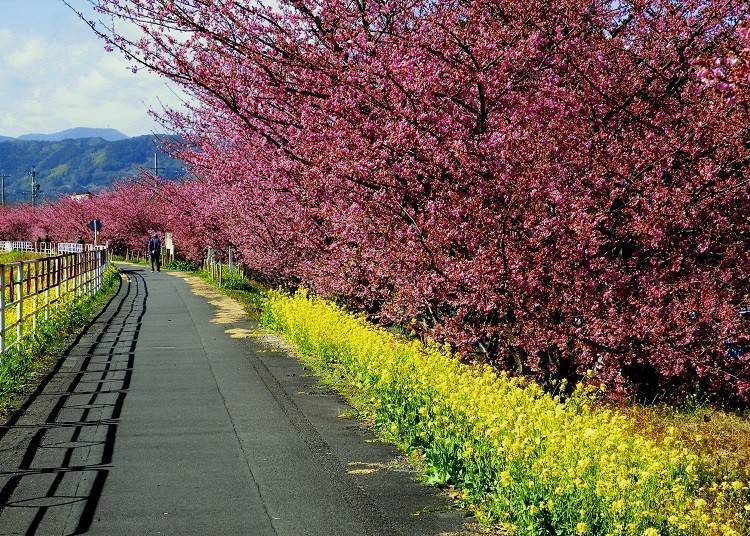 In Yaizu, the early-blooming cherry blossoms begin in mid-February. The Asahina River also has several well-known spots for cherry blossoms like the Yamanote Sakura and the Kanpo Sakura Tunnel. Rent a bicycle from the Yaizu City Tourist Association center near Yaizu Station to see everything efficiently.
2. Mt. Fuji from the Beach: See Japan's iconic mountain while walking along the Tajirihama Coast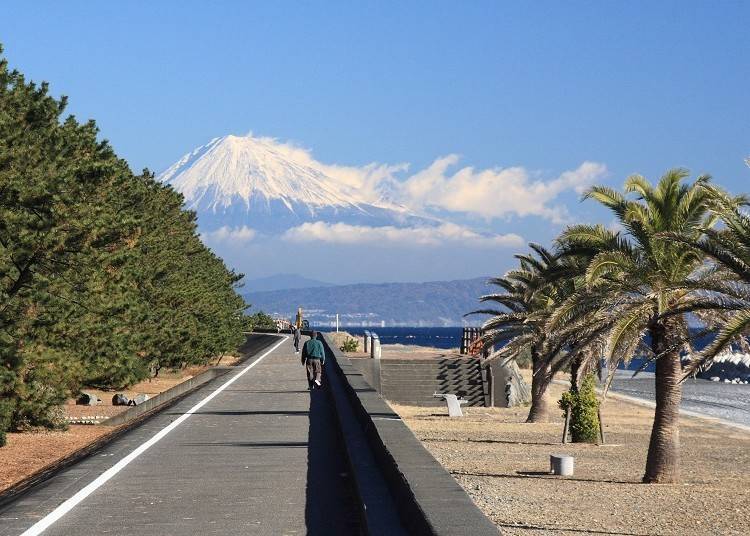 A 15-minute drive from Yaizu Station. It won't take long to spot Mt. Fuji from the Tajirihama Coast. The combination of blue skies, the vast Suruga Bay, and Mt. Fuji make for a beautiful scene, which Roman was moved to behold.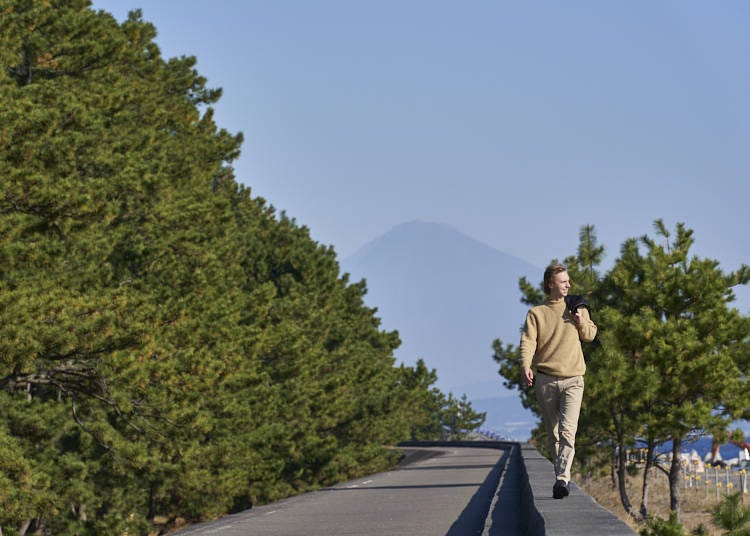 Pine trees surround the walking course here. It's a very pleasant feeling to stroll here as if you were just another Yaizu local. 
3. Mt. Fuji from a field: Have your own personal view of Mt. Fuji from Ishizukaigan Park
Ishizukaigan Park is just a 10-minute walk northwards from Tajirihama. Across its grassy field, you can see Mt. Fuji.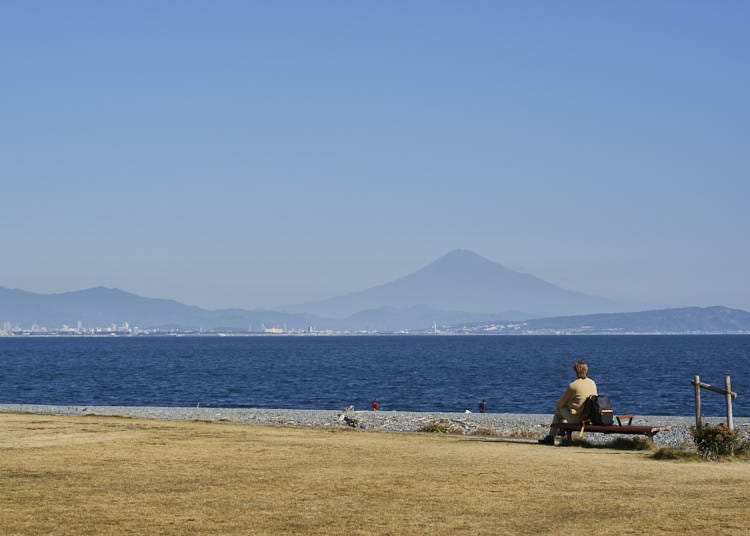 Sea breezes tease this park, and its benches let you view Mt. Fuji while seated. A Shizuoka port town like Yaizu is the only place you can experience this view.
4. Mt. Fuji with fishing boats: Kogawa Port boats make for fun framing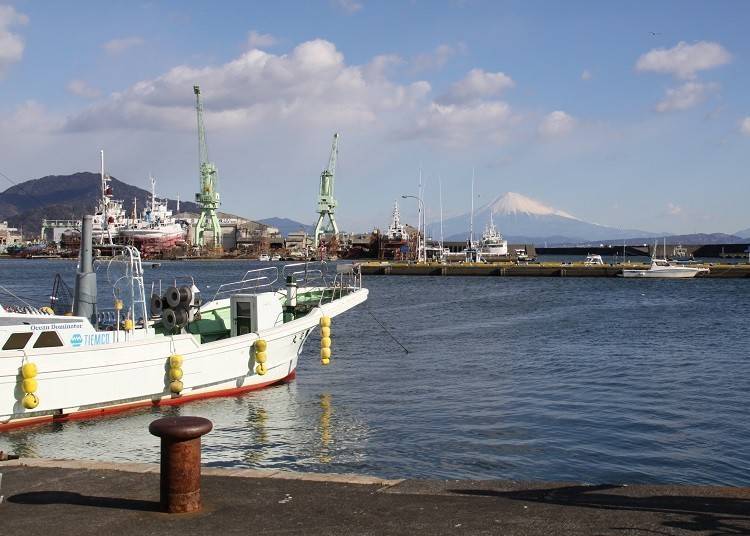 Kogawa Port, a source of multiple kinds of mackerel and other fish coming from nearby seas, is only a short distance from Ishizukaigan Park. Here you can enjoy the combination of fishing boats and Mt. Fuji.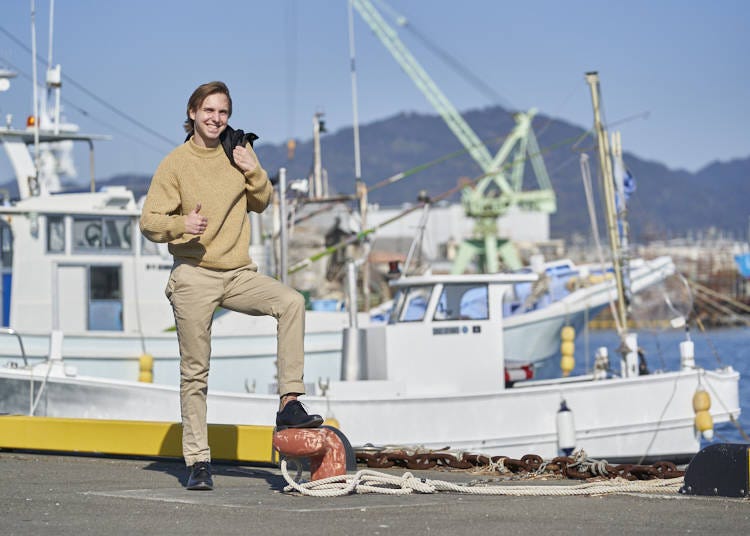 Swept up in man-of-the-sea fantasy, Roman struck a captain-like pose. "It's exciting to see these cool fishing boats with Mt. Fuji. I feel like a kid again!" Certainly, fans of boating would enjoy this scenery.
Incidentally, these boats will fly traditional fishermen's flags around New Year's in prayer for good hauls and safe trips. Reportedly, crowds of people will travel from far outside Yaizu to come see this fortuitous spectacle.
5. Mt. Fuji from a mountaintop: Hike up Mt. Mankanho to look over both Yaizu and Mt. Fuji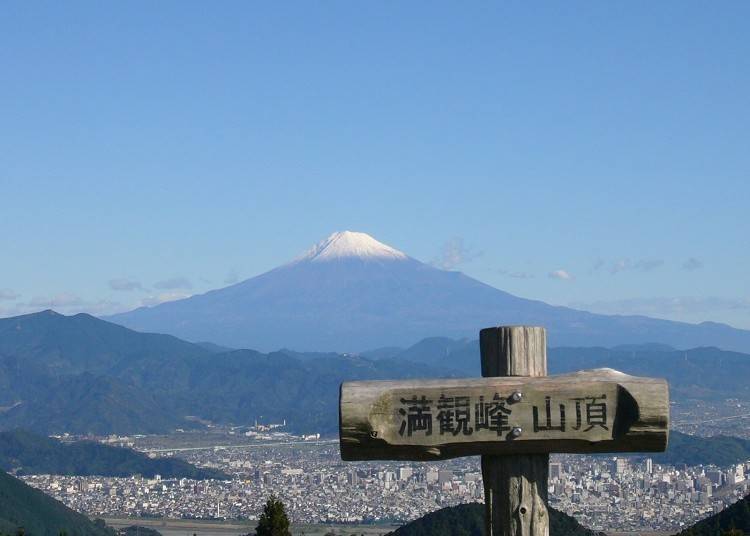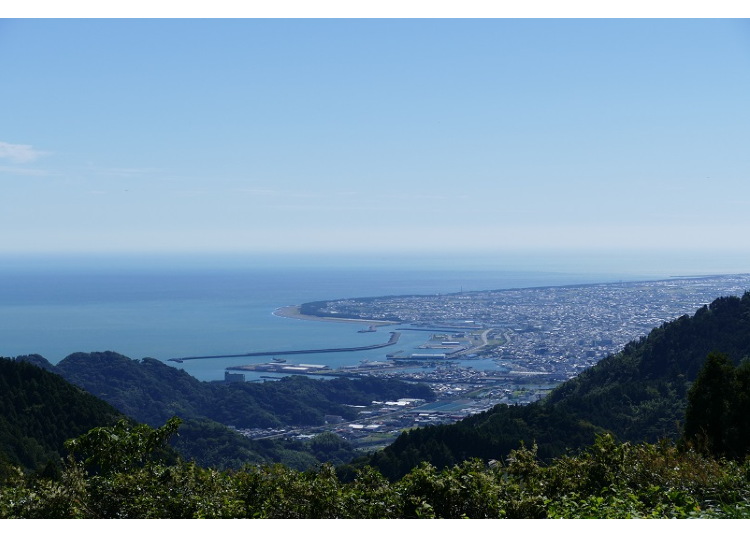 The Mankanho (also known as Mankanho) ridge stretches between Yaizu and Shizuoka City. From its peak, you can see a stunning view of Mt. Fuji and Suruga Bay. The Hanazawa-no-Sato Community makes for a good low-stress start point for one-hour hiking up this mountain.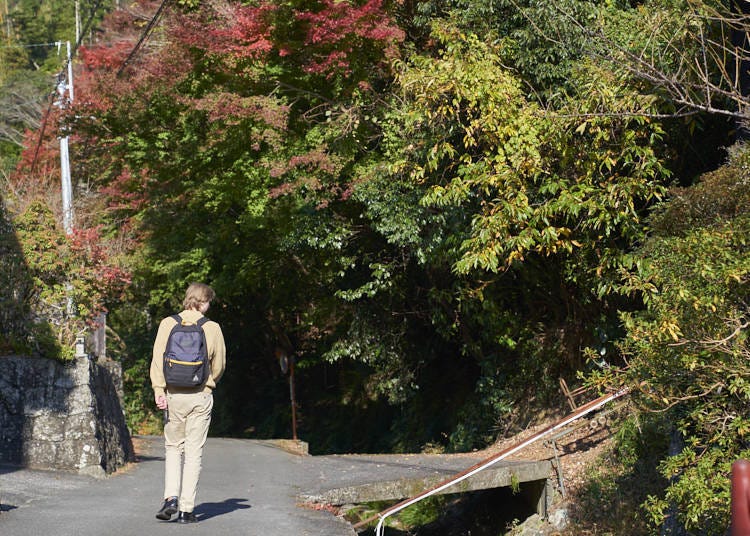 On the way to the peak, you'll be surrounded by rich nature. Seasonal mountainside colors should make for an enriching experience.
6. Mt. Fuji over seafood: Enjoy seaside BBQ and Mt. Fuji from terrace seating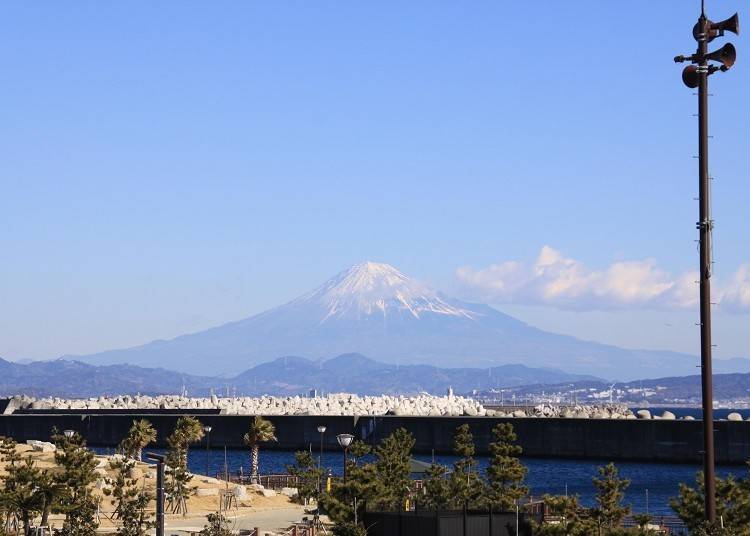 One great place to enjoy the contrast of greenery, seas, the shore, and Mt. Fuji is the second-floor terrace of the Umieru Yaizu marketplace, where you can purchase local specialty products and dine on seafood. This is the view from their seafood barbecue restaurant, Totoya Shimbay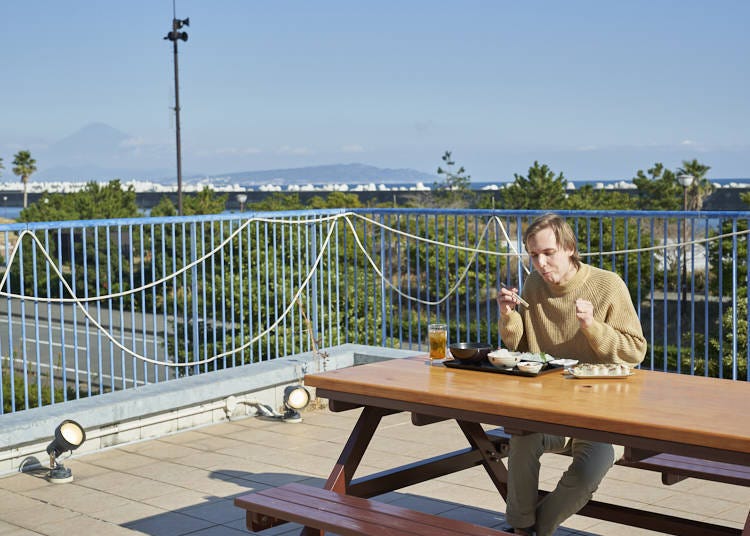 Take in your fill of great gourmet seafood and the view of Mt. Fuji. Now this is the real Yaizu Experience!
7. Mt. Fuji at dusk: See the breathtaking beauty of Mt. Fuji dyed pink in the evening light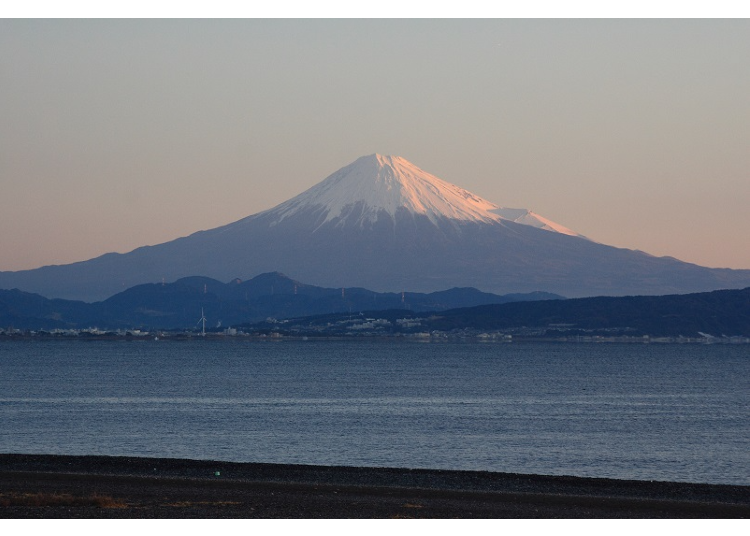 The last stop on our search for Mt. Fuji views from Yaizu takes us to Wadahama Beach, back near Kogawa Port. Dyed pink in the evening light, Mt. Fuji is breathtakingly beautiful. The overwhelming sight of Mt. Fuji fits like a puzzle piece with the calm seas and sky. Confronted with Yaizu's incredible nature, Roman was at a loss for words.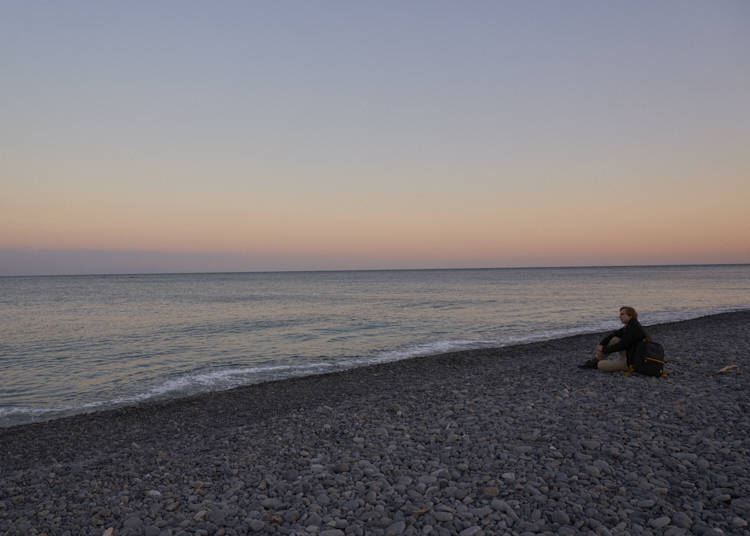 It felt like we could watch the pale gradation on the horizon forever. Certainly, sitting at the beach is a good time to recount our Yaizu trip.
Taste and enjoy Yaizu while soaking up gorgeous Mt. Fuji views!
These were our recommended spots for viewing, eating, purchasing, and resting in Yaizu with Mt. Fuji as your backdrop. Each is a "Best of Yaizu" spot to enjoy great views and great food.
Enjoy seafood BBQ while viewing Mt. Fuji from Totoya Shimbay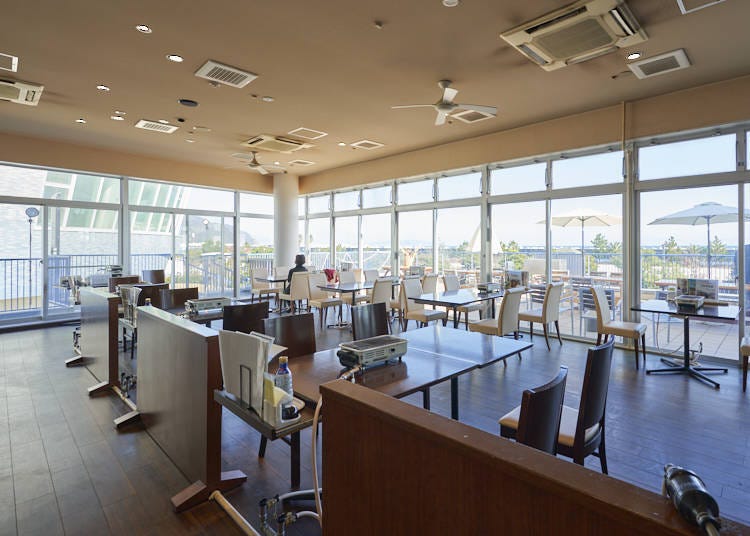 Totoya Shimbay can be found on the second floor of Umieru Yaizu. It's a barbeque restaurant that lets you look over the entire bay, from Mt. Fuji to the Izu Peninsula. Directly managed by a seafood company, it provides you choice seafood to barbeque yourself.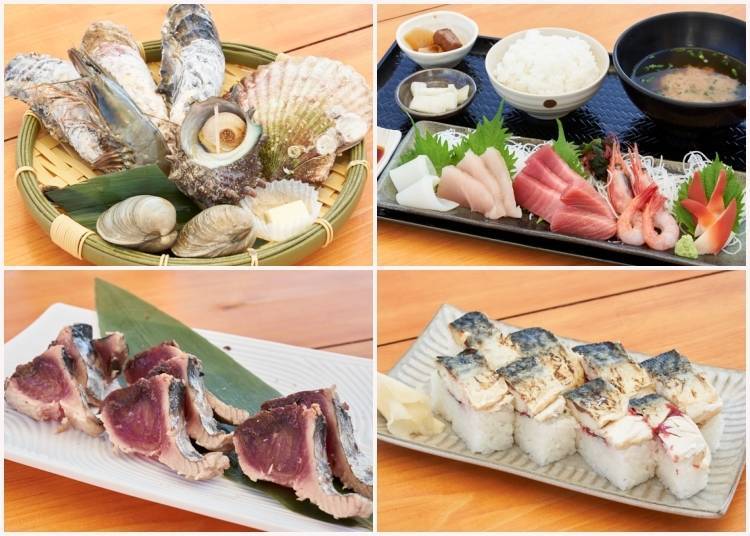 Their most popular item is the "Luxurious Seafood Set," pictured above to the left (2,728 yen). This set gets you multiple varieties of shellfish: 300 grams of oyster, Hokkaido-grown scallops, shrimp, clams, and turban shells. Their "Sashimi Set of the Day" (above to the right / 2,178 yen), a fabulous selection of five kinds of fish including Southern bluefin tuna, is a great pick for lunch. The "Skipjack Tuna Steak" (below to the left / 1,078 yen) and "Grilled Mackerel Sushi Set" (below to the right / 1,210 yen) are also menu items worth mulling over.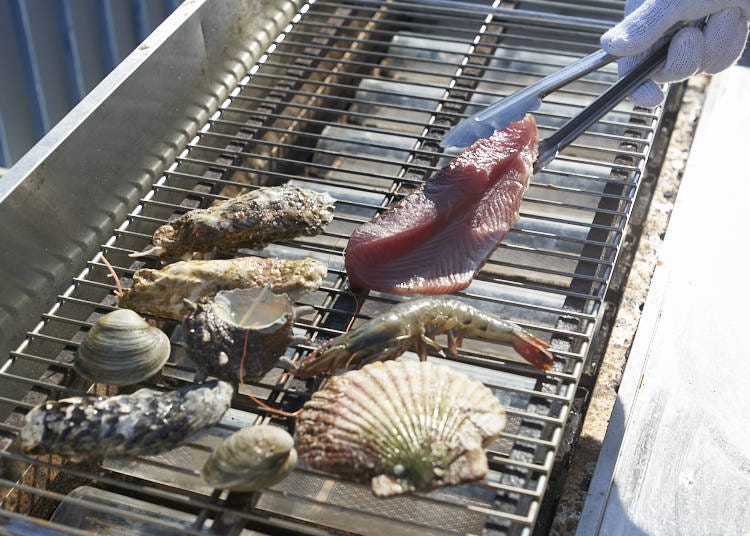 It's a fun experience to grill up your own seafood.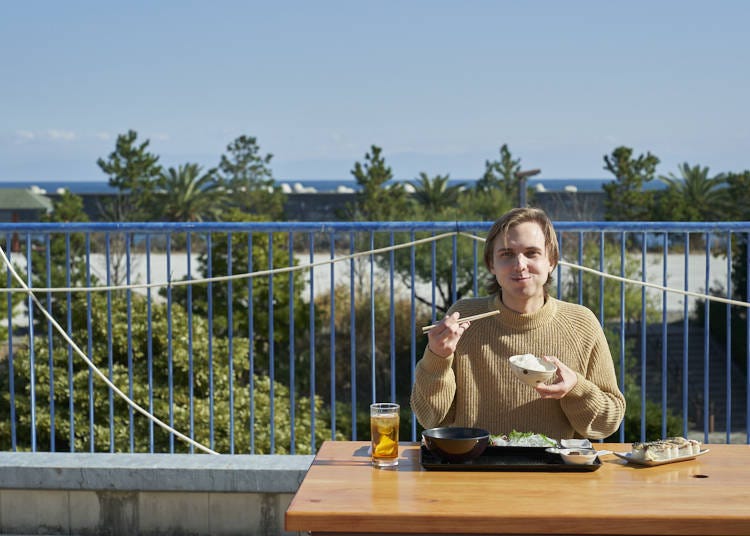 Take it outside if the weather's nice. Just imagine how posh it would feel to enjoy seafood from all over Japan while viewing Mt. Fuji and the ocean! Be prepared for an unforgettable luncheon.
Oyster & Seafood BBQ Totoyashimbee

Oyster & Seafood BBQ ととや新兵衛

Has Health & Safety Measures

Address

umieru Yaizu 2F,136-26, Iwashigashima, Yaizu-shi, Shizuoka, 425-0032


Nearest Station

Yaizu Station (JR Tokaido Main Line)


Phone Number

054-629-3551

* For business names, representatives or managers, and other information, please contact the store directly.
* Time of payment (Pre-paid: On confirmation of reservation. Other than pre-paid: At time of visit.)
Feel Yaizu's history among the traditional streets of Hanazawa-no-Sato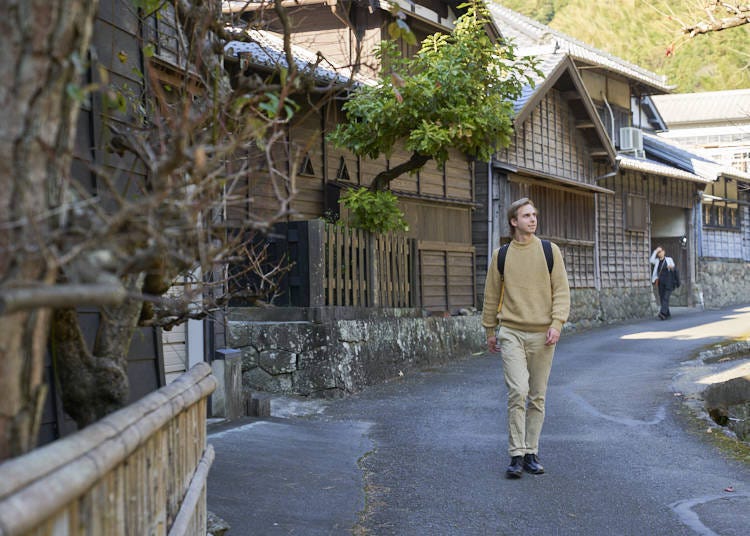 Hanazawa-no-Sato is a mountain village where centuries-old traditions and architecture can still be found. The days when they were famous for tea and mandarins might be behind them, but you can still sense their era of prosperity. Their handsome stonewalled buildings that line the road were once used to store and process harvested tea leaves and mandarins. Seasonal workers came and stayed on the second floors of these buildings, making for architecture and scenery unique to Hanazawa.
Hanazawa-no-Sato is also a starting point for hiking on Mankanho. The views from mountain roads are incredible.
花沢の里

Address

373-1 Noaki, Yaizu, Shizuoka (Hanazawa-no-Sato Sightseeing Parking Lot)
Around 60 establishments! Find a souvenir at Yaizu Sakana Center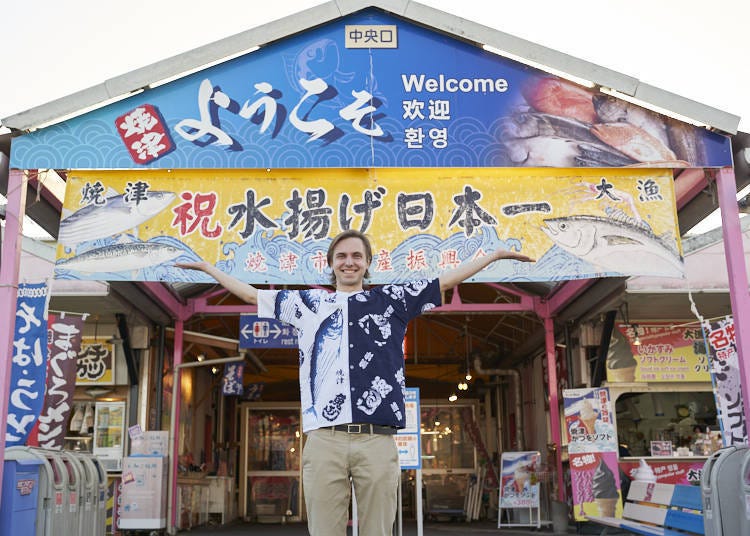 The premiere spot for retro-style shopping and dining in the "Town of Fish" Yaizu is Yaizu Sakana Center.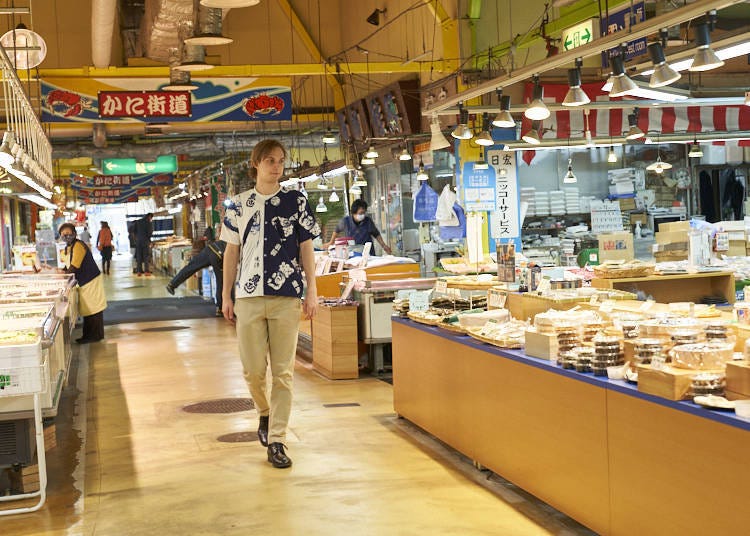 Establishments at this marketplace provide fresh seafood, specialty products, souvenirs, and include seafood restaurants. Hmm? Wasn't Roman wearing a different shirt before?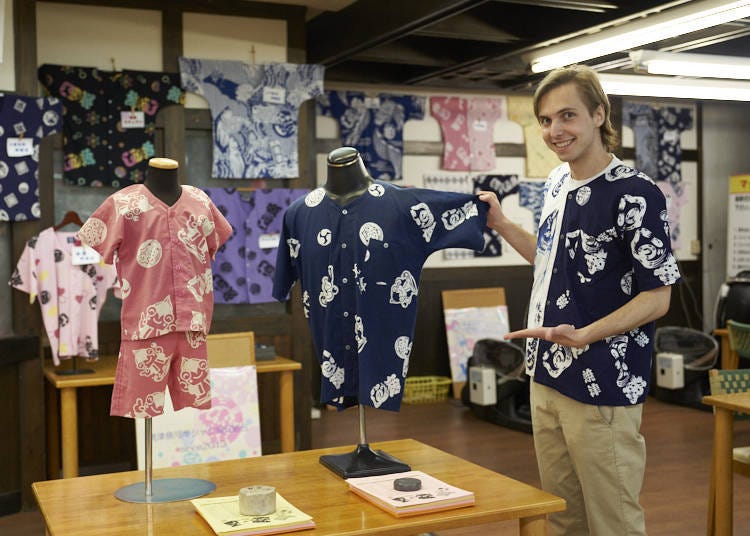 Roman appears to have found himself a Yaizu fishing shirt, a local style that comes from the work clothing of local fishermen and fish dealers. Japanese-style shirts like these make for great souvenirs. The shirts here at Yaizu Sakana Center are display articles not for sale, but you can get such shirts at Umieru Yaizu and other stores around the city.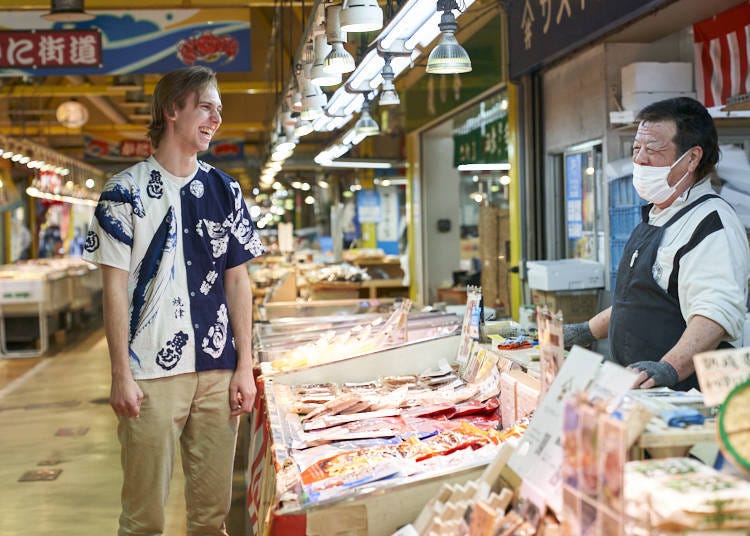 Chatting with the shopkeepers, we may end up buying more luggage than we can deal with. Their hours are from 9:00 in the morning to 5:00 in the evening. Some establishments will close up shop as soon as the sun starts setting, so you'll need to come early if you want to take your time.
焼津さかなセンター

Address

4-13-7 Yagusu, Yaizu, Shizuoka

Hours: 9:00a.m. to 5:00p.m.
Closed: Jan 1st (all establishments subject to close for inspection)
Spend the night at Hotel Ambia Shofukaku, where you can see Mt. Fuji from their outdoor bath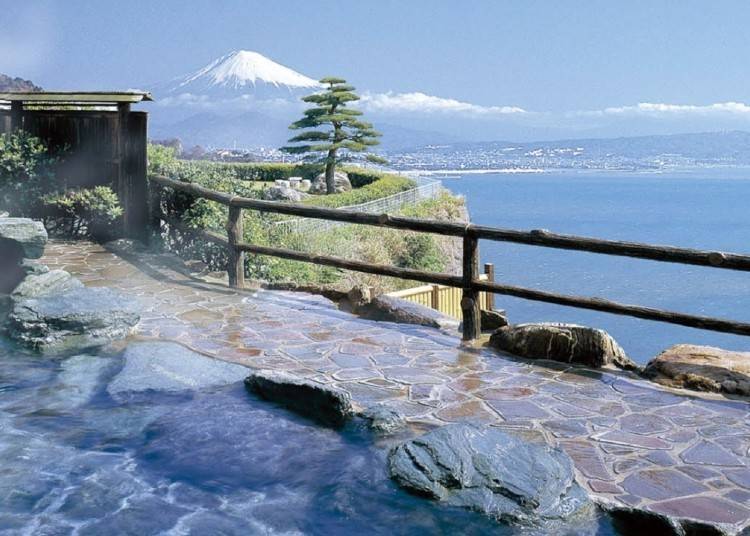 Let's go all-in on Mt. Fuji and pick a hotel we can see it from. Both the common baths for men and women at Hotel Ambia Shofukaku have a serene view of Mt. Fuji and Suruga Bay.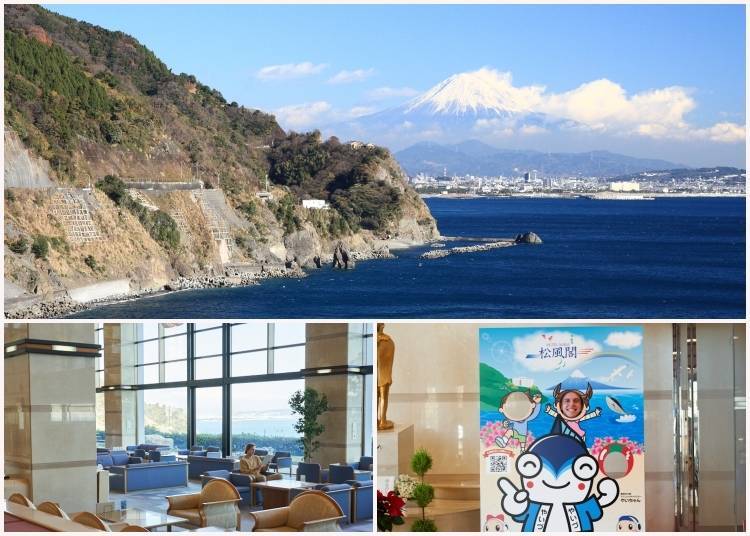 The hotel is on high ground, so you can get a good view of Mt. Fuji even from their parking lot. With their ocean-view rooms and spacious lobby, this hotel would make a great spot to relax for a spell – or spend the night and enjoy Mt. Fuji as the sun rises!
ホテルアンビア松風閣

Address

Hoshigaoka, Hamatome Kaigan-dori, Yaizu, Shizuoka

Open: Year-round

Vacancy search, reservation

from

31,100JPY

1room, 2adults

Check with our partner site as the latest rates, rate details, and guest room requirements may vary.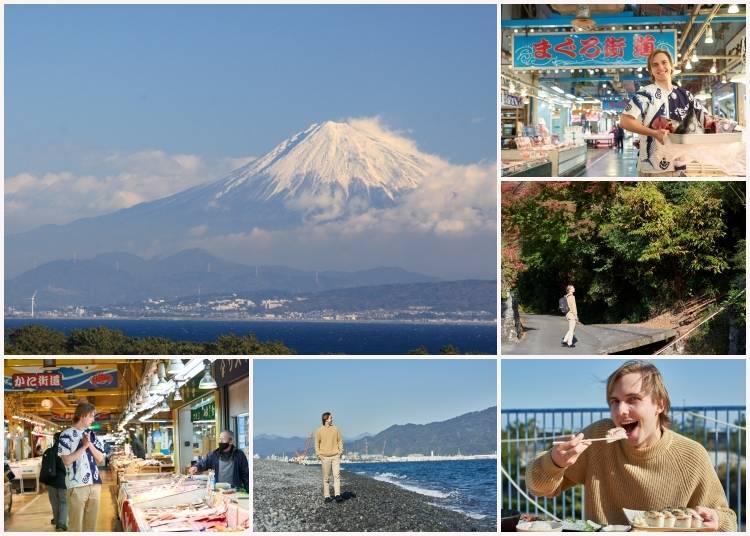 All this, just around an hour out of Tokyo. Our journey allowed us to enjoy both the views of Mt. Fuji, seafood, but also the kindness of Yaizu citizens and the vastness of its nature. If you're looking for sights, foods, and hot springs unique to Japan, Yaizu has it all!
Train:
Take the Tokaido-Sanyo Shinkansen from Tokyo Station (1.3 hrs.) or from Nagoya Station (1.3 hrs.). Switch to the Tokaido Line at Shizuoka Station, and travel a further 12 minutes.

Airport:
Take a bus from Mt. Fuji Shizuoka Airport to Fujieda Station (40 min), then switch to the Tokaido Line and travel a further 7 minutes.
Here are 11 establishments among Yaizu's fine locations for seafood or drinks perfect for international visitors!
The south exit to Yaizu Station has rent-a-cycle and baggage check services. Their website has tourist maps available in English, Simplified and Traditional Chinese, and Korean.
See how else you can enjoy the port town of Yaizu: fishing, hot springs, Mt. Fuji, and more!
※Thorough Covid-19 countermeasures were taken in this production, with all staff and models wearing masks when off-camera and filming conducted in a safety-conscious manner.
*This information is from the time of this article's publication.
*Prices and options mentioned are subject to change.
*Unless stated otherwise, all prices include tax.
Limited time offer: 10% discount coupons available now!