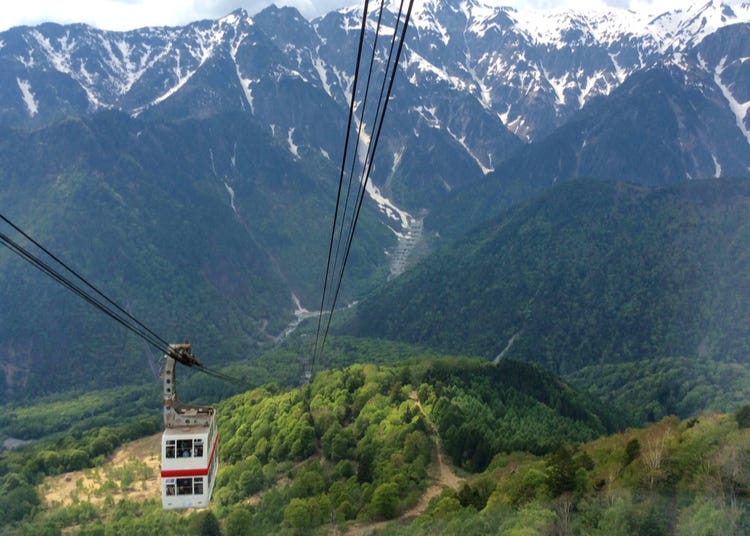 The Shinhotaka Ropeway's glorious panoramic views are renowned throughout Japan. Celebrating its 50th anniversary in July 2020, it is also famous for having the only double-decker gondola lift in the country!

The breathtaking North Japan Alps can be seen in all their glory as the ropeway takes you 2,156 meters above sea level to Nishi Hotaka-guchi Station.
What is the Shinhotaka Ropeway?
The Shinhotaka Ropeway stretches across Japan's third tallest mountain, Mt. Hotaka, which is located in the onsen-filled backwoods outside Takayama City in Gifu.

The No.1 Ropeway connects Shin-Hotaka Onsen with Nabedaira Kogen, while the No.2 Ropeway runs from Shirakabadaira Station to Nishi Hotaka-guchi. Its eye-catching double-decker gondola lift is not found anywhere else in Japan!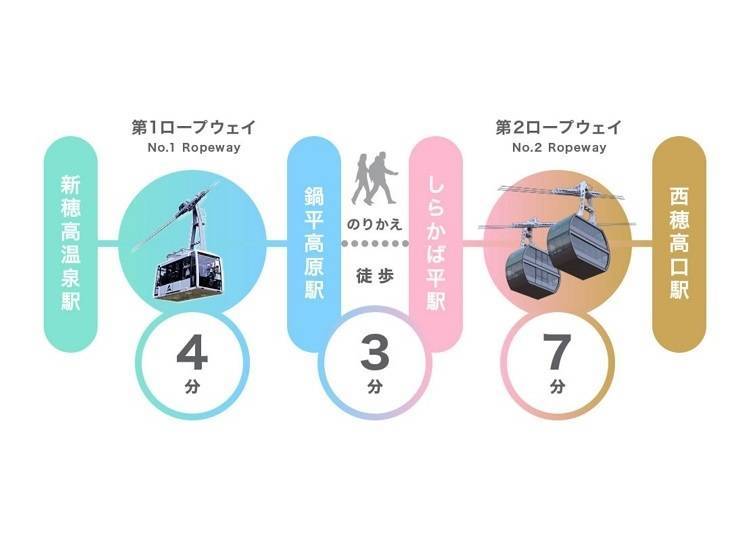 Picture: Shinhotaka Ropeway
Services generally run from 8:30am to 4:00pm. Times may change throughout the year, so do be careful!

Both ropeways depart twice an hour. The No.1 Ropeway is every hour on the dot and every 30 minutes in between, while the No.2 is at every 15 and 45 minutes past the hour. Services going both up and down the mountain depart at the same time, making it really easy to understand!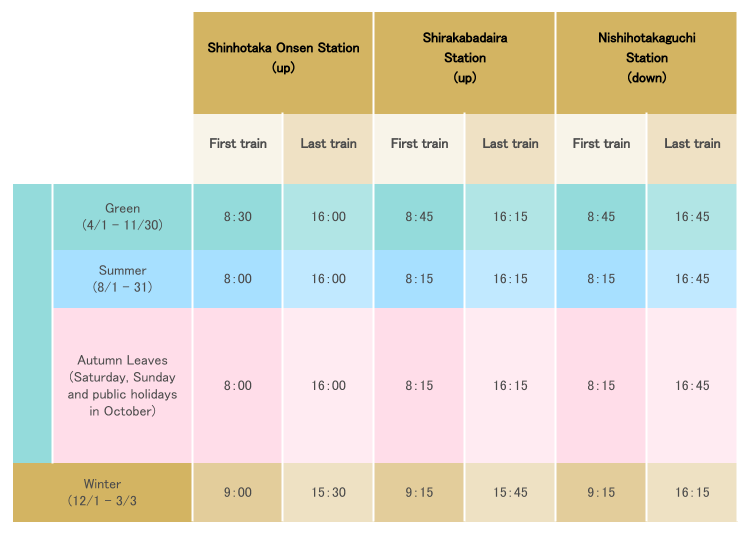 You can purchase tickets at every station on the ropeway, or use the 24-hour online ticket service 'Webket' to get your ticket digitally. The QR code provided upon purchase can be converted into a ticket at any of the ropeway's ticket machines.
Now let's see what riding on the Shinhotaka Ropeway is actually like!
Some of the Purest Air in Japan!
After a little sightseeing in the famous Hida-Takayama neighborhood of Takayama City, we drove for an hour and 15 minutes to Shin-Hokata Onsen Station, which marks the beginning of the Shin-Hokata Ropeway.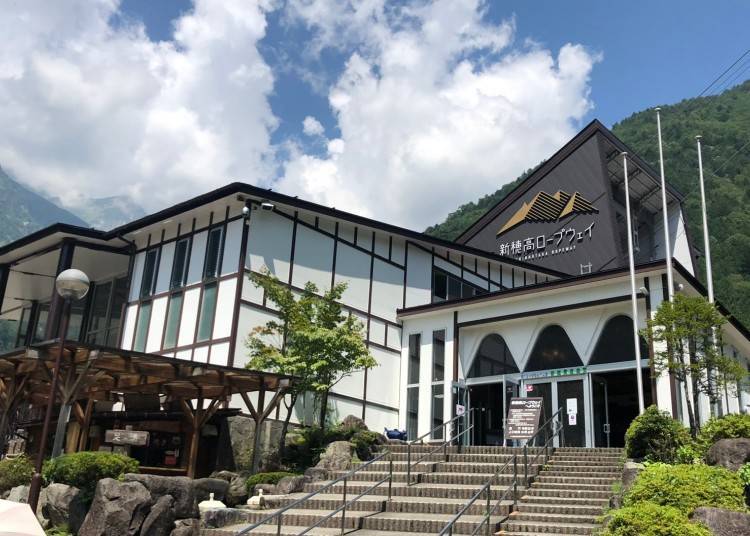 Tickets for the ropeway can be purchased on the station's second level via an automatic machine or from the counter.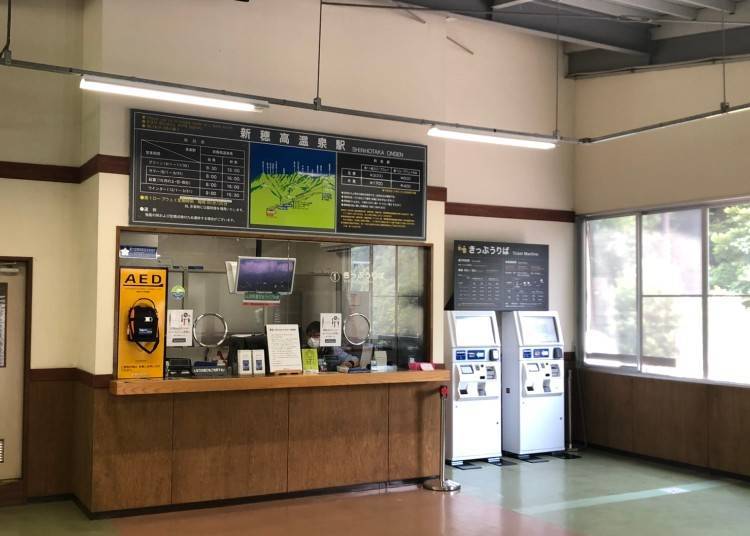 This time we got ourselves a return ticket for both of the two ropeway lines. While you can get individual tickets for each line, or a one-way ticket, a return ticket ends up being cheaper. There are also discount tickets for children aged 6 to 12.

Be aware that if you're bringing more than 6kg of luggage, you'll need to pay an extra baggage fee.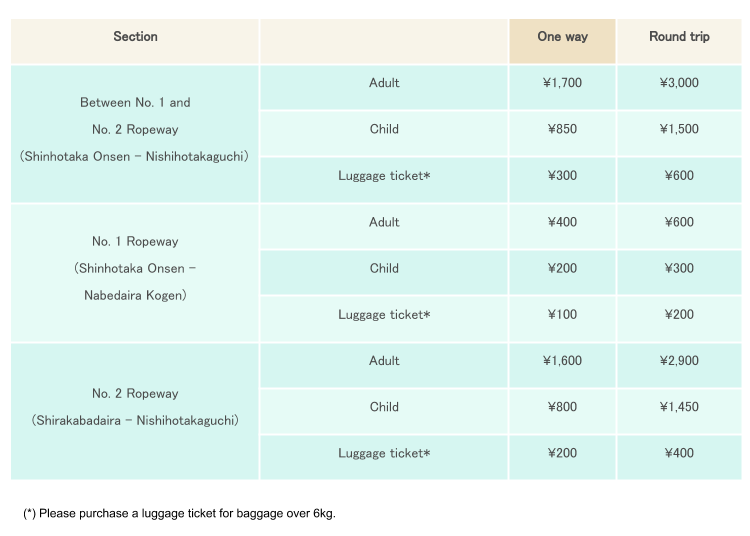 Our trip begins on the No.1 Ropeway! Despite being a weekday, the pleasant weather brought sightseers out in droves!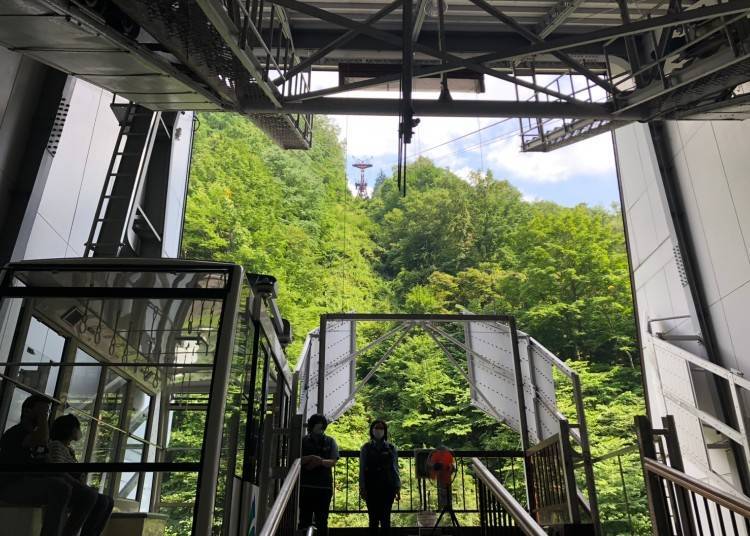 Riding the No. 1 Ropeway takes about 4 minutes and is surprisingly thrilling! We got off at Nabedaira Kogen, which is 1,305 meters above sea level.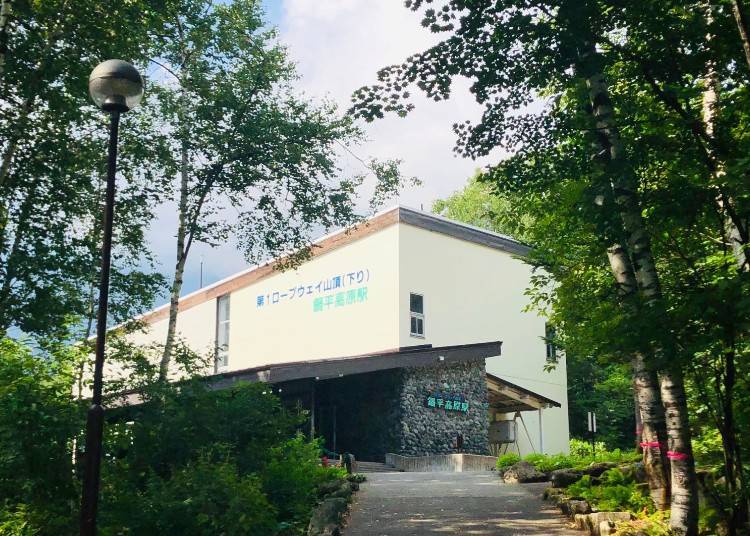 This area is surrounded by lush nature, with plentiful tracks set up to allow visitors to stretch their legs and explore.

A 3-minute walk from Nabedaira Kogen Station is Shirakabadaira Station.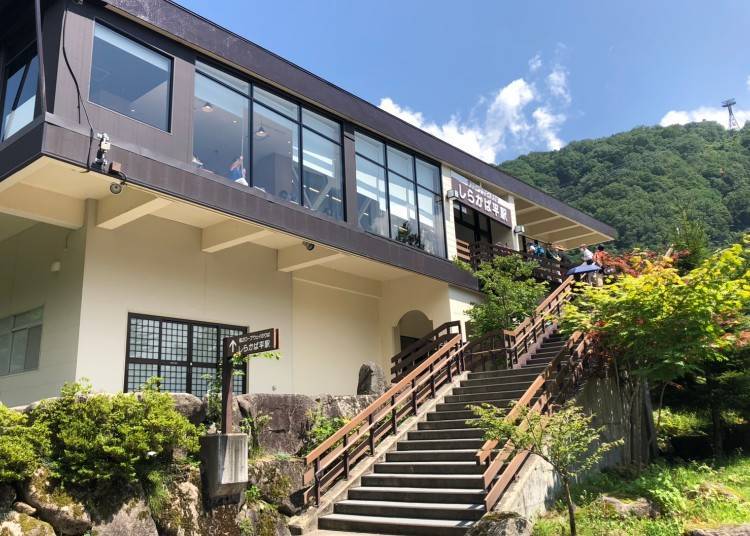 A newly renovated two-story station, its viewing lounge overlooks the breathtaking ocean of mountains. With a bakery selling freshly baked take-out bread and a free foot bath to reinvigorate your tired body, visitors are more than welcome to stay and unwind!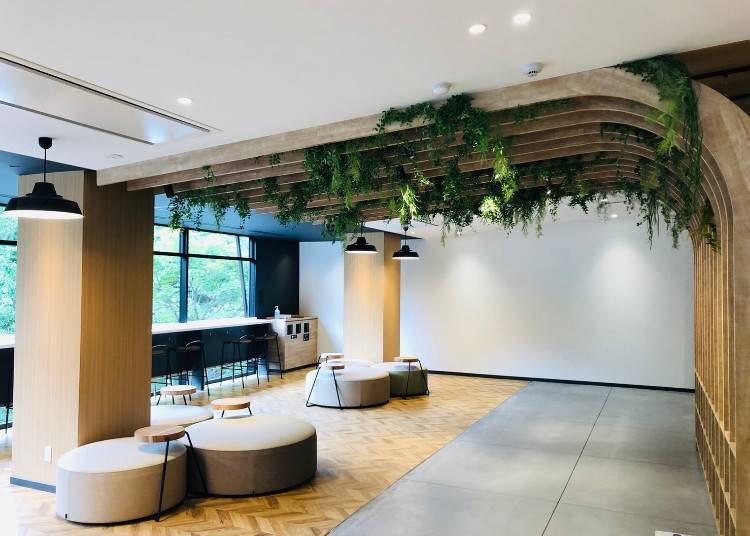 The relaxing ambiance of the viewing lounge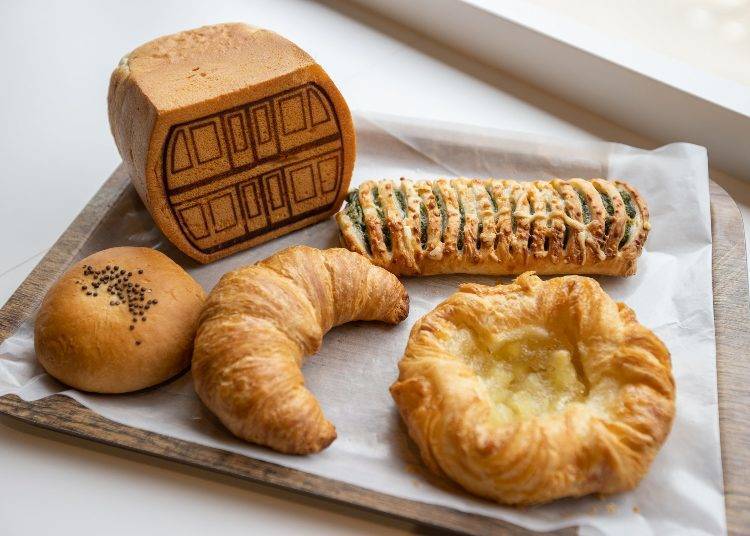 On the top left is The Alps Bakery's must-try 'Gondola Bread.' Picture: Shinhotaka Ropeway
At long last, from Shirakabadaira Station, we rode the double-decker gondola, which is colored a stylish black. It takes roughly 7 minutes to reach the final stop of Nishi Hotaka-guchi.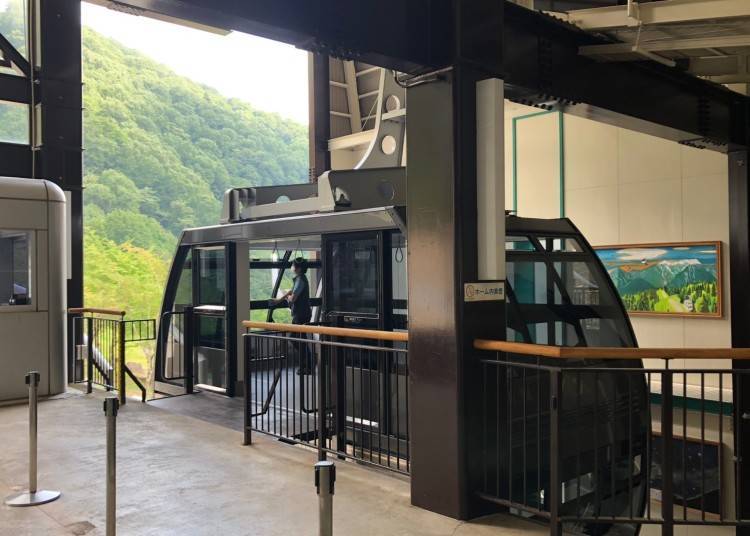 The two-tiered platform to board the double-decker gondola
The boarding platform is split into two levels to accommodate the double-decker gondola. After having your ticket checked, you can generally choose which platform you want to take, however, during peak times this option may not be available.

This new gondola style has a much wider glass window, allowing for the fantastic scenery to be appreciated in its full glory.

While the gondola may swing when it passes through a steel tower, it is extremely safe and stable. There are four monitors within the gondola with several language options, along with automated announcements in English, Chinese, and Korean. Visitors from all over the globe can rest easy!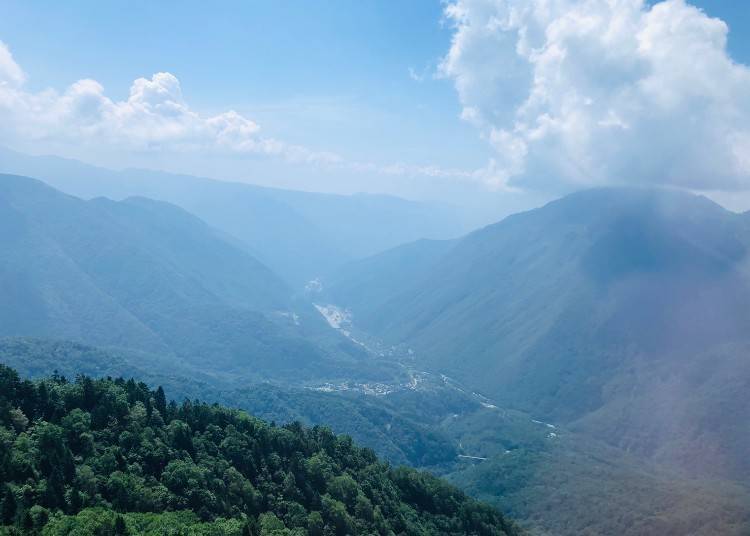 The view from inside the gondola
While there is some reflection from the glass when taking photos, this doesn't affect the naked eye. The views here simply can't be put into words! Being suspended this high up in the air is such a surreal feeling!

While enjoying the ride, we arrived at Nishi Hotaka-guchi Station, which is 2,156 meters above sea level.
Nishi Hotaka-guchi – A Breathtaking Panorama from the Lookout Platform!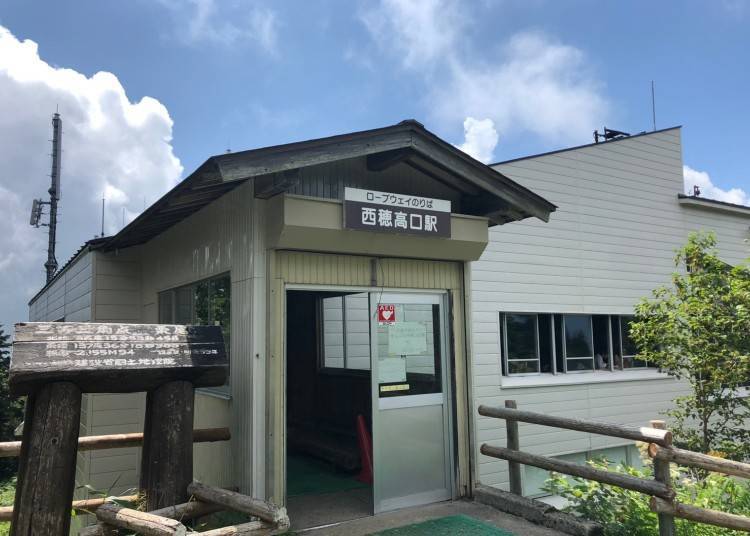 Nishi Hotaka-guchi Station is an impressive 5-story building with a shop and cafeteria inside. Here you can purchase souvenirs and enjoy the views while digging into some light dishes like Japanese curry and udon.

If it's views you're after, head to the lookout platform on the top of the building. The breathtaking 360° panorama of the North Japan Alps, which includes the Nishi Hotaka-dake, Mount Yari, and Kasagatake, is out of this world!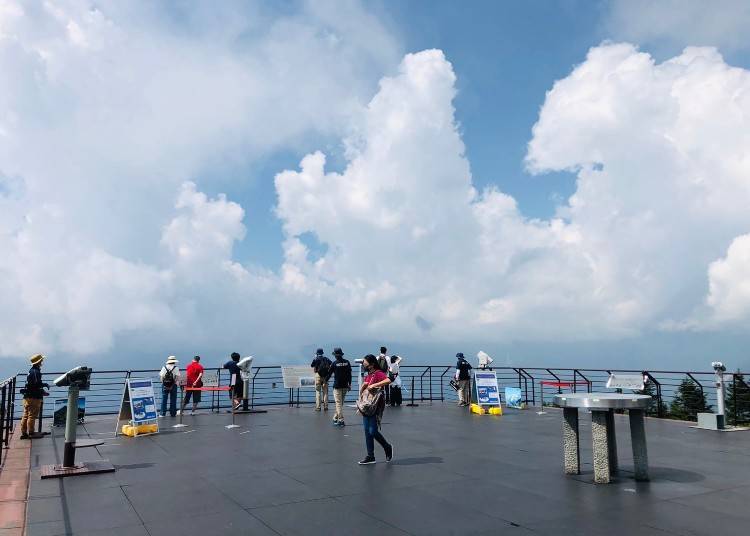 Unfortunately, our visit saw the surrounding peaks obscured by clouds. While a bit of a letdown, it was nevertheless an unforgettable sight!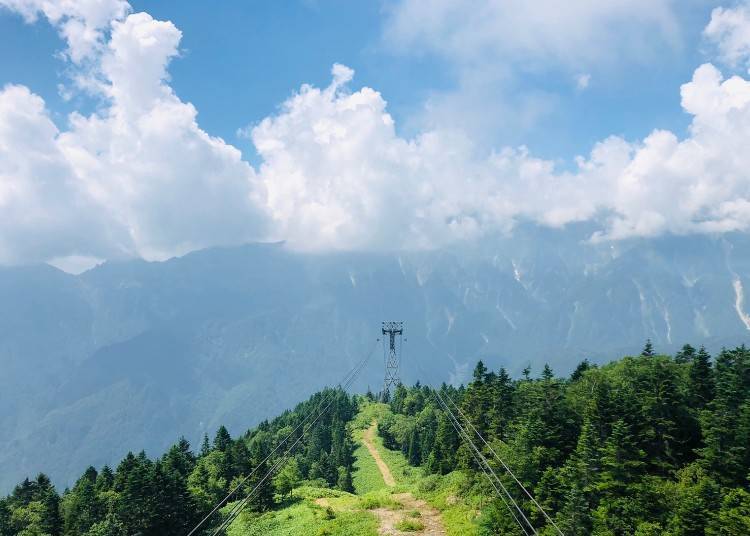 It was a long journey, so we thought we'd treat ourselves to a helping of 'Mokomoko Soft-serve Ice-cream' (\450 tax-included), which we enjoyed while taking photos of the scenery.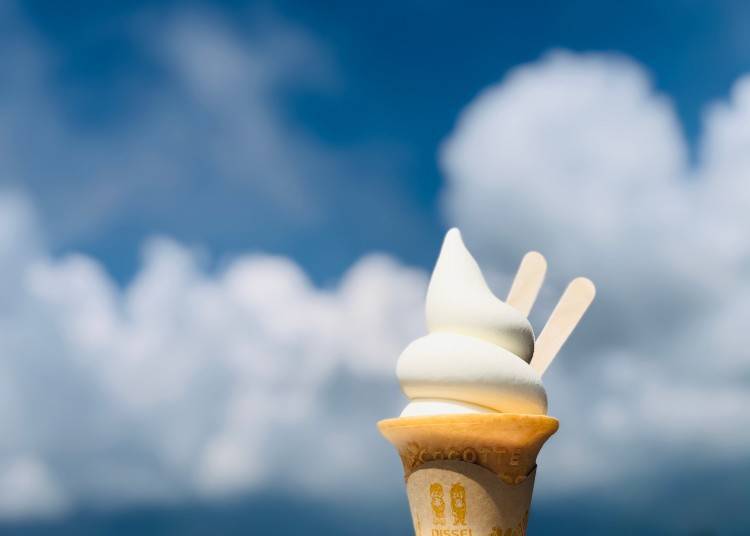 The sweeping aerial views from the lookout were almost hypnotizing! After being enchanted for who knows how long, we realized it was almost time to head back!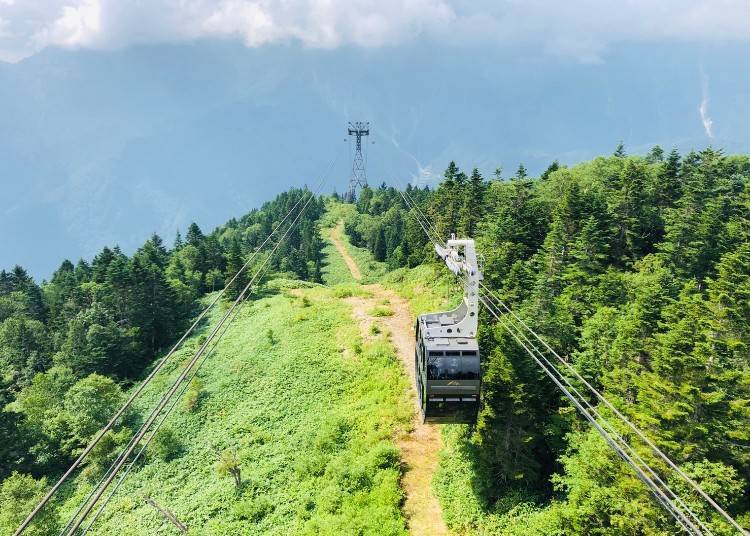 The lookout platform is directly above the gondola boarding platform, so you can get an up-close look at the gondola in action from here too
So you don't miss your ride back, keep an eye on the schedule and time.

When heading back, take the chance to check out the beautiful stained glass overlooking the gondola boarding platform!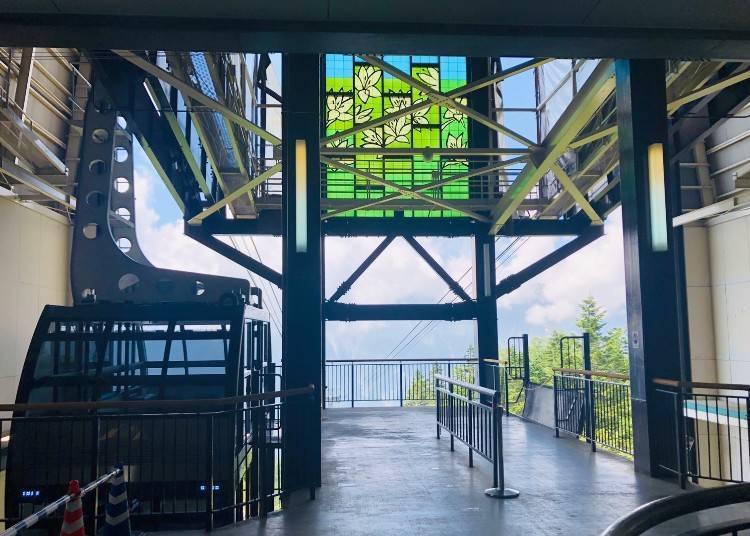 To refresh ourselves after our big adventure, we decided to take a detour to Kamitakara no Yu, a natural outdoor onsen close to Shirakabadaira Station.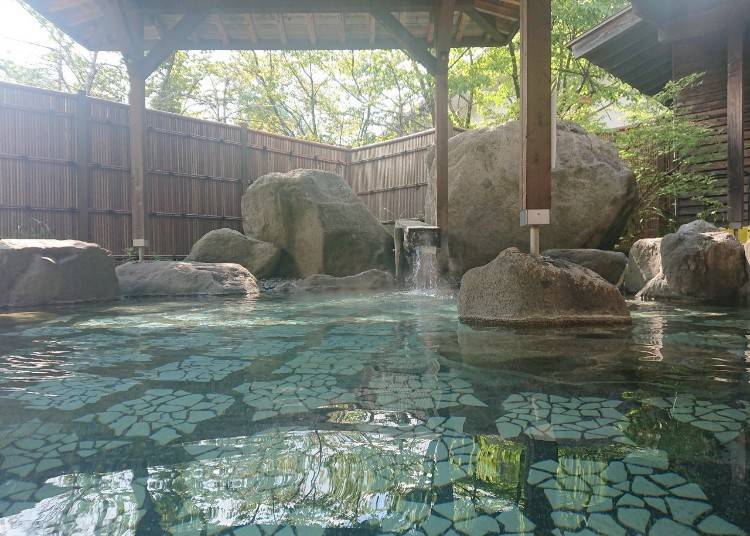 Soaking your body among the large mineral deposits floating in the toasty water will wash away all the fatigue from your long, high-altitude journey. There are five onsen villages near the Shinhotaka Ropeway, which are collectively known as the Okuhida Onsen-go. It's definitely worth paying a visit to one of these havens of relaxation before you leave.
The Shinhotaka Ropeway is in Gifu's Takayama, a historic city known for its traditional Hida-Takayama district. Beginning with the rows of Edo era buildings in the old town, there is ample historical and cultural sightseeing to do here!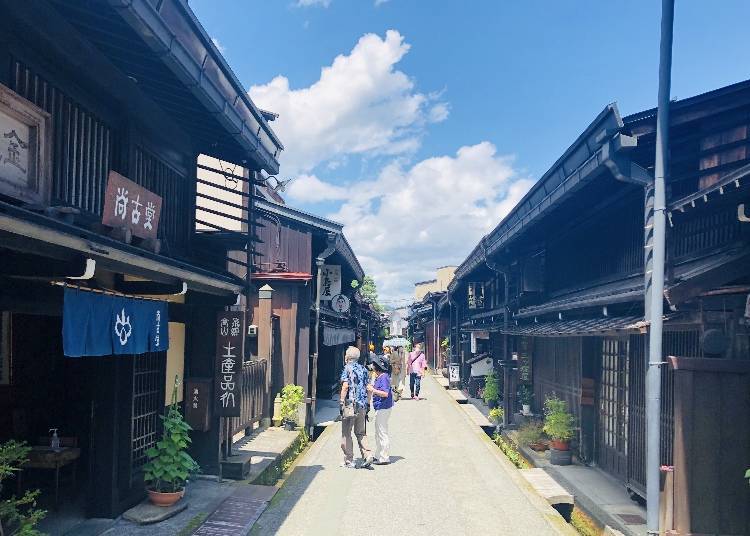 Hida-Takayama's most famous spot – The Old Town
With local wagyu, sake, and traditional dishes aplenty, the area is equally rich in gourmet culture. You can find most of this yourself by exploring the streets and using your nose!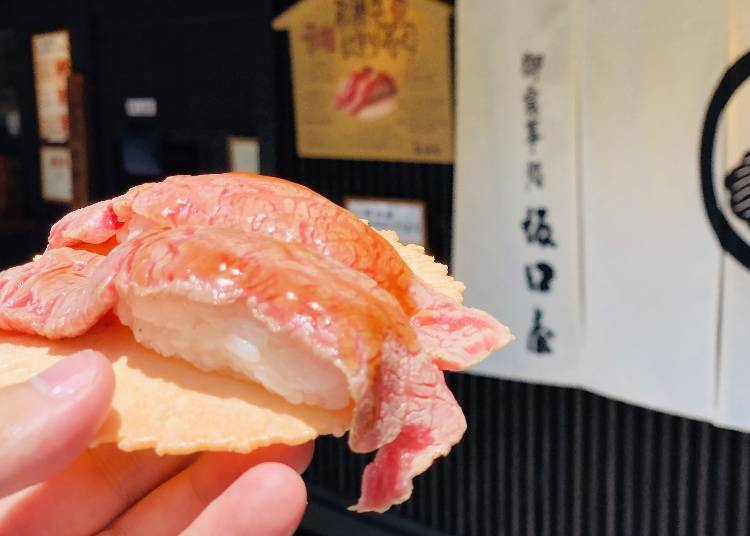 Hida Wagyu Sushi, available at Sakaguchiya (\700 tax-included)
Shinhotaka Ropeway: Beauty in Every Season!
Aside from its unique double-decker gondola, the Shinhotaka Ropeway is packed with endless beauty and spectacular sightseeing! While we visited in summer, each season provides equally stunning scenery that attracts visitors all year round!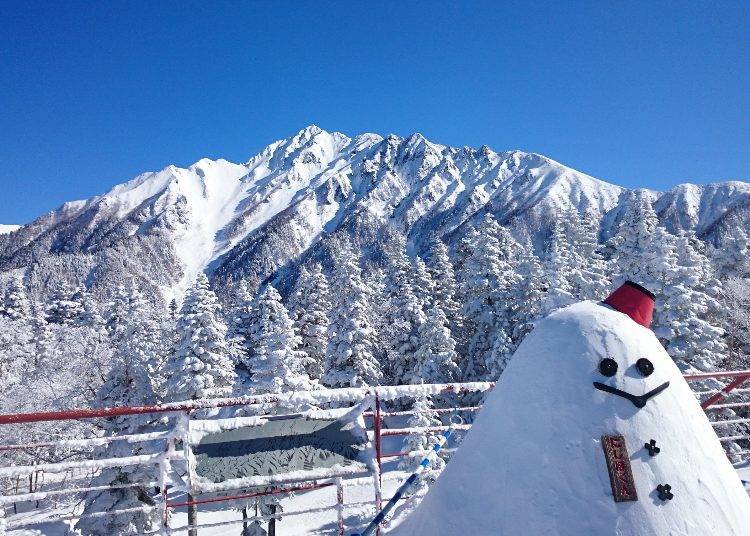 The scene from the viewing platform in winter. Picture: Shinhotaka Ropeway
During spring, summer, and autumn, the ropeway runs a special night time gondola service. Surrounded by pure darkness, the only light is the endless sea of stars above – an experience you simply can't get from down in the cities.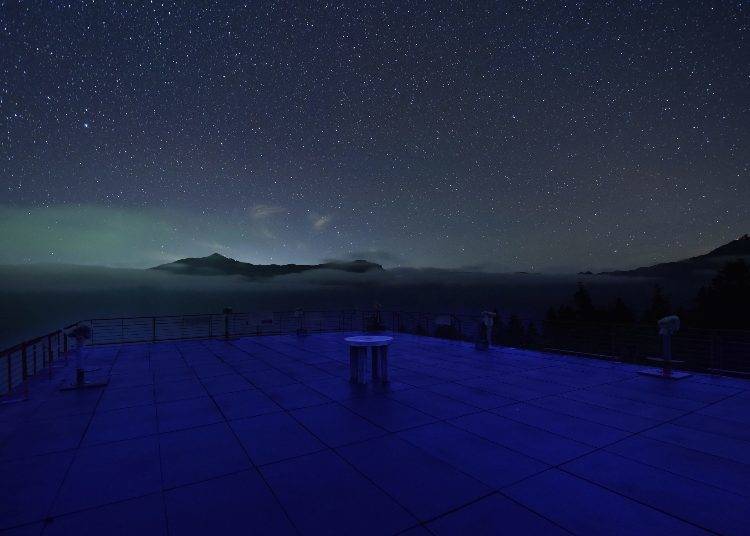 Picture: Shinhotaka Ropeway
The ropeway timetable changes every year, so always be sure to check their website before going.

The Shinhotaka Ropeway is a place to enjoy the beauty of each season to its fullest extent! From the ground all the way up to the sky, you'll be treated to boundless panoramas and dazzling skies from every direction! If you're planning a trip to Hida-Takayama, your visit won't be complete without a ride on the Shinhotaka Ropeway.
新穂高ロープウェイ

Address

Shin-Hotaka Onsen, Okuhida Onsen-go, Takayama, Gifu 506-1421

Phone Number

0578-89-2252

Business Hours: 8:30am – 4:45pm
Ticket: (No.1 and No.2 Ropeway Connection Ticket)
-Adult: 1700 yen (one way), 3000 yen (return)
-Child: 850 yen (one way), 1500 yen (return)
Closed: None (ropeway is closed for inspection 1-2 times a year)
* Information at the time of coverage in August 2020. Please check in advance as the posted information may differ from the current one.

* The information provided is subject to change to prevent the spread of the new coronavirus infection. Please contact the facility directly for the latest information.

Writer: Junpei Maruyama
*This information is from the time of this article's publication.
*Prices and options mentioned are subject to change.
*Unless stated otherwise, all prices include tax.