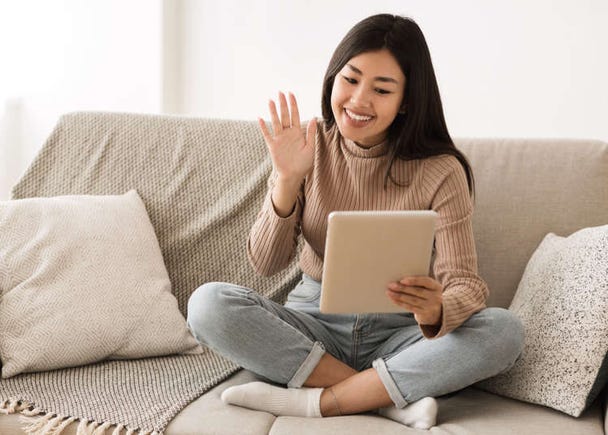 Ever since I was a little girl, the grey tower of Shibuya109 has been a way for young women to congregate. I remember my first floral dress bought at a small store tucked away on the sixth floor: a rite of passage I shared with teen girls all over the country.

Enter 2020, and things are a little different, but this hotspot of young girl energy has thrown itself into a new project. Shibuya109 lab is the company's newest project, emerging out of the interest in the unique way young women communicate online. Through the lives of a test group of 20 diverse young people in their teens and early 20s, Shibuya 109 hopes to create a living lab of social behavior in lockdown.
Both a web questionnaire and diary survey were used in this report by SHIBUYA109 lab, asking women what they did and how they interacted socially once coronavirus restrictions on going out were put into place. How do you spend your home time, the questionnaire asked, when you must refrain from going out?

Firstly, the overwhelming amount of those surveyed reported a significant increase in social media usage-- over 57% of users. Other media usage also skyrocketed, with video streaming services, TV, and Video Games were reportedly up as well.

The only other reported increase? Cooking: over 37% of women reporting said they'd increased their interest in making cooking-related content! Tagged as #おうちカフェ, many young women are taking their love of food back to their roots!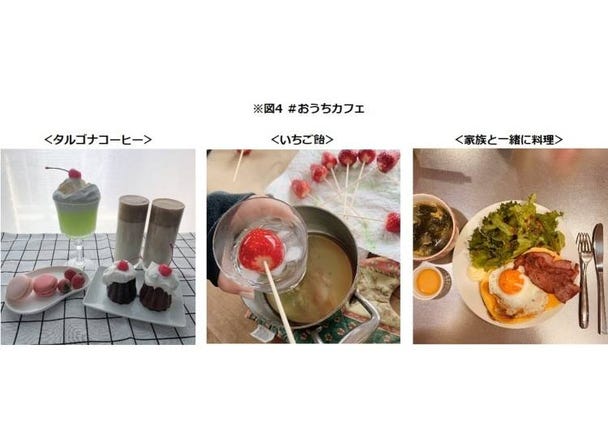 Left to Right: Dalgona Coffee / Strawberry Candy / Family Meals, some of the most popular tags on
In other photography news, when they asked what photos and videos the girls most watched were past adventures on social media. Trips are of special interest, with 46.7% of women reporting looking at pictures and videos they recorded on previous vacations and holidays.

Young people are also spending a larger amount of time on YouTube, watching live videos of their favorite content creators. Other social media platforms did not increase by nearly as much, though many younger teenage girls reported increases in LINE video chatting.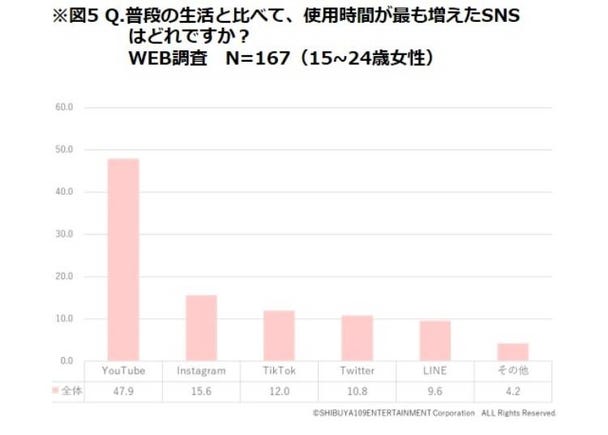 After Social Media came an increase in Zoom calls, and no wonder: Zoom usage has skyrocketed in recent months, and others have been quick to follow. This new category of group video chat services includes Google Hangouts, Zoom, Skype, and others.

Not just for meetings though, a surprising amount of young women talked about using Zoom for virtual drinking parties or games.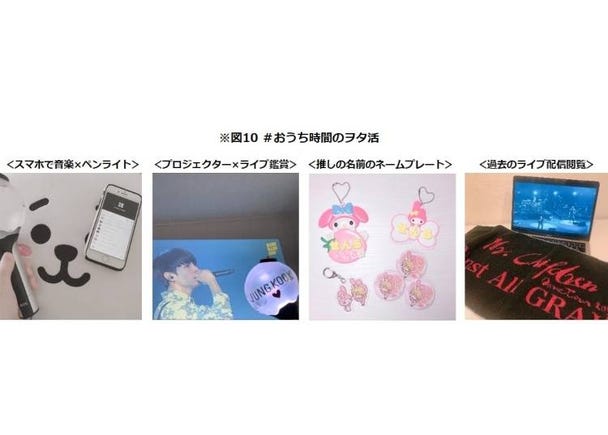 Web Shopping was up outrageously, as many are posting so-called "nesting" videos. For many young Japanese workers, this is the longest stretch they've gone living in their adult spaces without work.

Many young women, true to Shibuya109's roots, spent their money on fashion: an average of 8,542 yen, to be exact. Many young women report looking more towards summer fashion, as restriction end dates are still hazy.

There has also been an increase in otaku goods. Otaku are self-proclaimed nerds who specialize in certain types of anime or manga with a singleminded obsession. With ample time on their hands, fans are more productive than ever, making fun goods that other fans can purchase from them directly.

Even more, many are producing fun and interesting tutorials helping bored viewers pass the time.
Overall, it was interesting to see what many young women were feeling within the challenges of lockdown. One young woman in high school reported saying she would be leaving lockdown with a newfound gratitude for life. Another woman in university said she hoped to carry with her an appreciation for the slower pace of life at home.

Of course, there are many opinions that are much less rosy. Surprisingly, only about 40% reported feeling negative about the lockdown restrictions, with an equal 40% feeling positive.

Almost all, of course, reported an excitement to do all of those things so common in everyday life, which we never knew were gifts. "I want to meet my friends!" one woman said. "I want to travel, and go to concerts." Another young woman summed up what all of us are feeling in a simple, yet honest quote: "I just want to go to school, live my life, and go to work."

Written by HanaSera Ito
*This information is from the time of this article's publication.
*Prices and options mentioned are subject to change.
*Unless stated otherwise, all prices include tax.