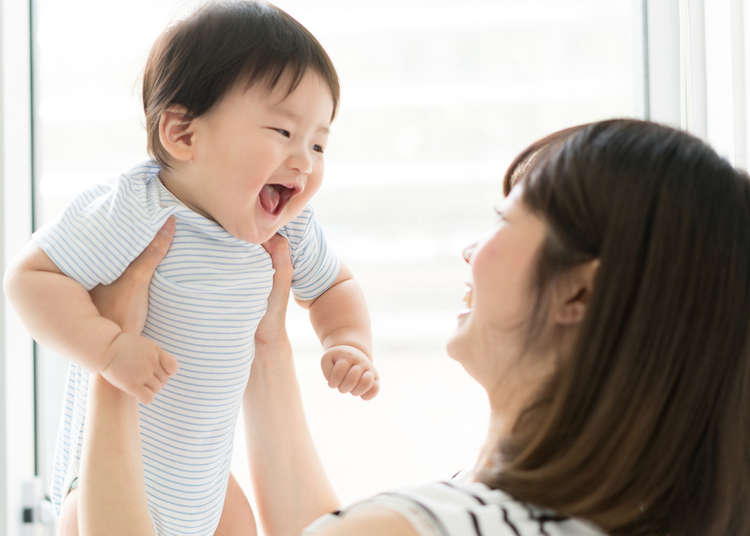 The Japanese media platform for all things baby, Baby Calendar, has released the results of a survey of the names of 161,321 babies born in 2020. The results show some interesting trends in naming that demonstrate how current events, seasons, and culture influence the naming of children.
Top 10 Japanese Girls' and Boy's Names 2020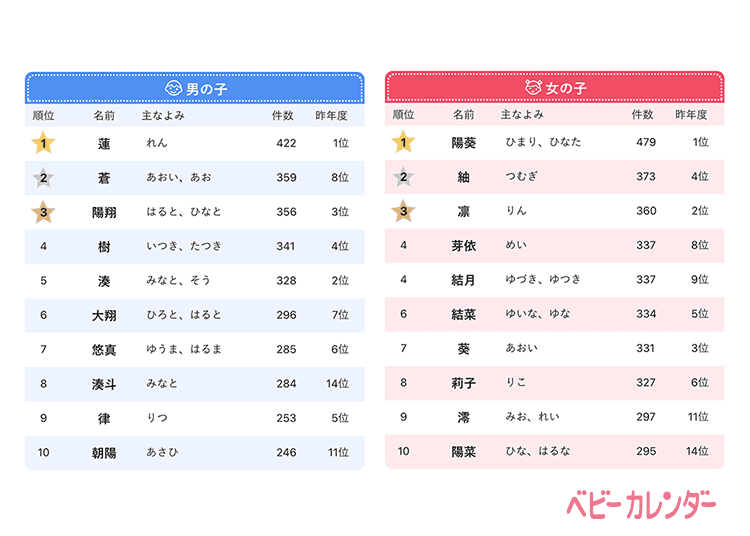 (Source: PR Times/Baby Calendar)
Top 10 Girls' Names for 2020:
1. Himari/Hinata
2. Tsumugi
3. Rin
4. Mei
5. Yuzuki/Yutsuki
6. Yuina/Yuna
7. Aoi
8. Riko
9. Mio/Rei
10. Hina/Haruna


Top 10 Boys' Names for 2020:
1. Ren
2. Aoi/Ao
3. Haruto/Hinato
4. Itsuki/Tatsuki
5. Minato/So
6. Hiroto/Haruto
7. Yuma/Haruma
8. Minato
9. Ritsu
10. Asahi
(Note: Many names have multiple possible readings, so only the top 1 or 2 are listed.)
Top 10 Readings for Names for 2020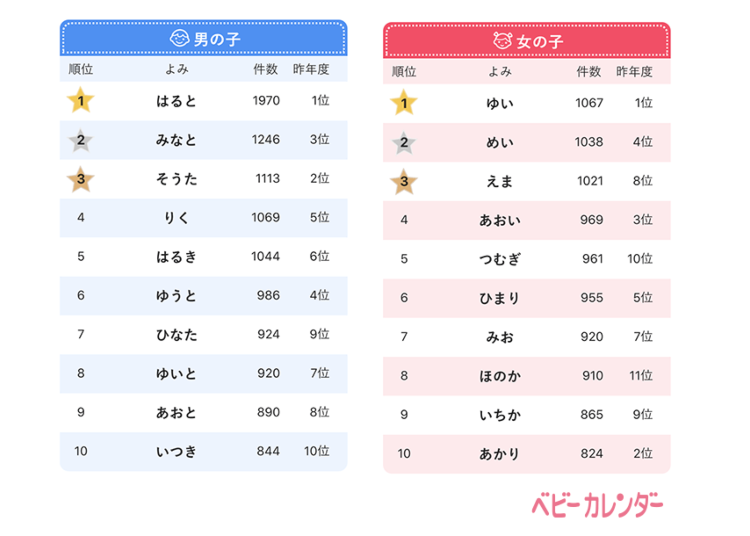 (Source: PR Times/Baby Calendar)
Top 10 Readings for Girls' Names for 2020:
1. Yui
2. Mei
3. Ema
4. Aoi
5. Tsumugi
6. Himari
7. Mio
8. Honoka
9. Ichika
10. Akari

Top 10 Readings for Boys' Names for 2020:
1. Haruto
2. Minato
3. Sota
4. Riku
5. Haruki
6. Yuto
7. Hinata
8. Yuito
9. Aoto
10. Itsuki
(Note: This chart indicates only the readings of names and not the characters used to write them.)

Hope in Dark Times

In some of the darkest days of the coronavirus pandemic, many parents opted to give their newborn children names with characters indicating brightness, flight, and other positive imagery. The top boy's name, Haruto/Hinato, combines the character for sun with the character for flight. These characters are repeated throughout both lists, showing a preference for hopeful names.

Many women who gave birth during 2020 were not able to have visitors in the hospital or to have family attend their deliveries. They gave birth alone, and what is normally a joyous time for a family was overshadowed by fear. It's no wonder, then, that they chose bright and hopeful names for their babies to carry their hopes for a brighter world.
Those who have visited Japan in the spring will know about the sakura (cherry blossoms) which bloom in April and are a meaningful cultural symbol. The name Sakura and the character for writing it feature heavily in the names of babies born in April. Another common element in April baby names is the word haru, meaning spring.

In the above chart of name readings, we can see that the top name readings for both boys and girls commemorate the season in some way. Spring is a time of new beginnings in nature, and also culturally in Japan as it is the start of the school year. What a perfect name for a new spring baby.
In 2020, retro-style names came into fashion - and it's attributed in large part to the success of the manga and anime series, Demon Slayer. The series is set in the Taisho era (early 1900s), and some of the period names swung back into style.

For instance, last year, no babies were named "Giyu," yet in 2020 there were four - likely after the popular Demon Slayer character, Giyu Tomioka. Similarly, the number of girls named "Mitsuri" rose from zero last year to seven in 2020, likely named after the popular character, Mitsuri Kanroji. It's curious to think what other names will be picked up as the series continues!


Baby name ranking is a fun way to look at trends in society and culture. What are some popular names in your country, and how have they changed over time?
*This information is from the time of this article's publication.
*Prices and options mentioned are subject to change.
*Unless stated otherwise, all prices include tax.
Limited time offer: 10% discount coupons available now!