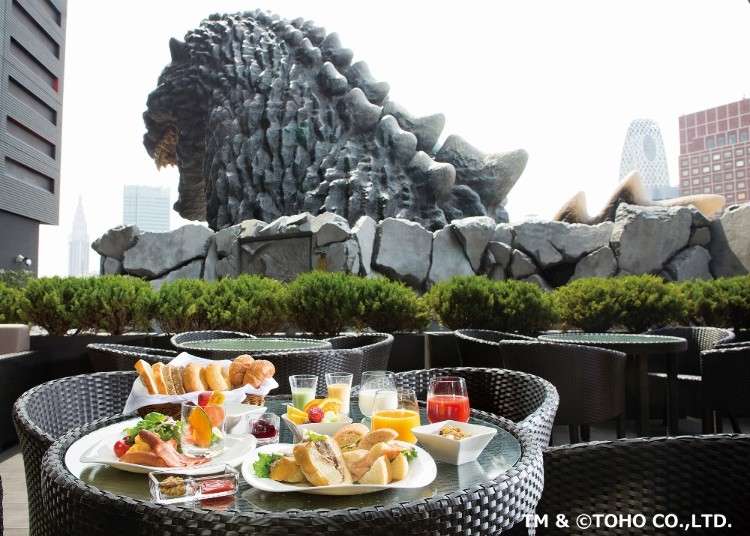 Okubo, the neighboring district of Shinjuku and home to Tokyo's esteemed Korea town, has been climbing the tourism popularity ladder at a rate of knots. Home to a range of affordable hotels, hostels and Airbnb spots (especially when compared with the extravagant accommodation options in central Shinjuku), Okubo is now one of the places to stay in Tokyo.

Coupled with Okubo's newly acquired allure is an eclectic host of stellar breakfast options in the surrounding area. All-you-can-eat breakfast buffets fit to feed the family, classic American diner food featuring tumbling piles of fluffy pancakes, and vitamin-packed health food restaurants all take to the center-stage. Here are 6 of the top breakfast spots near Okubo.

In this article:
Shinjuku
・Mr.FARMER
・Café Terrace Bonjour
・Sarabeth's
・Café Rendezvous
Okubo
・Domo Café
・Renoir (Okubo and Shin Okubo)

Main image credit: TOHO Co., Ltd.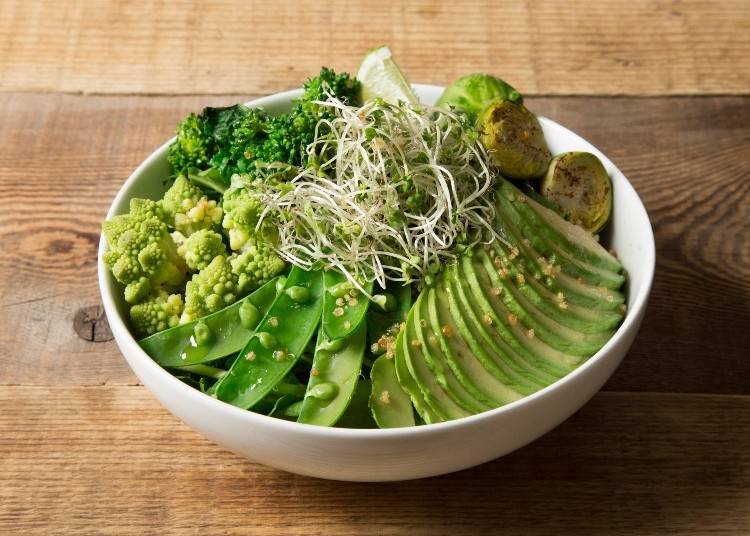 Mr. FARMER, located in Shinjuku, is particularly popular with foreign visitors to the capital. Many tourists complain about "not eating enough fruit and veg" when in Japan; Mr. FARMER sets out to rectify that common chagrin. As the shop name implies, fresh produce and plant-based food reign supreme on their menu: vogue superfoods like kale and quinoa are available; along with seasonal crop specials; vegan options; and fresh, vitamin-boosting juices. They also make everything by hand, including the myriad sauces and dressings, and their creative, multi-colored salads.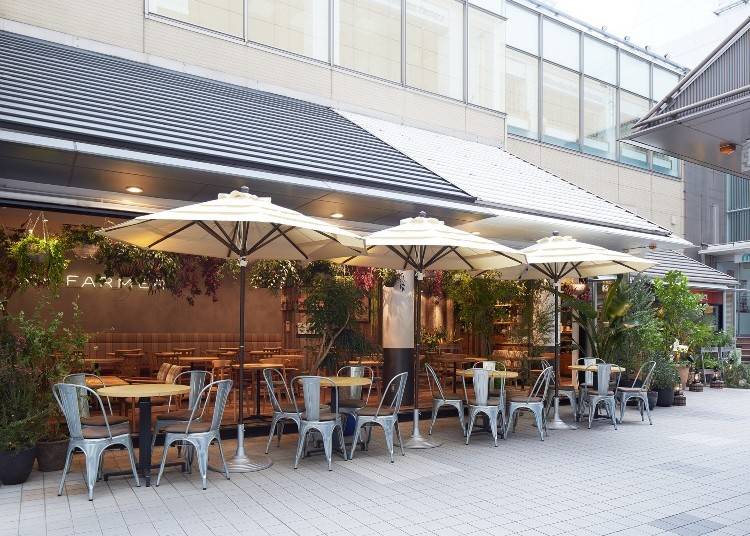 Shinjuku Mylord branch
Mr. FARMER is a franchise, with 5 branches around Tokyo. The Shinjuku branch, dressed in a botanical and soft wood décor, is one of the flagship stores and arguably the pick of the bunch. If possible, grab a seat beside the large shop windows or on the terrace, where you can watch one of Tokyo's busiest neighborhoods come to life in the morning; it is a fine sight indeed.

Current Top Breakfast Options:
・Salmon and Avocado Eggs Benedict – 1,350 yen
・Spinach & Croque Monsieur – 1,050 yen
・Mexican Egg White Open Omelette – 1,250 yen
Mr. FARMER (Shinjuku Mylord)

Mr. FARMER/新宿ミロード店

Address

1 Chome-1-3 Nishishinjuku, Shinjuku City, Tokyo 160-0023

Nearest Station

Shinjuku


Hours: 9am - 11pm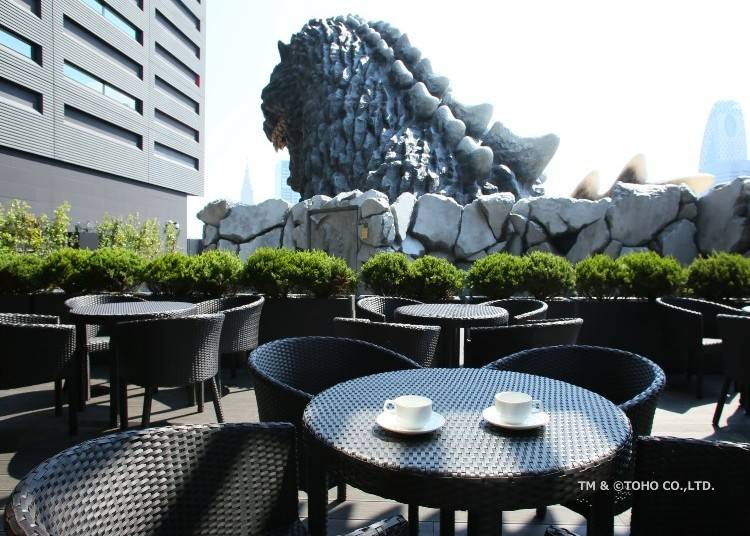 Café Terrace Bonjour is a rather unusual café and delicatessen, situated right behind the head of the towering, 52-meter Godzilla statue in Kabukicho. The café is part of the Hotel Gracery, with varnished-wood floors, smartly-attired waiting-staff and soft leather-seating making it feel somewhat refined: a kind of afternoon tea approach. What will immediately grab your attention however, is the back of Godzilla's hulking, scaled head dominating the immediate view beyond the glass-walled terrace.
The breakfast buffet options are pretty good too: waffles with seasonal fruit sauces, cold sandwiches or toasties with continental-European breads, and organic coffee with Hokkaido milk (Japan's top dairy producing prefecture). For the sweet tooths out there, Café Terrace Bonjour also bake a Godzilla cake in-house, which has become key to the restaurant's appeal. Sitting out on the sky-high terrace is recommended when the weather is on your side, offering a little pocket of calm among the chaos of downtown Tokyo to enjoy your breakfast.

The approach to the Hotel Gracery is a touch dramatic itself: you'll spot the Godzilla head as you walk down one of the main pedestrian streets from Shinjuku station. A quick look around will tell you that you are on the aptly named "Godzilla Road" itself!

<@Current Top Breakfast Options:|@b>
・Waffles with seasonal fruit sauce, honey or whipped cream
・Sandwiches with various fillings, and a range of breads: royal loaf, cereal loaf, bagel, croissants

Buffet prices: Adults: 2,000 yen, children 7-12 years old: 1,000 yen, children 4-6 years old: 500 yen.
Café Terrace Bonjour (Hotel Gracery, Shinjuku)

カフェテラスボンジュール・ホテルグレイスリー新宿

Address

1 Chome-19-1 Kabukicho, Shinjuku City, Tokyo 160-8466

Nearest Station

Shinjuku


Hours: 6:30am - 9pm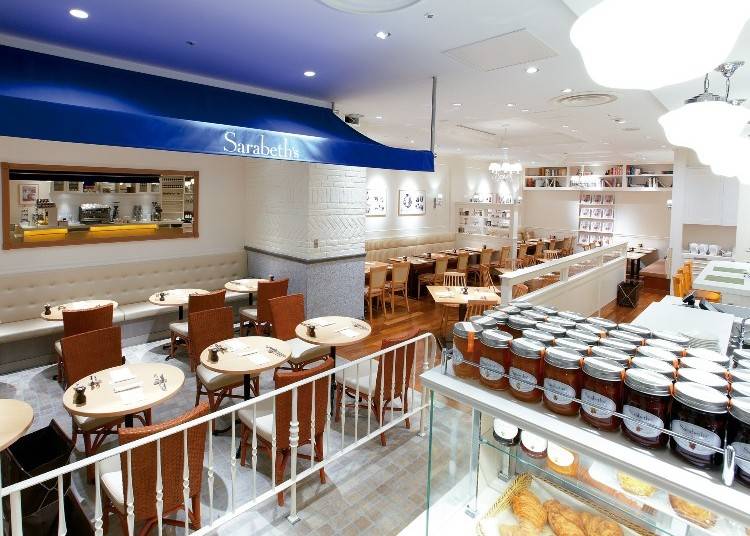 Sarabeth's in Shinjuku is a classic American diner, serving western Sunday morning favorites, in portion sizes that won't leave you hungry. "We started in New York and were hailed as 'The Breakfast Queen of New York'," a staff member told us. Quite a title to live up to. But after moving into the Japanese market and opening branches in Tokyo, Sarabeth's continuing popularity is a clear testament to the quality of its food.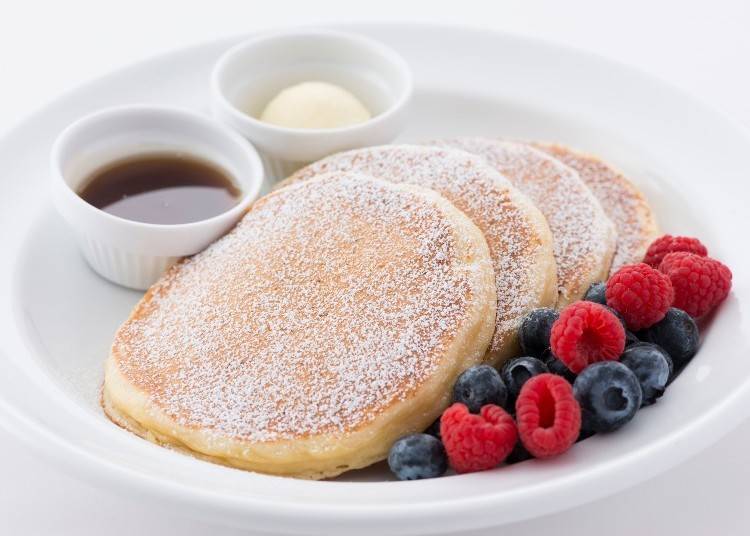 The menu options range from ostensibly healthy – roasted granola with fruit, yogurt and honey – to guilty pleasures: fat & fluffy French toast or lemon ricotta pancakes. And most importantly, the portion sizes are American, so you may want to bring a friend along to help roll you out the door after. The shop also offers smaller bites, sides and breads if you're aren't looking to load your stomach up for the day. The breads come with their homemade fruit preserves and condiments, which are a source of great pride for the brains behind the operations at Sarabeth's.

urrent Top Breakfast Options:
・Fat & fluffy French toast with fresh strawberries and maple syrup – 1,280 yen
・Lemon ricotta pancakes with fresh mixed berries and maple syrup – 1,480 yen
・Pumpkin waffles with sour cream, raisins, pumpkin seeds and honey – 1,280 yen
・Jalapeno and cheddar omelette with tomato, onion, avocado and cilantro – 1,480 yen
サラベスのルミネ2

Address

Tokyo, Shinjuku City, Shinjuku, 3 Chome−38−8 Lumine Shinjuku, 22F, 160-0022

Nearest Station

Shinjuku


Hours: 9am - 9pm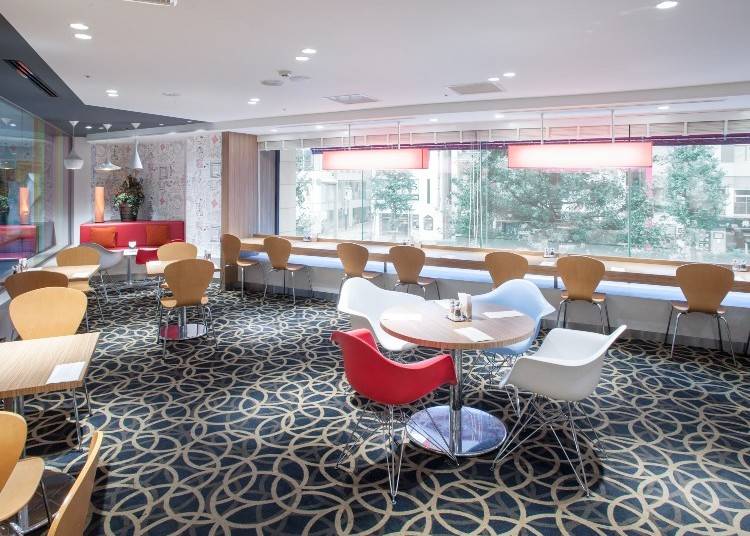 Café Rendezvous is one to clear the hangover all right; an all-you-can-eat buffet serving a mix of Japanese breakfast bites and heavier western-inspired morning staples. Free-flowing tea, coffee and fruit juices are also involved. Though Café Rendezvous is part of the Ibis Hotel in Shinjuku, customers don't have to be a guest at the hotel to indulge in the morning feast.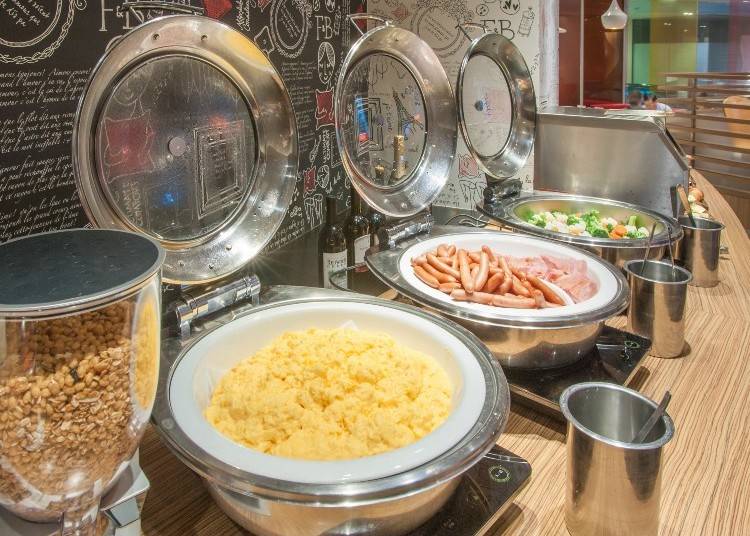 Grilled fish, pickles, miso soup, rice, salads, fresh fruit, cereals and yogurts populate the help-yourself tables every morning. Accompanying these are scrambled eggs, bacon, sausages, curries and vegetable medley options. Every morning the mouth-watering odors of fresh breads, pain au chocolats and croissants permeate the air of the retro chic dining hall, with a range of butters and fruit spreads are also available for you to slap on top of them. All this for 1,800 yen per head – it really is a hard price to beat.
Café Rendezvous (Ibis Tokyo Shinjuku)

CAFÉ RENDEZVOUSイビス東京新宿 2F

Address

Ibis Tokyo Shinjuku 2F, 7-10-5 Nishishinjuku, Shinjuku-ku, Tokyo-to 160-0023

Nearest Station

Shinjuku-Nishiguchi


<@Hours|b@>
Breakfast buffet: 6:30 a.m. - 10:00 a.m. (until 10:30 a.m. on Saturdays, Sundays, and national holidays)

General: 11:30 a.m. - 10:00 p.m. (from 12:00 p.m. on Saturdays, Sundays, and national holidays)

Closed: No fixed holidays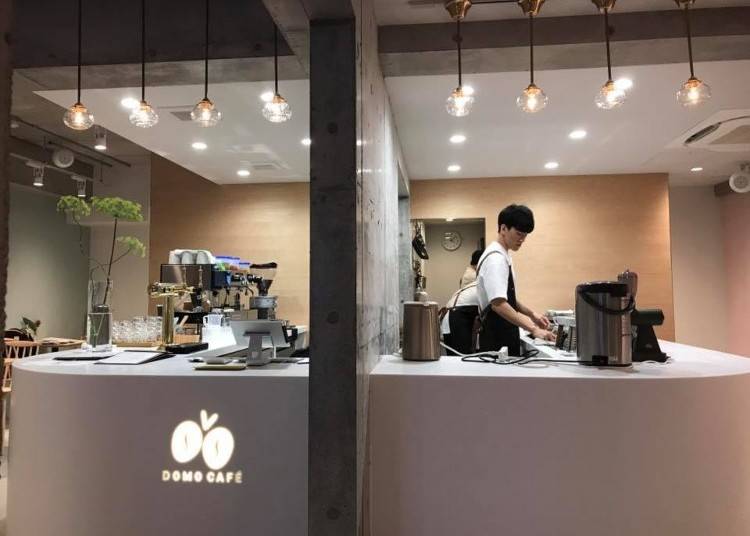 Domo Café is indicative of a 21st century independent Japanese coffee shop. It's a Japanese-Taiwanese fusion with a less-is-more, minimalistic design; and flowering illustrations crawling up the exterior walls. The creative shop design was thought up by the owner, Cake Liao. Cake then worked in collaboration with Milly, an acclaimed Taiwanese graphic designer, and Japanese architect, Kenta Sano, to make her idea come to life. The idea behind the restaurant is to celebrate the close relationship between Japan and its neighbor across the East China Sea.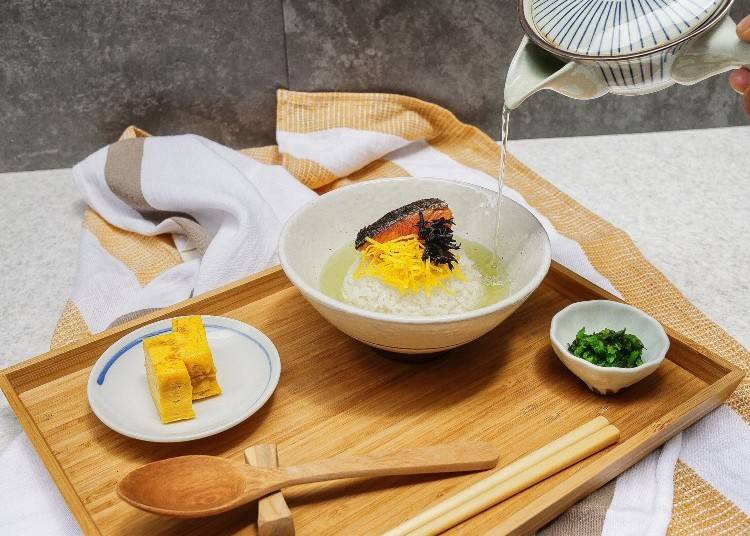 Traditional Japanese Breakfast: Ochazuke
Between 9am and 11am food is the main focus in Domo Café, with toast and bread sets, or ochazuke – a simple Japanese breakfast dish of green tea, cooked rice, and toppings: umeboshi, nori seaweed, sesame seeds and pickles. After 11am, coffee comes to the fore, and sticking true to the theme of the restaurant, they offer two tasty blends of coffee: a Taiwanese light roast, or a medium roast from Kyoto. They also sell fresh beans by the bag.

Current Top Breakfast Options:
・Toast Set
・Croissant Set
・Pizza Toast Set
・Ochazuke (Rice and toppings with tea poured on top)
ドウモカフェ

Address

1 Chome-15-29 Hyakunincho, Shinjuku City, Tokyo 169-0073

Nearest Station

Shin-Okubo


Hours:
Mon - Thurs: 9am - 8pm
Fri - Sun: 9am - 10pm
Renoir (Shin Okubo and Okubo!)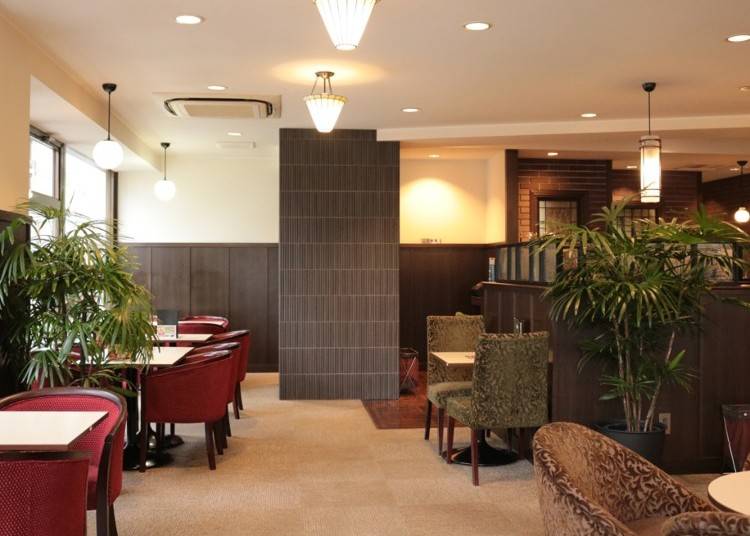 Renoir is a popular coffee shop with branches in Okubo and Shin-Okubo that gives off a classy business vibe. In that sense, it is rather simplistic inside – lamplit tables, plush furniture, hushed atmosphere – but great for solo travelers who want some peace or to make use of the free WiFi whilst tucking into their breakfast. The breakfast options are relatively simple, though the toast sets are pretty tasty. If you're there outside of breakfast hours, the cheesy pizza toast in particular is hard to beat.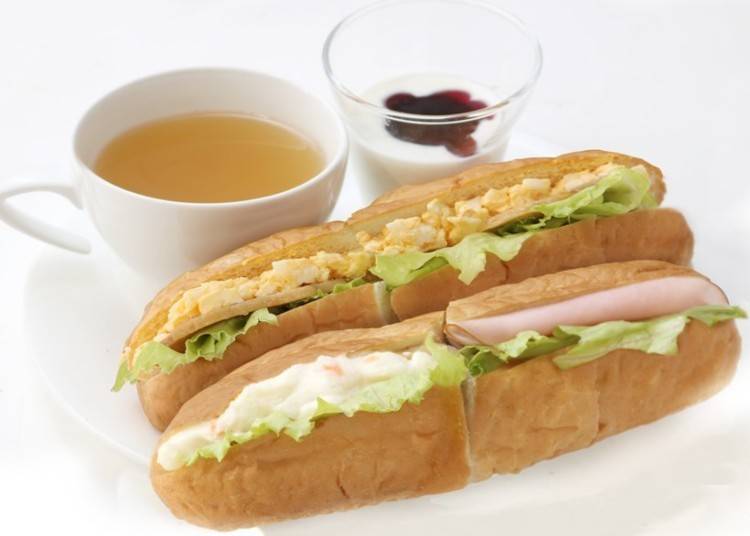 Special Sub (200 yen)
Where Renoir really shines is in its coffee. The fresh, aromatic roasts are all original Renoir blends, and brewed using a special Nel drip. Both the hot and ice varieties are top sellers. Depending on the branch, even if it is the same item or drink, the prices may differ however. For example: at the Okubo branch hot coffee is 570 yen, and iced is 600 yen; Whereas in Shin Okubo their hot coffee is 610 yen, and iced is 640 yen.

Renoir is the sort of place you go to enjoy the coffee and relax for a while without feeling pressured to wolf down your food and make way for the next batch of customers.

Current Top Breakfast Options:
・Toast – 60 yen
・Ham and Cheese Focaccia Sandwich – 130 yen
・Ham and Cucumber Sandwich – 150 yen
・Special Sub (Two sandwiches with egg, teriyaki chicken, potato salad, and ham), served with yogurt – 200 yen
(The above prices are only available to customers ordering drinks)
・Coffee – Hot from 570 yen, Iced from 600 yen
喫茶室ルノアール 新大久保駅前店

Address

〒169-0073 Tokyo, Shinjuku City, Hyakunincho, 2 Chome−11−25 Shintoyama Bldg. 2F Nearest Station: Shin Okubo

Nearest Station

Shin-Okubo


Hours:
Mon - Sat: 7:30am - 11pm
Sundays and National Holidays: 8am - 10pm
喫茶室ルノアール 大久保店

Address

〒169-0073 Tokyo, Shinjuku City, Hyakunincho, 1 Chome-18-8 Okubo Kado Bldg. 2F

Nearest Station

Okubo


Hours:
Mon - Fri: 7:30am - 11pm
Saturdays, Sundays and National Holidays: 8am - 10pm
These 6 spots should be more than enough to keep you satiated during your mornings in Okubo and Shinjuku, yet they only scratch the surface. It's a great part of Tokyo to be in and even better one to eat in. So explore, dig in, and enjoy!
Written by: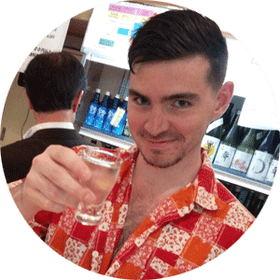 *This information is from the time of this article's publication.
*Prices and options mentioned are subject to change.
*Unless stated otherwise, all prices include tax.