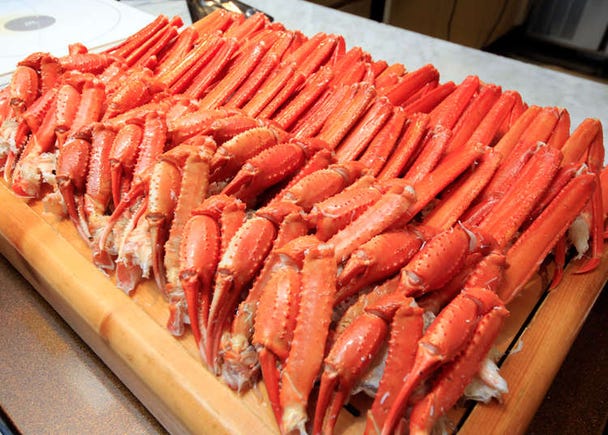 One of the amazing things about Japanese hot springs is the crazy amount of delicious food they prepare! An especially popular wintertime option is the all-you-can-eat crab buffet. To be able to indulge in as much fresh crab as you like after a relaxing soak in the springs is nothing short of a dream.

Today, we'll show you three popular hot-spring inns that include an all-you-can-eat crab buffet. Katsuura, Ito, and Hakone are all places located within an hour and a half from Tokyo, and the perfect spot for a winter trip!
1. Katsuura Hotel Mikazuki: All-you-can-eat Crab & Hot Springs Inn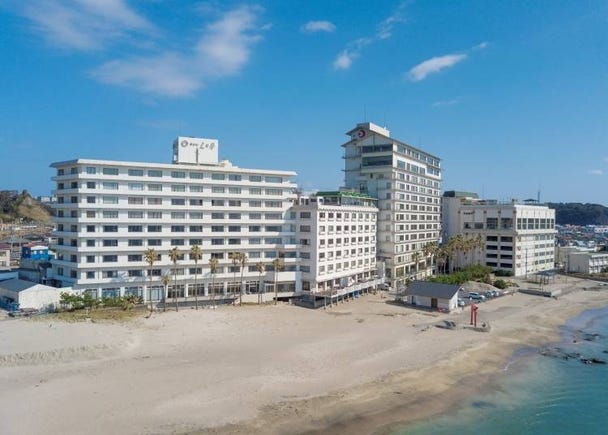 Katsuura City, Chiba Prefecture is a resort town in the suburbs of Tokyo, known for its spectacular ocean view. The most famous resort hotel is Katsuura Hotel Mikazuki, with 13 floors and 170 rooms.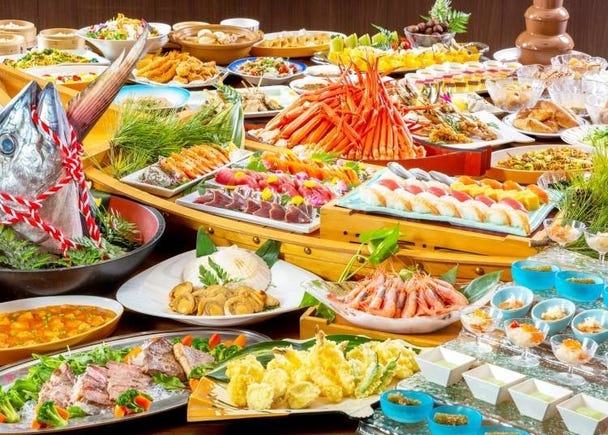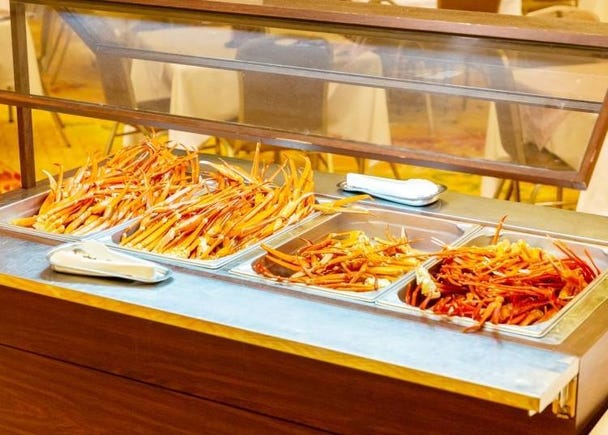 At Katsuura Hotel Mikazuki, dinner buffets are held every day, including a daily all-you-can-eat crab buffet. The plump, delicious crab is prepared fresh by skilled chefs every day.
The seasonal dining area, "Kangetsu," was recently renewed in 2019. It is now equipped with an open kitchen where you can watch the chefs whip up all kinds of dishes right before your very eyes. From rolled sushi to steaks baked on an iron plate, it is quite an impressive scene. There are several desserts as well, including cake and a chocolate fountain.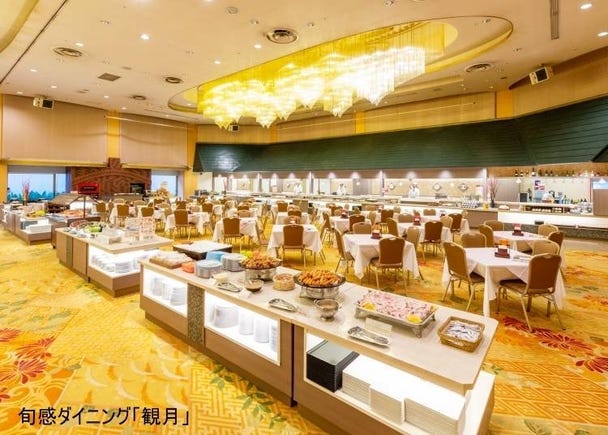 Staying true to the local characteristics of the seaside town of Katsuura, there are plenty of fresh seafood dishes to choose from. You can enjoy not only crab, but shellfish, tuna, shrimp, and scallops as well.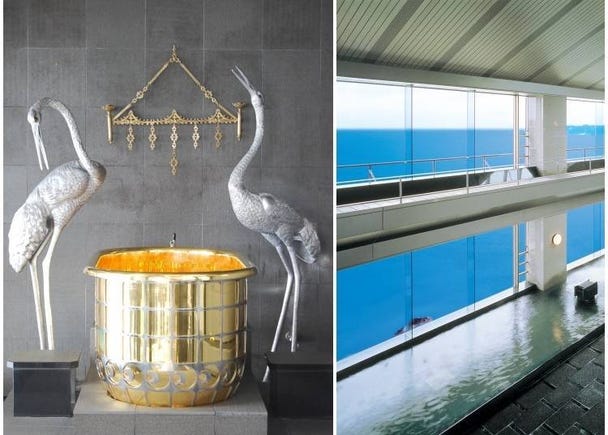 Katsuura Hotel Mikazuki's hot springs overlook the Pacific Ocean from 40m above ground. There is even an original golden bathtub installed that you will only find here. Why not take a soak and while you're at it, there's a rumor it increases your financial luck too!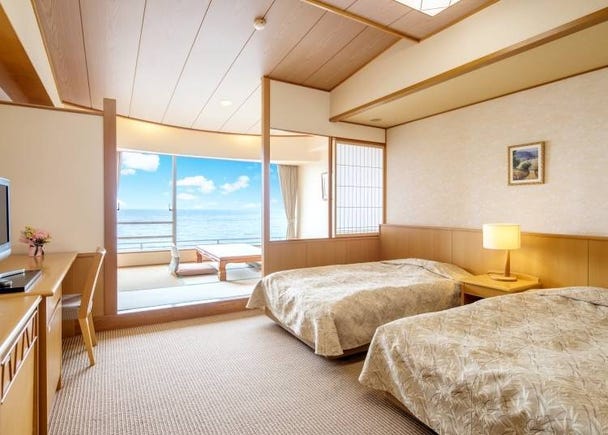 Each spacious guest room is has a view of the Pacific Ocean. The Japanese-style room overlooks the sea, and the Western-style bedrooms are comfortable and allow you to relieve your travel fatigue while taking in the truly Japanese atmosphere.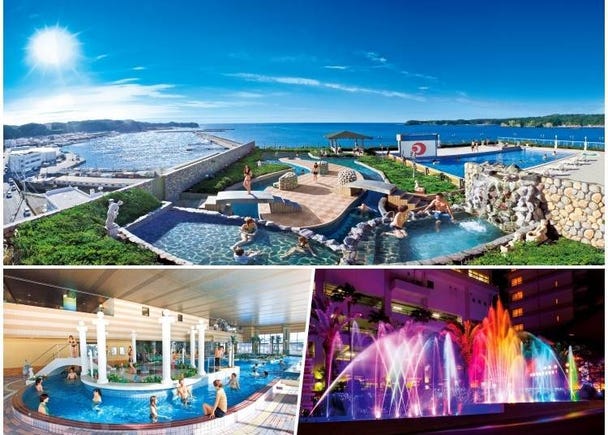 Katsuura Hotel Mikazuki is a great year-round resort hotel, with plenty of facilities including a spa and a beautiful illuminated fountain. There are also many events that you can enjoy both before and after your dinner buffet.
勝浦ホテル三日月

Address

820 Tona, Katsuura, Chiba (Katsuura Beach)

Nearest Station

JR Sotobo Limited Express Wakashio Line (about 1 hour 20 minutes); take shuttle bus from Katsuura Station (about 1 minute)


Vacancy search, reservation

from

37,400JPY

1room, 2adults

Check with our partner site as the latest rates, rate details, and guest room requirements may vary.
2. Hotel Ravie Kawaryo: All-you-can-eat Crab & Hot Springs Inn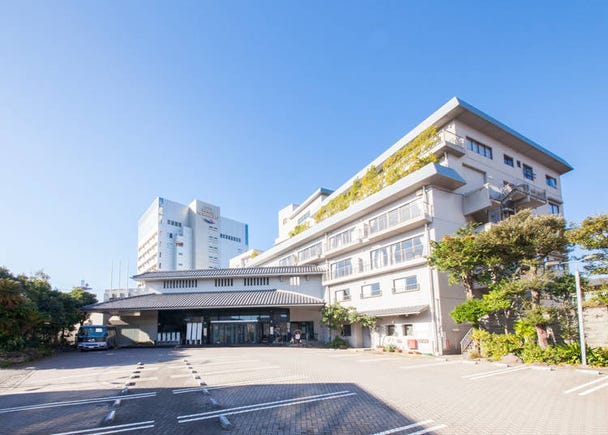 Ito, Shizuoka Prefecture, is only 80 minutes away from Tokyo via the Shinkansen Ito Line. Hotel Ravie Kawaryo is easily accessible, and only 7 minutes from Ito Station on foot.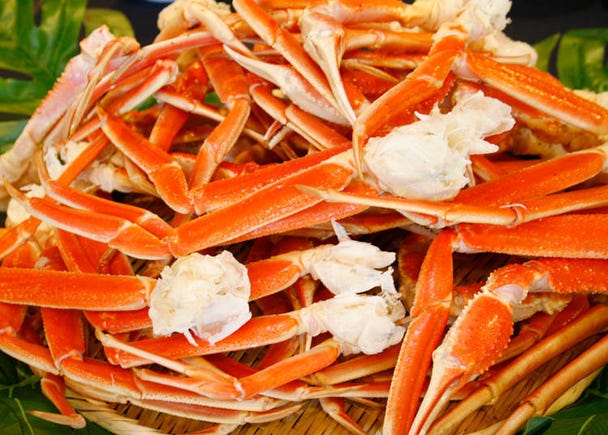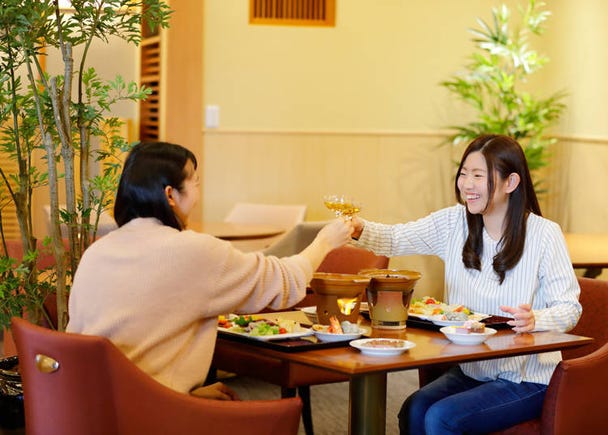 Hotel Ravie Kawaryo offers a seafood buffet with about 60 different Shizuoka seafood dishes. One of the options is an all-you-can-eat crab buffet, where you can indulge in as much crab as you wish for 60 minutes. Grab a seat and enjoy at the recently renewed buffet venue, "Jukaiden," reopened in December 2018!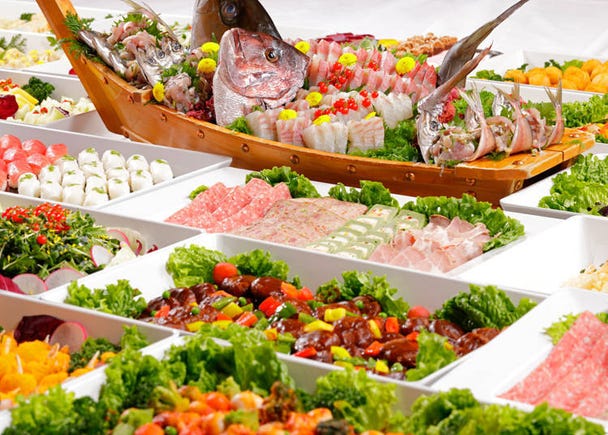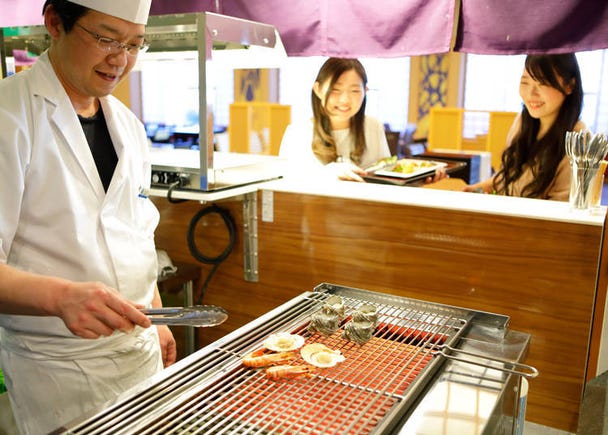 This buffet also offers tai and mackerel sashimi unique to Ito. All meals are freshly baked and fried on-site in their live kitchen, so you can always expect nothing short of the freshest taste.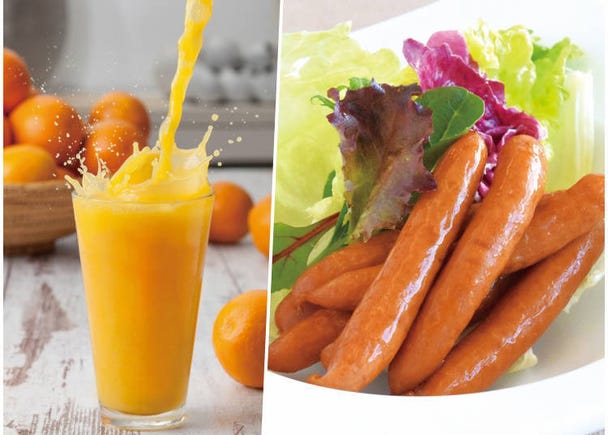 Be sure to enjoy the original sausage and orange juice at Hotel Ravie Kawaryo's breakfast buffet before sightseeing around Ito!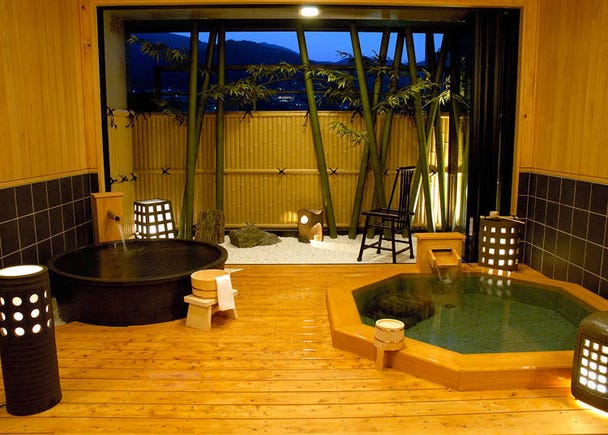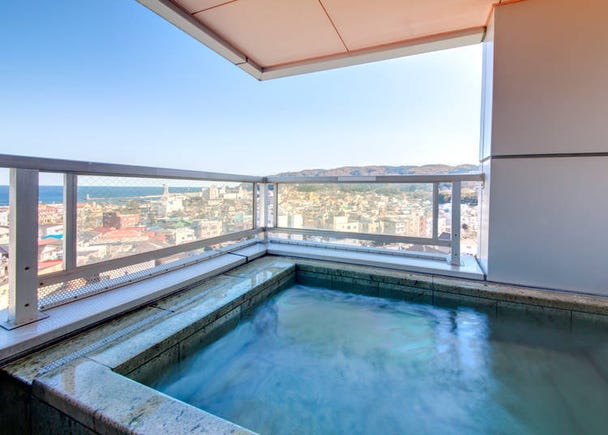 Not only are there plenty of buffets to choose from, there are a number of hot springs as well. The water pools into the hot springs at a rate of about 660ml per minute from 8 different natural sources. The public and open-air baths, as well as the pools and indoor baths in the guest rooms all draw their water from natural hot springs.

If you feel uncomfortable using the public baths (getting naked in front of everyone can be daunting!), you can still enjoy the hot springs from the comfort of your own room or the private open-air bath.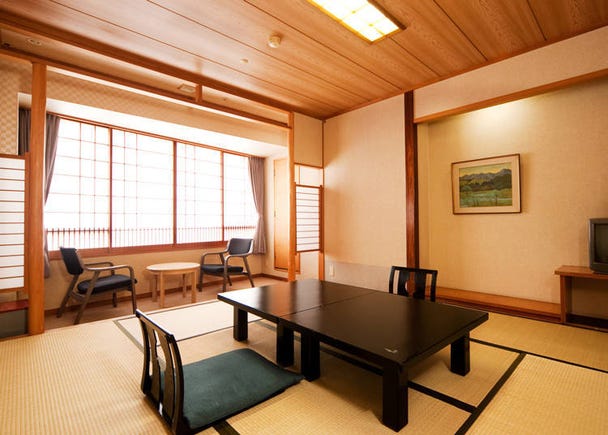 All rooms are spacious, with a floor area of over 8 tatami mats. Most rooms are Japanese-style, however all are equipped with flushing toilets and free Wi-Fi. After enjoying Ito's delicious seafood and a soak in the springs, you can relax in your room and immerse yourself in the memories of your trip.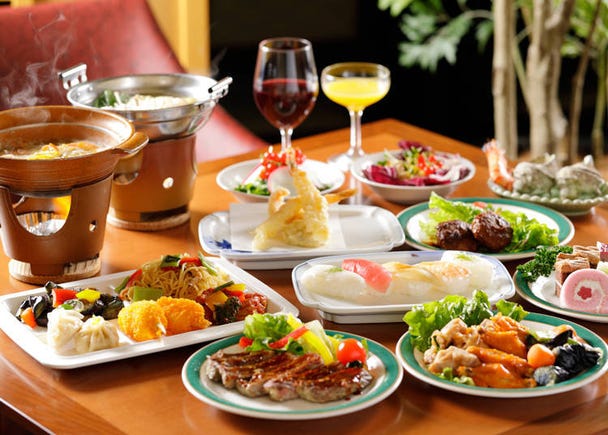 When making a reservation at Hotel Ravie Kawaryo, be sure to mention this article on Live Japan! Customers who mention Live Japan when reserving will receive complementary draft beer or soft drinks with their dinner!
ホテルラヴィエ川良

Address

1-1-3 Takenouchi, Ito City, Shizuoka

Nearest Station

Shinkansen Atami/Ito Line to Ito Station from Tokyo (about 80 minutes)


Tel: 0557-37-8181 (Call for reservations. Be sure to mention LIVE JAPAN!)

Vacancy search, reservation

from

11,920JPY

1room, 2adults

Check with our partner site as the latest rates, rate details, and guest room requirements may vary.
3. Re-Cove Hakone: All-you-can-eat Crab & Hot Springs Inn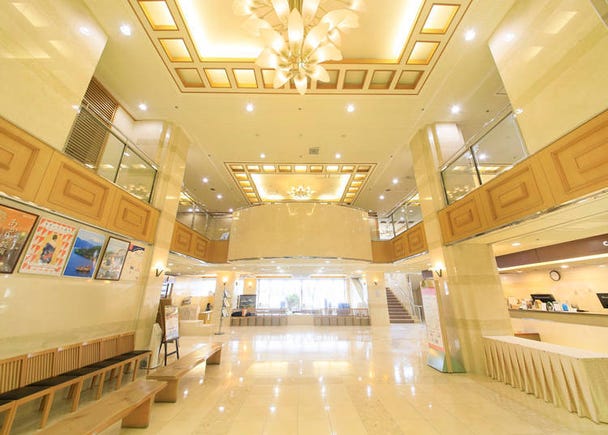 Re-Cove Hakone is located in the Sengokuhara area of Hakone. It is located just a stone's throw from the vast Sengokuhara Susuki Grasslands. By taxi, Lake Ashinoko is only 10 minutes away, and Hakone Shrine is about 20 minutes. This hot springs inn is perfect for anyone wanting to explore Hakone.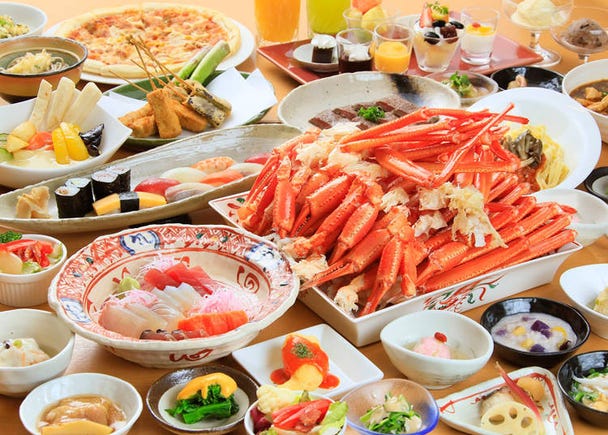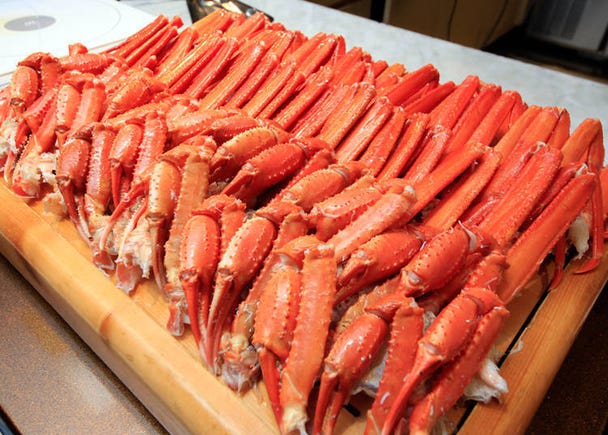 Re-Cove Hakone offers a dinner buffet every day with about 60 kinds of foods to choose from. The all-you-can-eat crab buffet is one of the highlights, available not only in the winter, but all year-round.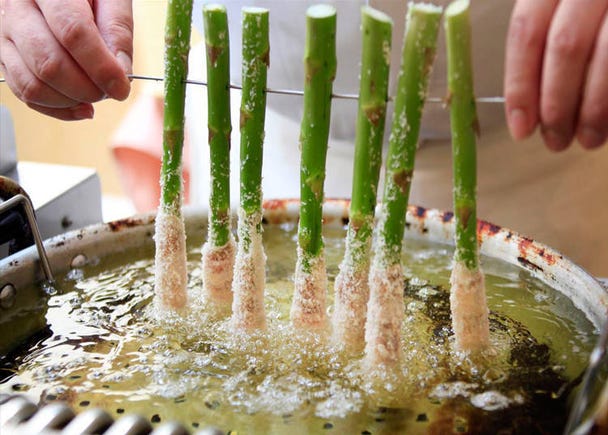 Another feature of this buffet is the demonstration counter, where you can watch the chefs prepare sushi, beef steak, and 20cm asparagus rolls right before your eyes. The delicious taste of these freshly prepared foods is undeniable!
Along with the crab and foods prepared at the demonstration counter, you can also order Japanese, Western, and Chinese cuisine. There is plenty to choose from, and you are sure to find something to suit your taste and mood.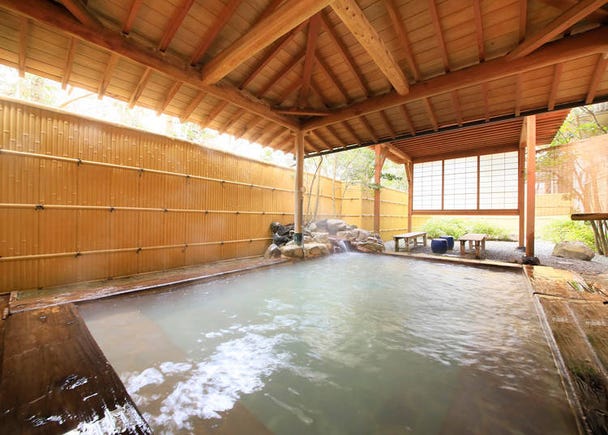 The charms of Re-Cove Hakone don't end with the buffets. You can also enjoy a soak in the "nigori-yu" springs, a rare sight in Hakone. Nigori-yu is a type of hot spring that features cloudy water, rich in natural minerals. Re-Cove Hakone's nigori-yu springs is said to help relieve chronic physical fatigue such as neuralgia and muscle soreness.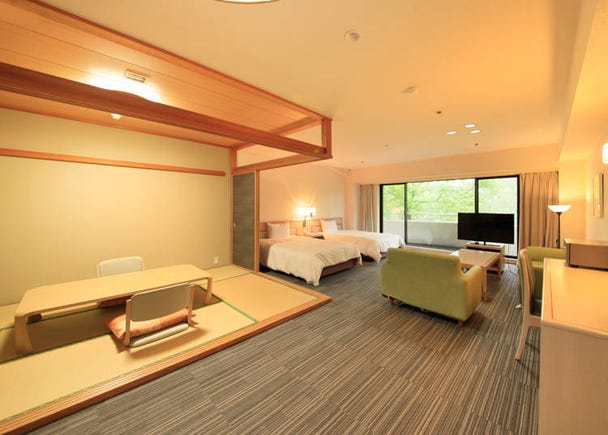 Guest room: Japanese-Western Style Room
Most of the rooms are Western-style with full beds. Even the most affordable, standard twin bedrooms (South Building) are semi-double in size, so you can easily relax no matter where you stay. After a long day of exploring Hakone, ease your tiredness with a delicious buffet and a soak in the hot springs!

*Due to the impact of Typhoon No. 19 in October 2019, Re-Cove Hakone is currently undergoing a partial reduction of normal operations. Facilities including public baths, hot springs, and all-you-can-eat crab buffets are scheduled to resume in late December.

Written by: Ran Tanaka
リ・カーヴ箱根

Address

934-25 Sengokuhara, Hakone, Ashigarashimo-gun, Kanagawa

Nearest Station

Take Shinkansen from Tokyo Station to Odawara Station (about 35 minutes); ride Hakone Tozan Bus to Sengoro-mae (about 50 minutes); Re-Cave Hakone is about 2 minutes away on foot


Vacancy search, reservation

Please enquire directly about rates.

Check with our partner site as the latest rates, rate details, and guest room requirements may vary.
*This information is from the time of this article's publication.
*Prices and options mentioned are subject to change.
*Unless stated otherwise, all prices include tax.