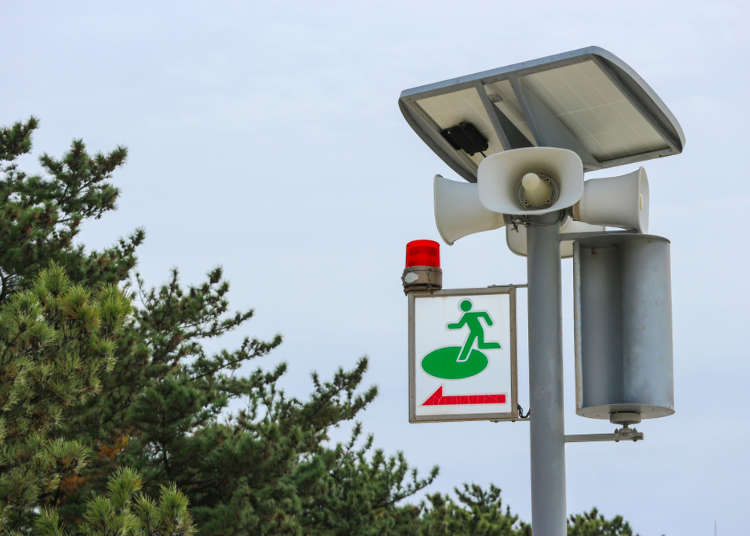 According to statistics published by Japan National Tourism Organization (JNTO), the island nation saw a record number of foreign visitors in the first half of 2019. That said, it's also a well-known fact that Japan is one of the most natural disaster-prone countries in the world. What, then, should you do if you happen to meet up with an unfortunate incident during your visit?

Many tourists wonder what sort of warning system Japan operates on, and some may also want to know how they can calmly seek refuge in times of disaster. These are likely questions that have come up in your mind before as well.

This article is therefore designed to explain some basic facts and information about the natural disaster evacuation process in Japan, including what you should do if disaster strikes, how you can understand local directives, and advanced preparations you can make to ensure your well-being during an evacuation.
As part of an initiative to minimize casualties during disasters, public agencies of Japan will issue warnings to residents of applicable districts asking them to prepare for evacuation or prompting them to take urgent action. Generally, the warnings are divided into the following seven different categories.

1: Weather (weather warning, weather watch, meteorological information [general, regional, prefectural], typhoon information, record short-term rainfall, tornado warning)

2: Flood or flood prevention (flood forecasting for specific waterways, water level information [water level dissemination for specific waterways], flood prevention warning

3: Landslide (landslide alerts)

4: Earthquake / Tsunami (emergency breaking report for earthquakes, earthquake report, tsunami warning or watch, tsunami information, tsunami forecast)

5: Volcanic hazard (eruption report / forecast, eruption warning level)

6: Maritime disaster (marine warning)

7: Nuclear hazard (declaration of nuclear state of emergency)

Since Japan is an earthquake-prone country, visitors from countries with no earthquakes may feel a sense of fear and confusion the first time they experience one. To reduce such anxieties, ensure you're always on top of the situation by reviewing the information in the warnings carefully and follow the directives given by public agencies as closely as possible.
Japanese to English: Phrases Used in Evacuation Directives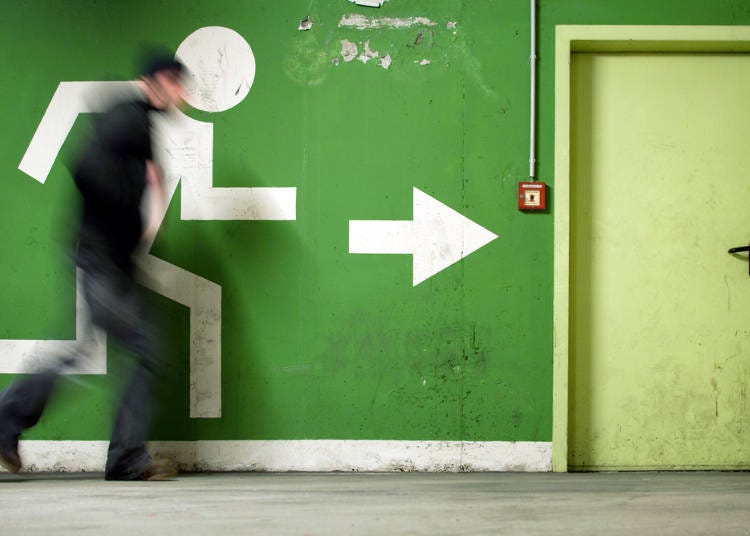 The language used in evacuation directives is tailored to help people find appropriate shelter as quickly as possible. By having a good grasp on some of these phrases, you'll have a higher chance of minimizing damages during a disaster.

In March of 2018, the "Review Committee for Evacuation Directive Formats in Facilities Used by Foreign Visitors" released by the Fire and Disaster Management Agency introduced nine simple and basic Japanese phrases commonly used during fire or earthquakes, presented here alongside their English and Simplified Chinese counterparts.
Japanese

「○○(場所)で火事です。」(XX de kaji desu)
English

「A fire has started in XX」
Chinese

「○○方是火灾」
Japanese

「○○(行動・場所)は危険(あぶない)です。」(XX wa kiken/abunai desu)
English

「The situation in XX is dangerous」
Chinese

「○○危险」
Japanese

「今の場所にいてください。」(Ima no basho ni ite kudasai)
English

「Please stay where you are」
Chinese

「请在现在的地方」
Japanese

「エレベーターは使うことができません」(Erebeita wa tsukau koto ga dekimasen)
English

「Do not use the elevators」
Chinese

「不能用电梯」
Japanese

「逃げるときはお知らせします。」(Nigeru toki wa o-shirase shimasu)
English

「We will inform you when to evacuate」
Chinese

「在逃掉的时候,通知」
Japanese

「今すぐ逃げてください。」(Ima sugu nigete kudasai)
English

「Please evacuate now」
Chinese

「现在马上请逃掉」
Japanese

「私の後について来てください。」(Watashi no ato ni tuite kite kudasai)
English

「Please follow me」
Chinese

「请我以后跟来」
Japanese

「この建物は安全です。」(Kono tatemono wa anzen desu)
English

「This building is safe」
Chinese

「这座建筑物安全」
Japanese

「すぐに係の人が来ます。」(Sugu ni kakari no hito ga kimasu)
English

「Someone in charge is coming」
Chinese

「立刻负责人来」
In Japan, there's an emphasis on using simple language during disasters so that its meaning can be translated into someone's mother tongue and clearly understood without further explanation. By checking the hand signs or body language evacuation staff sometimes use along with each set of words, even if someone may not fully understand what is being said, they are still likely to understand the gist of what is being conveyed.

The chart we've included contains evacuation directives designed to be used within buildings and facilities, while there are other phrases tailored for outdoors places. Since all these phrases are quite short, learning beforehand what each one is directing you to do will definitely be helpful.
Useful Pictograms for Evacuation Centers or First-Aid Stations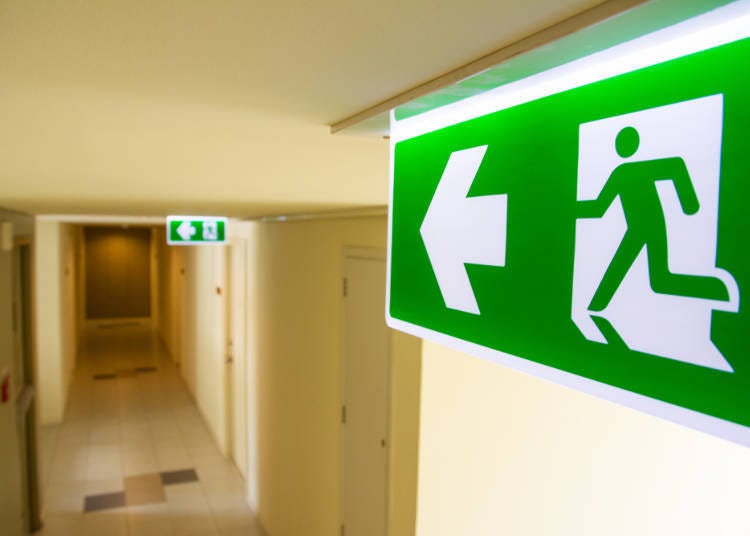 Besides learning about phrases used during evacuations in advance, you'll also need to familiarize yourself with the picture signs, or pictograms.

Pictograms were designed to make it easier for people to find evacuation centers or first-aid stations. Even visitors who do not understand Japanese are usually able to quickly and intuitively understand how to find suitable evacuation centers by looking at them.

However, the details about what the signs indicate can be found in Nippon Signs Association's Disaster-Specific Evacuation Signs System Guidebook, which is a great reference to have handy.
You can also search for English translations of pictograms by categories on the search engine in the Council of Local Authorities for International Relations' website.
Prepare In Advance to Avoid Being Thrown Into a Panic During a Disaster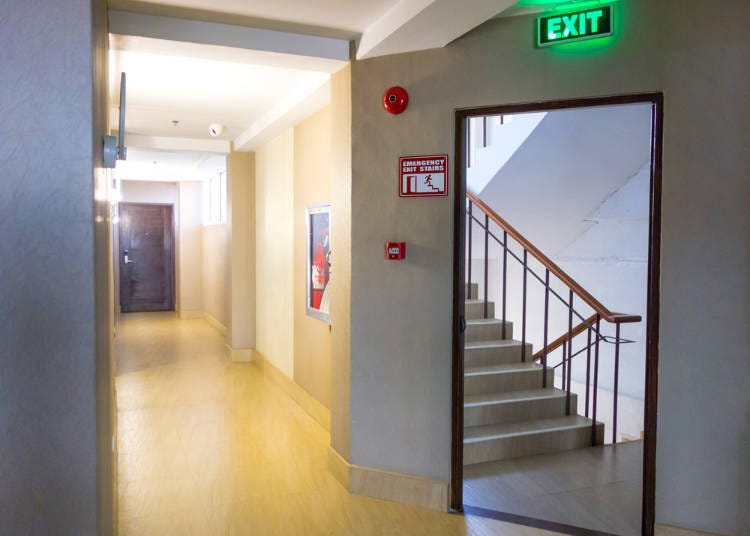 Being prepared for a disaster before it happens is the key to avoiding being thrown into a panic, because you'll be clear on what's the first thing you need to do when disaster strikes. Here are a few specific things you'll want to prepare for before a disaster actually happens.

・Check where the nearest evacuation center is and how to get there from your accommodations
It's important for you to know where the nearest evacuation center is from your accommodations and how to get there safely. By getting the information ready beforehand, you'll be clear about where to head for during a disaster.

As much as possible, always try to reach the evacuation center on foot. During a disaster, train services may be down and it may not be possible to use a car as transportation, so the only way to reach the evacuation center may be to walk there.

・Exchange contact numbers with all your family and friends
If you haven't already done so, exchange your contact number with family and friends as part of your disaster preparations. A common concern for many is that optical fiber cables may be severed or base stations may be out of power during a disaster, making it virtually impossible to contact each other via the phone. To prevent that, you may want to see if there are other ways to contact each other besides using phones.

For example, the 00000JAPAN or Five Zero Japan initiative allows everyone to tap into locked public Wi-Fi networks that aren't usually available for public use by entering 00000JAPAN as the Wi-Fi password during a large-scale disaster.

This initiative aims to contribute to the disaster prevention and disaster mitigation plans of local residents as well as allow visiting travelers convenient access to vital information that can ensure their safety in times of disasters. Since foreign tourists are usually visiting for a short time, they will likely find accessible Wi-Fi more useful than phone lines that they may need a phone subscription to use.

The Ministry of Internal Affairs and Communications also advocates the use of disaster messaging services and text messages during a disaster. A disaster messaging service is a service where people in disaster-struck areas can use subscribed phones or public phones to record down voice messages indicating their safety and well-being, which can then be checked by their loved ones from anywhere in the country, or conveyed to home phone numbers.

You can also consider internet phones, 050IP phones, SNS, and other options. Compared to the time of the 2011 Tōhoku earthquake, it's now much easier to connect to the rest of the world, so it will definitely be helpful to look up different ways of communications that can still be effectively used during disasters.
・Prepare an emergency go-bag beforehand
Since you're likely visiting Japan for sightseeing, putting together a go-bag beforehand may sound like a tall order. As a substitute, however, we recommend that you ensure your bag or backpack is always packed with essentials like bottled water, tissue packs, smartphone chargers, and other items that will be of invaluable help during a disaster. For ladies, simple toiletries like sanitary products and hair ties will come in handy as well. If you can arrange for such items to be in your bag at all times, they can essentially become your go-bag lite, so to speak.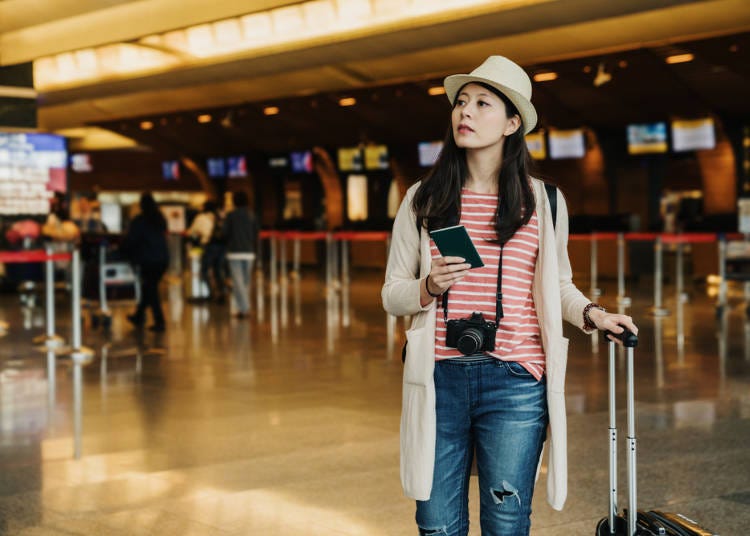 If you do encounter a disaster while on a sightseeing trip in Japan, you'll likely find it much harder to handle the situation than if you were facing the same disaster at home. It's always easier to lose your composure when you're dealing with uncertainty in an unknown land with a different language and culture, so we cannot emphasize enough how important it is that you know how to quickly handle the situation in the right way in order to ensure the safety and wellbeing of you and your travel group.

With an increased frequency of earthquakes all over Japan in recent years, nowadays, early warnings for earthquakes are often being reported on TV news. Even if you only intend to be in Japan for a short while, it wouldn't hurt to be overprepared for disaster than under!
*This information is from the time of this article's publication.
*Prices and options mentioned are subject to change.
*Unless stated otherwise, all prices include tax.
Limited time offer: 10% discount coupons available now!