Tapioca, known for its cute round shape and chewy texture, is a sweet popular among many people, especially with young women. The subtle sweetness that spreads in the mouth while drinking tapioca-filled drinks or eating sweets will surely make anyone happy.

In recent years, the number of cafes and restaurants serving tapioca sweets has really grown. Here we'll introduce a number of popular shops at two major Tokyo shopping malls that serve up tapioca sweets. Let's dive right in!
Ikebukuro Tobu Dining City Spice: Enjoy Tapioca from Around the World!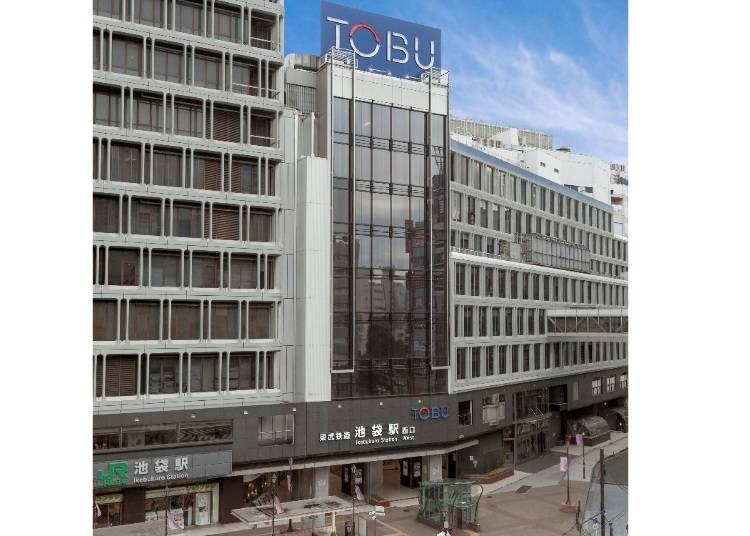 Tobu Department Store Ikebukuro, which is directly connected to the Ikebukuro Station, renovated its restaurant space (11-15th floor). Developed with the concept of being a key dining spot in Ikebukuro where you can satisfy all of your cravings, this area sports restaurants that serve tapioca sweets. They also have tapioca sweets from every country in Asia like Vietnam, Thailand, and China.
●Lotus Palace's Che: Vietnam's Soft Bean Jam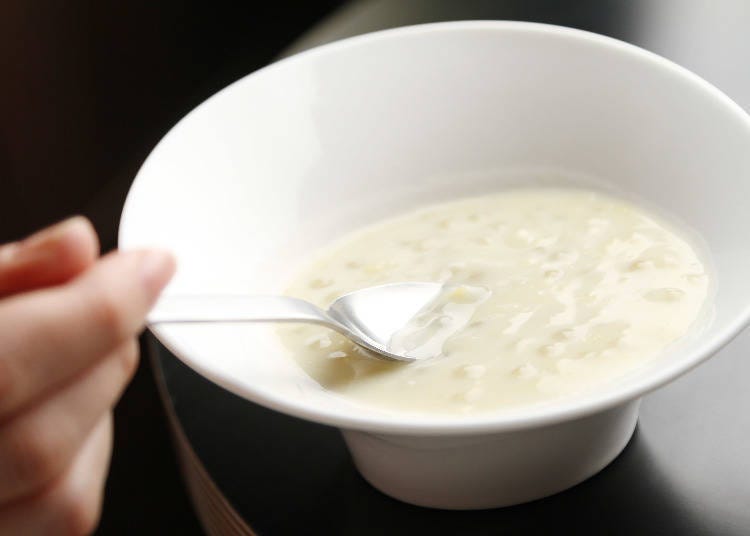 "Chè" Price: 648 yen
Lotus Palace is a Vietnamese restaurant where guests can enjoy healthy, delicious, and authentic Vietnamese cuisine made by a Vietnamese chef in a chic yet tranquil space. The tapioca sweet they serve here is a Vietnamese soft bean jam called "Chè". This traditional Vietnamese snack is a dessert made from a variety of beans, coconut milk, and tapioca, and can be eaten anywhere in Vietnam, from Ho Chi Minh to Hue.
●Thai Restaurant Siam Celadon: Refreshing Tapioca and Coconut Milk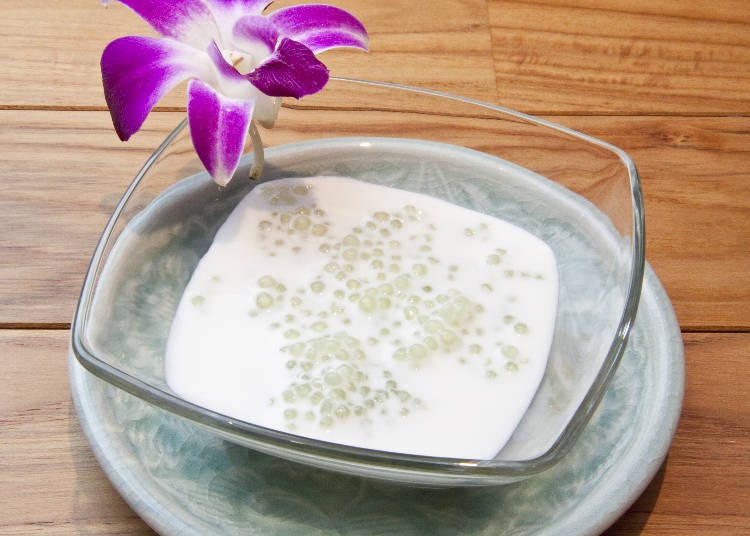 "Tapioca and Coconut Milk" Price: 480 yen
Serving Thai dishes mainly from Chiang Mai, Siam Celadon allows you to savor Thai's traditional palate using a variety of herbs and spices. Their "Tapioca and Coconut Milk" is the perfect dish after dining on Chiang Mai cuisine, known for its rich taste and healthiness. Its subtle flavor comes from a pinch of salt mixed in the coconut milk. It sports a refreshing balanced taste even after feasting on Thai dishes.
●Hunan Restaurant Kasho: Sweet and Steamy Purple Sweet Potato Tapioca Coconut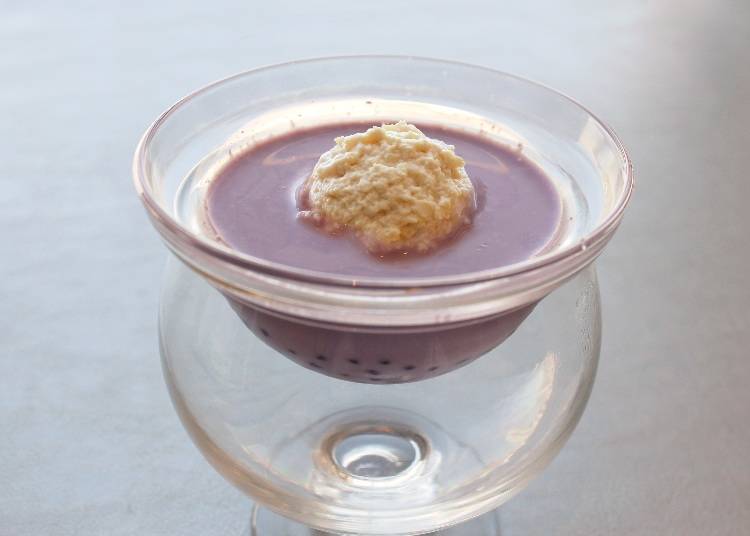 "Purple Sweet Potato Tapioca Coconut" Price: 680 yen
Hunan cuisine is one of the eight great cuisines of China known for its sour taste apart from its spiciness beyond Szechuan cuisine. Kashō lets you enjoy seasonal Chinese food infused with the heat and sourness of the full-flavored, aromatic Hunan cuisine, while gazing at the night view from the 15th floor of the Tobu Department Store Ikebukuro. Here, you can eat the sweet and steamy "Purple Sweet Potato Tapioca Coconut". After savoring on a wide array of dishes from specialty restaurants, try eating this tapioca sweet brimming with the taste of Asia.
●Porridge and Noodle Restaurant Kayu-San-Chin: Tapioca Strawberry Milk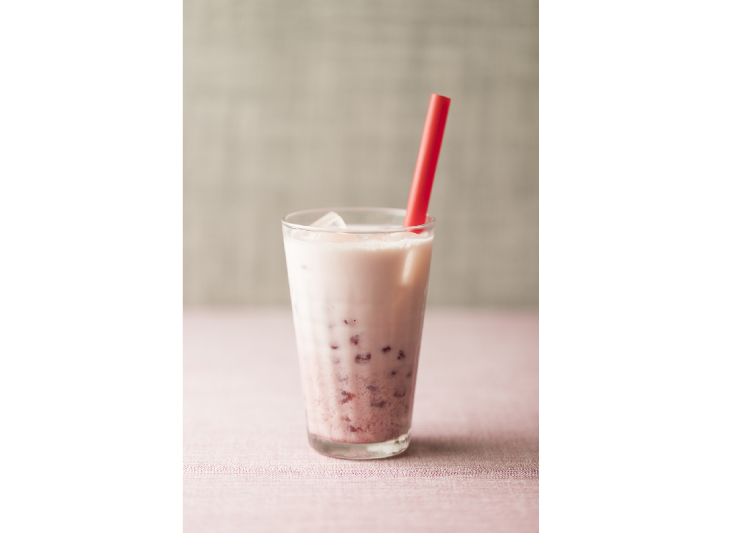 "Tapioca Strawberry Milk" Price: 450 yen
Kayu-San-Chin, a rice porridge restaurant concerned with beauty and health, serves dishes that will relieve you of the day's stress. They have rice porridge that makes use of the ingredients' color and the materials' potential, as well as set meals such as Chinese noodles, rice noodles (phở), and dim sum. They serve round tapioca-filled "Tapioca Strawberry Milk" which can only be bought in Tobu Department Store Ikebukuro for a limited season.
Seibu Shinjuku PePe: Experience Taiwan's Tapioca During Your Trip!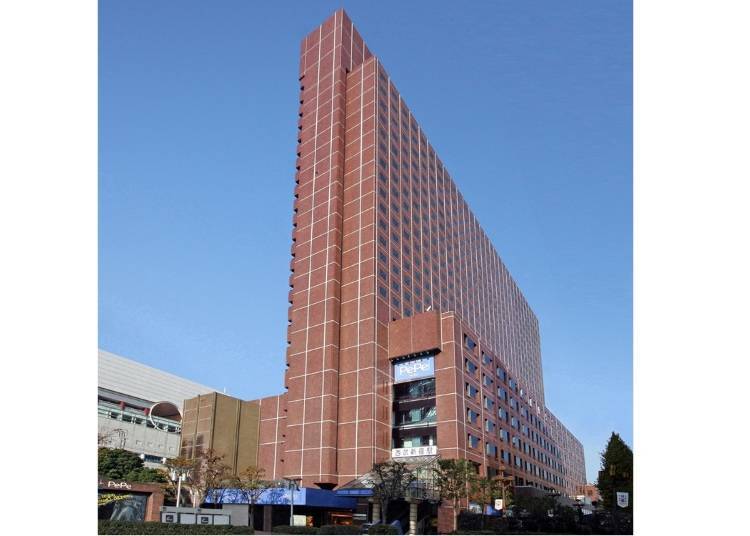 Seibu Shinjuku PePe, which is directly connected to Seibu Shinjuku Station, is a convenient commercial facility which houses all kinds of shops, such as men's and ladies' fashion, goods, furniture, and cafes. You can freely come here while commuting to work or to school, or when you're in the Shinjuku Station while sightseeing in Tōkyō. In Seibu Shinjuku PePe, you will find Taiwanese tapioca stalls.
●Tapioca Store Pearl Lady: Royal Milk Tea and Pearl Milk Tea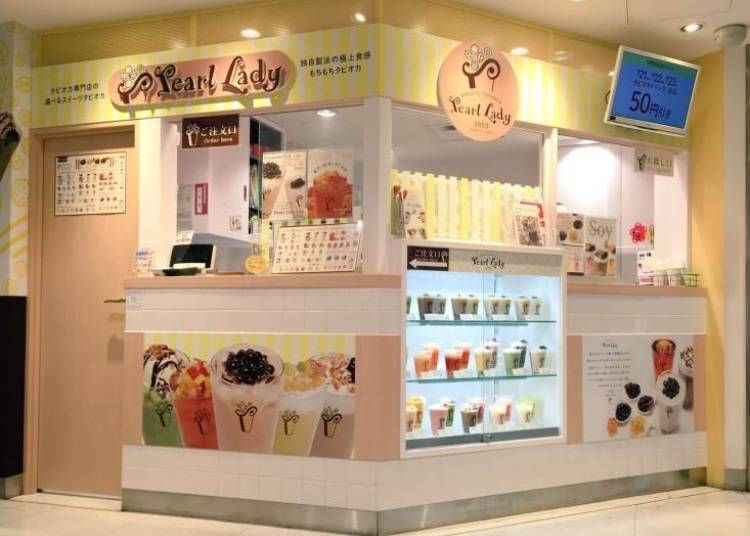 Established in Taiwan, Pearl Lady is a tapioca store which opened in Japan for the first time. Pearl Lady, which produces safe and secure tapioca in their own factory in Japan, offers drinks at a reasonable price. Their drinks are popular among people of all ages—and with locals and foreign visitors alike. You can also have a unique customized tapioca drink which combines the feeling of homemade tapioca and a drink.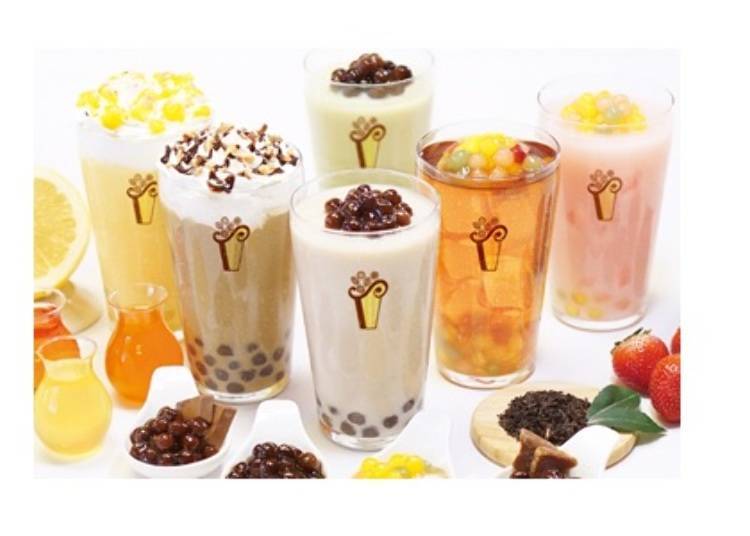 Two of their most popular drinks are the "Royal Milk Tea" at 350 yen, which has a refined taste and uses double the usual amount of black tea leaves, and the "Pearl Milk Tea", an original blend that uses tea leaves and has the sweetness of vanilla. Aside from serving fragrant Taiwanese signature drinks, they also have regular season-limited products allowing you to enjoy different kinds of tapioca.

*This information is from the time of this article's publication.
*Prices and options mentioned are subject to change.
*Unless stated otherwise, all prices include tax.