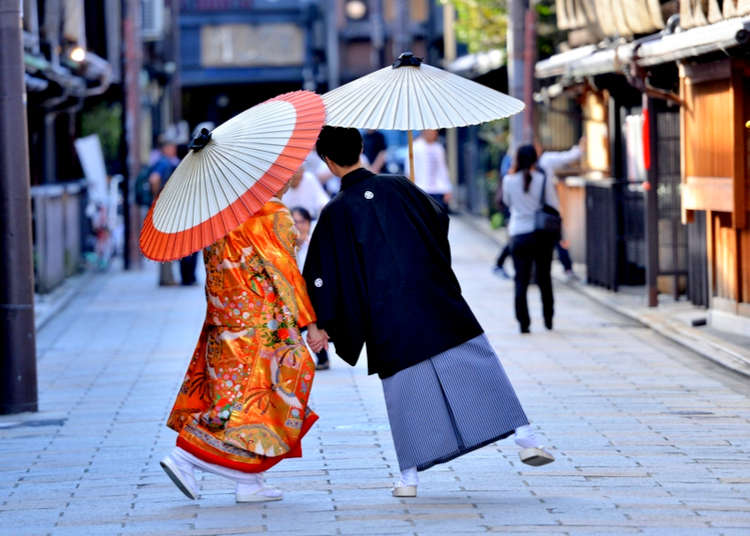 So you've decided to tie the knot and browsing romantic getaways in Japan. After sending the invitations, creating flower arrangements, and choosing the perfect song for your first dance, the next thing on your to-do list is to plan the ultimate romantic honeymoon in Tokyo.

For those not content to simply sit out on a beach, consider a honeymoon in Tokyo. The city appeals to history buffs, foodies, and pop-culture geeks alike.

To help make your honeymoon as perfect as possible, we've gathered our top picks to ensure you find the best time of year and accommodation for your stay in Japan!
Best Time to Honeymoon in Japan
Each season in Japan brings with it its own unique charms. There is no one-size-fits-all approach when deciding what time of year is best for a honeymoon in Tokyo, but by planning the type of experience you would like to have, you can make the most out of your time here.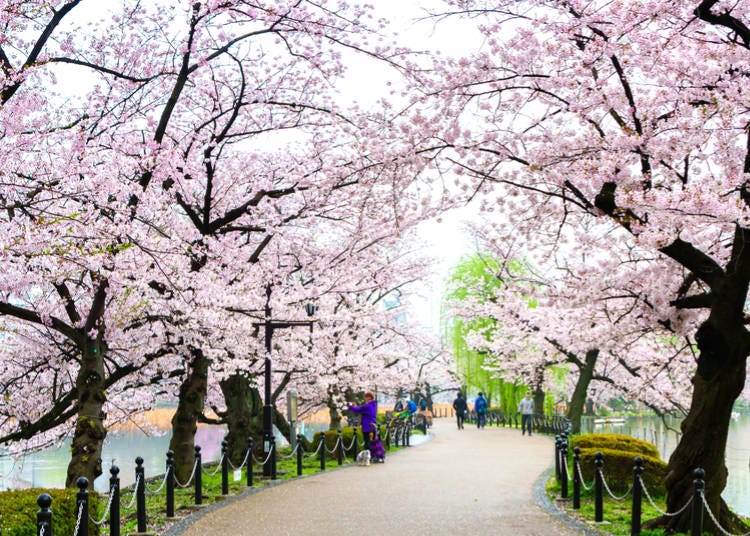 Spring
Famous for its cherry blossoms in late March to early April, spring is perhaps the most beautiful time to visit Tokyo. What could be more romantic than sharing a picnic with your new partner in a park while delicate pink and white blossoms ride through the air on a gentle breeze? If an early morning stroll through Tokyo's parks or a cruise along the sakura-lined Sumida River sounds like an idyllic way to spend a day, spring could be the right time for you.

That being said, there are many people who feel the same way. As Japan's busiest tourist season, even with reservations made well in advance, you will most likely find the amount of available accommodations to be low, and prices to be much higher than average. That's not to say that a trip during this time of year isn't possible or enjoyable, but it will require a bit more preparation and possibly a larger budget.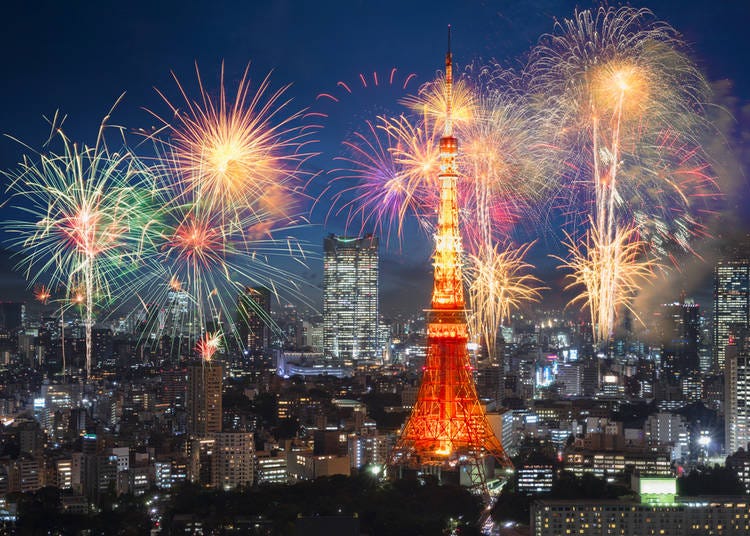 Summer
Summers in Tokyo tend to be incredibly hot and humid. For people accustomed to colder climates, July and August can be downright unbearable. If you're able to tolerate the high temperatures however, your resilience will be rewarded with some of the best events Tokyo has to offer all year.

In Japan, summer is the season of matsuri; large outdoor festivals with dancing, shrines being carried like parade floats, and endless rows of vendors selling tasty street foods. Coupled with Japan's lack of enforced open container laws, it all makes for a party you don't want to miss. Fireworks festivals are also prevalent throughout the summer, including some of the biggest displays seen anywhere in the world. If fun and excitement are your main priorities, summer in Japan is hard to beat.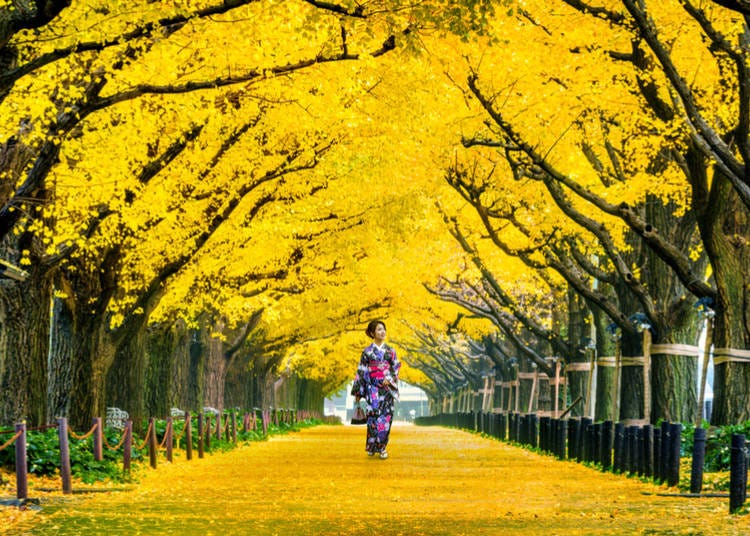 Autumn
Autumn in Japan is perhaps the most temperate time of year. Comfortable sweater weather, beautiful foliage, and delicious seasonal dishes will be the highlights of your trip come late September to early October. Enjoy the colors of fall with an afternoon walk through Yoyogi Park, or a day trip to nearby Nikko; a fairytale-like town set amongst the mountains just a couple hours north of Tokyo. Later, settle into a cozy local restaurant for nabe; a traditional hot pot dish that pairs perfectly with the cool autumn weather.

Autumn in Japan is also the best time of year to experience onsen. These secluded outdoor hot springs are a big part of Japanese culture and the perfect way to relax after a long day of sightseeing. Public onsen are typically separated by gender, but for a more romantic experience, some traditional hotels, known as ryokan, will offer a private onsen connected to your room.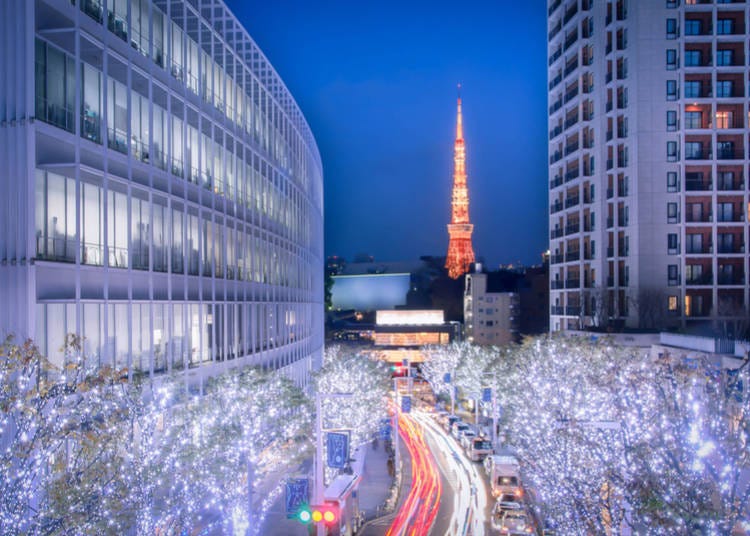 Winter
It's rare for Tokyo to receive more than a dusting of snow, but that doesn't stop the city from embracing winter wonderland decor to the fullest extent. As the holiday season approaches, Tokyo becomes awash in a sea of lights known as Illuminations. These light displays can stretch multiple blocks, and each embraces a different theme; showcasing everything from the solar system, to fairytales, to LED sakura blossoms and more. There's no better way to spend a romantic winter night than walking arm in arm through these glittering electric forests.

If you're in search of something a bit more familiar during your stay, Tokyo offers a selection of Christmas markets throughout the city. Here, you can shop for handmade crafts, enjoy hot food and drinks, and wallow about in all the Christmas carols you're missing from back home. Of course if you'd rather stay out of the cold, do as the locals do and spend a romantic evening at home with some green tea, cuddled up under a heated table known as a kotatsu.
Finding Your Perfect Home Away from Home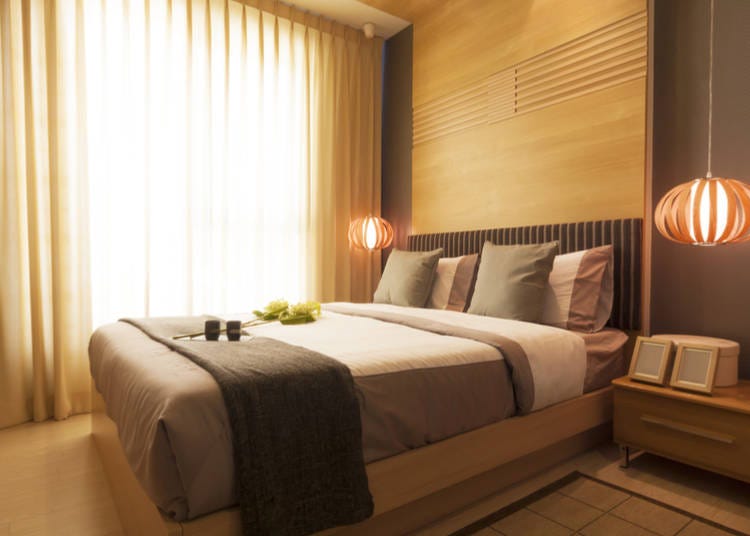 As one of the most visited cities in the world, Tokyo has no shortage of hotels; with a range of options to suit any need. We've gathered some of the best properties that Tokyo has to offer based on what matters most to you!
1. Looking for Something Traditional? Kinnotake Tonosawa Ryokan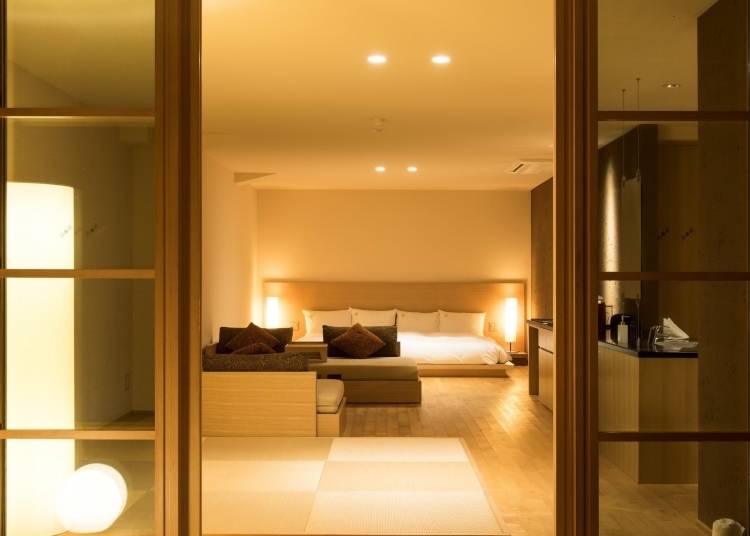 When it comes to quintessential Japanese experiences, staying in a traditional ryokan ranks high on the list. Often found in secluded, off-the-beaten-path locations; ryokan are typically surrounded by nature and will usually feature hot spring baths known as onsen. Depending on the accommodation, you can often dine on traditional Japanese meals while staying here as well.

Given the size and population density of Tokyo, traditional ryokan can be hard to come by, and when you do manage to find one, they are often adapted for city life. In order to experience a true ryokan, you will need to venture outside of downtown Tokyo. At two hours southwest of the city, the picturesque, mountainous town of Hakone may seem a bit far for some, but nature lovers will rejoice over the views.
Kinnotake Tonosawa Ryokan is conveniently located just a few minutes from the bus station that connects Tokyo to Hakone, and has everything you could possibly desire to find complete zen during your honeymoon in Tokyo.

In addition to experiencing ultimate relaxation at the ryokan itself, the surrounding area is excellent for sightseeing, including a cable car ropeway that offers stunning views of the foliage in autumn. On clear days, it's easy to spot Mount Fuji in the distance as well! When not out exploring Hakone, sit back and relax in your own private outdoor hot spring attached to your room. What better way to enjoy the serenity of a romantic getaway in Japan than by lounging in a hot bath nestled amongst bamboo trees?

Recommendations from the Staff
Guests visiting for their honeymoon in Tokyo will find their room specially decorated by the staff to commemorate the occasion. After dinner, you can enjoy a unique dessert called mizumono. This carefully prepared dish uses local ingredients to incorporate the tastes and aesthetics of the season.
金乃竹 塔ノ沢

Address

250-0315 Kanagawa Hakone Tonosawa 191 Japan

Nearest Station

Odawara Station (JR/Odakyu). Access: Go out the east exit and take the T bus (departing from stand #4) bound for Togendai, or the H bus (departing from stand #3) bound for Hakone-machi. Get off at the Deyama bus stop. (Approx. 25 minutes; 470 yen per person.)


Phone Number

046-085-9200

Website - https://www.kinnotaketonosawa.com/

Vacancy search, reservation

Please enquire directly about rates.

Check with our partner site as the latest rates, rate details, and guest room requirements may vary.
2. Thinking Old School Tokyo with a Modern Twist? Asakusa View Hotel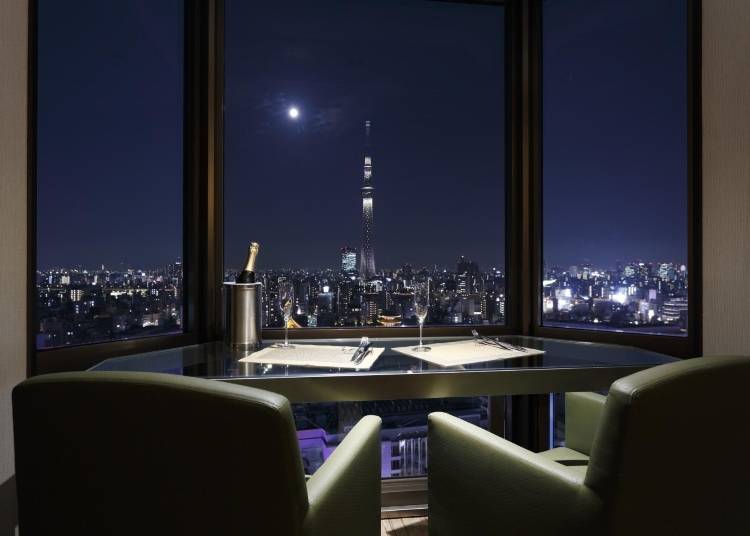 Sure, Tokyo is often pictured in all its futuristic glory; dripping in neon lights and high-tech gadgets, but what visitors don't often realize is that Tokyo has done an incredible job of preserving its history as well. Here, the Tokyo of yesterday and tomorrow exist side by side, allowing you to seamlessly travel through time as you explore all that the city has to offer. For those who want to experience the best of both worlds, the Asakusa View Hotel is an excellent choice in the center of it all.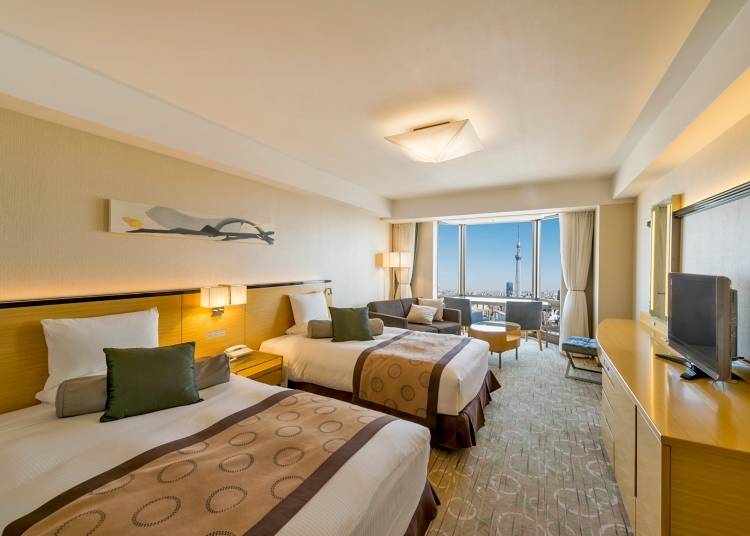 Located just 5 minutes on foot from Tokyo's oldest temple; Senso-ji, and 5 minutes by train from the hub of anime and electronics; Akihabara, the Asakusa View Hotel serves as the perfect balancing point to experience both old and new. While here, you will be within easy access of some of the top tourist spots in the city including the Tokyo Skytree, Imperial Palace, and for those looking to experience the Tokyo nightlife, Shinjuku's Kabukicho. Add in its impressive selection of restaurants and breathtaking skyline views and you have the perfect all-around accommodation to enjoy your honeymoon in Tokyo.
Recommendations from the Staff
Be sure to notify the staff ahead of time that you are visiting for your honeymoon in Tokyo and you will find your bed decorated with flower petals upon your arrival. For the perfect romantic activity during your stay, consider taking a guided rickshaw tour of Asakusa and the surrounding area. To really get in the mood of things, you can even rent kimonos to wear during your tour!
浅草ビューホテル

Address

111-8765, 3-17-1 Nishiasakusa Taito Tokyo-to, Japan

Nearest Station

Asakusa Station (Asakusa Line, Ginza Line). Access: Approximately 10 minutes northwest of the station exit on foot.


Phone Number

03-3847-1111

Website - https://www.viewhotels.co.jp/asakusa/

Vacancy search, reservation

from

12,036JPY

1room, 2adults

Check with our partner site as the latest rates, rate details, and guest room requirements may vary.
3. Feeling Outdoorsy? Fujino Kirameki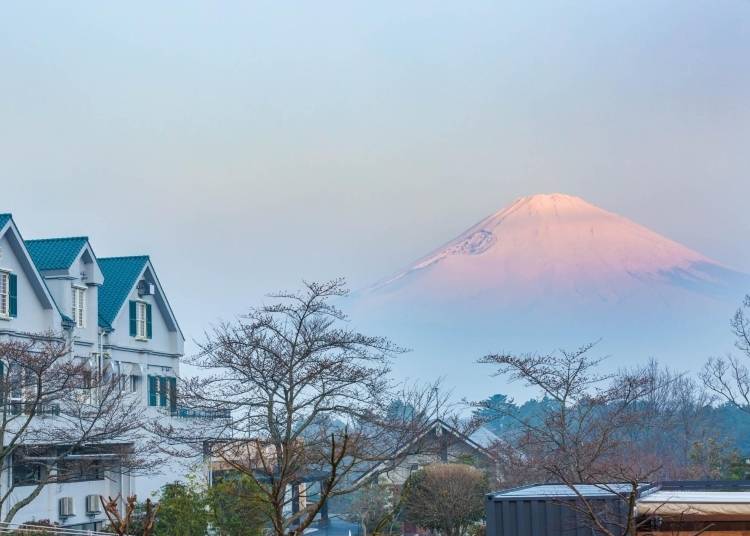 Downtown Tokyo is the place to be for lively entertainment, but when it comes time to relax, a change of scenery could be just what you need. If you and your partner enjoy the idea of stargazing and having incredible views of Mt. Fuji while still being close enough for day trips to Tokyo, then Fujino Kirameki is the place for you. Described as a 'glamping ground', here you can experience the natural serenity of camping combined with the comfort you would expect of a romantic getaway in Japan.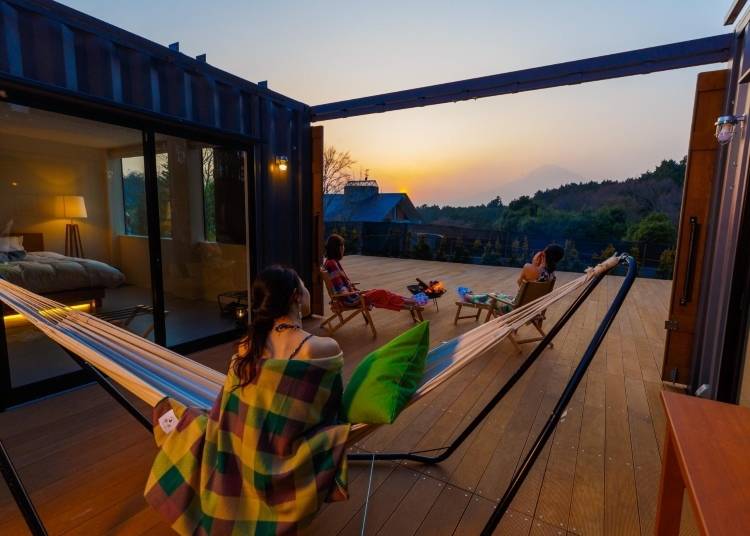 These luxurious cabins include romantic fireplaces, outdoor hot tubs, and private decks with retractable roofs so that you can enjoy the great outdoors in all weather conditions. When it comes time to eat, you have the choice of having fully chef-prepared meals sent to your cabin, or simply the prepared ingredients for you to cook on your own outdoor gas grill.
During the day, there are a number of activities to choose from, including candle-making, horseback riding, paddleboarding, and more. Best of all, on days when you want to experience more city life, you are only an hour and a half away from downtown Tokyo by public transportation.

Recommendations from the Staff
If you'd like to surprise your partner with an extra romantic touch upon your arrival, arrangements can be made to decorate your cabin with an elegant bouquet of flowers prepared by the Fujino Kirameki staff. Those looking to explore the natural beauty of the area may also enjoy a guided boat tour on nearby Lake Ashi.
Fujino Kirameki Fuji Gotemba

藤乃煌 富士御殿場

Address

3373-25 Higashitanaka, Gotemba-shi, Shizuoka-ken 412-0026

Nearest Station

Highway Bus Station Gotemba. Access: If arranged beforehand, Fujino Kirameki staff will pick you in their vintage microbus and transport you to the campground.


Phone Number

0550-75-9111

Website - https://www.fu-ji-no.jp/kirameki/

Vacancy search, reservation

from

67,100JPY

1room, 2adults

Check with our partner site as the latest rates, rate details, and guest room requirements may vary.
4. In the Mood for Beachfront Views? Kamakura Prince Hotel
Tokyo is truly a city where you can have it all. While most widely known for its glittering cityscape and unique kawaii charm, it's worth noting that there are gorgeous beaches to be found in the greater Tokyo area as well. If you are planning a summer honeymoon in Tokyo and want to soak up some sun during your stay in Japan, Kamakura Prince Hotel has everything you could ask for and more.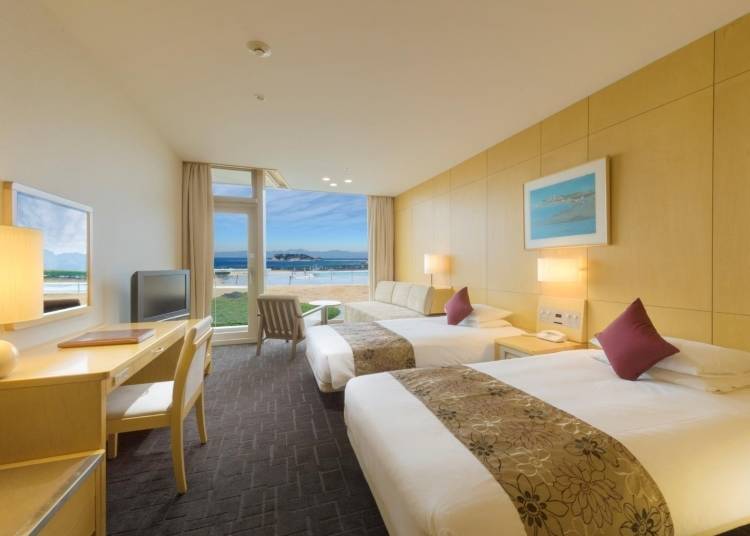 Located just around an hour south of Tokyo, Kamakura is a seaside city famous for its numerous Buddhist temples, fresh seafood, and the towering island shrine known as Enoshima. Kamakura Prince Hotel is centrally located along the coast to put you within easy access of everything the area has to offer.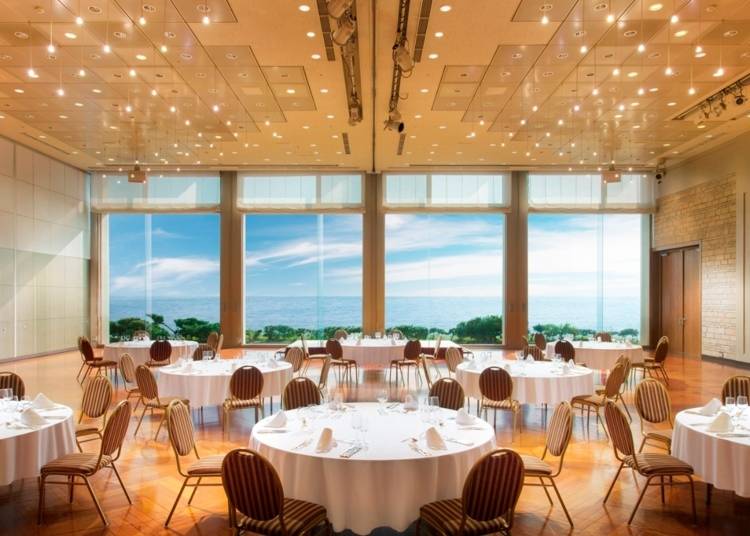 Enjoy breakfast at their on-site French restaurant, Le Trianon, followed by an afternoon of sightseeing and an evening walk along the beach under the stars. Or, if total relaxation is the goal, a day of lounging on the beach is just a five minute stroll away from the hotel grounds.

Recommendations from the Staff
Kamakura Prince Hotel has everything you need to make your honeymoon in Tokyo as memorable as possible. During the day, photographers are available for on-location photo shoots to capture all of the special memories as you explore the beach and surrounding temples. At night, couples can enjoy Le Trianon's anniversary course; featuring foie gras, filets, and locally-caught shrimp.
鎌倉プリンスホテル

Address

1-2-18 Shichirigahama-higashi, Kamakura, Kanagawa, 248-0025 Japan

Nearest Station

Shichirigahama Station (Enoshima Dentetsu Line). Access: Approximately 8 minutes east of the station exit on foot.


Phone Number

0467-32-1111

Website - http://www.princehotels.com/kamakura/

Vacancy search, reservation

from

20,228JPY

1room, 2adults

Check with our partner site as the latest rates, rate details, and guest room requirements may vary.
5. Want to live it up in the lap of luxury? Hotel Chinzanso Tokyo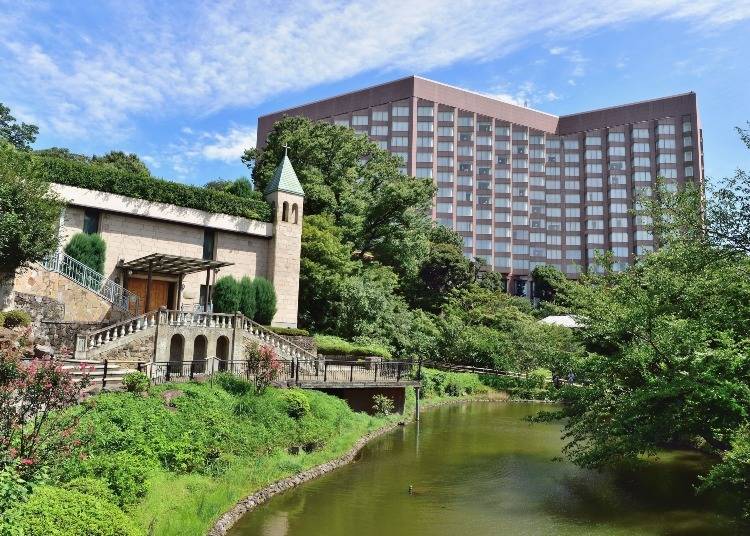 Your honeymoon is a special occasion after all, so why not spoil yourselves? Located in the center of a sprawling garden in downtown Tokyo, Hotel Chinzanso Tokyo is a honeymoon destination unlike any other. From the moment you enter the grounds and the sounds of the city are replaced with those of chirping birds and flowing water, it is immediately apparent that you are in for a once in a lifetime experience during your stay.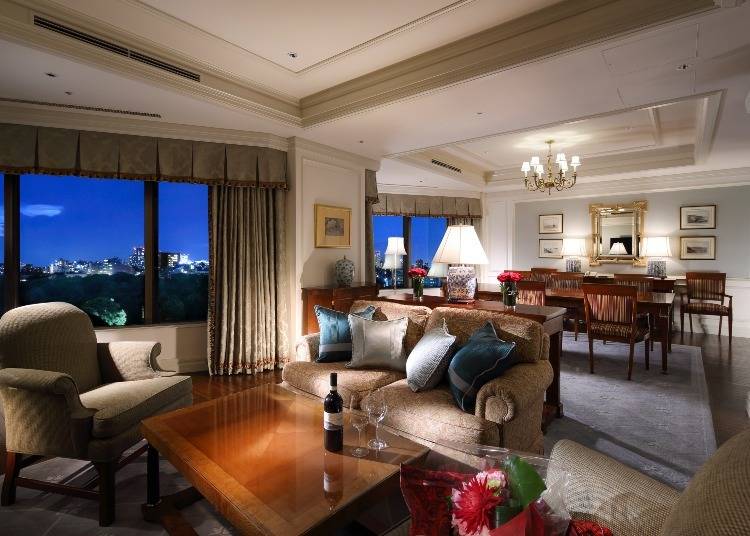 Those looking to immerse themselves in Japanese culture can arrange for an expert from the Hakubi Kyoto Kimono Institute to fit you for a kimono from the comfort of your own room. Once dressed, visit the garden's traditional tea houses to take part in a tea ceremony with a trained tea master. Afterward, enjoy a guided tour through the garden and learn about its 700-year history.

If relaxation is the focus, Hotel Chinzanso's spa is ready to help you leave the stress of your daily life behind. Offering everything from full-body aromatherapy massages to personalized routines from private trainers; any tension will soon be a thing of the past.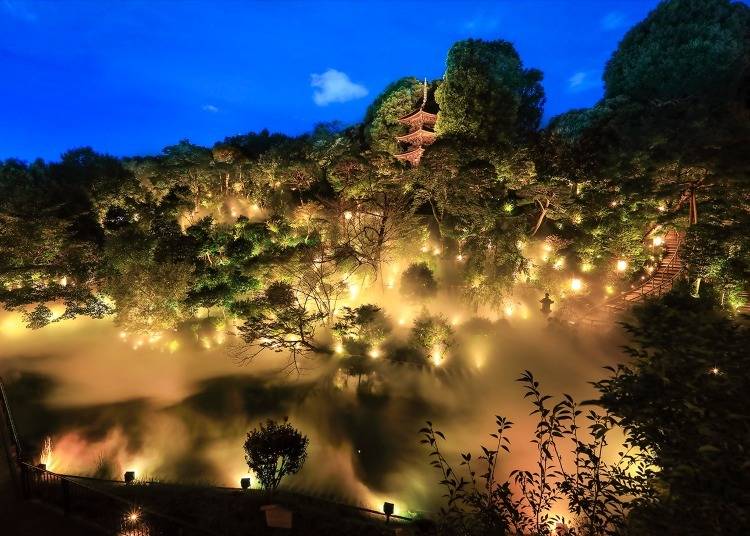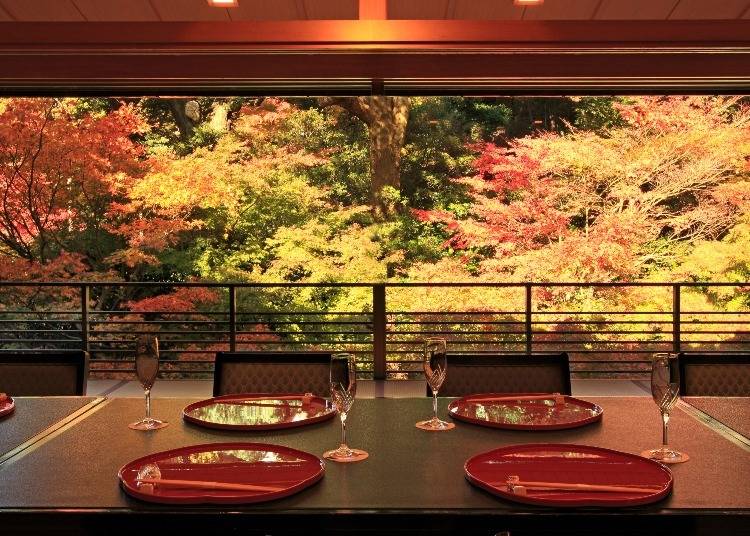 After working up an appetite from a hard day of relaxing, choose from one of the hotel's nine restaurants to indulge your appetite. Here, you can find everything from classic Japanese dishes prepared over lava rocks from Mount Fuji, to freshly-made Italian pasta with views overlooking the garden and distant city skyline.
Address

Bunkyo-ku, Sekiguchi 2-10-8, Tokyo-to, 112-8680
View Map

Nearest Station

Edogawabashi Station (Tokyo Metro Yurakucho Line)
17 minutes on foot


Vacancy search, reservation

from

40,000JPY

1room, 2adults

Check with our partner site as the latest rates, rate details, and guest room requirements may vary.
Enjoy romantic getaways in Japan!
No matter where you decide to stay in Tokyo, you are sure to enjoy your visit to this amazing city. By matching your interests with our recommendations above, you'll be one step closer to having the honeymoon in Tokyo of your dreams!
Written by: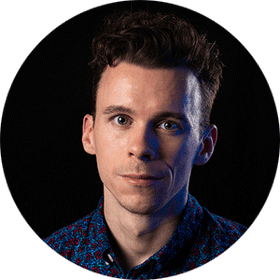 *This information is from the time of this article's publication.
*Prices and options mentioned are subject to change.
*Unless stated otherwise, all prices include tax.