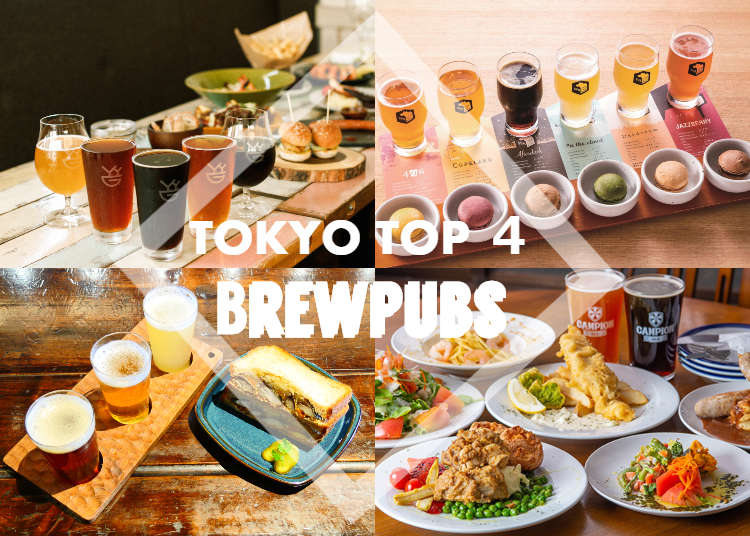 The craft beer brewing trend finally landed in Japan a few years back when Japanese brewmasters began experimenting, and as the Japanese do, perfecting yet another indulgence to excite our taste buds.

Nowadays, classic Japanese drafts (or "nama") of Asahi, Sapporo, Kirin, and Ebisu, are accompanied on brewpub rosters, by a staggering and multivariate cast of local and international alcoholic creations. The irrepressible ingenuity of Japanese sake brewing and cocktail crafting and has spilled over into the world of beer, and Tokyo breweries have jumped in on the action.

With more new Tokyo craft beer breweries springing into existence than ever before, you can indulge in all sorts of beer flights from IPAs to Stouts, and uniquely Japanese seasonal infusions that showcase traditional flavors like yuzu and sakura (cherry blossom).

Here are a few of Live Japan's top Tokyo craft beer bar picks.
1. Spring Valley Brewery (Daikanyama)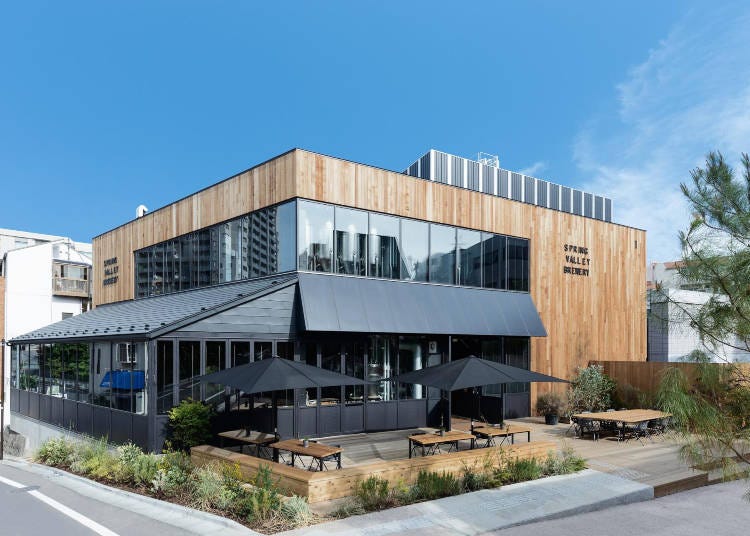 Located at the entrance to a beautiful, wooded complex on Log Road in Daikanyama, is the Spring Valley Brewery. The "SVB" company was initially founded in Yokohama by America, William Copeland, back in 1870; thus making it the first commercially successful brewery in Japan.

After paling into relative insignificance, the company was reinvented in 2012; the creative brainchild of local beer powerhouse, Kirin. Now the Spring Valley Brewery is back at the top of the beer brewing scene, and is particularly renowned for its colorful beer flight tasting selection, showcasing the company's signature brews: After Dark, Jazzberry, Copeland, On the Cloud, 496, Daydream.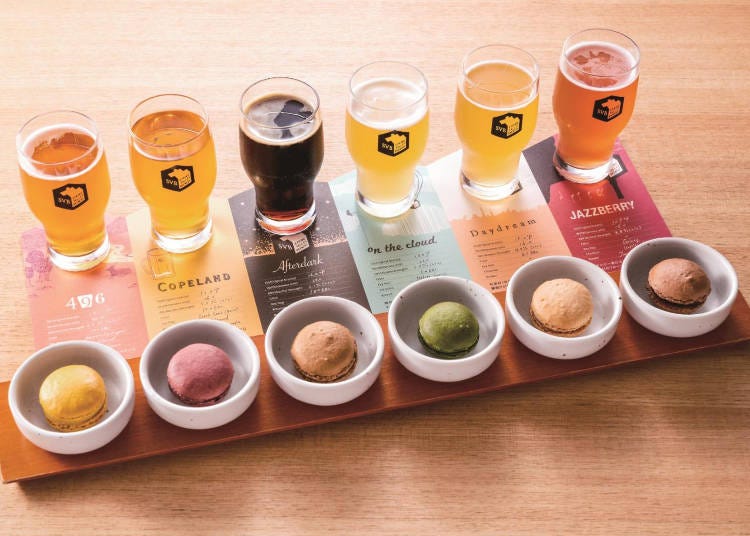 The Tokyo craft beer brewery also features an in-house kitchen that whips up breakfast, lunch and dinner bites, or if you're feeling a little more frivolous, a full course menu.

The culinary options range from slabs of rich red meat to pizzas, pasta dishes, and western-inspired salads (including vogue superfoods, like kale and continental European cheeses, like feta). Each dish on offer comes with a recommended alcoholic pairing, from their choice of playfully named beverages.

Spring Valley Brewery is—excuse the pun—a super-hot commodity in the summer months, thanks to the large outdoor seating area and top-notch refreshments. It also benefits from being located in the Daikanyama area, one of downtown Tokyo's most cosmopolitan and increasingly alluring neighborhoods.
Spring Valley Brewery Tokyo

スプリングバレーブルワリー東京

Address

〒150-0034 Tokyo, Shibuya City, Daikanyamacho, 13−1, Log Road Daikanyama

Phone Number

03-6416-4960
2. Asakusa Beer Kobo (Asakusa)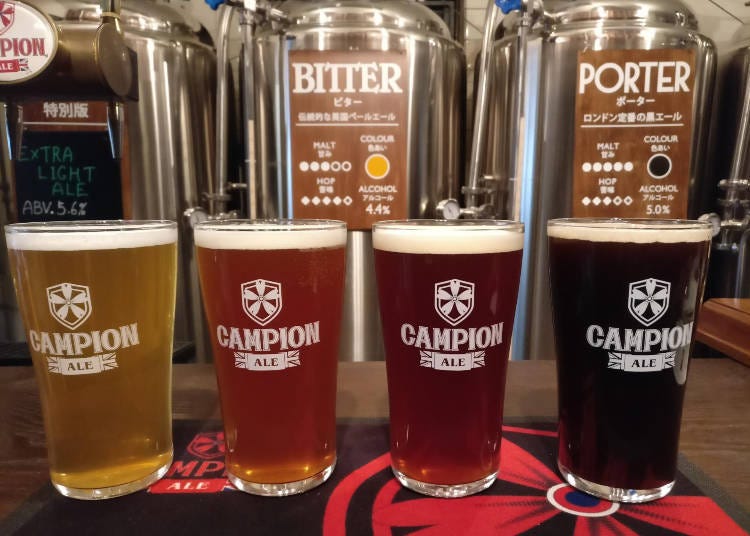 Asakusa Beer Kobo (formerly Campion Ale) is the eponymous brewpub creation of British Tokyoite, James Campion. The atmosphere is undoubtedly reminiscent of a British pub (in itself, not something that you will struggle to find in Tokyo).

Where Asakusa Beer Kobo really excels however, is in its authenticity: drinks are even sold in "UK pints". It's evidently not a mere Japanese reimagining of a British pub, but a bona fide British bar that has somehow managed to find itself in the backstreets of Asakusa.

Located in the old shitamachi area, Asakusa Beer Kobo's on-site brewery has really helped to propel the bar into the higher echelons of east Tokyo drinking dens. The brewery specializes in numerous British-inspired ales with carefully dialed in recipes, featuring porters, stouts and bitters.

The Tokyo craft beers on tap vary from day to day, which can be checked on Asakusa Beer Kobo's website. Alongside reasonably priced pints, the pub offers classic pub grub, including fish and chips and bangers and mash.

Original brew taster flights are also available, and a nomihodai (2 hours of all-you-can-drink) option goes for only 2,800 yen!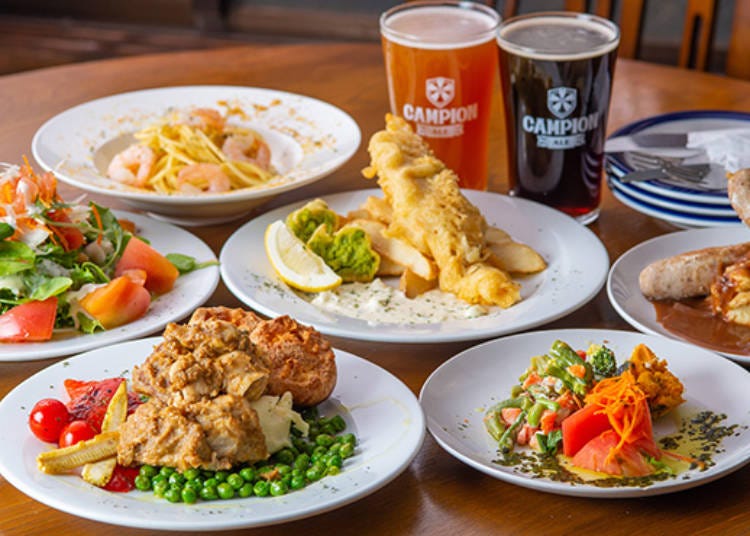 A word from the owner:
"Hi, I am James, owner of Campion Ale. I started Campion Ale in 2013 to brew traditional English beer right in the heart of the traditional 'downtown' Tokyo. It is a pleasure to meet customers, both local and visitors, who can see the whole brewery and large serving tanks right behind the bar. We have a range of beers, other drinks and food available in a relaxed pub atmosphere. There is no table charge and no smoking inside the pub. All welcome for a quick drink or a relaxed session!"
浅草ビール工房

Address

2 Chome-2-2 Nishiasakusa, Taito City, Tokyo 111-0035

Phone Number

03-6231-6554
3. Hitachino Nest Tokyo (Manseibashi)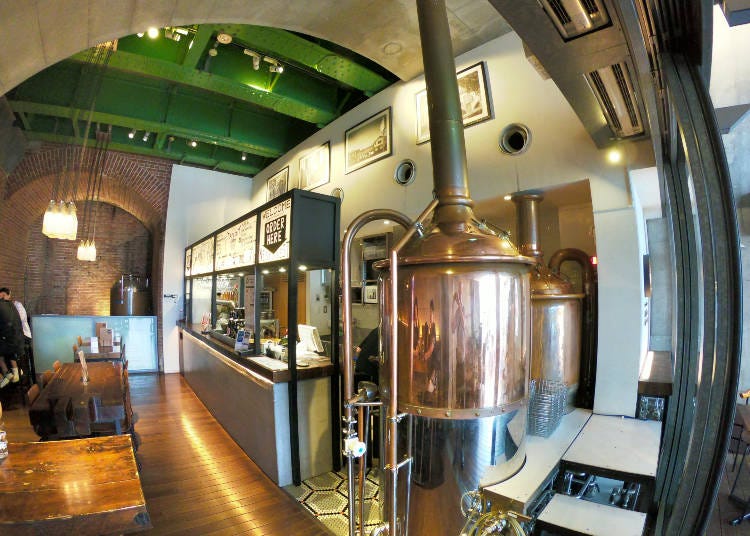 Hitachino Nest Beer, which is instantly recognizable thanks to its chubby, red owl logo, comes from 8th generation, family-run sake brewer, Kiuchi Brewery.

While the two crafting methods offer many a stark contrast, Kiuchi have implemented all the translatable skills from sake brewing to Tokyo craft beer conjuration, adding something special and innovative to the domestic—and subsequently international—beer scene.

As you may expect, Hitachino beers contain subtle taste hints from their traditional Japanese brewing passions, hiding amongst the bolder flavors. The company's beers have been around since 1996—long before the recent craft beer boom—and have been so to international acclaim.

They have won a slew of local and international awards and competitions for their home-brewed creations, going as far back as 1997. Though like many Japanese artisans, they are still constantly striving for perfection and in-house innovation.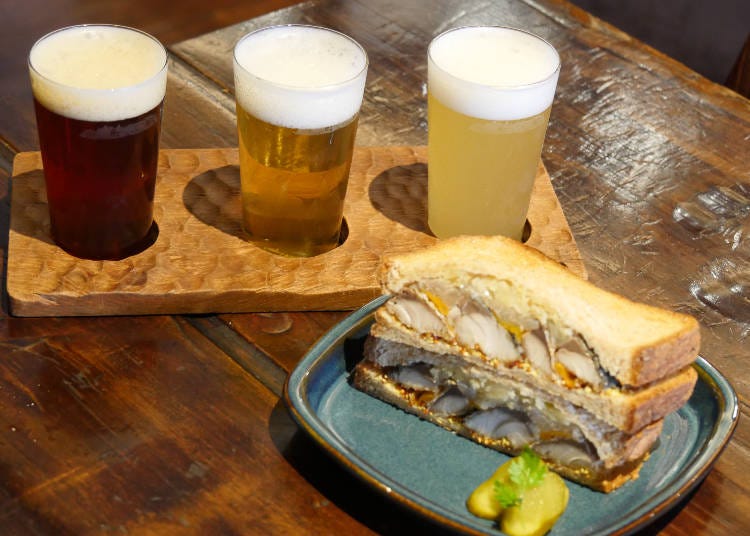 With its origins in Ibaraki, multiple locations can be found in the prefecture (which sits just to the northeast of Tokyo). However, you can get a taste of Hitachino Nest's beers in the capital too. The Hitachino Nest bar in mAAch ecute KANDA MANSEIBASHI, is on the doorstep of Tokyo's electric town Akihabara—you can enjoy a beer on the outdoor terrace in sight of Akihabara's rainbow-draped main street, Chuo Dori.

Inside the Tokyo craft beer bar has a more classic brewpub design: brick walls; stainless steel beer brewing vats stationed in the corners; a wall of shelves, showcasing the selection of ingredients used to create their distinct flavors; furniture with a homely, dark wooden finish. It's charming and rich in character; a stark contrast to its hectic surroundings.

The beer selection is one to match, with a weekly-changing flight option of three classic Hitachino beers (featuring the White Ale, the classic Amber Ale and their flagship lager in the picture above), plus a selection of in-house bottled beers and drafts.
常陸野ブルーイング・ラボ

Address

〒101-0041 Tōkyō-to, Chiyoda City, Kanda Sudachō, 1-chōme−25-4, mAAch ecute KANDA MANSEIBASHI N1

Phone Number

03-3254-3434
4. Y.Y.G. Brewery & Beer Kitchen (Shinjuku)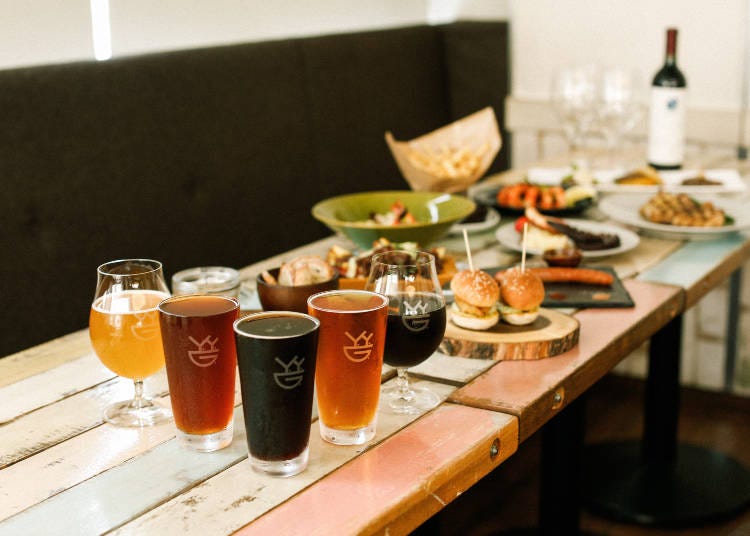 The high-rise buildings, flashing lights, huge LED screens and cacophonous noise of Shinjuku are the embodiment of Tokyo by night.

The district's cavernous, neon-splashed walkways can be a little overwhelming to navigate. But if you avoid the tourist traps, there are plenty of places to enjoy the electric evening cityscape from the comfort of local treasures.

One such example is Y.Y.G. Brewery. The bar, residing on the 7th floor of a nondescript, sky-scraping tower, is wrapped in a procession of large windows, offering concrete vistas of the surrounding neighborhood, dressed in myriad hues of artificial light.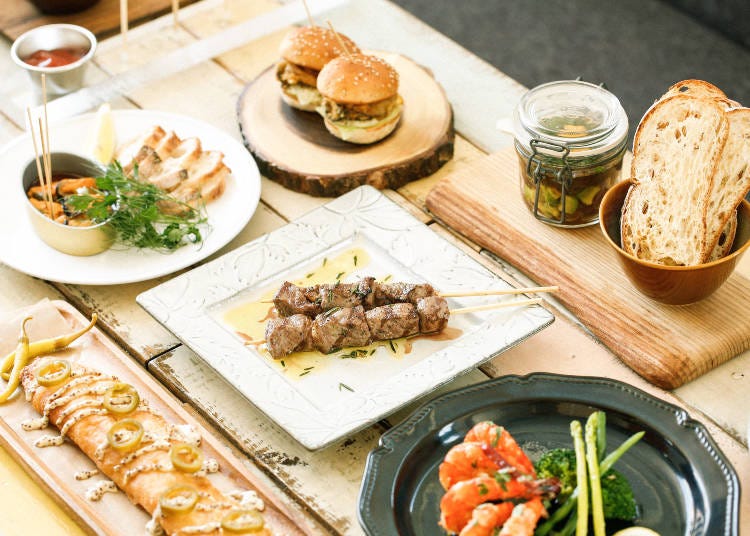 Inside, Y.Y.G's atmosphere is a little more calming. The menu features casual American-French cuisine to go with its impressive beer list of over 20 choices. Many are Y.Y.G. originals with names that are as creative as their flavor infusions: Shibuya IPA El dorado Rakau, Mana'o'Lana Honey Beer, Coconut Walker.

Others are Y.Y.G. collaborations with acclaimed international brewers, such as Funkwerks of Colorado, USA. Guest beers are sought from closer to home as well, with rotations including brews from Hokkaido to Okinawa. Shoot on over to their website to check what they've currently got on tap.

The food menu at Y.Y.G also showcases a surprising amount of depth and serious culinary proficiency. The options are generally inventive recreations of pub bites like jalapeño poppers, patatas bravas (French fries), and deep-fried mushrooms, but also involve more delicate salad, vegetable and seafood dishes. Of course, the food comes with recommended beer pairings.
Y.Y.G. Brewery & Beer Kitchen

ワイワイジーブルワリー&ビアキッチン

Address

2 Chome-18-3 Yoyogi, Shibuya City, Tokyo 151-0053

Phone Number

03-6276-5550
Written by: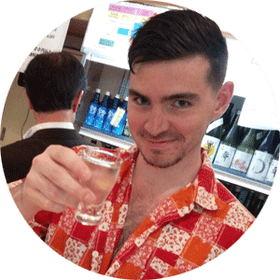 Written by: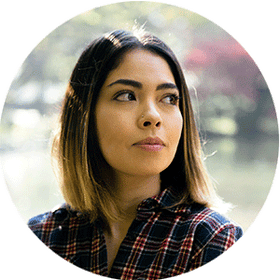 *This information is from the time of this article's publication.
*Prices and options mentioned are subject to change.
*Unless stated otherwise, all prices include tax.