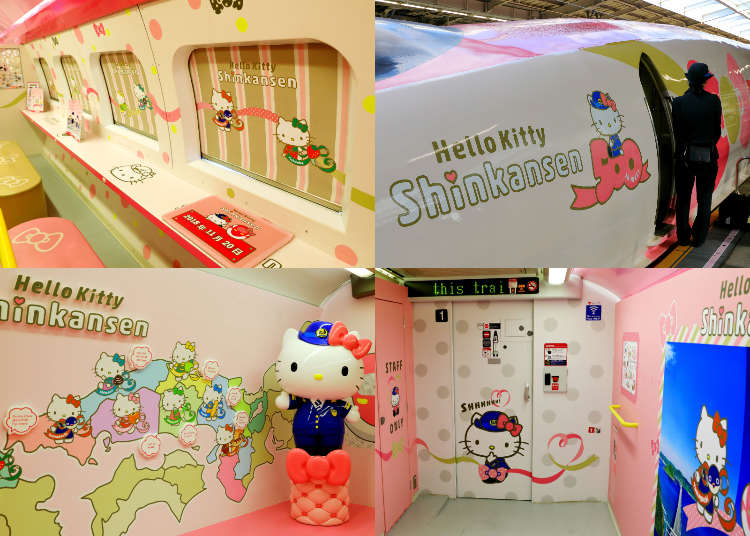 Japan is both known for cutting-edge technology and its colorful pop culture. Two prime examples of that are the Shinkansen bullet train and Hello Kitty, one of the most adorable icons Japan has to offer. Now, the ultra-fast train and the girl from England teamed up for an amazing collaboration! Following the ridiculously popular Neon Genesis Evangelion, board the sugary sweet Hello Kitty Shinkansen that starts its journey on June 30 between Shin-Osaka and Hakata!
Japan's World-Class Bullet Train
Japan's very first bullet train was the Tokaido Shinkansen in 1964. It connected Tokyo to Shin-Osaka in merely 4 hours and greatly contributed to the development of the entire country. Little by little, more bullet train routes followed, and as of June 2018, there are nine routes throughout Japan. To hop on such a bullet train, you need a special shinkansen ticket on top of the regular train ticket, but you'll get to your destination much faster than with a regular train. The Shinkansen technology was even exported to countries all around the world!
What's the Hello Kitty Shinkansen?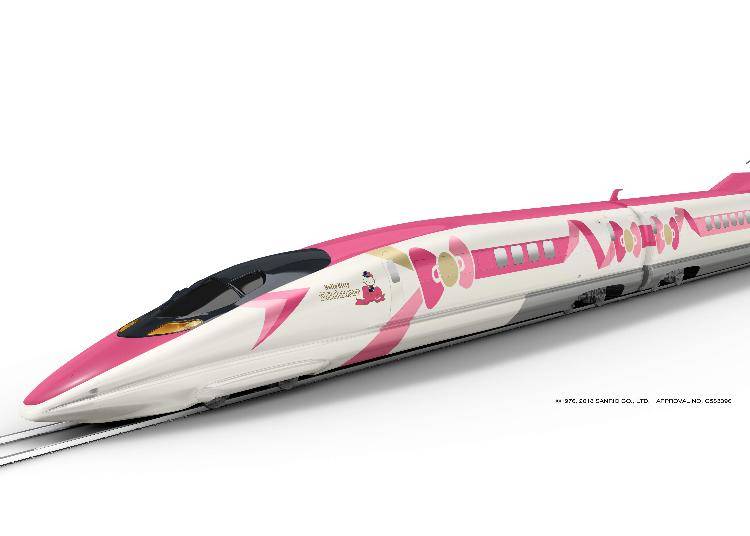 The story of the Hello Kitty Shinkansen begins with a dream that Hello Kitty had. In her dream, a large ribbon asked her one particular thing: "I want you to help connecting a lot of people with each other." After she woke up, she put on a uniform, grabbed her ribbon, and made her way to the station. As she was standing on the platform, a white bullet train with a large pink ribbon all around its body appeared! Hello Kitty got on board, filled with the desire to bring all sorts of people together and a smile to their faces. Thus, she set out on a journey through Japan to make everyone happy and showcase the charms of the country's different area. That was the birth of the Hello Kitty Shinkansen!
Hello Kitty's Highlights #1: Discover Regional Charms in Car No. 1 and the "Hello! Plaza"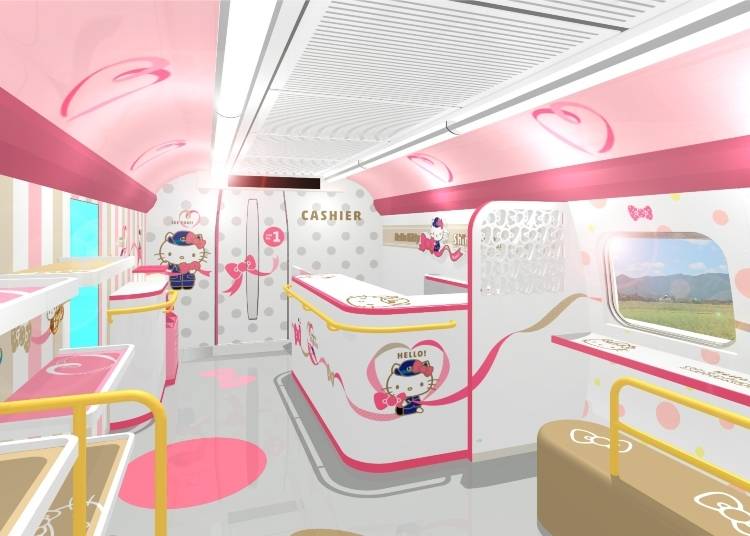 Car No. 1 (towards Car No. 2)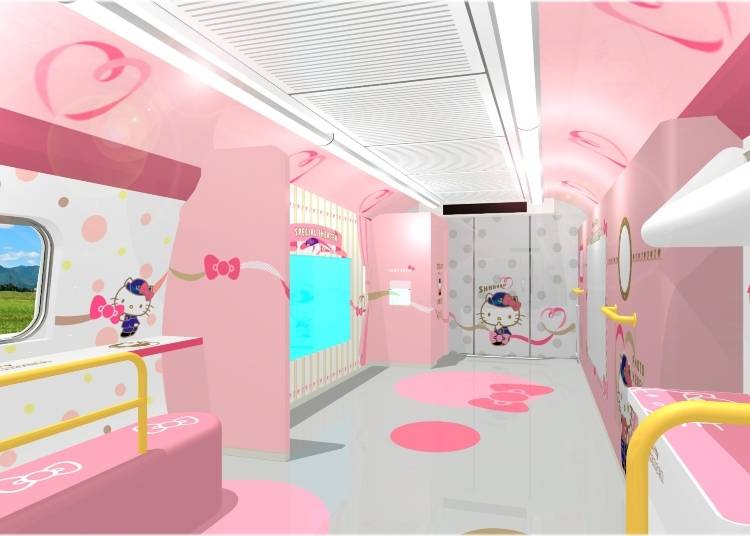 Car No. 1 (towards the conductor's seat)
The outside of all eight cars is adorned with a white and pink design, but two cars also feature special interior design. Car No. 1 features the "Hello! Plaza" that showcases each region of West Japan for a limited time. An exhibition section boasts different checkpoints, shops sell various regional goods and specialties, a break space invites to admire the scenery outside, and a video corner further showcases the unique charms of West Japan. Until September, Tottori and Shimane Prefecture are the stars of the show, followed by other areas.
Hello Kitty's Highlights #2: Having Fun in the "Kawaii! Room" of Car No. 2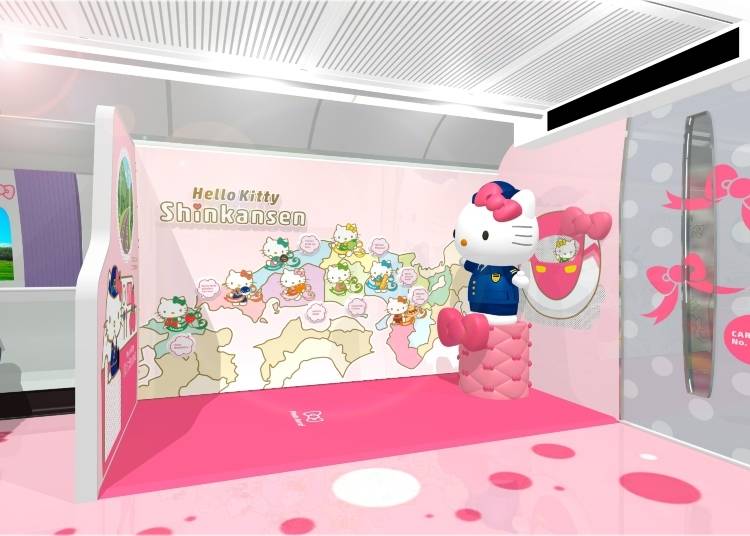 Car No. 2's photo spot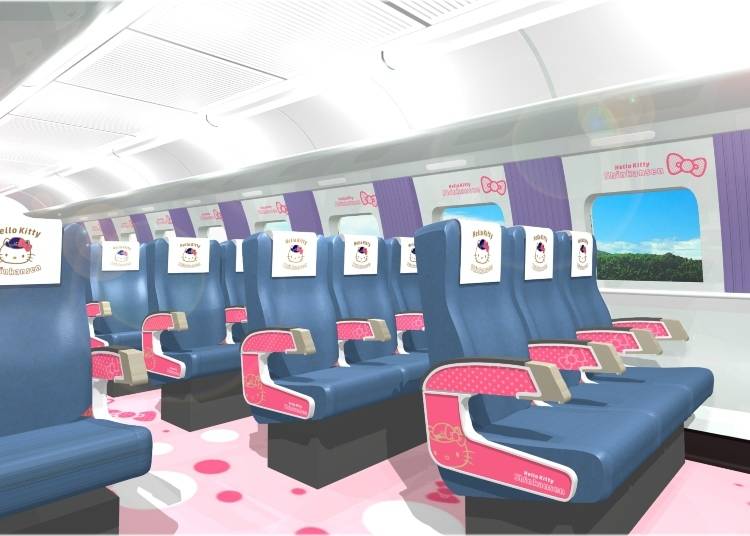 Car No. 2 (Unreserved seats)
Car No. 2 is the "Kawaii! Room," designed by Hello Kitty herself. Both the floor and the seats are kitty-colored, sure to bring a smile to your face as you enter. The car even features a photo spot where you can take a commemorative picture with Hello Kitty herself, dressed as a tour guide. She's hidden all over the car, so looking for signs of the famous icon is a great pastime as well!
Hello Kitty's Highlights #3: Meet the Original Hello Kitty!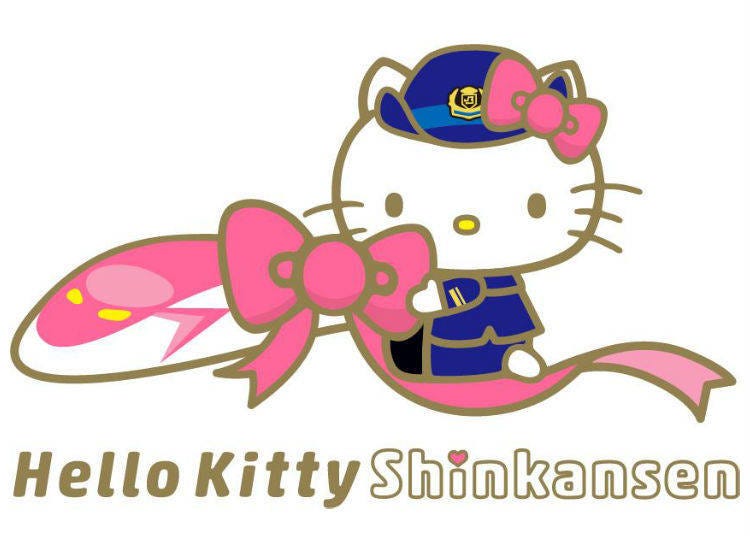 Hello Kitty in her snazzy uniform will be the guide during your journey. There are various activities in various areas tied to the Hello Kitty Shinkansen project. On top of that, you can meet Hello Kitty in eight different prefectures from Osaka to Fukuoka, each of them boasting her own design in themed colors. A lot of those costumes even feature a regional product or specialty! The commemorative photo spot in Car No. 2 is just one of the examples where you can encounter Hello Kitty.
How to Ride on the Hello Kitty Shinkansen: Spontaneous Tickets are A-Ok!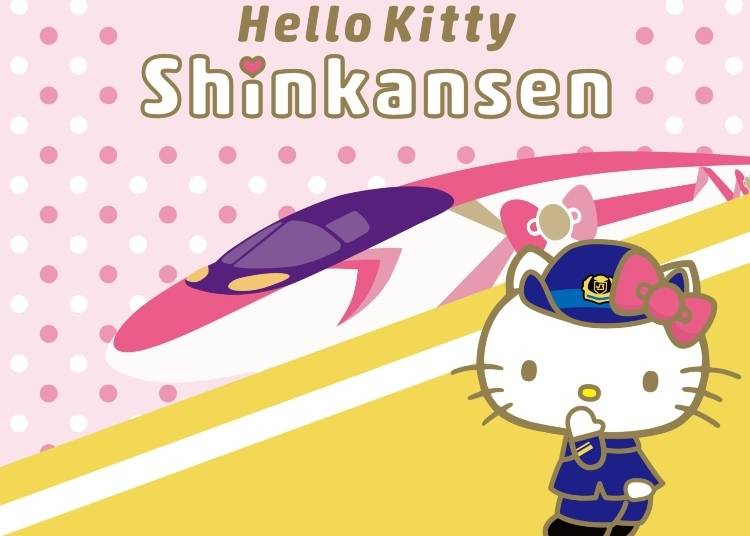 The Hello Kitty Shinkansen will make its debut on June 30 to make round-trips between Shin-Osaka Station and Hakata Station. Shinkansen "Kodama No. 730" departs at Hakata at 6:40 a.m. while "Kodama No. 741" departs at Shin-Osaka at 11:29 a.m. It is scheduled to run almost daily until September, with the exception of about three inspection days. To ride the Hello Kitty Shinkansen, you need a regular ticket as well as a shinkansen ticket. There are both free and designated seats, so even if you decide to hop on spontaneously, that's absolutely not a problem! The Kawaii! Room is the car with free seats and the Hello! Plaza in Car No. 1 can be explored freely, so don't hold back. Shinkansen tickets can be bought online, at vending machines, at "Midori no Madoguchi" (Green Window) offices, and so on. The train schedule and fee are as follows. (The train stops at all stations between Hakata and Shin-Osaka. We only listed the major ones, however.)
Kodama No. 730
Hakata

6:40
Shin-Shimonoseki

7:11
Shin-Yamaguchi

7:31
8:13
9:57
10:39
11:13
Kodama No. 741
11:29
12:03
12:32
13:55
Shin-Yamaguchi

14:39
Shin-Shimonoseki

15:12
Hakata

15:38
* Kodama No. 730 and 741 are regular trains that operate daily.
* Please note that the vehicles may change spontaneously depending on operation conditions, etc.

Fare (between Shin-Osaka and Hakata)
Reserved seat: 9,610 yen
Free seat: 5,390 yen
* The fare refers to regular operation times.
Enjoy a Café and Shopping Experience at Hakata Station!
The Hello Kitty Shinkansen Café will open in Hakata Station at the same time the train itself makes its debut. Look forward to a special menu with lots of delightful dishes, such as the Hello Kitty Sweets Plate for 1,000 yen or the Hello Kitty Cream Daifuku (rice cake) set for 700 yen, to be enjoyed in an originally designed space! Hakata Station will also boast a limited antenna shop that sells plenty of Hello Kitty Shinkansen souvenirs – commemorate your journey in the cutest way possible! The café is pre-opened on June 1 while the shop will open its doors on June 30. Make sure to check it out!

* All prices include tax unless specifically mentioned.
West Japan Railway Company
Public Relations: 2-4-24 Shibata, Kita-ku, Osaka-shi, Osaka-fu 530-8341
Public Relations Tokyo: Shin-Kokusai Bldg. 9F, 3-4-1, Marunouchi, Chiyoda-ku, Tokyo-to 100-0005
Sanrio
Public Relations: 1-11-1 Osaki, Shinagawa-ku, Tokyo-to 141-8603
(C)1976, 2018 SANRIO CO., LTD.
※Images for illustration purposes only. Actual design may vary.
*This information is from the time of this article's publication.
*Prices and options mentioned are subject to change.
*Unless stated otherwise, all prices include tax.
Limited time offer: 10% discount coupons available now!