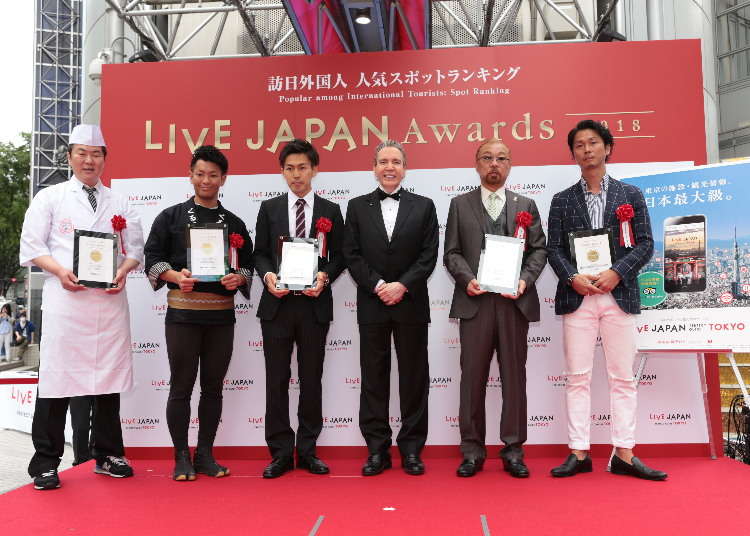 LIVE JAPAN Perfect Guide Tokyo has first opened its virtual doors in April 2016, thus celebrating its 2nd anniversary this year! To celebrate the occasion, LIVE JAPAN honors those Tokyo spots and services that have been particularly popular and recommended by international tourists themselves, in a joyous ceremony in front of SHIBUYA109.

This year's host was Dave Spector, one of Japan's most famous American TV personalities and producers. He congratulated the winners warmly and talked about the charms that make Japan so wonderful for tourists.
About the LIVE JAPAN Awards 2018
Over the span of one year, LIVE JAPAN analyzes what spots and services its users are accessing the most, divided into four categories: Gourmet, Experience, Shopping, and Sightseeing. Those spots that get the most views from the users are crowned as the winners. Furthermore, there's a special award in the category of LIVE JAPAN Editors' Choice.
Using LIVE JAPAN – What's Your Experience?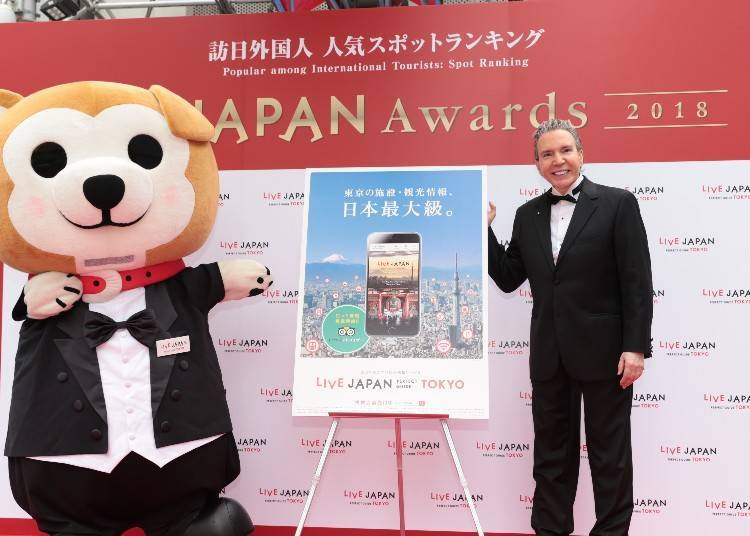 The mascot Toyoko Hachi-ko and Dave Spector – both dressed up for the occasion – open the event with bright smiles.

"It offers all the latest and necessary information you need for sightseeing in Japan, from basic to very specific. There's no other site that manages to offer all info about today's trends in such a fancy way. It's no compliment to say this because it is done so well, and it's not only an enjoyable service for tourists but also for Japanese people. It amazes me that it is available in eight languages. I only have EIKEN Grade 3 [a Japanese English test with grades from 5 (easiest) to 1], so I'm very grateful that the site is available in Japanese," Dave Spector jokes laughingly, giving insight into his experience with the guide service.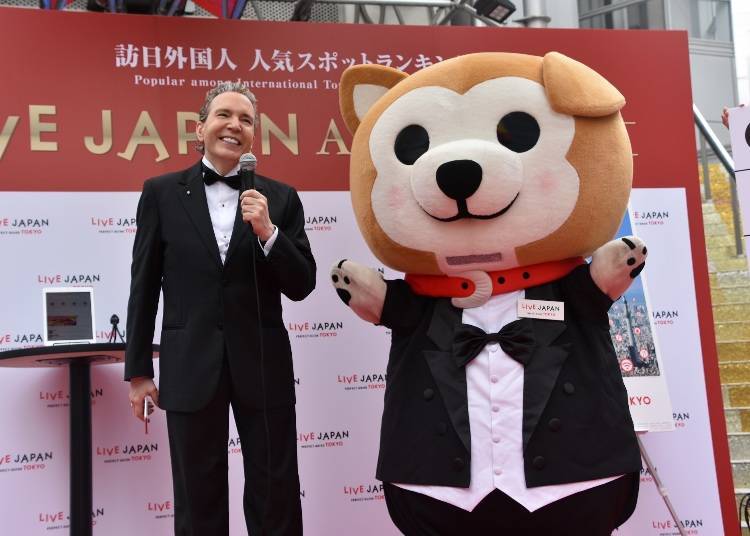 "Today's tourist is very informed. They've done their research on YouTube videos and personal blogs. These things are individually published, however, and thus aren't always accurate. With LIVE JAPAN, though, you can be sure that the information is accurate and always up to date. It's a reliable site. There's a lot of 'how to enjoy Japan' content, so I think it's a wonderful site for tourists."

And then, of course, Dave Spector announced the winners of the LIVE JAPAN Awards 2018 and presented the representatives of the winning spots with commemorative plaques.
Gourmet 1st Place: Itamae Sushi Edo (Roppongi)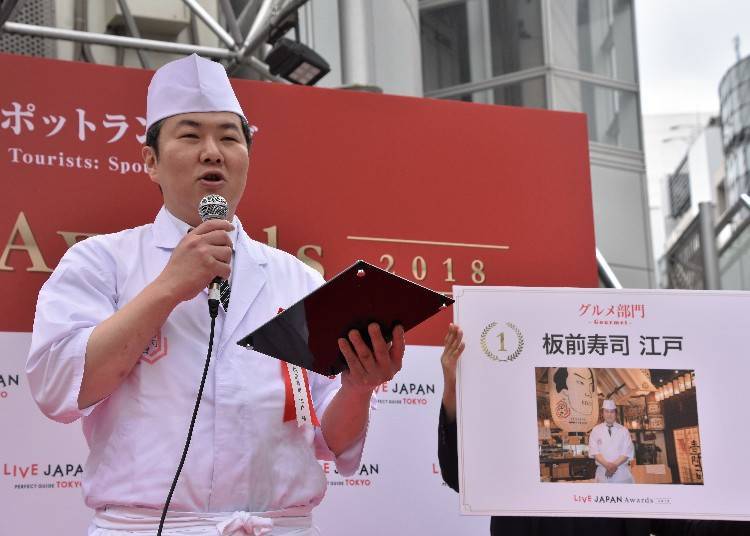 The first place in the gourmet category goes to Itamae Sushi Edo! This sushi restaurant authentically reproduces the lively, historic atmosphere of Old Edo, as Tokyo was called in the past. Edo is the birthplace of sushi as we know it and back then, countless little stalls lined the streets serving fresh sushi delicacies. At Itamae Sushi Edo, you'll find yourself surrounded by such stalls, pampered with amazing food - it's a bit like stepping back in time, which is what makes this restaurant such a beloved favorite among tourists.

"We want to evolve from a Japanese sushi restaurant to a global sushi restaurant. For that, we strive to become the world's most enjoyable, most delicious, and welcoming sushi restaurant. Please do come visit us as Itamae Sushi," says Makoto Takasu, a company executive of Itamae Sushi Japan.
板前寿司 江戸

Address

1F,3-9-2, Akasaka, Minato-ku, Tokyo, 107-0052


Nearest Station

Akasaka-Mitsuke Station (Tokyo Metro Ginza Line / Tokyo Metro Marunouchi Line)


Phone Number

03-5797-7347
Experience 1st Place: Kurumaya Guided Tours (Asakusa)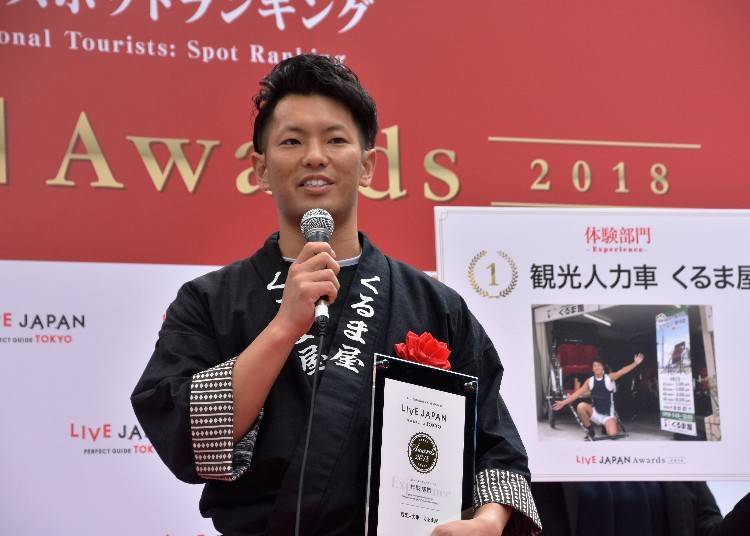 The first place in the experience category goes to Kurumaya Guided Tours, mainly active in Asakusa. It's a rickshaw sightseeing service that utilizes this traditional Japanese ride to show you all of the historic area's main sights, from traditional to trendy spots. The knowledgeable rickshaw drivers offer interesting insights and thorough explanations, offering a fascinating guided tour that is sure to make for a wonderful travel memory. Currently, about half of Kurumaya's customers are international tourists.

"Our international guests enjoy the rickshaw as a traditional Japanese ride that has been around since the Meiji period. With hospitality in our hearts, we want to inspire Japan from Asakusa," says Tetsuhiro Sugiura with a bright, confident smile, the managing director of Kurumaya.
観光人力車 くるま屋

Address

2-7-11 Kaminarimon, Taito-ku, Tokyo, 111-0034


Nearest Station

Asakusa Station (Tokyo Metro Ginza Line / Toei Asakusa Line / Tobu Isesaki Line (Tobu Sky Tree Line) / Tsukuba Express)
1 minute on foot


Phone Number

03-6802-7794
Shopping (Large Retail) 1st Place: Isetan Shinjuku
Isetan Shinjuku, the long-established department store in the heart of Tokyo, is the winner of the category Shopping (Large Retail). It is committed to cutting-edge fashion to become "the world's greatest fashion museum." The department store offers outstanding hospitality towards international visitors, multilingual services being only one of many examples.
伊勢丹新宿店

Address

3-14-1, Shinjuku, Shinjuku-ku, Tokyo, 160-0022


Nearest Station

Shinjuku-Sanchome Station (Tokyo Metro Marunouchi Line / Tokyo Metro Fukutoshin Line / Toei Shinjuku Line)
1 minute on foot


Phone Number

03-3352-1111
Shopping (Small Retail) 1st Place: Otsu Furniture (Nakameguro)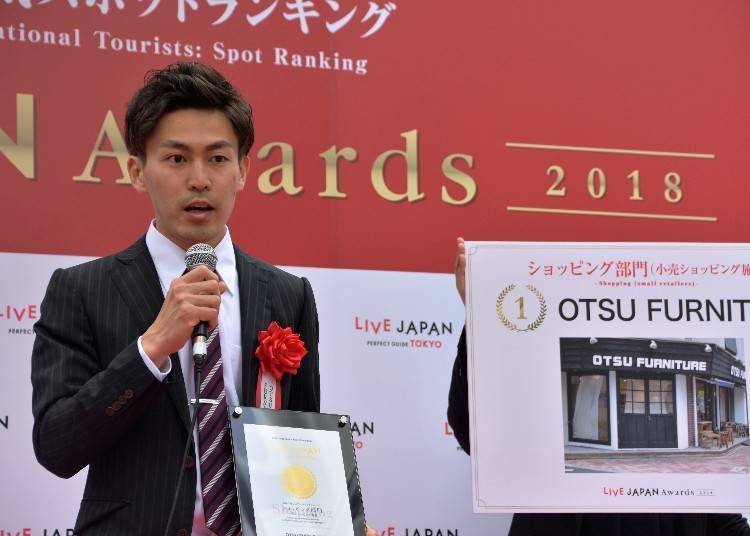 From large to small! The first place of the Shopping (Small Retail) belongs to Otsu Furniture, with shops in Nakameguro and Ebisu. It's an antique shop that mainly focuses on Japanese antiquities and antique furniture. From beautiful tables, cupboards, and drawers to tools, crafts, bowls, and so on, this shop offers stunning traditional pieces.

Otsu Furniture's shop manager talks about the future goals of his store with an invigorating smile: "We want to convey the beauty of Japan through antique furniture and antiquities of the retro Shōwa time."
OTSU FURNITURE

Address

Koyama Heights the first floor, 1-4-9, Takaban, Meguro-ku, Tokyo, 152-0004


Nearest Station

Meguro Station (JR Yamanote Line / Tokyo Metro Namboku Line / Toei Mita Line / Tokyu Meguro Line)
10 minutes by bus


Phone Number

03-3794-7883
Sightseeing 1st Place: Ameyoko Shopping Street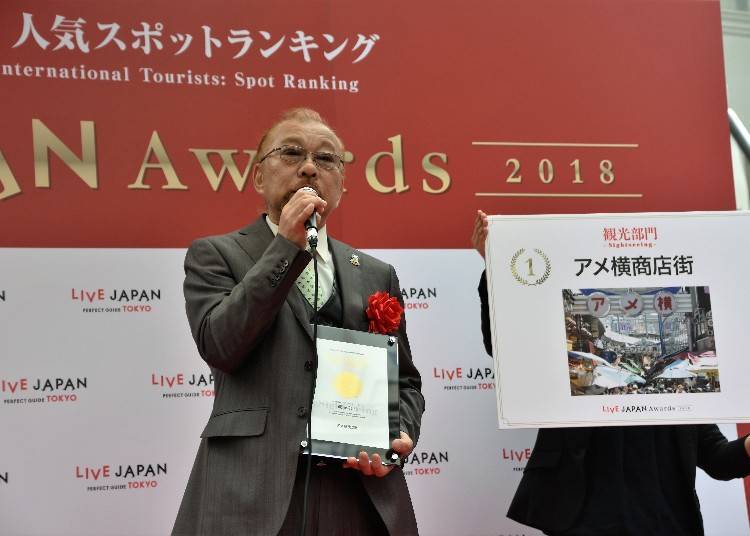 The famous and lively Ameyoko Shopping Street is the Sightseeing winner! It conveys the lively, warm atmosphere of Japan's unique yokochō (shopping street) culture, making it a must-visit spot for more and more tourists from overseas. There aren't only shops offering amazing bargains, but also plenty of stalls with tasty delicacies, arcades, and wonderful souvenir shops.

"I am proud that what was once a post-war black market today is a unique shopping street. I want Ameyoko to continue this path of a fun place for shopping and sightseeing," says Hayato Chiba, vice president of Ameyoko's public relations. While a lot of Japanese people think of Ameyoko as the place that is the busiest around the time of lucrative New Year's bargains, about 60% of the shopping street's visitors are international tourists. "About 10 years ago the number of visitors from overseas has increased, but especially the last two to three years have seen a sharp rise. I think that people like the retro atmosphere."
Address

4, Ueno, Taitou-ku, Tokyo, 110-0005
View Map

Nearest Station

Ueno Station (Hokkaido Shinkansen Line / Tohoku Shinkansen Line / Akita Shinkansen Line / Yamagata Shinkansen Line / Joetsu Shinkansen Line / Hokuriku Shinkansen Line / JR Keihin-Tohoku Line / JR Yamanote Line / JR Tohoku Main Line / JR Utsunomiya Line / JR Takasaki Line / JR Joban Line / JR Ueno Tokyo Line / Tokyo Metro Ginza Line / Tokyo Metro Hibiya Line)
1 minute on foot


Phone Number

03-3832-5053
LIVE JAPAN Editor's Choice: SHIBUYA109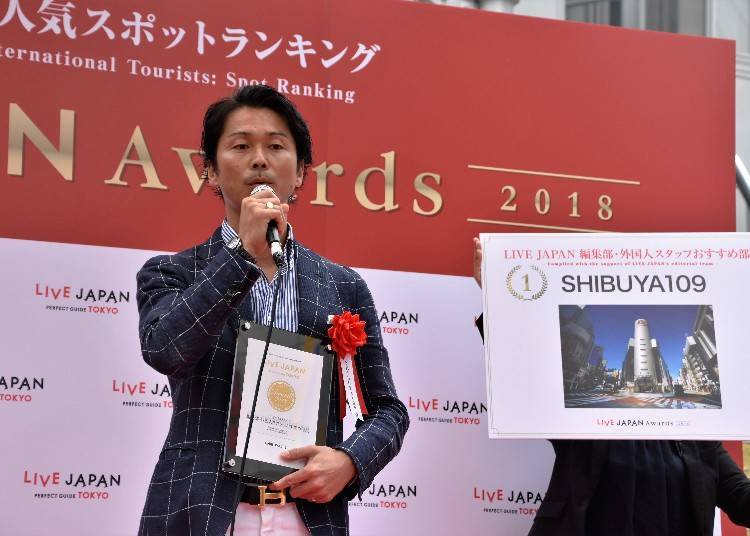 The international staff of LIVE JAPAN's editorial team showcases popular spots all around Tokyo on a daily base. Among all of them, SHIBUYA109 was chosen as one of the most recommended for this year! Shibuya is the pioneer of fashion and youth culture, famous overseas as the birthplace of trends from Japan. It's a must-visit spot for fashion-forward celebrities both from Japan and abroad!

Ryō Sawabe, the managing director of Shibuya 109 Entertainment Omnichannel Department, says: "We recently announced a project to change SHIBUYA109's logo. Actually, 109 is changing pretty much right now, so I encourage everyone to come visit us and experience this change."
SHIBUYA109

Address

2-29-1 Dogenzaka, Shibuya-ku, Tokyo, 150-0043


Nearest Station

Shibuya Station (JR Shonan Shinjuku Line / JR Yamanote Line / JR Saikyo Line / Tokyo Metro Ginza Line / Tokyo Metro Hanzomon Line / Tokyo Metro Fukutoshin Line / Tokyu Toyoko Line / Tokyu Den-en-toshi Line / Keio Inokashira Line)
0 minute on foot


Phone Number

03-3477-5111
Special Guest Award: Isehan-Honten Museum of Beni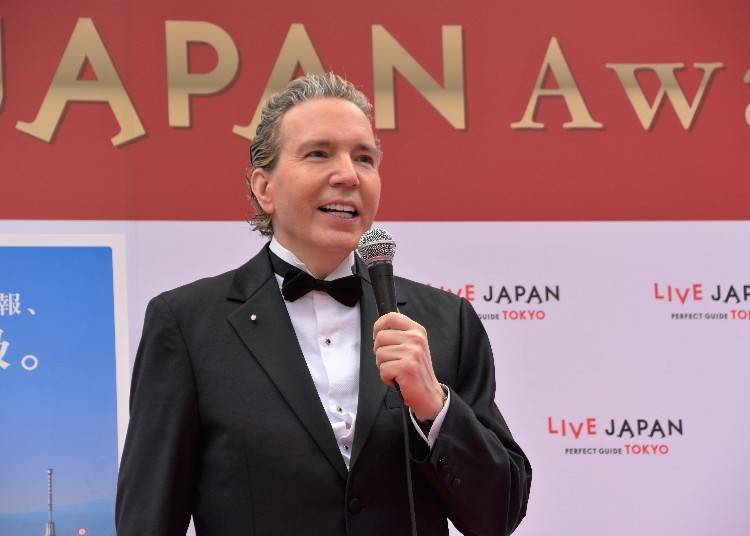 Last but not least, Dave Spector chooses the winner of the Special Guest Award: Isehan-Honten Museum of Beni in Aoyama. Beni is a red pigment extracted from safflower, or benibana in Japanese. This pigment boasts a long history in Japan, prominently known for being used in the characteristic rep lip coloring of traditional Japanese makeup of the Edo period.

"People want to see the real thing, right? There is a strong desire to know more about Japanese traditions. At this museum, you'll get to experience the brilliance of 'beni' firsthand. This spot welcomes international visitors, so I really want you to check it out."
紅ミュージアム

Address

K's Minami Aoyama Building 1F, 6-6-20 Minami Aoyama, Minato-ku, Tokyo, 107-0062


Nearest Station

Omotesando Station (Tokyo Metro Ginza Line / Tokyo Metro Chiyoda Line / Tokyo Metro Hanzomon Line)
12 minutes on foot


Phone Number

03-5467-3735
When asked about what part of Tokyo he'd recommend to visitors, Dave Spector says: "That might be surprising but I'd have to say Shibuya after all. There are many large shops and from a Japanese point of view, the cityscape might seem natural. For tourists, however, it's just fun and exciting to walk around. It lets you feel Tokyo and Japan just as it is."

"Check LIVE JAPAN for info and the latest news to explore Shibuya thoroughly. Please use LIVE JAPAN!" Dave Spector ended the ceremony with a message directly for tourists in English – so what are you waiting for?
*This information is from the time of this article's publication.
*Prices and options mentioned are subject to change.
*Unless stated otherwise, all prices include tax.