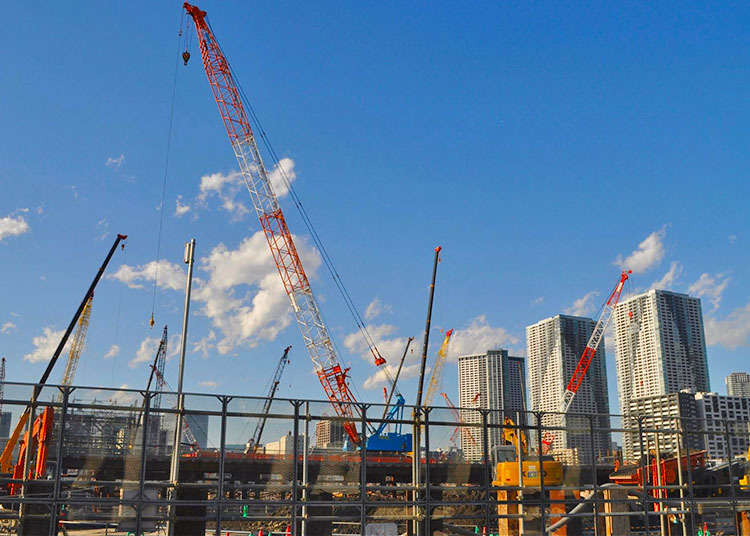 Tokyo is about to be hit with sports fans from all over the world. With the 2019 Rugby World Cup and the 2020 Summer Olympics both being held in the city, its streets and stadiums will be flooded in team colors and cheers from all corners of the world. As Tokyo itself has seen a huge surge in visitors over the past few years, there is an abundance of information available for sightseeing and activities in and outside of the city center.

As the New National Stadium inches towards completion and another international stadium already well established, here are their backgrounds and what to know about the sites that sports-lovers all around the world will become well-acquainted with, whether up close or on screen.
Tokyo (Ajinomoto) Stadium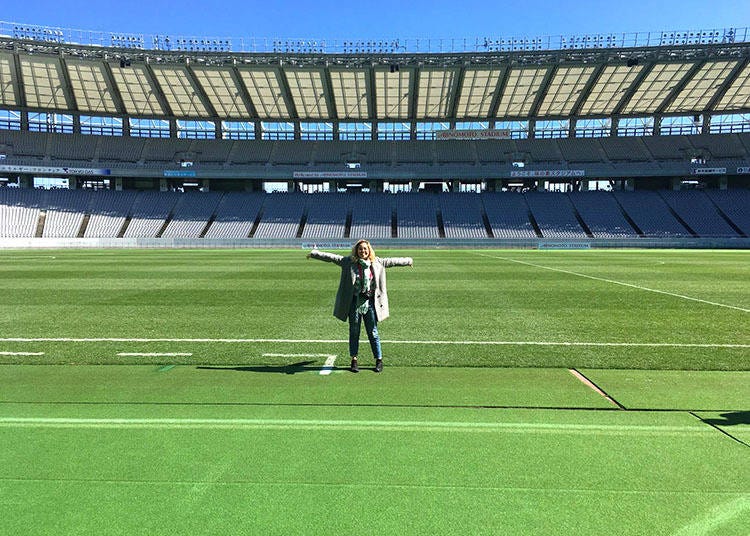 Ajinomoto (Tokyo) Stadium, looking over from a portion of the stands.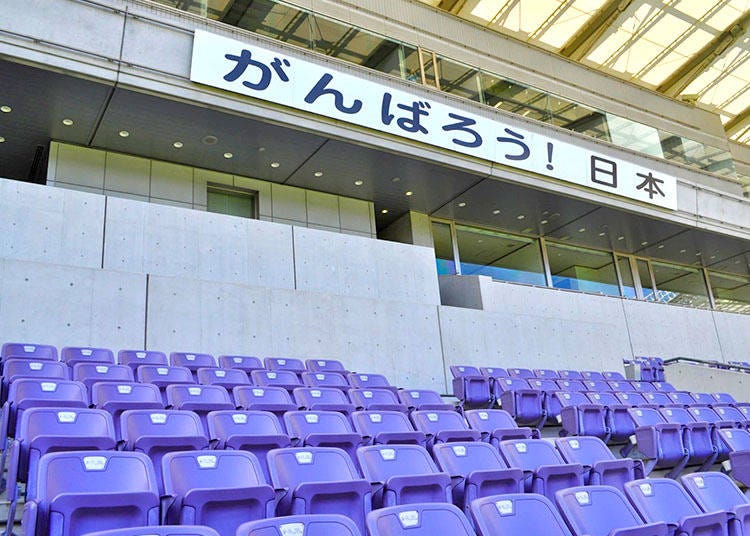 Stadium seats with a banner cheering on Japan, above.
Known as an environmentally conscious stadium, Ajinomoto Stadium - renamed Tokyo Stadium for the upcoming international events - will be the main site for the 2019 Rugby World Cup. This site is no stranger to international events in the past. It has hosted rugby matches between Japan and Ireland, Australia, and many more counting.
A Multi-Purpose International Playground
View of the stadium from one of the many private cubicles, this one, attached to a private room which fits 10 comfortably for only ¥10,000 total
The open-air stadium, which holds up to 50,000 visitors, is home to J. League (Japan League) Division 1 and 2 soccer clubs. It plans to host soccer games on its turf for the 2020 Olympics as well. Since its opening in 2001, it has also hosted Saudi Arabia's national team for the 2002 FIFA World Cup, though it was never used as a ground for matches. American football and other turf sports are also played on its grounds. Its multi-use purpose has been an aid in many ways, from housing 2011 Tohoku earthquake and tsunami survivors, to hosting concerts and large-hall events.

Its beautiful grounds located in Western Tokyo, is less than an hour by car or train from Tokyo station, with a unique neighborhood of its own that is different from inner city Tokyo. Located on the former site of the United States Forces Japan, the north end of the stadium is connected to Chofu Airport, not to be mistaken for the larger airports Narita and Haneda. The south end is a short stroll to the Tama River, creating a quaint and nature-filled getaway perfect for a weekend of drinking (beer is sold in and outside of the stadium!) and watching sporting events.

When there are no matches being played, the stadium is open for tours around its grounds for less than ¥1,000. Information can be found at http://www.ajinomotostadium.com/tour/.
味の素スタジアム

Address

376-3, Nishimachi, Chofu-shi, Tokyo, 182-0032, Japan

Nearest Station

Tobitakyu Station


Phone Number

042-440-0555

Open hours: 9:30 - 18:15
Closed day: Wednesday
2020 Olympic Stadium by Kengo Kuma
An event wouldn't have a Japanese touch without incorporating a bit of wabi sabi, the traditional Japanese aesthetics centered around transience, imperfection, and nature. The 2020 Olympic Stadium, named the New National Stadium, sits on the ground where the old National Stadium stood. The 68,000-80,000 capacity, 52 acre natural grass stadium is well on its way to feature Japanese beauty and nature right in the center of the hustling and bustling city.

The perfect Japanese architect was picked for this task: world renowned Kengo Kuma. His peculiar style of architecture could be spotted from a mile away as he always incorporates the use of wood and bamboo with buildings looking both perfect and off-balance. Although the stadium is still well under construction, its completion is likely to be a site that both stand out as well as blend in with its surroundings.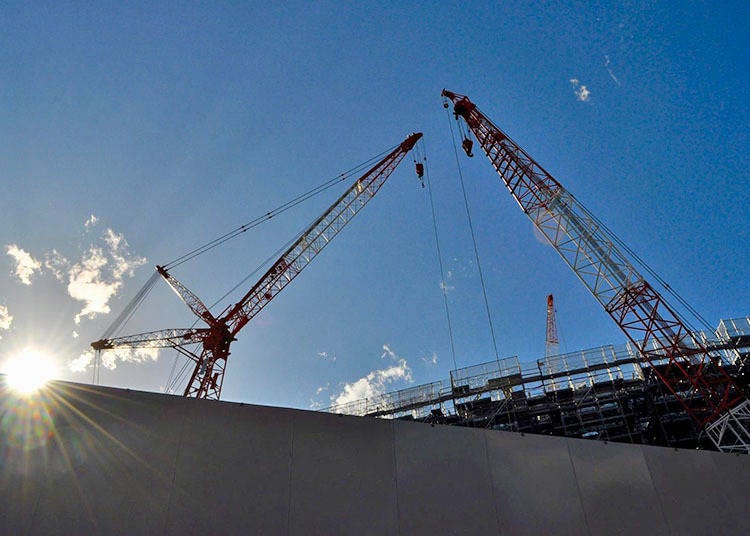 The stadium rests in central Tokyo surrounded by the city and past athletic venues. The prime location will be convenient for Olympic visitors from all around the globe.
Its centralized location in Shinjuku is right near other athletic sites; National Stadium, Meiji Jingu Stadium, and Yoyogi National Gymnasium. While these areas have countless restaurants, hotels, and sites to see, these major sites are also covered in parks and nature, perfecting the cross between humans and the outdoors, including athletics.

Many of Kuma's designs can be found in and around Tokyo (as well as worldwide). They range anywhere from sweets shops to research centers, museums and temples to housing and offices.

Here are a few recommendations for a Kengo Kuma tour around Tokyo:
・Asakusa Visitor Center
・Jugetsudo and Ginza Kabukiza
・Sunnyhills Japan
・One@Tokyo
・Tsukiji KY Building
・Meiji Jingu Museum (opens 2019)

The most up-to-date list and map of his designs can be found at http://kkaa.co.jp/img/2016/01/170207_KUMAP_eng.pdf.
新国立競技場

Address

10-2, Kasumigaoka-machi, Shinjuku, Tokyo, Japan

Nearest Station

JR Shinanomachi Station
Kokuritsu-Kyogijo Station (Toei Oedo Line)


Not yet open
This article is written in partnership with the Japan National Tourism Organization
JNTO website: https://www.jnto.go.jp/   
Japan Official Travel App: https://www.jnto.go.jp/smartapp/eng/
Instagram: #visitjapanjp https://www.instagram.com/visitjapanjp/
Facebook: @visitjapaninternational https://www.facebook.com/visitjapaninternational 
Enjoy My Japan campaign: #enjoymyjapan https://www.enjoymyjapan.jp/en/
*This information is from the time of this article's publication.
*Prices and options mentioned are subject to change.
*Unless stated otherwise, all prices include tax.