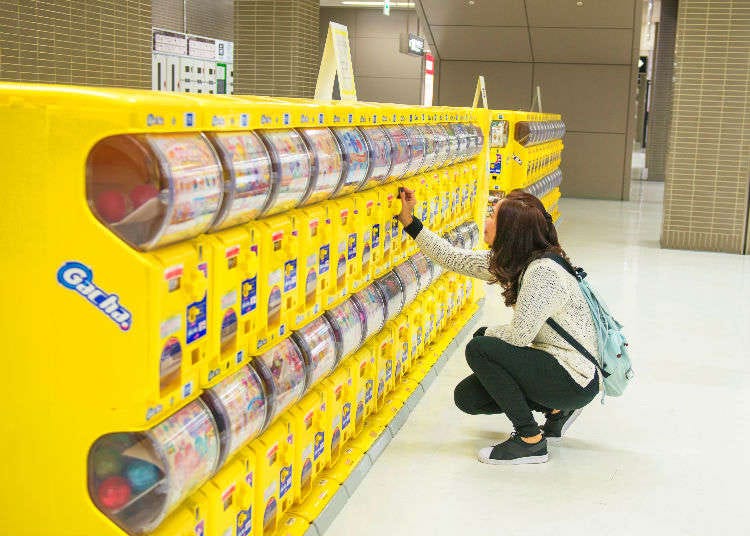 If there's any toy that perfectly "encapsulates" Japan, it's the capsule toy. There are several companies that make these special toys, yet it's the distinguishing features of capsule toys by Takara Tomy Arts, the driving force behind the Japanese toy industry, that faithfully and expertly recreate tiny worlds that fit neatly in the palm of your hand. Who else but Takara Tomy Arts could pursue a level of realism with such precision?

Each product rollout is incredibly fascinating and its range includes everything from popular animated characters to abstract indie toys.

Let's take a look at 8 of the top-selling capsule toys by Takara Tomy Arts, based on sales data taken from Narita Airport. As you read, these capsule toys are sure to pique your curiosity and turn you into a fan.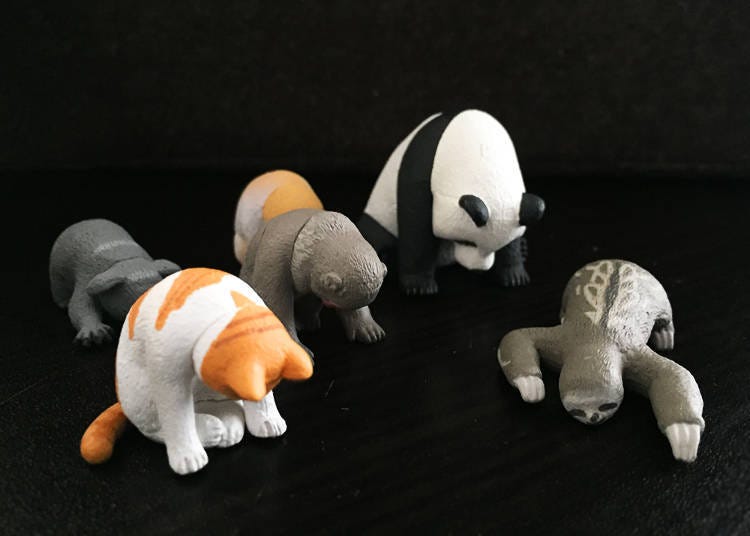 ZooZooZoo is a series featuring sleeping animals. There's everything from pets like cats and dogs to large mammals like pandas. This is one series where you definitely want to catch them all. This series is all about the details: the curvature of the spine, the position of the legs; and how the angles of the paws differ ever so slightly. Despite their tiny size, each toy is meticulously detailed.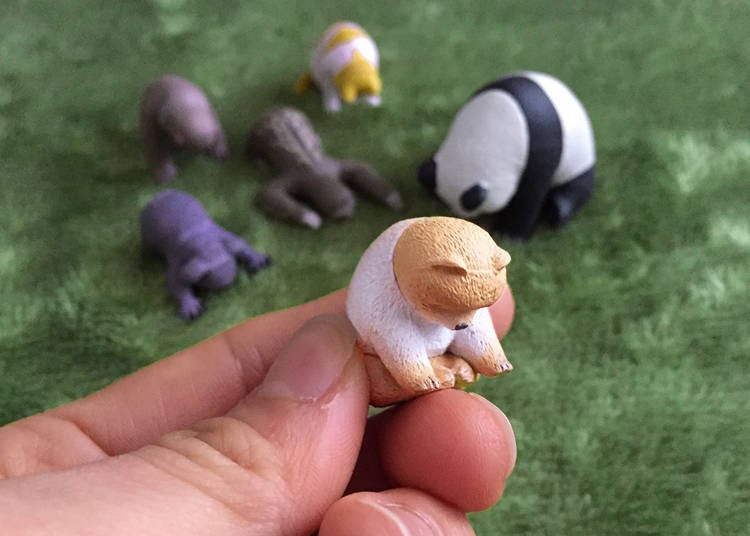 Here is Japan's beloved dog, the shiba inu. He looks downcast, with a droopy neck. But turn this little shiba over, and you will see the cutest expression which can melt the coldest of hearts. It's the little details like this which make collecting capsule toys so much fun. Surround yourself with a few of these sleeping cuties, and they'll pick you up when you're feeling down.

Apparently there are plenty of dog lovers at Takara Tomy Arts, so much effort is taken when it comes to creating miniature dogs. In fact, they routinely even debate over which breed of dog should go in which series. When you've got a team dedicated to man's best friend, it's no wonder why there's such a high level of precision involved.
Underbite Planet Series/ 200 yen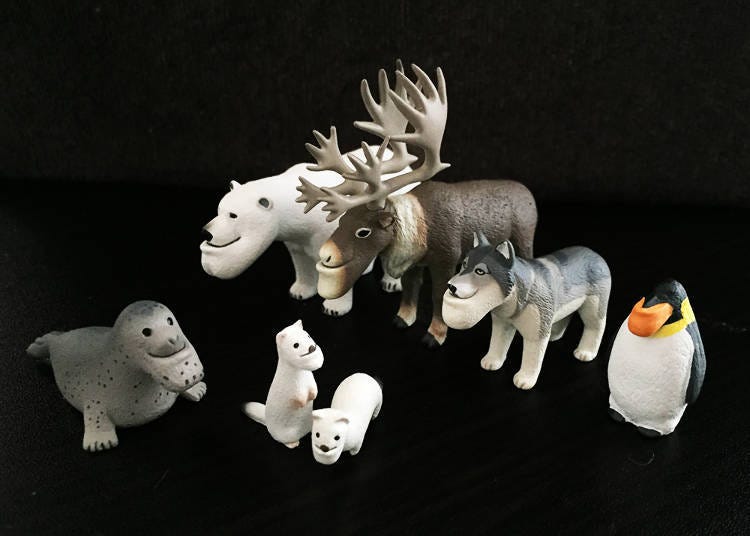 The Underbite Planet series has sold more than 4 million units. We can't really say why there's a need to give animals such extreme underbites but… considering that these are such realistic toys, you'll start to wonder if animals with underbites even exist in the wild.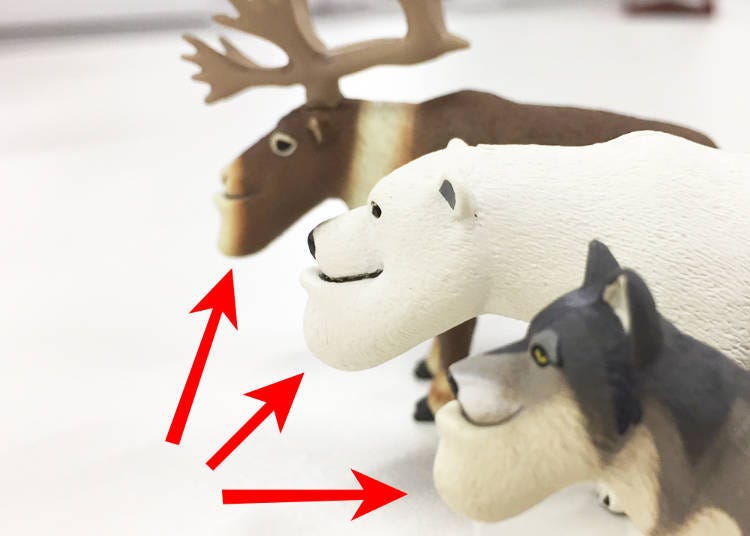 Even the most savage creatures become adorable when you give then an underbite! The company won't reveal how these toys are created, but considering the precision that went into each design, it's entirely plausible it's molded by a Takara Tomy Arts employee with an underbite. We're not entirely sure how to classify these animals -- Are they cute? Are they humorous? Either way you can't help but laugh.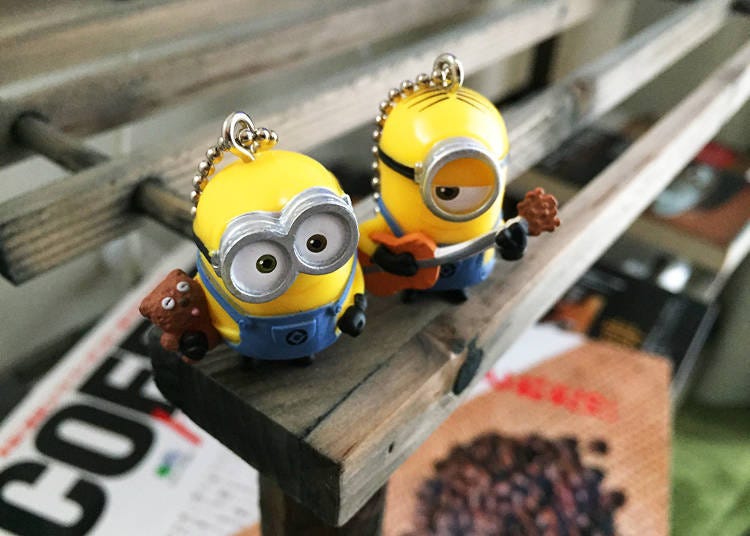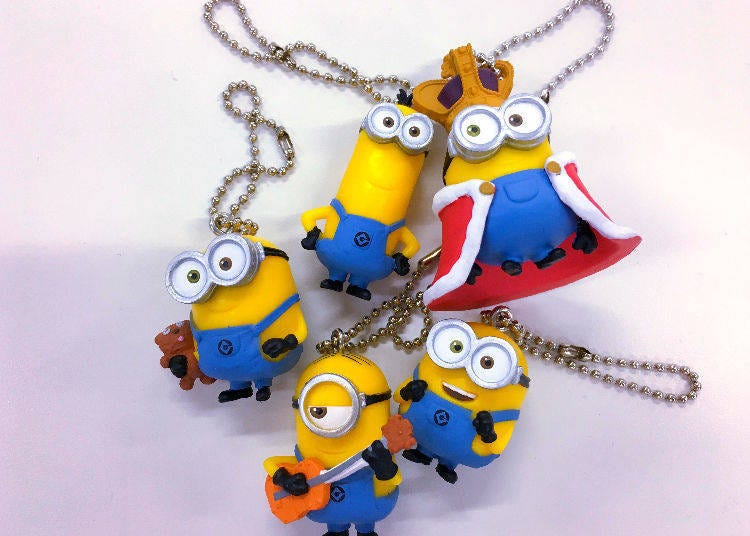 Minions are now available in capsule toy form, and can be yours for only 200 yen!
There are 5 Minion characters in this series and each of their expressions has been faithfully recreated. No detail has been spared -- it's like they have been literally shrunken down. This series might be popular among children and young women.
Panda No Ana Mochibake Series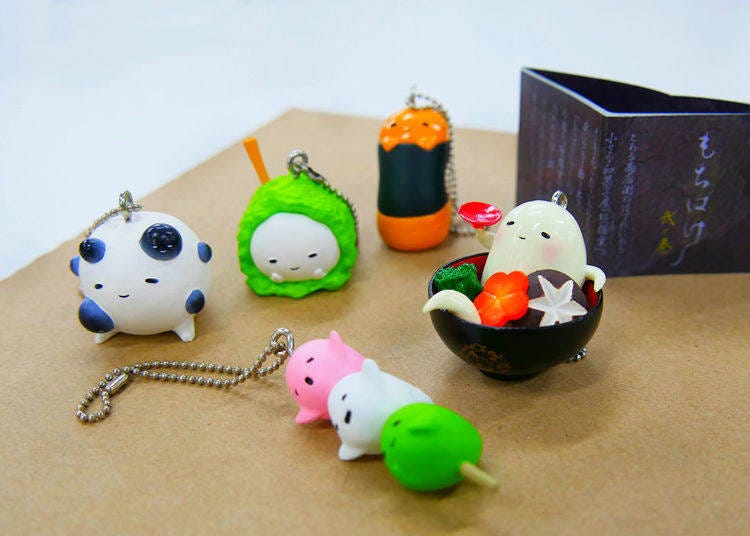 What do you get when you cross mochi, circular cakes made from pounded rice, with a Japanese ghost (obake)? Soul food!
"Mochibake" are rice cake ghouls based on mochi which is an auspicious food that is typically eaten during the New Year. But, this traditional food often results in the death as the sticky rice cakes often get stuck in the throats of elderly and young children. Thus, the birth of Mochibake. The expressions and poses make each Mochibake a warm and inviting character.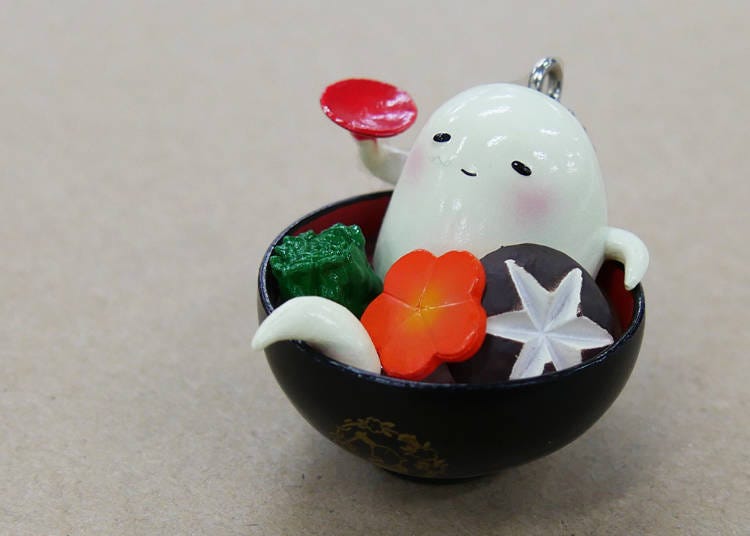 This particular Mochibake takes center stage in a bowl of ozoni, a mochi soup eaten during the Japanese New Year. Despite the size of this capsule toy, the other ingredients of ozoni -- spinach, carrot, and matsutake mushroom -- are executed with extraordinary precision. So is the slightly tipsy look on the face of Ms. Sake Mochibake (let's call her that because sake, Japanese rice wine, is this spirit's official spirit of choice). She looks like she'd give you sound advice as you air out your troubles over a round of drinks.

There are 5 Mochibake in the second generation of Mochibake capsule toys. Have some ghoulish fun with these spirits.
Panda No Ana Kaikaburi / 200 yen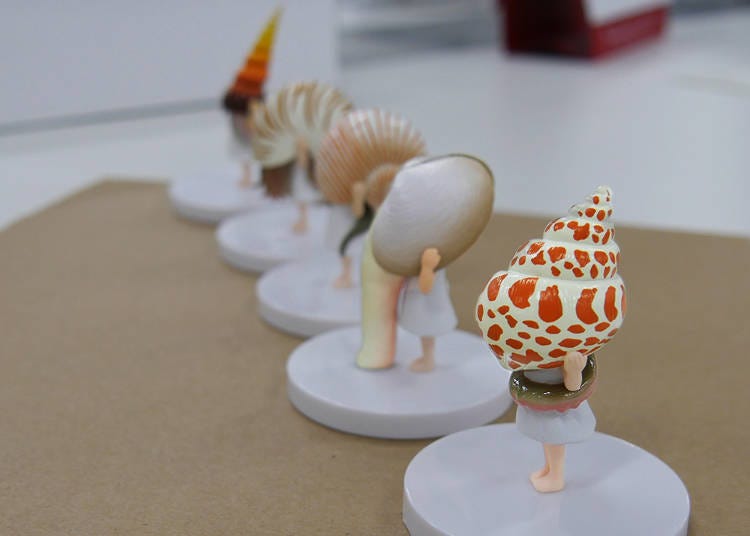 Here's another series that's a play on Japanese words. Kaikaburu is the Japanese word for "to overestimate," and it curiously shares the same pronunciation with the Japanese phrase, "to cover one's head with a seashell." Somehow, someone out there thought legs jutting out from underneath a seashell would be the perfect capsule toy, and thus the Kaikaburi series was born.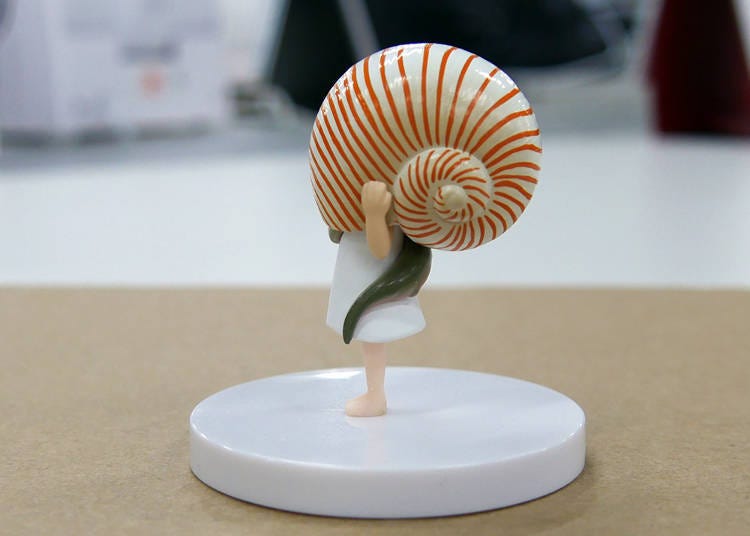 Surrealism comes to life with these figurines of a young girl, her torso and legs peeking out from under a large seashell. Her face is obscured, which only adds to the mystery.

But, look closely and you can see the sea snail descending from its shell and wrapping itself around the torso of the young girl. We're not sure where the kawaii factor is, but it's definitely provocative.

As a matter of fact, designing these figurines so that they do not topple over from the added weight to the head was the result of extensive trial and error. The result is a capsule toy of unmistakable craftsmanship.
Snoopy Figure Collection/300 yen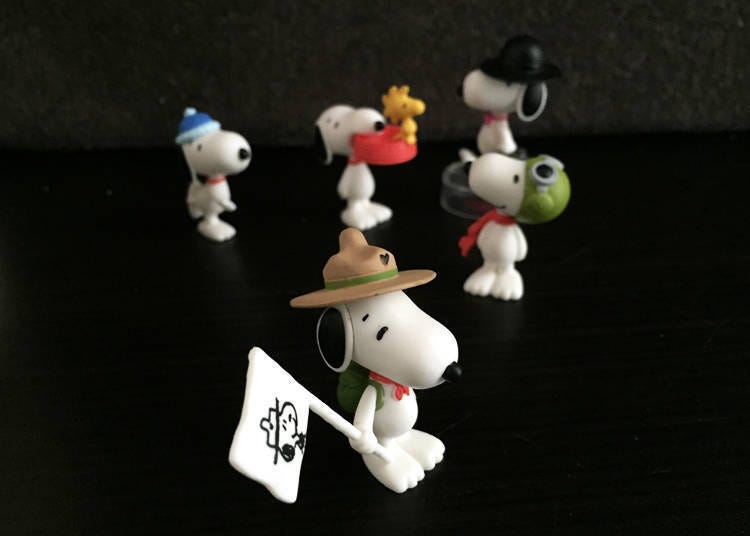 Snoopy, the timeless character with legions of fans throughout the world, makes his debut as a capsule toy. These figurines are especially popular among women.

What makes these Snoopy figures stand out is that they don't need to be attached to a base. Great care has been taken into product development, taking into account the size and balance of each figure. Needless to say, if you're a fan of Snoopy, then getting a few of these capsule toys are is definitely a "must."
Harry Potter Magic Wand Collection/300 yen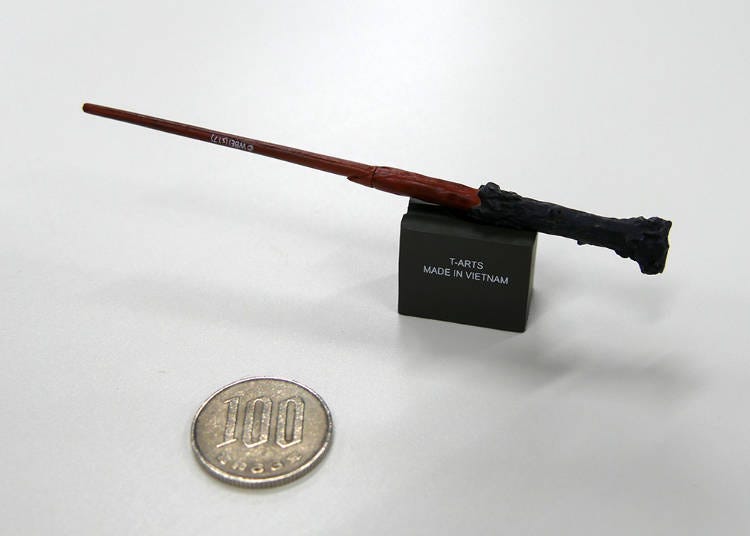 Experience the magical world of Harry Potter with these wands, which are miniature recreations of the wands sold at Universal Studios Japan.™ Despite their tiny size they look just like movie props. With a Potterhead at the helm of design and development of this series, no wonder such care was taken into the creation of these wands.
Not only does this series of 6 include wands used by the students of Hogwarts, there's also Snape's and Voldemort's wands as well. No matter where your allegiance lies, you're sure to find the wand belong to your favorite Harry Potter character. Each wand also comes with a display pedestal, so collect them all and show off how much of a Potterhead you really are.
Star Wars Lightsaber Mascots: Reboot Phase2/400 yen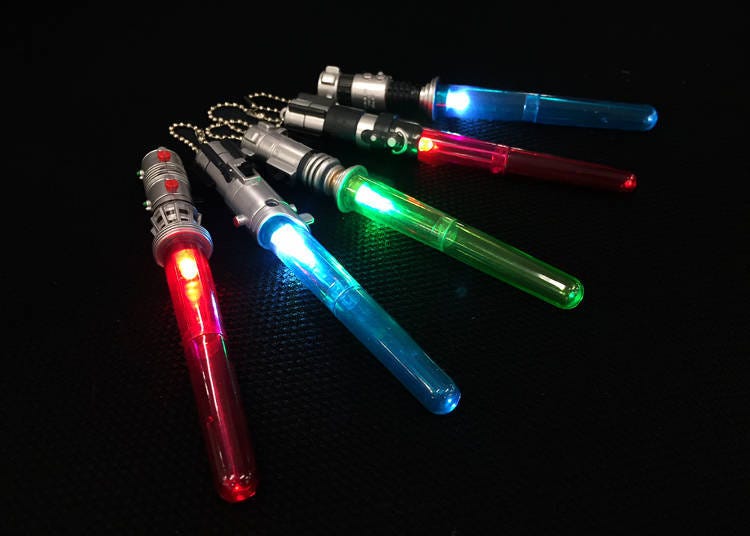 If you're a Star Wars fan, there's probably nothing that can excite you more than coming across a tiny lightsaber inside a capsule. There are 5 lightsabers in all, including the iconic lightsabers wielded by Darth Vader and Luke Skywalker.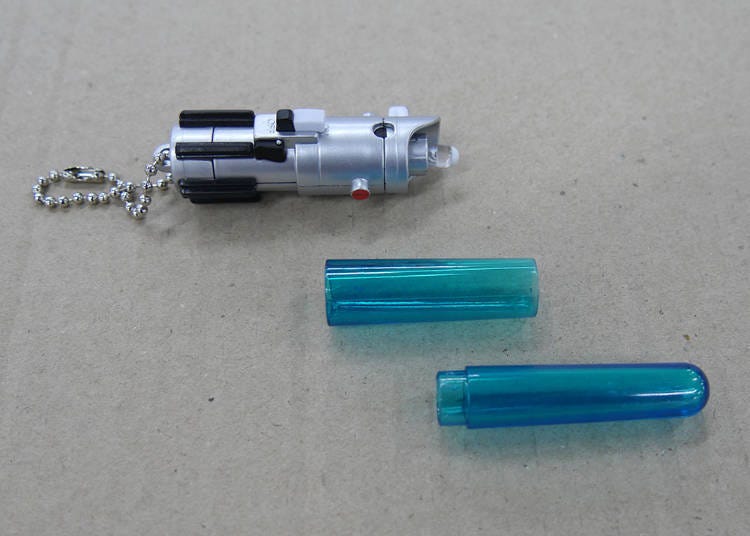 These DIY lightsabers are easy to assemble: simply connect all three parts, and you're good to go. You won't believe these actually came from a capsule toy. What's more, they're only 400 yen each, and each mini lightsaber also lights up! Let the force be with you -- or share the force with your family and friends back at home.
----------------------------------
The 8 capsule toys introduced in this article are just a tiny fraction of the capsule toys made by Takara Tomy Arts. With new series constantly being signed and released, you're sure to come across a series that you like on your next trip to Japan.
You can buy capsule toys at Narita and Haneda Airports, so stop by the capsule toy area before leaving Japan to pick up a few souvenirs for your friends and family as well as to commemorate your trip to Japan.

*Information above is based on data from 2018

*This information is from the time of this article's publication.
*Prices and options mentioned are subject to change.
*Unless stated otherwise, all prices include tax.