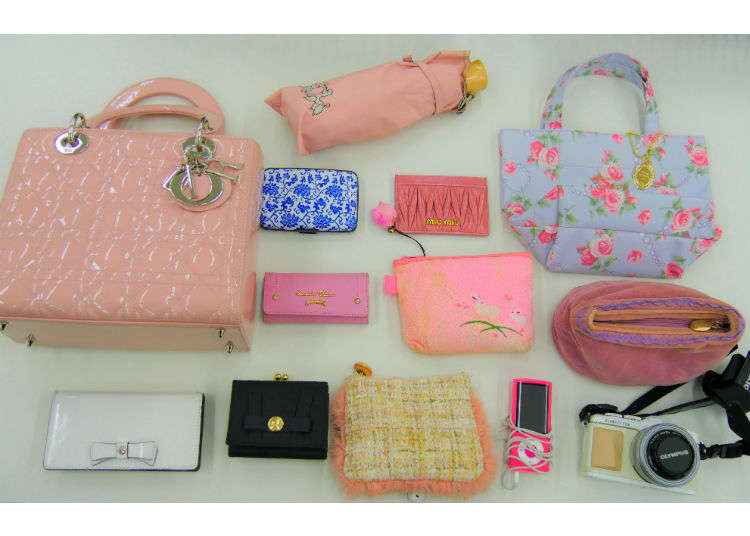 From celebrities to regular people, getting the chance to look inside someone's bag can be surprisingly fascinating! Everyday items reveal a lot about a person's style, character, hobbies, and so on—a casual, yet private glance into someone's life. Especially interesting are the things that the bag owner absolutely cannot do without!

This time, we got the opportunity to check the contents of Anna's bag. She's a Japanese student at a college in Tokyo. Her studies are about the unique cultural differences between Japan and Europe, and she practices her skills as an announcer three times a week as well. What's in your bag, Anna?
Everything Inside Anna's Bag!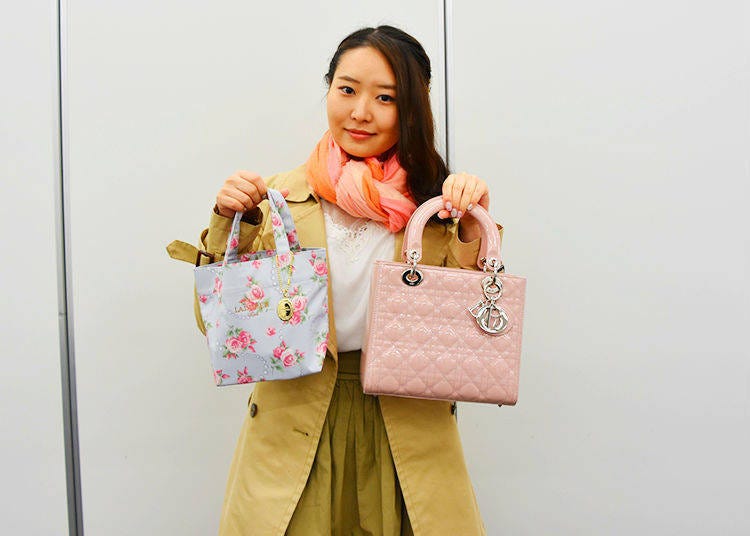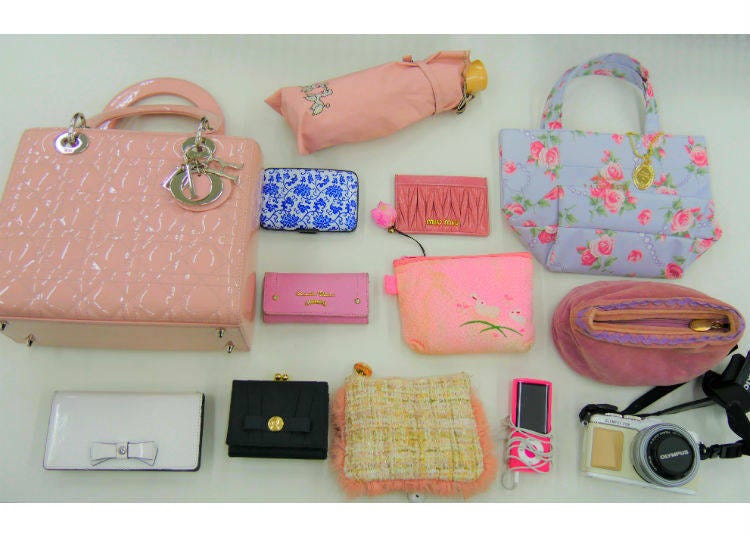 Top center: parasol-umbrella / top row (from the left): her main bag, a card case, a commuter pass case, a tote bag / center row (from the left): key case, accessory bag 1, makeup pouch / bottom row (from the left): phone charger, wallet, accessory bag 1, iPod, camera
Anna's birthday is in spring, so she has loved the pale pink color of cherry blossoms as long as she can remember. That also explains why the things in her bag all seem very color-coordinated!

She actually has two bags, though: the main bag and a tote bag.
Dear to Anna's Heart: the Bag is a Gift from Her Family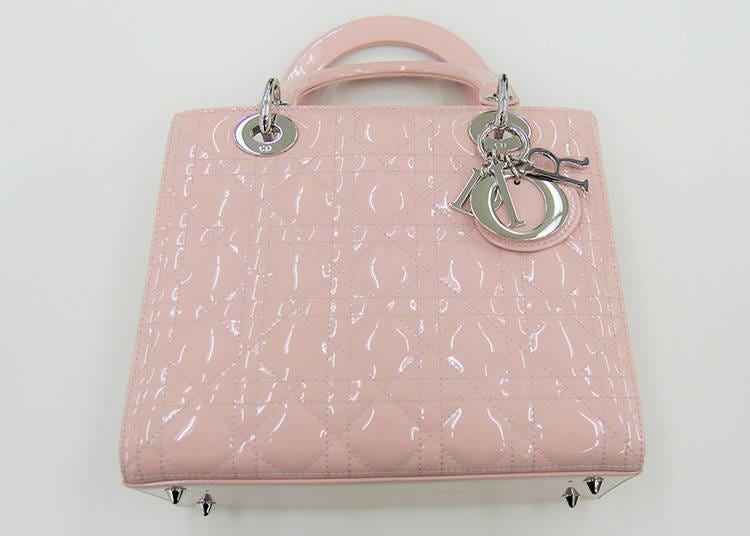 A bag from Dior that Anna cherishes a lot. She uses it on special days.
She basically only carries what she needs. Oftentimes, she only goes out with a small bag, except on days when she needs special materials for her college classes. In total, Anna has about 10 different bags and she especially likes those with a lot of pockets and partitions—functionality is important.

Today's main bag is from Christian Dior and it was a gift from her family for Japan's Coming of Age Day. She tells us how surprised and happy she was as her family gave her this gift while they were celebrating the day together at a restaurant. Because it's a bag that she cherishes dearly, she uses it for special occasions, such as the college graduation party.
Her "Musts": Never Leaving the House Without Them!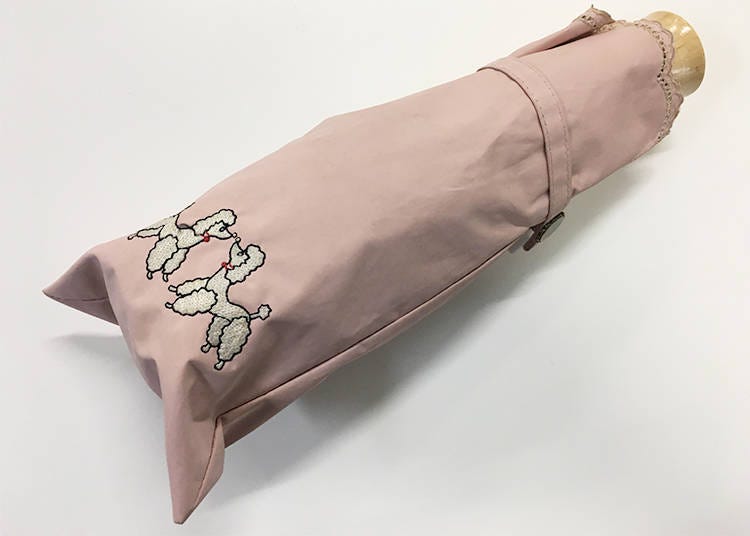 This cute must-have item is both parasol and umbrella.
Even if Anna packs her bag as lightly as possible, you'll always find hand cream, umbrella, phone charger, and an iPod in her bag. This "must" list changes a bit depending on the season. For example, the hand cream is indispensable during autumn and winter, when the air is particularly dry, while the umbrella-cum-parasol is a daily item during spring and summer. She also makes sure to moisturize her skin and to shield it from the sun.
The Beloved iPod: Instantly in a Good Mood!
Anna is always listening to music during her commute to college.
Anna's iPod also belongs to her list of must-have items. Music is a big hobby of hers, so it is indispensable for her commute to college. The iPod is filled with her favorite songs from musicals, such as Les Misérables' "On my Own" and "I dreamed a dream," as well as "Popular" and "Defying Gravity" from Wicked. She sings her favorite tunes in both Japanese and English! That also goes for a few Disney songs that she particularly likes, especially "Part of your world" from the Little Mermaid. Apart from this, movie soundtracks and songs by the Japanese boy band Arashi are plentifully found on her beloved iPod. It instantly puts her in a good mood!
Special Treasure: Anna's Camera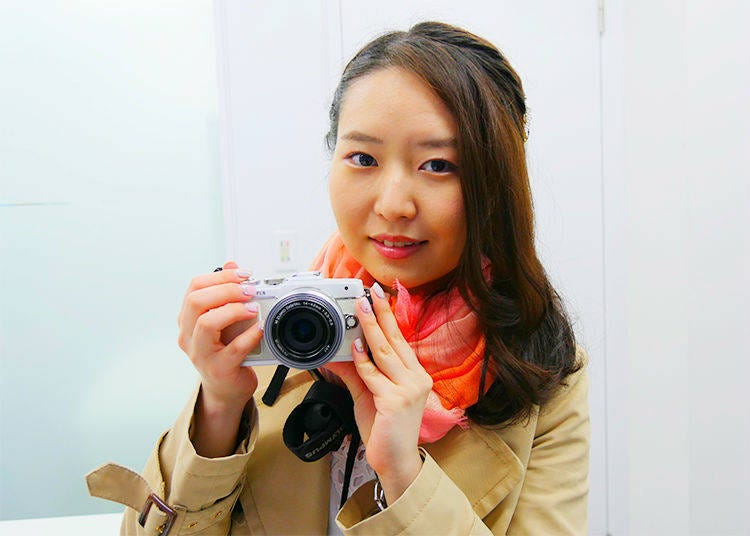 The mirrorless camera can easily be brought everywhere!
Anna wanted to document her announcer club with proper high-quality images, so she bought this single lens reflex camera with her pocket money. She loves sharing her images with friends on LINE and Instagram. Because the camera is mirrorless, she can easily bring it everywhere she goes!

Recently, a lot of people have started using SLR cameras or GoPro cameras, transferring their photos directly to their smartphones and uploading them to social media. The image quality is amazing and the cameras are very convenient!
● Anna's Camera Course: SLR vs. GoPro
<@Single Lens reflex Camera|@>
"By replacing the lens, you can take very wide shots. These cameras also come in a compact mirrorless type. Depending on the company, they have all sorts of functions and its fun to choose the one that matches your preferences the most."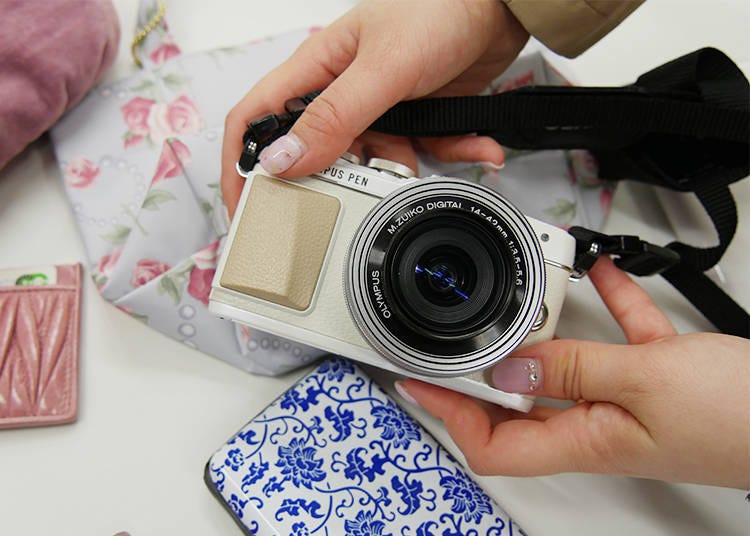 A single lens reflex camera from Olympus.
GoPro
"The little camera that easily fits into the palm of your hand is perfect for outdoor activities. You can't exchange the lens and it sits safely in a waterproof casing, making even underwater pictures possible. The GoPro can even handle special effects such as a time lapse, so if you're into photography, you should give it a try at least once. Use either the shutter on the main body of the camera or your smartphone. Everyone I know who has a GoPro loves it!"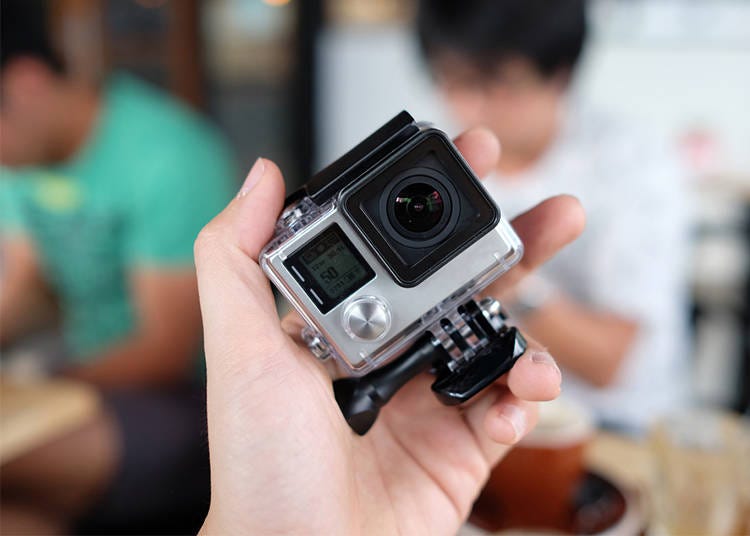 The palm-sized GoPro camera.
Essential for Anna: Makeup Pouch and Two Accessory Bags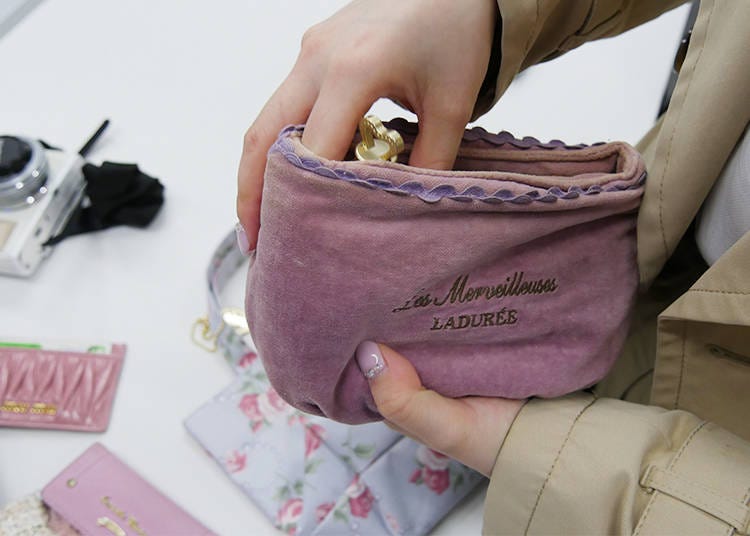 Anna's makeup pouch from Ladurée.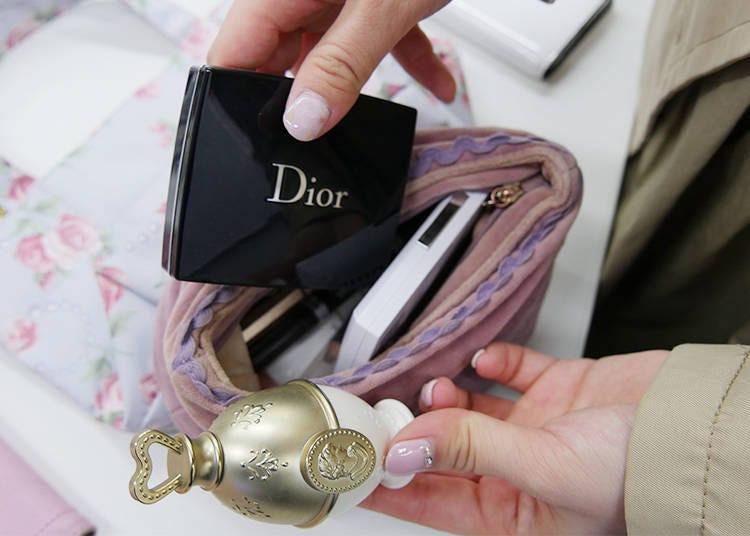 Plenty of compact makeup products!
Next to the makeup pouch, Anna's bag also contains two accessory bags to store various smaller things. They're all in her favorite color: pink! She doesn't do an overly complicated makeup routine but still carries a compact foundation with her. Whenever she's concerned about dry skin, she uses a skin lotion spray for that extra kick of moisture!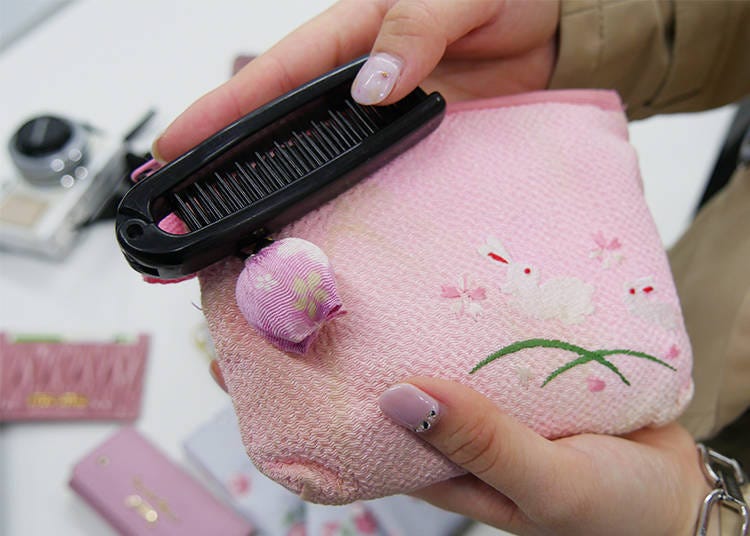 Accessory bag 1: a portable hair brush and cough drops. If her throat starts to hurt, she uses "Ryukakusan Direct."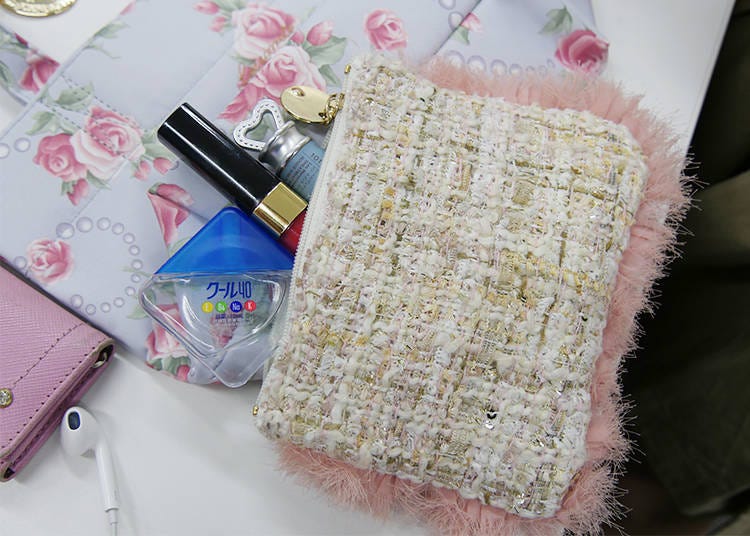 Accessory bag 2: a lot of smaller items, such as eye drops and lip balm.
Anna's Smartphone: a Cute, Functional Case!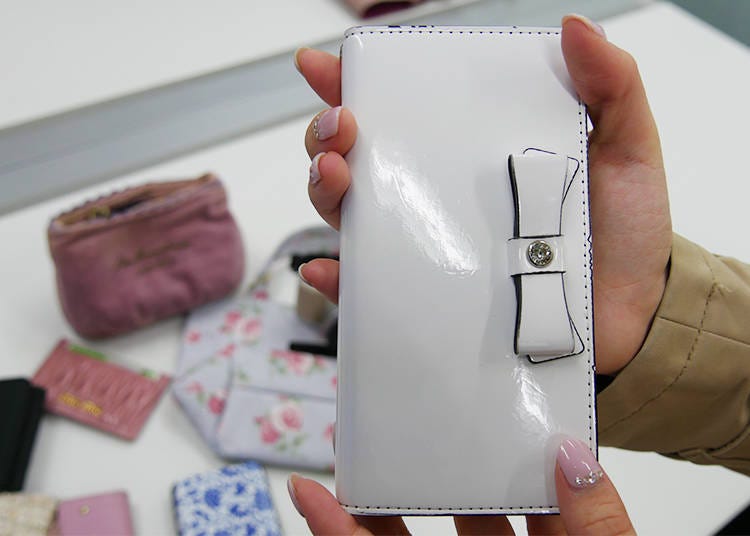 Her smartphone case is the "book type."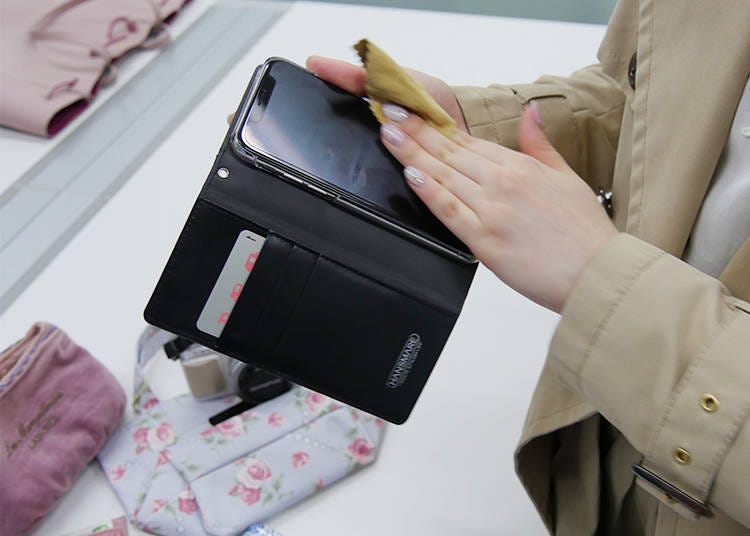 She even has a special cloth to clean the screen.
Of course, Anna's smartphone is also an indispensable item in her bag. She chose a cute yet functional case for it and even has a special cloth to clean it, should the display get dirty. On top of that, there's a spare PASMO (a prepaid transportation card) in her case as well, in case she forgets her commuter pass.
Anna's Wallet: How Much Cash to Bring?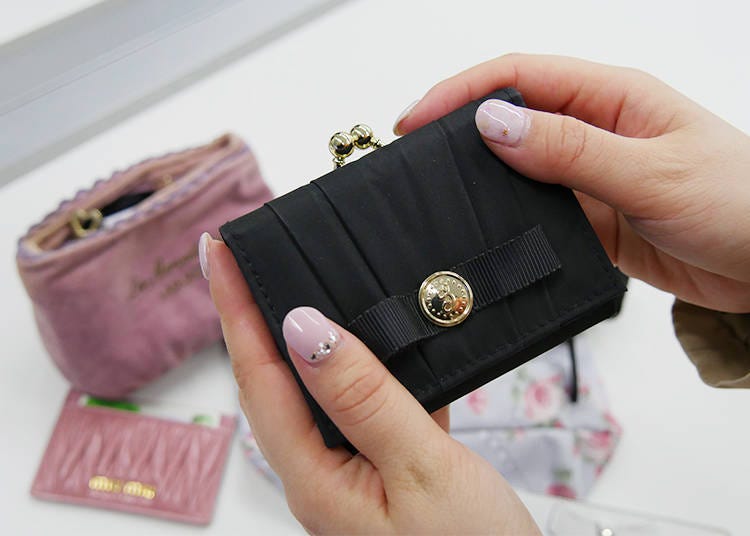 A small, elegant wallet.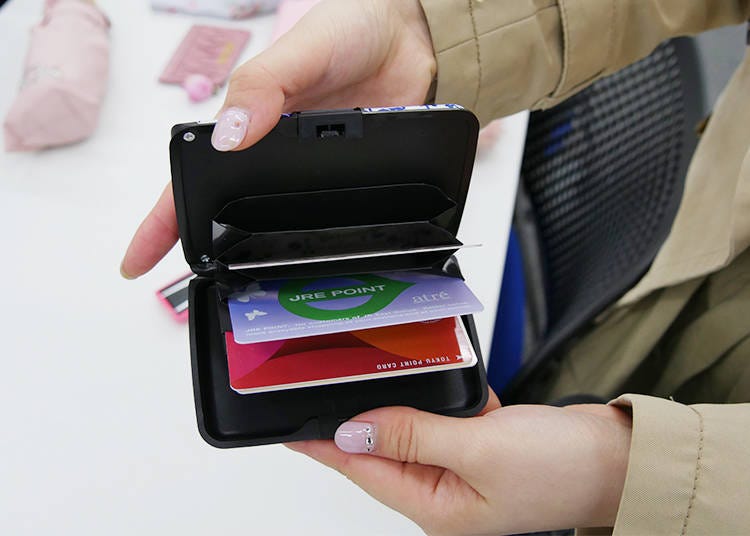 Her card case houses the cards that don't fit in her wallet.
There's about 7,000 to 10,000 yen in Anna's wallet, usually. She says that 7,000 yen is a nice amount if you split a bill among friends, as you can easily hand out 1,000-yen bills and never have to be afraid that you're not carrying enough cash. If she has less than 5,000 yen on her, she gets uneasy, she says.

This wallet is small, but depending on the bag she uses, Anna also has larger ones. She also has a lot of cards that she also changes depending on where she goes, but things like her credit card or important point cards are always with her. The cards that don't fit in her wallet find a place in her card case.
A Charm Hidden in Her Key Case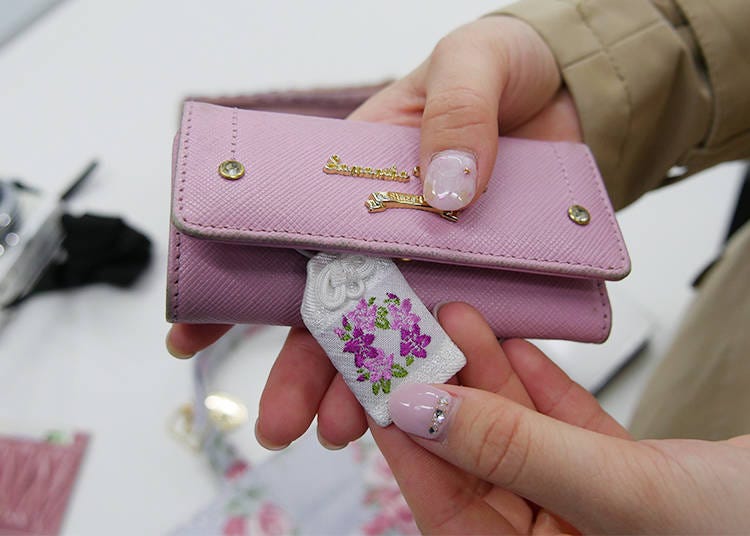 A charm called "omamori," adorned with pink flowers.
Anna's pink key case from Samantha Thavasa has a little surprise: a charm called omamori!

The contents of Anna's bag are wonderfully pink, with plenty of necessities and accessories that you'd expect in the bag of a female college student. The brands that she likes, such as Dior, Samantha Thavasa, and Ladurée are popular among many Japanese women.

All of her things are neatly organized in various little pouches and bags, and from accessories such as the mobile screen cloth, you get a glimpse at just how well-organized Anna is. She skillfully blends a playful, girly design with thoughtfulness and organization, represented by the many little details such as 1,000-yen bills to share a bill among friends easily and without hassle. Amazing!
*This information is from the time of this article's publication.
*Prices and options mentioned are subject to change.
*Unless stated otherwise, all prices include tax.