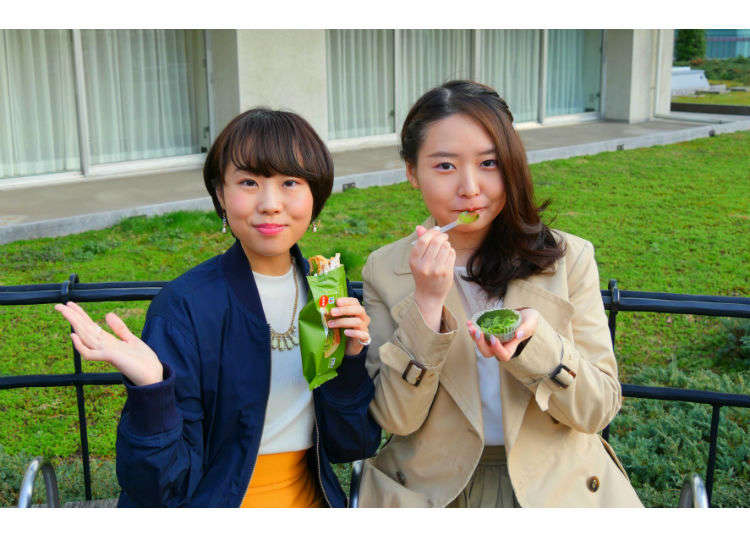 Matcha—Japanese powdered green tea—is now known all over the world. Convenience stores and supermarkets across Japan are stocked with an assortment of green desserts. 7-Eleven has teamed up with Marukyu-Koyamaen, one of Japan's oldest tea farms, to bring you desserts with an authentic matcha taste!

The forefathers of Marukyu-Koyamaen established the tradition of uji matcha cultivation 300 years ago in Kyoto. Since then, Marukyu-Koyamaen has been associated with the finest tea in Japan.

We enlisted the help of Ami and Anna, two university students in Tokyo, to give us their opinions on these matcha sweets from 7-Eleven!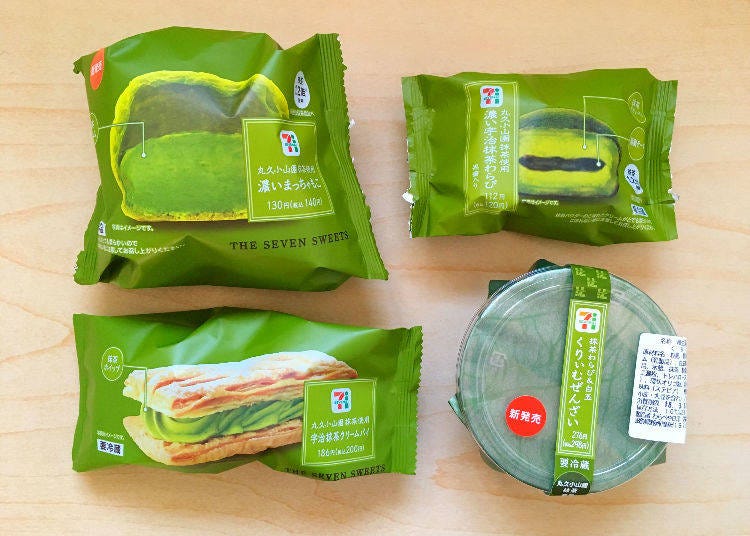 These four sweets will be rated by Ami and Anna.
1. Koi Matcha Moko / 140 yen (with tax)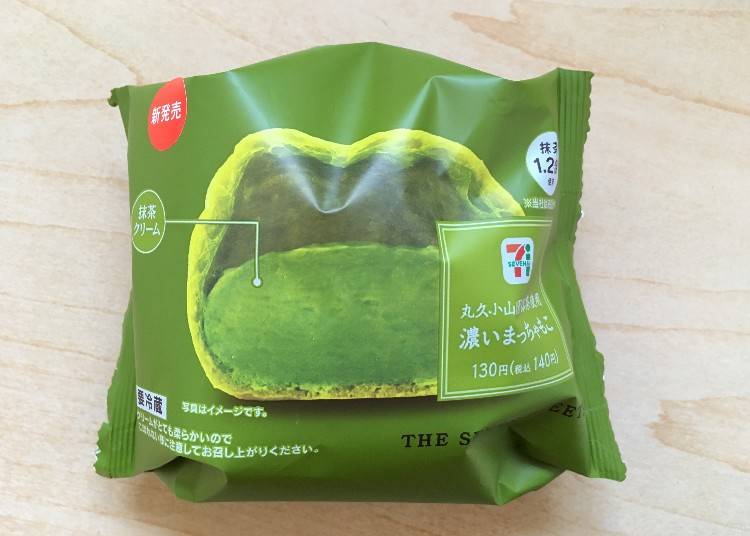 Koi Matcha Moko is a revamped version of a green tea choux crème that has 120% more matcha than its predecessor. It contains 227Kcal.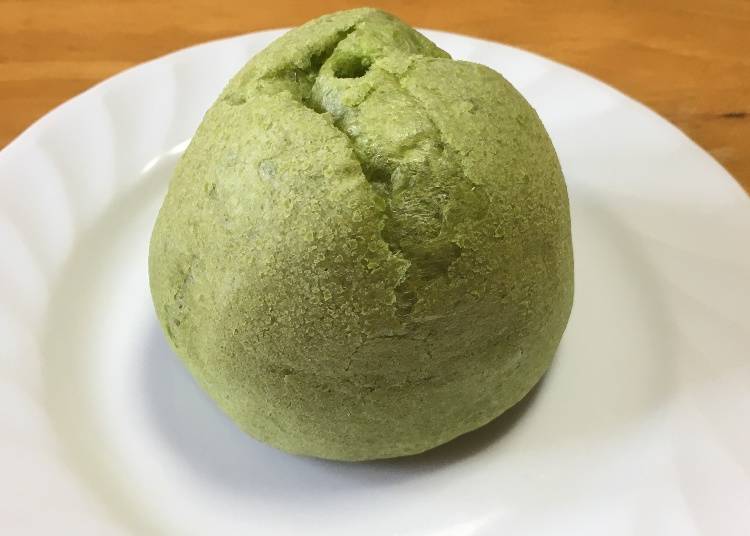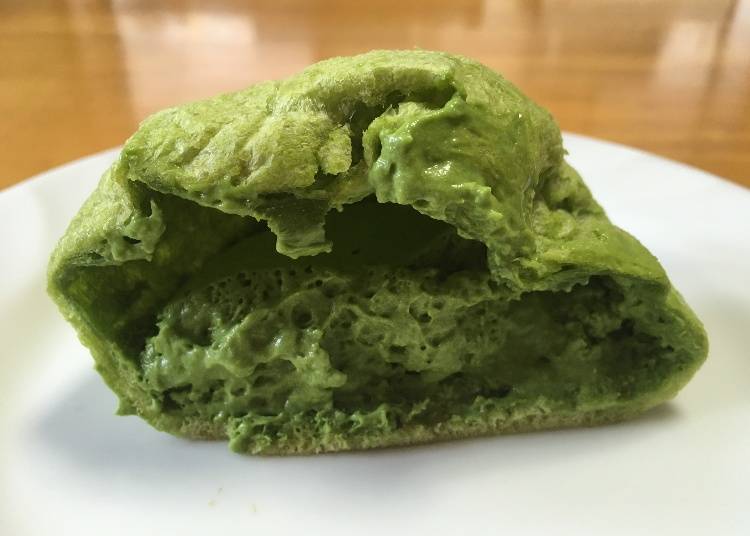 First impression: It's green!!! That caught me off-guard (laughs).
Aroma: The aroma of matcha is powerful.
Texture: The outer shell is springy and the whipped cream goes down well.
Taste: The bitterness of the matcha is good! It's not so sweet, and the pastry shell goes well with matcha whipped cream.

The chou shell and green color give way to a very chewy and surprisingly good treat.

Priced at under 150 yen, you get your money's worth with this dessert. Grab this one when you're craving something sweet.
2. Uji Matcha Whipped Cream Pie / 200 yen (with tax)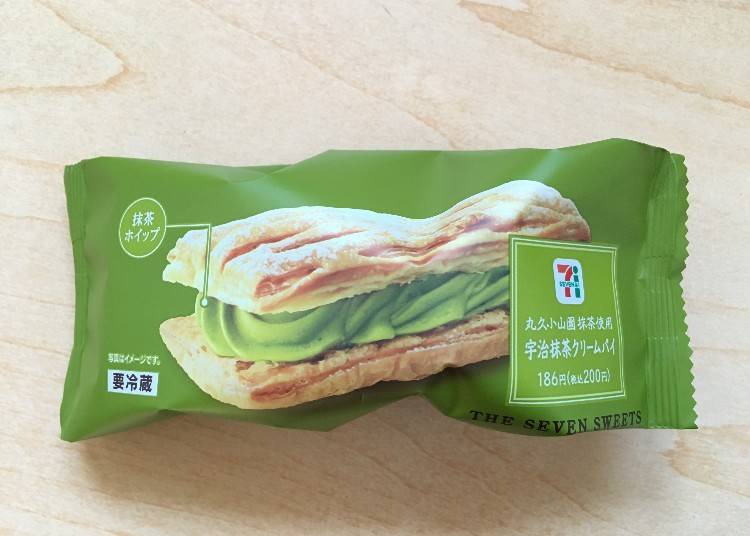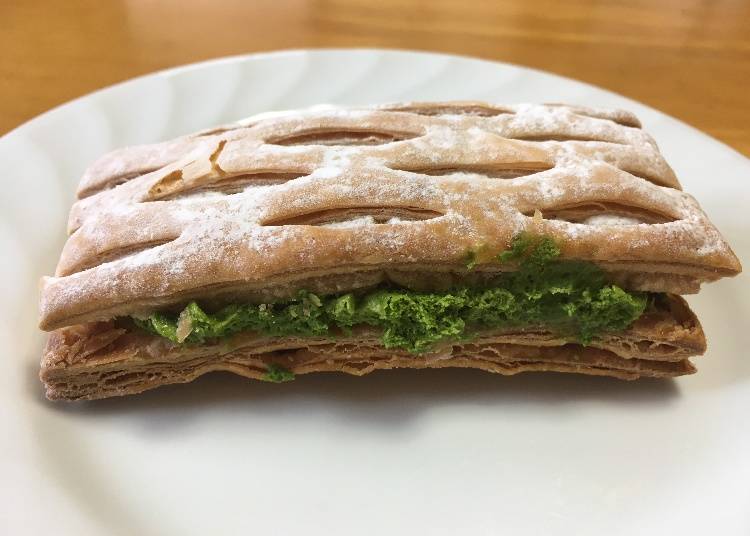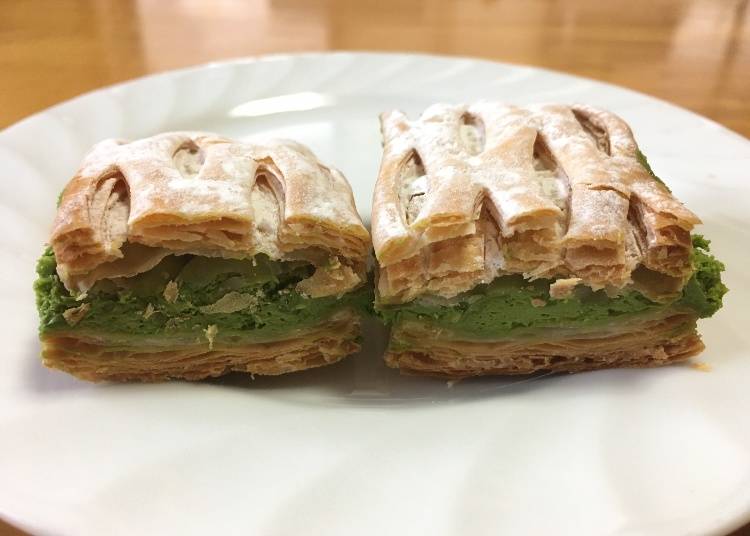 This Uji Matcha Whipped Cream Pie has 234 Kcal and is closer to a mille-feuille pastry. Nearly the size of a 1,000 yen bill this treat is big enough to satisfy your sweet tooth. There's so much whipped cream sandwiched in the middle that it nearly comes out!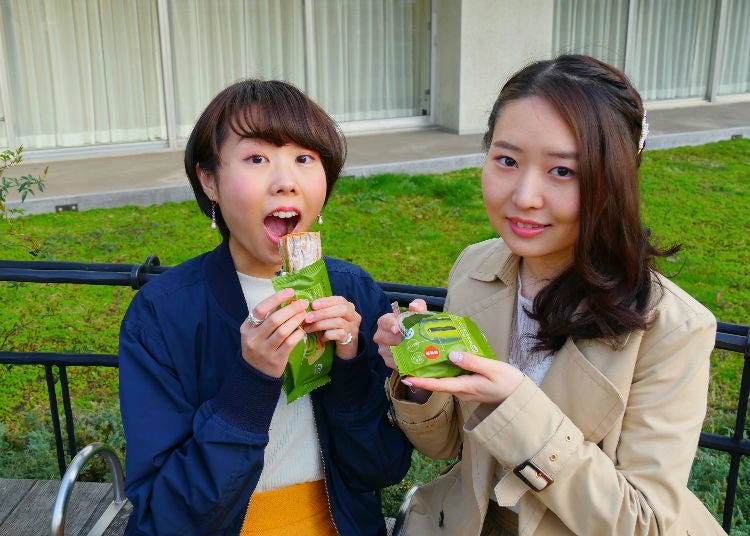 First impression: Look at all the powdered sugar on top. I want to put it on a plate and put it on my Instagram.
Aroma: The scent of matcha is very faint.
Texture: The layers are crispy when you take it straight out the package but soften after a while.
Taste: It seems like the taste of matcha isn't so strong. There's a lot of whipped cream, and it's really good.

Overall score: 3 out of 5 stars
It makes for a very photogenic dessert but it's lacking the flavor and aroma of matcha – thus lacking some kind of a "Japanese" quality. Plus, the pie crust falls apart as you eat it, so we'll give this three stars.
There's something about this that makes you want to take a selfie.
3. Koi Uji Matcha Warabi Mochi with Kuromitsu Sauce / 120 yen (with tax)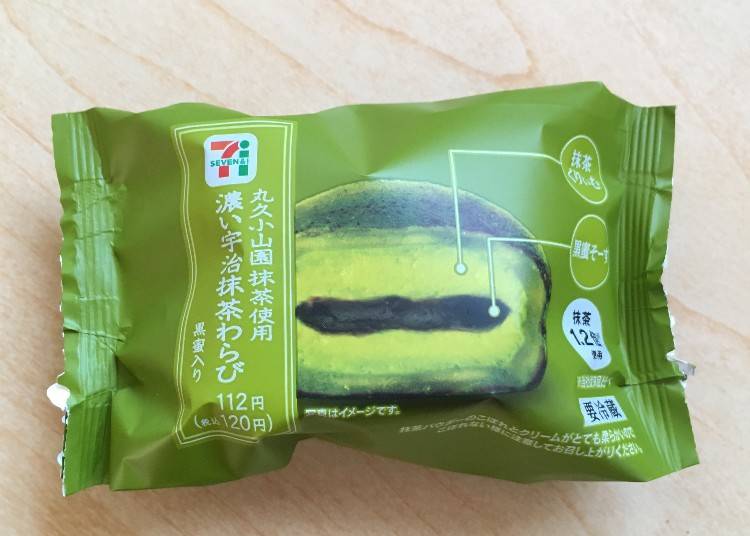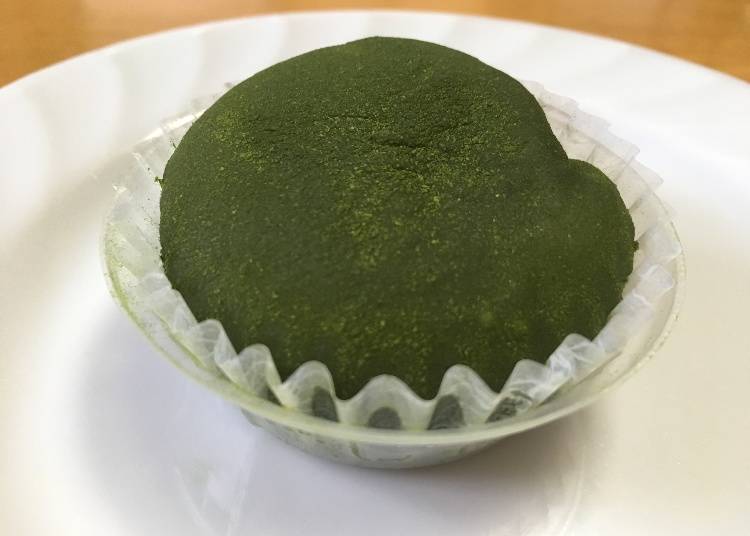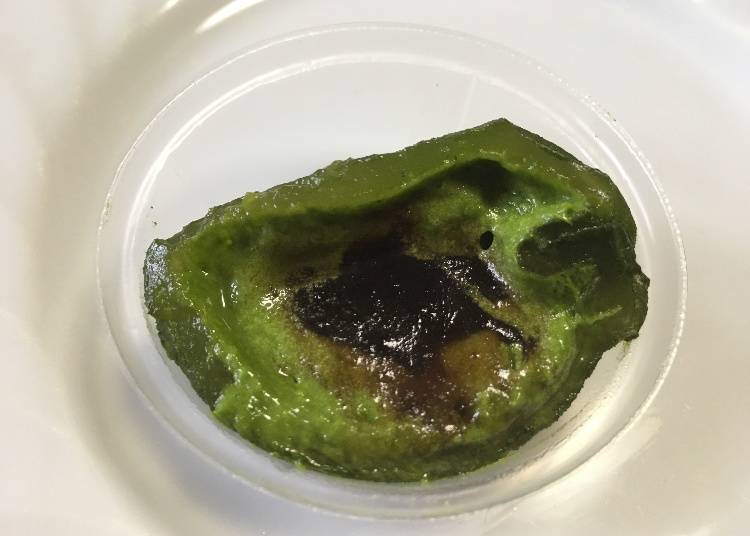 Another dessert that packs in more matcha than its predecessor is this Koi Uji Matcha Warabi Mochi with Kuromitsu sauce. A generous layer of matcha powder covers the warabi mochi, a jelly-like rice cake. Inside the mochi is matcha whipped cream and Kuromitsu sauce. This dessert contains 131 Kcal.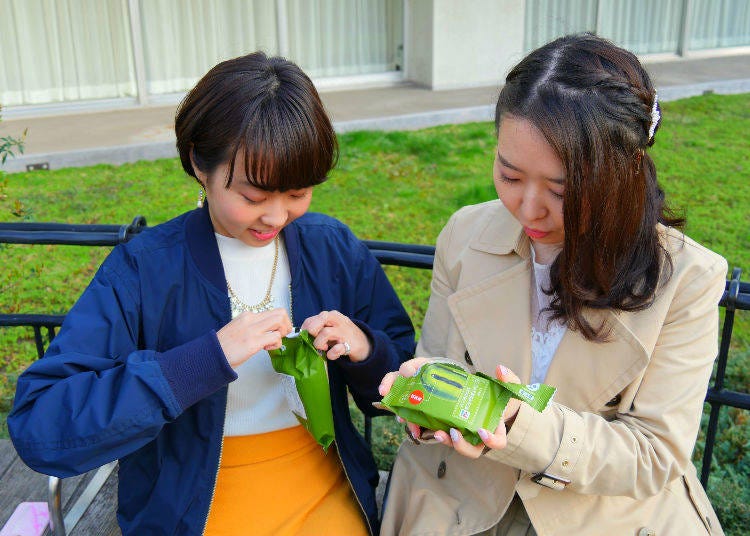 First impression: This is adorable! And it looks good! I'm sure the matcha flavor is really strong. It must be super chewy, too! (Excitement rising) Warabi mochi tends to be round and cute but the color of this warabi mochi is pretty.
Aroma: The scent of matcha is incredible. The whipped cream is also rich. My expectations are high for this.
Texture: The warabi mochi is wonderful. It's jiggly and chewy. The whipped cream just melts in my mouth.
Taste: I can really taste the matcha in this but it's not too strong. The sweetness of kuromitsu and its scent are the best accent for this dessert.

Overall score: 4 out of 5 stars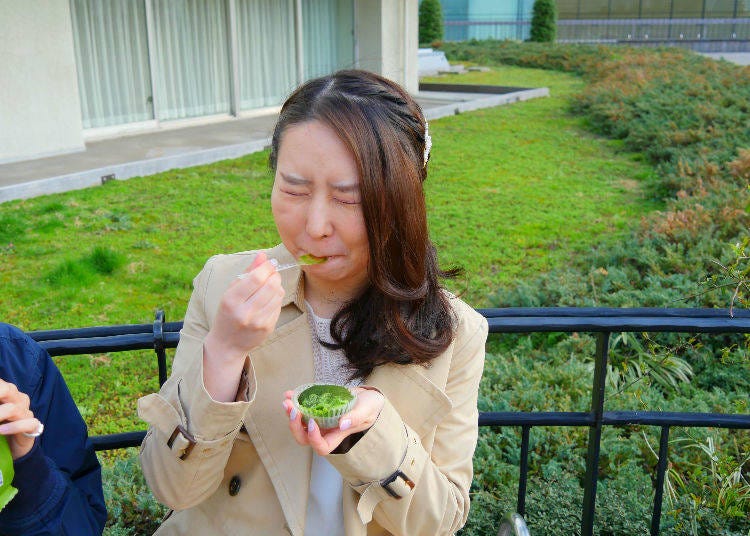 This dessert just screams "JAPAN." It's perfect for unwinding and enjoying a bit of "me time." At only 120 yen, it's a very reasonably priced. This is a dessert I want visitors to Japan to try. Just be sure to use a fork or a pick instead of a spoon!
4. Matcha Warabi and Shiratama Zenzai / 298 yen (with tax)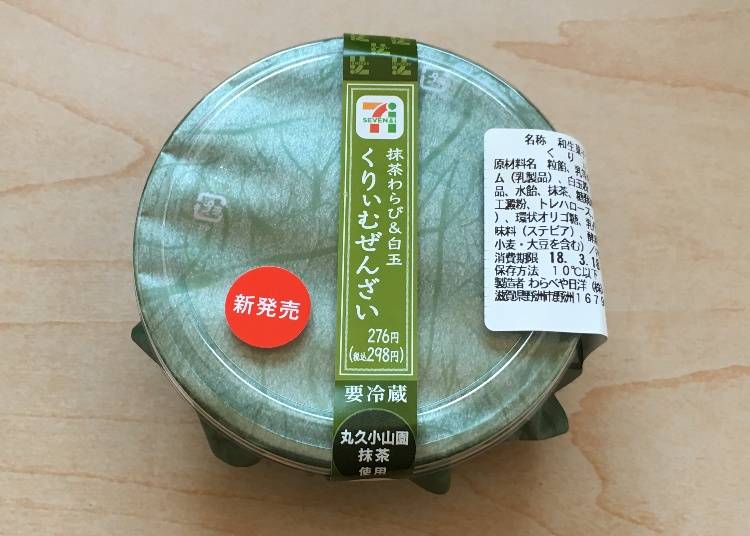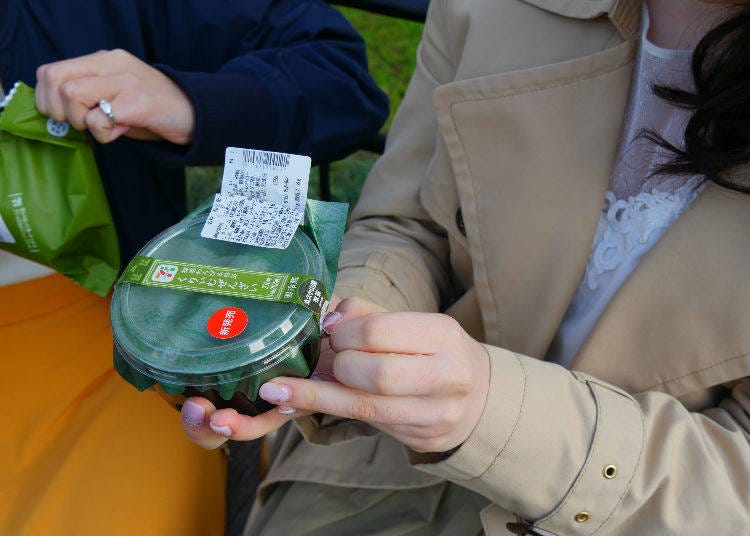 We can't wait to see what's inside!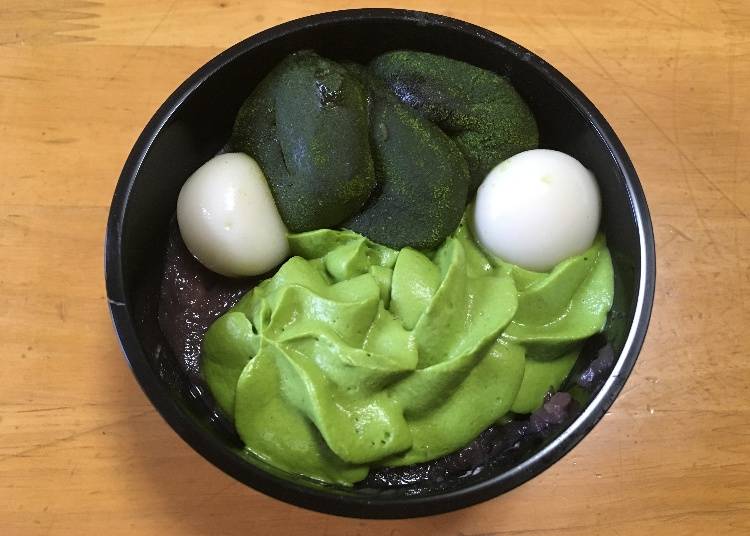 This newly released Matcha Warabi and Shiratama Zenzai has 306 Kcal and is a twist on a classic Japanese dessert.
Chunky red bean paste is generously topped with jelly-like matcha-flavored warabi mochi, chewy balls of shiratama mochi, and matcha whipped cream.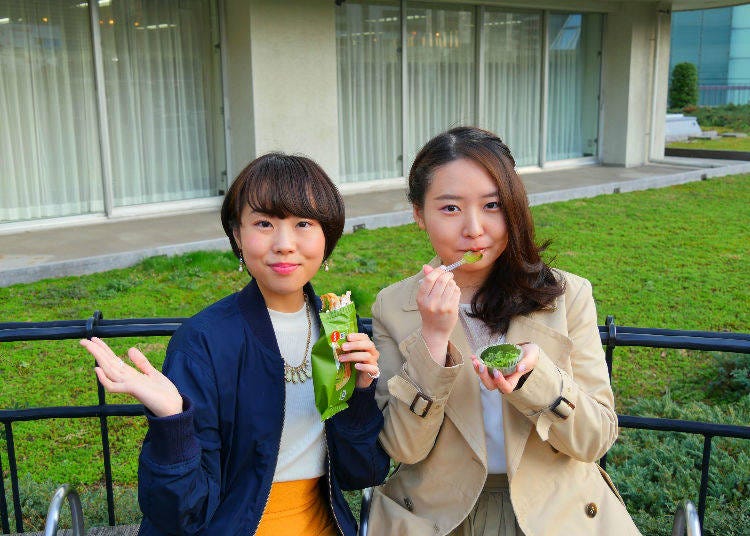 First impression: I couldn't help but say "Wow," as I opened this. It looks amazing. The contrast between the glistening white shiratama mochi balls, green whipped cream, and green warabi mochi is beautiful.
Aroma: I love how rich the scent of matcha is. The warabi mochi smells like kuromitsu.
Texture: The warabi mochi is jiggly and smooth. I was surprised when the kuromitsu came out! Even though the bottom is crushed red beans, it's really like a paste and not thick at all. The whipped cream is fluffy.
Taste: The whipped cream isn't that sweet. The bean paste is also light on sweetness. If you eat the warabi mochi, which is flavored by kuromitsu, it rounds out the sweetness.

Overall score: 5 out of 5 stars

This is a Japanese dessert that is perfect after a meal. I love its presentation! It's a great choice if you're looking to try something traditional while in Japan. You'll be able to experience different tastes and textures.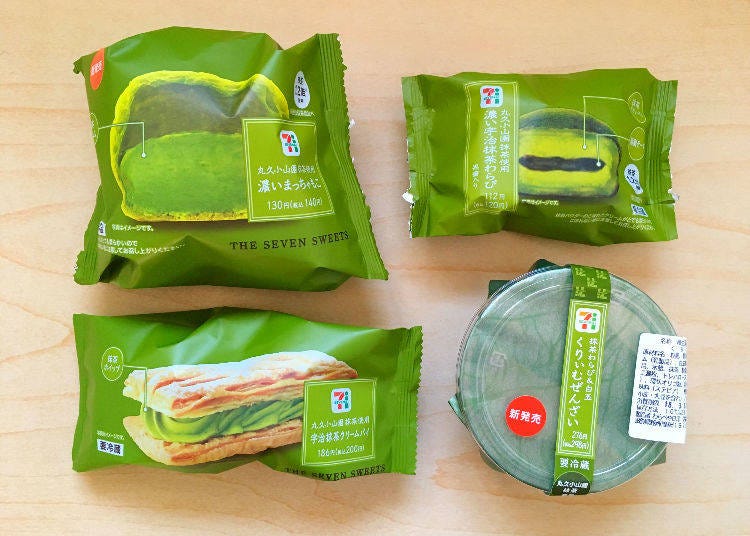 As you can see, these matcha desserts from 7-Eleven have been given the seal of approval by our college reporters. Enjoy the flavor and bitterness of matcha with these satisfying sweets! If you're watching your figure, you will definitely appreciate these low-calorie sweets that don't skimp on portion control.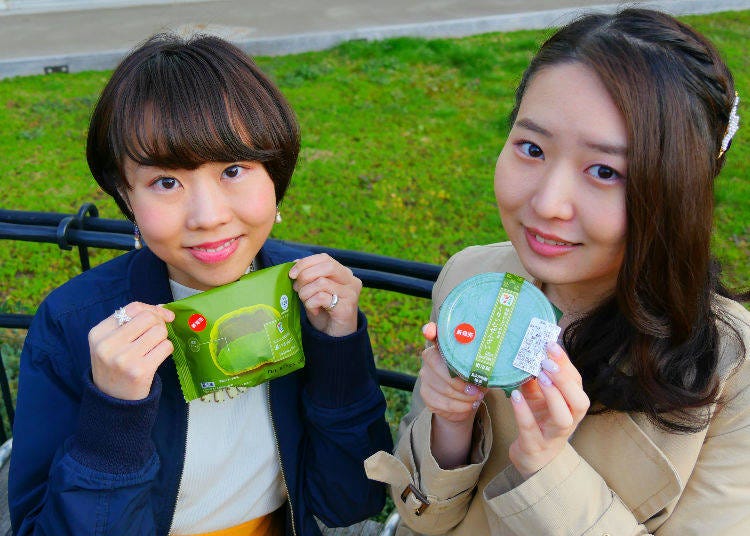 Head to your nearest 7-Eleven for these four treats as and other desserts, such as their newest sweets Uji Matcha Roll Cake (濃い宇治抹茶ロール ; 210 yen with tax) and Uji Matcha Japanese Taco (宇治抹茶和むれっと ; 160 yen with tax) that just released, too!
*This information is from the time of this article's publication.
*Prices and options mentioned are subject to change.
*Unless stated otherwise, all prices include tax.
Limited time offer: 10% discount coupons available now!