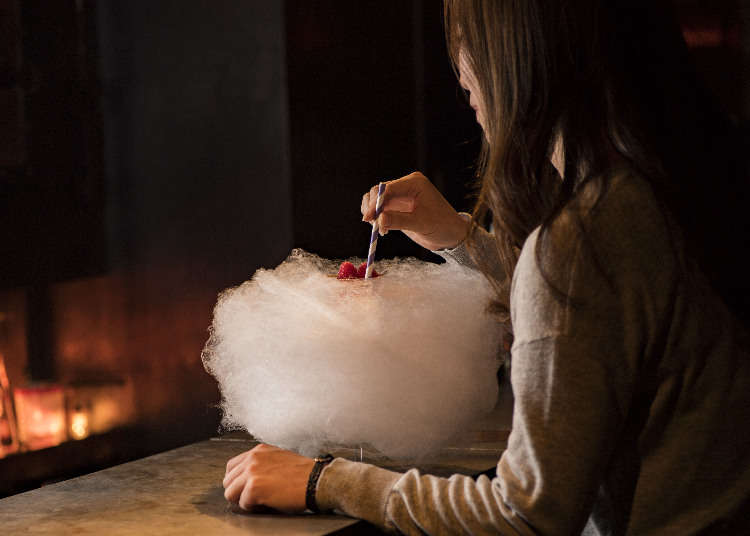 If you've come to Tokyo looking for a good time, then here are some fun spots we think you will enjoy. These four bars are uniquely different. One is a bar that has a selection of more than 200 different types of canned foods; another is a bar in which you can watch live penguins; a third is a bar that looks like it came out of the past having the for its theme dagashiya, which were traditional inexpensive candy stores popular more than 50 years ago; and lastly a bar set in a fairytale setting!
1. Mr. Kanso – Bar located in Okachimachi near Ueno has over 200 types of canned snacks!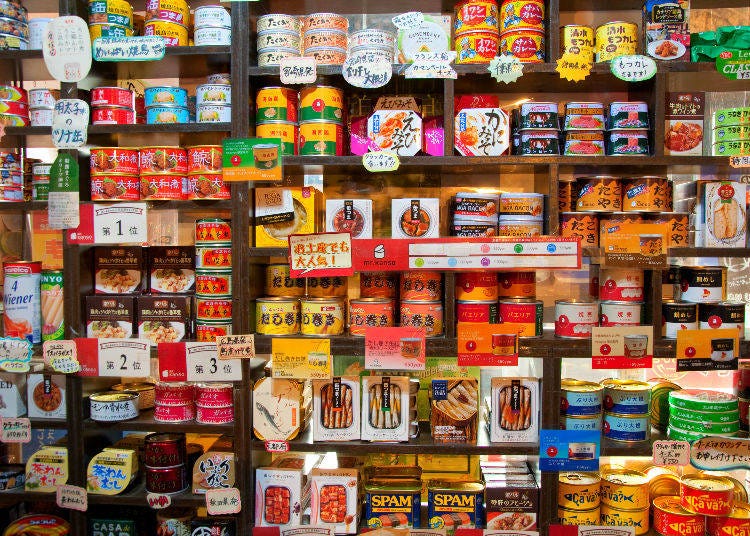 The moment you set foot in the place you are greeted by a wall crammed full of cans
"Mr. Kanso" is a bar where you can enjoy all sorts of canned snacks with your drink located near Ueno, a popular tourist spot. With more than 200 types to choose from, the quality is so good that if you weren't told the contents were canned you wouldn't know it.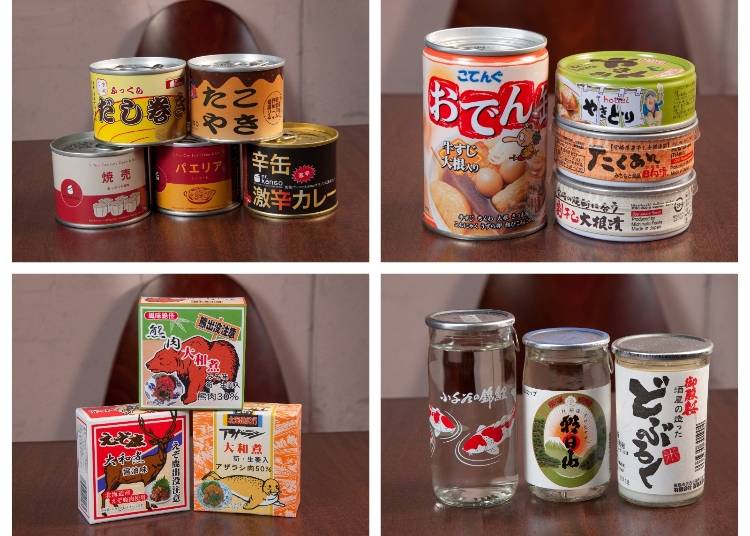 Top left: The shop's own original series starting at 550 yen (tax included). These are uniquely different, such as the takoyaki (octopus dumplings). / Top right: A series of canned snacks with which all Japanese are very familiar starting at 350 yen (including tax). These include oden (a one-pot winter dish with all sorts of ingredients such as boiled eggs and fishcakes in a light soy-based broth), yakitori (grilled chicken on a skewer), and takuan (yellow pickled radish). / Lower left: Jibie (wild game meat) Series seldom seen in Japanese supermarkets, starting at 1,000 yen (tax included). / Lower right: Various types of Japanese liquor such as Asahiyama and doburoku (a cloudy sake also known as nigorizake) starting at 550 yen (tax included) also line the walls.
After you arrive and sit down, scan the shelves for a can of snacks you would like to have with your drink. The shelves are so crammed full of all types of cans, both foreign and domestic that you may have trouble deciding where to start. If that's the case, you can select from a list of those ranked by popularity or you can first order a drink and then ask the master of the shop for a recommendation!

Once you have selected a can of snacks, hand it over to the master and he will open it for you. This is a cash-up-front type of business, so you pay as you order. Cash only; credit cards are not accepted.

If the ingredients of the can need to be cooked or prepared in a certain way, the shop master will do just that and once they have been prepared, he will serve them to you. All of the items in the shop can be ordered for takeout, too. Some of the cans have such unique and eye-catching designs they would make a good gift.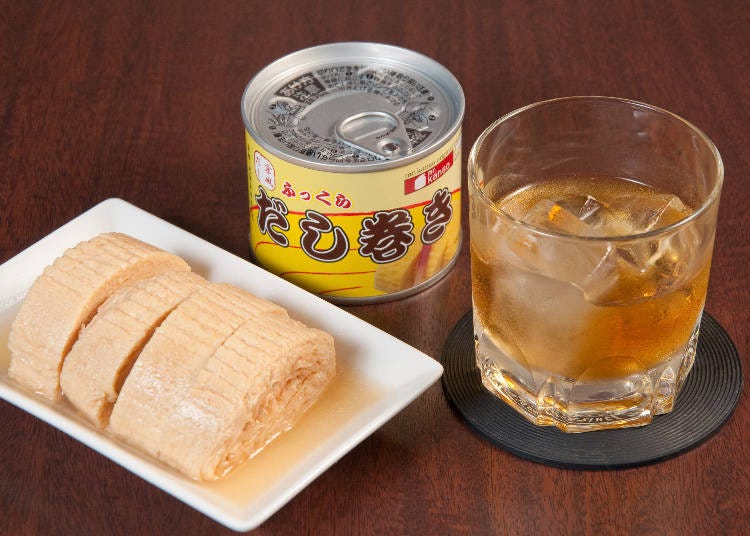 This canned dish is Dashi Makitamago (egg roll in broth) that is a collaborative effort made by the shop and an old traditional Japanese restaurant in Kyoto!
The Dashimaki Tamago for 550 yen (tax included) recommended by the master. This is a dish that can only be enjoyed at Mr. Kanso shops as it is an original product. This soft egg roll in a light soup broth goes especially well with a well-known local Asakusa liquor called Denki Bran costing 450 yen (tax included).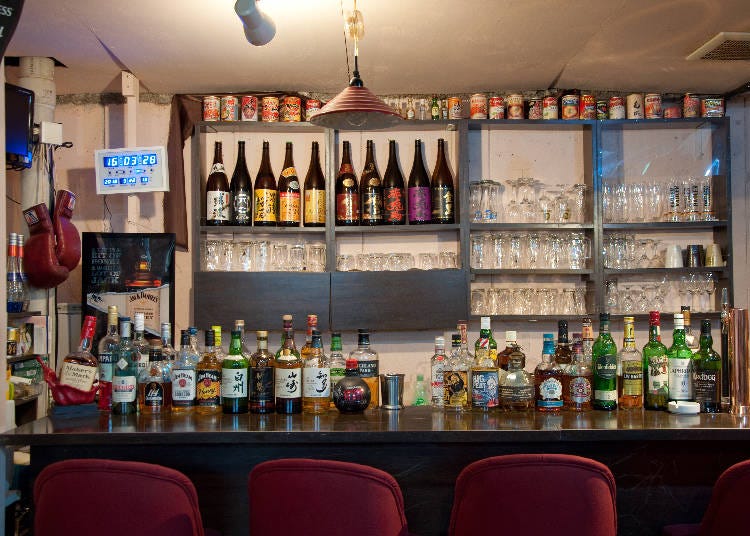 Mr. Kanso (Ueno / Okachimachi)

Mr. Kanso 上野御徒町店

Address

〒110-0005 東京都台東区上野6-3-7 UPS三浦ビル3階 / 3F, 6-3-7 Ueno, Taito-ku, Tokyo 1100005, Japan

Nearest Station

Ueno Station / Okachimachi Station


Phone Number

03-3834-3144

Hours: 17:00 - 24:00 (Monday - Saturday), 17:00 - 23:30 (Sundays & Holidays)
Closed: 12/31 - 1/2
2. Share a drink with some penguins!? (Ikebukuro)!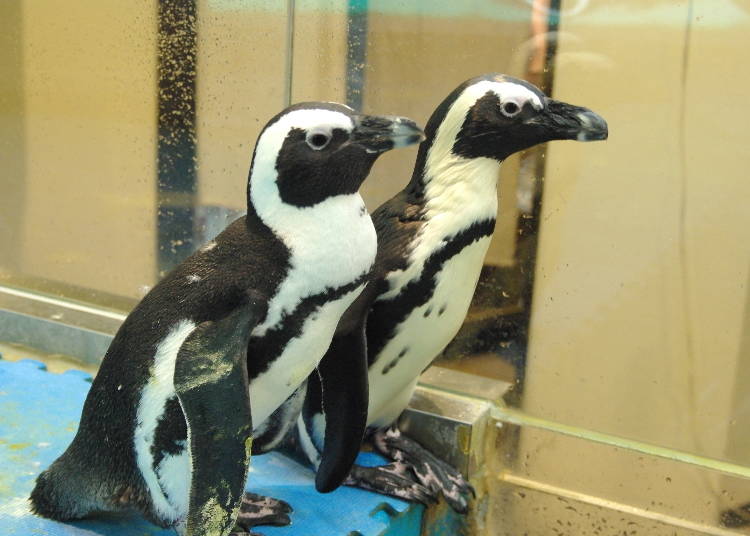 Couple of cute penguins greeting customers!
Ikebukuro is a well-known entertainment district. In recent years it has gained attention as a town noted for anime. Most recently the Penguin Bar has gained a lot of attention. It is the only bar in Tokyo where you can watch the cute antics of penguins while you have a drink; it's also a bar that is extraordinarily spacious.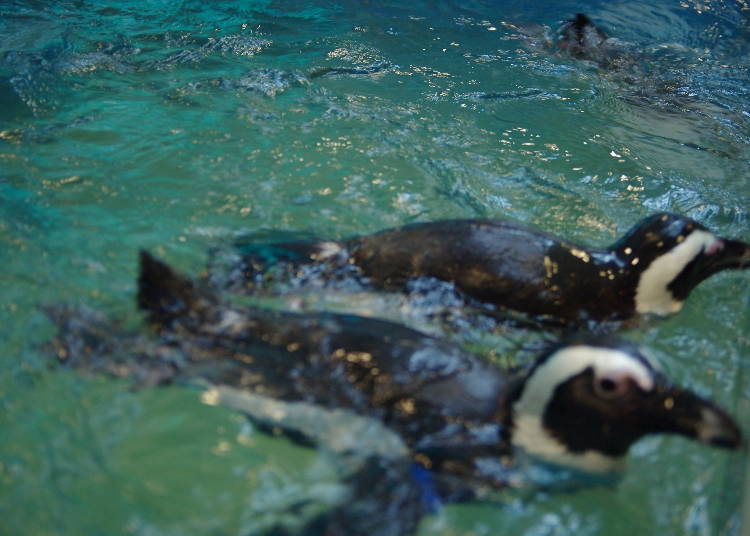 Just watching these charming penguins is relaxing
Between 19:00 and 20:00 is the penguins' feeding time, so this is an especially good time to visit the bar.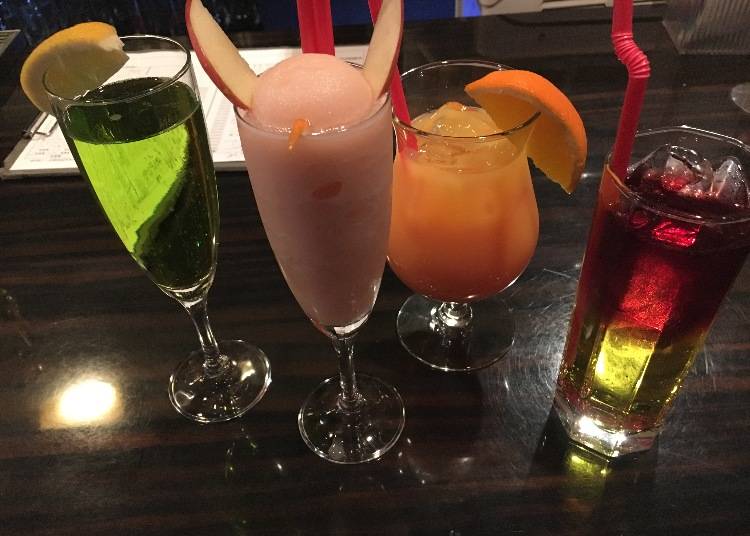 The bar has several original cocktails which are especially popular with the ladies and which begin at 1,290 yen (tax included)
Shown in the center is the bar's original frozen cocktail that that uses apple sliced to represent penguin wings and a bit of lemon to represent the penguin's beak and costs 1,000 yen (tax included). The bar also offers standard cocktails, too. That frozen penguin cocktail has a Malibu Rum base which gives it a tropical flavor and many order it for its cute appearance, making it a popular favorite.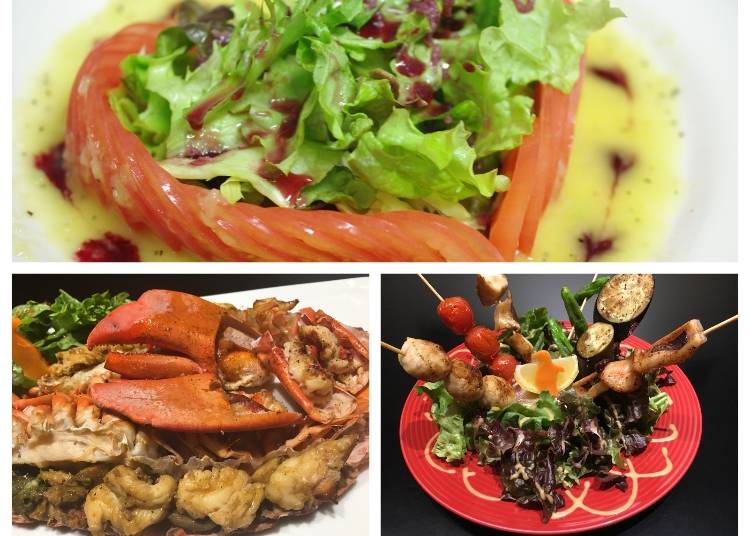 Good selection of food on the menu >> Upper: Lovely Tomato Salad 972 yen (tax included) . Lower left: A full lobster 3,218 yen (tax included) / Lower right: Kushi [set of 6 skewers 1,080 yen (tax included)
The bar also offers snacks and other light refreshments for your pleasure as you watch the penguins frolic.
ペンギンのいるBAR 池袋

Address

〒171-0014 東京都豊島区池袋2-38-2 COSMY1ビル 1階 / 1F, 2-38-2 Ikebukuro, Toshima-ku, Tokyo 1710014, Japan

Nearest Station

Ikebukuro Station


Phone Number

03-5927-1310

Hours: 18:00 - 4:00
Closed: 1/1 - 1/3
3. Shibuya Dagashi Bar with its old-time atmosphere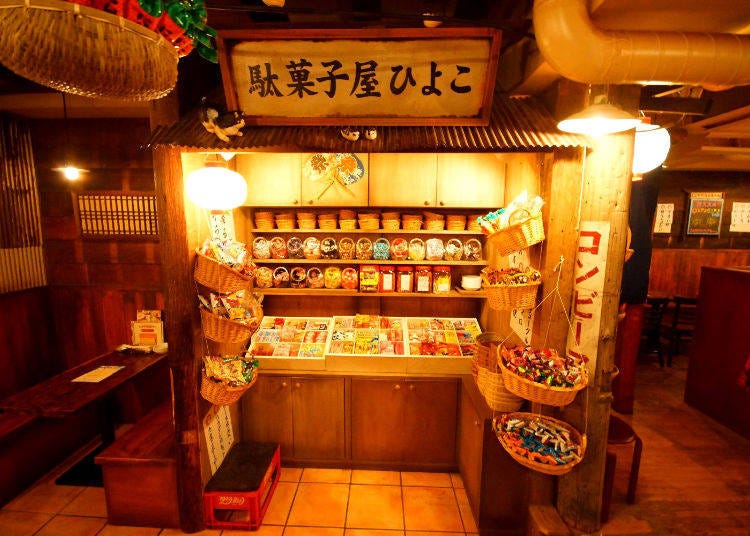 The moment you step inside the bar you will feel like you have traveled back in time to the Japan of 50 years ago!
Shibuya is noted for its culture of youth and being a place where many popular trends in Japan originate; a town familiar to young people from all over the world. In this ultra-modern town the Shibuya Dagashi Bar is a retro establishment like something straight out of the past.

When Japan was emerging after the war and in the midst of reconstruction, dagashiya, neighborhood shops that sold inexpensive candy to children, were places every child went. The atmosphere of them was one of warm, down-to-earth charm offering children a wide selection of inexpensive treats to choose from. That atmosphere is reproduced here in this bar.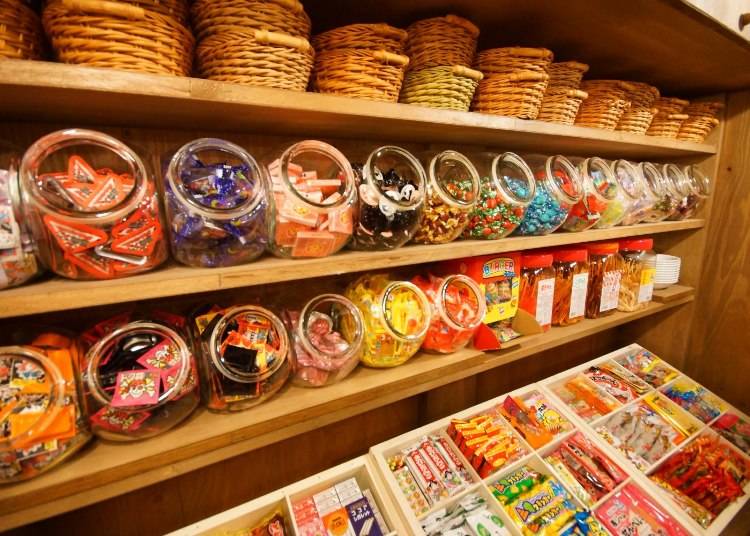 If you order one drink and pay the 540 yen (tax included) table charge you can eat any and all of the candy in the shop freely! (2 hour limit)
If you order one drink and pay the 540 yen (tax included) table charge you can help yourself freely to the more than 100 types of candy displayed (2-hour limit) which includes gum, ramune (soda pop flavored candy), gumi (gummy candy), and other candy treats popular half a century ago. This is a place that will transport you back to a time of childhood memories. You can't take the candy with you when you leave, but they do have bagged sets for that purpose which cost 540 yen (tax included) and make good gifts.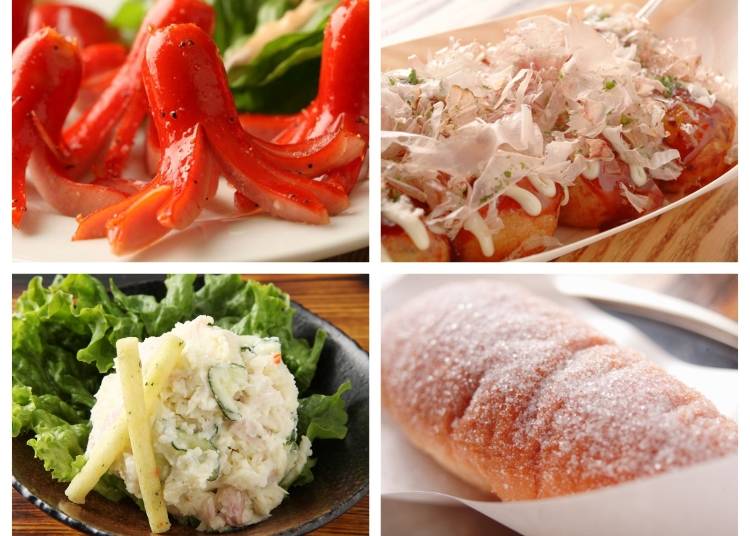 Upper left: Box lunch red wieners 432 yen (tax included) / Upper right: Takoyaki served at fairs 486 yen (tax included) / Lower left: Jagariko potato salad 486 yen (tax included) / Lower right: Agepan (fried bread, lightly sugared) popular in school lunches 216 yen (tax included)
The menu includes many other types of dishes loved by children, such as wieners cut in the shape of octopus, food served at fairs, and standard box lunch menus. Children especially loved the red wiener cut in the shape of an octopus, the agepan which was a staple of school lunch menus, and the potato salad that comes with jagariko, a snack that looks like French fried potato strings. Imagination has also gone into the drinks offered, such as the Sumomo Sour, 594 yen (tax included) made with the sumomo (plum) dagashi candy and the Genki Hatsuratsu Sour, 648 yen (tax included) made with the carbonated stamina drink Oronamin C. Standard cocktails, beer, whisky, and soft drinks are also served.
しぶや駄菓子バー

Address

〒150-0042 東京都渋谷区宇田川町26-5 2F / 2F, 26-5 Udagawa-cho, Shibuya-ku, Tokyo 1500042, Japan

Nearest Station

Shibuya Station


Phone Number

03-6416-9820

Hours: 16:00 - 23:30 (15:00 - 23:30 on Saturdays, Sundays, and holidays)
(2-hour time limit on Saturdays, Sundays, and holidays)
Closed: None
4. A fantasy world unfolds at The Iron Fairies Ginza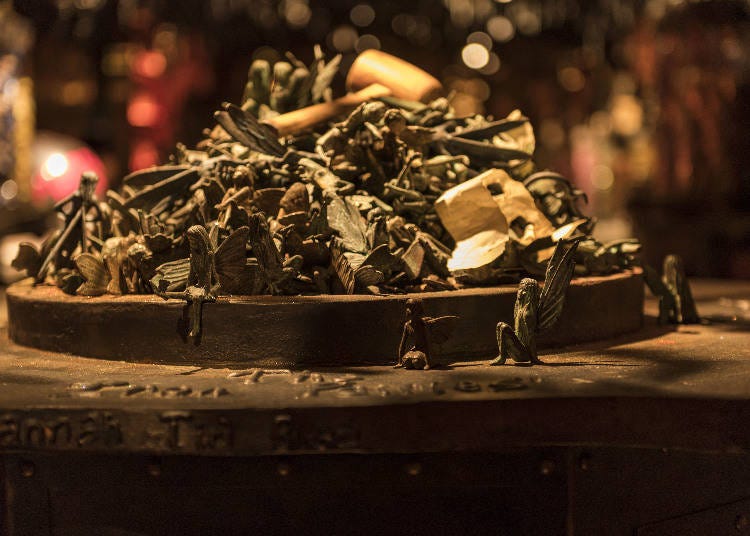 A fantasy world inhabited by countless fairies underground in Ginza
The Ginza area is easily accessible on foot from the JR Yurakucho Station, Shimbashi Station, and Tokyo Station. Famous for exclusive world brand luxury items, it also has pockets of old as well as new culture. The Iron Fairies Ginza bar is one such place.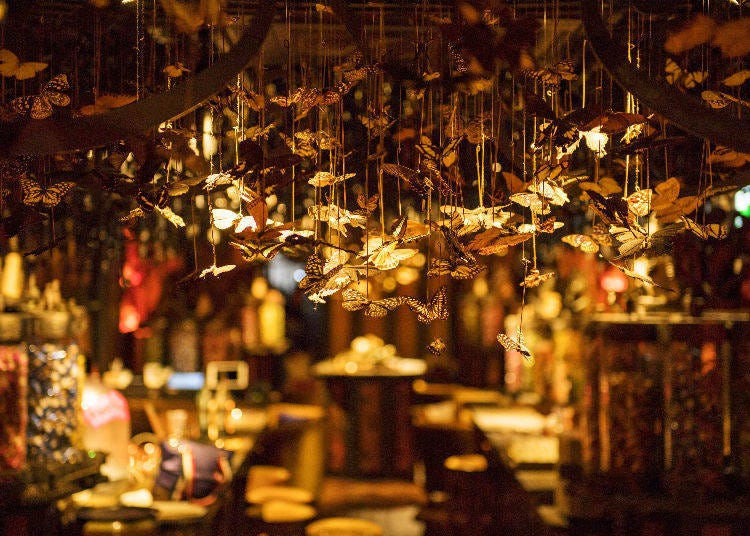 The store is full of figurines of fairies; table and counter seating
The inside of this bar will make you feel like you are in another dimension, a fantasy world populated by iron fairies. Each fairy has been handmade, and they are to be seen wherever you look in the bar. There are also butterfly motifs hanging from the ceiling and numerous keys hanging in decoration, too. Medicine bottles looking as though they contained fairy dust are also lined up. This is a fantasy world for adults tucked away in Ginza.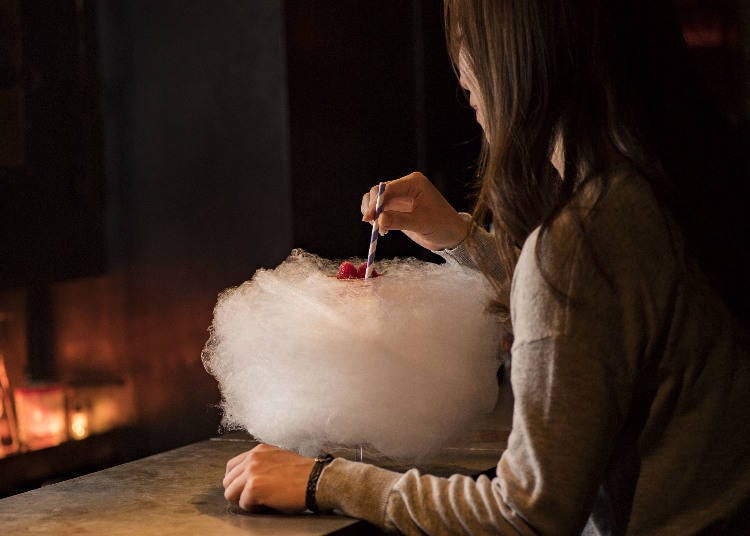 The Heaven Lonely Froze, popular with the ladies, 1,700 yen (tax included)
Of the many tasteful drinks offered on the menu the Heaven Lonely Froze, 1,700 yen (tax included) is a white rum based cocktail with raspberry syrup, lemon juice, mint, and soda concoction enveloped in a swirl of cotton candy that is most impressive. The Pink Octopus is a cranberry juice based cocktail topped with egg white and an octopus leg, 1,700 yen (tax included). Non-alcohol drinks, such as those using yuzu and other citrus syrups are offered and start at 1,100 yen (tax included).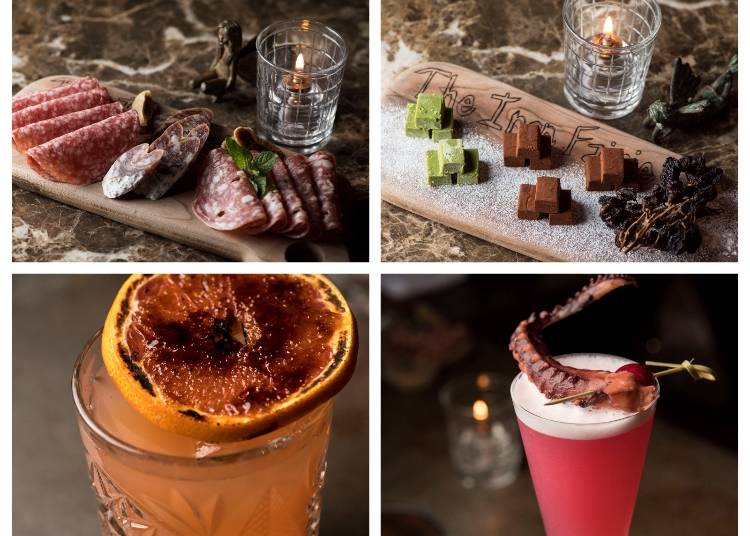 Upper left: Assorted salami plate 1,600 yen (tax included) / Upper right: Hokkaido Royce' raw chocolate 1,600 yen (tax included) / Lower left: Ash Backwards 1,300 yen (tax included) / Lower right: Pink Octopus 1,700 yen (tax included)
The bar is open from 11:00 AM to 7:00 PM as a café offering a selection of sweets, such as cheesecake and apple pie, starting at 1,200 yen (tax included), as well as other light dishes such as hot dogs (2) for 1,600 yen (tax included). During the bar hours, the cotton candy cocktail is especially popular. Non-alcoholic drinks are served in the afternoon for 1,500 yen (tax included).
1,000 yen table charge for the bar hours; 500 yen table charge for the café hours (tax included)
The Iron Fairies Ginza

Address

〒106-0061 東京都中央区銀座5-9-5チアーズ銀座B1 / B1, 5-9-5 Ginza, Chuo-ku, Tokyo 1060061, Japan

Nearest Station

Ginza Station


Phone Number

03-6274-6416

Hours: 11:00 - 4:00
Closed: None
The above are a small selection of unique bar experiences offered in Tokyo ranging from the canned foods enjoyed in Japanese families, to penguins frolicking in a bar, an old-fashioned inexpensive candy shop reminiscent of an earlier age, and an underground bar in the Ginza having a fairyland theme; each also offers uniquely different original cocktails.

There are of course traditional and standard pubs everywhere you go, but for a change of pace and a different experience, you might enjoy visiting one of the above establishments for a unique and memorable night out on the town.
*This information is from the time of this article's publication.
*Prices and options mentioned are subject to change.
*Unless stated otherwise, all prices include tax.
Limited time offer: 10% discount coupons available now!