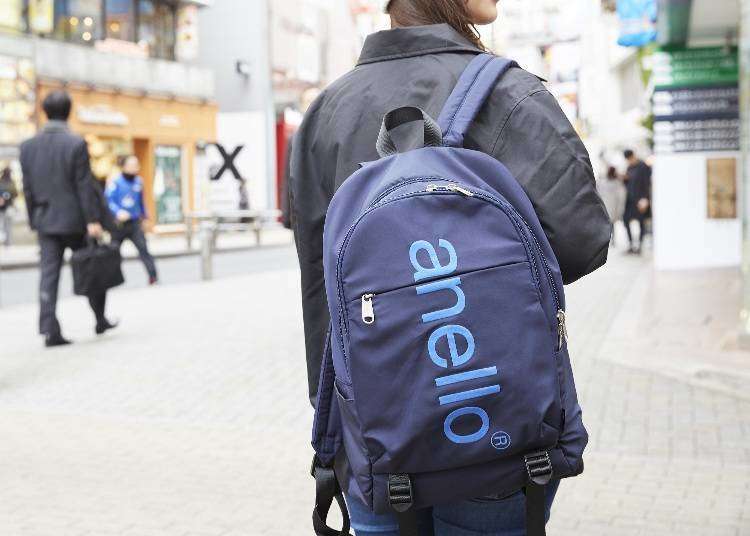 When you walk around Tokyo, you'll doubtlessly notice that everyone seems to have an Anello backpack. The designs and colors are diverse, but the label is the same on every bag: Anello. From kids to high schoolers, office workers to seniors, every Tokyoite seems to have one of these Anello bags – is that the latest trend in the metropolis?
Anello is a Japanese bag brand that was born in 2005. The word is borrowed from Italian and means "ring" or "loop" and stands for the simple yet well-balanced design that the brand got famous for. Anello uses various materials and designs in creating its many bags, accommodating to various styles and generations.

In the last several years, Anello has not only become massively popular in Japan but also overseas, especially in Asian countries and regions such as China, Hong Kong, Taiwan, Thailand, and the Philippines. Counterfeit products have popped up here and there, further emphasizing Anello's popularity. For brand- and fashion-aware tourists coming to Tokyo, an Anello bag often is on top of the must-buy list when touring areas such as Shibuya or Harajuku!
Where can I buy Anello backpacks and bags?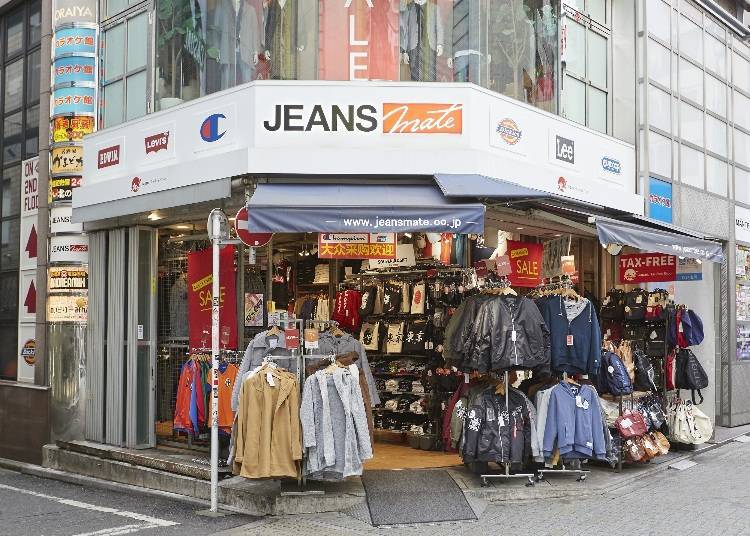 One easily-accessible shop that sells a great variety of Anello backpacks and bags is Jeans Mate in Shibuya.

Jeans Mate Shibuya is a mere 5-minute walk away from the busy Shibuya Station and thus fits in any sightseeing plan with ease. Although the name of the shop suggests a jeans specialty store, Jeans Mate boasts a great selection of casual wear and outdoor brands, such as Champion and Outdoor Products.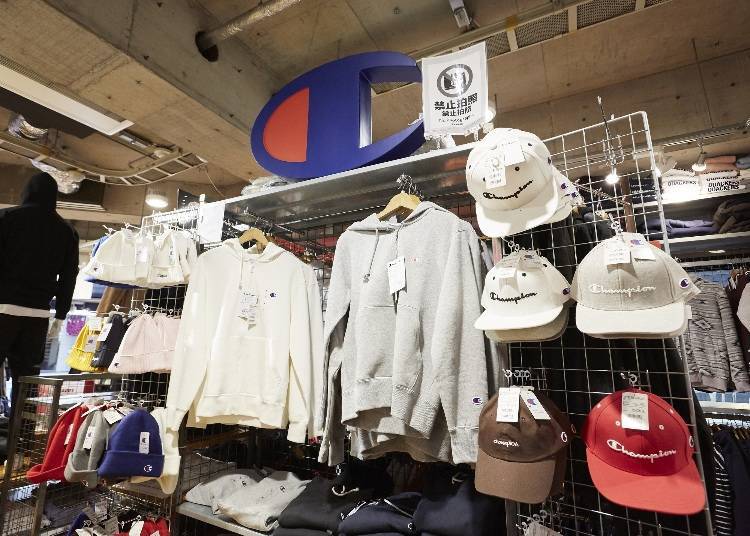 Among this selection, you'll easily find the many different Anello bags!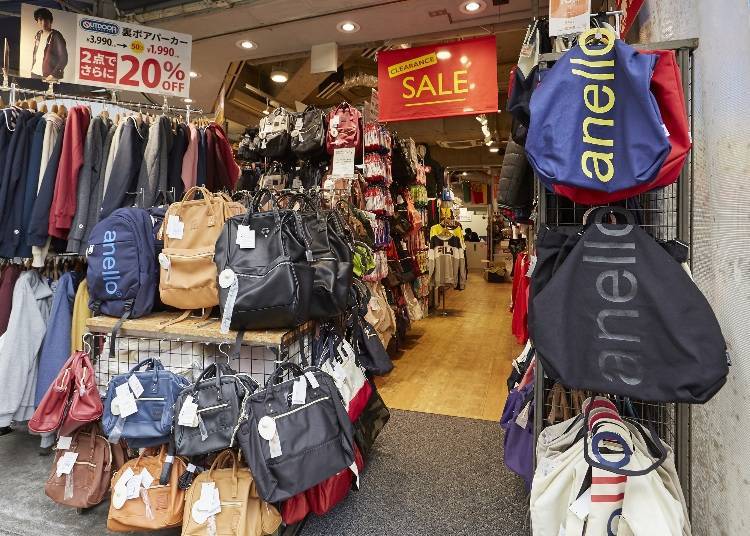 Top 5 Anello Bags Recommended by the Staff!
To know more about the Anello backpack and bag trend that conquered Tokyo by storm, we asked Saki, who works at Jeans Mate, for her recommendations.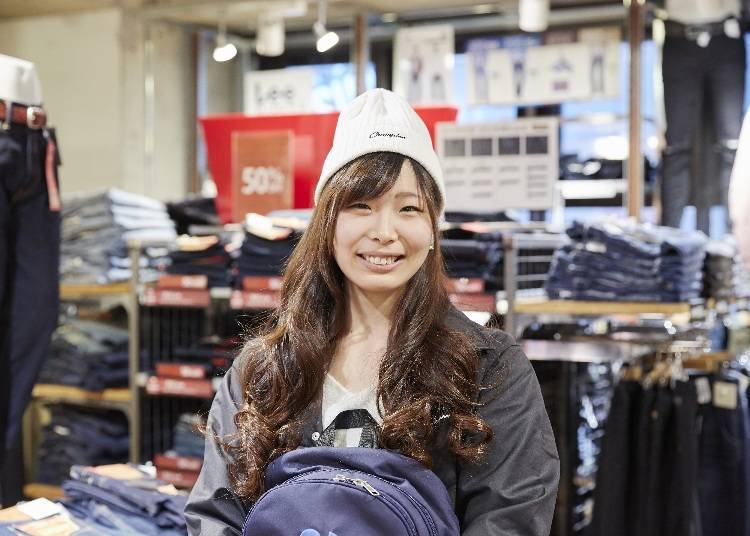 1. Kuchigane Rucksack: A Spacious Anello Backpack that's Fancy and Comfy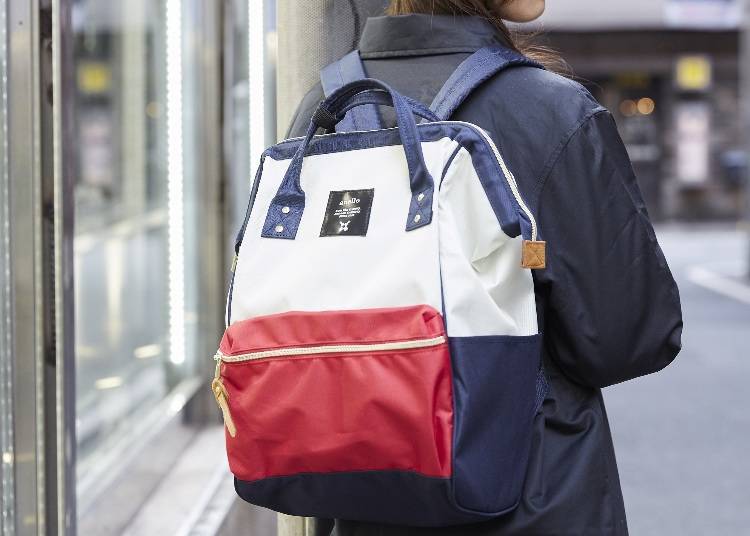 ▲ Anello "kuchigane" backpack for 4,500 yen (tax excluded), Champion coach jacket for 9,500 yen (tax excluded)
Let's first look at two of Anello's bags that enjoy steady popularity.

The "kuchigane rucksack" is by far Anello's most popular backpack. It's tough to see judging only by the outside, but this bag offers an amazing amount of space once opened. This is the Anello bag's main characteristic! It's just perfect for daily use because you won't have to rummage through all your stuff, unable to find anything, while still being able to easily fit all your necessities. The polyester canvas bag is surprisingly lightweight while still big enough for A4-size documents.

Saki says:
"This particular Anello backpack is rather simple but easy to use and is especially popular among people with small children. The main space is quickly accessible via the zipper and you can take things in and out without having to put the backpack down."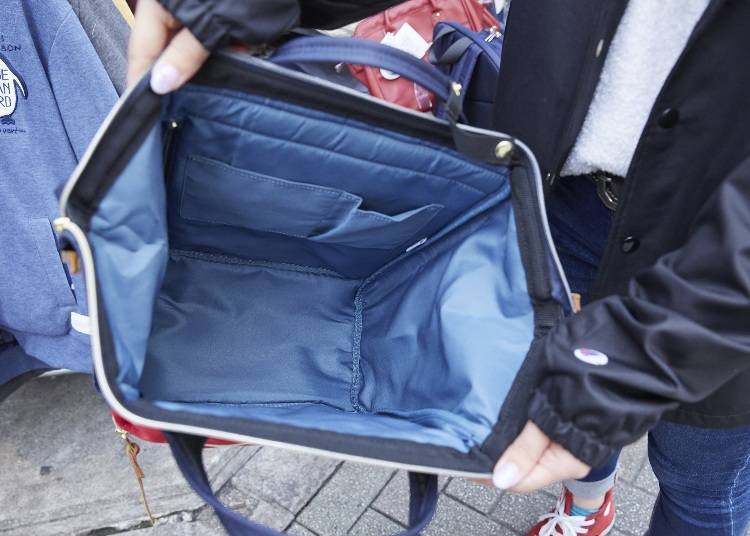 "It doesn't even look that big from the outside and the backpack fits basically every outfit. Whether you're going for feminine, casual, or sporty, the kuchigane rucksack goes with everything. Designs are also plentiful, from monochrome to three-color designs."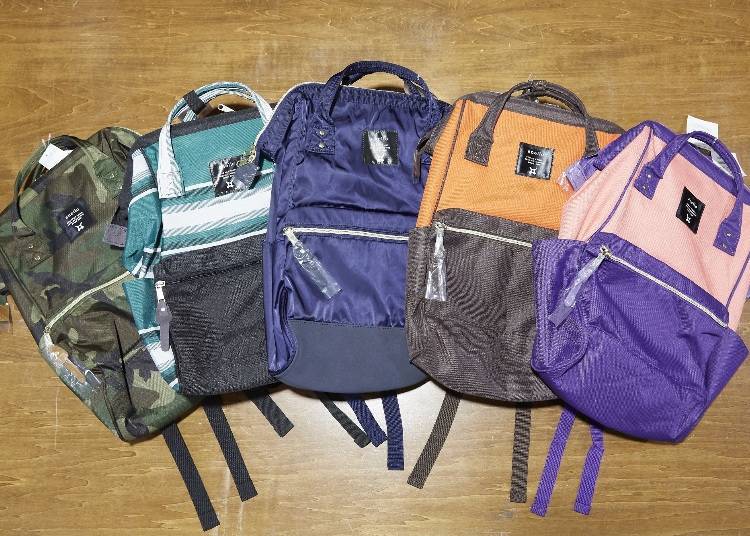 2. Synthetic Leather Kuchigane Rucksack: The Convenient Smaller Size!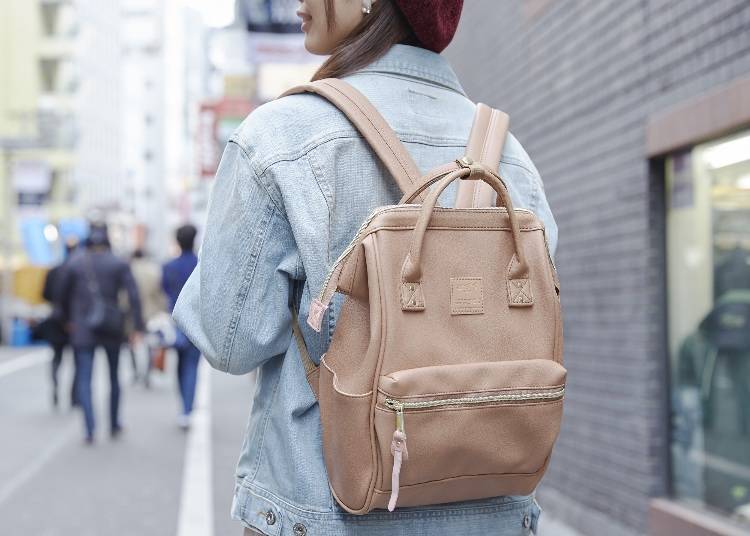 ▲ the synthetic leather kuchigane rucksack for 4,500, denim jacket (the staff's own)
The kuchigane rucksack comes in three sizes and the one shown above is the smallest one among them, made out of synthetic leather. On top of the main space, these little versions also boast two inner and three outer pockets, as well as a zipper on the back. The small size makes this backpack great for casual sightseeing!

Saki says:
"The Anello mini-backpack looks rather cute and enhances every style! If you grab it by the top handle, you can easily use it as a casual handbag as well. Just wear it whatever fits your style and mood."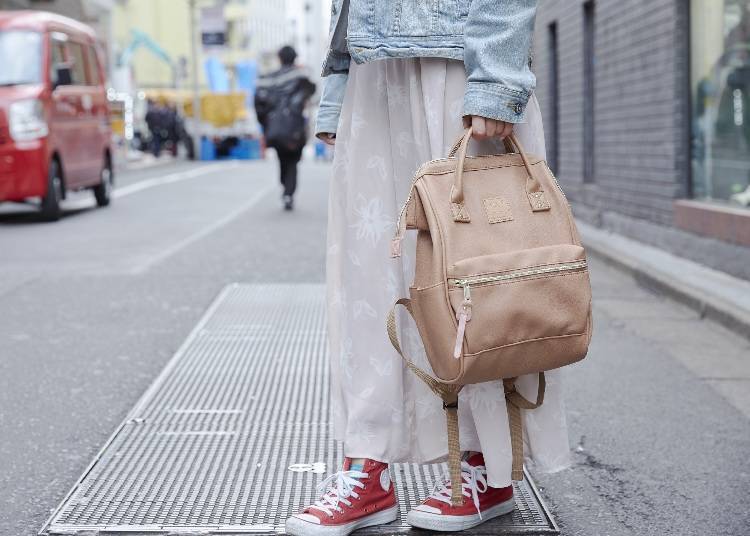 "Like every model, it comes in all sorts of colors and combinations, but I especially recommend the pink one. The soft texture of the fake leather and the natural tone is just a great combination."
3. Big Logo Print Day Bag: Sporty, Spacious, and Comfortable!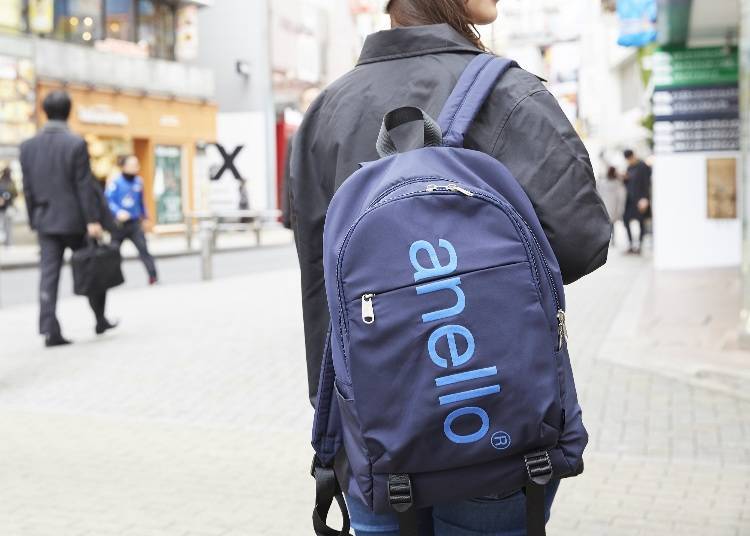 ▲ Big logo print day bag for 5,500 yen (tax excluded), Champion coach jacket for 9,500 yen (tax excluded)
This is one of Anello's newest bags, released in January 2018!

While the brand's iconic kuchigane backpack emphasizes a fashionable style, the new big logo print day bag follows a sportier line. The bag boasts a pen holder in the front and an extra pouch for a tablet in the main pocket. All in all, there's plenty of space in this cool backpack.

Saki says:
"I love the bold rubber print of the logo, it's a cool eye-catcher. The front pocket is kind of hidden, which I like, and I think it's a really neat androgynous design."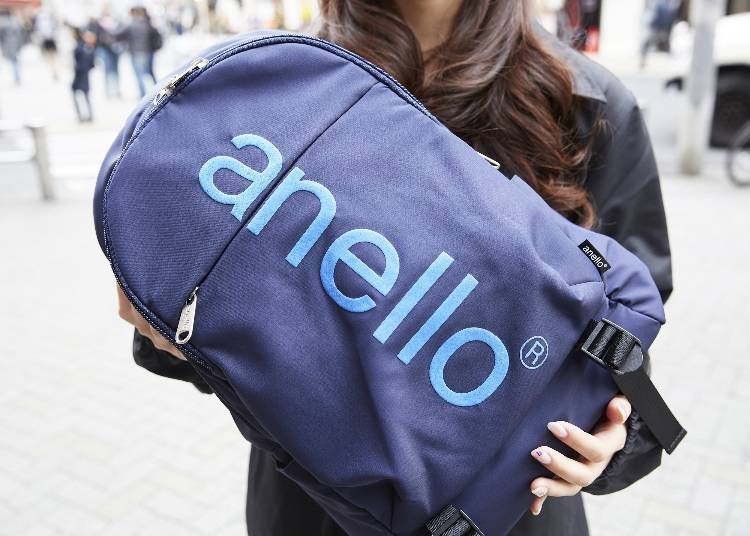 "With a pair of cool sweatpants and a vivid nylon jacket, you can pull off a trendy athletic look with this bag easily."
4. Canvas Sacoche Bag: The Little Everyday Bag!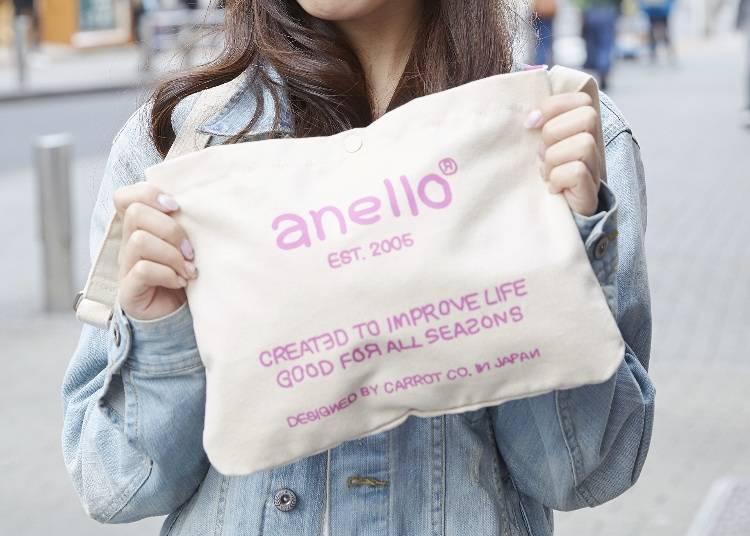 ▲ Canvas sacoche bag for 1,900 yen (tax excluded), denim jacket (the staff's own)
The canvas sacoche bag is a playful accessory with handwriting-style print to spice it up a bit. The color of the print and the lining is the same, so it goes well with a wide range of outfits and designs. The small size makes it perfect for a casual city stroll, fitting a wallet and a pouch perfectly – all you need for a quick trip!

Saki says:
"Sacoche bags are really popular right now and this one definitely is a favorite, perfect for occasions such as a date, outdoor trips, or cycling. The canvas material gives it a natural charm and fits a wide range of styles, not popping out too much. My personal recommendation is to go with a casual but feminine style with this, such as pastel colors with a denim jacket."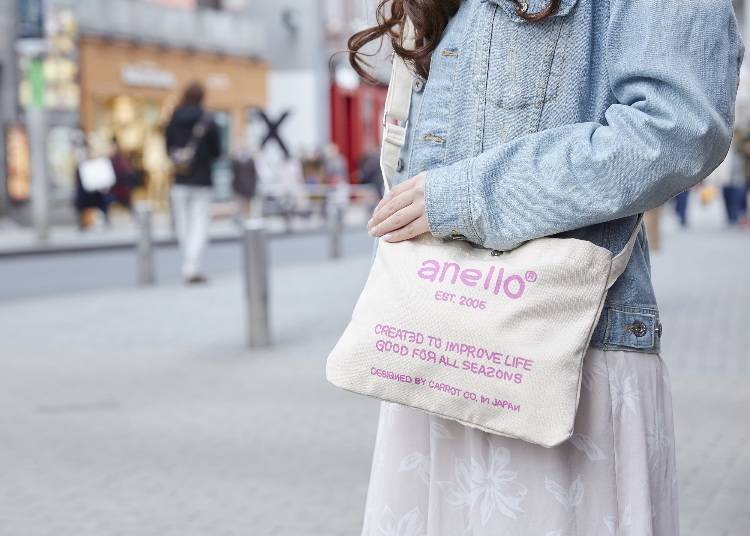 "Because it's small, it can easily be used as bag in a bag and super-handy for traveling. This is a great bag that I'd recommend for cherry blossom trips."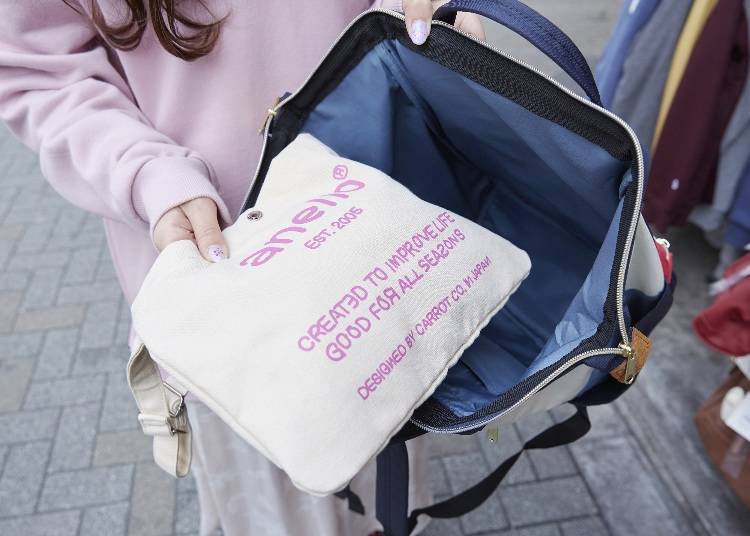 5. Anello Logo Print 2-Way Tote Bag: For a Casual Weekend Stroll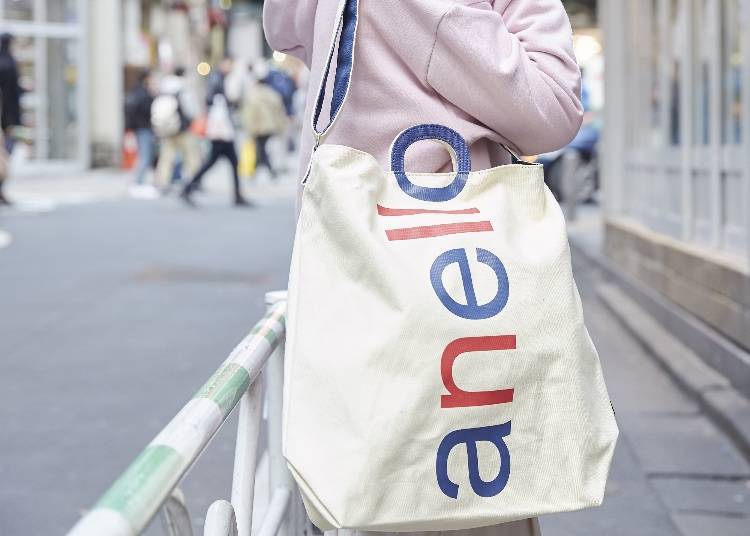 ▲ Logo print 2-way tote bag for 3,500 yen (tax excluded), side zip pullover for 3,900 yen (tax excluded)
Last but not least: the logo print 2-way tote bag with a bold, colorful logo as its main feature! The "o" in Anello serves as the handle, a cute and unique quirk that makes this tote bag stand out while still staying casual. The bag is big and offers plenty of room for both large and small things, from your wallet to an extra sweater. It's a simple bag that'll become one of your favorites really quickly!

Saki says:
"The thick cotton canvas this bag is made out of is sturdy and looks cool, making this bag very popular. Especially unique is the color of the back side of the shoulder stripe, which matches the logo. It's a small detail that makes this bag stand out."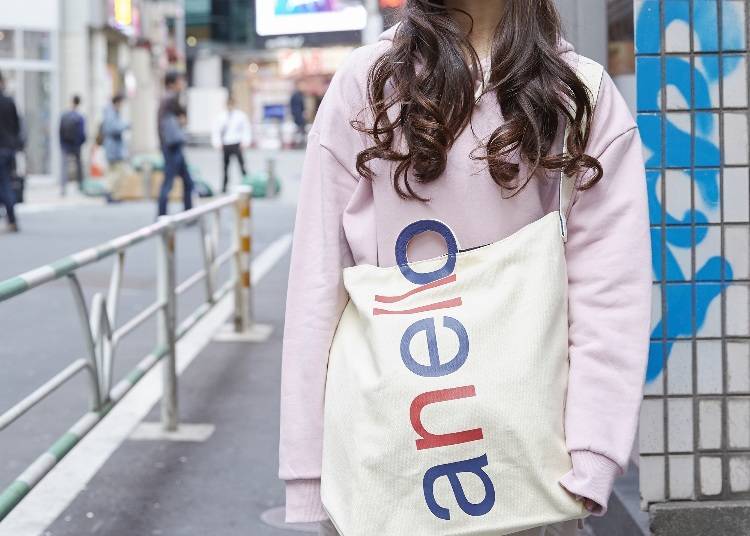 "The shoulder strap also has a good length, perfect for wearing it over your shoulder, or grab it by the handle and carry it in your hand. Both styles are comfortable. It's nice for a weekend stroll and I'd recommend it to people who've never had an Anello shoulder bag before."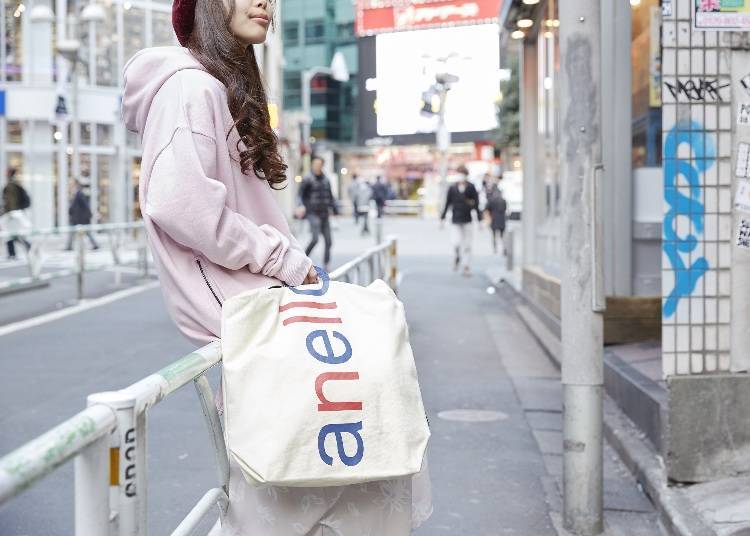 In addition to the classic kuchigane rucksack bag, Jeans Mate offers a large variety of Anello bags, including all new releases. If you find yourself in Shibuya and feel like treating yourself to a fancy Japanese accessory or two, definitely make sure to stop by! You'll be surprised at the great selection and reasonable prices – and what kind of styles will pop up once the cherry blossom season starts?
ジーンズメイト 渋谷店

Address

〒150-0042 東京都渋谷区宇田川町30-1 蓬莱屋ビル1F-2F / 30-1, Udagawacho, Shibuya-ku, Tokyo, 150-0042, Japan

Nearest Station

Shibuya Station, 3 minutes on foot


Phone Number

03-3477-0921
Book an unforgettable shopping experience in Tokyo!
Make your trip extra memorable by booking one of these recommended tours on our partner site, Voyagin!

*This information is from the time of this article's publication.
*Prices and options mentioned are subject to change.
*Unless stated otherwise, all prices include tax.