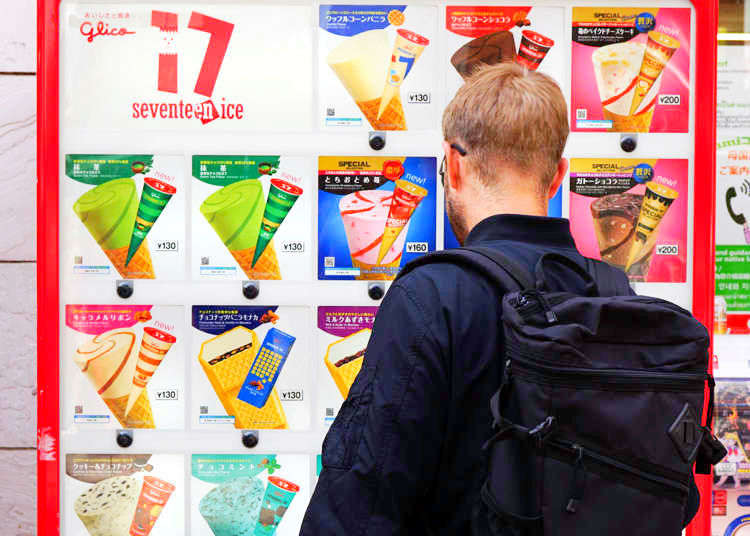 Ezaki Glico's ever-popular Seventeen Ice Cream vending machines are increasingly being visited by more foreign visitors to Japan. We were curious as to the reason behind this phenomenon, so we visited the company to learn more.

Perhaps the biggest reason that Seventeen Ice Cream Machines are so popular to those from other countries is that they are so uncommon outside of Japan. In most countries, vending machines are few and far between compared to Japan and even then, they are usually stocked with drinks, not ice cream. So how does it work? In case you haven't tried it yet, we'll give you a quick tutorial.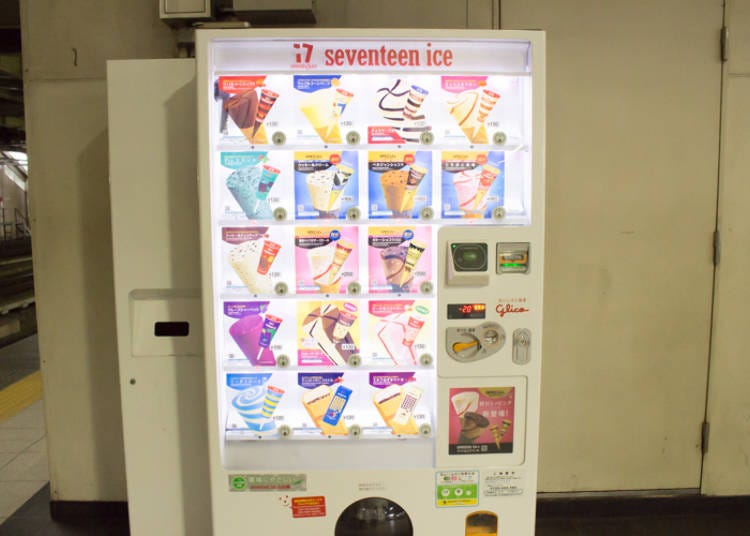 ▲ Vending machine on platform 7 and 8 of JR Tachikawa Station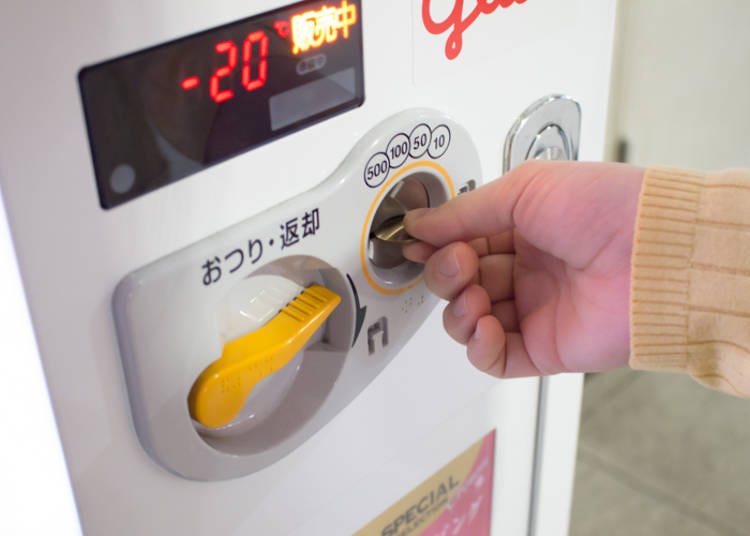 First, insert your money...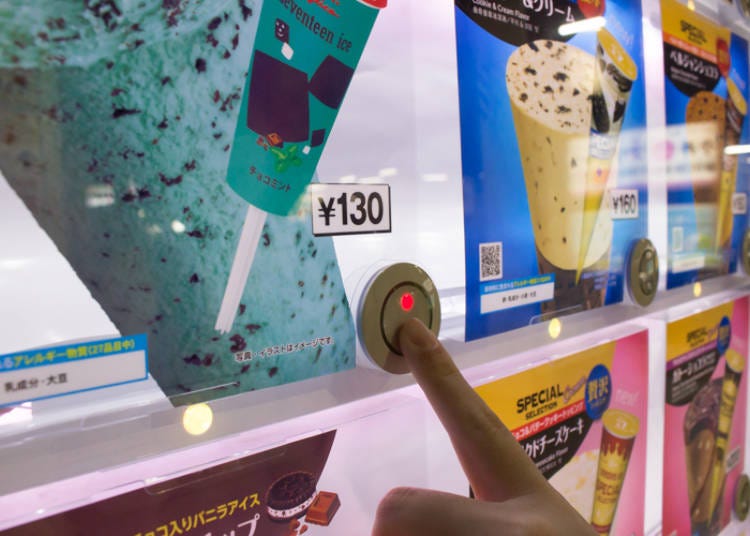 Push the button for your favorite flavor! (We went with Mint Chocolate)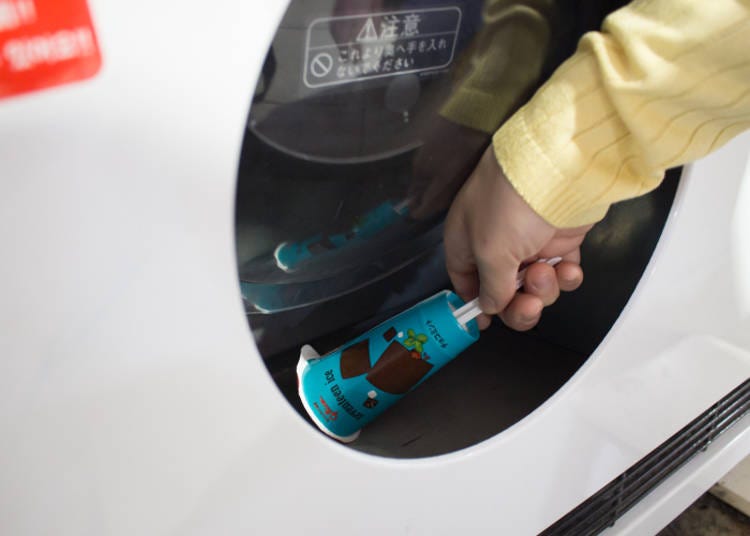 You'll hear a *thud* as your chosen ice cream falls down into the opening for you to grab.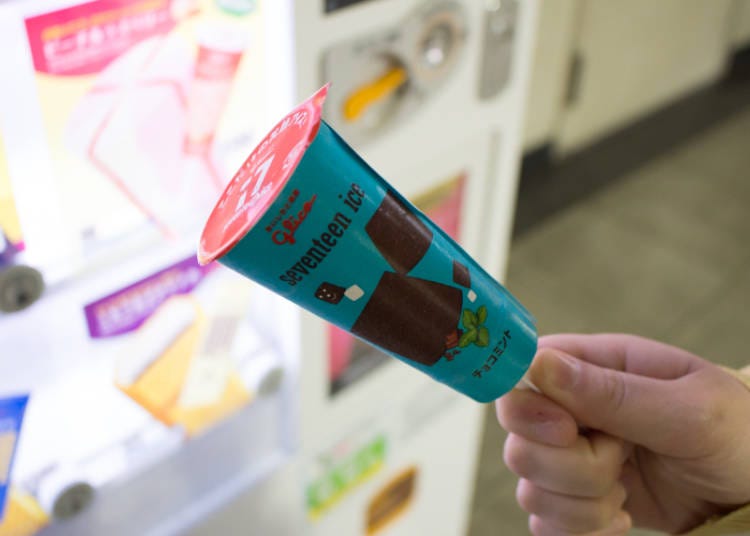 It's that simple!

Ice cream may be a little different from what you'd usually expect to be sold in a vending machine, but it works exactly the same so you don't have to worry about any complicated processes or language barrier to try this machine out!
Seventeen Ice Cream's Popularity Ranking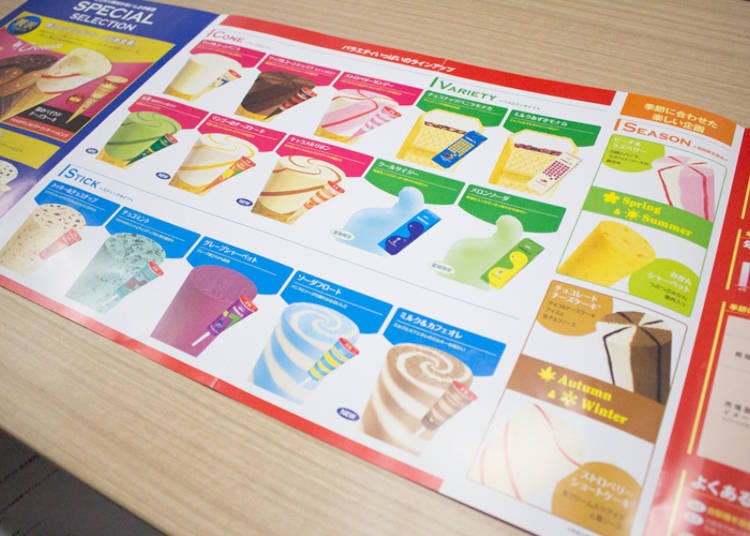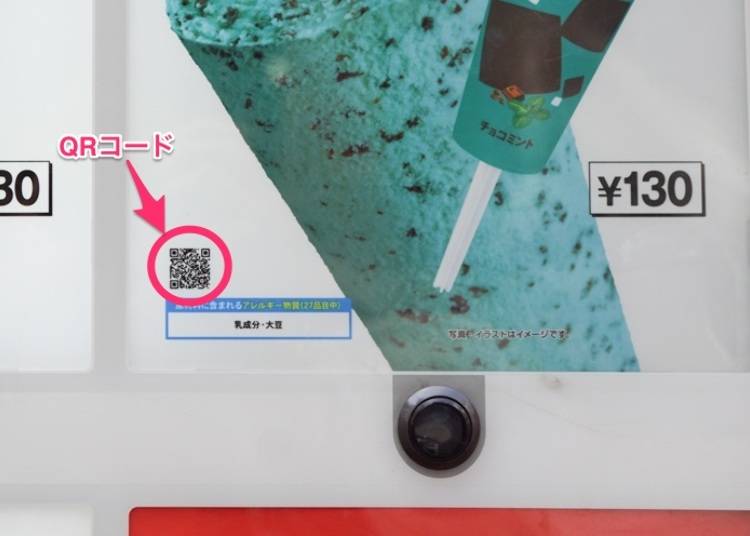 Everyone at Glico is working hard to encourage more foreign visitors to not only take pictures but to try their ice cream as well. As part of this process, a QR code has been added to the pictures of each ice cream which links to a description of the flavor in 5 languages: English, Japanese, Korean, as well as traditional and simplified Chinese. Glico hopes that if they can get more people to taste the unique flavors of their products, it will help spread the word farther across the globe.

Supposedly, people from all over the world are crowding around the Seventeen Ice Cream machines in Dotonbori, Osaka. Although it appears that there is not currently official data to provide us with an accurate ranking, Glico shared with us the following information that they think would properly reflect the ranking for most popular flavors among foreign customers.
Dotonbori, Osaka's sales ranking (2016)
#1: Mint Chocolate
#2: Chocolate Chip Cookie
#3: Matcha
#4: Cookies & Cream
#5: Strawberry

To compare, the following is the sales ranking for the rest of the machines in Japan. By looking at these two charts, it should make it easy to understand what kinds of flavors non-Japanese customers enjoy.
Most Sold Flavors in all of Japan (2016)
#1: Chocolate Waffle Cone
#2: Cookies & Cream
#3: Vanilla Waffle Cone
#4: Strawberry
#5: Belgian Chocolate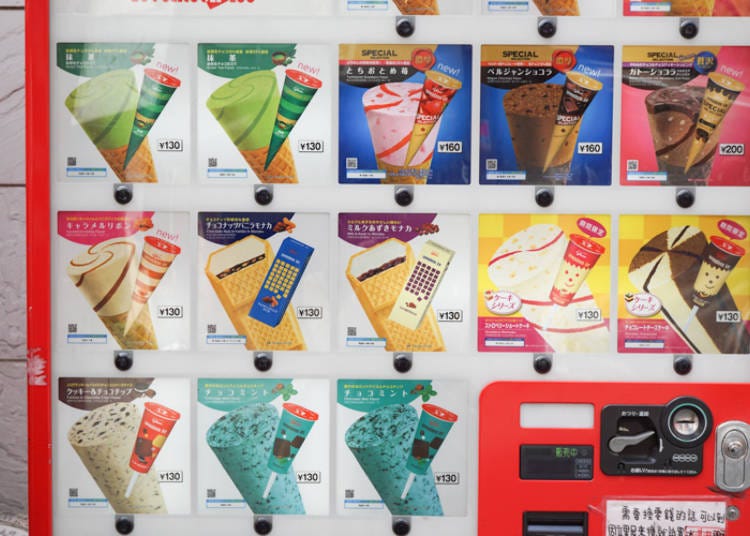 ▲Glico's vending machines in the Dotonbori area. Matcha and Mint Chocolate take up two panels!
It looks like only Strawberry and Mint Chocolate made it into both rankings. These are most likely chosen as familiar flavors from one's own country. Matcha ice cream is up there too, possibly for the opposite reason that such a flavor can only really be tried in Japan. It might be that Mint Chocolate didn't make it into the all of Japan rankings because it has no nostalgic factor for them. For this reason, it's a surprise, however, that Matcha didn't make it into the rankings either.
The Secret about Seventeen Ice Cream that even Most Japanese Don't Know!
The Seventeen Ice Cream brand started in 1983, but it was not sold in ice cream vending machines—it was sold just like other ice cream brands in small candy shops!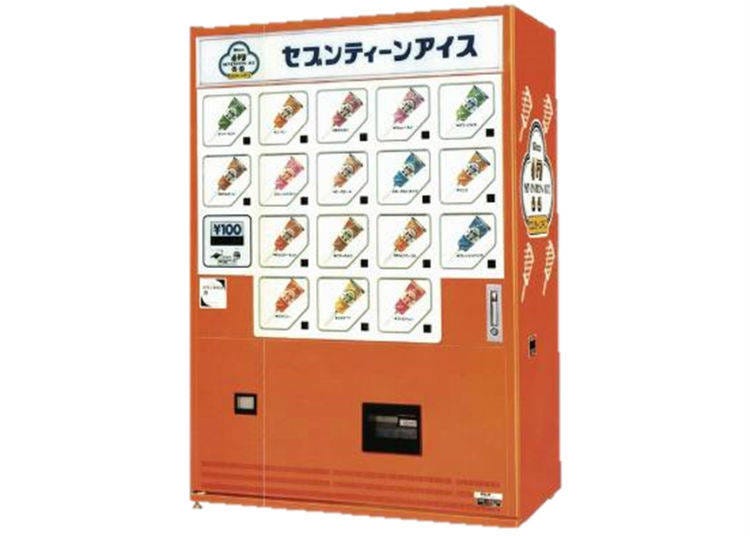 ▲A Seventeen Ice Cream Vending Machine used in the 1980s.
Actually, Seventeen Ice Cream was not named after the number of flavors offered, but for the age of its target consumer. In the 1980s, ice cream was seen as a children's treat in Japan. Seventeen Ice Cream's goal was to get high school students and adults to enjoy their ice cream as well.

However, not many high school students or adults enter candy stores, so as a result, the brand's items didn't sell well at first. Just when Seventeen Ice Cream was close to retiring from the ice cream world, they came up with the idea to sell ice cream where other ice cream wasn't being sold—and Japan's first ice cream vending machine was set up in 1985, two years after their product was released. You can imagine people were quite surprised when this happened.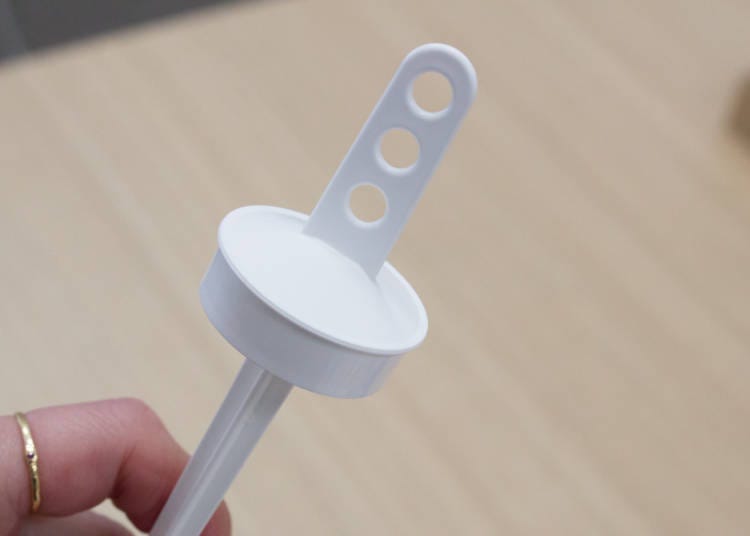 ▲The holes in this stick prevent the ice cream from falling off so easily even as it melts!
■Seventeen Ice Cream is even popular overseas!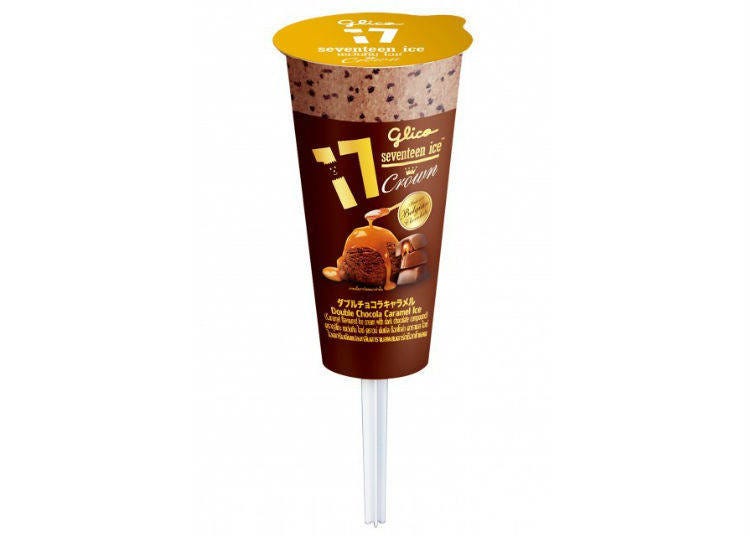 ▲New Flavor that's being sold in Thailand. Double Chocolate Caramel.
Seventeen Ice Cream is only being sold in vending machines in Japan. However, the brand is still becoming more and more popular overseas. It apparently would be too difficult to manage the vending machines in the same way they do in Japan. Chocolate cookie and mint chocolate flavors of Seventeen Ice Cream can be bought in Thailand. Glico is selling two to three different kinds of each of four other popular products including Giant Cone, Palitte, and Panap.
The Best-Selling Spot in Japan
There are a little over 20,000 Seventeen Ice Cream vending machines across Japan. In all of Japan, there are roughly 27,000 ice cream vending machines (including other companies). With these numbers, it's easy to see just how much support Glico has from Japanese consumers.

By the way, do you know where the Seventeen Ice Cream vending machine that sells the most is located?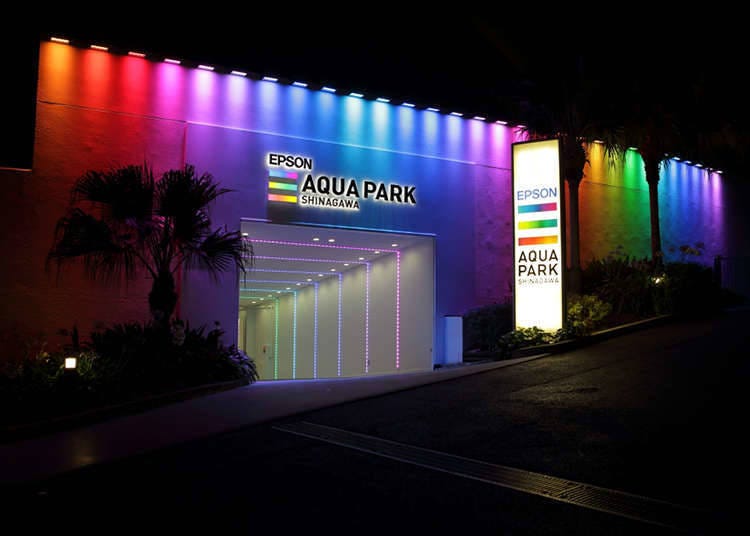 ▲ Shinagawa Aqua Park
It's actually Shinagawa Aqua Park if you can believe it! Not just that, but this machine takes over 30 times the sales of a regular Seventeen Ice Cream machine!

But why Shinagawa Aqua Park? Three Seventeen Ice Cream vending machines are located in the main hall where they also have dolphin shows and visitors would buy ice cream before the show to relax or have a chat. The vending machine at Himeji Castle also sells very well because tired visitors can buy ice cream on the way back after climbing the stairs to the castle.
Limited-Time Seasonal Flavors!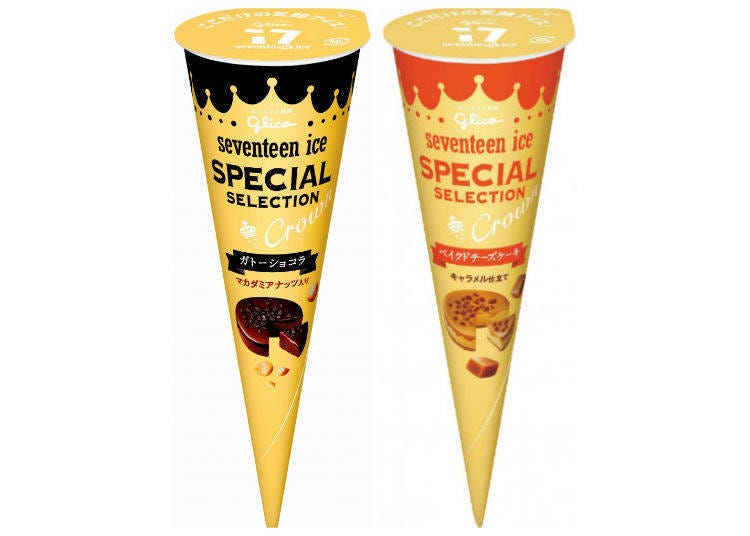 ▲Gateau Chocolate on the left, Baked Cheese Cake on the right
Seventeen Ice Cream not only has seasonal flavors available only for a season at a time, but it is always dishing out new products. This year, for the first time ever, special toppings were added to the already delicious ice cream and cone part. Gateau Chocolate has chocolate ice sprinkled with macadamia nuts and comes with a rich chocolate cookie topping, while Baked Cheese Cake features a hearty caramel cookie topping.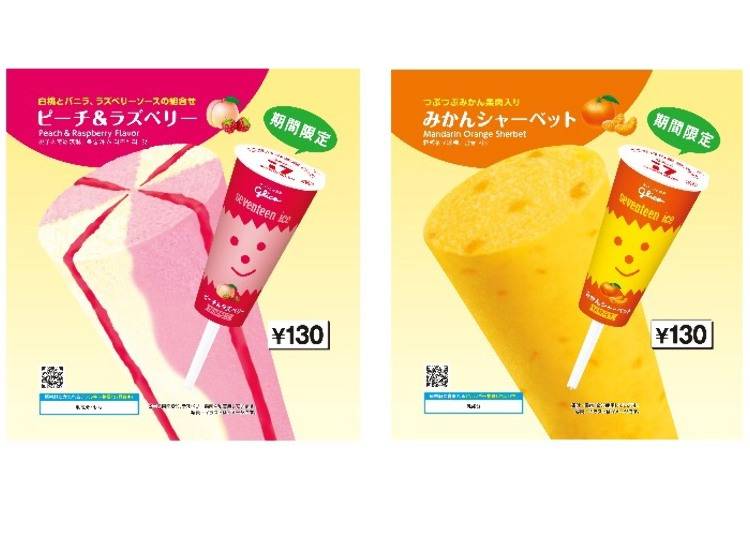 ▲Summer 2017's Limited Flavors. Peach & Raspberry on the left and Orange Sherbert on the right
These are the seasonal flavors for Summer 2017, Peach & Raspberry and Orange Sherbert. Seventeen Ice Cream is aimed at adapting to this generation of fads by selling what is popular at each time and constantly evolving each product.
It's likely companies with long-sellers often use these kinds of techniques to keep ahead of the game. Keep an eye out for the flavors you'd like to try before the season ends!
Seventeen Ice Cream Cyber Vendors: Only 3 in all of Japan!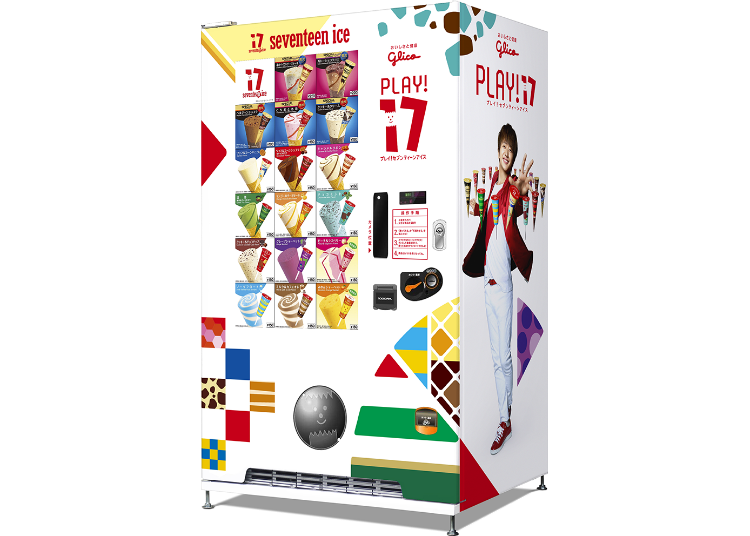 ▲Dance with popular artists using the Cyber Vendor!
There are only 3 of these vending machines in Japan. The one in the Kanto region is located in Lazona Plaza Kawasaki; in Kansai, it's in Abeno Harukas; and PARCO Nagoya in the Chubu region (according to data from May 2017). This vending machine where you can dance alongside your favorite artist is really popular with young Japanese and foreign visitors!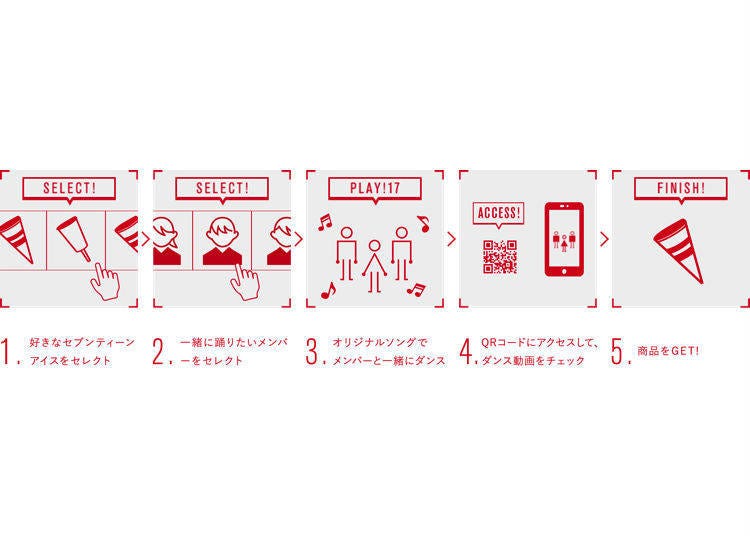 It's easy to play. After you've chosen the flavor you want, you can the pick the artist you wish you dance with. Once the music starts, simply dance your heart out. If you scan the QR code that pops up afterward, you can watch a video of your dance.

With Japanese groups like TRF, AAA, and Da-iCe, you can dance to your heart's content along with Japanese celebrities! If you're too embarrassed to dance alone, dance together with your friends! Take videos of each other having fun and share it on your favorite social networking site!
The Vending Machine that Attracts Overseas Visitors
For those coming from outside Japan, the chance to buy ice cream from a vending machine is a rare experience. It seems that itself was the secret. Also, from the sales of the machines in Dotonbori, Osaka, we learned that Mint Chocolate is likely the most popular flavor for foreign visitors. When you get the chance to visit Japan, definitely give these machines a go and see for yourself what all the buzz is about!


Written by Makiko Fukuda
Epson Aqua Park Shinagawa

アクアパーク品川

Address

4-10-30, Takanawa, Minato-ku, Tokyo, 108-8611


Nearest Station

Shinagawa Station (Tokaido Shinkansen Line / JR Tokaido Main Line / JR Yokosuka Line / JR Keihin-Tohoku Line / JR Yamanote Line / JR Ueno Tokyo Line / Keikyu Main Line)
2 minutes on foot


Phone Number

03-5421-1111
*This information is from the time of this article's publication.
*Prices and options mentioned are subject to change.
*Unless stated otherwise, all prices include tax.