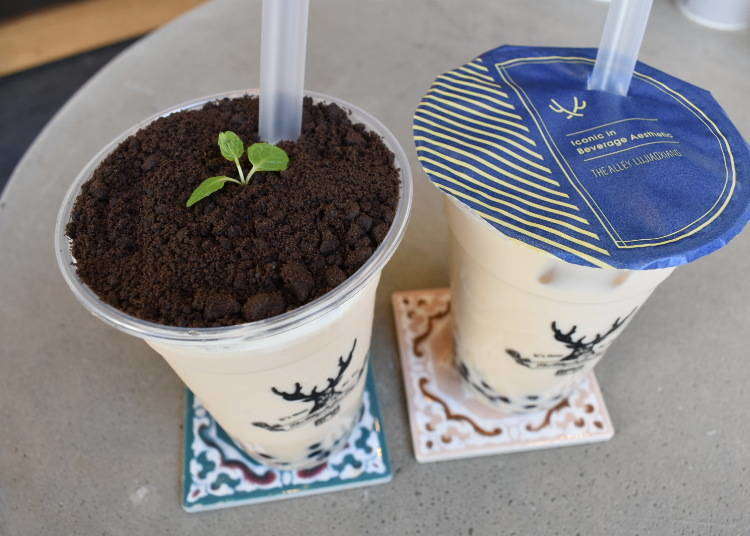 After originating in Taiwan in the 1980's, bubble tea has been a constantly popular beverage throughout the world. This also goes for Japan, but recently bubble tea has been retaking the country by storm. But what has made this new boom so intense?! These 5 extremely popular bubble tea shops that we are about to introduce are not only popular among Japanese, but Taiwanese people as well!
A brief history of bubble tea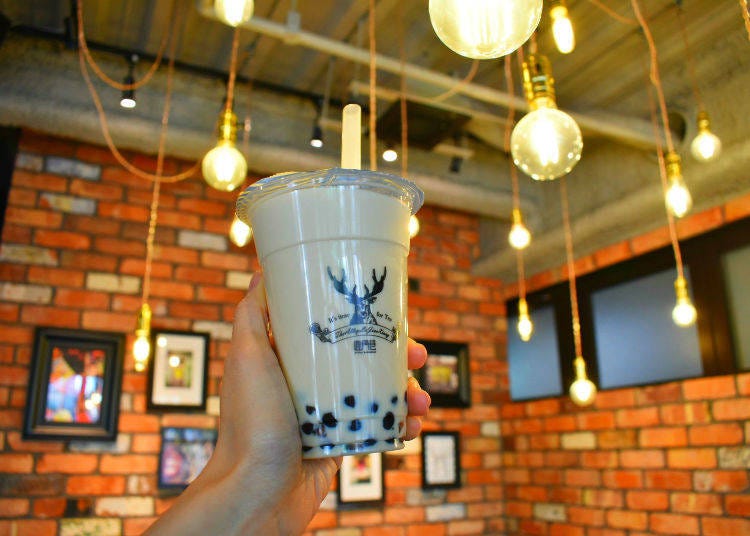 As previously mentioned, bubble tea has been around for over 30 years and was discovered in Taiwan. The biggest characteristic of this tasty beverage would definitely be the unique texture and appearance of the chewy tapioca pearls inside!
These pearls (also known as boba or bubbles) are made from tapioca starch that comes from cassava root, hence calling these little balls "tapioca" pearls. The texture and color of these boba all depend on the ingredients used to make them, which means that although these pearls may look similar, they're probably all very different!
Commonly referred to simply as "tapioca" in Japanese, this drink comes in an assortment of flavors! The typical bubble tea (and often most popular) is usually a simple milk tea with the tapioca pearls inside. However, it isn't uncommon to see fruit-flavored bubble teas, slushy-like consistency bubble teas, or fruit jelly-filled bubble teas! Even though these delectable drinks have been sold in many places in Japan for years, it hasn't stopped a new "tapioca boom" from happening!
The Alley Lujiaoxiang: The perfect balance of aesthetic and flavor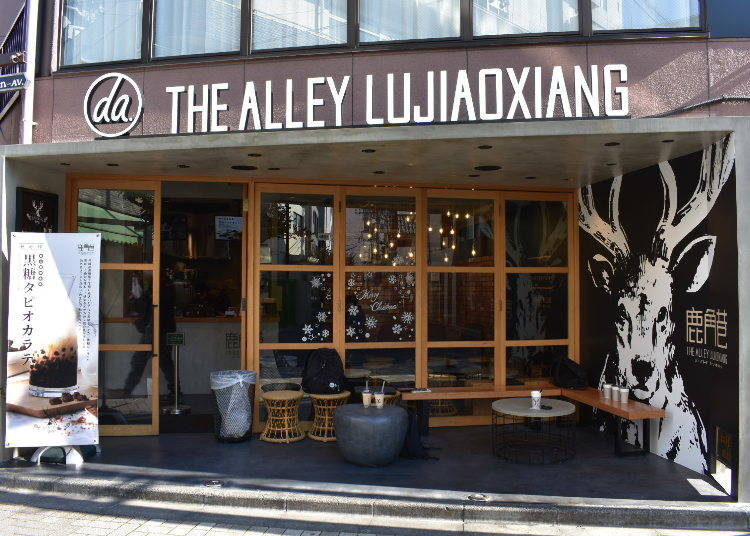 The Alley Lujiaoxiang has had a constant crowd gathered around it after opening their first Japanese shop in Harajuku during August of this year. The Alley Lujiaoxiang is located on a quiet side street out of the way of many touristy areas. From the outside, one would most likely guess that it's a posh café, but it's actually one of the hottest bubble tea businesses of Japan in 2017! The creator of The Alley Lujiaoxiang is actually a former designer, which explains why the overall look of their shops, logo, and cups are so visually appealing!
In addition to its stylish ambience, The Alley Lujiaoxiang's bubble tea is known for its amazing flavors. The Alley makes their cane syrup from scratch in the store and the tapioca pearls fresh every single day, assuring you some of the tastiest bubble tea out there! They also import almost all of their ingredients directly from Taiwan, always ensuring you experience the real deal.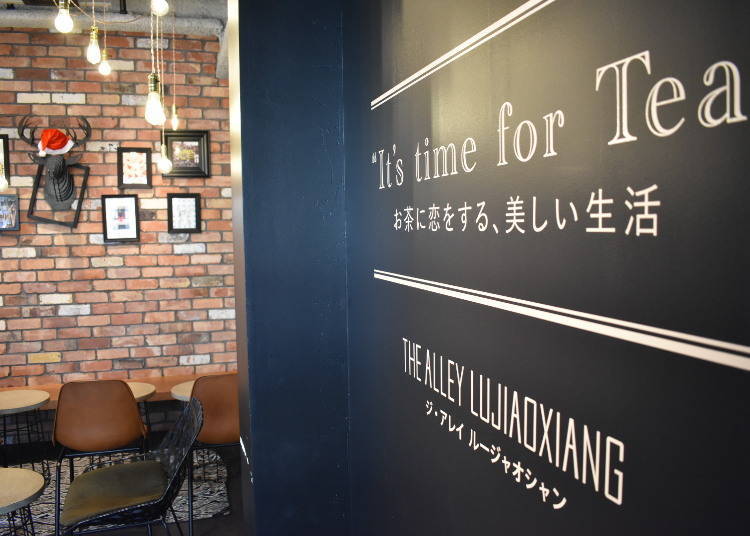 The Alley Lujiaoxiang also told us that their most popular tea beverage (and the one that they recommend!) is their uniquely flavored original blend, "Royal No. 9 Tapioca Milk Tea". For customers that aren't keen on trying their original blend, they suggest their "The Alley Assam Tapioca Milk Tea", which tends to be a more standard bubble tea flavor.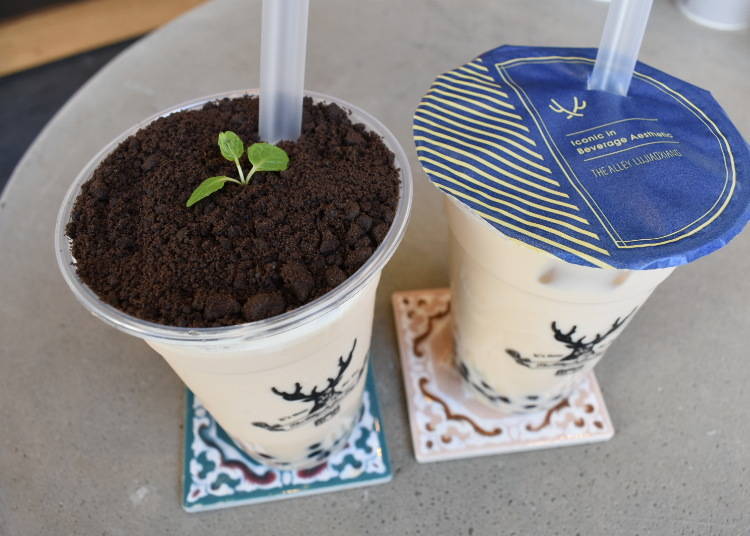 Aside from the typical milk and tea bubble teas, The Alley also offers unique drinks like their "Bonsai" Garden Tapioca Milk Tea. This drink features an Assam milk tea with cocoa chips on the top. When you mix the chips into the drink, it gives you a whole new bubble tea experience with the two contrasting textures of chewy and crunchy! Another characteristic of The Alley is that you can choose your drink's temperature. You can choose from "cold", "mild", or "hot" for all of their drinks excluding The Alley Specialties. So whatever the weather or however you're feeling, they are sure to have the perfect drink at the perfect temperature for you to enjoy!
The Alley is still a young shop and continues to remain popular due to its quality and stylish vibe, so you should expect a wait if you decide to go on a weekend or holiday afternoon!
ジ・アレイ ルージャオシャン

Address

6-6-6 Jingu-mae, Shibuya-ku, Tokyo 1500001, Japan

Phone Number

03-6712-5185

Opening Hours:10:00 - 22:00
Saisabo: Boba with a Twist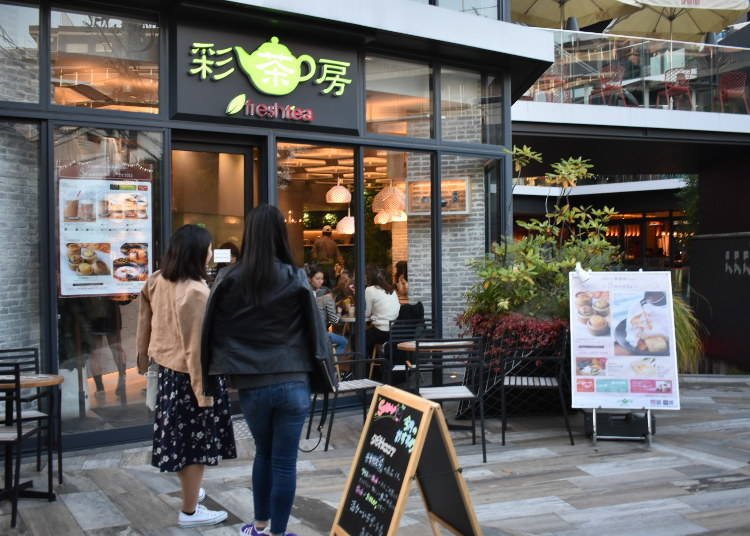 One of the main focuses of this new boba boom is the expectation of providing delicious flavors as well as something special that no one else offers. Saisabo is home to some very unique bubbly treats!
It's hard to tell which Saisabo is known best for—their Fluffy Milk Tea or their Salted Cheese Tea. These are both items exclusively only found at Saisabo and were a key to their huge success after opening in Japan in 2015.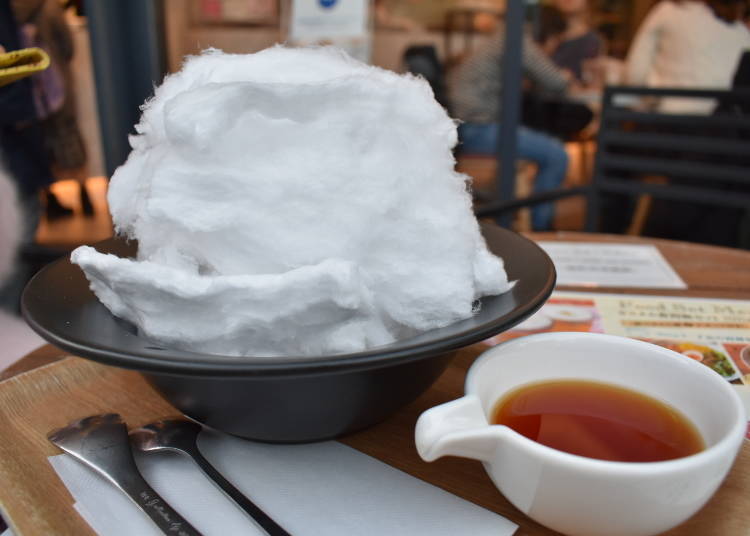 We've tried their "fluffy" milk tea! While it is more of a dessert than a beverage, this is for sure something that will catch your eye on the menu!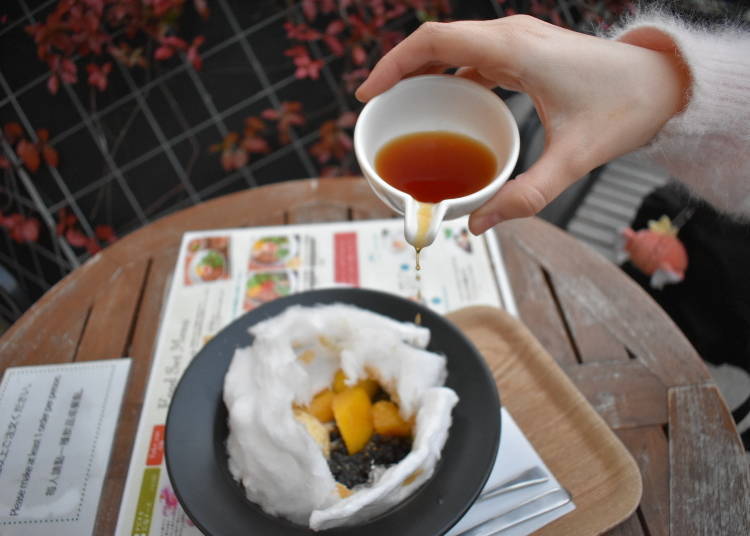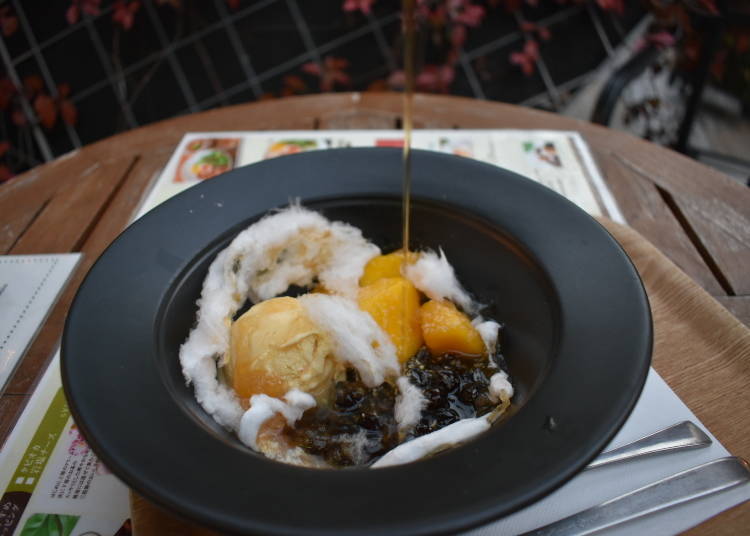 It's all anyone's sweet tooth could ever imagine: ice cream, mango, tapioca pearls covered in cotton candy! And of course…the tea to pour over it all!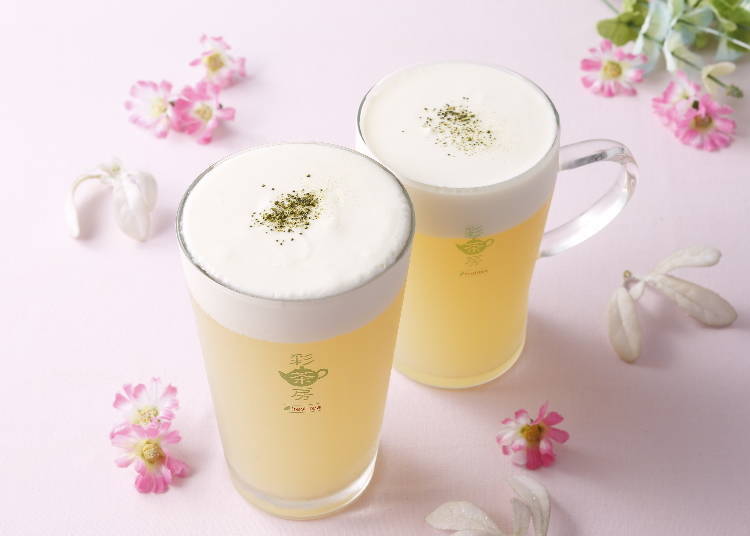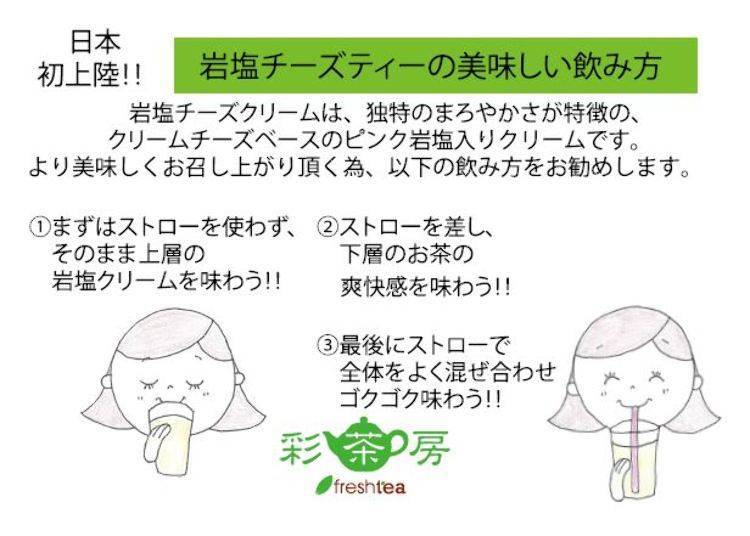 Above we have the "Rock Salt Cheese Tea" (You can add some tapioca pearls to this!). It even came with instructions telling how to drink this to enjoy it to its fullest extent!
First, Saisabo recommends you to take a sip of the thick top layer of the rich, cream cheese flavored foam. They then say to put the straw in and try the drink itself. The tea with the salt added a welcomed interesting and original touch to it! After enjoying the two layers separately, Saisabo then says to mix and enjoy! Although the name of the drink might make one a bit uneasy, the mix of the creamy cream cheese foam and the fresh, light tea blend together amazingly well!

Saisabo is a shop at the head of the pack when it comes to the originality of their products, and this originality often pushes them into the Japanese media spotlight!
彩茶房

Address

1-10-37 Jingu-mae, Shibuya-ku, Tokyo 1500001, Japan

Phone Number

03-6455-5423

Opening Hours:11:00 - 21:00 (L.O. 20:30) on Monday to Friday, 10:00 - 21:00 (L.O. 20:30) on Weekend and Holidays
CoCo Fresh Tea & Juice: The Original Taiwanese Experience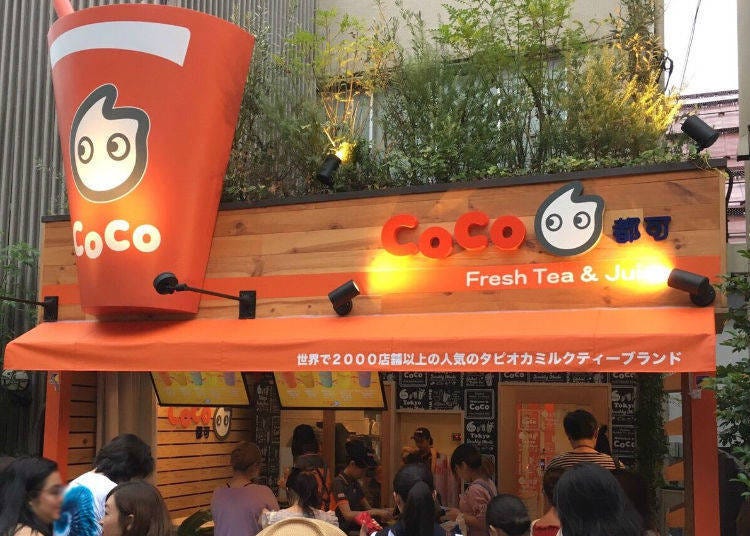 With over 2,000 stores worldwide, CoCo Fresh Tea & Juice is the largest bubble tea chain around! CoCo Fresh Tea & Juice opened in Taipei in 1997. It first spread to China, then branched out to many other countries. Now CoCo Fresh Tea & Juice has stores in several countries throughout the world, opening its doors in Japan in February of 2017. CoCo is focused on providing quality drinks while also bringing something new to the table.
Aside from the standard milk tea with tapioca pearls inside, CoCo Fresh Tea & Juice also has some uncommon drinks as well! They offer drinks with yogurt, chocolate, and even pudding in some of their beverages!
At CoCo Fresh Tea & Juice, you can also choose the sweetness of your drink and the amount of ice inside it, which is a promise that they will have the best drink for you! Not to mention that their menu holds tons of original drinks for you to try!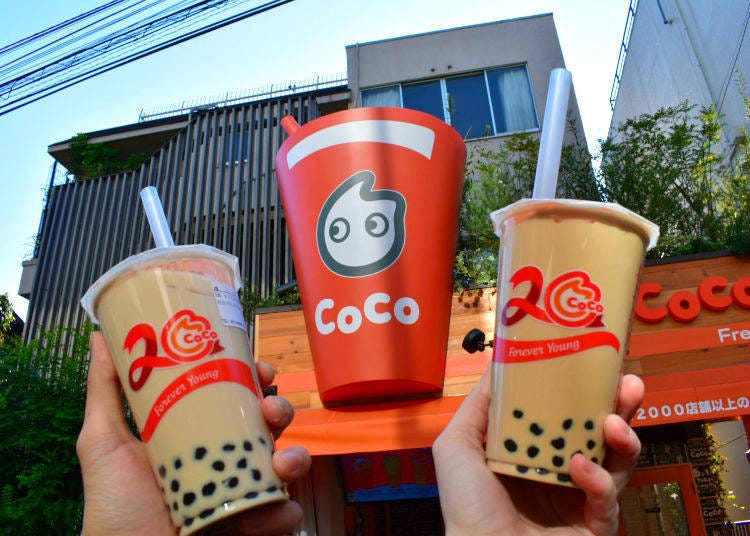 CoCo Fresh Tea & Juice is a stand with no seats, making it a great place to swing by on your way to go out sightseeing for the day or just to get a little something to quench your thirst!
CoCo都可

Address

1-13-21 Jingu-mae, Shibuya-ku, Tokyo 1500001, Japan

Phone Number

03-6804-5528

Opening Hours:10:00 - 21:00
Chatime: Quality and quantity all in one!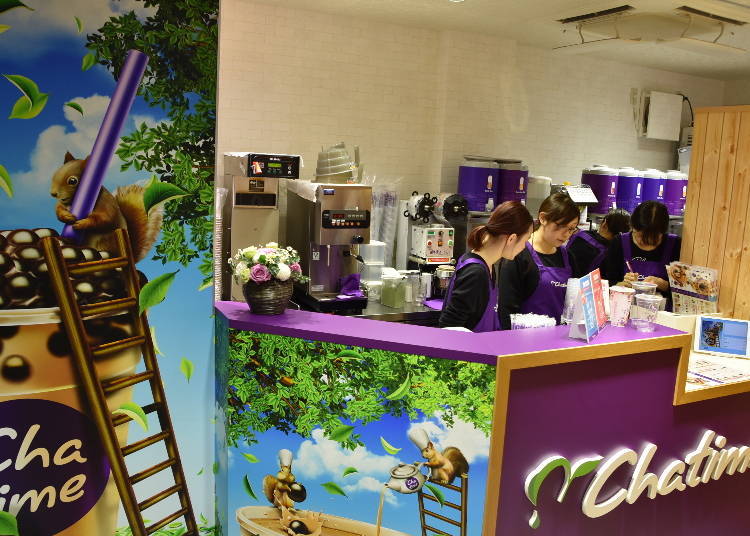 Chatime is another shop from Taiwan that came to Japan recently in Tokyo near Shinjuku and Ginza. Chatime is another chain known worldwide for their tasty drinks with lots of volume! While they do provide fresh and flavorful tea drinks, they're also notorious for just how huge the pearls and the drinks themselves are! With their regular size a whopping 500ml, a drink from Chatime could even be considered more than just a drink—maybe even a filling snack for you!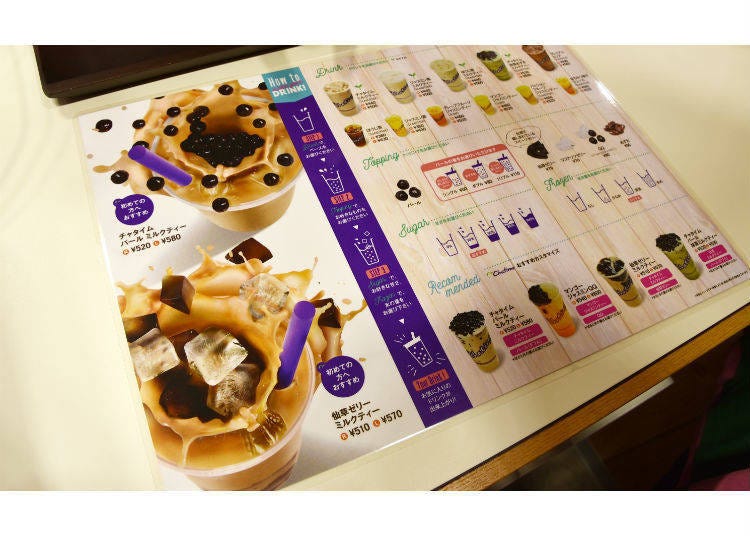 Similar to the previously mentioned CoCo Fresh Tea & Juice, here at Chatime you can choose your preferred sweetness and the amount of ice you want in your drink. You can also easily change the amount of pearls in your beverage and even add other goodies inside! Other than the typical boba, Chatime also offers coconut jelly, grass jelly, red bean, and "QQ", which is a mix of coconut jelly and tapioca pearls.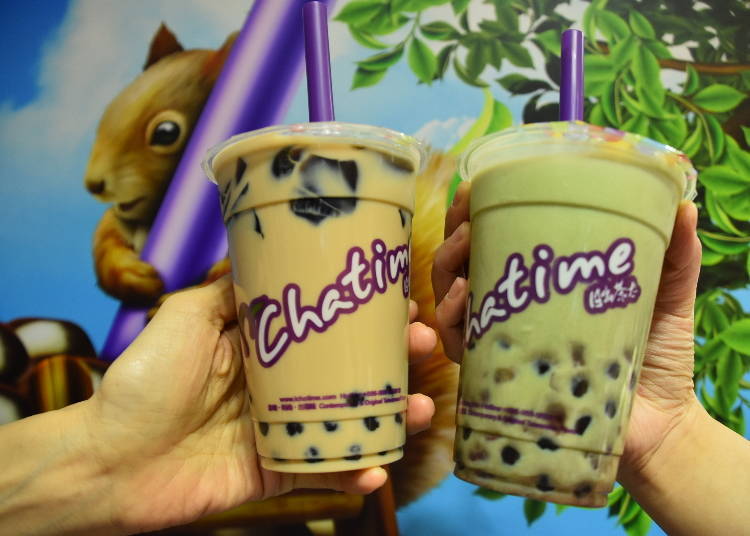 So whether you're thirsty, maybe a little hungry, or just craving some good bubble tea, Chatime has you covered when you're in the Ginza area!
Chatime

Address

6-12-17 Ginza, Chuo-ku, Tokyo 1040061, Japan

Phone Number

03-6264-6146

Opening Hours:11:00 - 21:00
Pearl Lady: Young, playful, and tasty!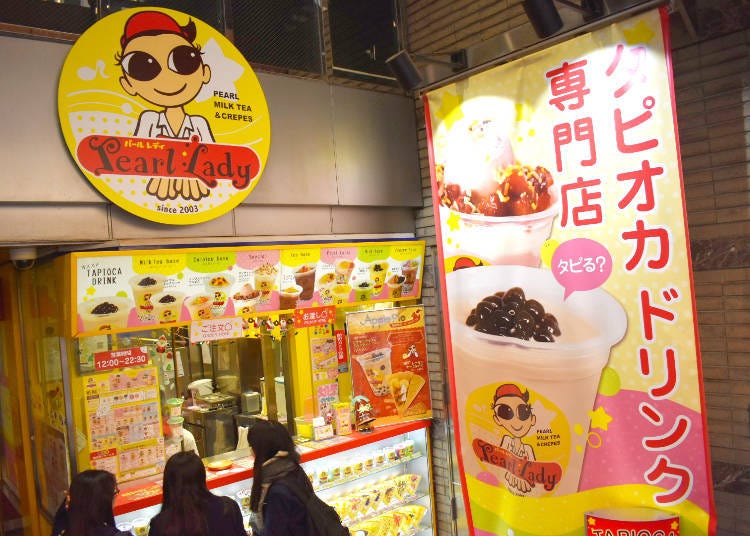 Pearl Lady is actually the only originally Japanese shop that made it to this list! Pearl Lady is easily noticeable with its colorful signs practically leading you straight to it! Many of the customers of Pearl Lady are teenagers which just adds to the young vibe of this bubble tea shop!
Pearl Lady's most popular drink is their Milk Tea, but they also have many other notable drinks for you to try! Their Mix Fruit Tea that we tried was sweet, sour, and all we wanted in a fruit tea! You can also add pearls to it for an almost dessert-like beverage.
You can find Pearl Lady in many places throughout Japan, although mostly concentrated in the Tokyo area. Pearl Lady provides tasty and sweet drinks for a very reasonable price, which contributes to its success, especially among their younger customers!
Pearl Lady is fun-loving and full of youth and it shows everywhere—even the pearls themselves! Pearl lady has some interesting pearls for you to try: chocotapi and colored!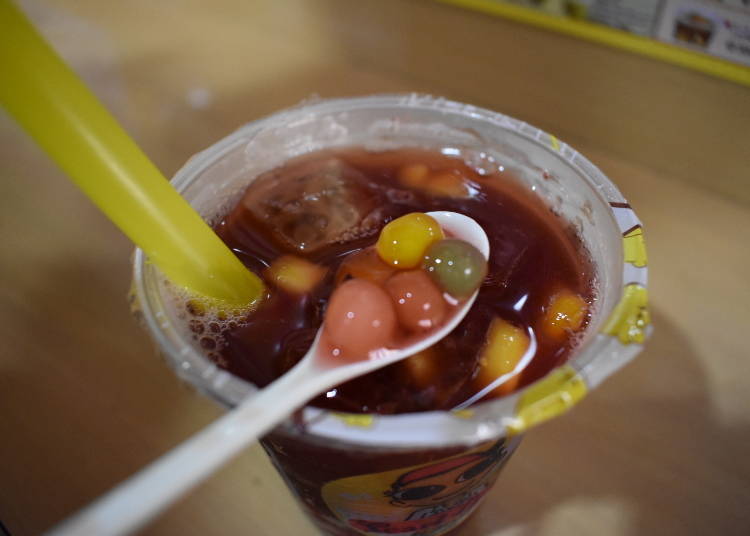 Chocotapi, as the name implies, are chocolate flavored tapioca and the colored ones are tapioca in all the hues of a pastel rainbow! Here you can enjoy not only yummy, but also visually pleasing drinks that are sure to please you!
Pearl Lady

Address

2-23-13 Dogenzaka, Shibuya-ku, Tokyo 1500043, Japan

Phone Number

03-3462-4448

Opening Hours:12:00 - 22:30
Tokyo is full of unique and delicious drinks for you to try, and for bubble tea lovers, these authentic bubble teas are guaranteed to please your palate!


Written by Lindsey Schultz
*This information is from the time of this article's publication.
*Prices and options mentioned are subject to change.
*Unless stated otherwise, all prices include tax.