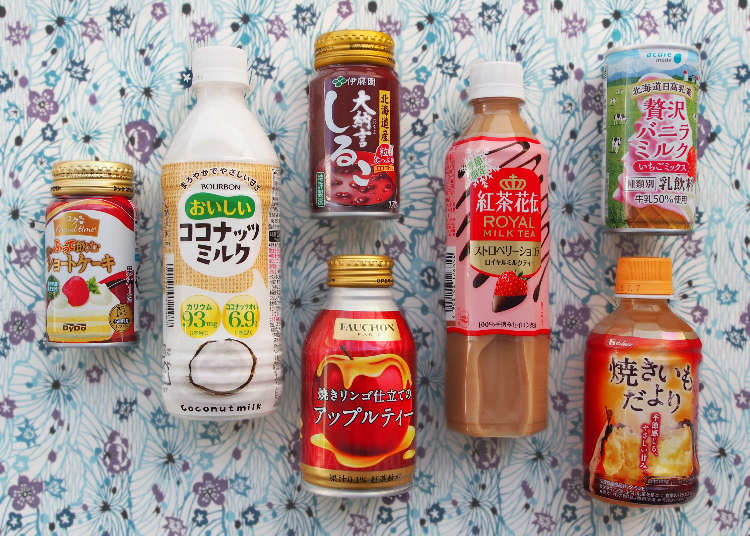 If you've read our previous article on Japanese drinks, you already know that Japan is home to a number of oddly named yet surprisingly tasty beverages. Ramune, Pocari Sweat, and Calpis are just a few that you may encounter in a convenience store or vending machine.

You should also know that Japan is home of speciality flavors and limited edition products, meaning there's a whole new world of drink possibilities waiting to be explored practically every month. The downside, unfortunately, is that that once a product runs its course, you're likely to never be able to purchase it again.

We scoured convenience stores and vending machines across Tokyo for the latest in Japanese drinks. Though the combination of flavors can be weird and wacky, rest assured that the taste of the drinks featured on this list falls nothing short of delicious.

Pick up a few of these "only in Japan" drinks for yourself- or for souvenirs to take home!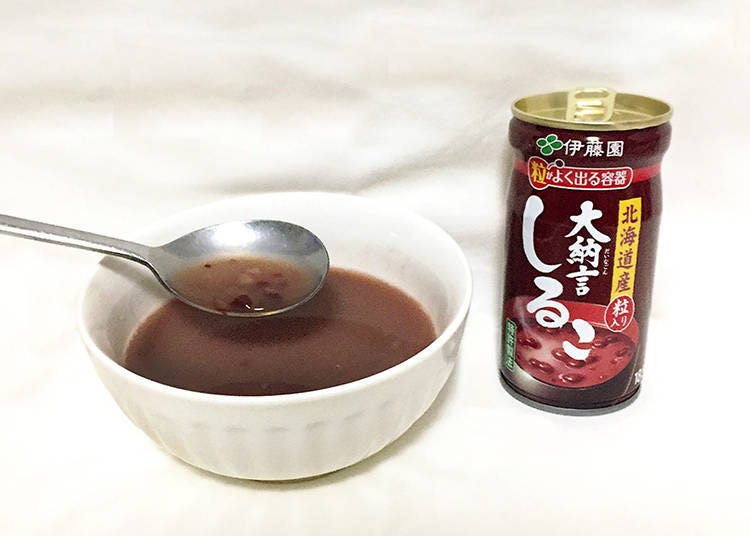 ▲Dainagon Shiruko/大納言しるこ(185 g) 115 yen

If you want to experience a bit of "old-school" Japan, Dainagon Shiruko is the drink for you! Brought to you by Ito En, Dainagon Shiruko is traditional Japan in a can. As Ito En is the largest green tea distributor in Japan, you know you're in for an authentic taste. Loosely translated as "sweet red bean broth," shuriko is a sweet dessert made from azuki (red) beans, with crushed azuki beans added for texture. In fact, the can is designed to be slightly narrow in the top part so that the azuki beans will flow out evenly.

It is the perfect way to warm up on a cold winter day. For the more adventurous among you: turn your canned shiruko into Japanese soul food by serving in a bowl with a piece of freshly grilled mochi (rice cake). Dainagon Shiruko is available in supermarkets,convenience stores, and vending machines across Japan.
Fancy Vanilla Milk Strawberry Soft Serve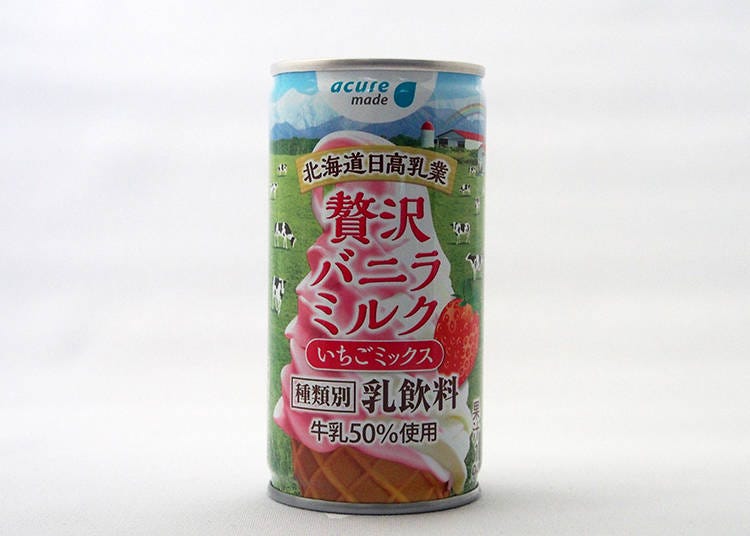 ▲Fancy Vanilla Milk Strawberry Soft Serve/贅沢バニラミルク いちごミックス(190g) 140 yen
Acure, a leading manufacturer of innovative vending machines across Japan, has unveiled its latest drink through its original brand of beverages known as "acure made". They've released a soft serve flavored drink in 2016 and it has been center of attention. What makes this product so fancy is the quality of the milk used. Hokkaido dairy products are renowned throughout Japan for its quality and this drink contains 60% Hokkaido milk.

Thanks to the use of the high quality dairy products, the new flavor Fancy Vanilla Strawberry Milk Soft Serve tastes exactly like freshly made soft serve ice cream! So if you're in the mood for a sweet treat this holiday season, simply look for the nearest vending machine! Fancy Vanilla Strawberry Milk Soft Serve is available exclusively at Acure vending machines at JR East Japan train stations.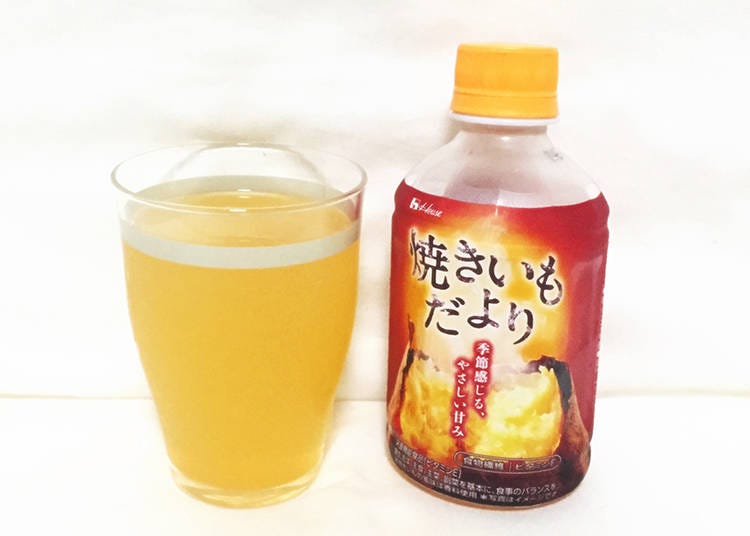 ▲Yaki Imo Dayori/焼きいもだより(280ml) 140yen
If you've ever spent autumn or winter in Japan, the you've no doubt have encountered (or heard) the yaki-imo truck. Blaring the signature song "ya~ki imo, ishi ya~ki imo" these vendors drive around offering one of Japan's signature treats, stone-roasted potatoes. The sweet potatoes used are Japanese satsuma imo, which are sweeter than their western counterparts. As such, you don't need to add anything extra to enhance the flavor.

If you're keen to try stone-roasted potatoes but are unable to find a yaki imo vendor, this drink by House Wellness Foods is the closest thing! The golden rich color of this drink perfectly mimics the soft and tender flesh of a roasted sweet potato while the aroma and taste remains faithful to true yaki imo. As a bonus, this drink contains 4.8 grams of fiber and 10 milligrams of Vitamin E, making it an attractive choice for health conscious persons. Yaki Imo Dayori is available exclusively at Acure vending machines at JR East Japan train stations.
Just-like a Shortcake Shake
▲KOKU Grand Time Shake and Drink Shortcake/コクGrand time ふって飲む甘美なショートケーキ(165g) 160 yen
Shortcake is the go-to dessert when celebrating a special occasion in Japan. From birthdays to Christmas or just to surprise a loved one, the shortcake is always crowd-pleaser. The Japanese shortcake is a layered sponge cake with a strawberry and whipped cream filling and covered whipped cream frosting.

Dy Do DRINCO's latest creation is not a shortcake flavored drink, but rather a shortcake flavored custard. As a result, the texture may be off-putting to some, but it can easily be enjoyed as a dessert in a bowl if you prefer. You can even shake the can vigorously to change the texture from custard to a liquid! KOKU Grand Time Shake and Drink Shortcake also makes use of a premium variety of strawberry grown in Fukuoka prefecture known as Amaou ("the sweet king"). The strawberry aroma is very enticing. Grand Time Shake and Drink Shortcake is available exclusively at Acure vending machines at JR East Japan train stations.
Strawberry Chocolat Royal Milk Tea
▲Kochakaden Strawberry Chocolat Royal Milk Tea/紅茶花伝 ストロベリーショコラ ロイヤルミルクティー(400ml) 140 yen + tax.
You might not know it, but Coca-Cola (Japan) Company, Limited is one of the biggest drink manufacturers in Japan, and tea is one of their most popular beverages! One product in its lineup is Kochakaden, launched in 1992 to bring the taste of English tea to Japan. Its current lineup includes the bestsellers Royal Straight Tea (a blend of Darjeeling and Assam teas), Royal Milk Tea (made with 100% Ceylon tea), and Royal Lemon Tea (made with 100% Dimbula tea).

Joining the ranks of Kochakaden's best-sellers this November is Strawberry Chocolat Royal Milk Tea, a seasonal treat that promises to satisfy one's sweet tooth—and it delivers. It's a festive take on winter's two most popular ingredients: chocolate and strawberries. The eye-catching pink and white label is decorated with snow-capped trees, a snowman, and snowflakes, as well as a single strawberry elegantly covered in chocolate syrup.

Remove the cap and you are greeted with the sweet, delicious aroma of milk chocolate and hint of strawberry. There's hardly a trace of tea in this beverage which goes down smoothly, thanks to the use of real milk. Adding to the experience is chocolate syrup, so be sure to shake well before serving. Enjoy! Kochakaden Strawberry Chocolat Royal Milk Tea can be found in convenience stores across Japan.
Baked Apple Infused Apple Tea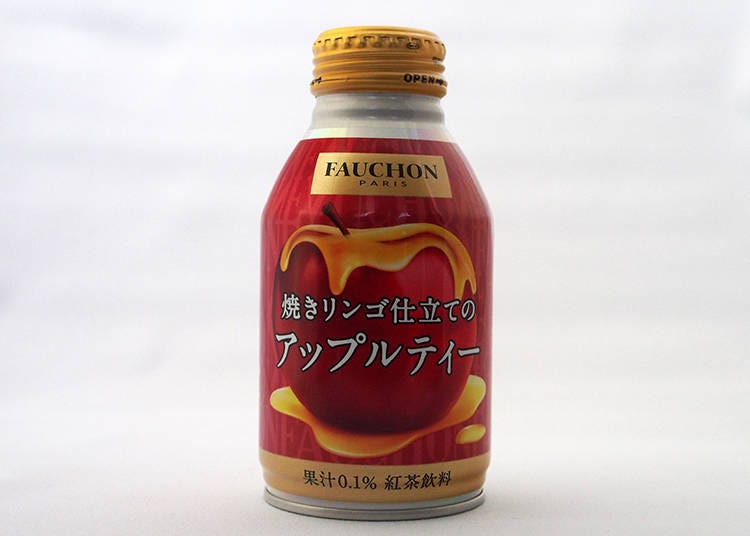 ▲Fauchon Baked Apple Infused Apple Tea/フォション 焼きリンゴ仕立てのアップルティー(280g) 114yen +tax.
Fauchon, the gourmet French food boutique, has teamed up with Asahi Soft Drinks, a subsidiary of Asahi Group Holdings to bring this exclusive drink to the Japanese market. Fauchon has its own lines of signature teas since its inception in 1886, but this particular drink joins the rank of only a few Fauchon labeled teas made in Japan.

The can uses only red and gold in its design create a stunning and elegant design highlighting the presence of apple in this drink. Take a moment to let the can warm your hands as you enjoy the fragrant scent of cinnamon apple on a chilly winter evening. This tea is pleasantly sweet with strong undertones of classic apple pie. With a catchphrase of "Paris on your lips," you certainly feel as if you've been whisked away on holiday to the romantic European capital. Be careful not to shake the can before opening as it is pressurized. Fauchon Grilled Apple Infused Apple Tea is available in convenience stores and vending machines across Japan.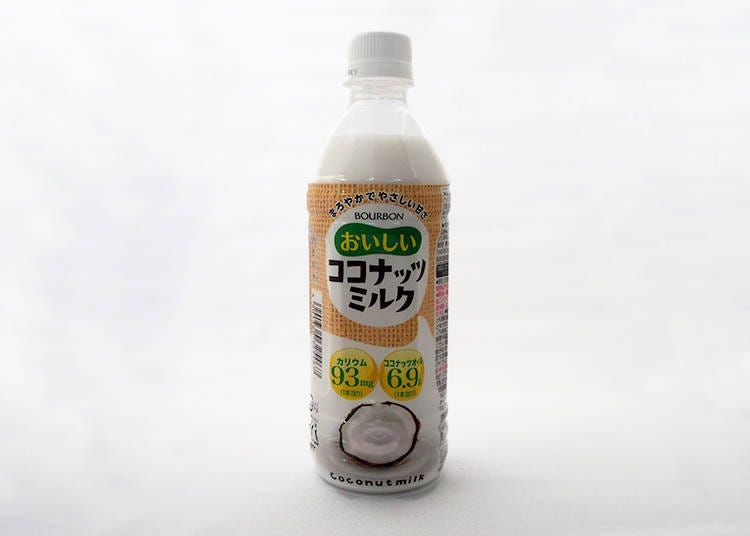 ▲Oishii Coconut Milk/おいしいココナッツミルク(480ml) 162yen
As in health-conscious countries abroad, Japan has had a recent fascination with coconut oil. What started out with bubble teas has spread to ice creams and, as coconut oil became more popular and awareness of health benefits became more mainstream, included beverages as well. Beverage Bourbon has hopped on the bandwagon by releasing its Oishii Coconut Milk.

Its label is simple and intended to pique shoppers' interest in maintaining a healthy lifestyle: it presents the drink as containing 93mg of potassium and 6.9g of coconut oil. Befitting of its name ("oishii" means "delicious" in Japanese), where some other coconut-flavored drinks might present as being overly sweet, Oishii Coconut Milk has a refreshing, natural-feeling smoothness to it without tasting of sugar. Oishii Coconut Milk is available in convenience stores, vending machines and supermarkets across Japan.
[Notes]
* Prices listed in this article are for reference only and may vary depending on location.
* These items are available for a limited time only and while supplies last.
*This information is from the time of this article's publication.
*Prices and options mentioned are subject to change.
*Unless stated otherwise, all prices include tax.