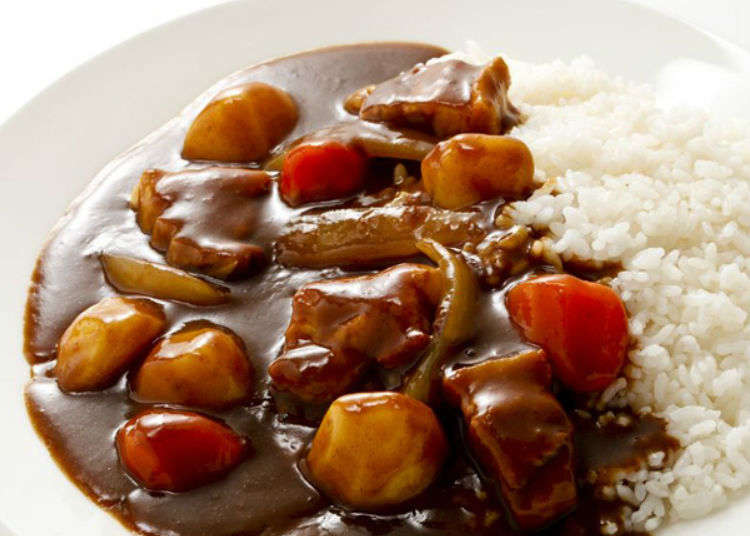 Although most would likely not associate curry with Japanese cuisine, it has been assimilated and adapted into the local diet since its introduction during the late 19th century, becoming something of a soul food for the nation. Over the past century, Japanese curry has become quite different in taste and texture compared to its inspiration, Indian curry, which is spicier and of a soup-like consistency.

Japanese curry contains the basic spices that go into Indian curry, including cumin, turmeric, chili, and ginger, but tends to have a more fruity element, with the addition of apples as a popular ingredient to the mix for a sweeter taste and thicker texture. This allows it to pair well with Japanese rice, which tends to be stickier and have a more chewy texture. Popular curries you will spot in Japan are curry rice, curry udon and curry breads.

At supermarkets, cubes of curry base flavoring are sold, with which ingredients such as meat and vegetables are added and a base made. Microwaveable curry packs are also commonly available, usually coming in a range of spiciness from sweet to mild and hot.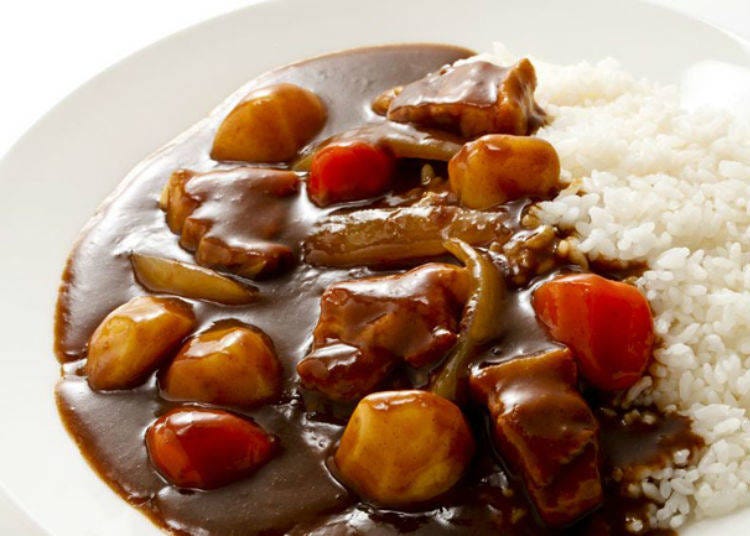 Curry rice is a common meal served at schools and company cafeterias alike for a satisfying and filling meal. Core ingredients can vary depending on region. In Tokyo, pork is the main ingredient, while in Osaka and other places in the Kansai region, beef is commonly served. Curry rice is usually eaten with pickled vegetables, such as pickled ginger, pickled shallots or a brown pickled radish called fukujinzuke. In some regions, the curry may be topped with a splash of Worcester sauce, while in the Kansai region it is not uncommon to see a raw or half-boiled egg to top off the dish.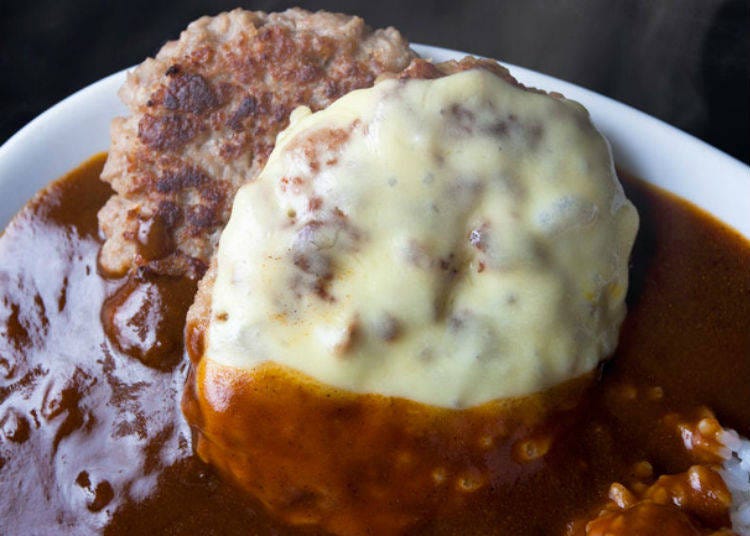 Hamburg in Japan refers to the meat patty you would usually see in a hamburger, but eaten on its own. Usually served on a hotplate or on usually served on a hotplate or on rice, and typically served with a brown sauce-like gravy, this dish meets the needs of those looking for a bit of spice while filling up. Depending on region, it may also be topped with melted cheese.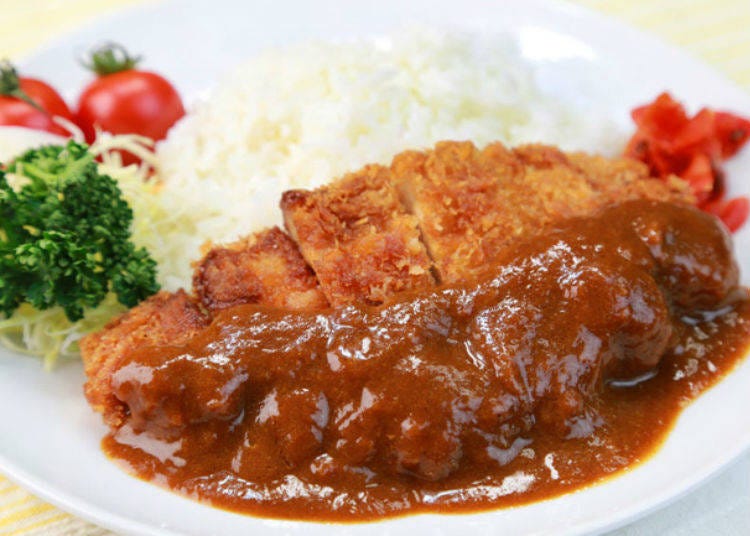 Similar to its Hamburg cousin, katsu curry belongs to the same category of a substantial meat topped with curry and served with or over rice. Katsu refers to a cutlet, and in Tokyo this is usually a thick slice of pork that is breaded and then deep fried, then served topped with curry sauce and accompanied by rice. In Kansai, this would be replaced by a beef cutlet.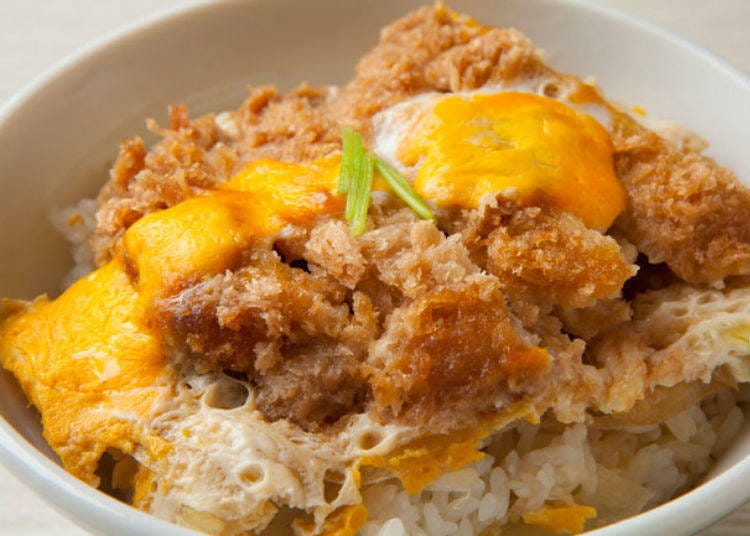 In Japan, katsudon are deep-fried pork cutlets that are served with egg and other condiments over rice – often in a bowl instead of on a plate. Katsu curry don simply refers to katsudon in a curry bath. This dish tends to have more of an appealing visual than the plated version, as the curry covers the whole bowl of rice; on top of that, the cutlet and layer of egg nearly completely cover the entire bowl. As you can imagine, it's a feast for the famished.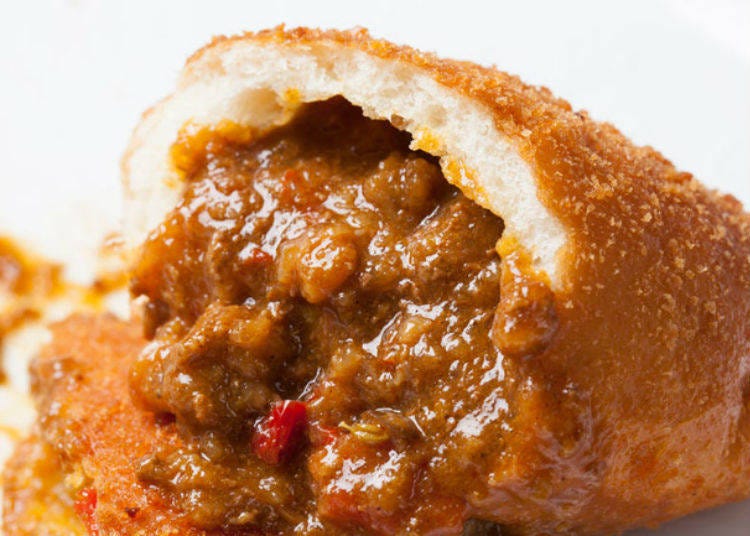 Curry pan, or curry rolls, are a crunchy, crusted bun that is usually fried so that the bread has a texture like a doughnut. They tend to have a crispy outside and fluffy inside, with a curry filling. Although not usually intended as meals in themselves, they are a popular snack for students and adults alike. As with most foods in Japan, fillings will vary depending on the ingredients that their area is famous for.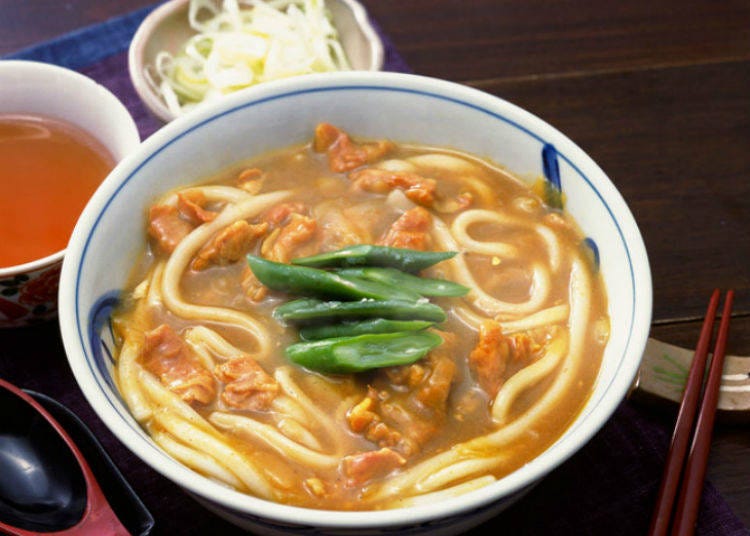 Whereas udon is typically served in a clear broth made from smoked bonito and kelp stock, many udon shops will also offer a curry variant. These tend tend to be made using the same seafood stock as the base broth, giving the curry a slightly different flavor, with a heavier soy sauce flavor as opposed to the usual sweetness of Japanese curry. The curry broth is also thinner than the curry rice version, becoming more of a soup, and select shops may serve it topped with a large, crispy fried prawn.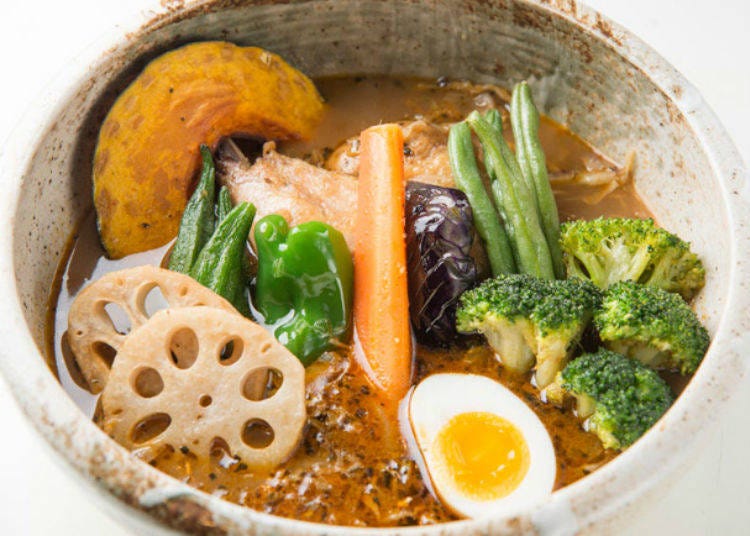 Originating in Sapporo in Hokkaido prefecture, soup curry is closest in form to the original Indian curry in terms of its soupy consistency and flavor. Unlike Indian curry, where vegetables and other ingredients are slowly cooked in the curry for a long time until their shape dissolves, it is common for vegetables to be grilled or cooked separately before being arranged nicely in the bowl, usually with a piece of chicken or other meat, before the curry soup is poured in. The dish is served with a separate bowl of rice, which is dipped into it before being eaten.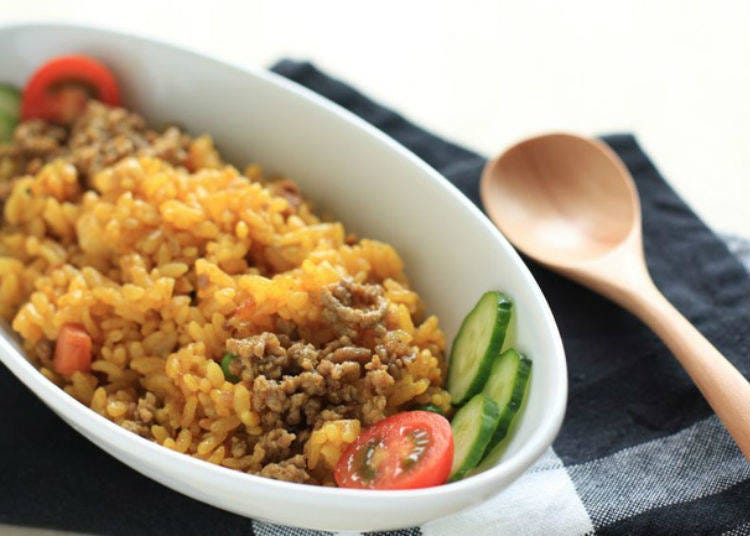 As one might intuit from the name, dry curry typically lacks the sauciness of its relatives, referring to curry that has been cooked together with rice such that the rice soaks up all the sauce and takes on a yellow color. Ingredients such as vegetables and minced meat are added into the mix, resulting in a dish that closely resembles fried rice.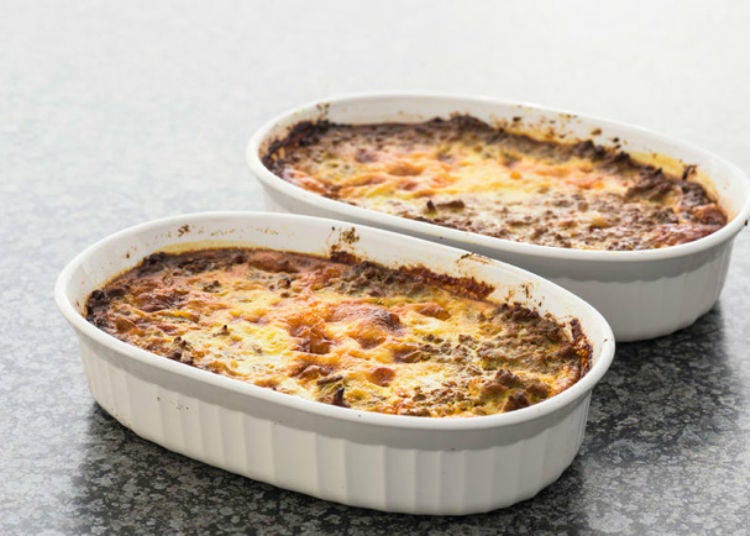 Its name literally meaning baked curry, yaki curry is something of a soul food in, and a regional specialty of, Kyushu prefecture. Yaki curry is said to have started appearing on menus from the 1950s, after a chef tried reheating leftover curry in the oven, resulting in this new variety. It is usually topped with egg and cheese for extra taste and texture.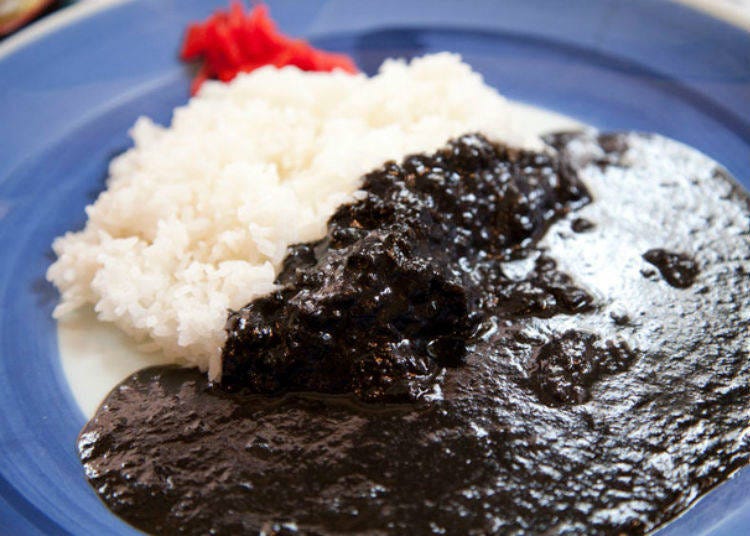 Known as kuro (black) curry, this rich and elegant dish is made by adding dark-colored ingredients, including bittersweet chocolate or squid ink, to standard Japanese curry, resulting in a dark, smooth, luxurious sauce.
Spanning the Flavor Spectrum
There is a surprising variety of Japanese curries, each coming in various forms, consistencies and spiciness levels and infused with ingredients or cooking styles unique to each region. As you travel around different prefectures in Japan, be sure to check out what kinds of curries are on the menu!
*This information is from the time of this article's publication.
*Prices and options mentioned are subject to change.
*Unless stated otherwise, all prices include tax.