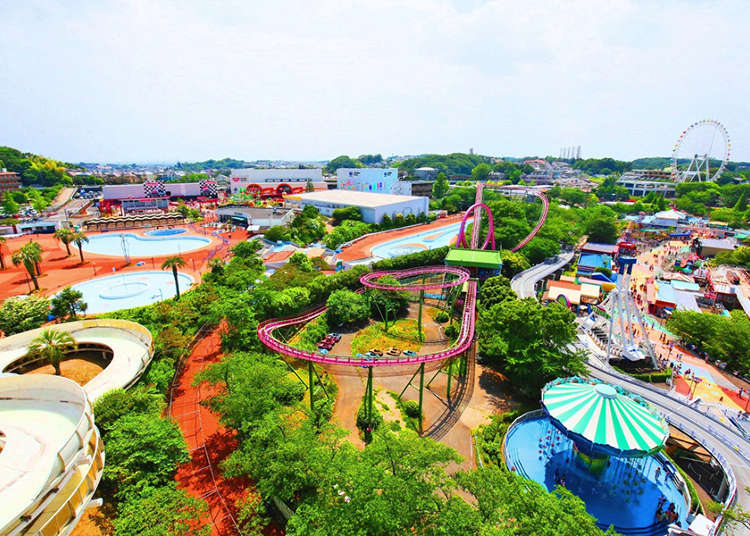 Amusement parks are fun for both old and young, offering numerous adventures and thrills! With mild temperatures and clear blue skies, autumn marks amusement park season in Tokyo. Beautiful winter illuminations will make you forget the temperatures during the colder months, so look forward to amazing views from Ferris wheels and roller coasters!
We've combed Japan's capital for its very best, most beautiful amusement parks that will make for both amazing memories and amazing photos!
Tokyo Dome City Attractions: Sing on the Karaoke Ferris Wheel, Only in Japan!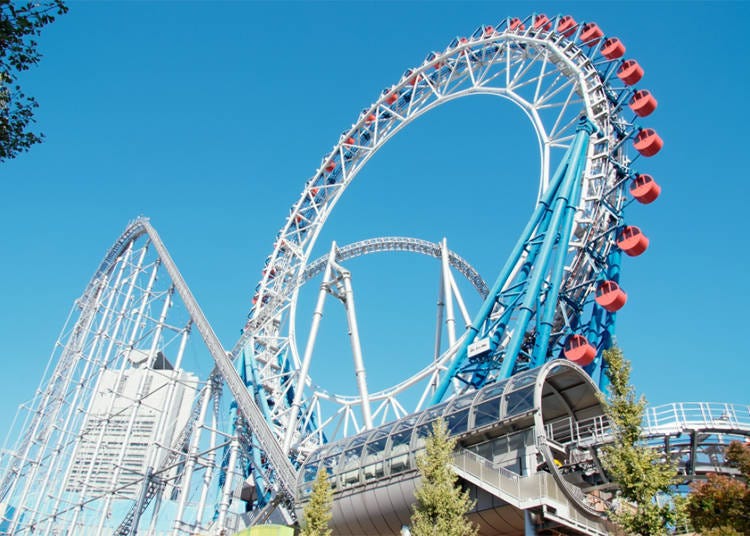 Tokyo Dome City attractions is a big, exciting amusement park in the heart of Japan's capital. There's no entrance fee and instead, you pay for every ride individually, making it a perfect spot to just hop by for a thrill and a selfie or two while sightseeing.
Within Tokyo Dome City Attractions lies a true "Only in Japan" kind of experience. Since August 2017, the "Big-O" Ferris wheel has eight gondolas equipped with karaoke machines! Be inspired by the beautiful view over Tokyo and sing your heart out on this exciting 15-minute ride!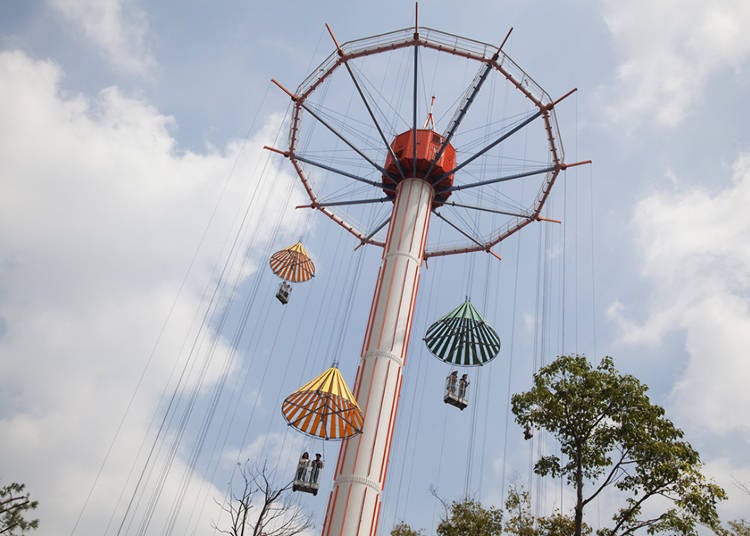 Another attraction that is particularly popular at Tokyo Dome City is the Sky Flower. It's a beautifully shaped gondola that rises you up to 60 meters height, allowing you to enjoy the scenery for a bit, then brings you back to the ground at a thrilling speed. We especially recommend going after the sun has set and lining up for gondolas 9 to 12, as they overlook the entirety of Tokyo Dome City!

Hours: 10:00 a.m. – 9:00 p.m. (varies depending on season, day of the week, and event)
Closed: always open
Tokyo Dome City Attractions

東京ドームシティ アトラクションズ

Address

1-3-61, Koraku, Bunkyo-ku, Tokyo, 112-0004
Tokyo Joypolis: the Most Exciting Indoor Amusement Park You've Ever Seen!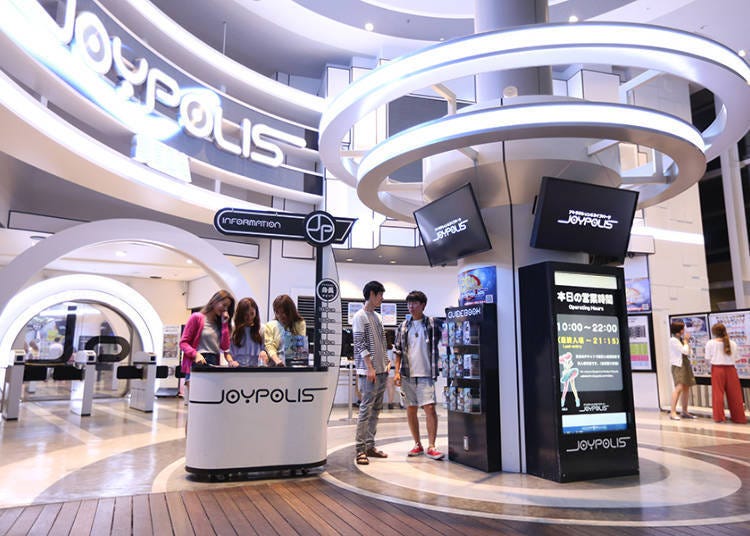 No matter whether it's raining, snowing, or simply too hot outside, the indoor amusement park "Tokyo Joypolis" is sure to beat your boredom! Dare you tackle the many thrilling rides and attractions?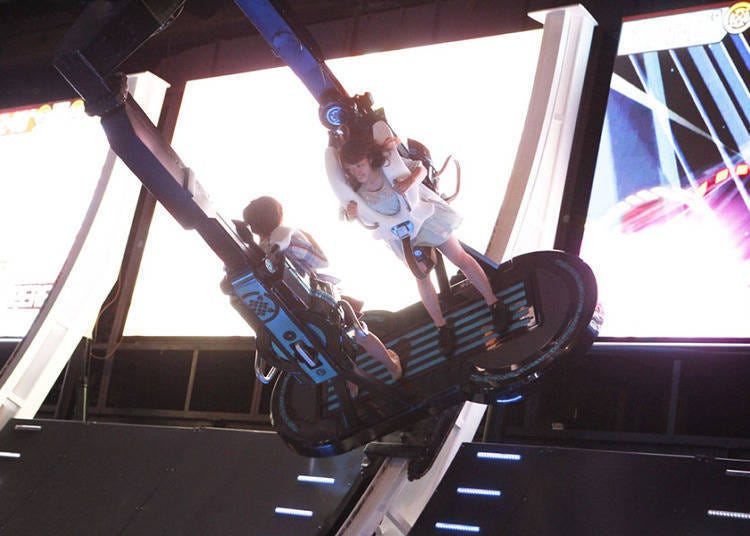 "Halfpipe Tokyo" puts you on a snowboard-like ride that glides and rotates just like the real thing! If you're a fan of horror, take your courage in both hands and enter the "Mystic Mansion," a 3D attraction of the spookiest kind!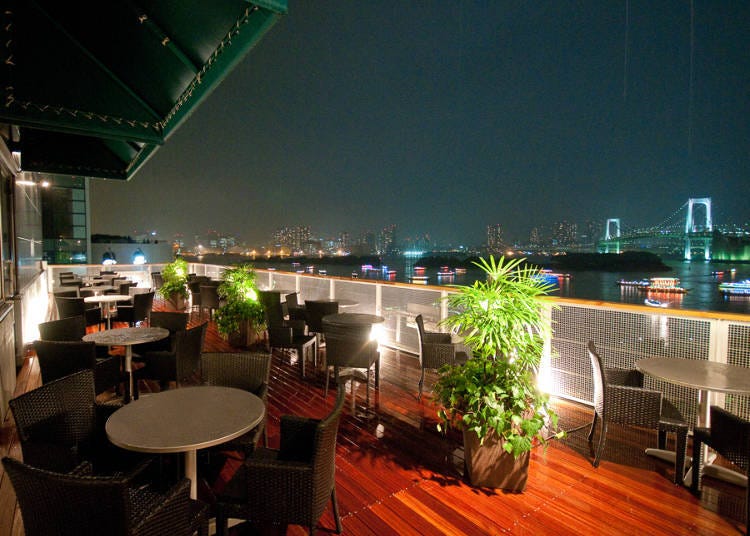 After all the thrills, scares, and excitement, head over to "Frame Café" and enjoy a million-dollar view over Odaiba and Tokyo's famous Rainbow Bridge? The night view is so spectacular and perfect for every photo and selfie, we even recommend making use of Joypolis' Night Passport Ticket from 5:00 p.m. on weekdays and 4:00 p.m. on weekends and national holidays.

Hours: 10:00 a.m. – 10:00 p.m. (last entry at 9:15 p.m.)
Closed: irregularly
Address

DECKS Tokyo Beach 3F - 5F, 1-6-1, Daiba, Minato-ku, Tokyo, 135-0091
View Map

Nearest Station

Odaiba-Kaihinkoen Station (Yurikamome)
2 minutes on foot


Phone Number

03-5500-1801
Asakusa Hanayashiki: Feel Retro Nostalgia at Japan's Oldest Amusement Park!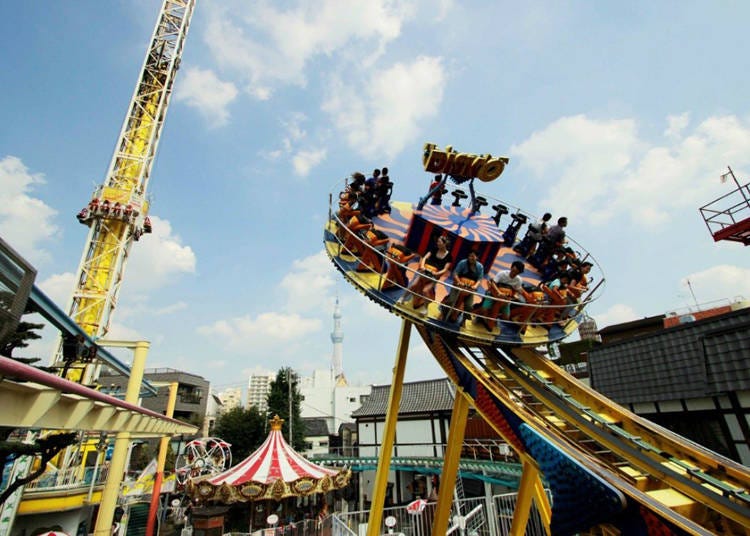 Asakusa Hanayashiki operates since 1853 and thus is Japan's oldest amusement park. With its history of over 160 years, taking in the nostalgic atmosphere alone is a unique experience to make. Of course, Hanayashiki also offers various attractions, from riding a mechanical panda bear to roller coasters and other retro rides.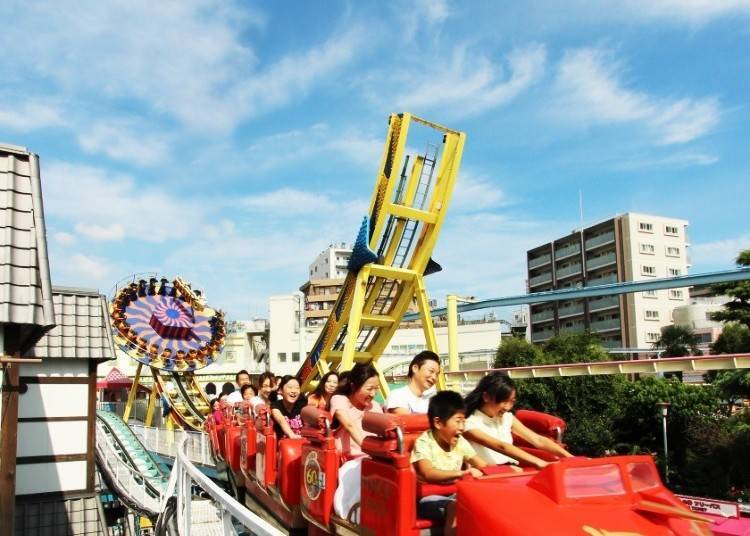 The most popular thrill at Hanayashiki undoubtedly is Japan's oldest roller coaster. Compared to others of its kind, this long-established scream machine will not make you scream at all – it won't go faster than 42 kilometers per hour. This makes it a fantastic choice for people who can't or don't want to handle the insane speed and loops of modern roller coasters. And for thrill seekers? Don't underestimate this grandpa of attractions – steeped in history, it still makes for a fantastic experience.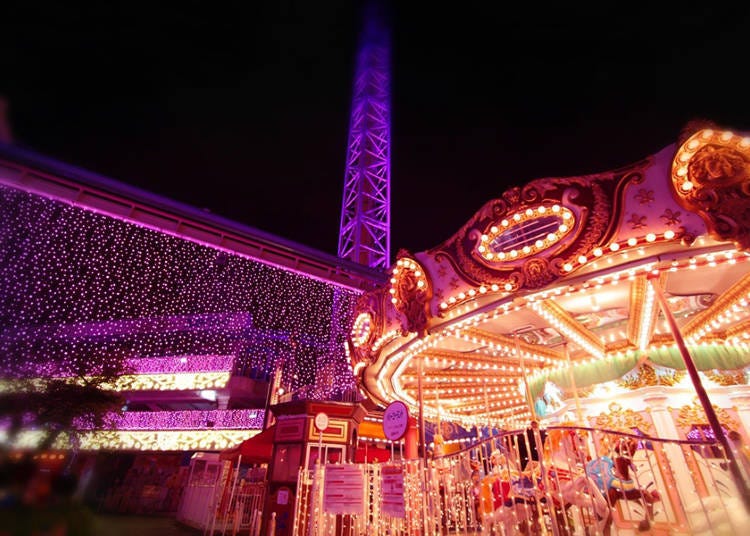 From October 8, 2017, Hanayashiki will turn into "Lumiyashiki" once the sun has set. That means that the park will be beautifully illuminated, shining and glittering in all kinds of colors. (Check the schedule on the official website of the amusement park.)
The light-up is every day from 6:00 p.m. to 9:00 p.m., making Hanayashiki a perfect spot to drop by, wind down, and take a selfie. Or simply enjoy the romantic atmosphere after a long day of sightseeing in Asakusa, that is up to you.

Hours: 10:00 a.m. – 6:00 p.m. (varies depending on season and weather)
Closed: always open (except for maintenance days)
Address

2-28-1, Asakusa, Taitou-ku, Tokyo, 111-0032
View Map

Nearest Station

Asakusa Station (Tokyo Metro Ginza Line / Toei Asakusa Line / Tobu Isesaki Line (Tobu Sky Tree Line) / Tsukuba Express)
3 minutes on foot


Phone Number

03-3842-8780
Yomiuriland: Scream Machine Galore!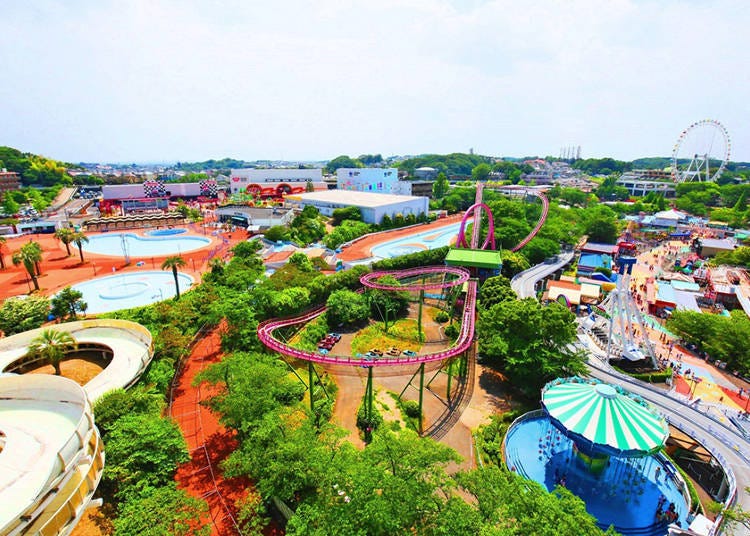 Yomiuriland is an amusement park that keeps drawing in Tokyoites and tourists with its two scream machines: Bandit, a roller coaster that hits a speed of 110 kilometers per hour, and MOMOnGA, Japan's first standing loop coaster.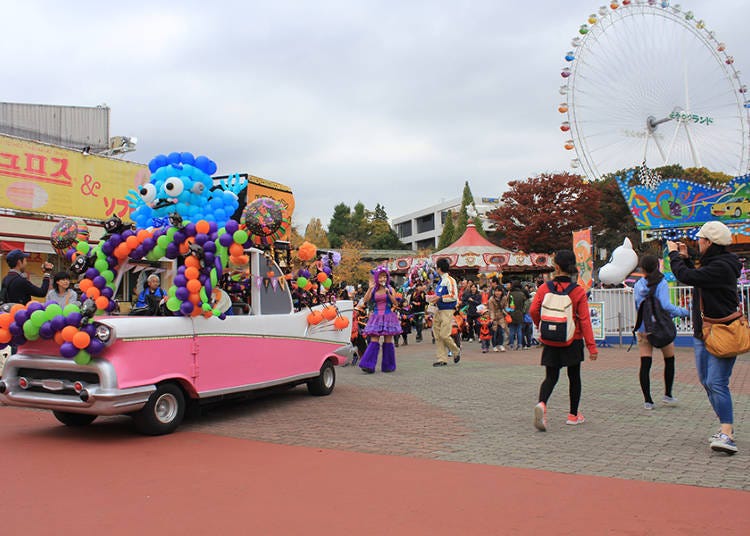 Next to these wild rides, Yomiuriland also offers a large number of kid-friendly attractions for all ages, so you and your family won't have a hard time spending an entire day full of excitement and fun.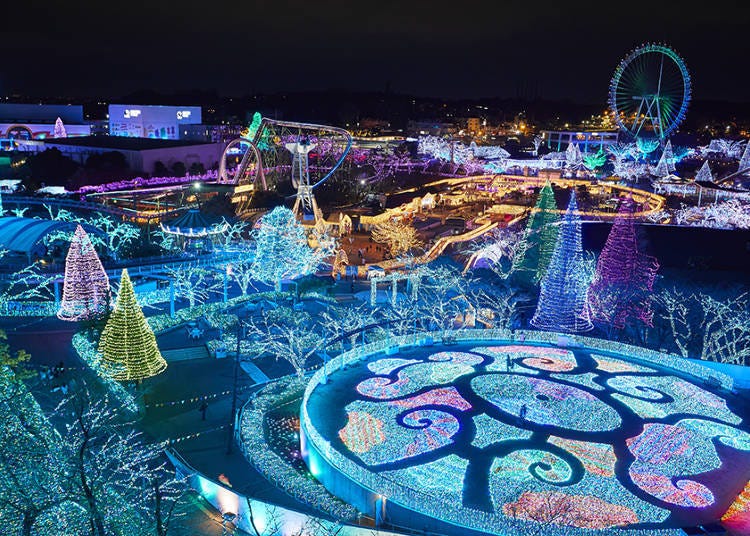 From October 12, 2017, the annual "Jewellumination" starts and the entire park is being lit up in numerous colors. One of the highlights of the event is the fountain show, and the "Sweets Area" is a first this year. Enjoy various delicious desserts and treats while experiencing the full scale of Yomiuriland's fantastic illuminations. It'll make for a one-of-a-kind selfie!

Hours: 9:00 a.m. – 8:00 p.m. / 10:00 a.m. – 5:00 p.m. (varies by day, please check the official homepage)
Closed: irregularly
よみうりランド

Address

4015-1, Yanokuchi, Inagi-shi, Tokyo, 206-8725
Seibuen Amusement Park: Spectacular Views from the Ferris Wheel and the Rotating Observation Deck!
Seibuen Amusement Park, located in Saitama's Tokorowzawa, really has it all: classics like a Ferris wheel, a large pirate ship ride, various Sanrio character-themed attractions, and even a survival game field!
For the most amazing selfies, we highly recommend Gyro Tower, a rotating observation tower that floats 80 meters high in the sky! If you're lucky and the weather is good, you'll get to enjoy a marvelous view of Mount Fuji and Tokyo Sky Tree. The big Ferris wheel is also equipped with skeleton-type gondolas – even the floor under your feet is see-through!

Seibuen Amusement Park's illumination called "Illumi-Ju" dip the entire park in a fairytale-like light, making it seem like you've stepped into a different world. Especially the nostalgic wave swinger looks magical and probably is the park's best photo spot once the sun has set.

Hours
Weekdays: 10:00 a.m. – 4:30 p.m.
Saturday, Sunday, national holiday: 10:00 a.m. – 5:00 p.m.
Closed: Wednesdays, Thursdays (varies by season)
※There are no summer or New Year's holidays, and the park also operates regularly on national holidays.
Address

2964, Yamaguchi, Tokorozawa-shi, Saitama, 359-1145
View Map

Nearest Station

Yuenchi-Nishi Station (Seibu Yamaguchi Line)
1 minute on foot


Phone Number

04-2922-1371
Toshimaen: Celebrate Nostalgy and the World's Oldest Working Carousel!
Toshimaen in Tokyo's Nerima is a one-of-a-kind amusement park that conveys the nostalgia of carnival culture like no other. The park owns the world's oldest active carousel in the world, Carousel El Dorado. Built by a German mechanical engineer in 1907, it was sold to New York's Coney Island in 1910 before eventually finding its current home in Toshimaen. To celebrate the 110th anniversary of this historical carousel, Toshimaen hosts the "Autumn American Festival" this year!
Carousel El Dorado is certified as Mechanical Engineering Heritage and features so many amazing details and beautiful art, it almost seems otherworldly charming. Restored to its original glory, let yourself be carried away to a world long gone and commemorate your visit with a unique, romantic photo.

Hours: 10:00 a.m. – 5:00 p.m. (varies by season)
Closed: Tuesdays, Wednesdays (varies by season), New Year's Day
ライター:根本暖子
Written by Haruko Nemoto
*This information is from the time of this article's publication.
*Prices and options mentioned are subject to change.
*Unless stated otherwise, all prices include tax.